Doppelgangers 52
It's about a doppelganger called Clifton who says he is William Tell. With this name he uses all kind of methods to make money and harms people.
When Tell enters the village and introduces himself he gets in trouble. This episode is shot on three locations:
1. Domaine des Boissets 2. untraceable place 3. Monthialoux
Left photo: The children of Yannick Derrien (Tell and Gessler's stunt double). Middle picture: Georgia Lyman.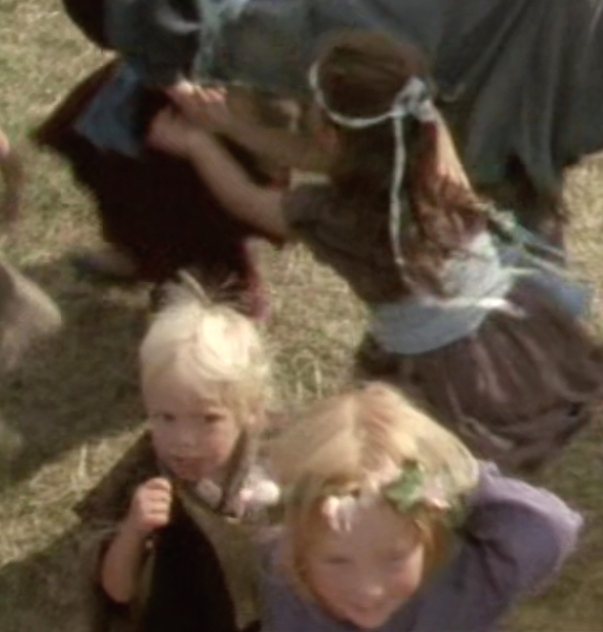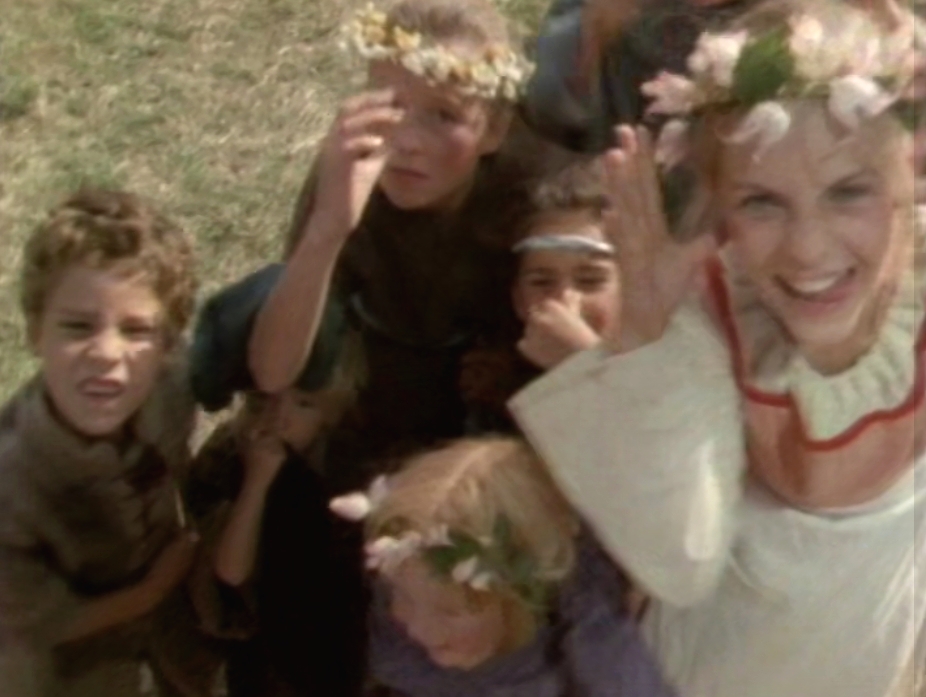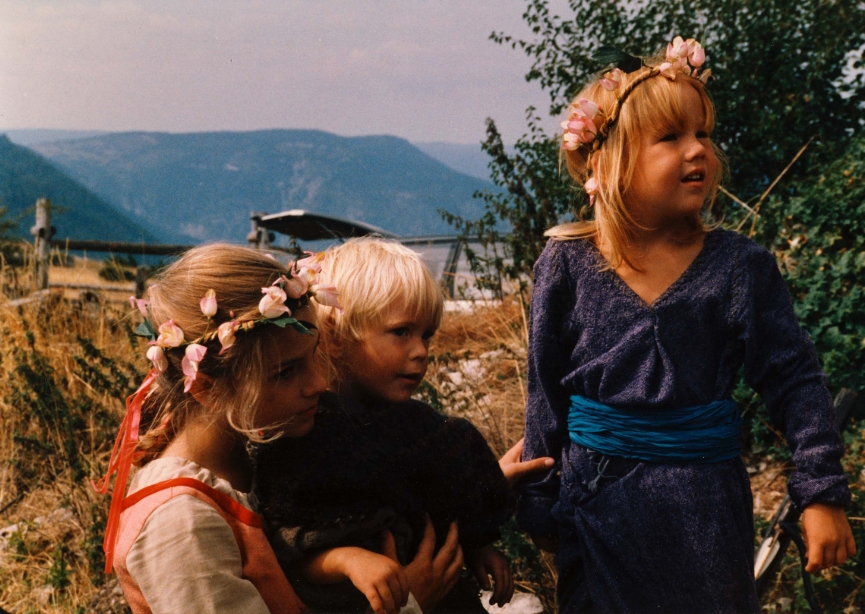 Scene: A warm welcome until Tell says his name. There is a 'doppleganger' around causing a track of trouble. Location: exterior of Boissets.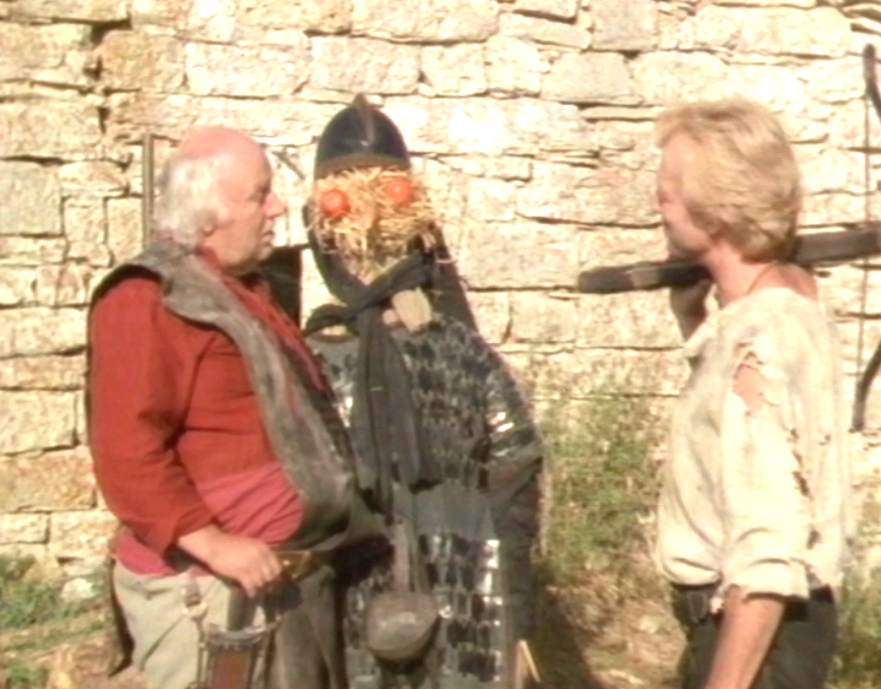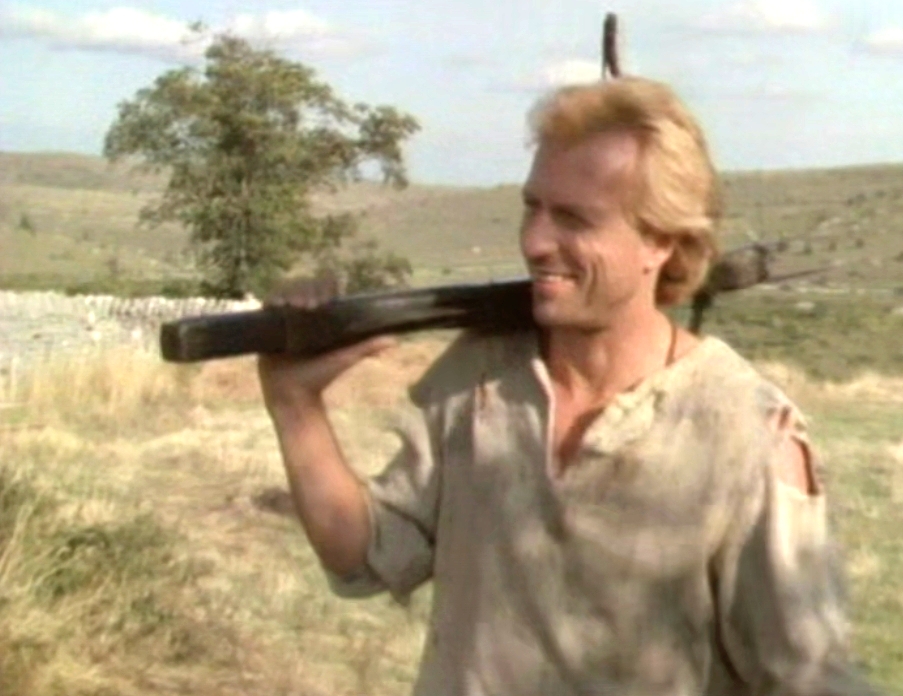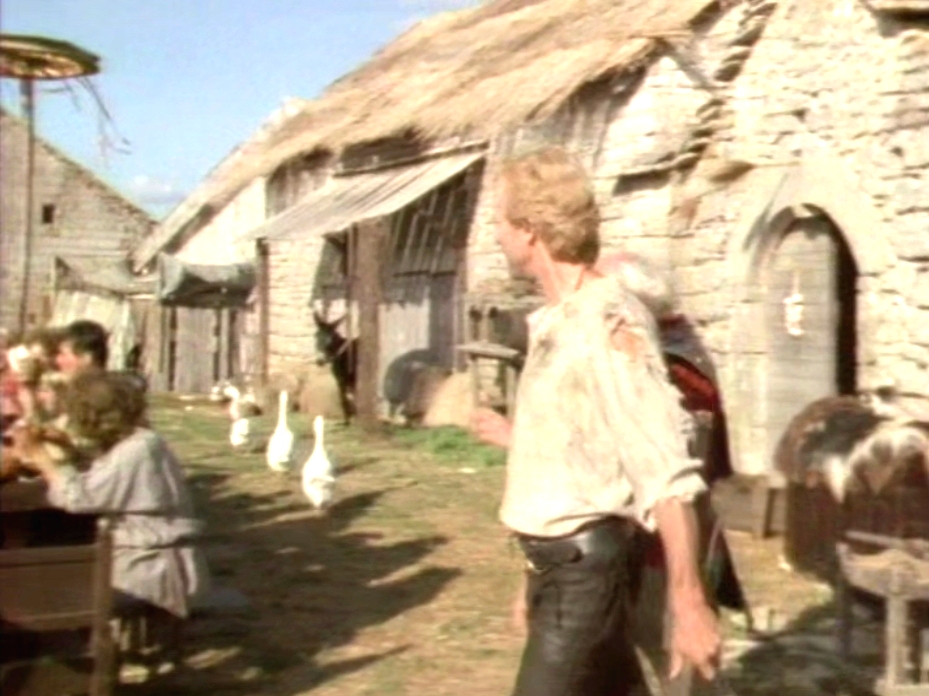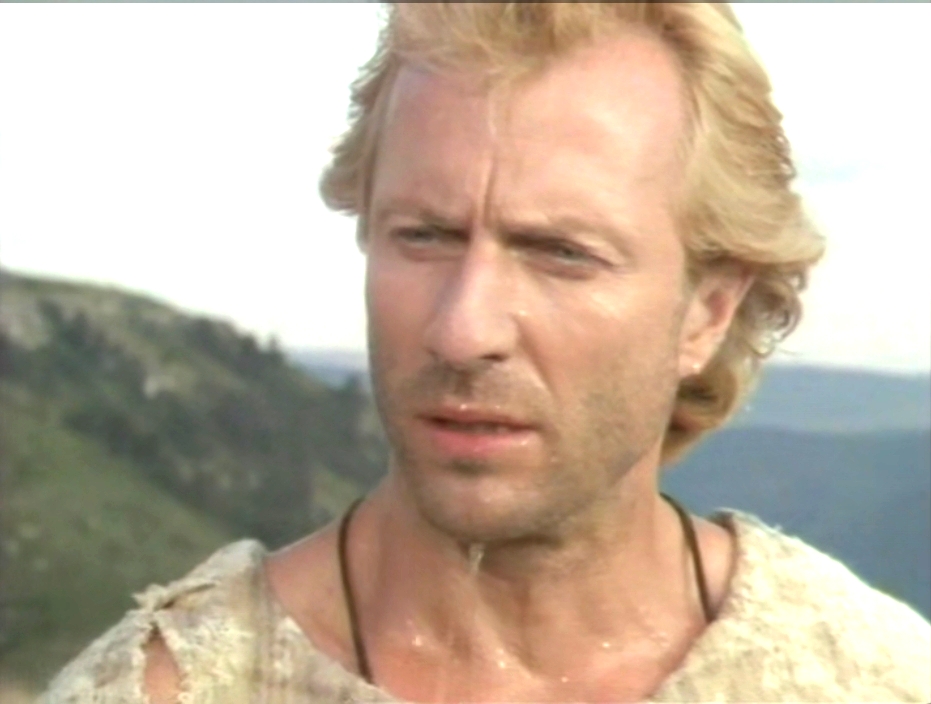 A number of gueststars in Boissets. Some with familiar faces.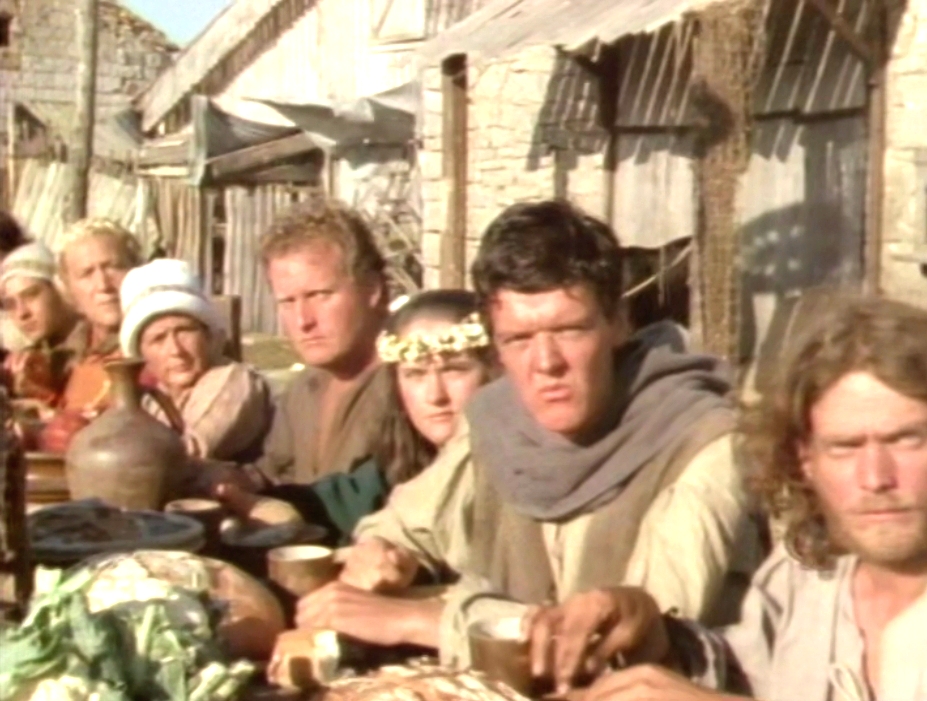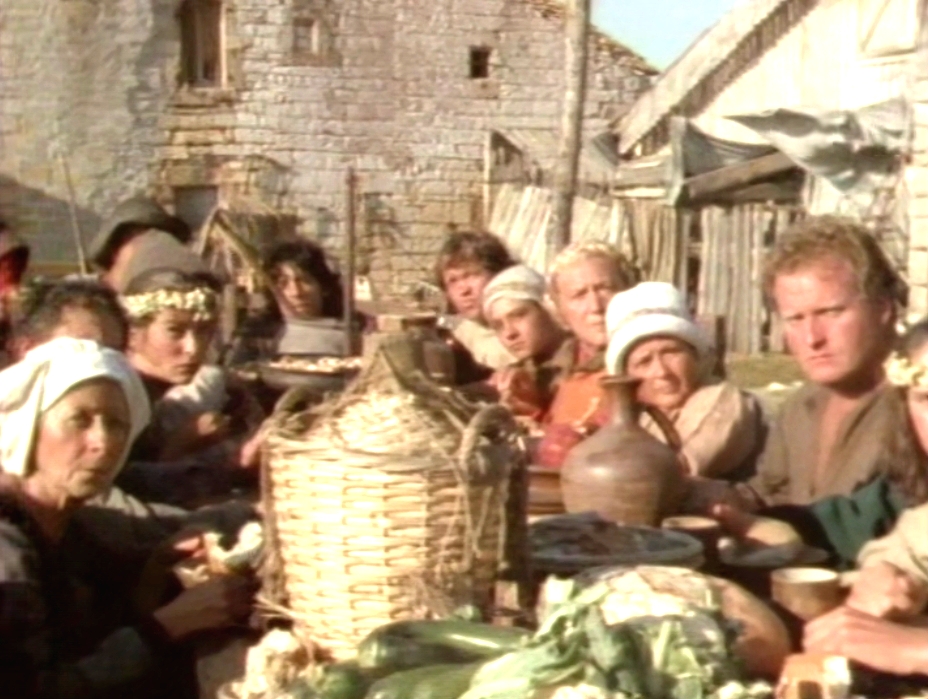 Scene: It's not the first time 'Clifton' gets in trouble. Location: Boissets.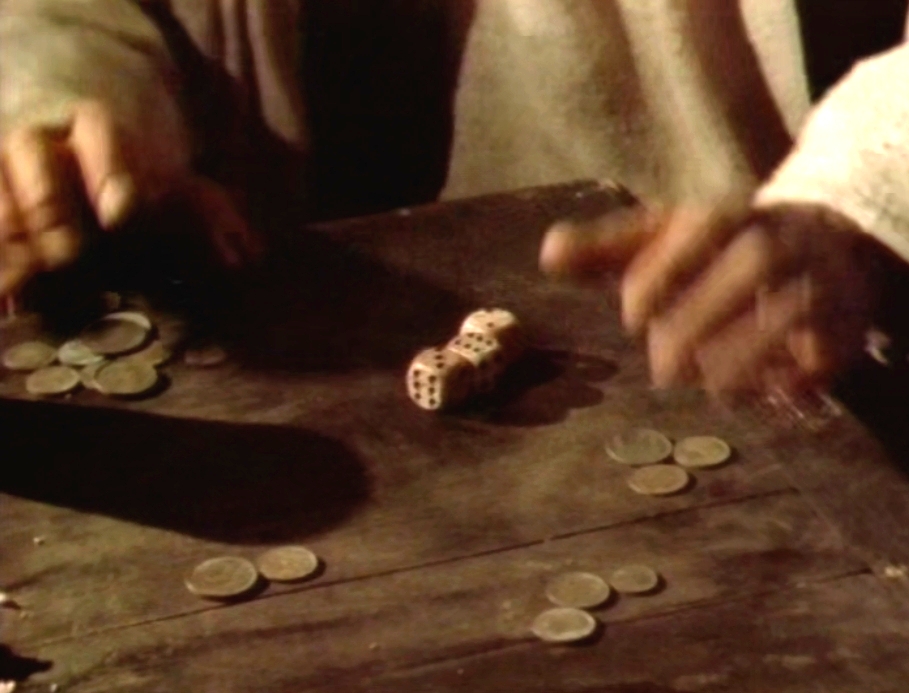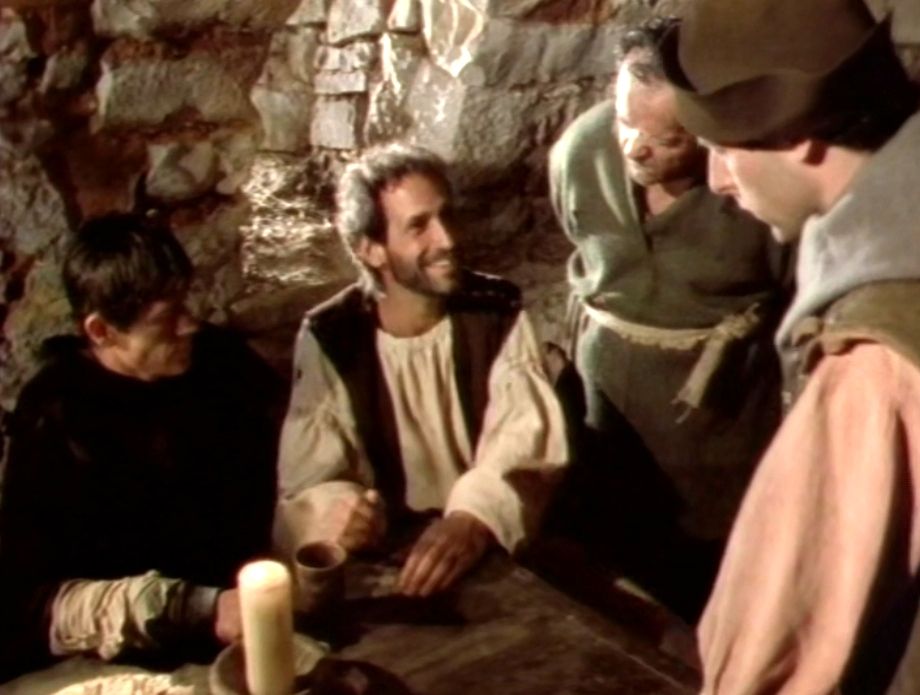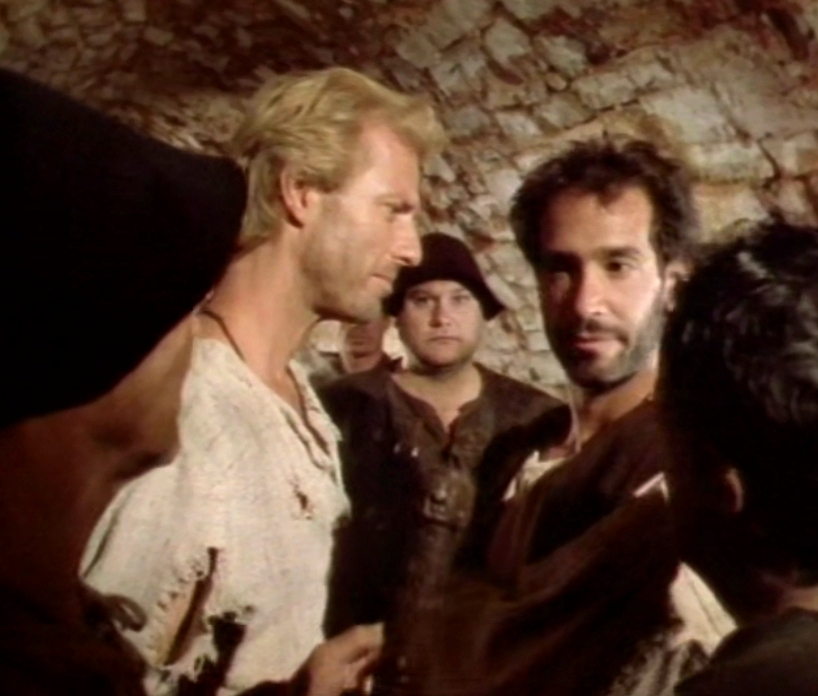 1988 Boissetts again, covered with straw on the roof. Doppelgangers 52 2015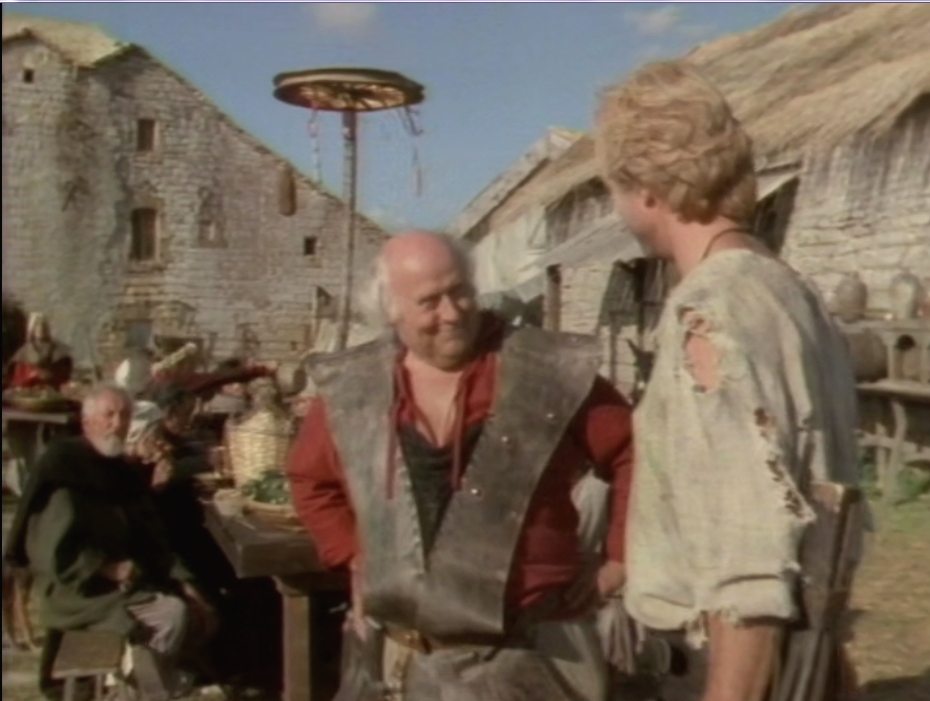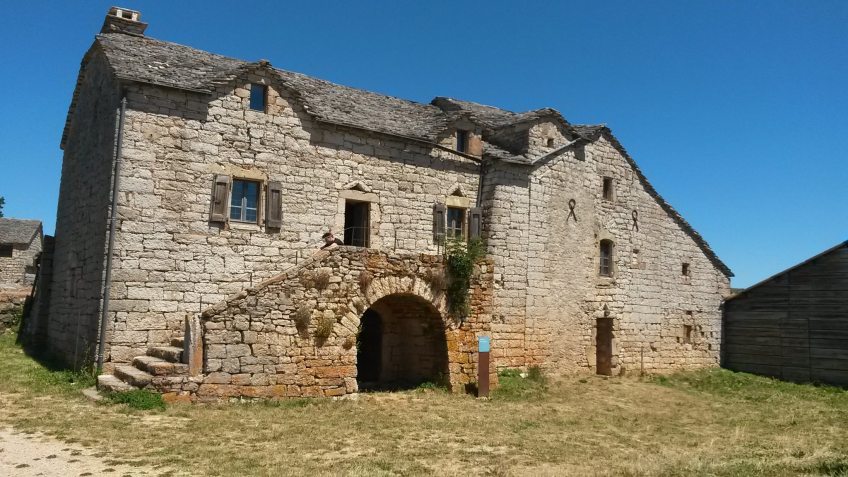 Episode: Imogen Annesly plays Pamenta, a woman who's dowry was stolen by a man claiming to be William Tell. She then expects the real Tell to fulfill the false Tell's promise of marriage.
Background: Look at the beautiful dressed girls on the stairs. In orange dress Georgia Lyman. She appears in many episodes like he Gods, Trolls, the Emperor, The Rock, The Pit, Doppelgangers etc.
Scene: Tell in trouble caused by Clifton. It's not easy to convince these people. Clifton, who mad epeople believe he was William Tell, left a trace of deceit.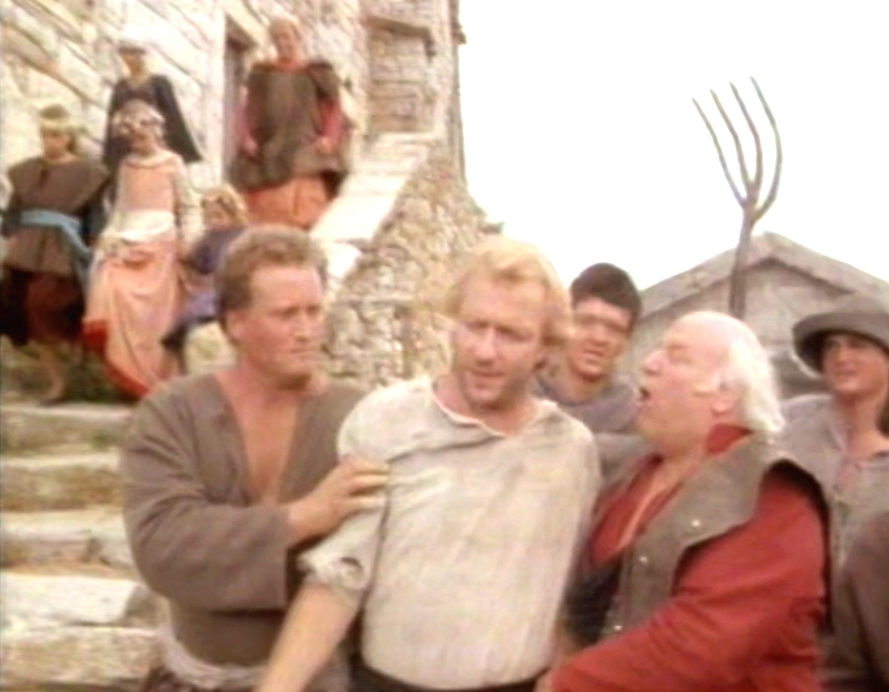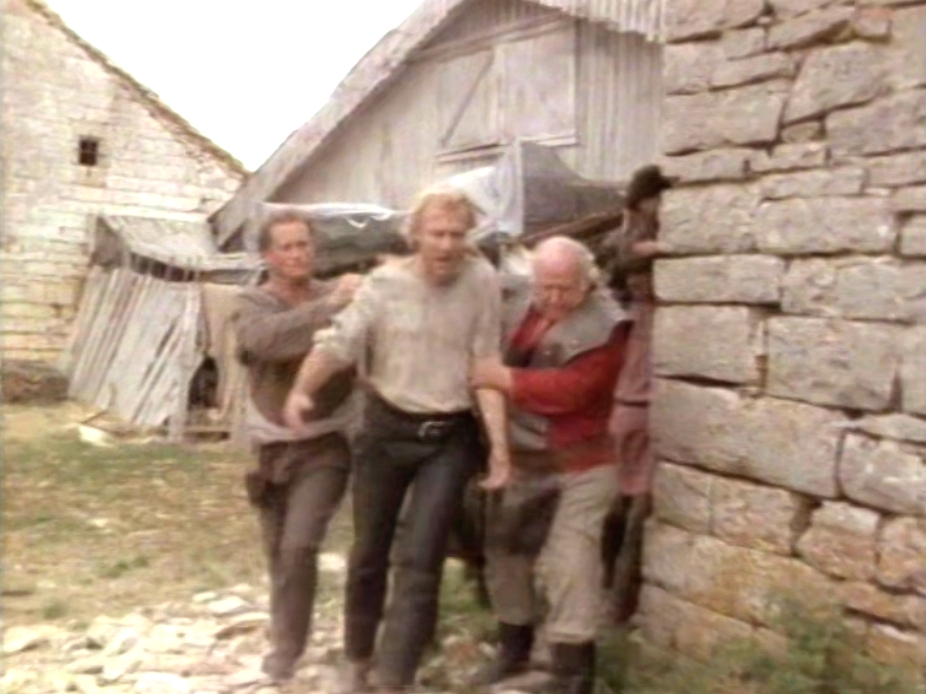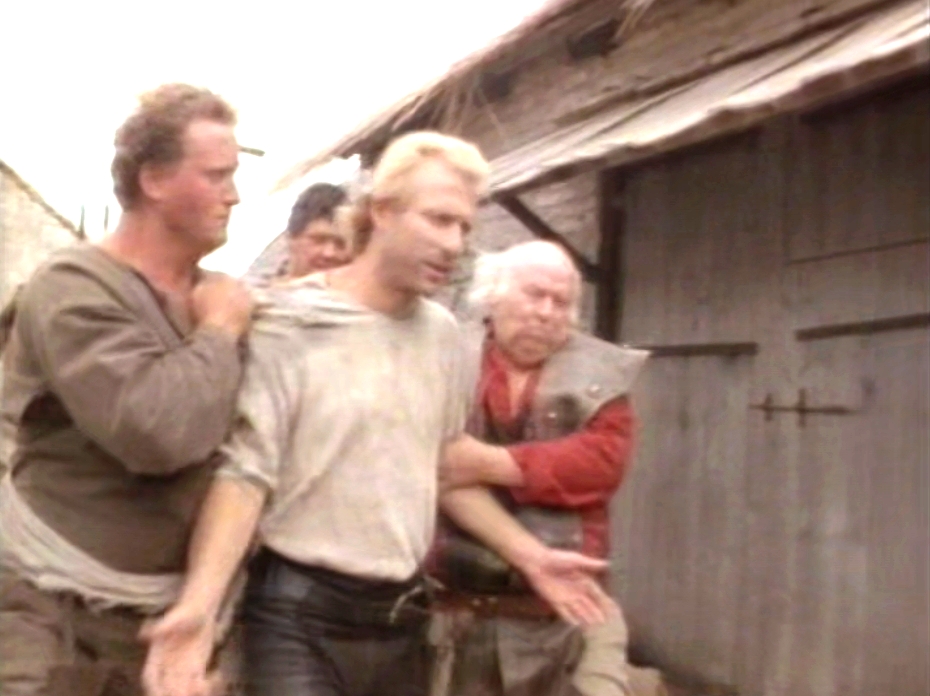 To compare this spot
Insurrection 51 2015 the wooden shed in the back Same spot as Doppelgangers 5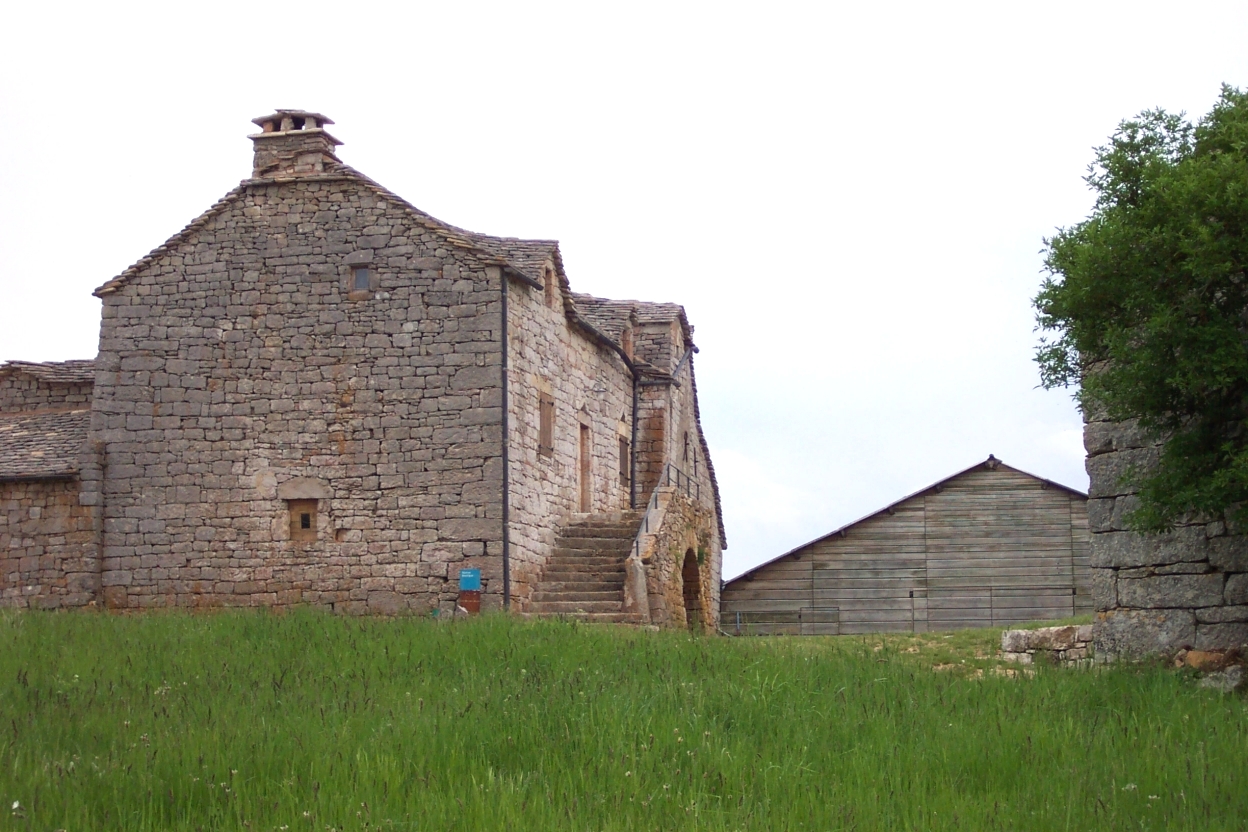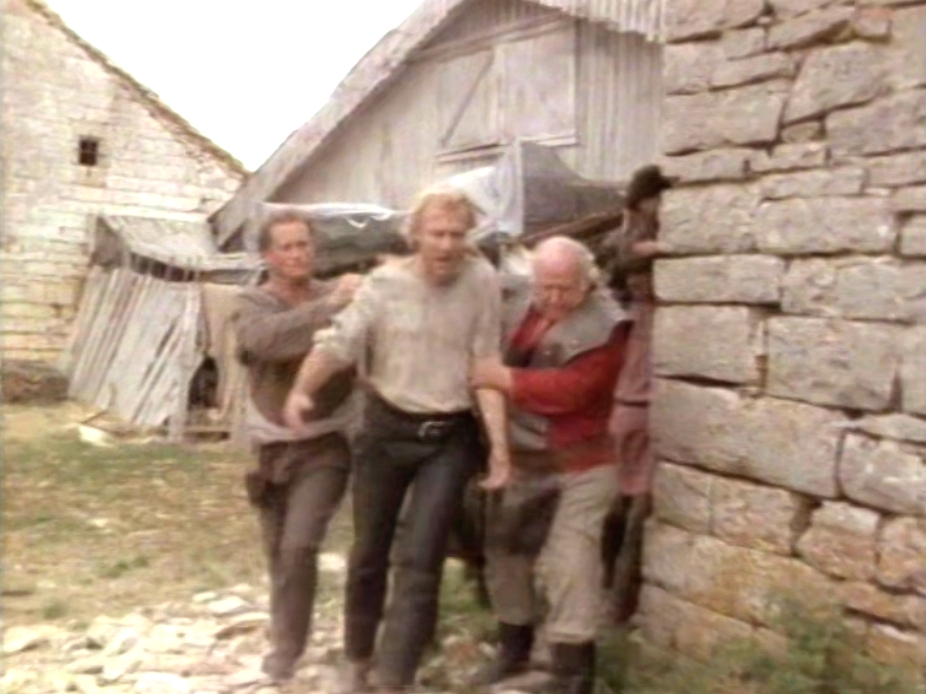 2015 The spot didn't change at all. 1988 1988 With Imogen Annesly as Pamenta.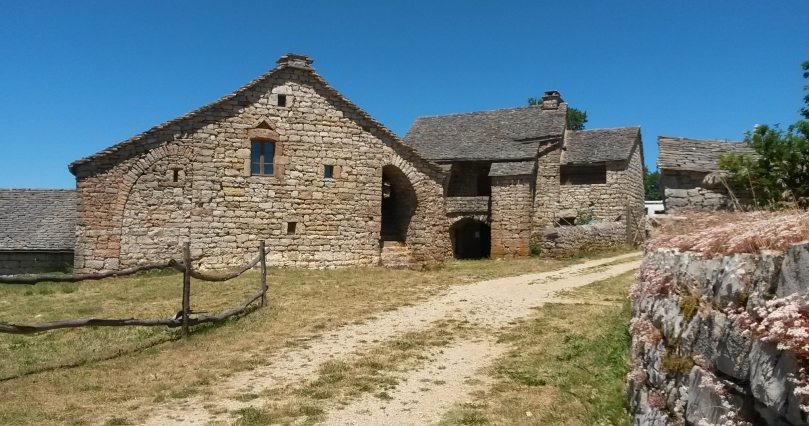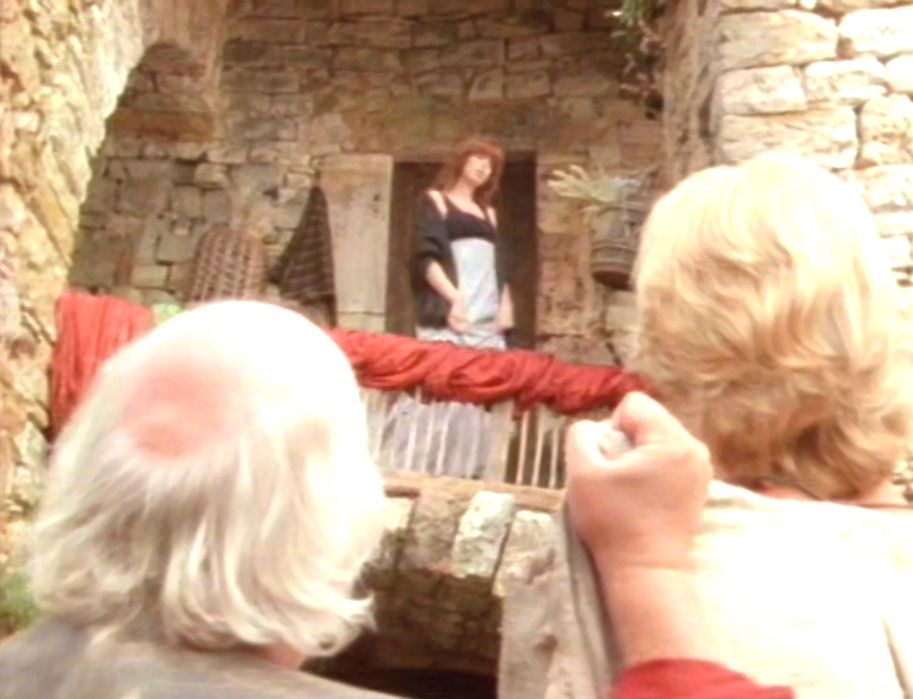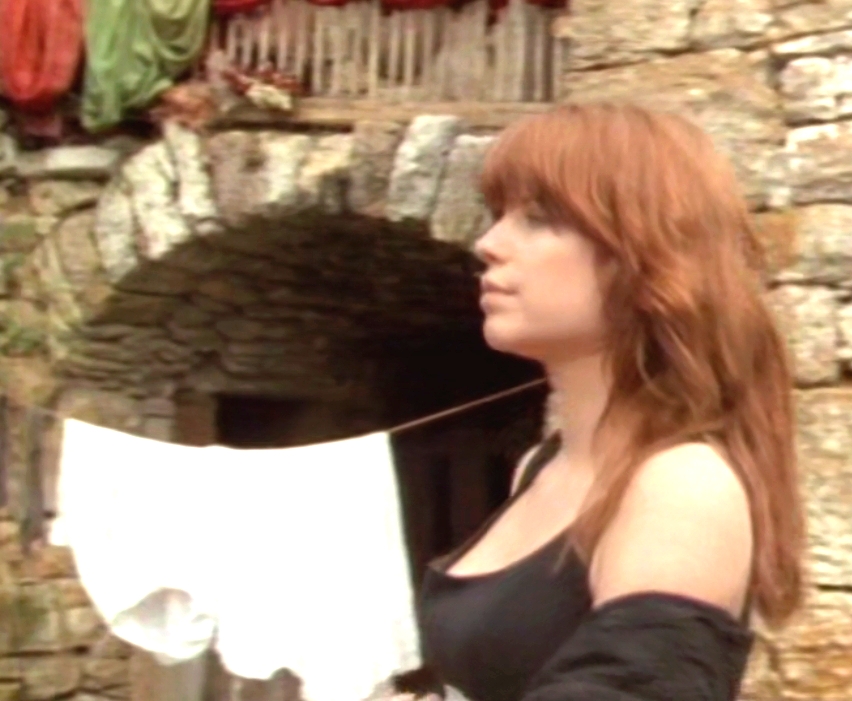 The last scene (of Doppelgangers) 'saying goodbye.'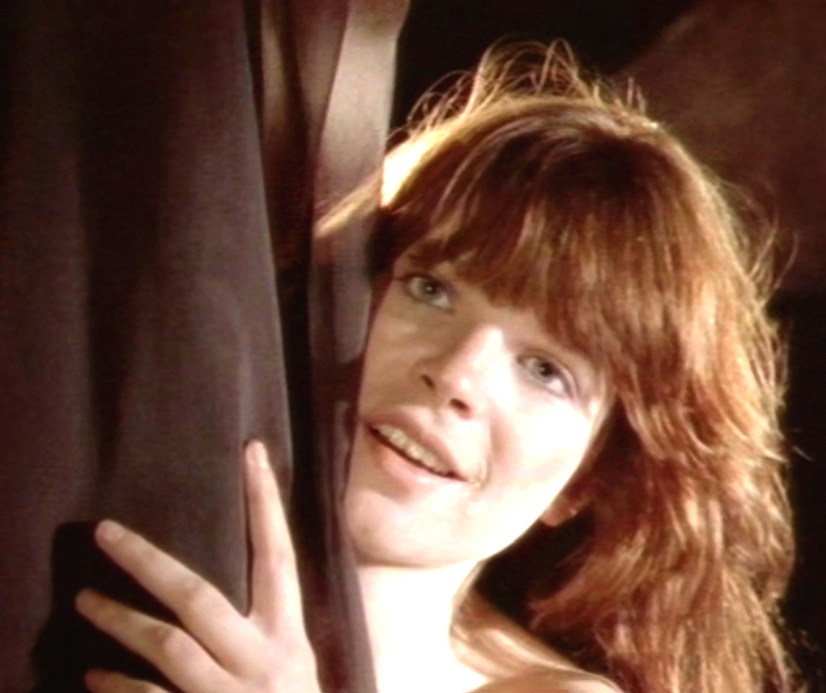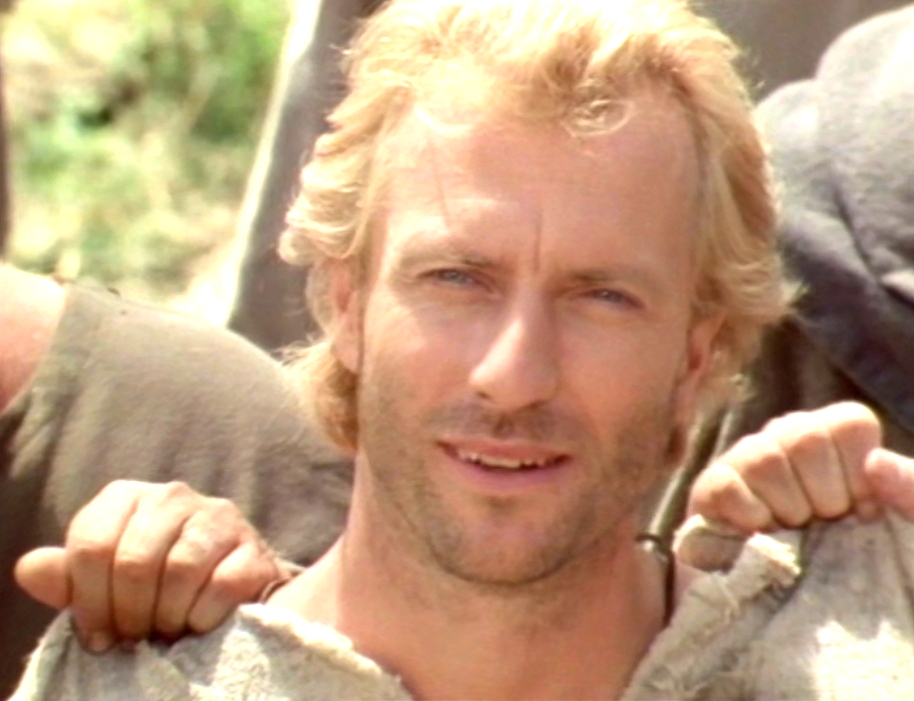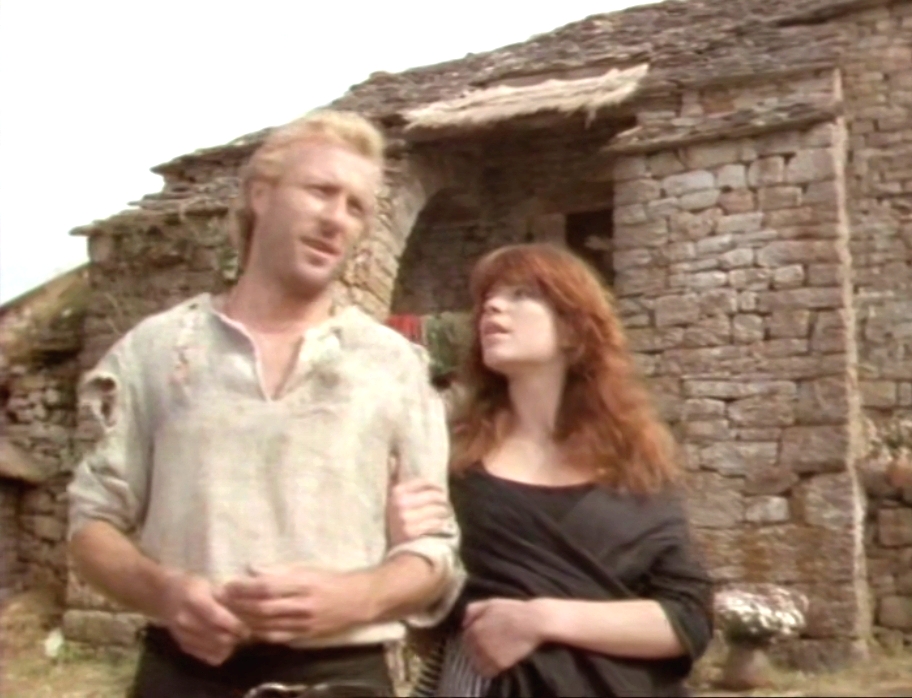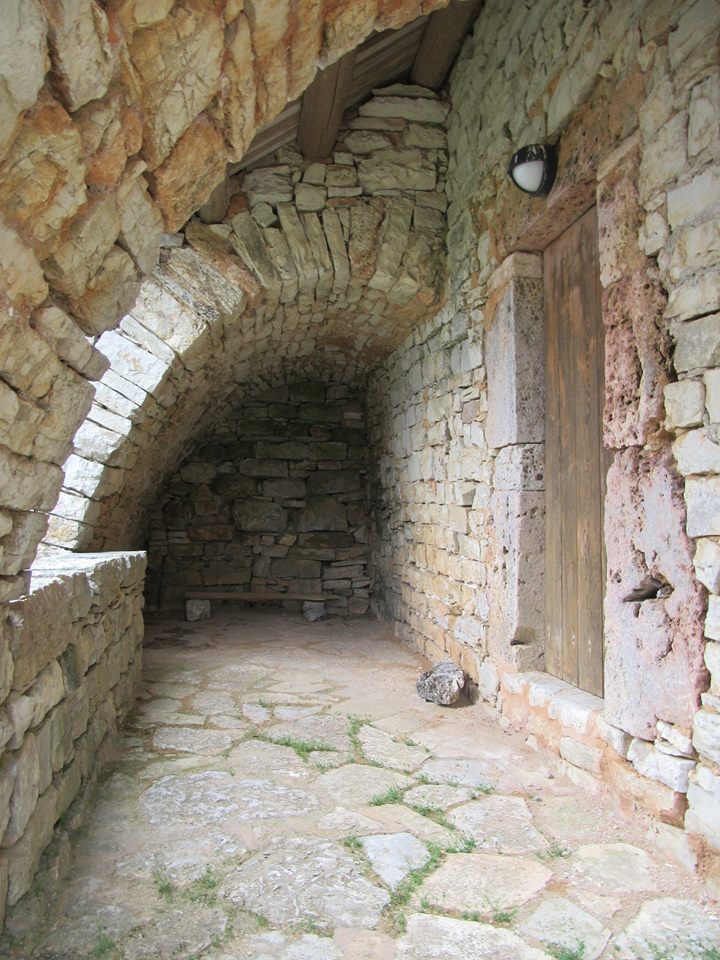 2015 the right side of the house is rebuild again 1988 Doppelganger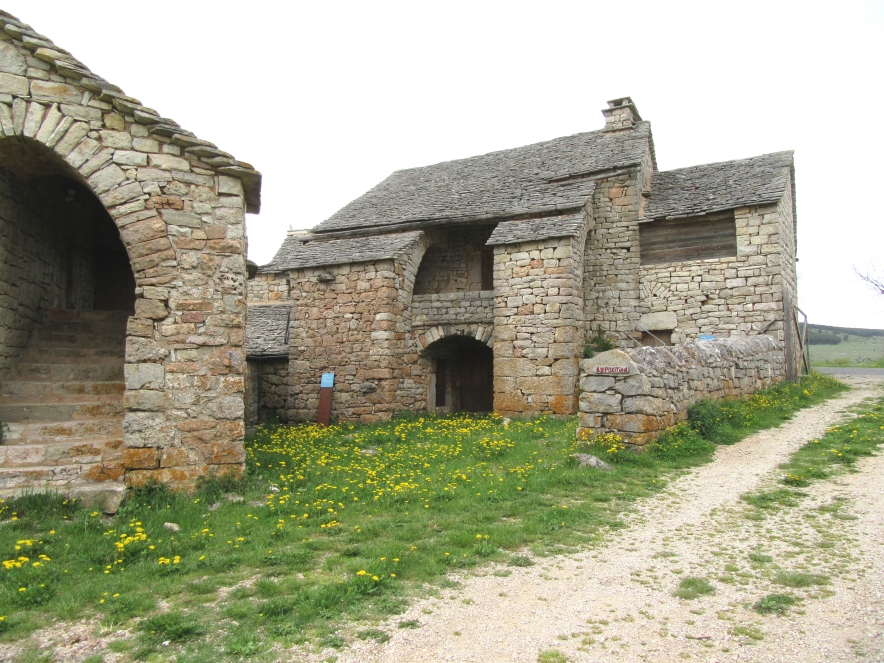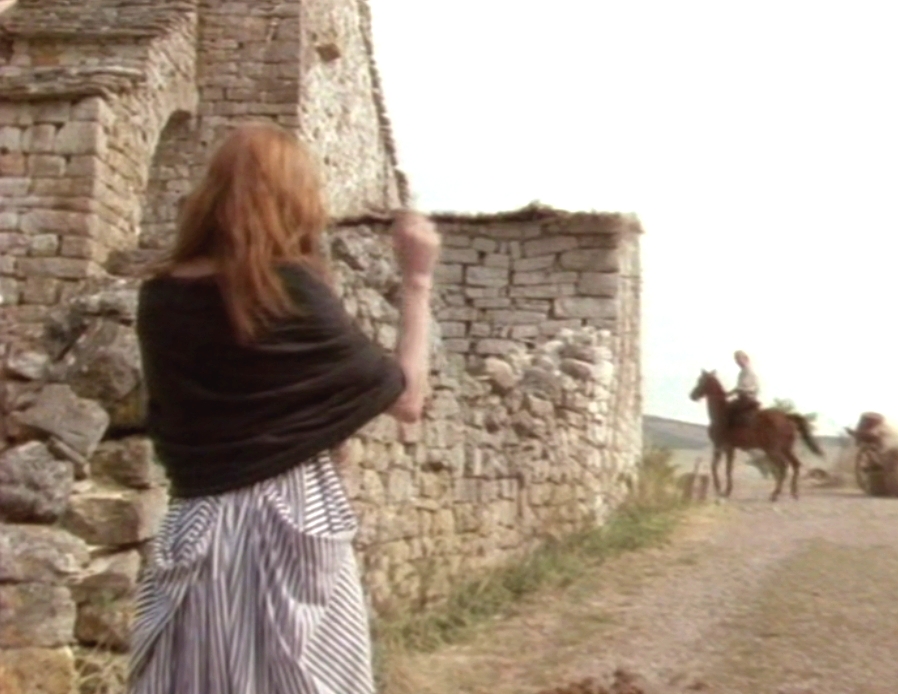 To Compare this place
1988 Touch 49 2018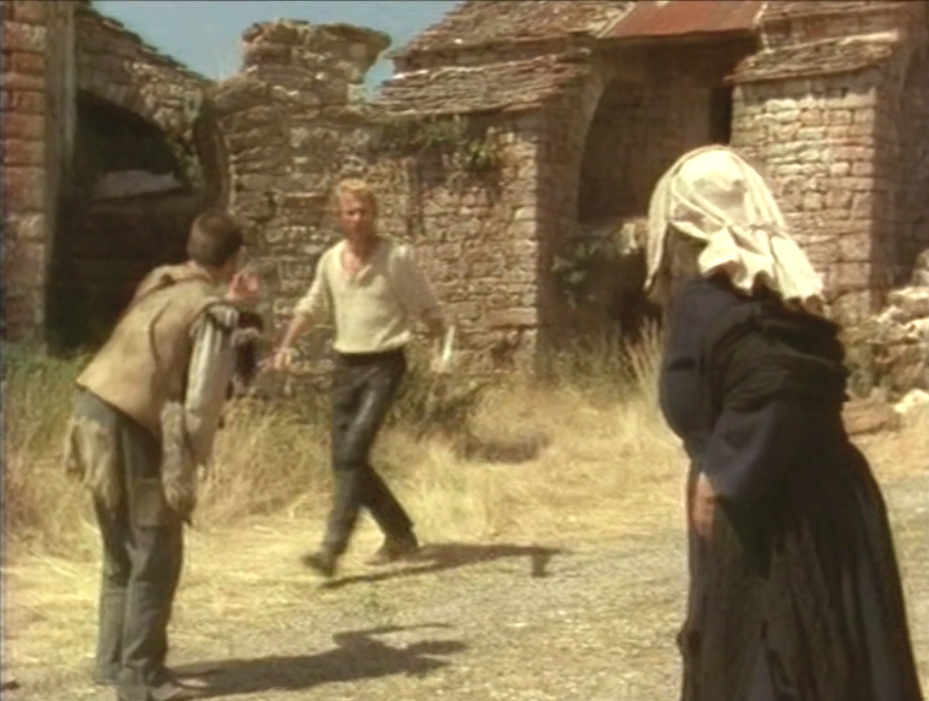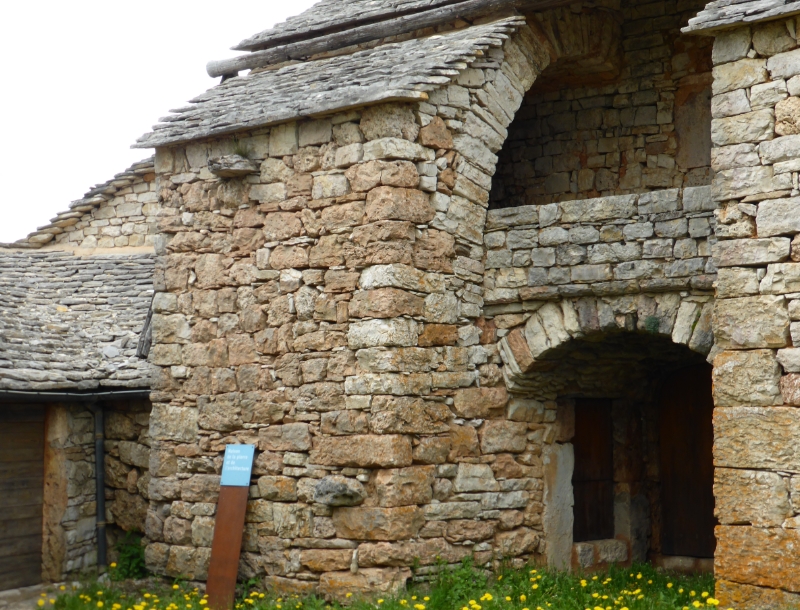 1988 Left above episode 49 'The Touch' and below 'Doppelgangers 53' 2018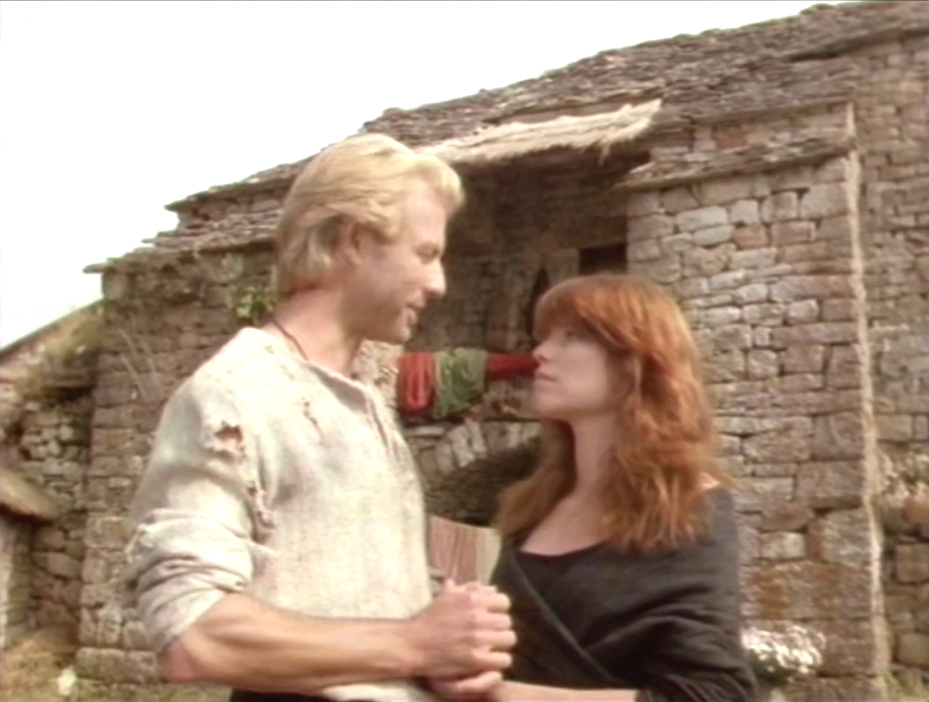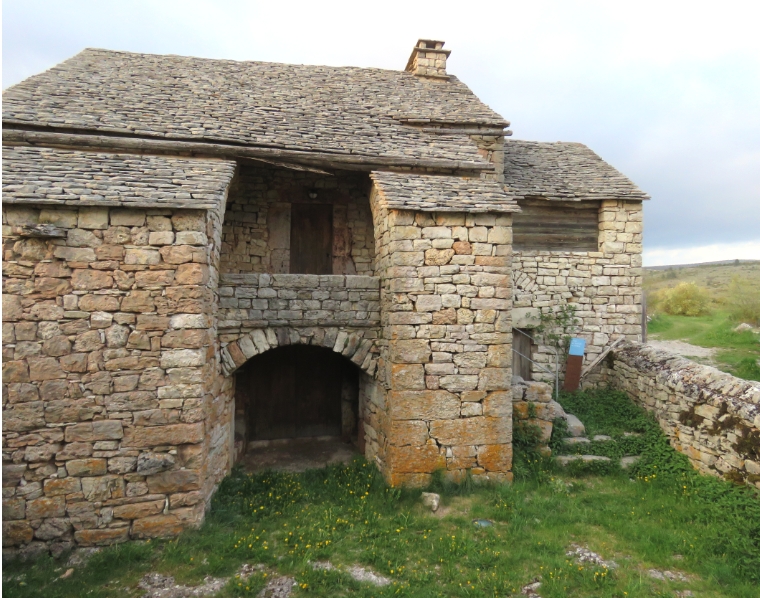 'Behind the scenes' photo. It's copyright of the photographer.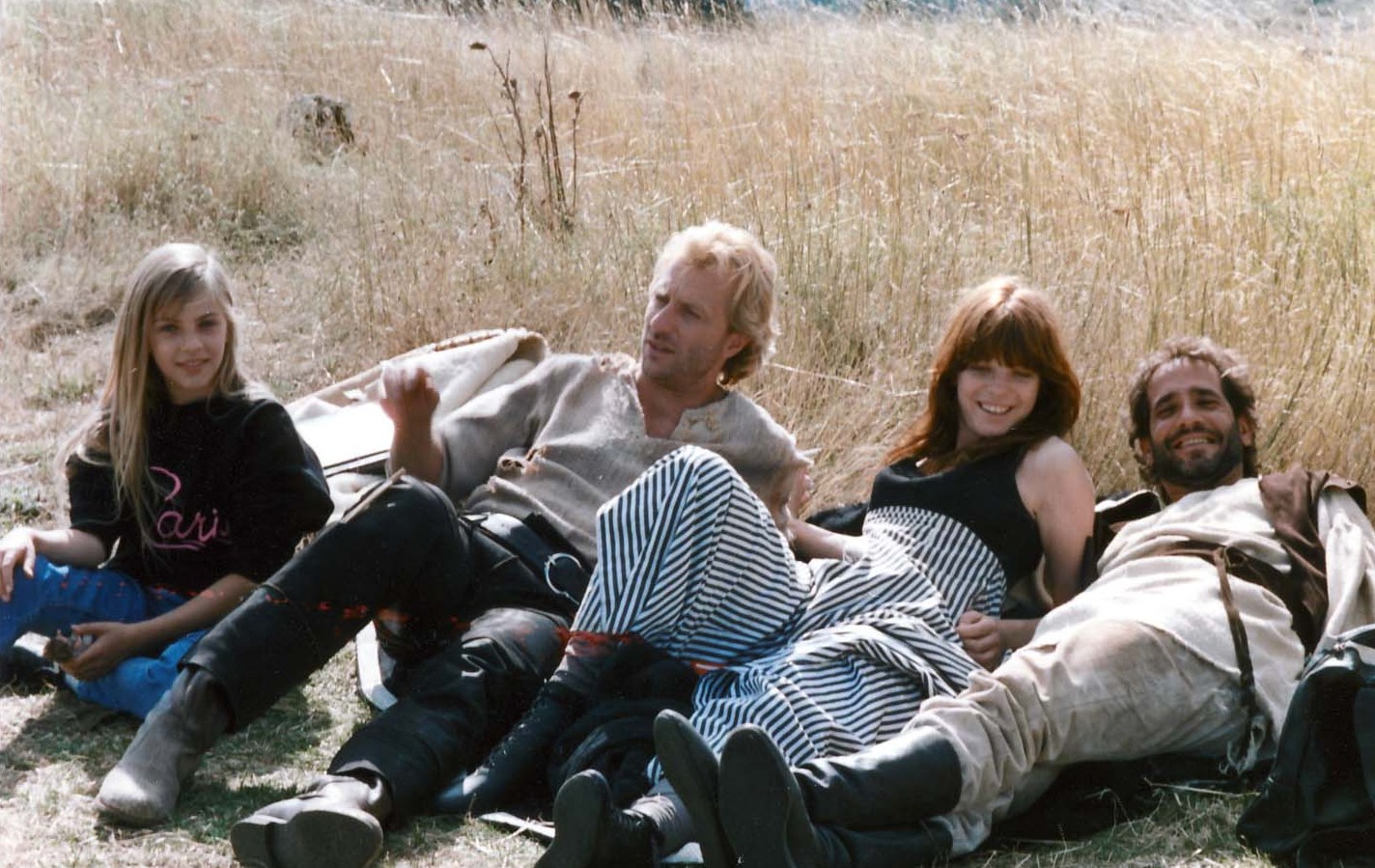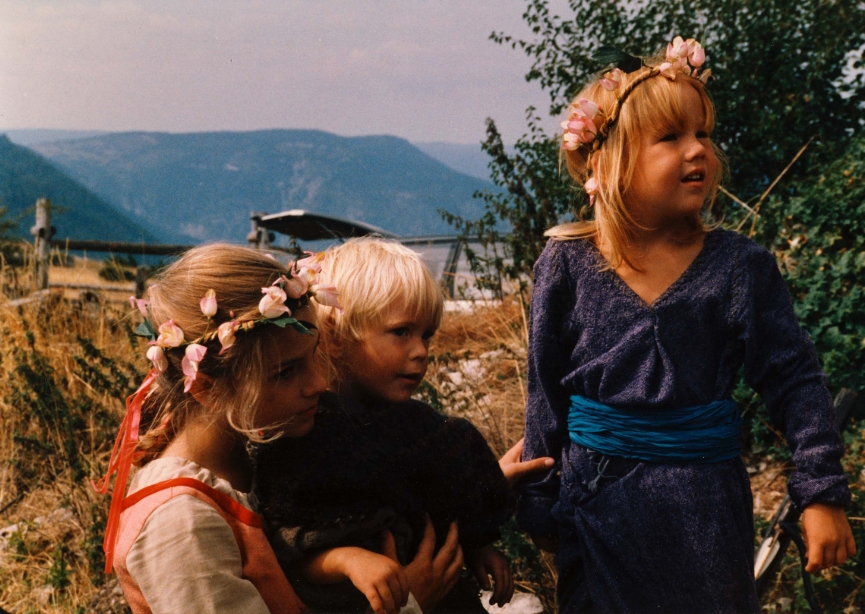 The unknown location in episode Doppelgangers 52
Please help us to find these high houses with the orange roofs in Lozere. It could be part of the village below.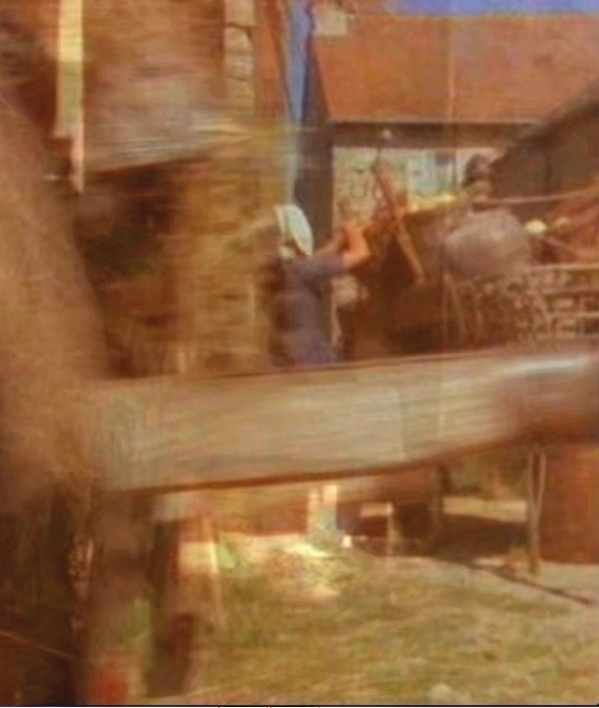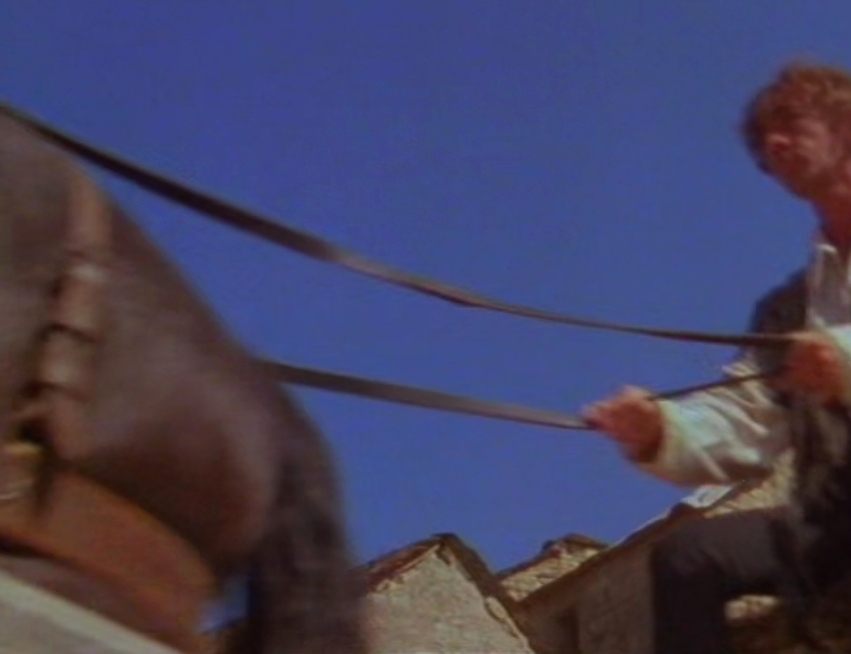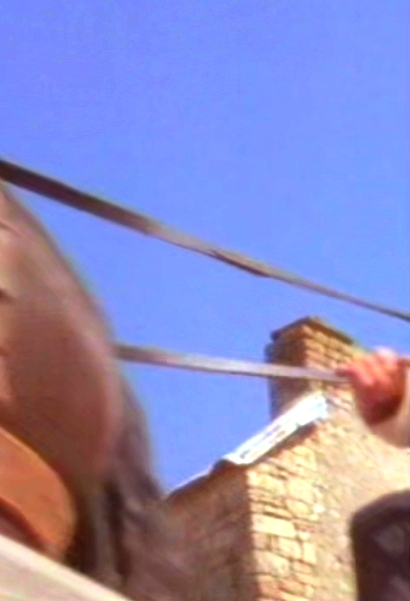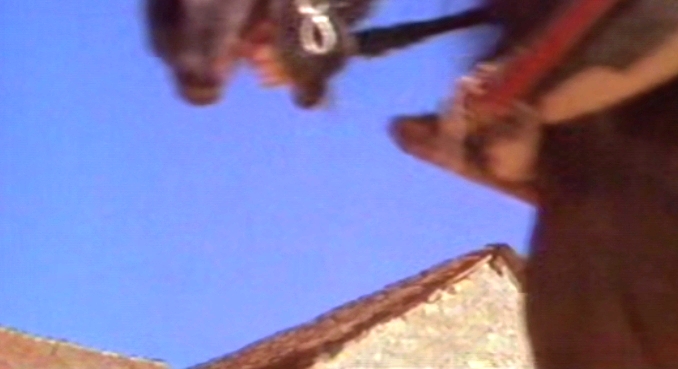 This episode is shot in Boissets and the ruins of Monthialoux but where else? Who recognizes this farmhouse or village above and below?
It must be somewhere in Lozere, probably around the Causse de Sauveterre. Is it part of a village? Or a lonely farmhouse. The farm used to be a rich farm.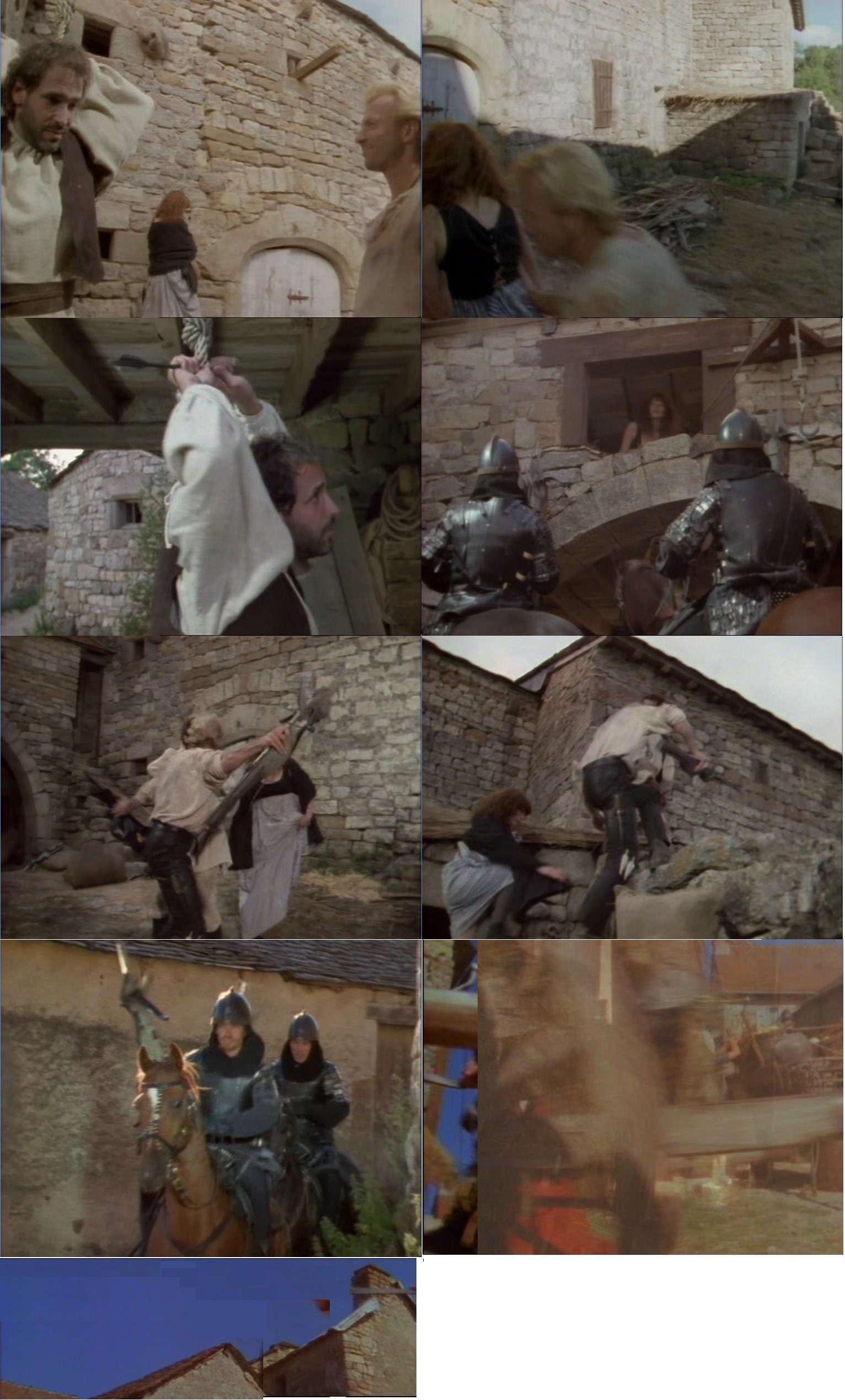 These photos grouped together by C. Petit.
This episode is shot in the ruines of Monthialoux, 1 room of Boissets, but at this mystery farm. C. Petit says this and drew us the lines of the missing farmhouse.
This is his conclusion: 'It has a storeroom on a beautiful arch, but this type of architecture is very unusual in the region. I have not seen any other farm with this type of cellar.
And given the volume of stone and

 wood, it didn't not seem like a fake. Usually, the false sets in Season 3 are very crude and noticeable.'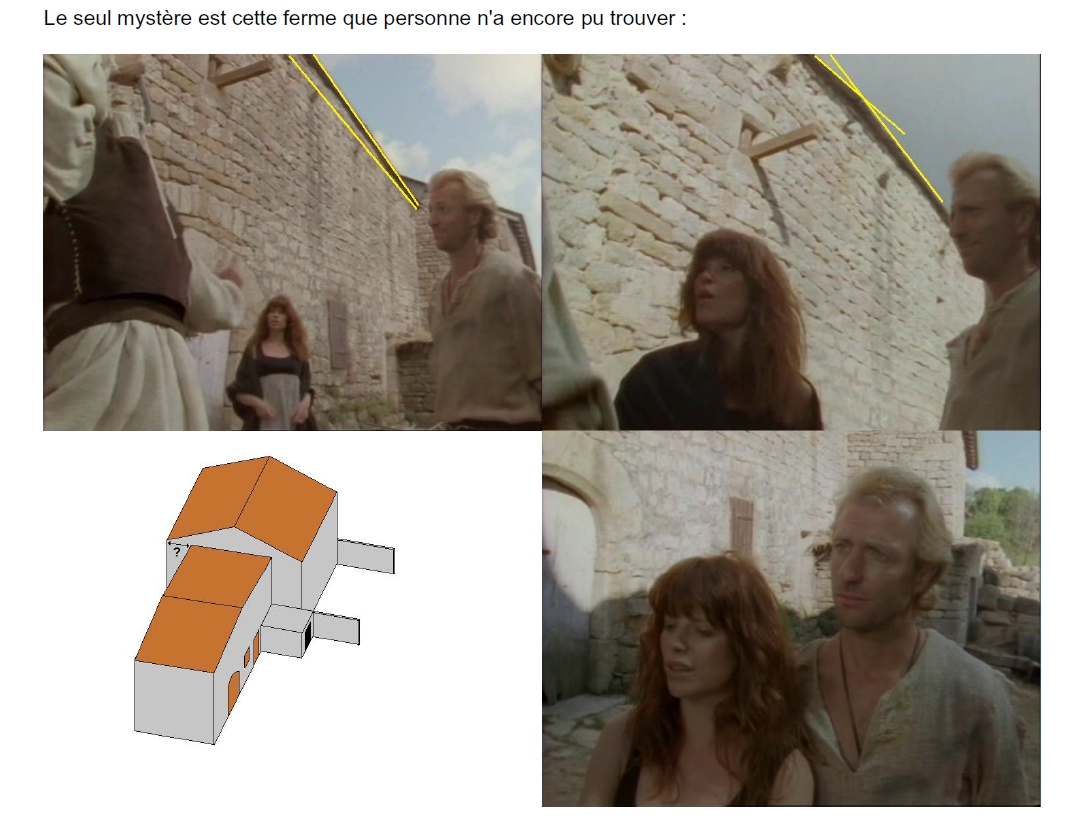 Note: Petit hasn't drawn the arcade porch and the houses behind, you see here below.
Both sides of the arcades are different! The gate: is this a village or a farmhouse or perhaps part of a castle in Lozere?)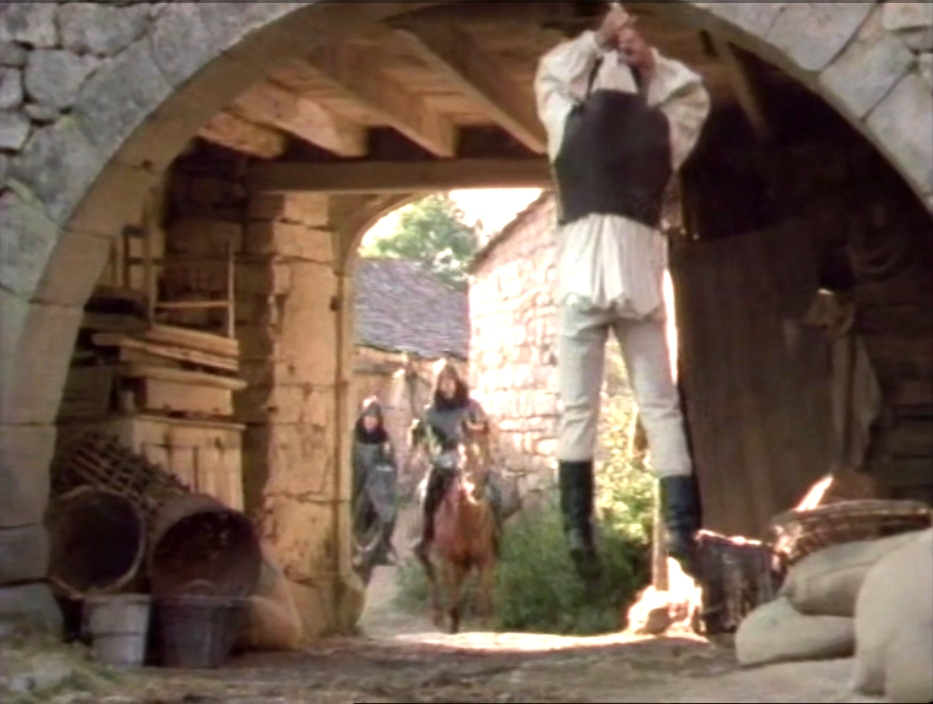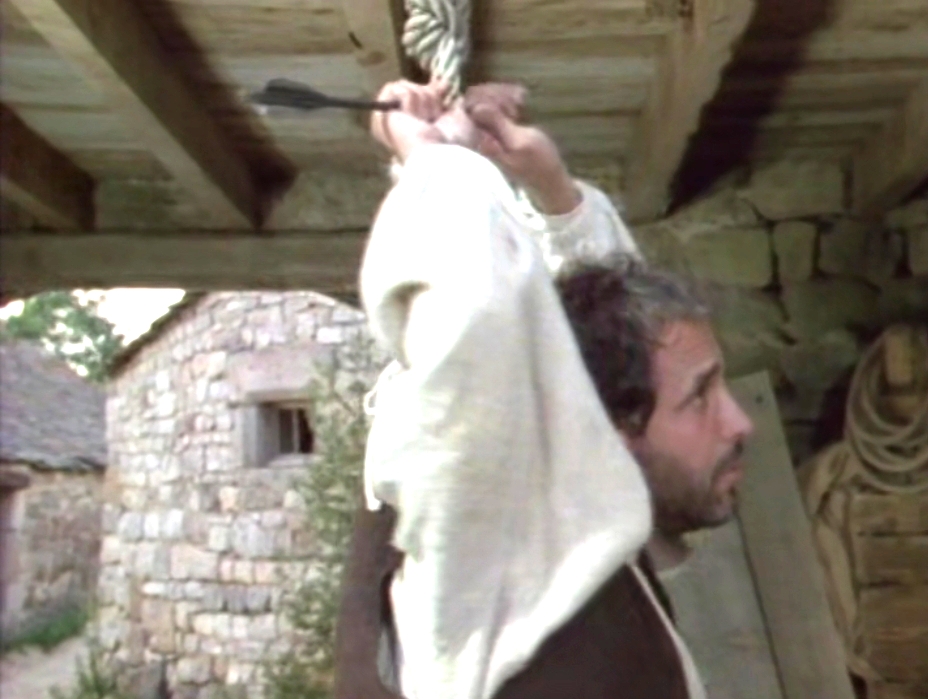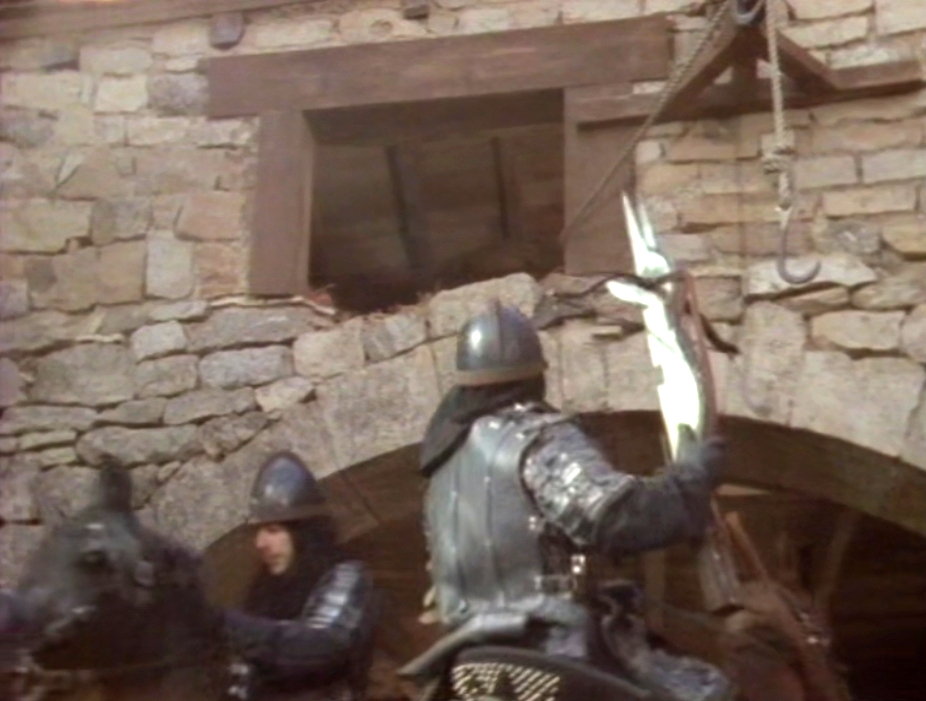 All photos we have of this place. It has a recognizable architecture.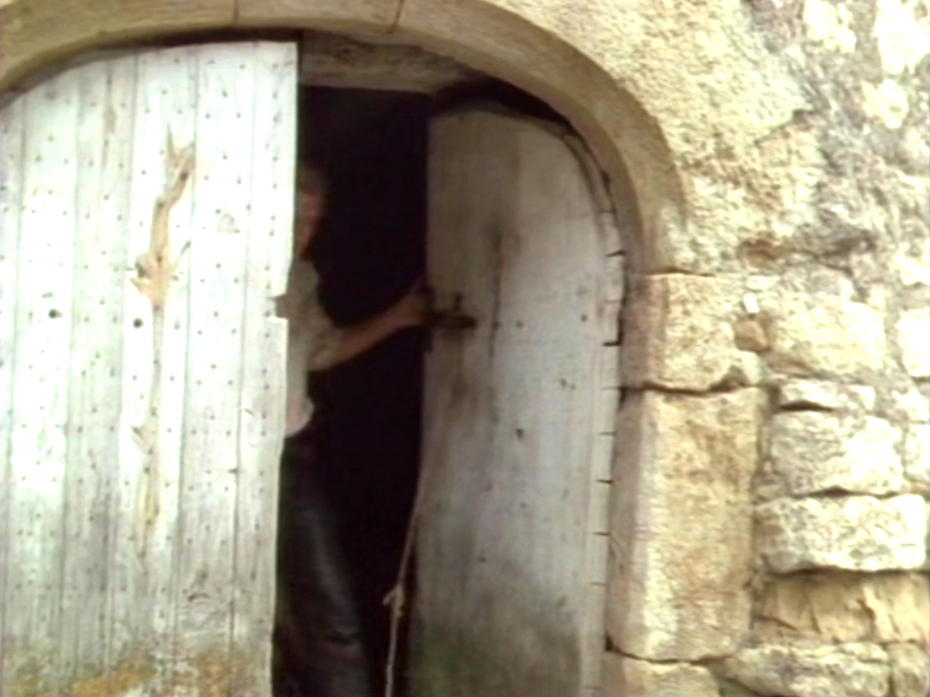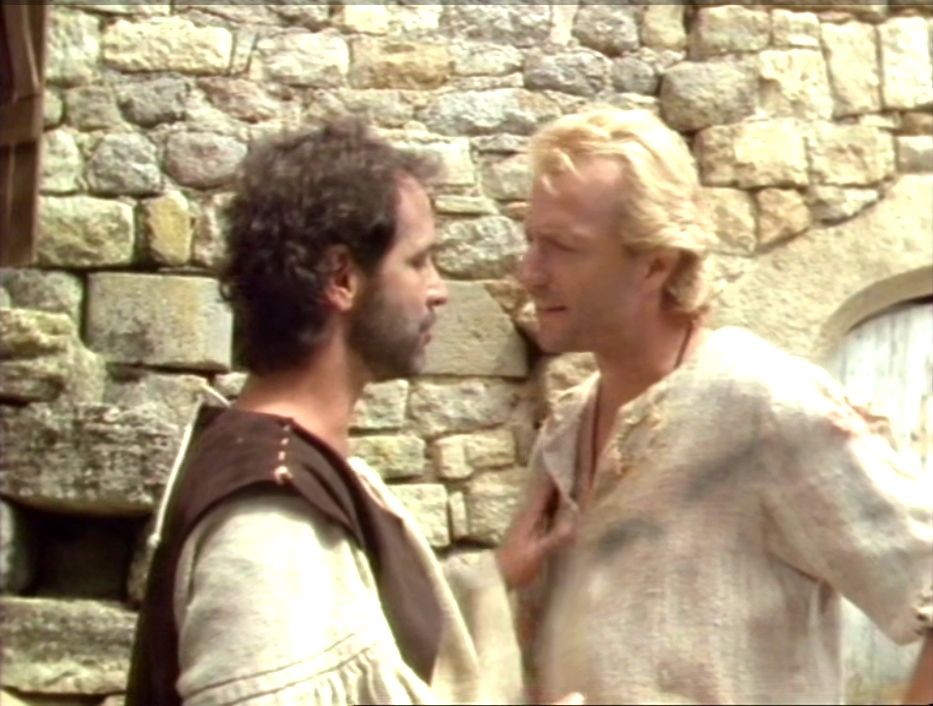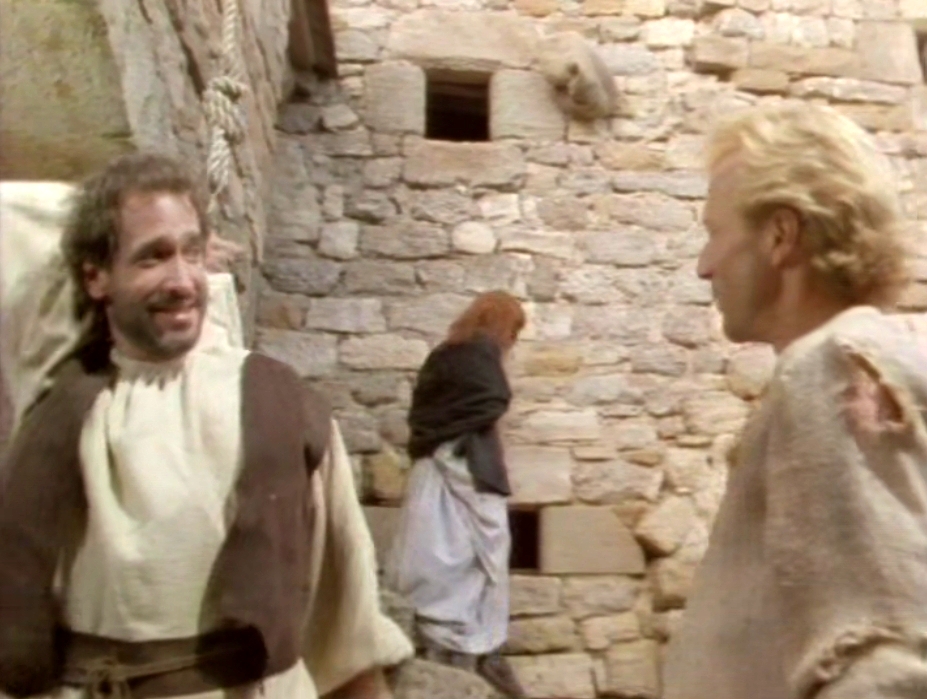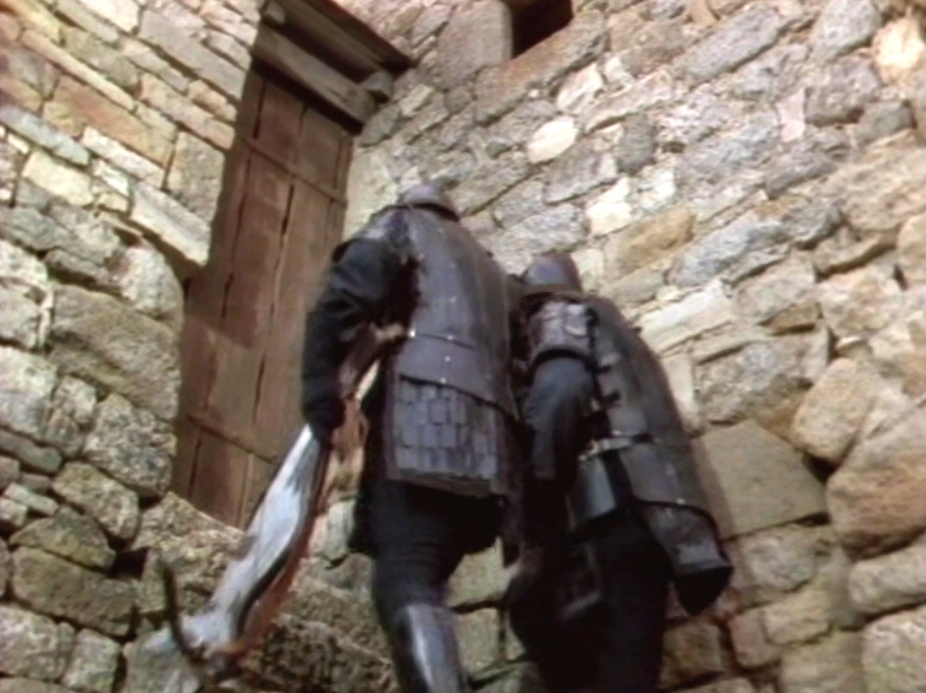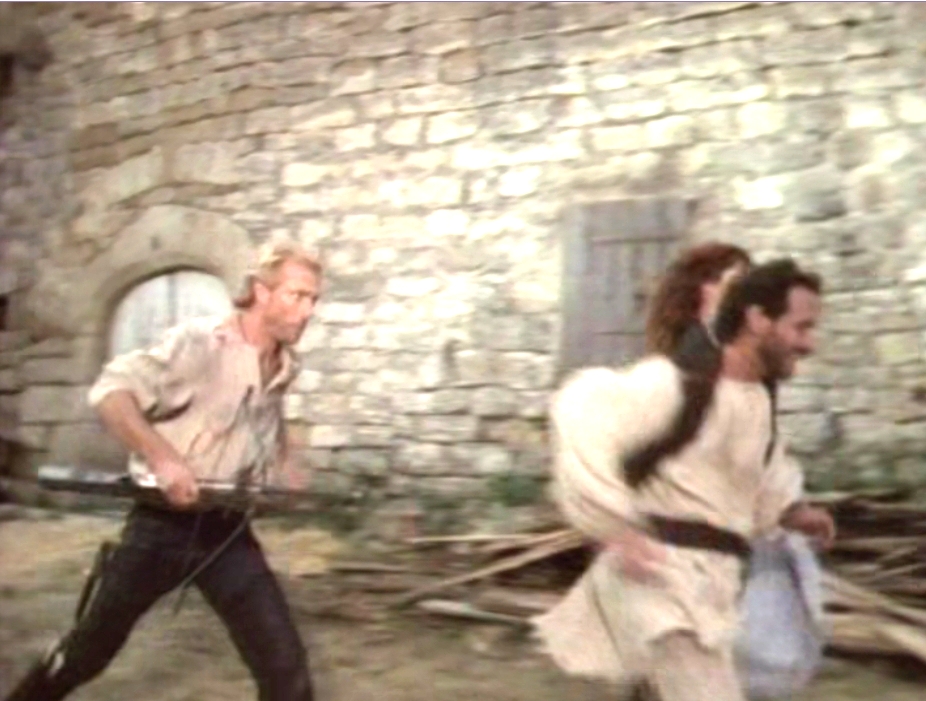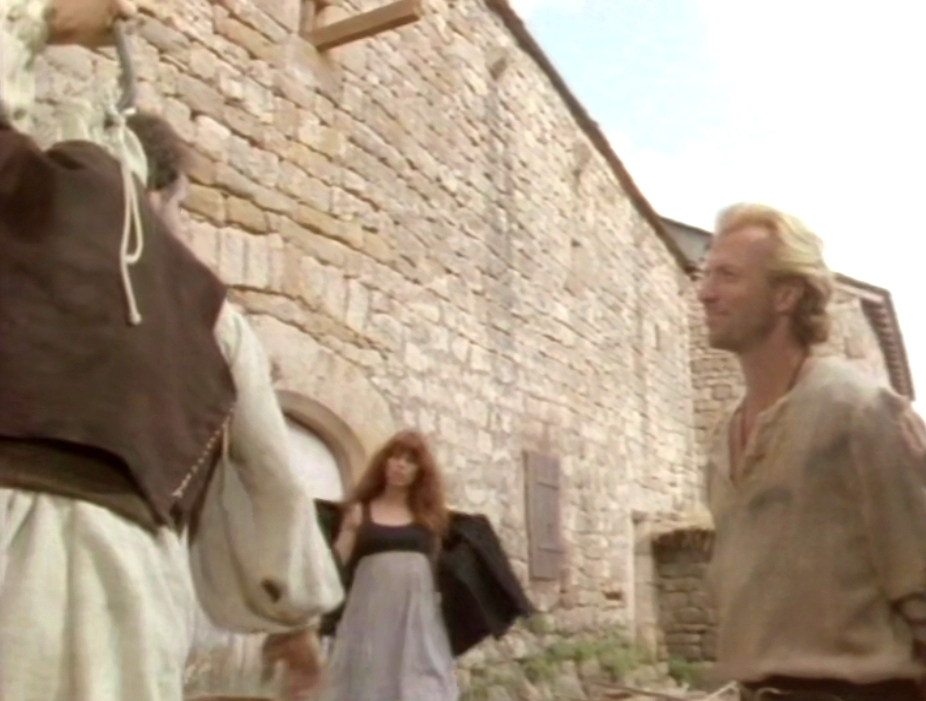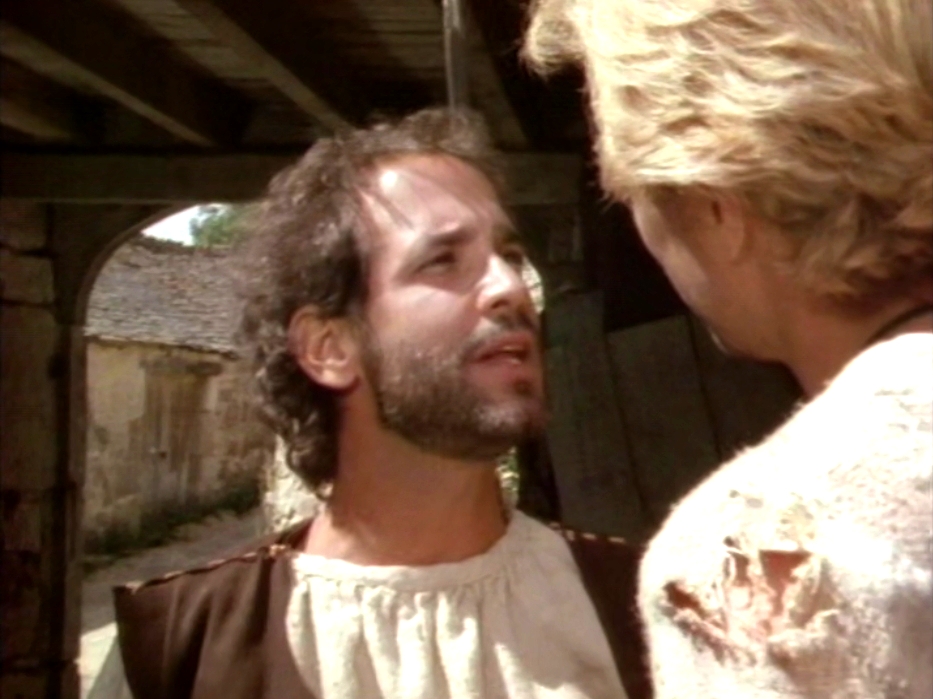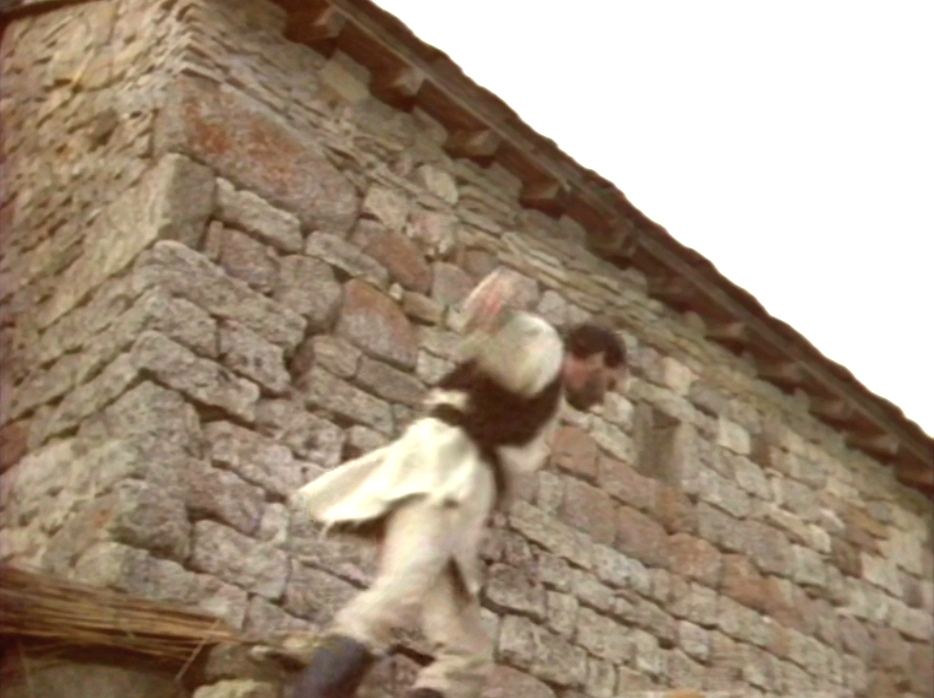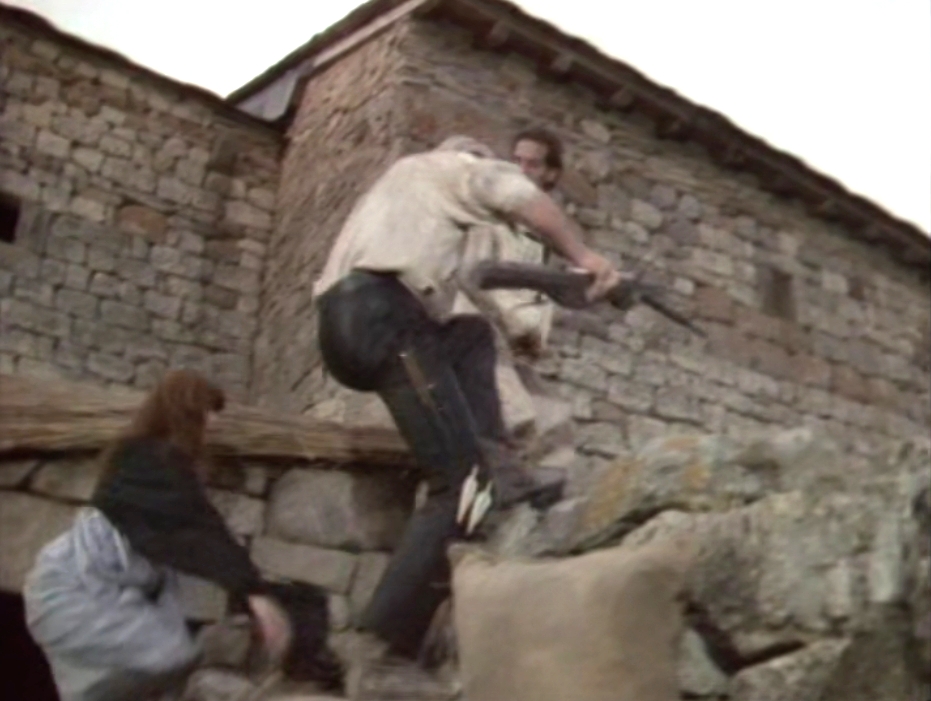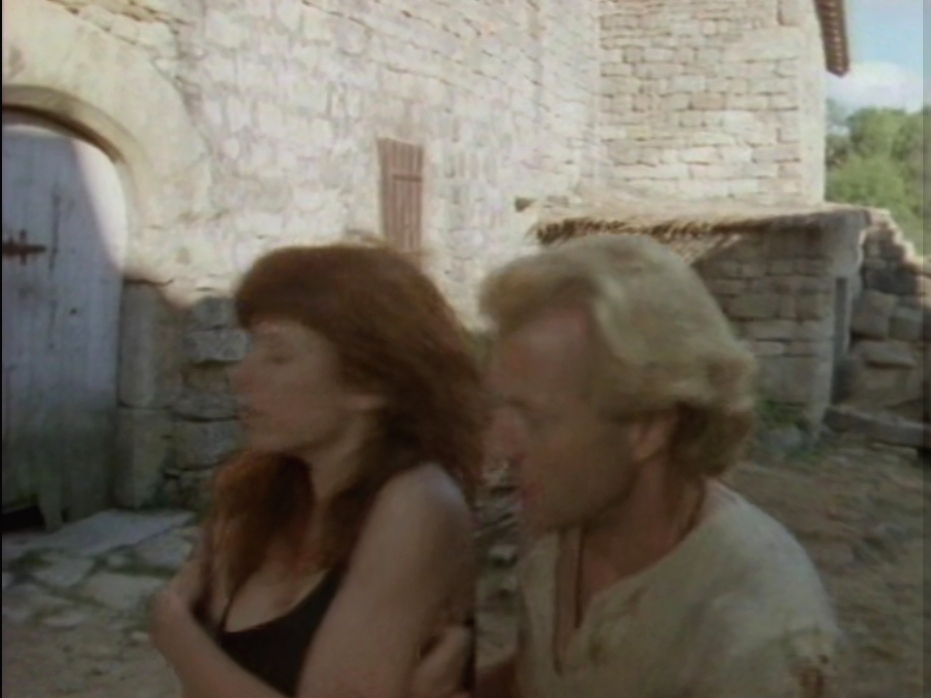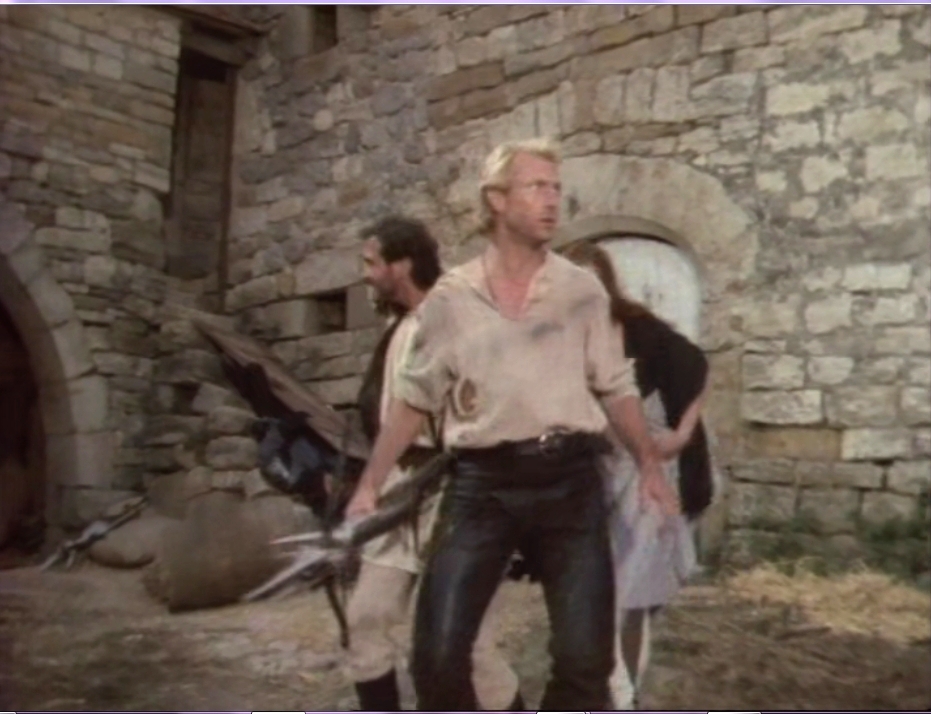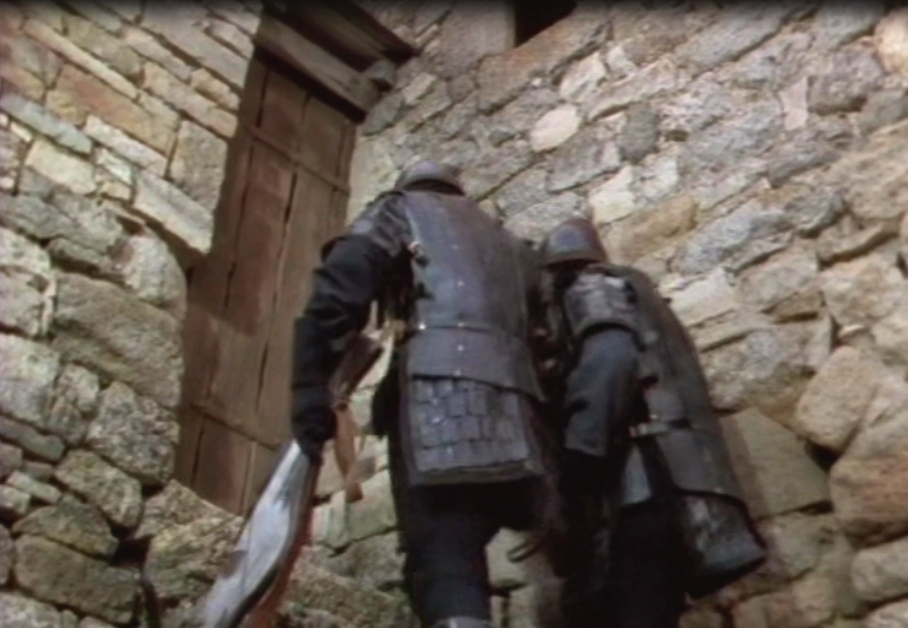 A lot of photos of this place, so perhaps people do recognize...
The photo below, with the cow, is an example of a farm that looks a little bit like it (in Le Villard Lozere, this is not the farm we are looking for).
Also La Ferme Caussenarde d'Autrefois Musées (picture right below) looks like it but is a little bit different! (right picture).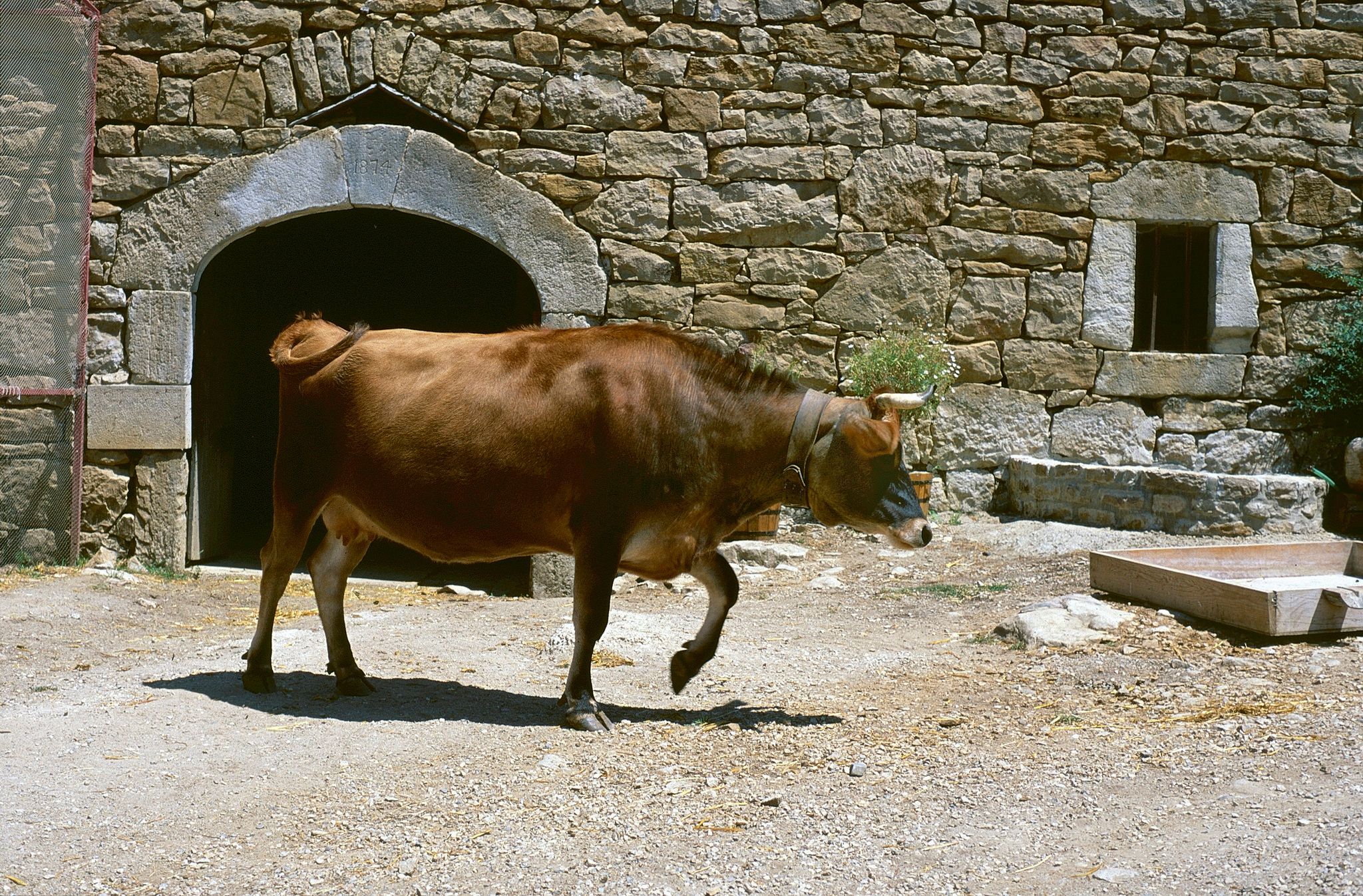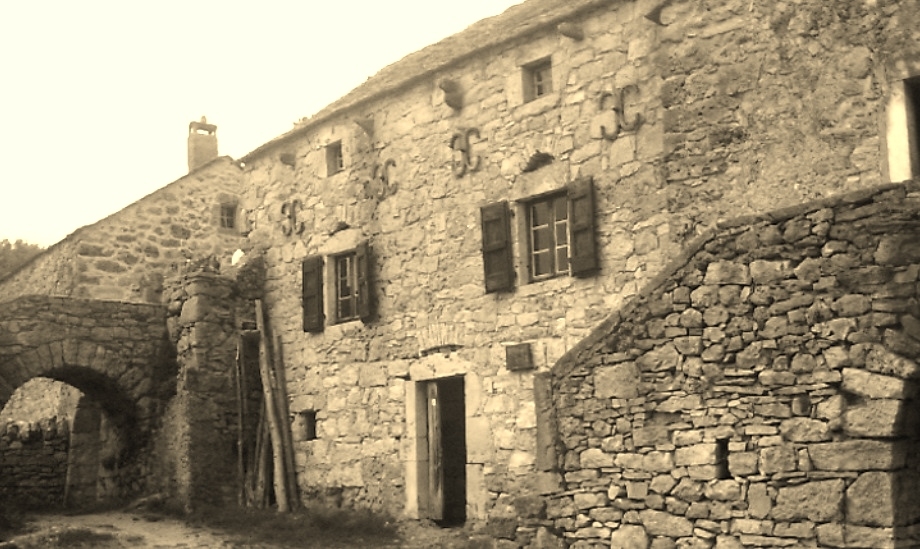 Behind the scenes (copyright of the Crossbow photographer).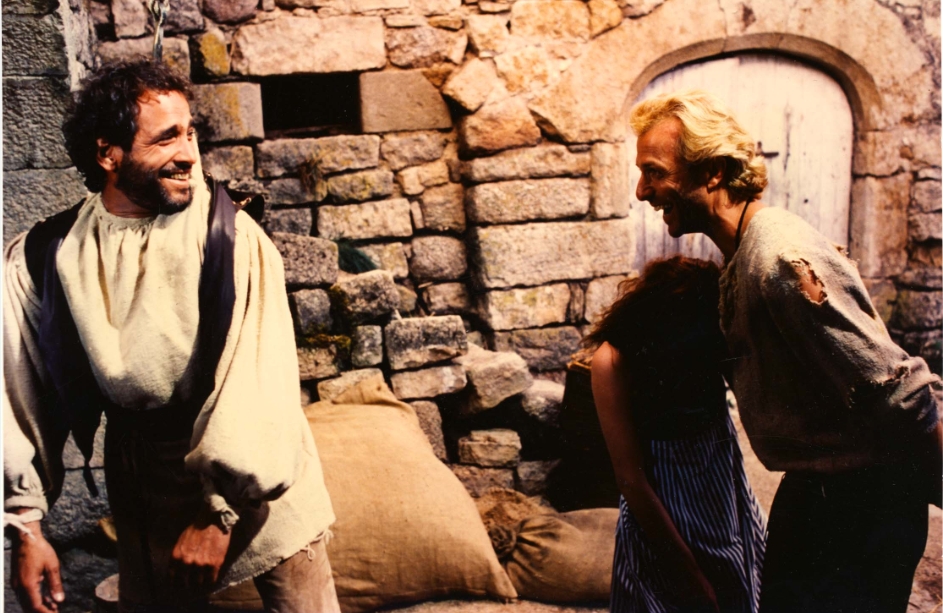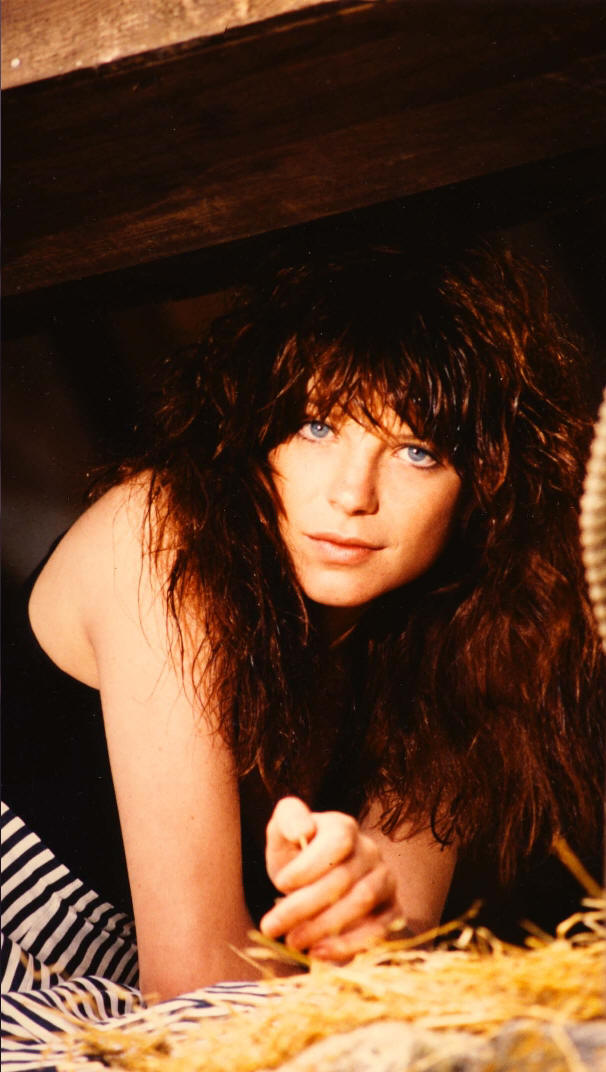 Real or fake?
How real is this gate? The wooden crane on the wall, to lift up Clifton, seems made for the scene and the wooden frames of the window are made of the same new wood.
Right photo: The arcade, side where the soldiers came from, looks like a strip of stone that has been pasted in front of it and has a different shape. perhaps the owner of this
property renovated it this way. But it is strange no farm can be found that looks the same. Then you are realize that parts can be fake of this farmhouse.

Chateau Monthialoux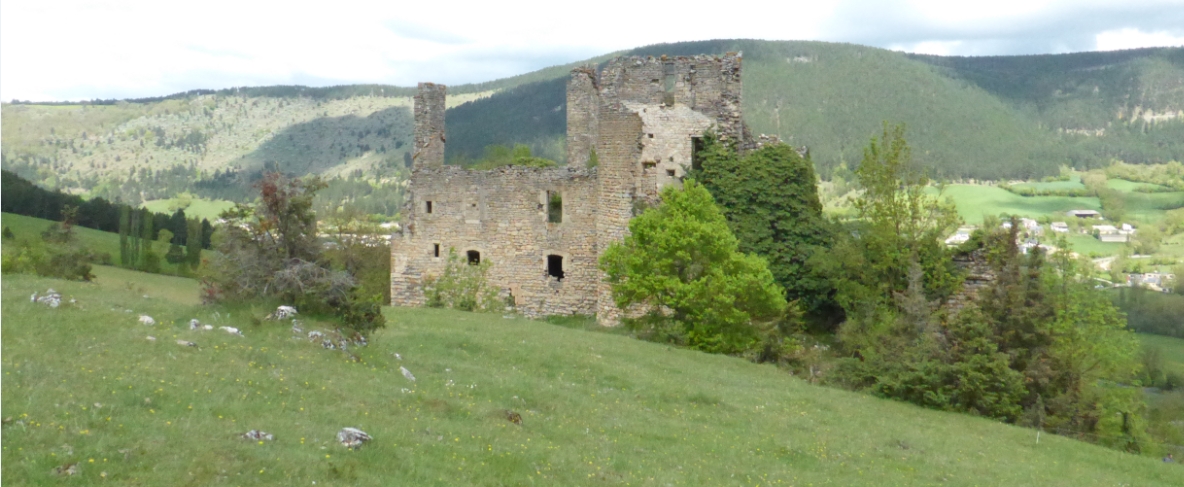 Still episode 'Doppelgangers 52' There it lies on the hilltop.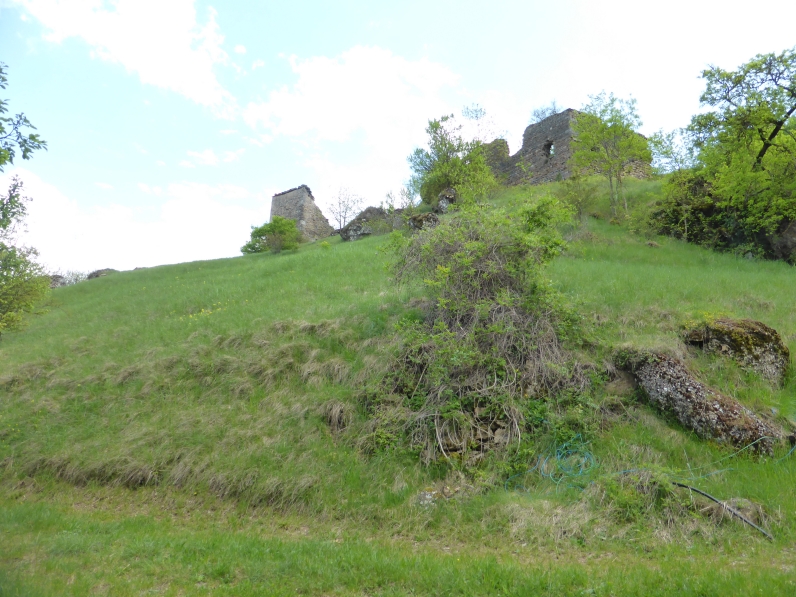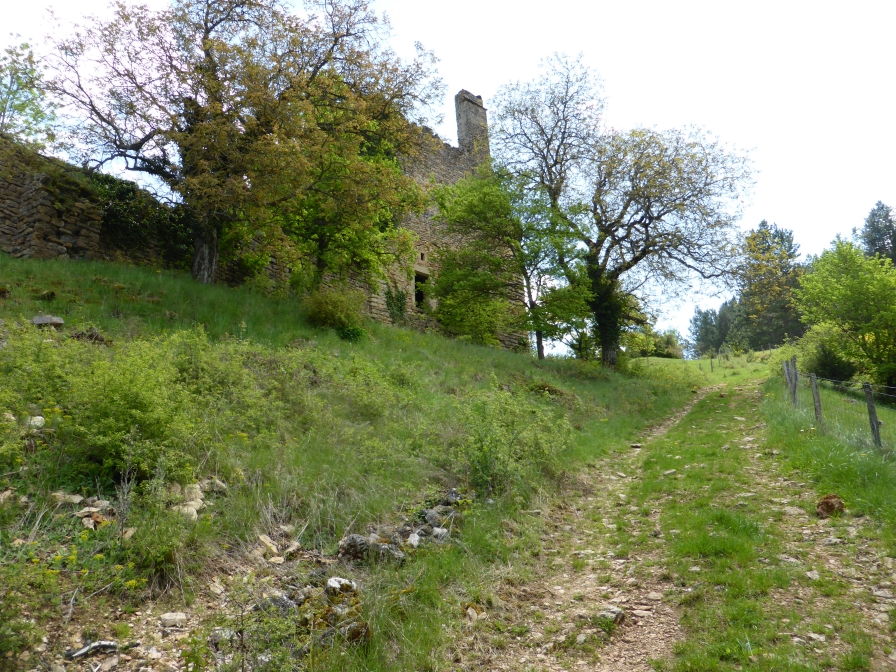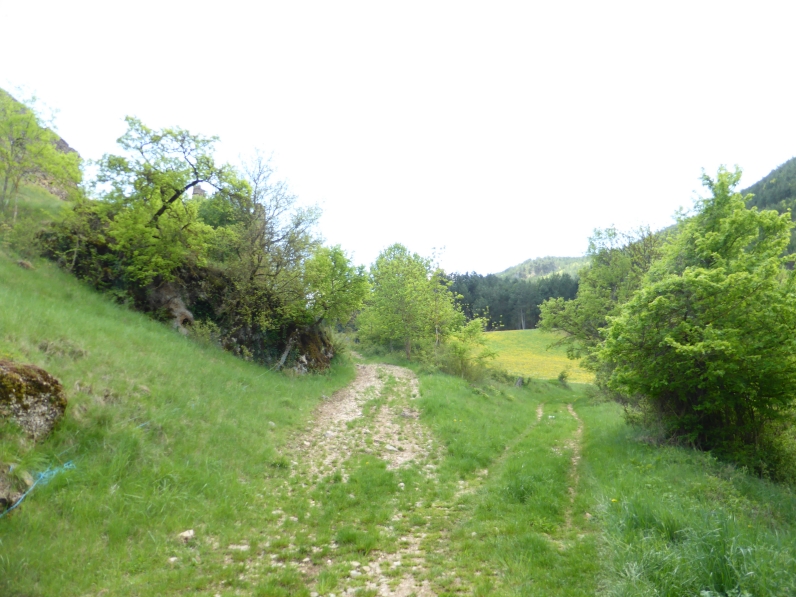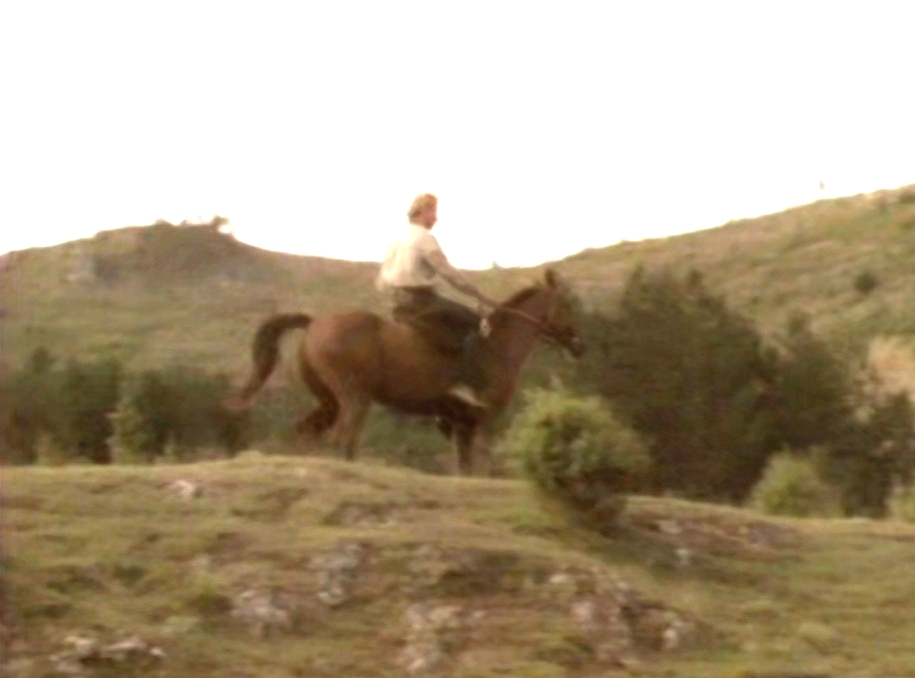 Beautiful but a very dangerous place nowadays! It's not hermetically sealed. It's a real risk to enter. If you look at the most
beautiful part of this castle, you understand why. The stairs inside is unfortunately really damaged. It's a waste.
1988 left and middle are exact the same places 2015 2015 on top of this hill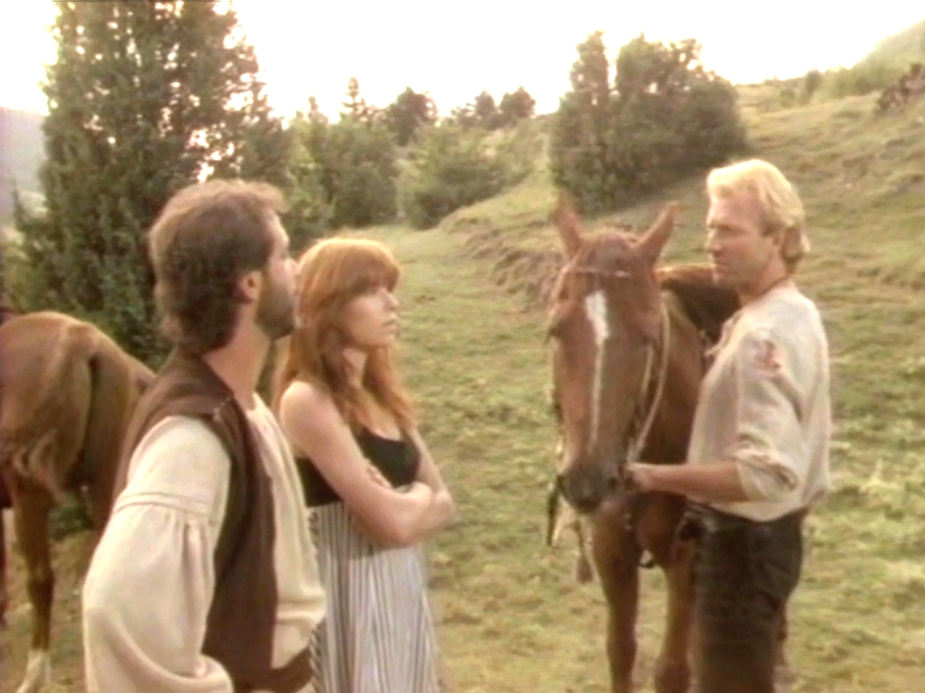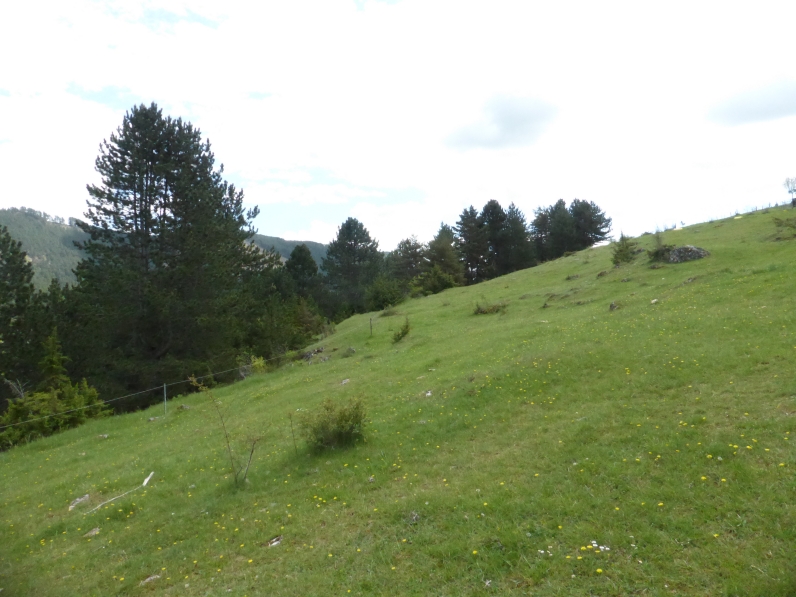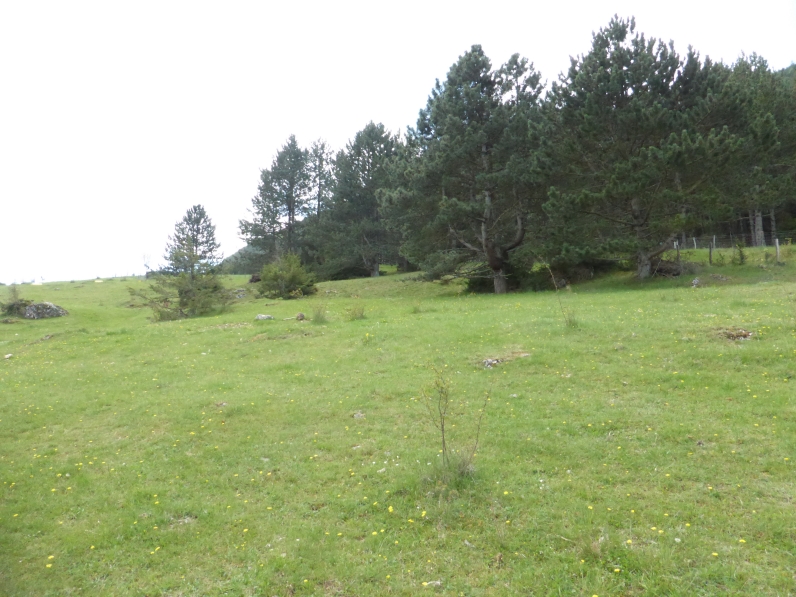 1988 recognizable by the grey gravel fields 2015 zoomed out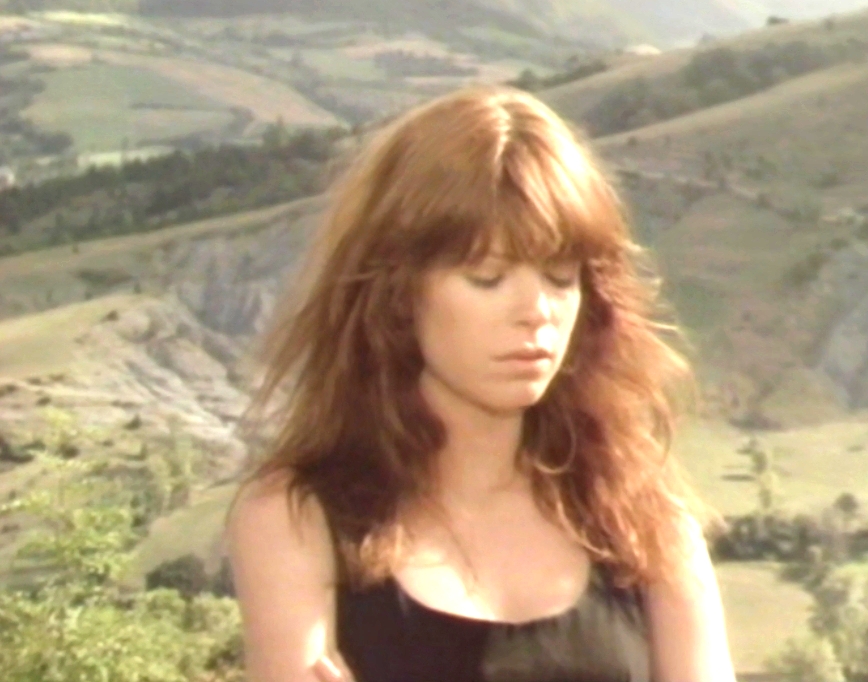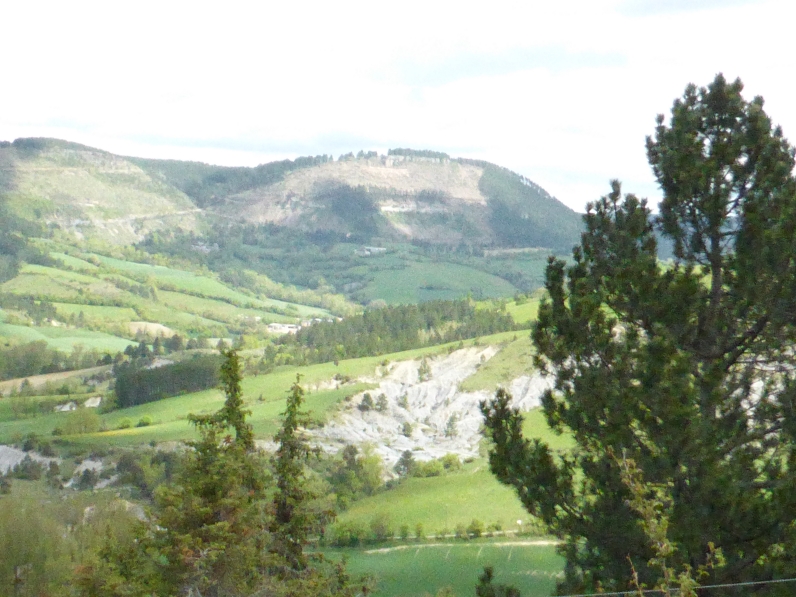 The arcade in top came town. It has damaged the stair below it. See more of it down this site.
1988 2015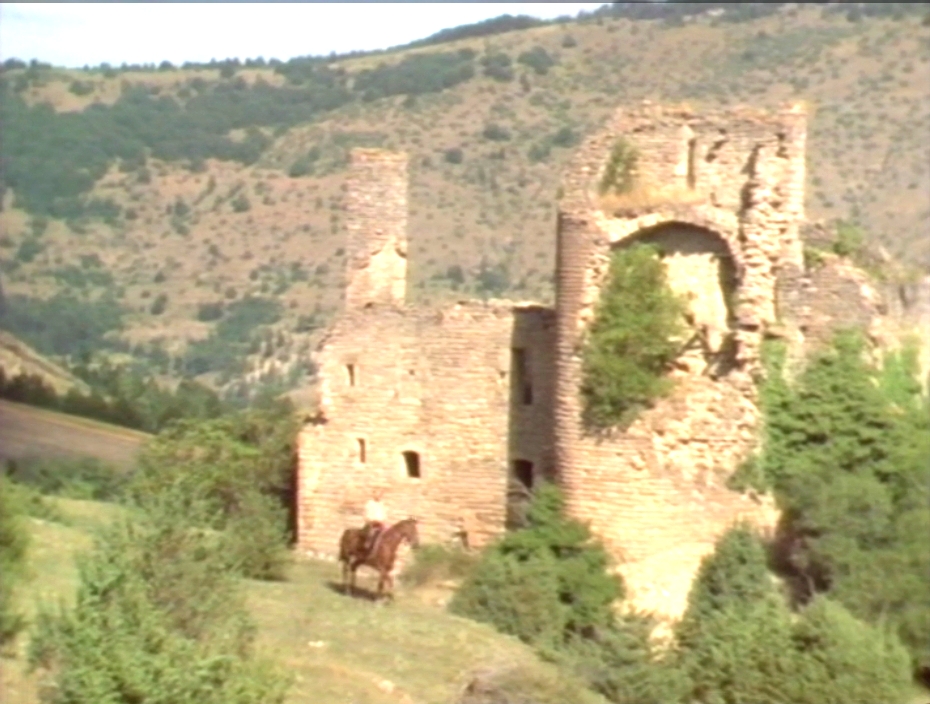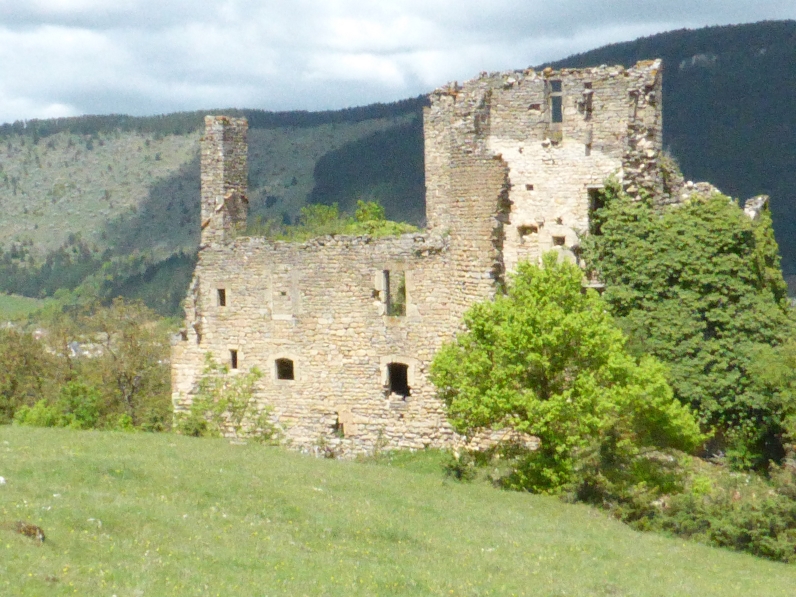 During Crossbow there was a tree growing inthere (around 1988) In the meantime the roof of the tower is callapsed, that explains the light coloured wall.
1988 You would expect a whole bunch of trees by now...Nice they have kept the landscape open 2015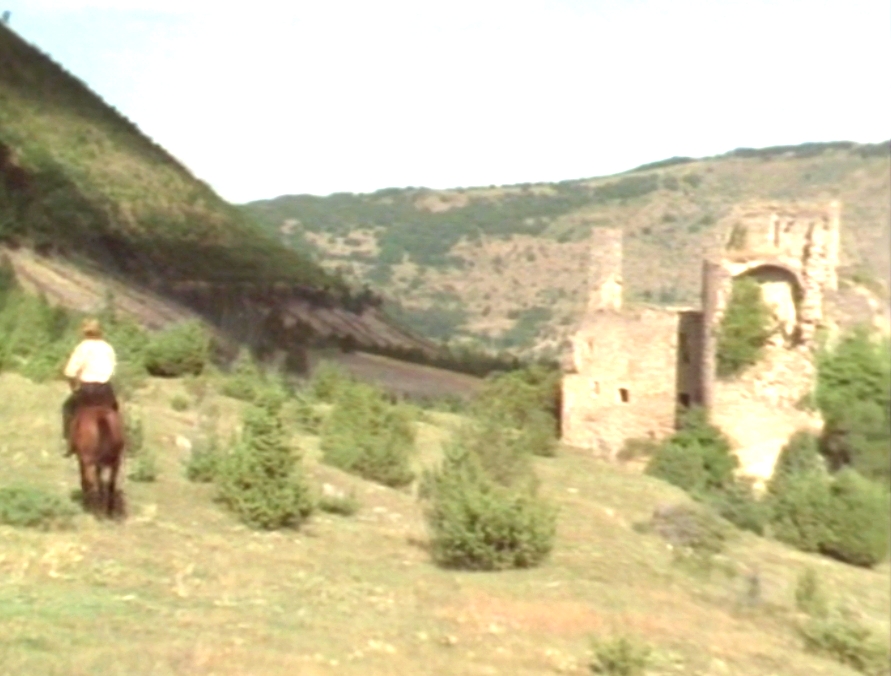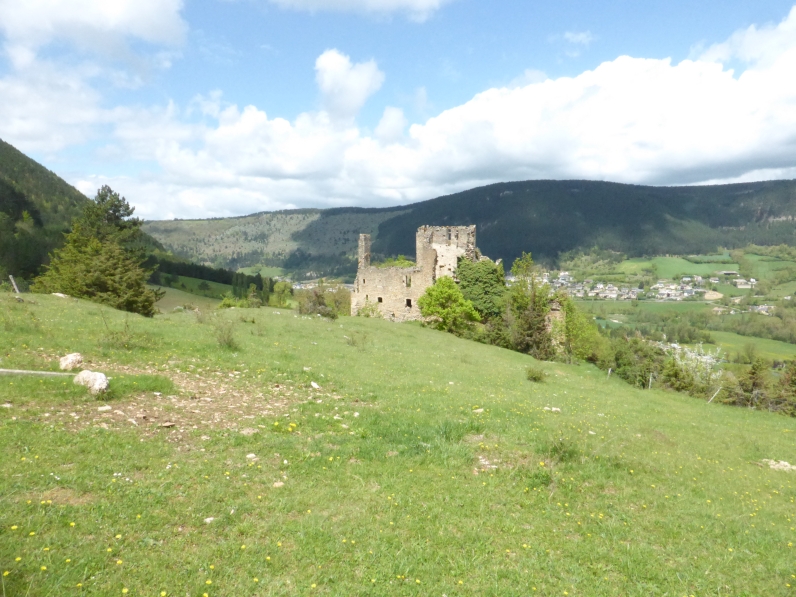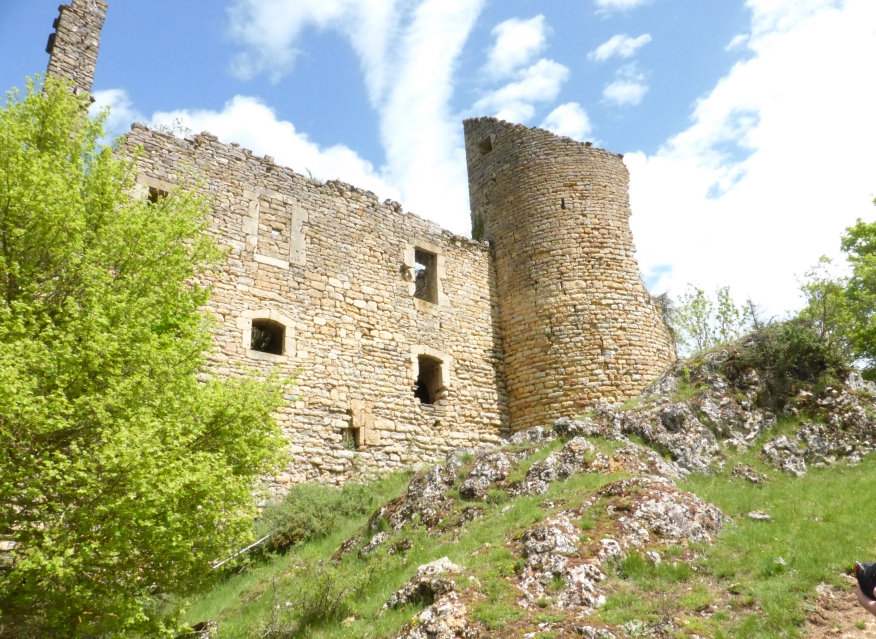 Sheepfold location
The place in the ruin, Clifton is incognito Same place! Tell is looking for Clifton Two different locations in one episode.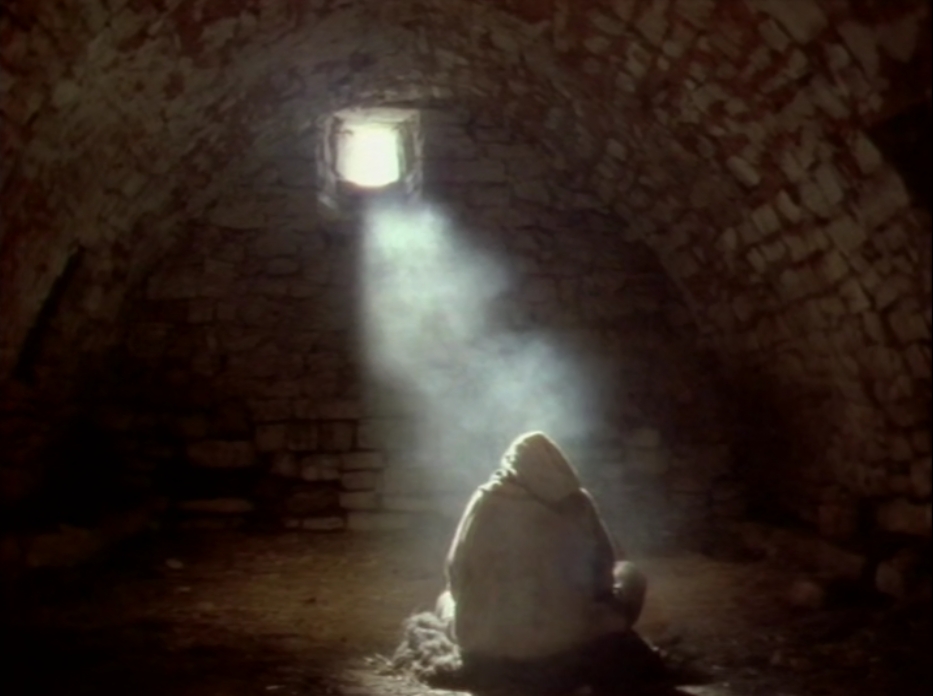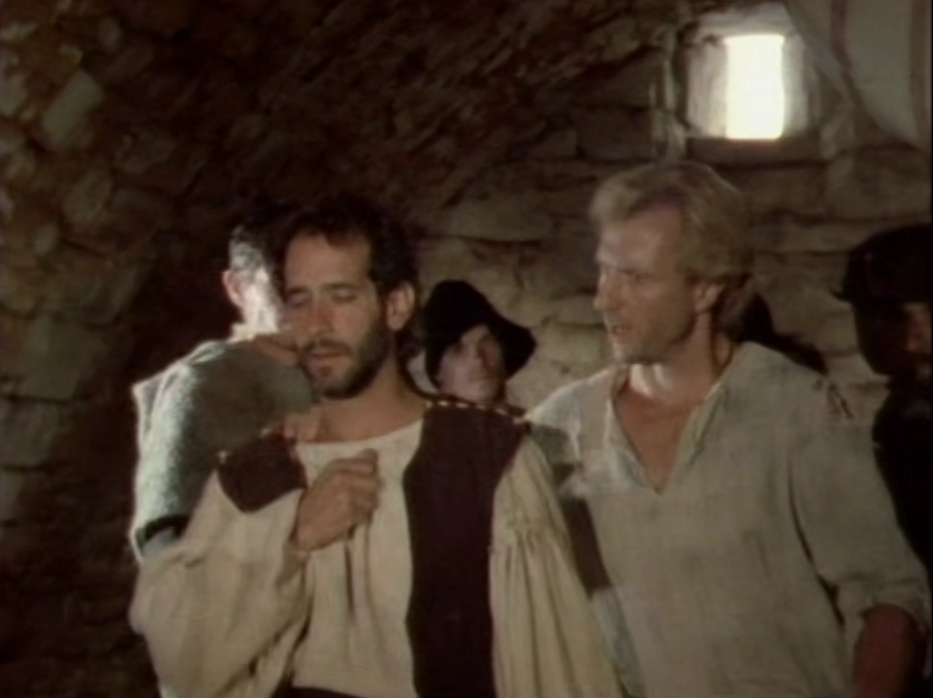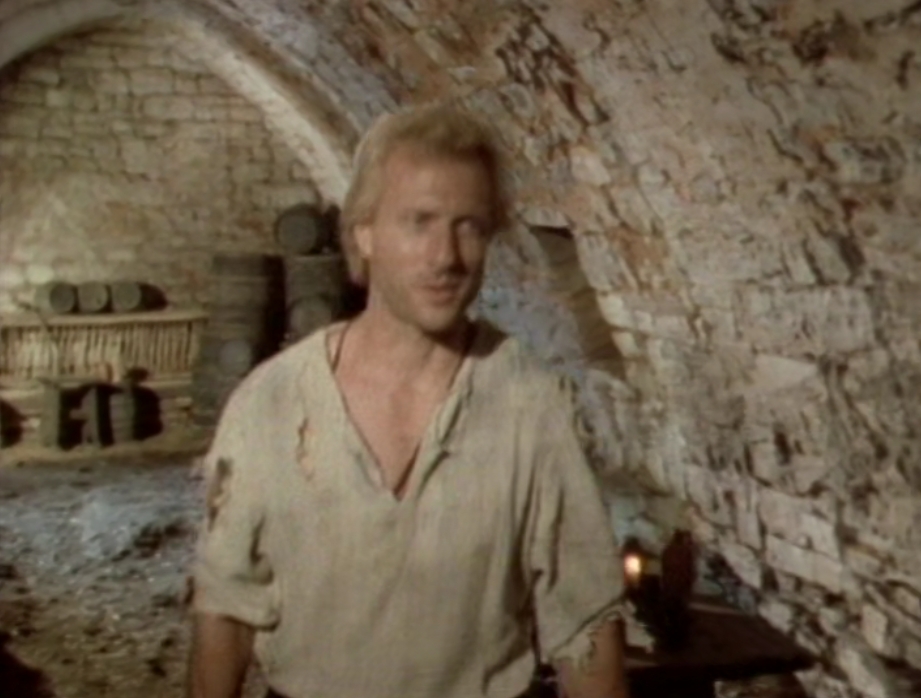 Clifton sends Tell and Pamenta to a monk in a ruine. No monk but Clifton incognito.
Scene: Clifton tries to fool Tell and Pamenta. Location of this scene: I first thought this was inside Monthialoux ruins. Down
this ruins is a place that almost looks the same. They even ran out of this place, but they didn't shoot in here, they were pretending.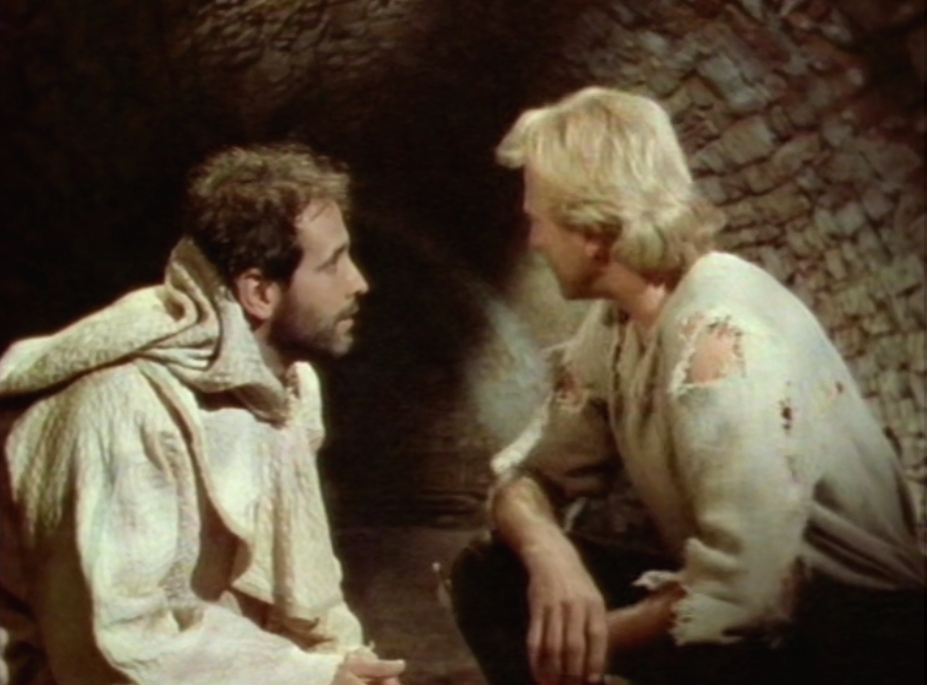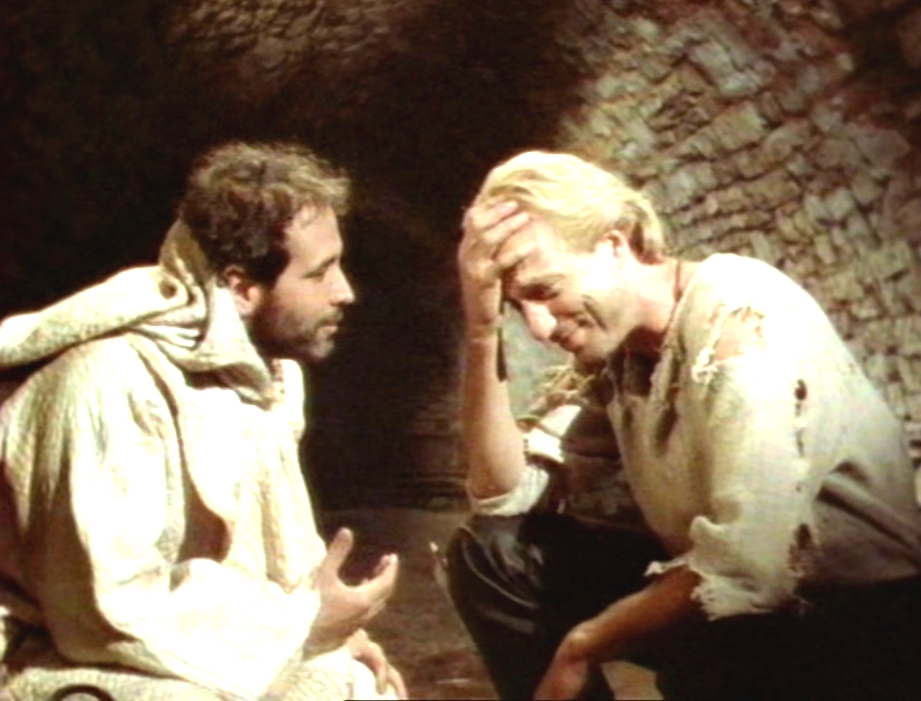 This scene is not shot inside Monthialoux, they are pretending to be but in Boissets, see below.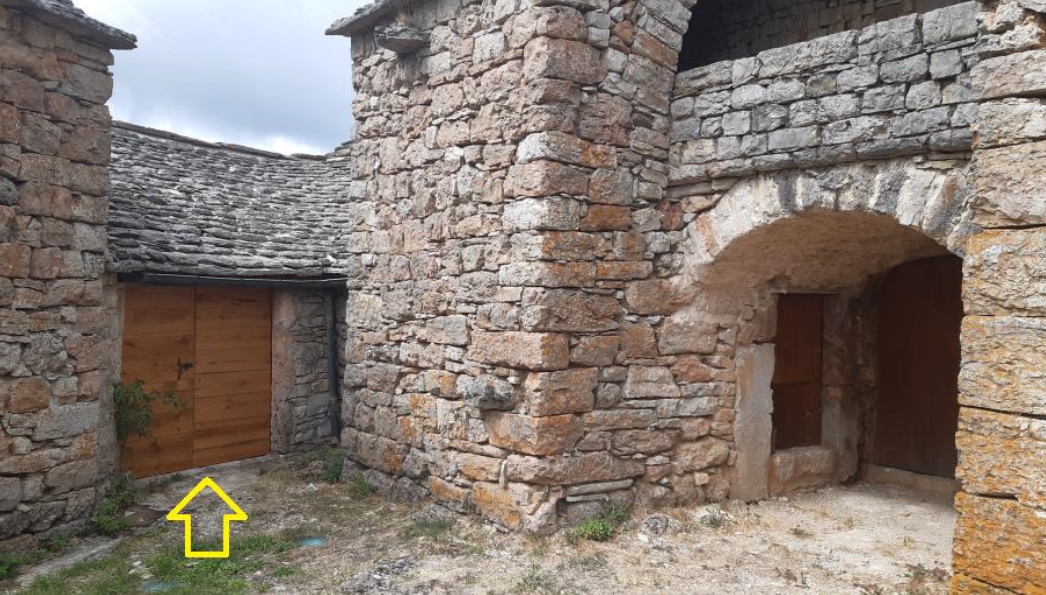 The owner of Boissets confirmed to Petit, it's the room above at Boissets The place below is Monthialoux ruins, they ran out. Photo of both side of the corridor of Monthialoux, that isn't Clifton's place.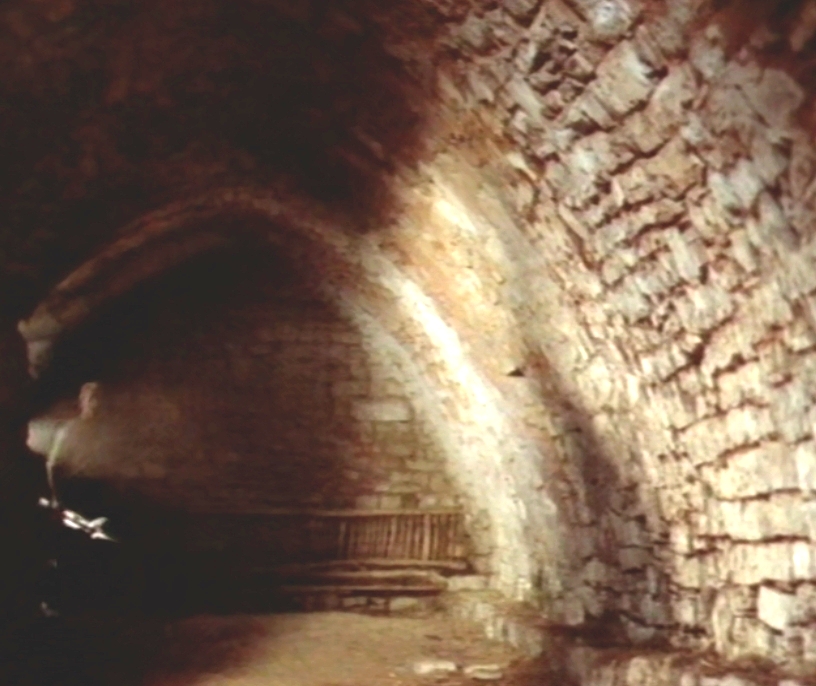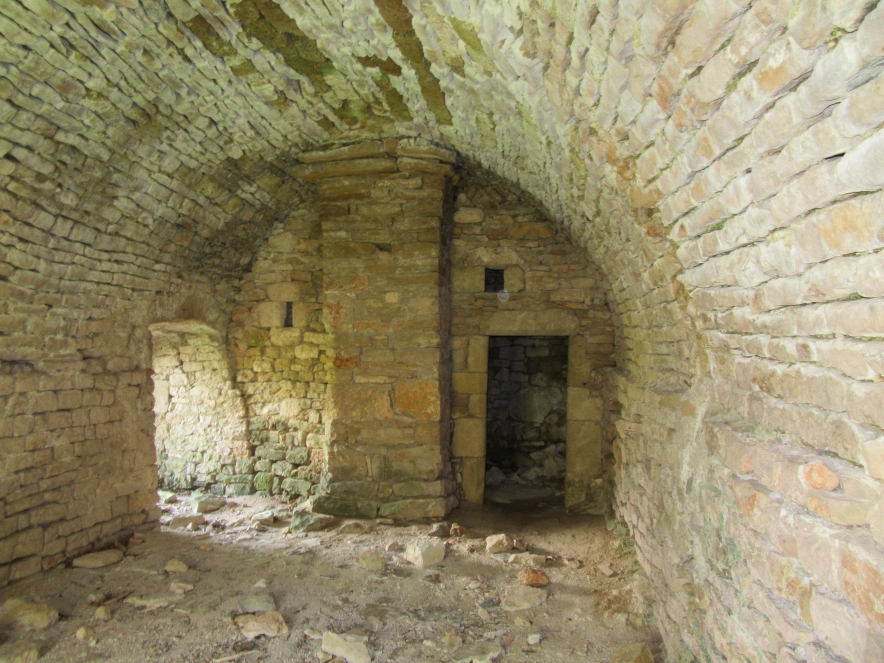 The Crossbow crew made people believe, they ran out of this room of Monthialoux.
1988 Below Pamenta screams, sheis in danger. This is the place Tell and Clifton ran out at Monthialoux. The real interior is at Boissets. 2015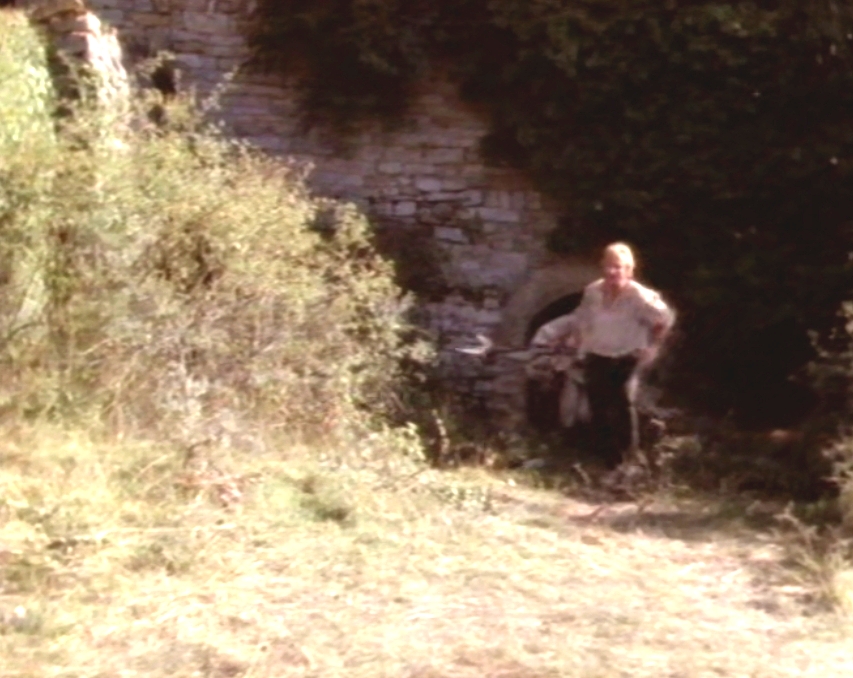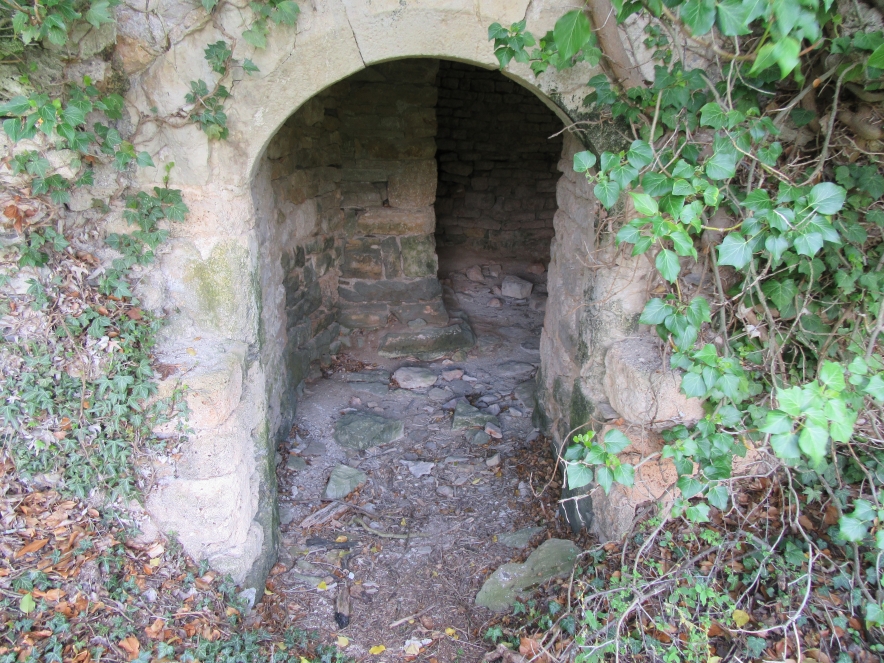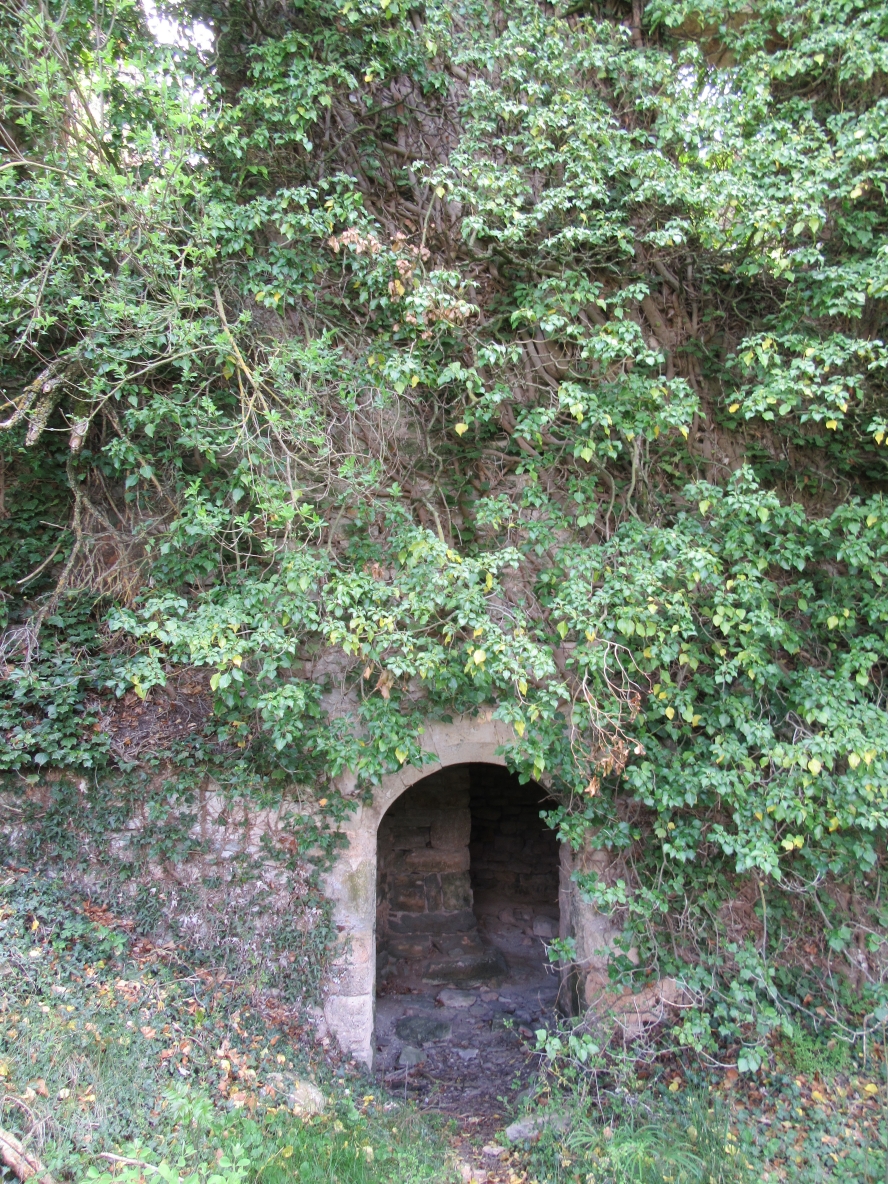 1988 They enter Monthialoux exterior stairs 2015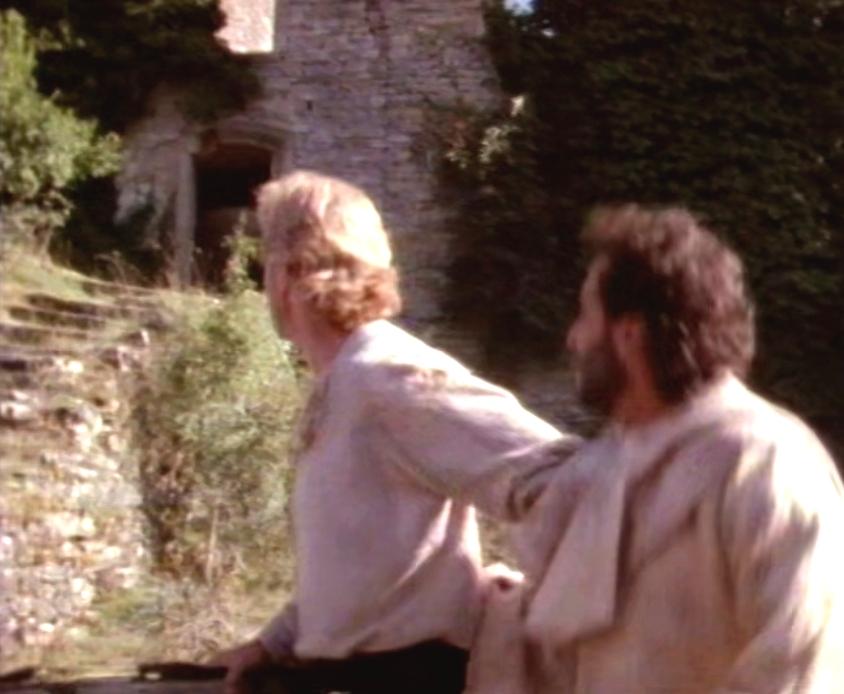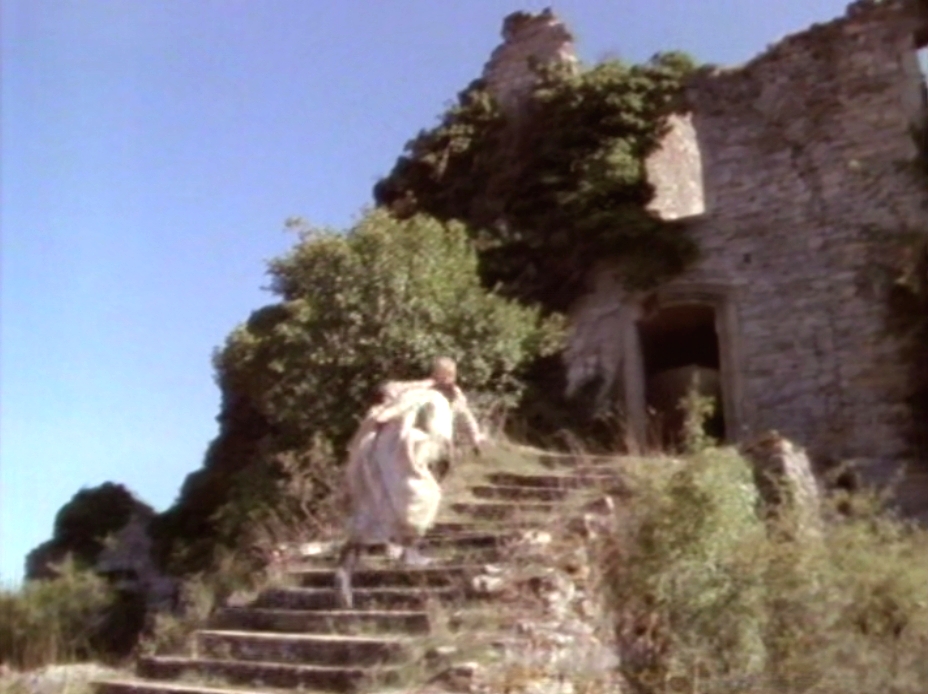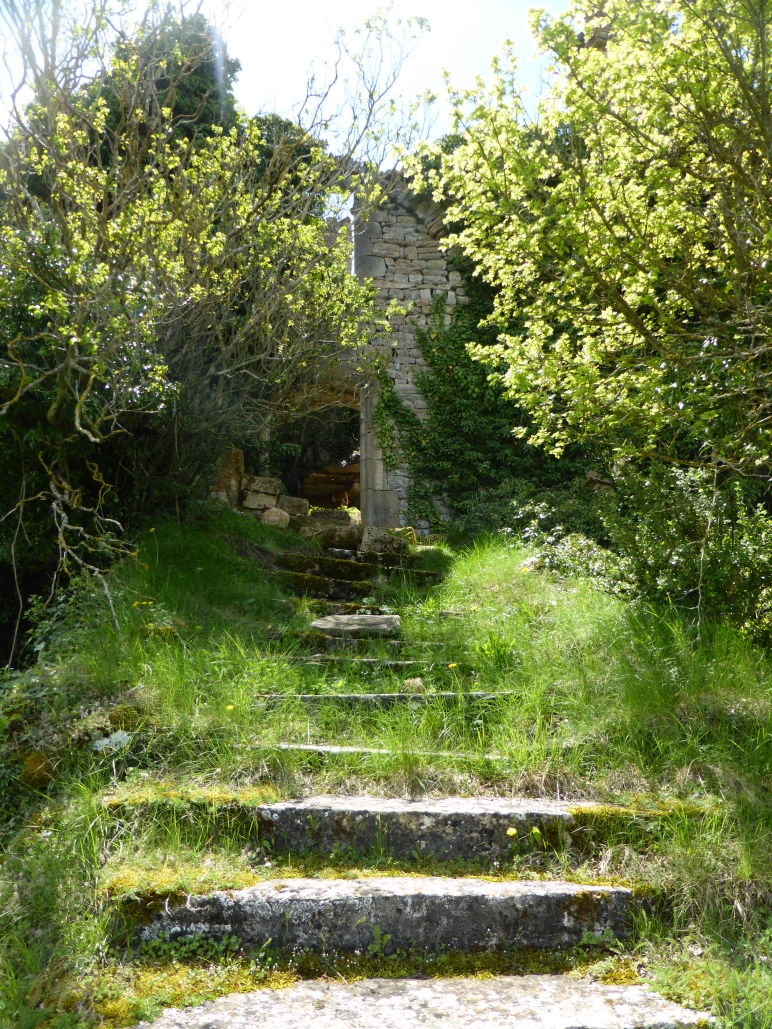 1988 After Tell met 'brother Laurence' he is startled by Pamenta's scream. Tell and Clifton ran out of the tunnel and go into ruins of Monthialoux 2015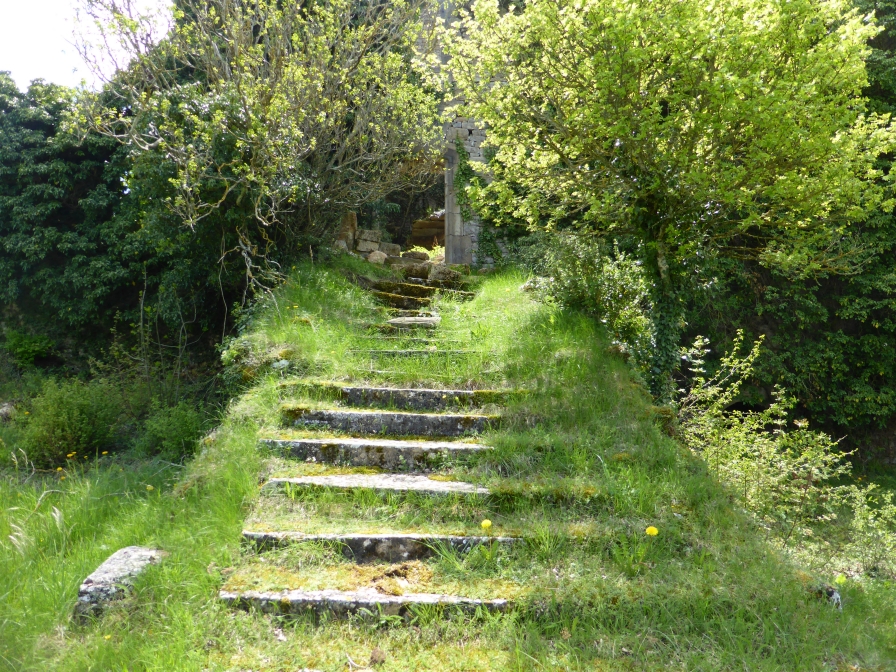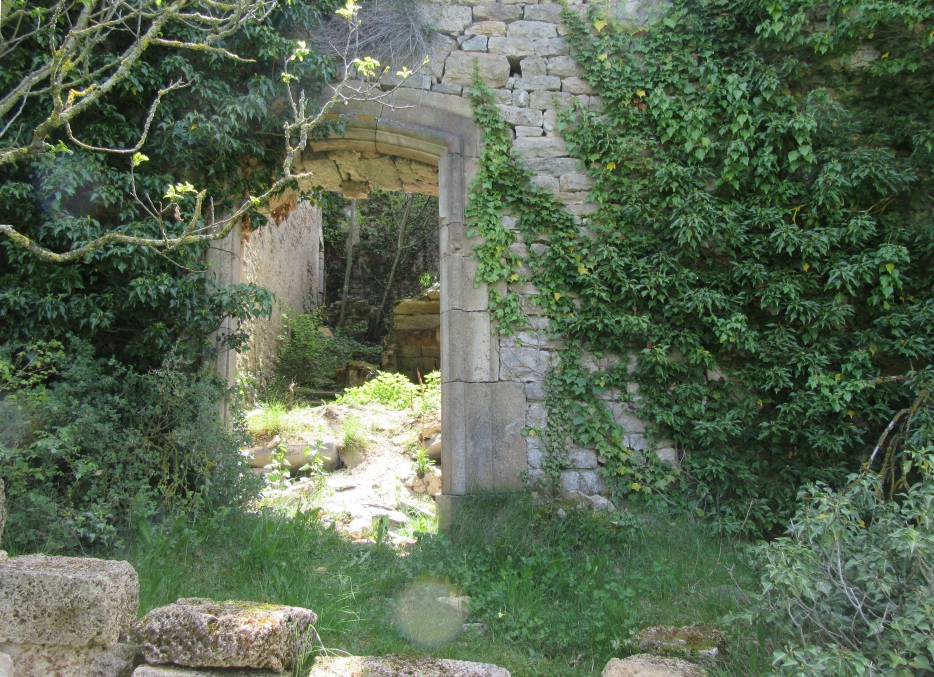 Monthialoux staircase
(through the entrance, you walk right up to the interior staircase)
Over the years the staircase has fallen into serious disrepair.
1988 low angle shot of the beautiful stairs and ceiling! Some plants on top of the stairs became trees. The wall behind Tell is lightended up by a spot or a ray of daylight through the last door.
A photo of Tell below shows the opeing is there. It has all to do with a huge lightbeam from the side, It lightens up the back. My photo is a lot darker.
1988 Hard to believe this is really is the same place! 2015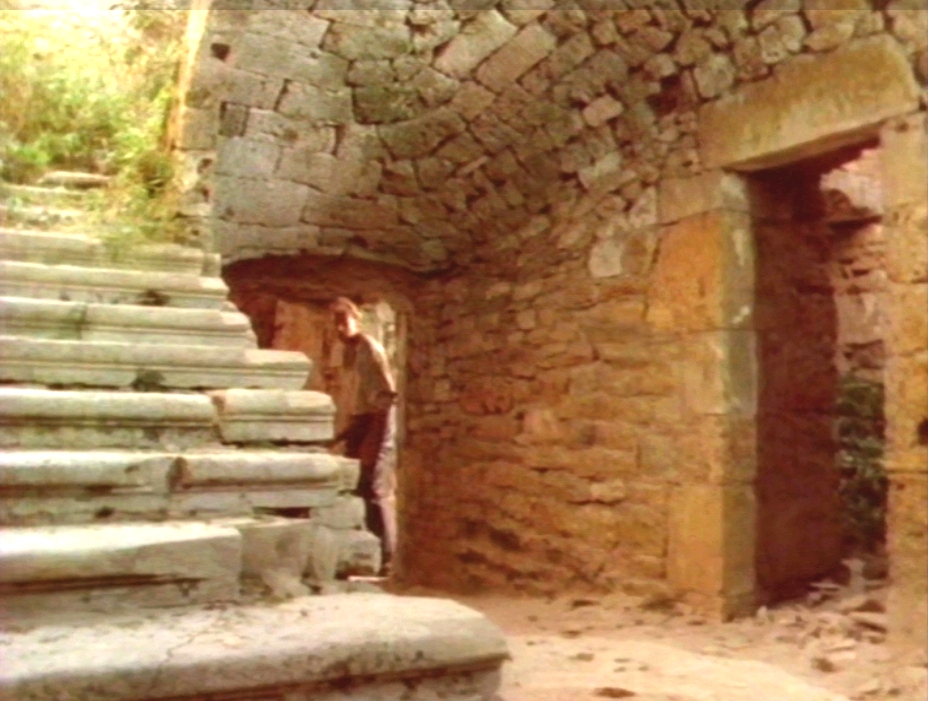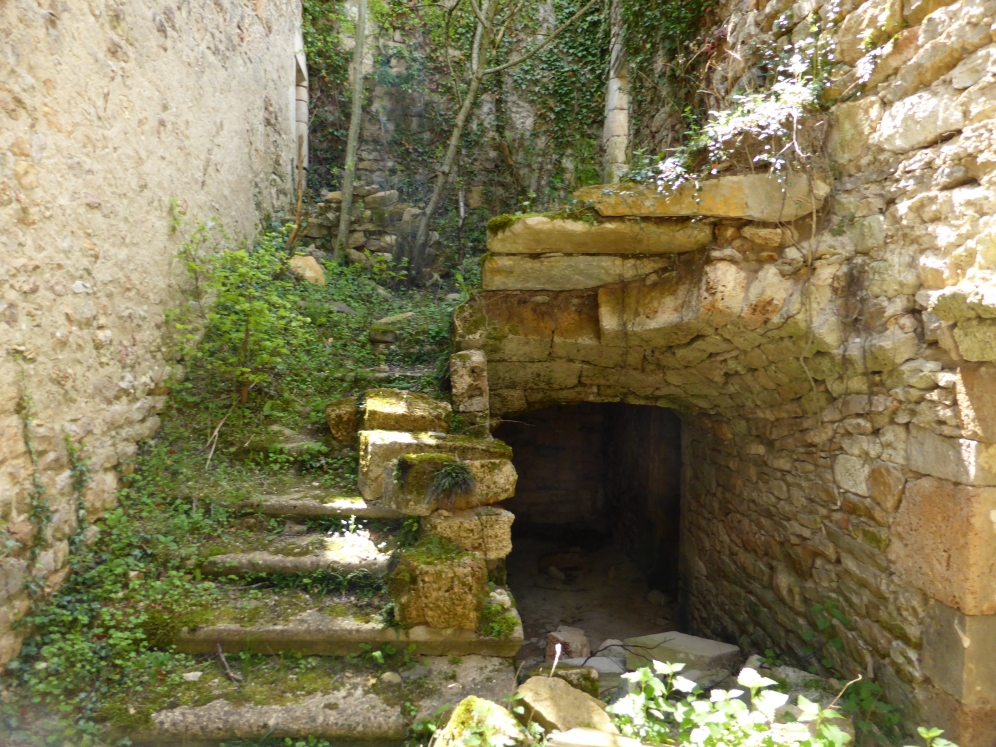 It's sad, this was really beautiful, but so fragile. More photos of the stairs and ceiling below.
During Crossbow this ruin was already a deserted castle with lots of rock blocks all over the place. The staircase was is much better condition than it is right now.
It's great to visit this place...time stood still, hundreds of years passing by.....like you're thrown back in time. Below behind Tell you can still see the ornament attached. The start of an arc.
1988 Tell and stuntdouble Yannek Derrien, see the man behind them. It was already partly overgrown. 2015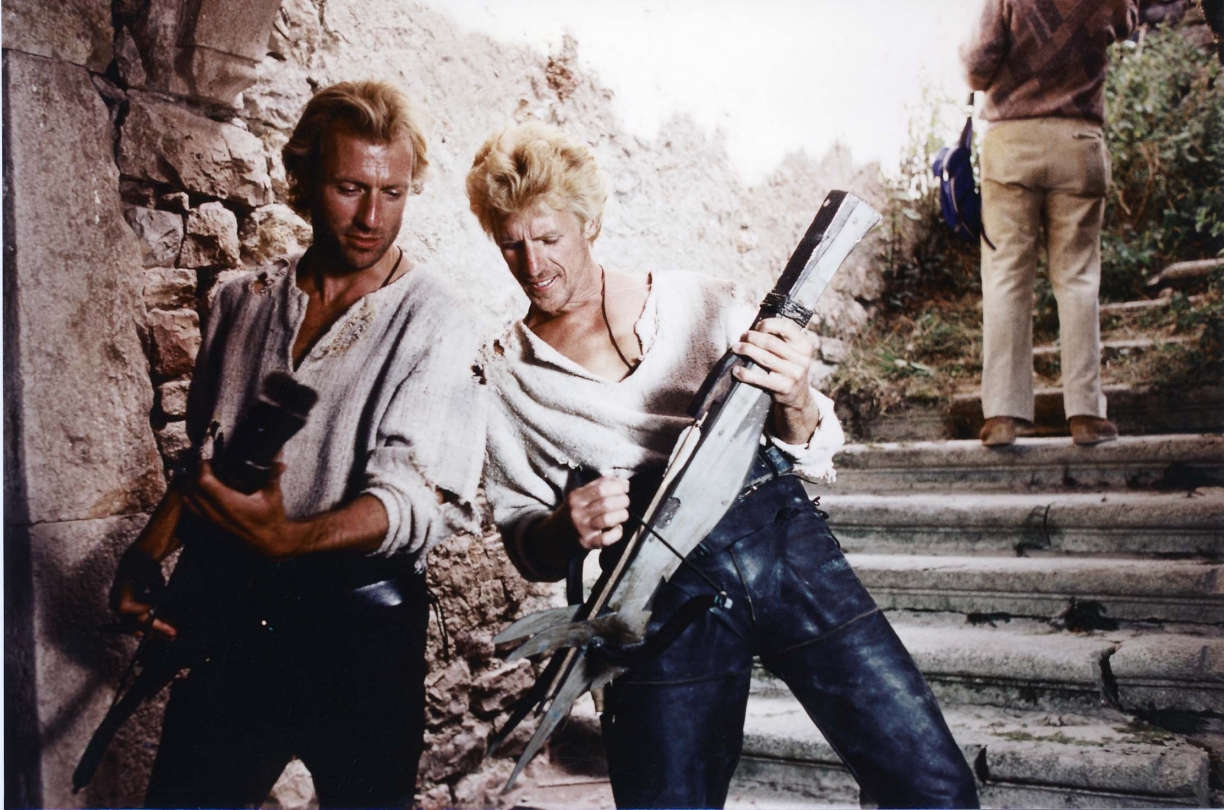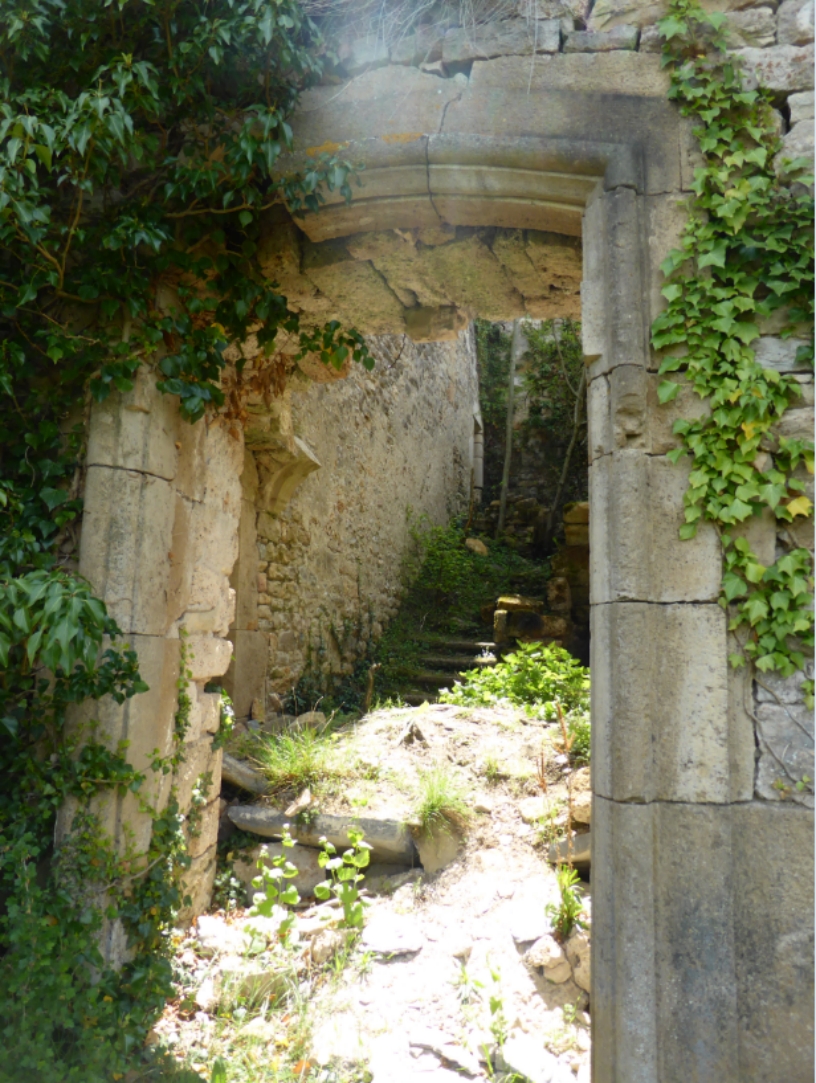 This arc of the ceiling, used to be there...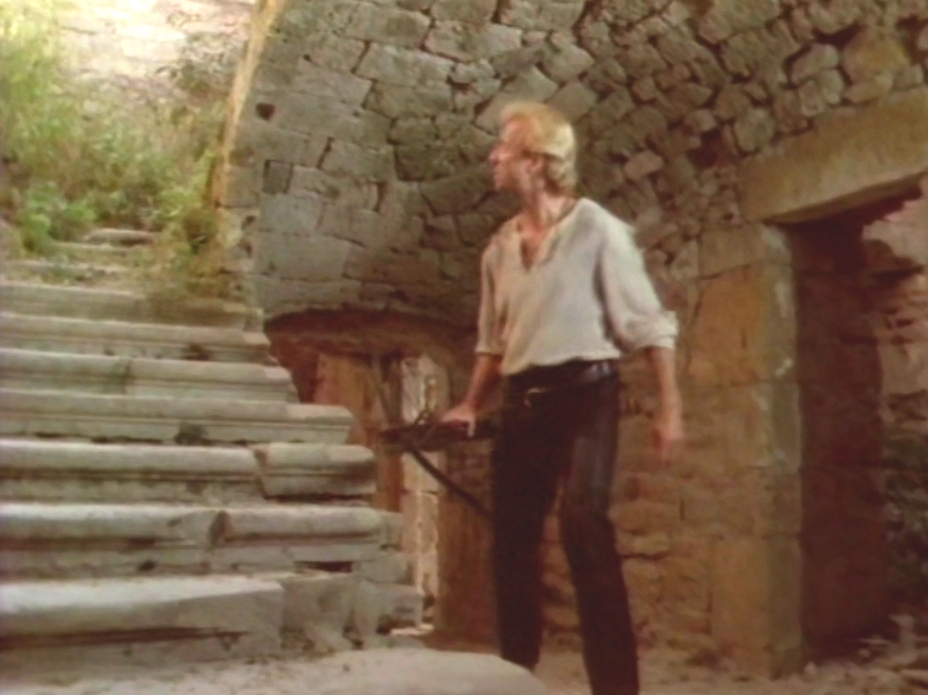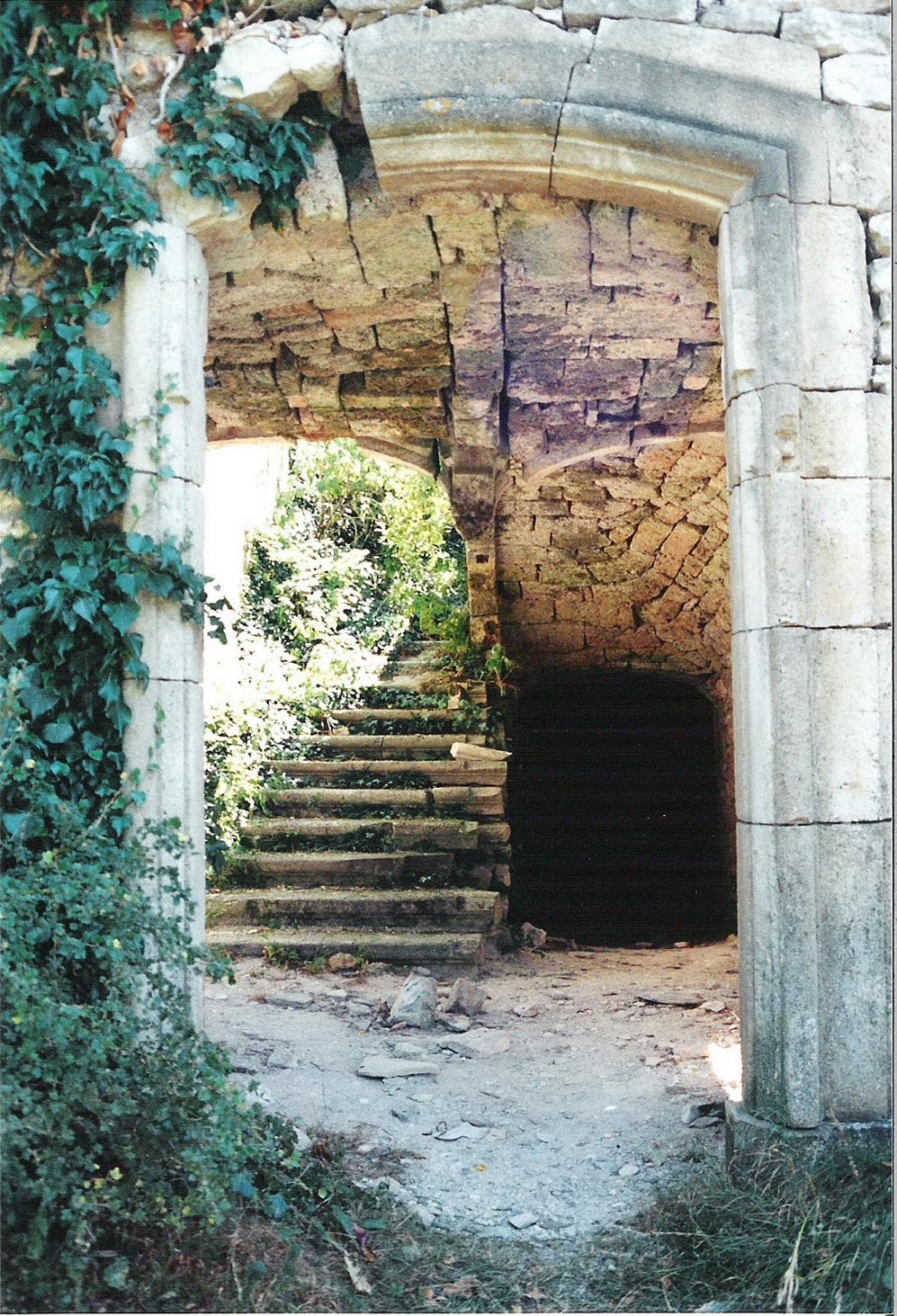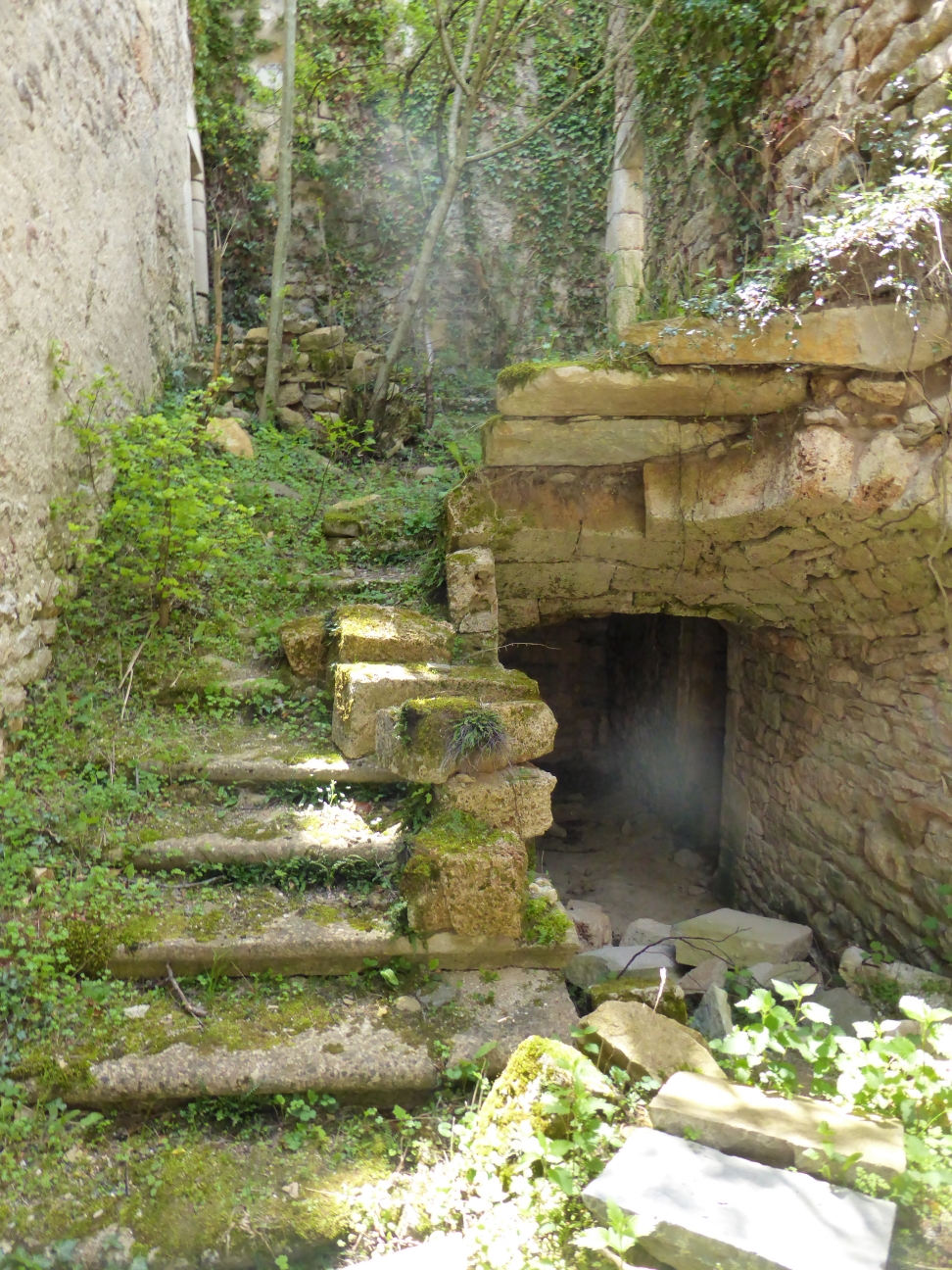 This roof was not safe at that time, everything has fallen down....
1988 In between this time 2015 2015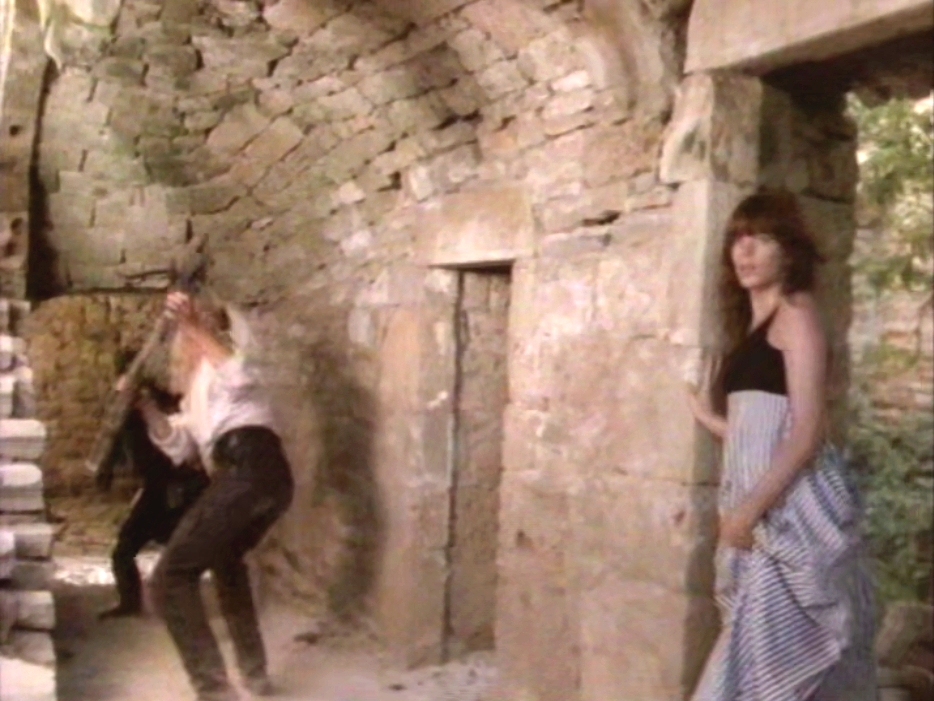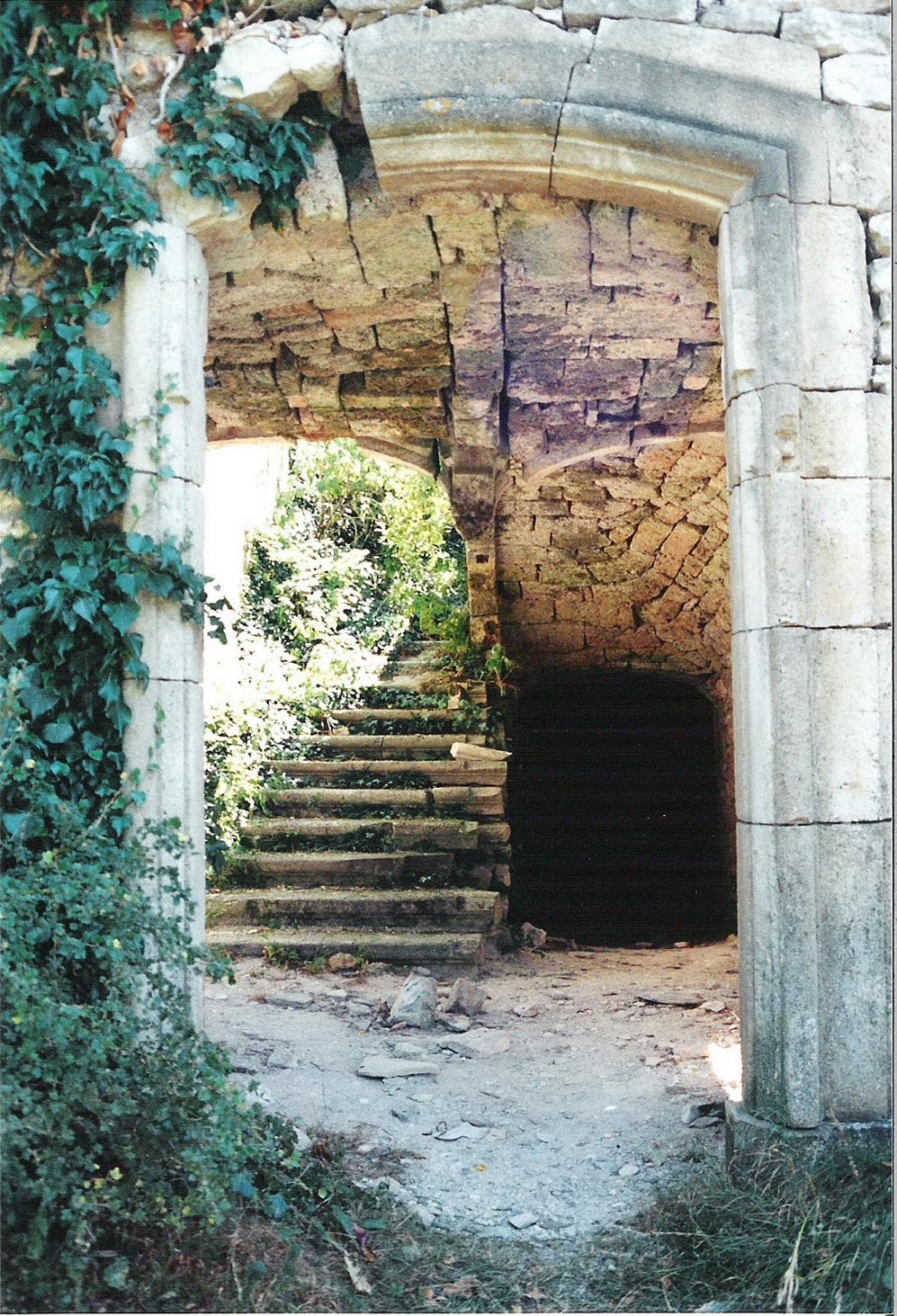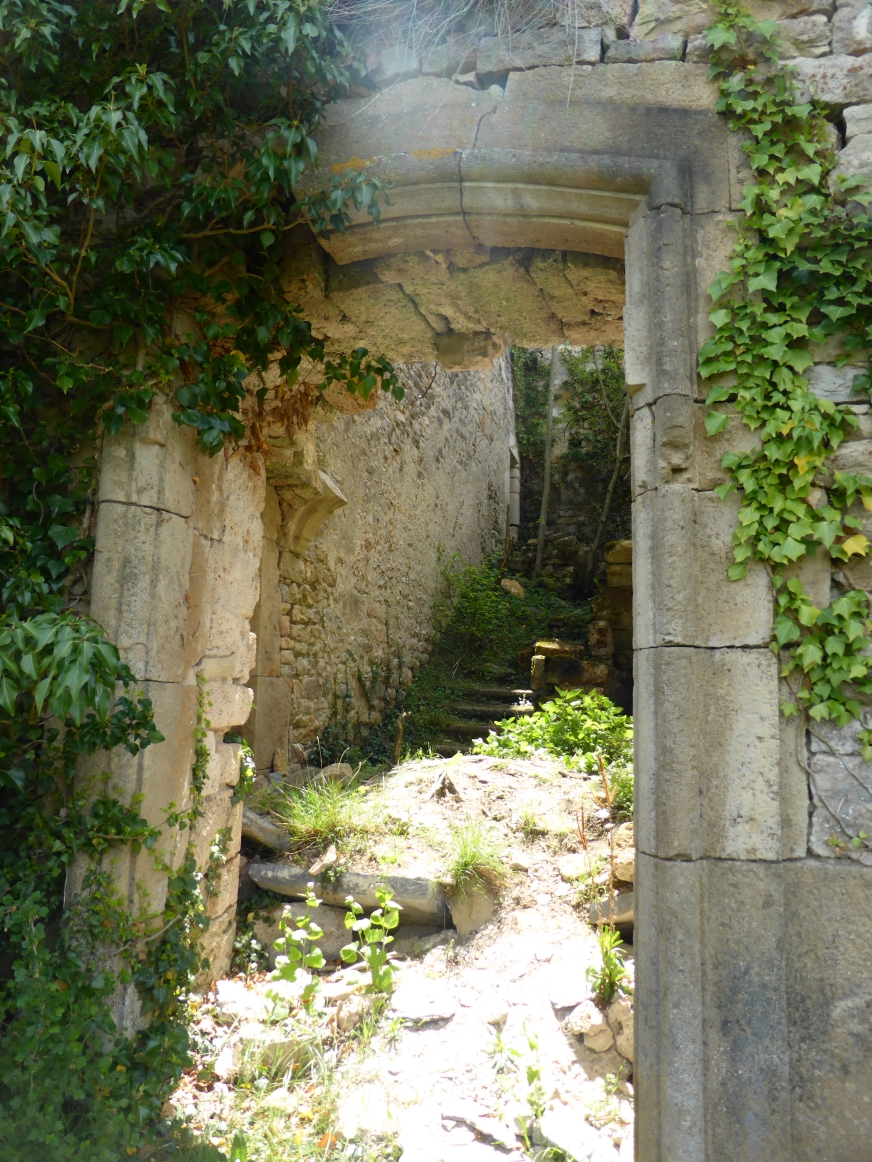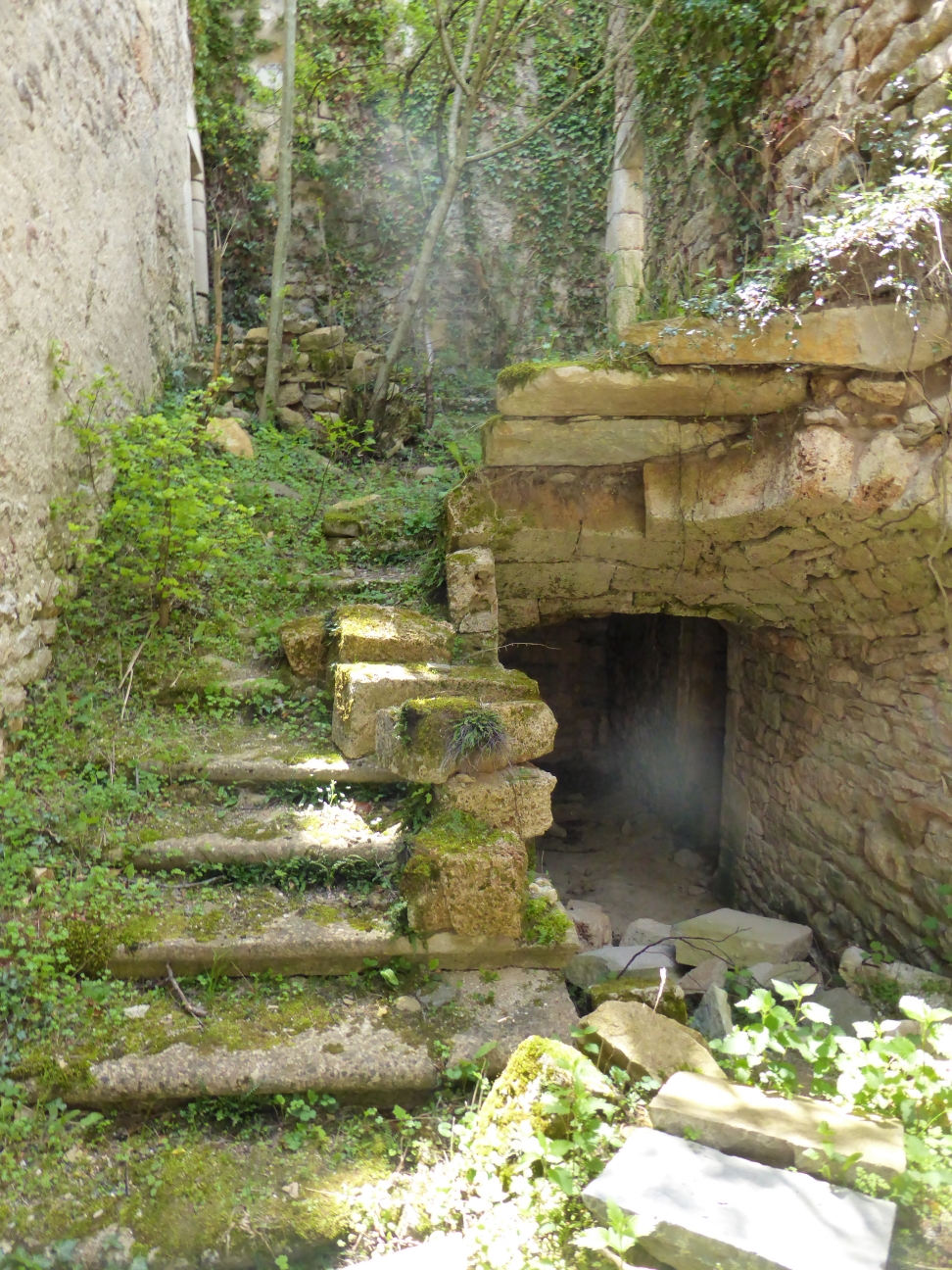 2015 Below the stairs, left of William. 1988 2015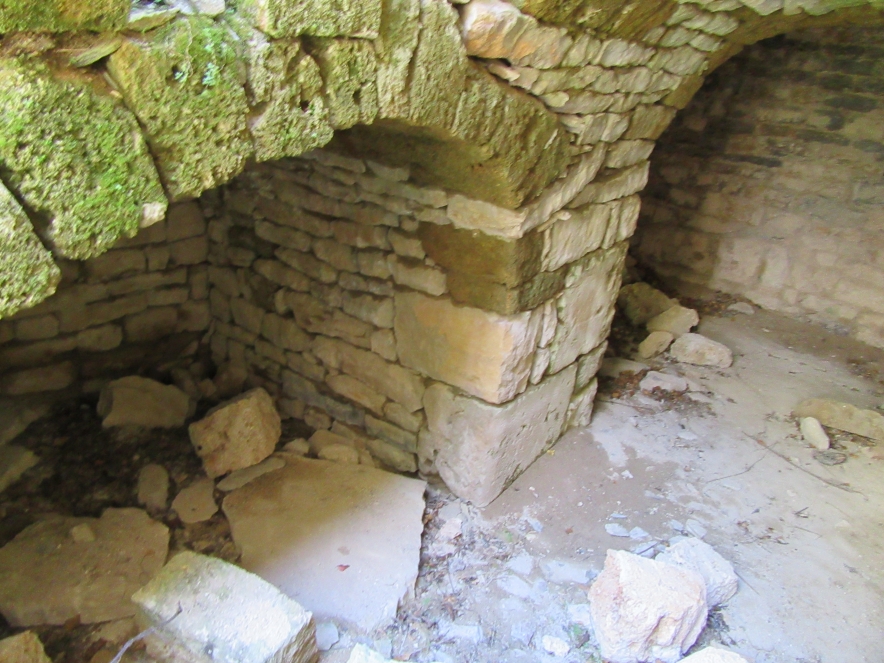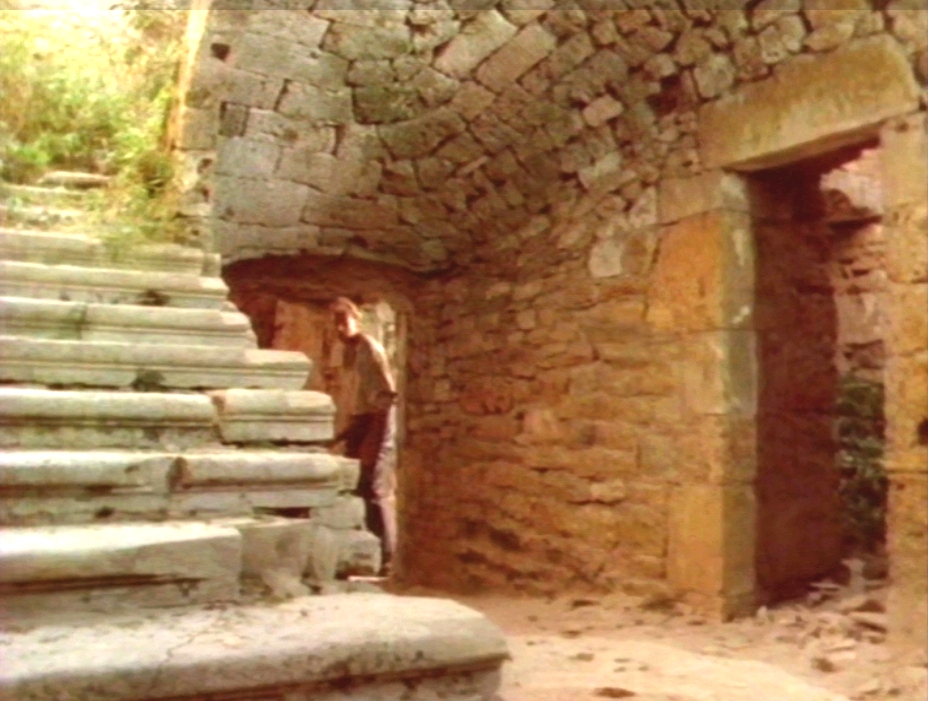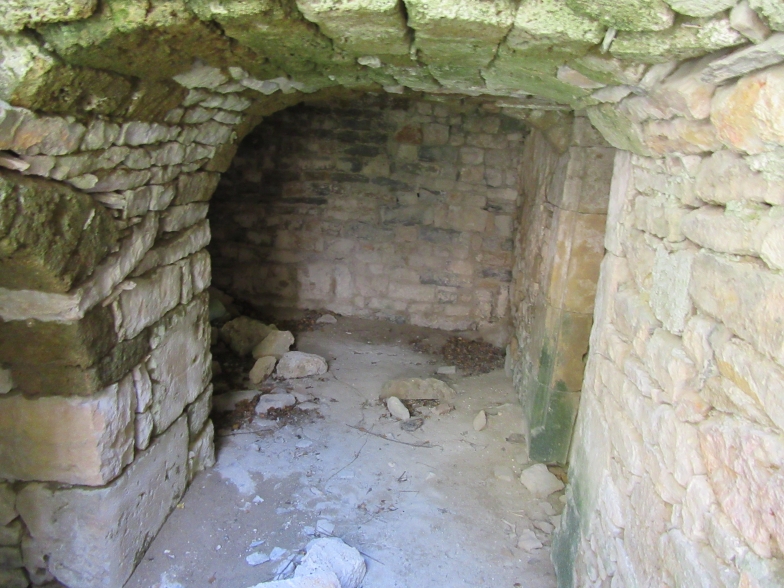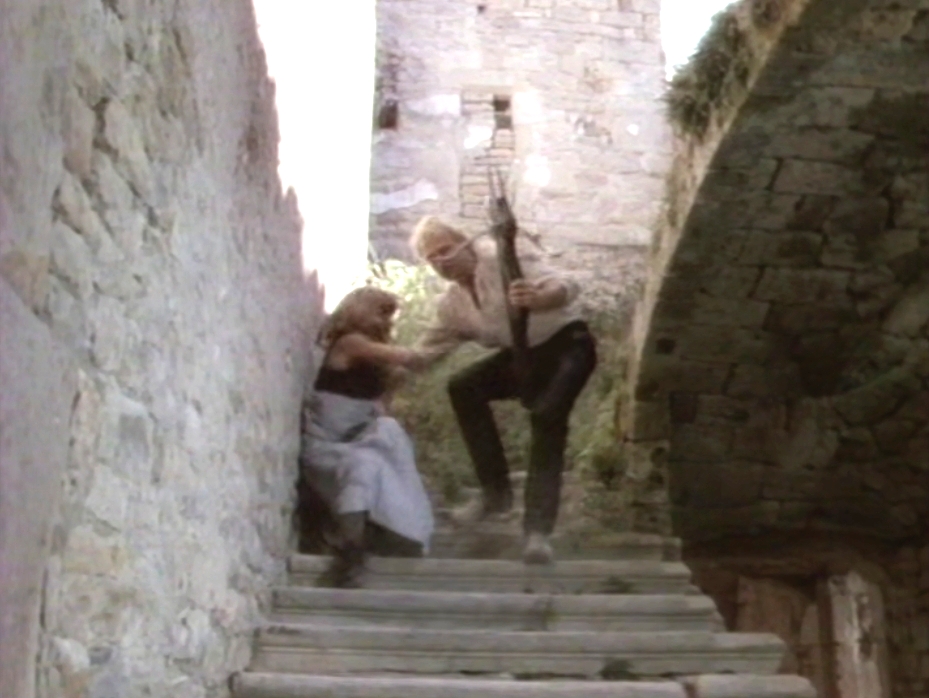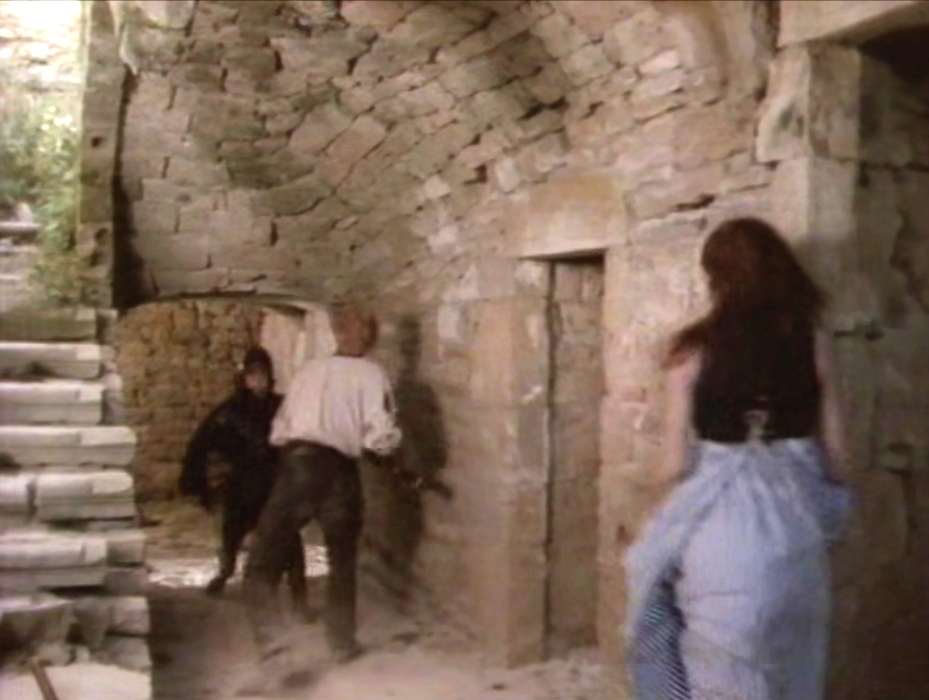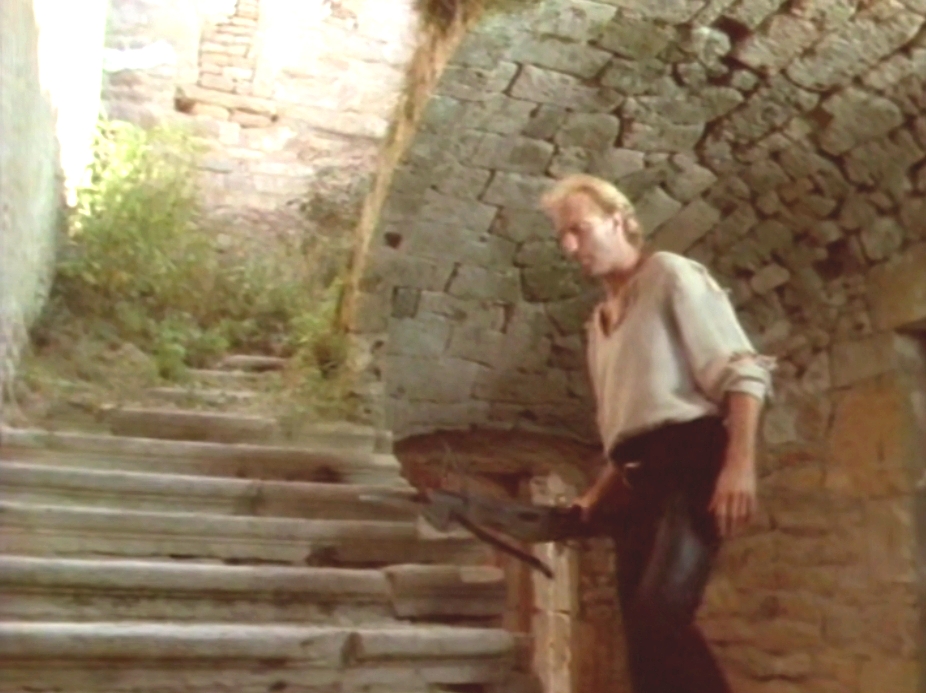 The wall of Monthialoux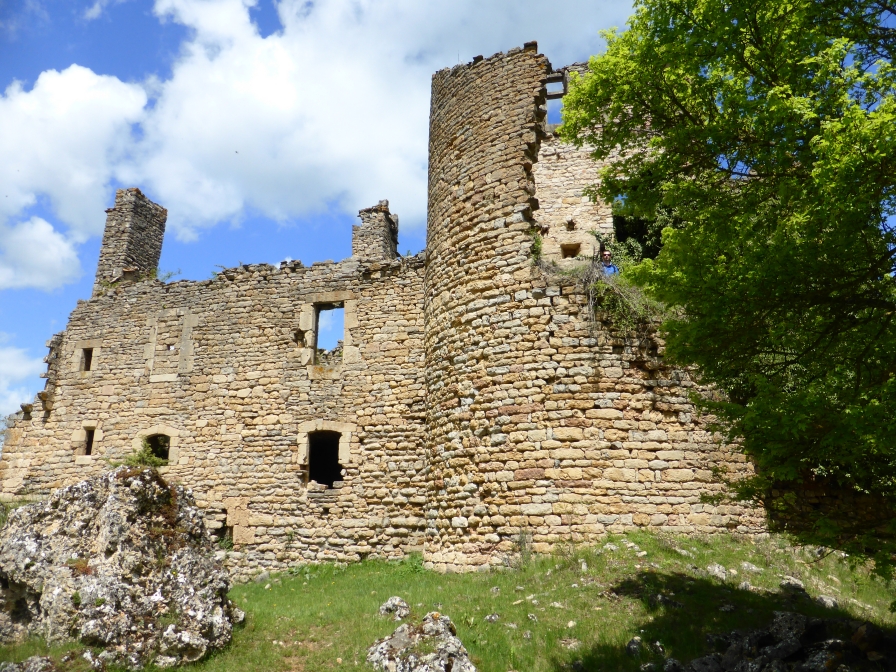 Above 2015 and below 1988. You recognize these windows?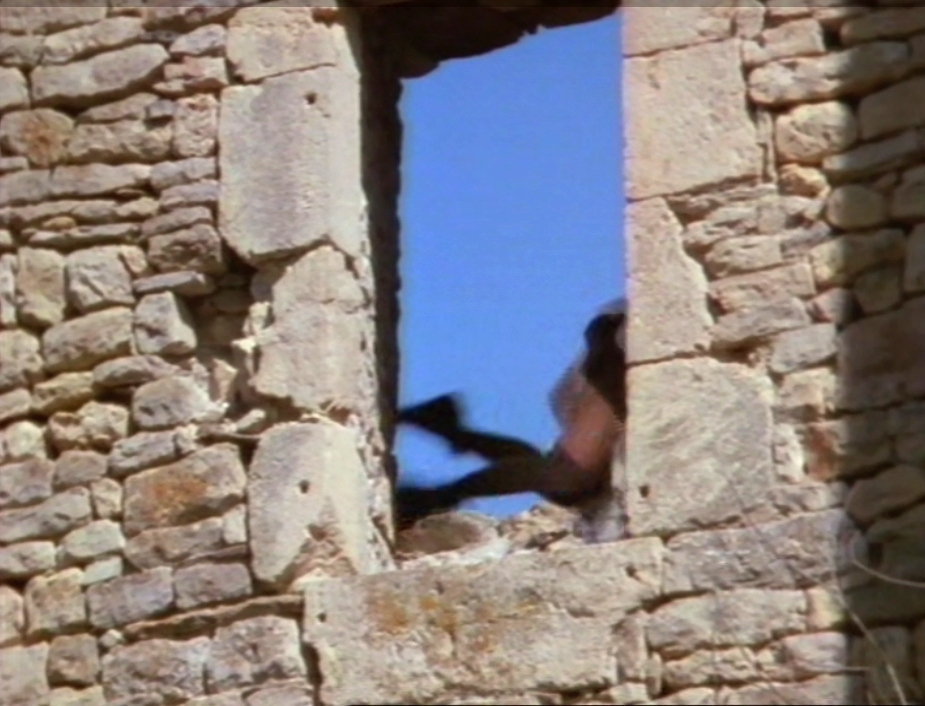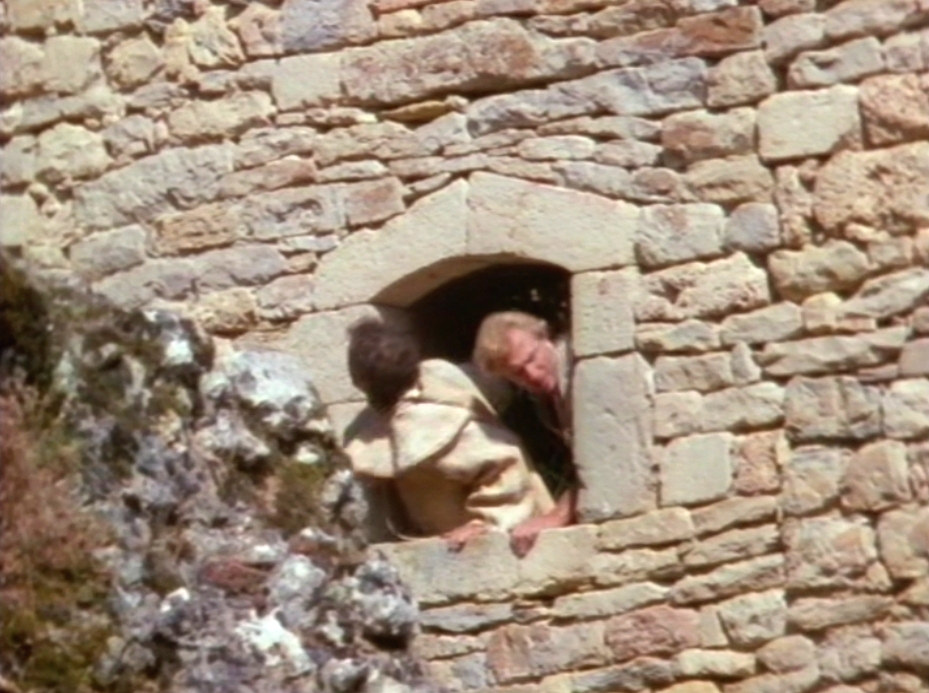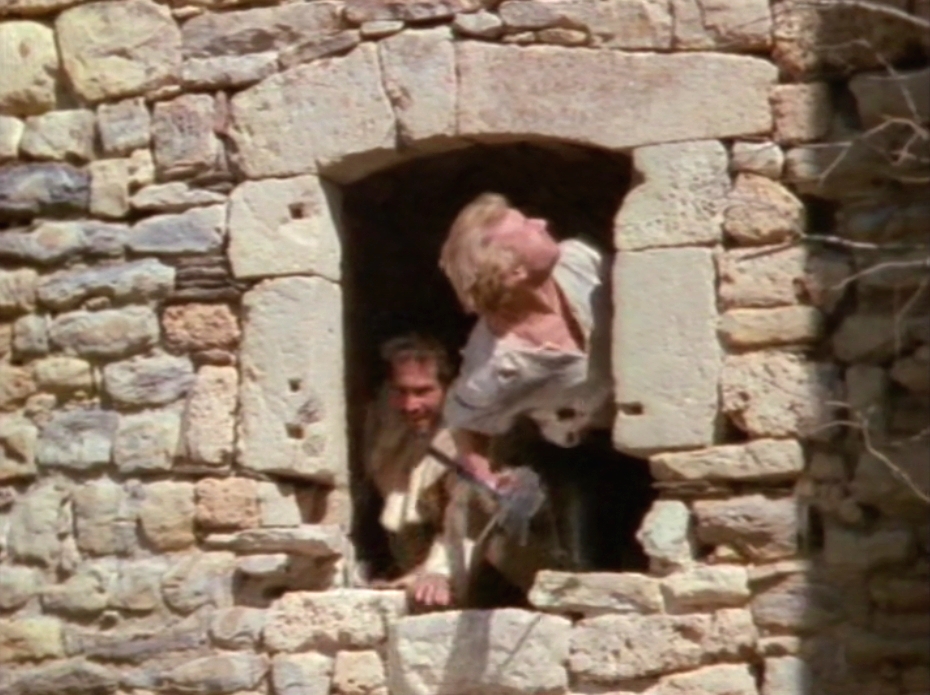 Hard to imagine, but this is really the same entrance in opposite. The cameraman filmed from the stairs.
I hope one day this ruin will be renovated (2021, it still isn't yet and it comes in very bad condition now).