Dominique Hulin

Dantes (Dominique Hulin) is an actor who returns often in Crossbow episodes. (Dantes in episode 4,6 and 7, then returns as the monster in Fear and later in Headhunters, the one with the huge scar on his face). He is stuntmen, actor, director and more.

Dominique Hulin debuts at the cinema thanks to the stuntman Yvan Chiffre, who is in charge of handling the cascades of a film with Les Charlots. He remains known for his strong man roles (he measures 2.05 m for 130 kg) in the films Inspector Burr ("Press-Mashed") and The Under-gifted (Bruce, the sports teacher). You can also remember the warrior who has his head cut in The Visitors, but his most important role remains that of the ogre in Tom Thumb.

He did various films & TV movies, The French Comedy, Streets Theater and Historical reenactments. In 2013, he appears in an episode of the series TF1 My true story.
What is Mr. Hulin doing nowadays?

Ofcourse he gets a bit older, but he hasn't changed much. He turns only a bit more grey but that was the headhunter too ;) We met him two years ago and he looks impressive and great! We got there in the early morning, we parked the car and were packing our stuff together, then a whirlwind just passed us by car. No doubt it was Mr. Hulin! Not quit the prototype of an old driver ;) He has fetched fresh food for the pets. He enjoys being in his garden, the nature and his pets. He surrounds himself with his pets like dogs, cats and a donkey And perhaps there are more of them. Though in his roles he is good in scaring you out but in real life Mr. Hulin seems to be a quiet and gentle man who lives together with his wife between his pets peacefully.

Mr. Hulin offers part of a reintegration project by the cascade and multiple arts of the show, the association has for object: 1. To train young people in shows through the sword waterfall or old fencing, intervention in difficult neighborhoods, the MJC, the EC .. and also for the not so young ...2. To organize or participate in festivities directly, subcontract or collaboration, in various areas such as the history of any ethnic or musical, through different styles of shows, with the support of various media and media this, with the training provided by our workshops animated by artists, stuntmen and technicians of the show. The main activity is based on ancient fencing: cultural heritage, performance fights, music, through different styles of shows, with the support of various media.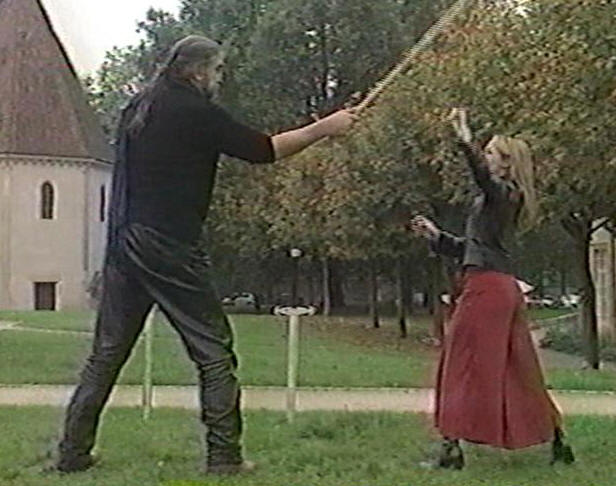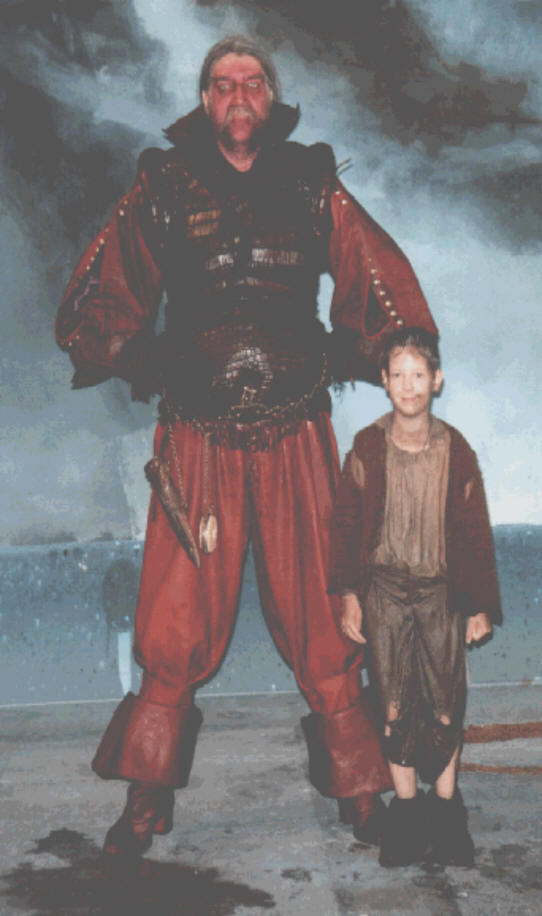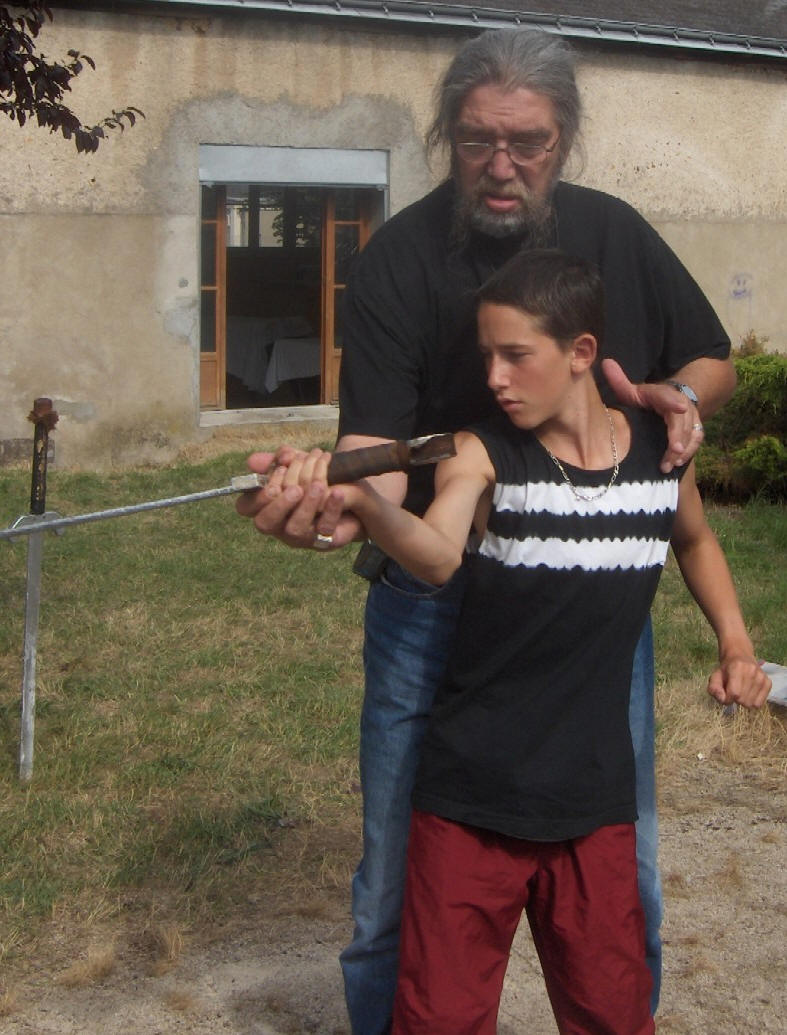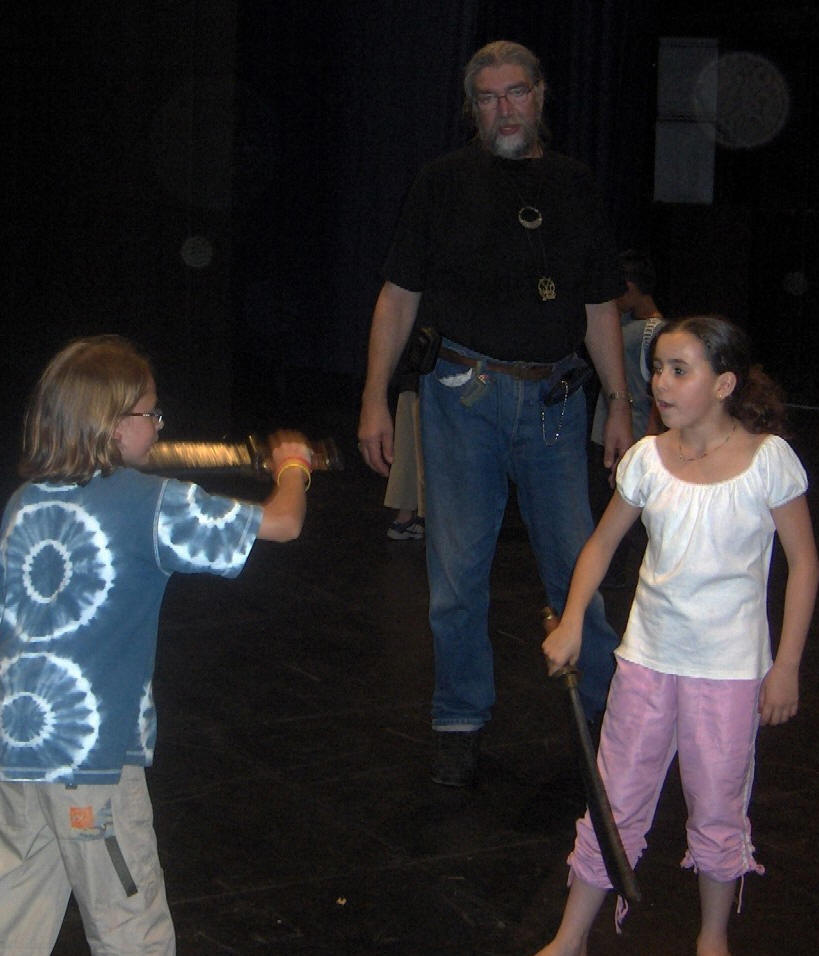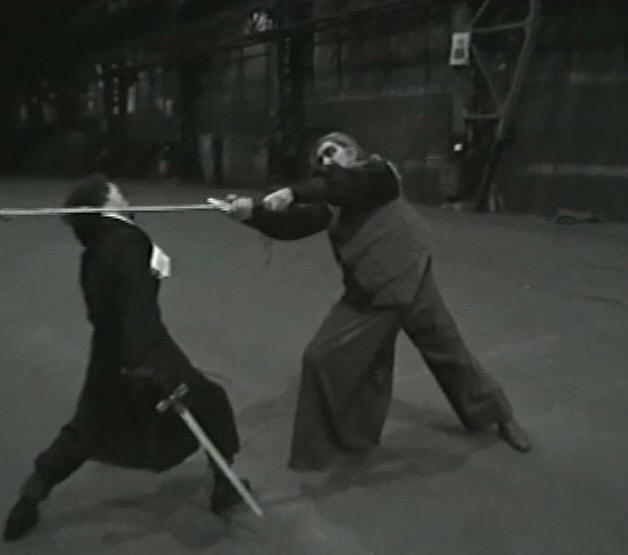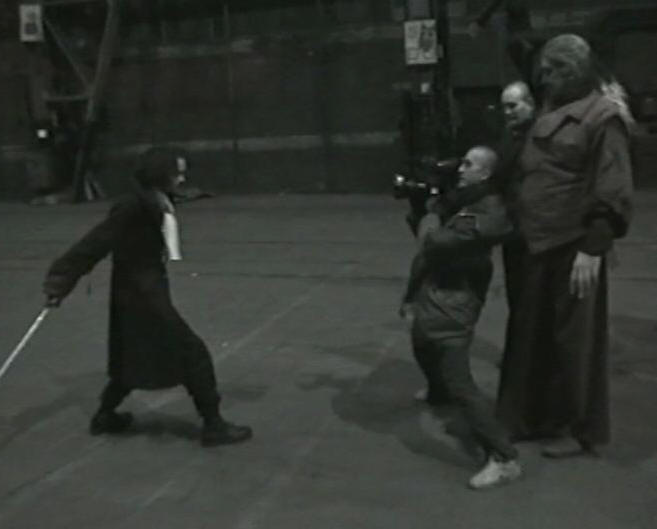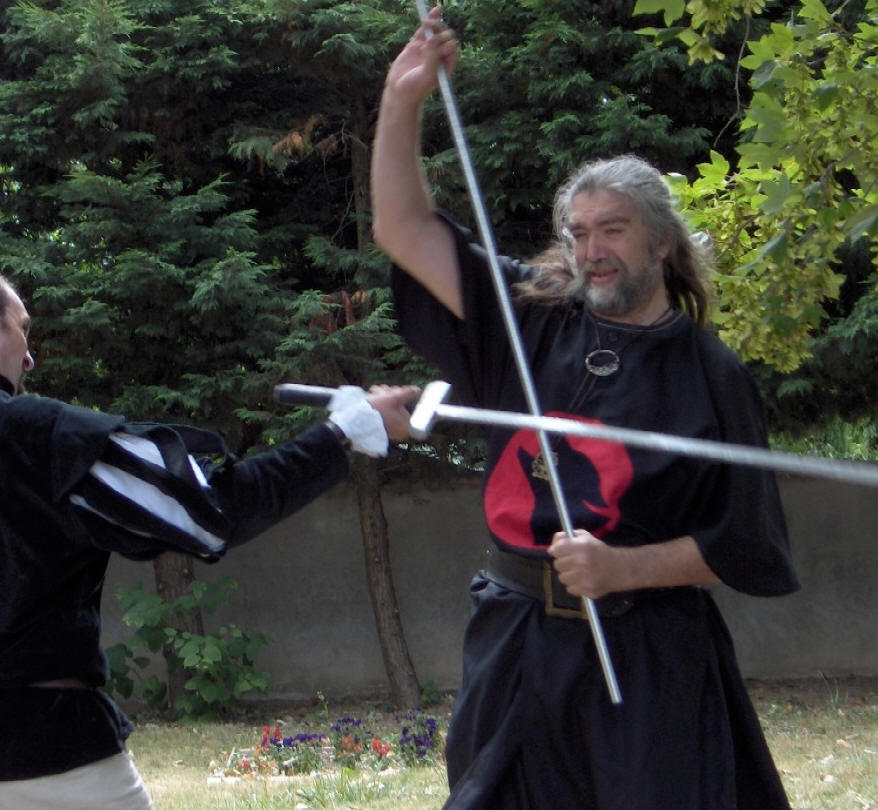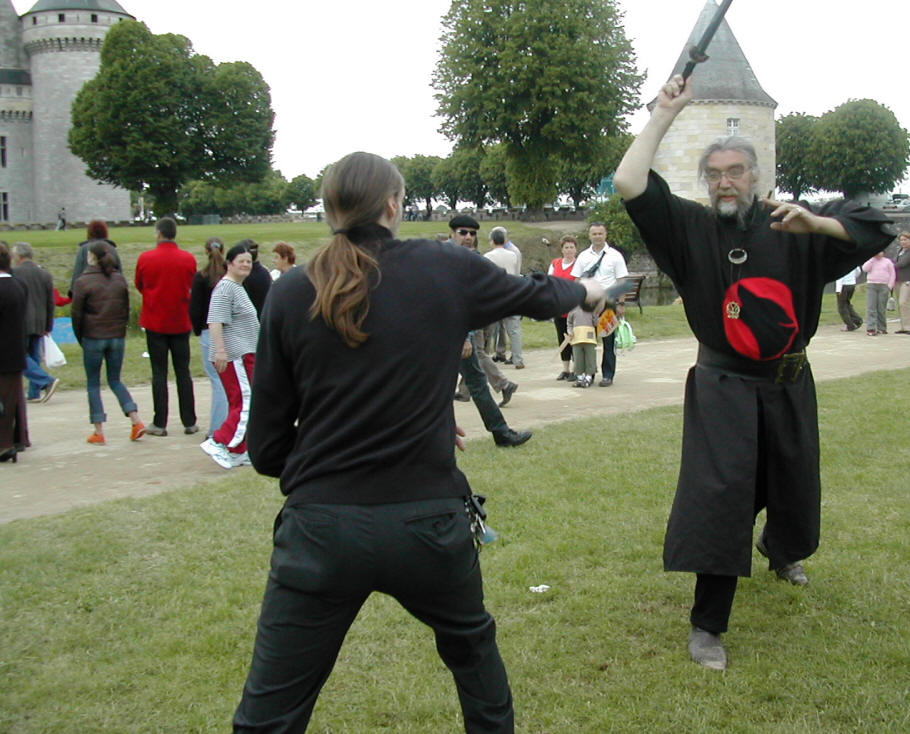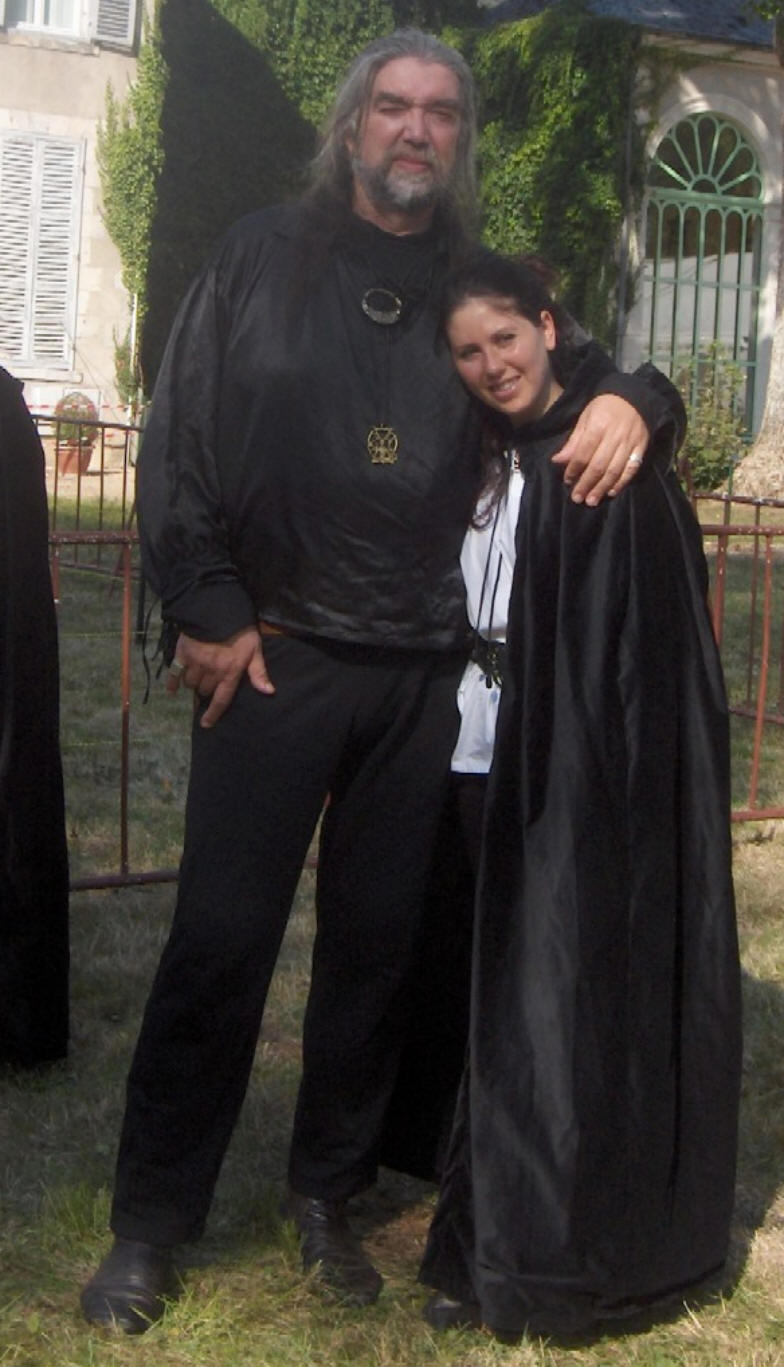 Fightcheorography, also Mr. lyman fenched in the past. Mr. Lyman does a lot himself, he has clearly the experience, but a small rough scene is done by a stuntdouble. I think Mr. Hulin did the whole scene himself, he is a stuntman and I think It's hard to find one of his size ;)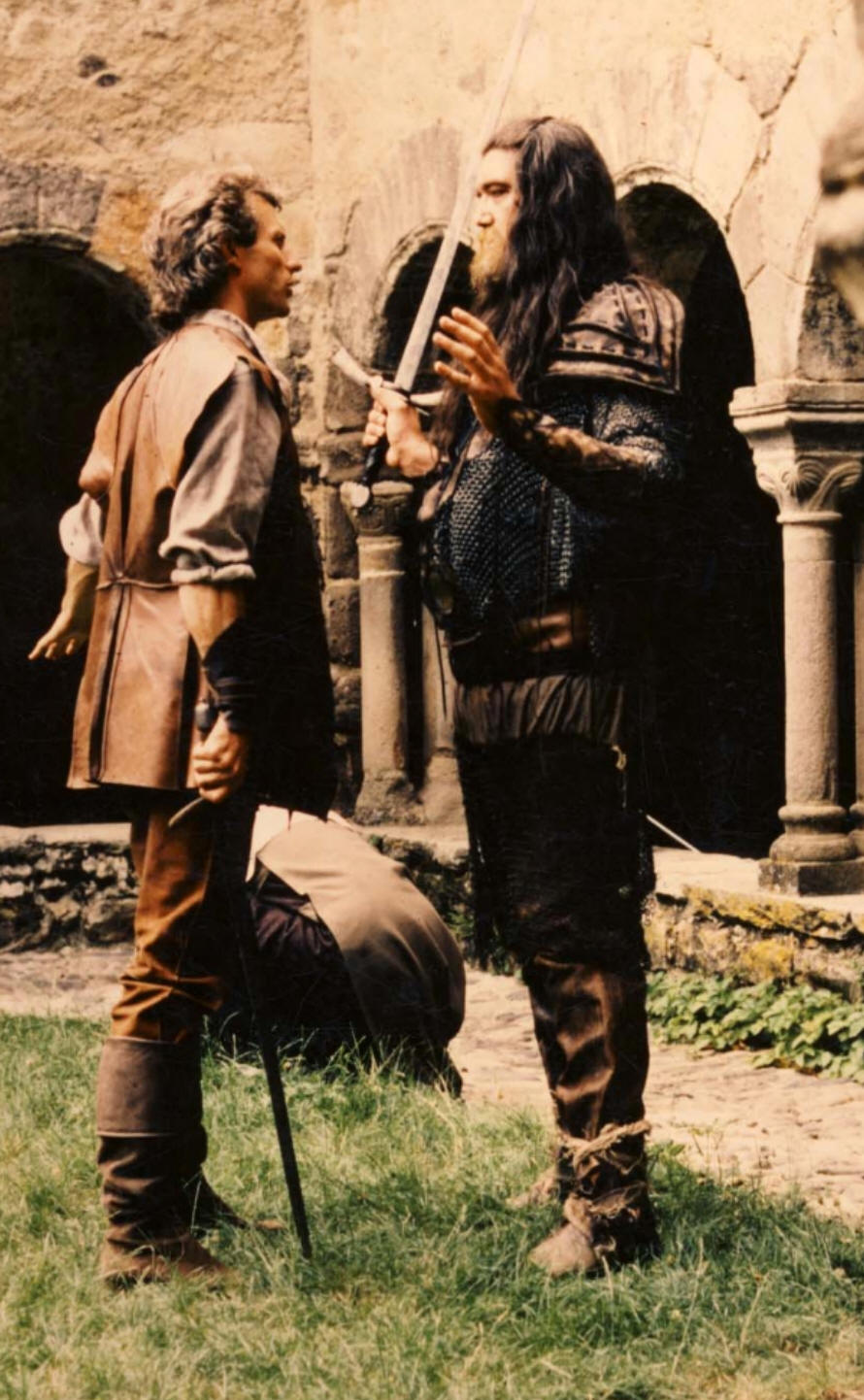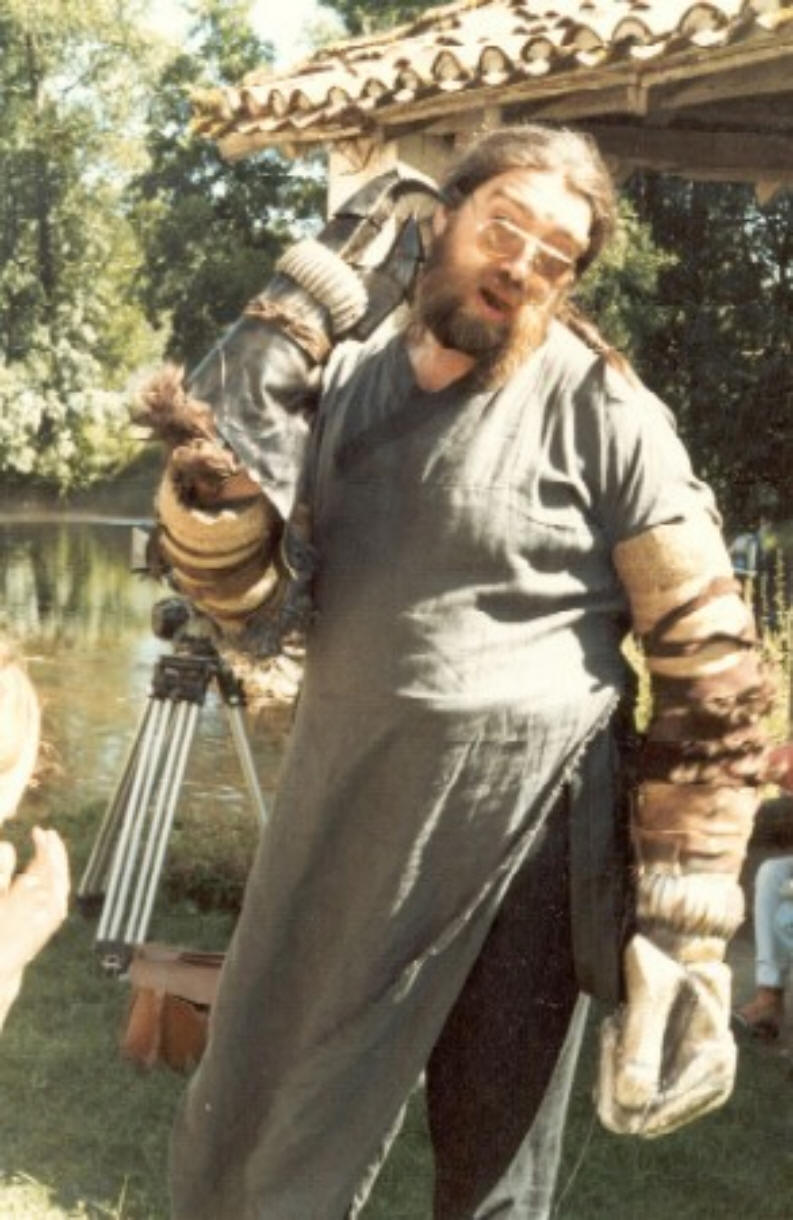 Right picture above: At the lavoir of chateau Faucher recording Fear. Dominique Hulin as the 'monster.' I love this photo Mr. Hulin scratching himself with his enormous hands!
What is old fencing? Ancient fencing is an art that combines dexterity, culture, physical quality, respect and courtesy. It requires mastery, along with the ability to make decisions quickly. It is inseparable from our History, and presents to these participants an original way of initiation. Culture of tradition, imbued with the idea of ​​self-control and a certain panache, the ancient fencing is an activity of the future by presenting to its practitioners a rich universe, playful and in constant evolution. A minute of show requires from the actors about 35 hours of rehearsal beforehand so that it is in perfect safety. We do not improvise Lagardère, Xéna, Zorro, d'Artagnan ... And being a hero of TV series or novel, that can be learned. This initiation aims to bring notions of combat, but also theatrical techniques to assert, feel, or discover certain types of characters through the particular attitudes of their times and the situation evoked. This is for all ages, young, old, serious or casual sports, entertainment professionals or amateurs.
Filmography

Dominique Hulin is also a professional actor, you could see him in various films such as "Sous Doués" the terrible gym teacher to the Guillaume Tell series, The Tom Thumb ogre, from the barbarian prince of The Visitors, James Bond: MOON RAKER 1979, from Highlander 1994, from the Werewolf to Sydney Fox, to the monstrous Moholt of Tristan and Yseult., SYDNEY FOX and many others" You can find on his imdb site and his website at http://lagrandecompagnie.free.fr/

He connects many commercials and some plays. (N.T.A from Angers, Japanese tales)

After being Santa Claus for Dorothea and the ogre for Christian Gion, his talents of actor and comedian finally recognized, allow him to obtain the main role of the Ogre in Olivier Dahan's Petit Poucet. (2001) with C. Deneuve, R. Borhinger. E. Bouchez. Samy Naceri. Paradoxically this is how he became Santa Claus for the Presidency of the Republic in 2001 (see left on the photo) and that he appears in the classifieds of Elie Semoun.

His artistic career has never stopped him from extending his job as an Educator. Educator on the contrary since his notoriety opens him the doors, facilitating communication with the most tense young people.

He animates many introductory courses to the show and the waterfall. He regularly trains young actors in the art of show fencing. In the company of his specialized stunt friends, he regularly works with enthusiastic amateurs, whom he advises and directs. We must hear about the Wolves, his friend Francky Estrade or his Indian brothers Lakota for whom he has staged many shows. An experience as big as his heart, a professionalism to the dimensions of the man, a culture and a love of the trade.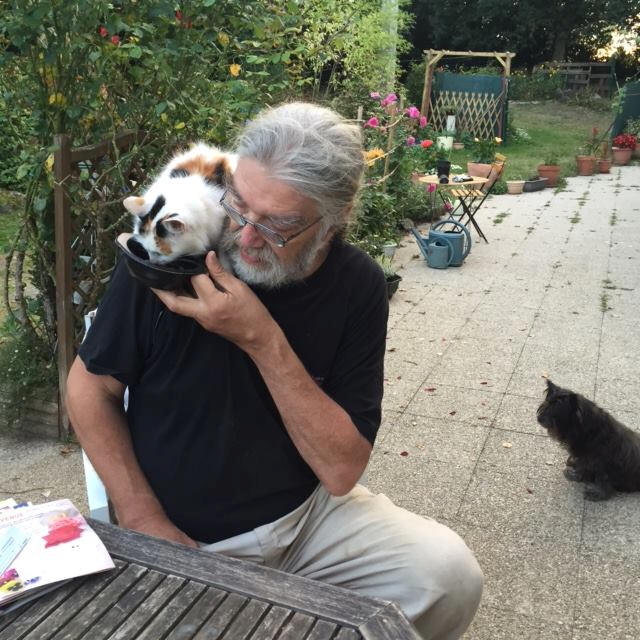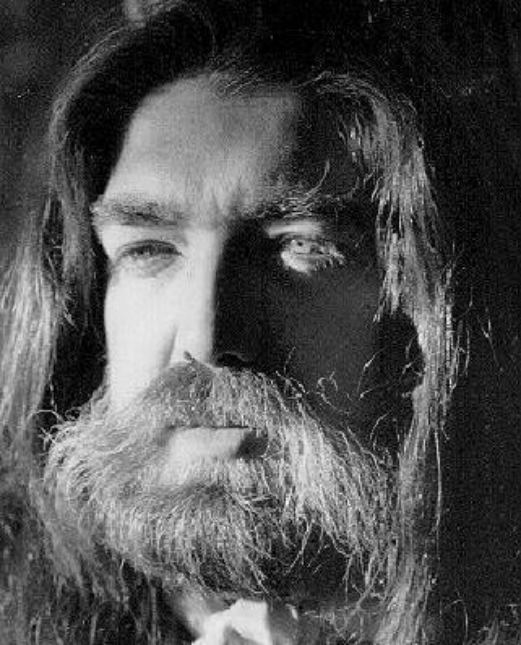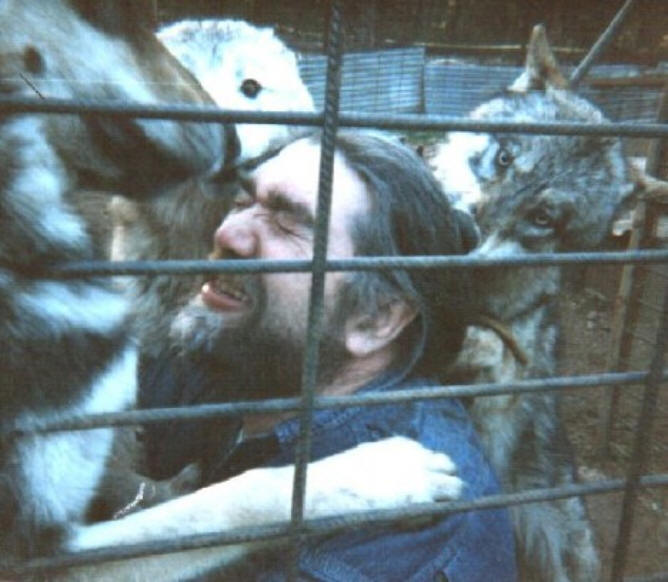 Below: a chat between the mercenaries plus stuntmen Yannick Derrien. Hulin having a break in monastery Lavaudieu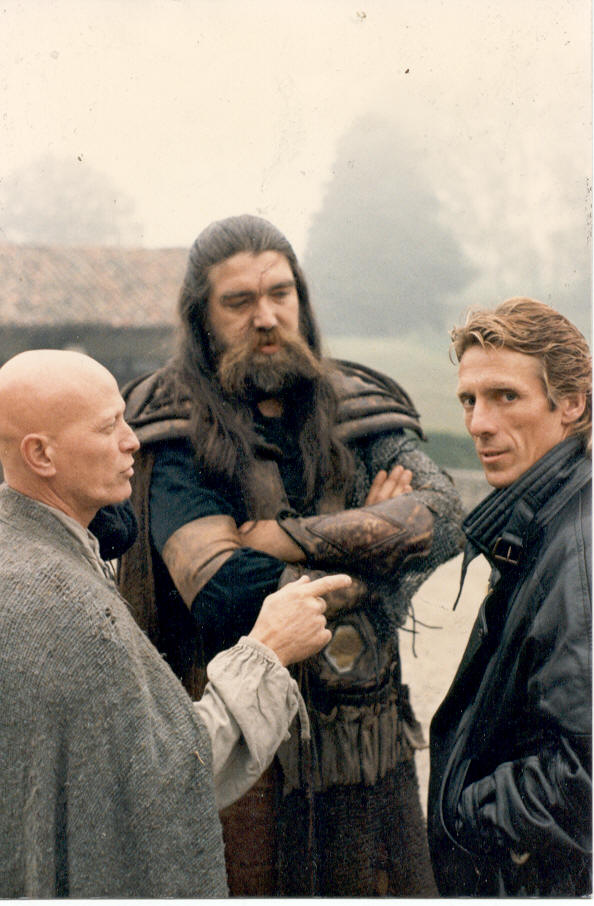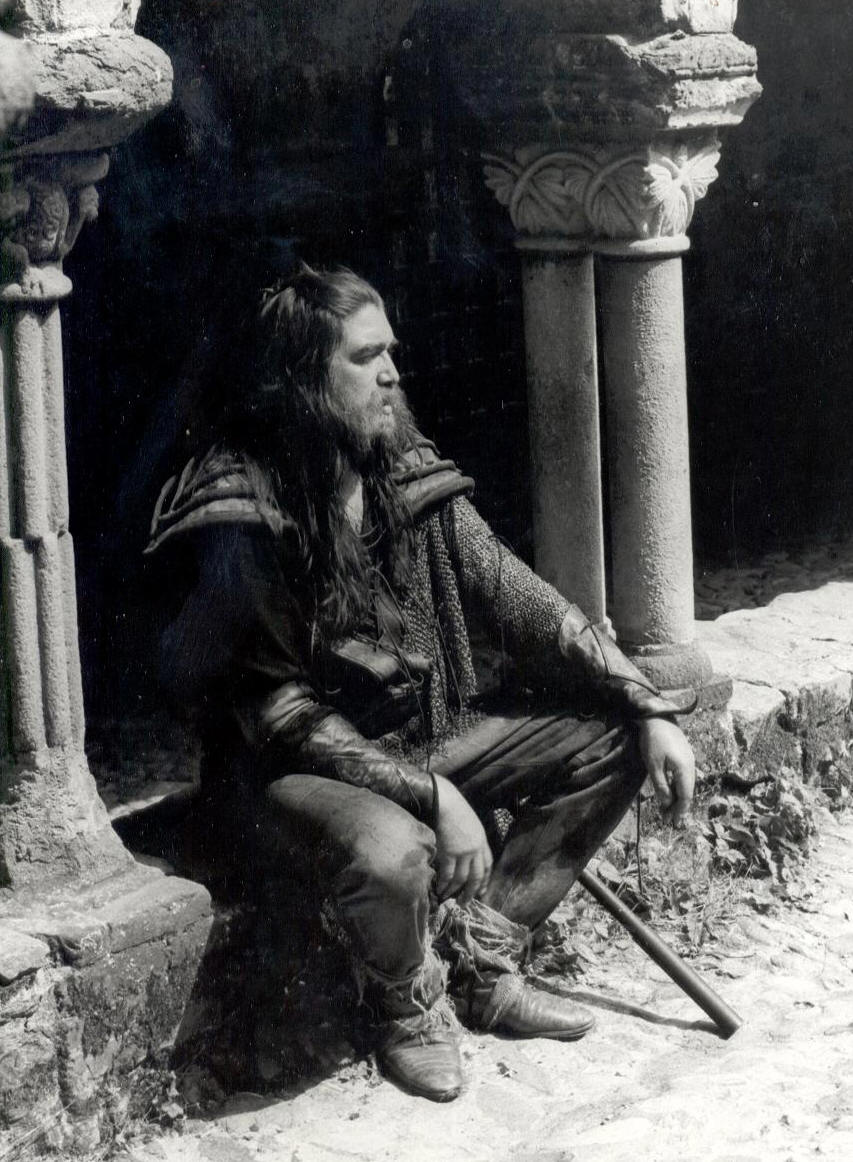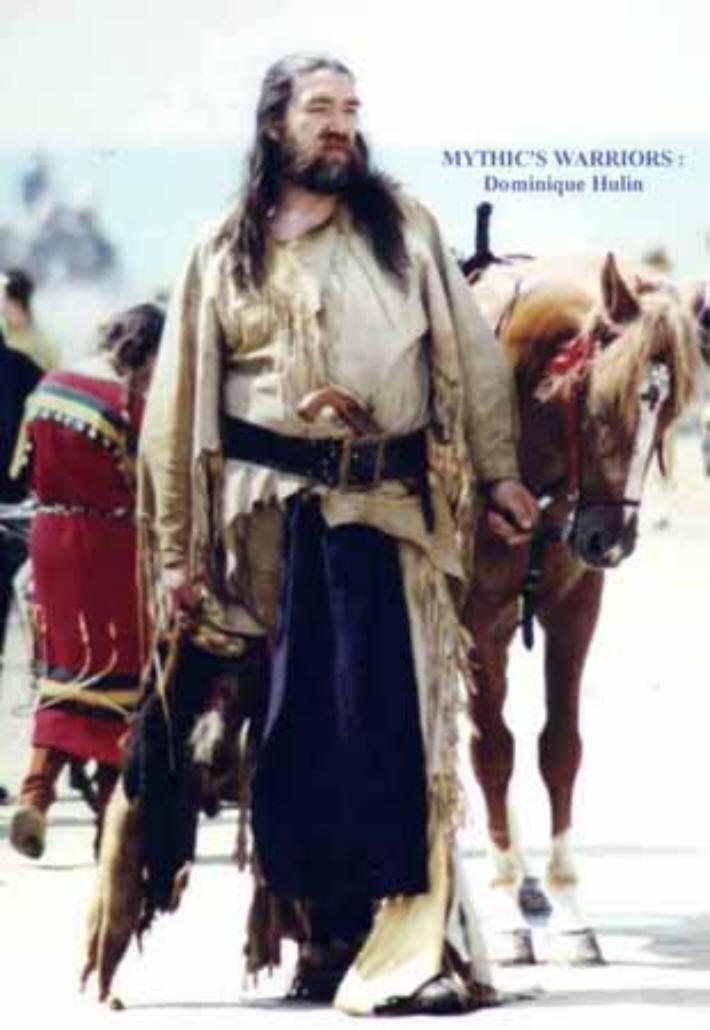 Personally Dantes made a huge impression on me as a kid. He didn't say much but I believed he was a mercenary. Later in 'Fear' and in 'Headhunters' he was present again. We met him in France years ago and he is a nice guy! The man who feared me as a kid was a nice gentleman, very good in swords a very big heart for his pets and donkey.
Me, Dominique Hulin and we. The headhunter with the scar and the blind eye. The monster, who used to give me and my sister nightmares is loose!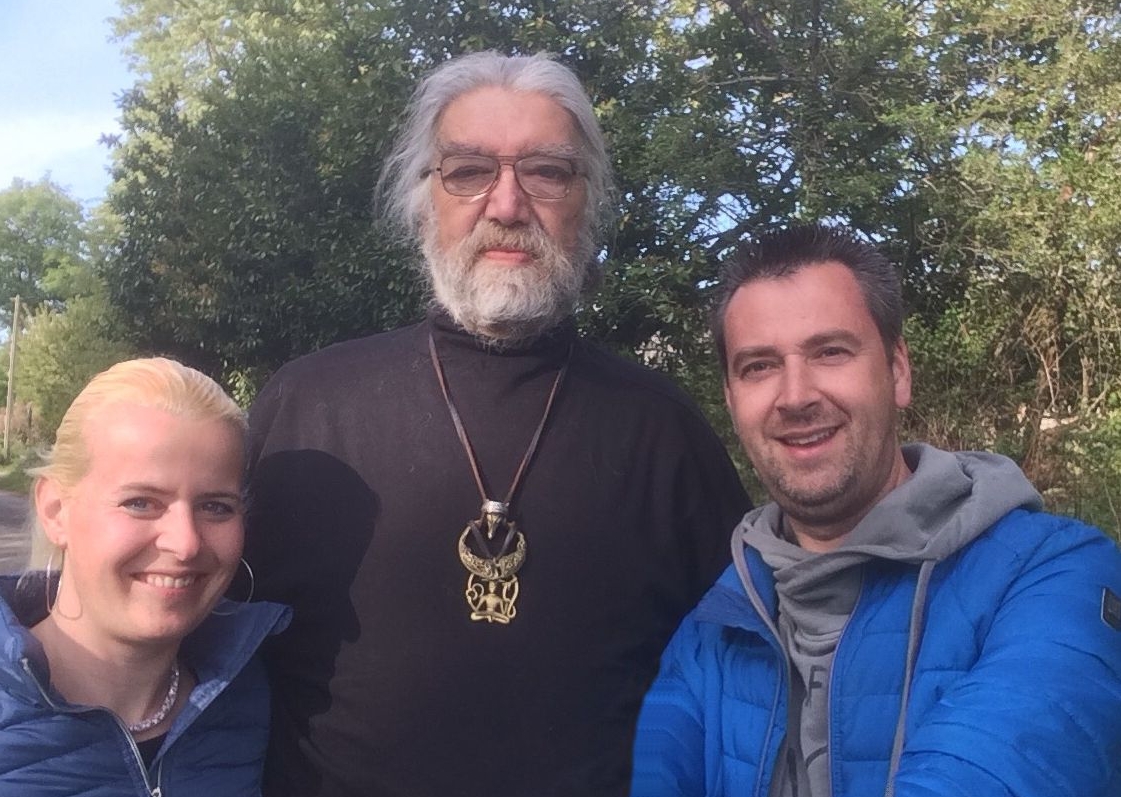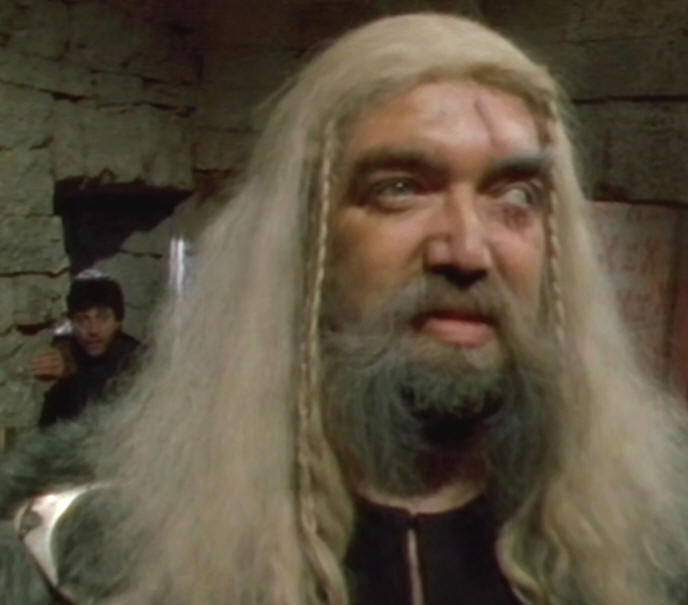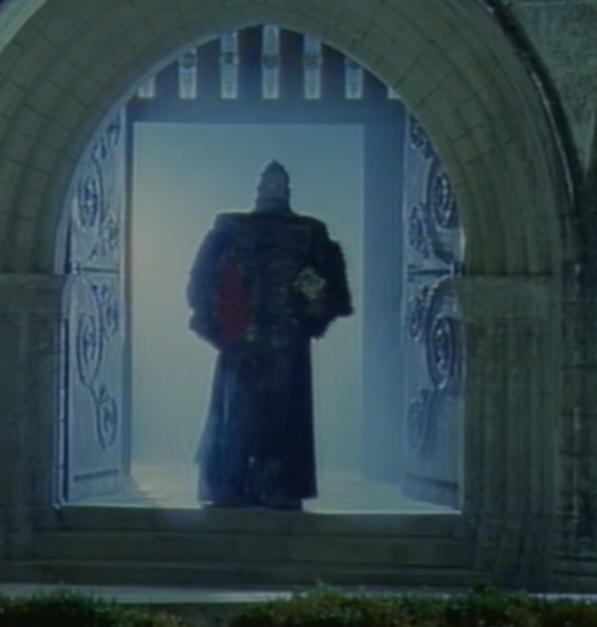 Left below: Dantes offers Gessler help for a good price. If they can not agree on the price, a dangerous atmosphere is created and Gessler has to consider his offer again.
Right below: One of his fellows is badly wounded and he had to say goodbye to him on his own way. Offering him a last drink, then kill him.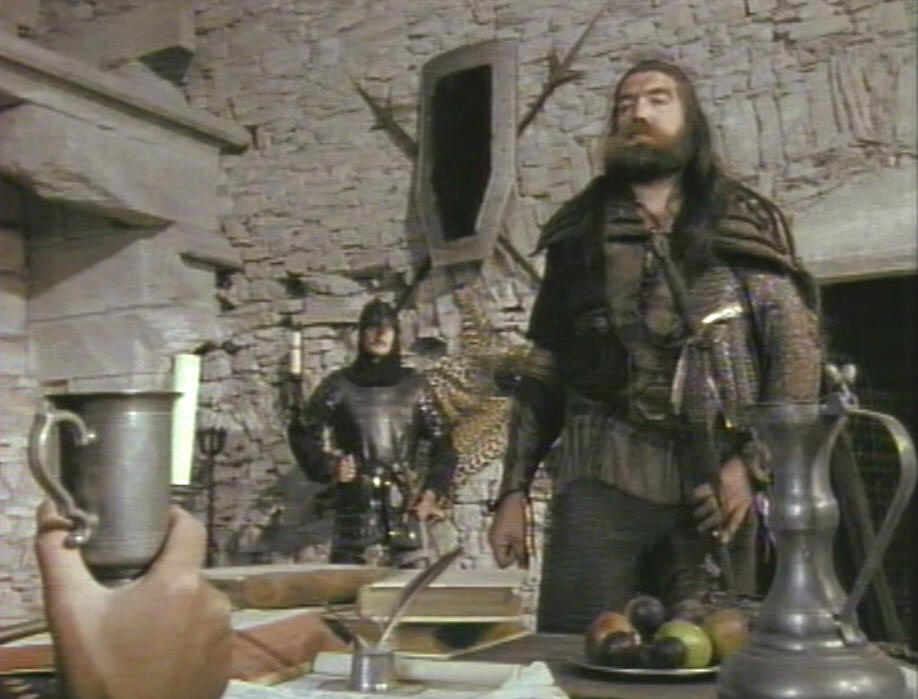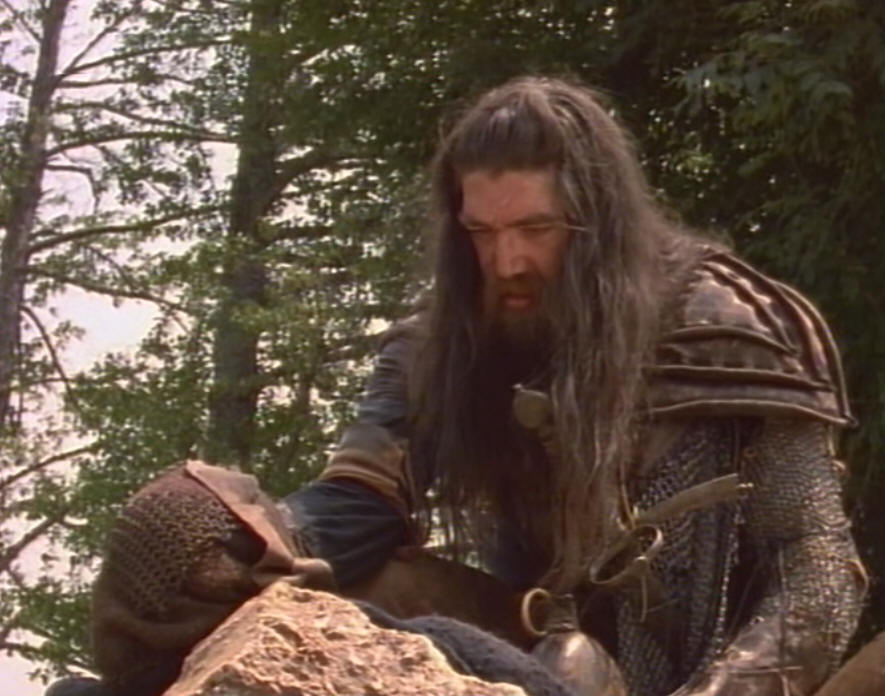 At chateau Epierre (Albion's inn) Hulin shoots Tell, but Tell didn't fall off his horse and Hulin gets angry. No money for the deal with Gessler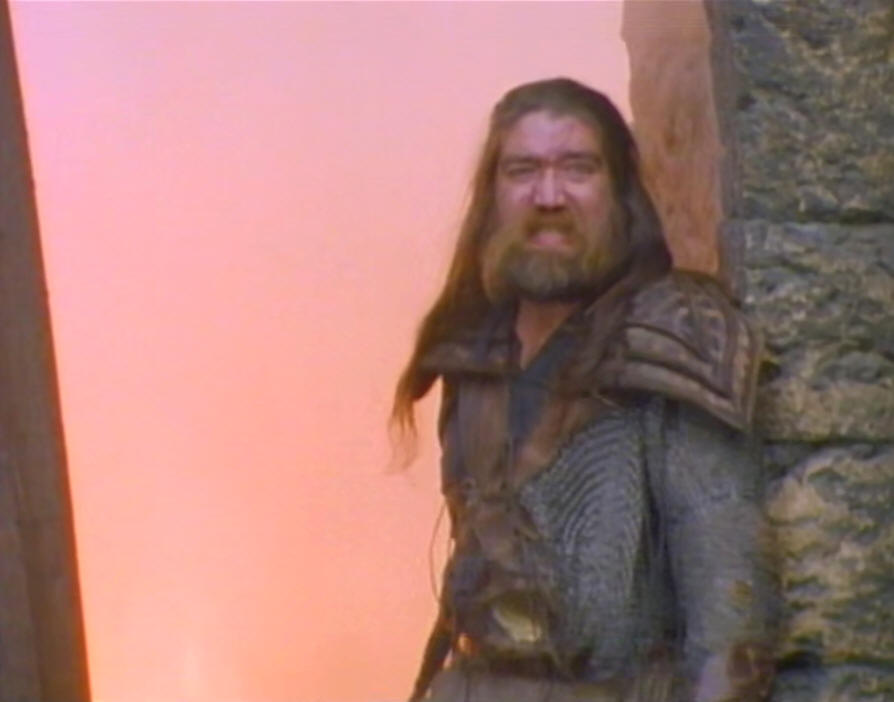 Mr. Hulin was on the following locations: Chateau Miolans, Chateau Virieu, Arlempdes cave, Chateau Epierre, Chateau Lavaudieu, Chateau La Caze.