France, Laurel and Eline
Note from Eline

On this page you can read about the reason we've started the site and what moved us. It's also about the meeting with a few Crossbow actors. We would like to show you the beautiful country France. You can follow our visits to it. Finally my former paintings, some of Crossbow.

One day I'll paint some French villages. More about this hobby of mine down this site. If you like to read more about the creators of this site, their reasons and their backgrounds, you can read ahead. The last part of the site is about out visits to France. It's quit long, but you are free to skip it.

Laurel and me

About Laurel, me and our encounters. We wrote since 1997. We found out we had a lot in common. It actually clicked immediately between us and we had intensive mailing for years. What are you talking about as teenagers? Music, movies, boys, dreams, school and much more! We could get a along very well, we loved the old music, we like the adventure, we found out we had the same rare and impressive painting in our home and our dads both seem to be connected to the same global network. On our birthday we send each other nice packages nowadays. A nice surprise every time! We both have seen Crossbow at the same age. Not a lot of girls watched this show.
Around 1998 in the USA. (left me and on the right Laurel) Youghiogheny river in Ohiopyle state park, white water rafting. We were a lot younger, around 1998-1999?
Our enthusiasm it nicely divided; Laurel greatly appreciated the acting talent of Jeremy Clyde and I do appreciate Will Lyman's. ;) We were longing to see Crossbow back again. When talking about the episodes we found out that we had not seen all the episodes, it created a kind of curiosity. We decided to make a site about it. Later my husband joined us. The thought was: maybe there were others who loved it just as much as we did and we like to hear from them. And besides we think Crossbow should not be forgotten.

I visited here in the USA. A lot of fun and adventure. The photo on the right: I remember the rafting trip like yesterday ... A wild white river and beautiful butterflies everywhere. A nice experience and a great state park! I remember our tough mate fell out of the boat. It was during a rough stretch of the river and there were many of them! All the girls, who were still in the boat, had a tough job to get him back in ; he was built like Schwarzenegger and pretty heavy ;) see the photo :) We did overnight camping in old tents in the forest with a whole group of stargazing and the tension of the bears that lived in this forest, luckily not encountered.
My Youth
I grew up in a nice neighborhood with a lot to do. If it was freezing cold, you put on ice skates, you could go skating almost next to the house. All my friends did the same. (Plenty of water in Holland), during the skate hype, you could go to the park and go skating on half-pipes. I used to play soccer and baseball regularly with the children in the park. Everything I could take out of our outhouse we played with. Things like: bike crossing, baseball, soccer, blowpipe shooting, hide and seek on bikes, building huts, climbing trees, wonderful summer with lots of children and we camped on the grass together.
Family and many friends close by. I was spending a lot of time outdoors, always in the fields with them. I needed that after sitting still in schoolbuilding. With my friend Martijn, we were in search of adventure such as exploring new areas, bunkers, building huts, hiked for hours. The adventure was always in me. Later with laurel we hiked a lot as well.
Introduction to the series of Crossbow
My friend Martijn, he was the one who introduced me to the series. He was lyrical about Tell and this series and I became curious. When he was at my place, it happened to be on TV. For me, personally, Crossbow has brought me a bit of adventure. It felt like I joined Tell on his adventures! As a child I was able to notice how beautiful the surroundings were. How well chosen! Like fort St. Andre for example. What beautiful castles! I once wanted to go there! But in fact.. going there took a long time...Crossbow faded to the background for a while..
My friend

Me and my friend, he was import to me. Our parents were close friends. I'm glad I got to know him. Unfortunately it ended very badly. I lost him in 1985, due to cancer. After this hard situation, I found out Crossbow was a nice escape. 20 minutes a week seemed to cheer me up after this big loss ;) It gave me something to dream of. The beautiful horses of Luraschi and the castles. Holland is quite flat and has no unspoilt nature. The story of Tell grabbed me. Perhaps I recognized the sadness that hung around Tell during the first season, combined by the music of Syrewicz).
Like my French friend (big fan) once said it so well: 'For me, Crossbow is a little part of me. Crossbow was perfectly responding to my thirst of adventure and heroic stories. "William Tell was representing a model for me, a male figure, a good father and husband, a hero taking care of the poor people,.." I can confirm that. Mr. Lyman played the role very well. Tell, seems just an ordinary man with a fire in him (very credible acted), who gets involved in a battle and keeps standing up for his family and the poor people. You believe it. They have not opted ​​for a stereotype hero's like 'He-man,' with a fitness overkill, I think such details, making Crossbow credible.
Horses
Magical! Never regretted it. I started at my friend's home Gaby, she was so lucky to had a horse in her backyard. 1 year later I was finally allowed to take lessons at the riding school, Gaby was also affiliated. I made lots of new friends. The riding school had over 90 horses, about 2 people a horse, it was like a ideal village. Never a dull moment! The riding school organized competitions, outdoor rides, pony camps and crosses. Finally my friend, she accelerated faster and she started doing National car crosses, even in deserts. But I rather be with a horse ;)
Mario Luraschi
Because of M. Luraschi I saw that horses were no longer 'fussy' but stalwart and beautiful. Magic! I started riding and never regretted it so far. To be honest the start was quite a shock. It was much harder than I thought and also very unstable. I really underestimated it. But I wanted to continue and soon found it great!
If you are good for your horse you can have a good cooperation and the horse can give you wings. Think of a nice gallop through a beautiful forest or in a full gallop on the beach. In gallop the horse comes off the ground, you fly!
Collaboration
Offer a horse variety without asking too much of it. Make sure your equipment fits well and the bit is anatomically shaped or ride even without a bit. It's all possible, even in the dressage sport it's allowed nowadays. I dislike 'breaking' a horse like cowboys used to do. I'm a fan of Mario Luraschi. One part of the stunts is hard to see for me; it's the 'falling' of the horses. I'm convinced the horses are treated very well. Furthermore, I really believe that he knows how to find the qualities of every horse and looks at what role suits the horse. You can see that the horses go for it. That's special! I don't like horses in top sport. There are many horses in mental and physical distress because of this and that is not what you should want.
I've been a fan of Mario, even before I watched Crossbow. Since I had to make a paper in primary school and could choose from various information booklets. This one was about movie stunts. Mario was there with this photo and that 'fascinated' me.

Mario gives the horse the stage it deserves. He makes it come out at it's best.

My daugther was also proud to meet Mario. Clemence Luraschi was riding in the 'Fascination' show. Her riding skills were amazing!! Even without rains she does Piaff, passage, spinning and a lot more! And always in harmony with the horse.

Fascination

2020, Februar 8th, my husband made me aware that there was a show of Mario close to the Netherlands. At the moment he is doing a show 'FASCINATION.' We ordered the tickets and enjoyed a wonderful show and met him and his wife Clemence afterwards. How fun! Something I didn't expect to go to just happened.

Mario Luraschi is a French equestrian stuntman, trainer of horses for cinema.
What made Crossbow special?
It's the complete picture! The 'adventures' of Crossbow...the horses, music, the old mystic medieval towns and castles, the trustworthiness of Tell... Only 'good' would be boring. Also a lot of praise for the opponent Gessler, played by Jeremy Clyde and Horst (Nick Brimble). I find many characters well casted. The Characters that I remember well are: Lascal (Christian Erickson), Horst (Nick Brimble) Dantes (Dominique Hulin), Gaston (Brian Blessed), Stefan (Conrad Phillips) Gobbo (David Milner), Kristel (Dominique Barns), The monk (Daniel Benzali) but these names immediately came to my mind, there are sure a lot more.
TV Medium
I think it's striking how strong the TV medium is for children. Besides very young children cannot yet separate television from reality. I always watch together with young children, for us very important. Although I am not so quickly impressed with series. I think Crossbow grabbed me on the right time. I've noticed that youth series can nestle into your feelings ... 'it can almost feels like childhood sentiment' such as hearing a theme, evokes a picture in your head and feeling of the past. It is beautiful, but actually not yours, not your immediate environment, but you still take it with you in your head and it could stay there for long. For children this all comes in even more intensively. That happened with Crossbow.
I prefer action and adventure with a little touch of humor like James Bond and Indiana Jones and a lot more.
Laurel
To continue the story about Laurel and me; Laurel lived in the USA and I was living in Holland. She studied film history. She manitained old movies and important old film material. She loves old movies, appreciates lots of music from the past, also jazz music and she likes to sing. She studied in London, in the US and also for a while in Amsterdam. We met up a few times. Around 98/1999 we traveled through the east of America for weeks. We visited a lot in a short time. Those weeks were so intense! Every hour together and we were always busy. Those weeks in summary: the Twin Towers, The Empire State building, Central park, The old NY record stores, times quare, Philadelphia, Washington DC, Baltimore, Virginia. We also hiked a lot, experienced white water rafting, went to museums, theme parcs, met friends, went to cinemas, NY, Virginia Beach, Philadelphia, Williamsburg and I bought a real western saddle (which was extremely hard to get on the plane ;) . I even joined Laurel on camp with college. If you experience so many things together, it creates a strong bond.
A few years later we spent a few days in London during the millenium. We had a nice few days in the city! Around 2003 we met Laurel in the US, she came by train from NY to join us a day exploring the city. The last time we met each other was a few years ago at different places finally in the Netherlands.
Together we've started this site about 20 years ago. Soon, my husband Patrick, joined. Much later I started to visit some locations and expanded the location gallery and enlarged and changed the site. People from France offered their help tracking down the missing locations. Stephane helped me and C. Petit did an incredible job, he has been of great value in finding the right locations with me. We had quite a bit of fun in it. Very often I ask Mr. Lyman to remember a place. He has a very good memory. Also our thanks to him. We hope you'll enjoy our site.
At the moment we follow each other on a distance but we are still in contact. Nevertheless Laurel has always been involved in a certain way. Last summer she has been 1 month on tour with Jeremy Clyde and Peter Asher to gain experience in her profession.
The story Laurel likes to share with you, will certainly come. :) Here some pictures of her and out trips. Laurel and me in Williamsburg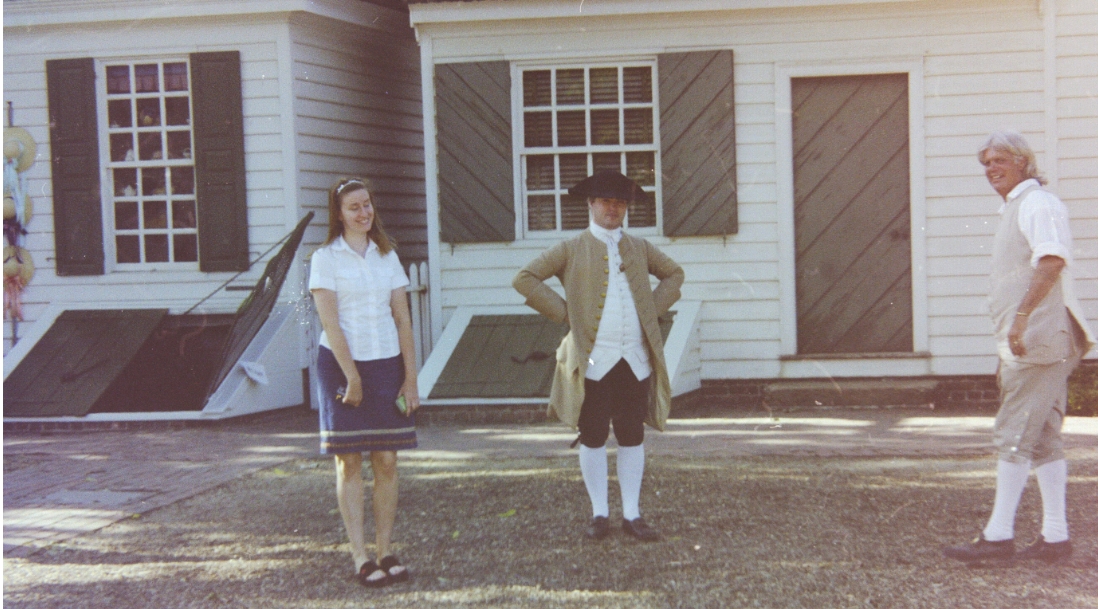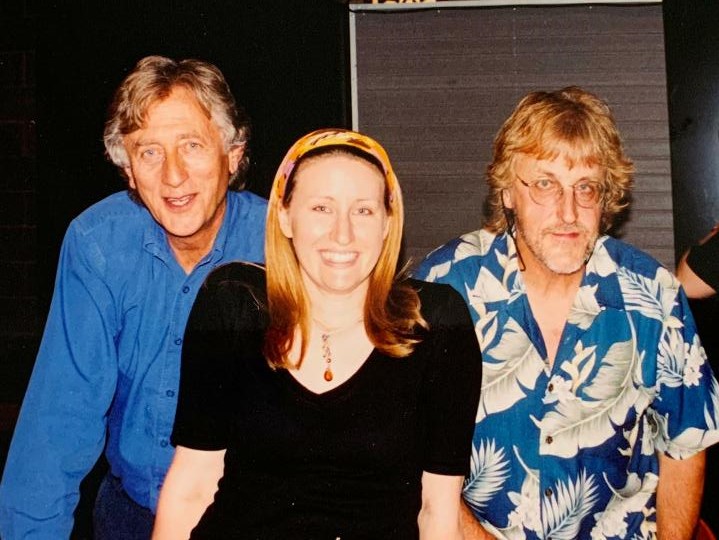 Below: during the millenium, London. New years eve.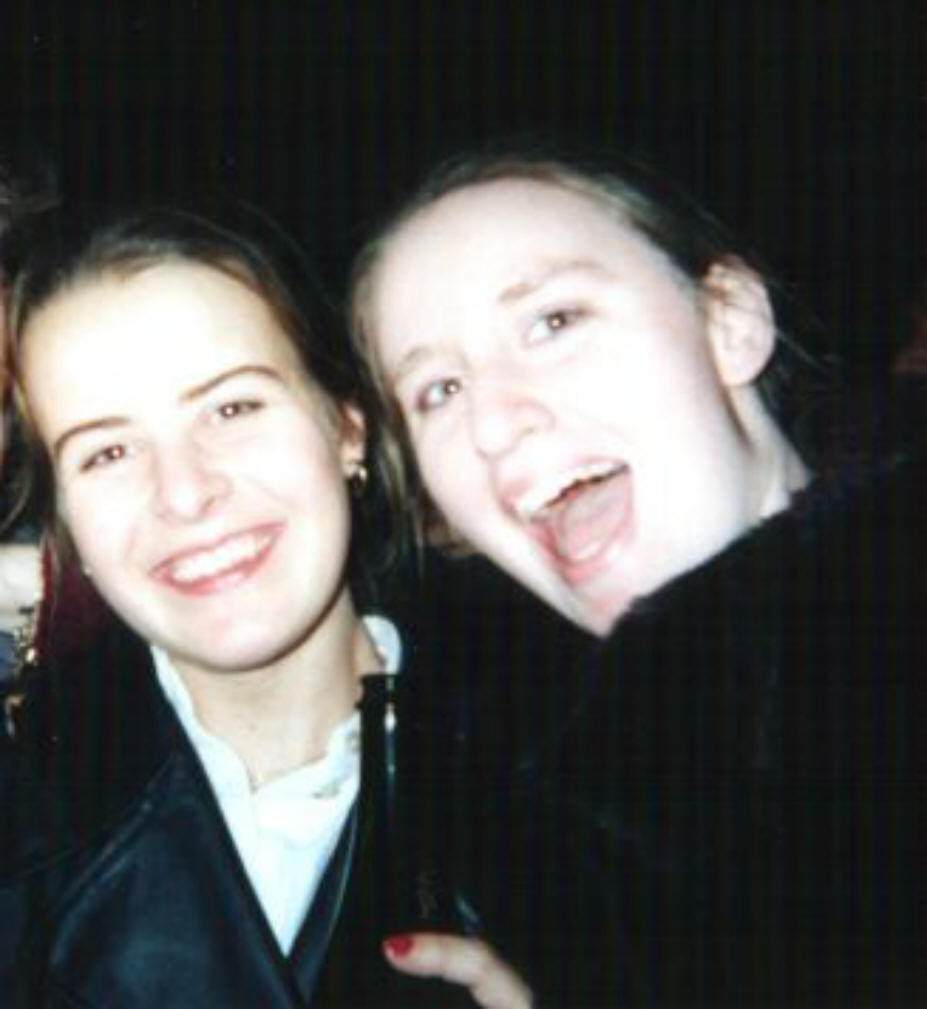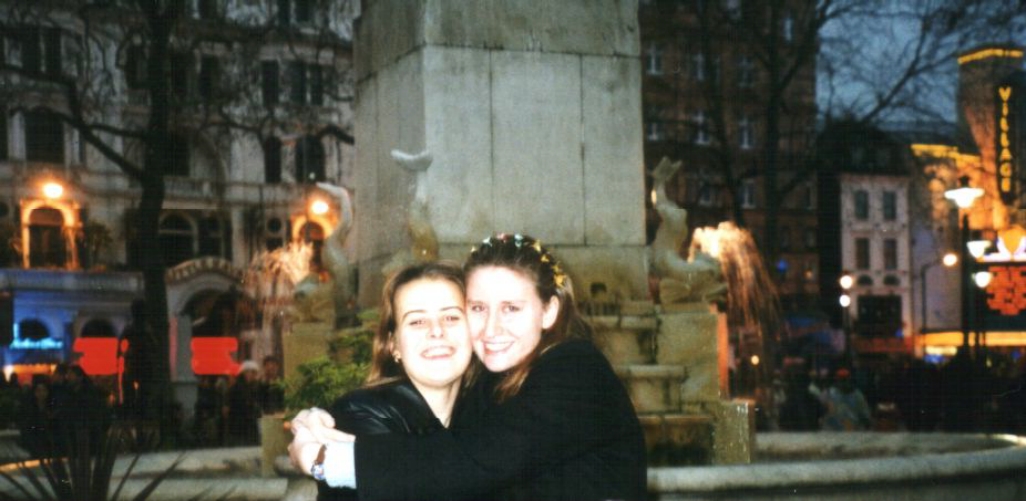 Early in the morning at the twin towers, two years before they fell 1999 Time Square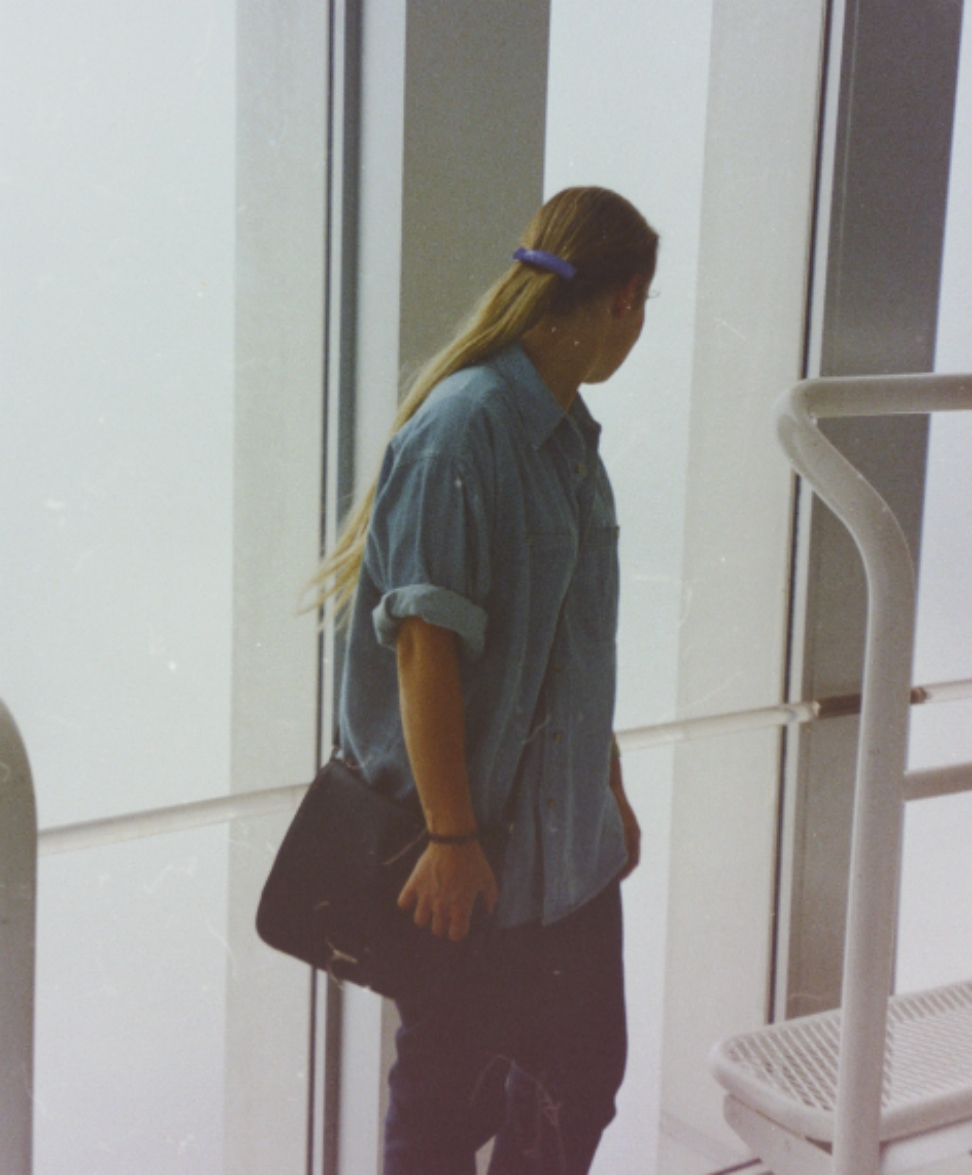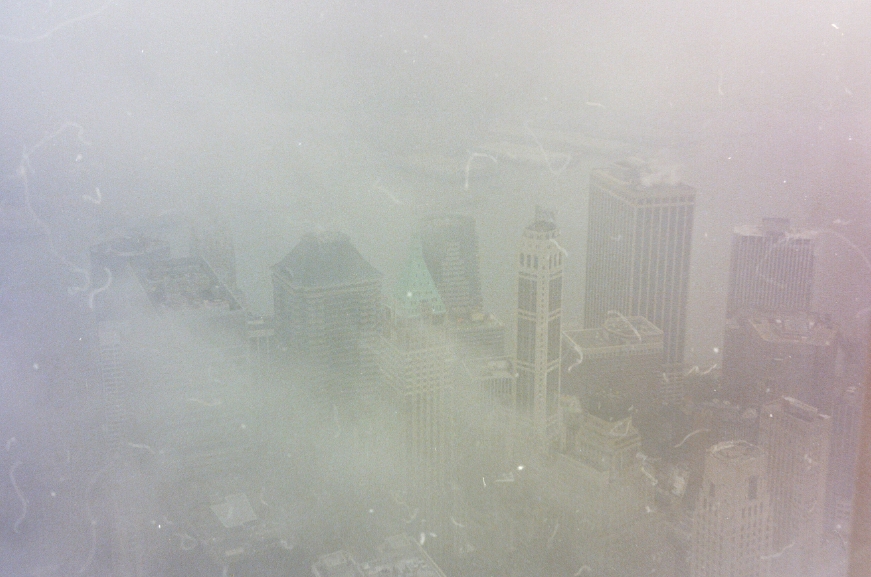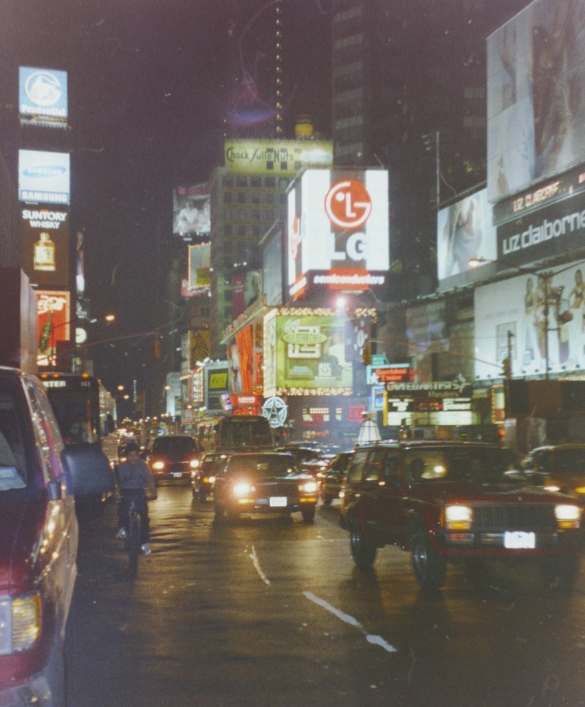 Out with the girls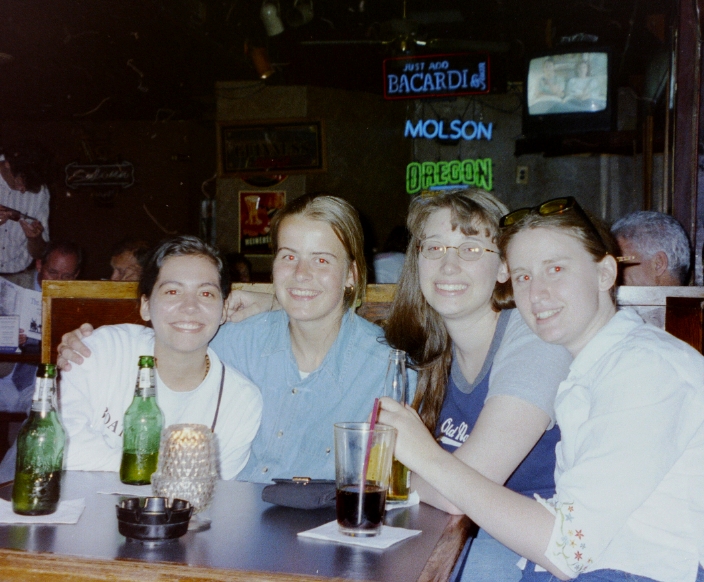 Going out in Washington
Relaxing and chatting at the porch of Laurel's house. Baron, the dog wants also some attention.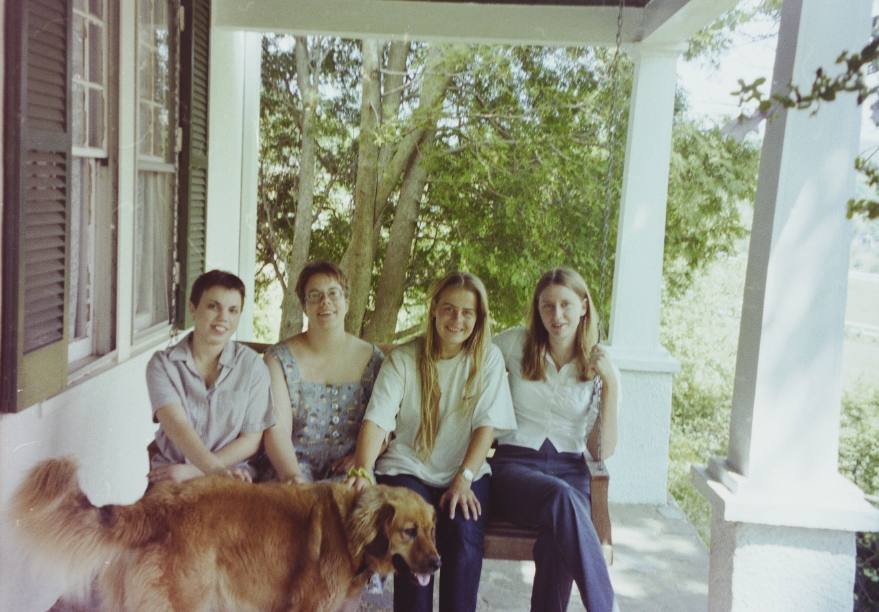 Although I had fever during that week, it was as always a fun day together with Laurel!
While seeing thise picture I always get a deya-vu of a previous visit to a theme parc. That was almost like the Lampoon's vacation. Drove 4 hour and found
out it was closed because of a special reason. A total drive of 8 hours! But we've had a lot of fun.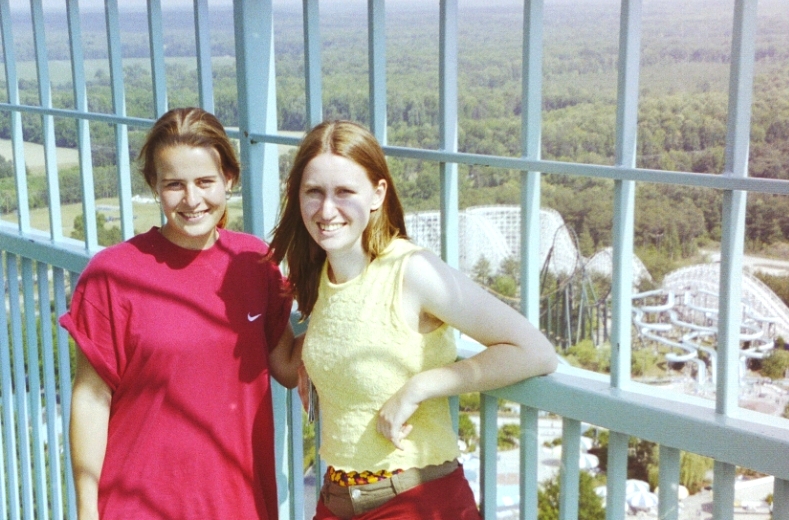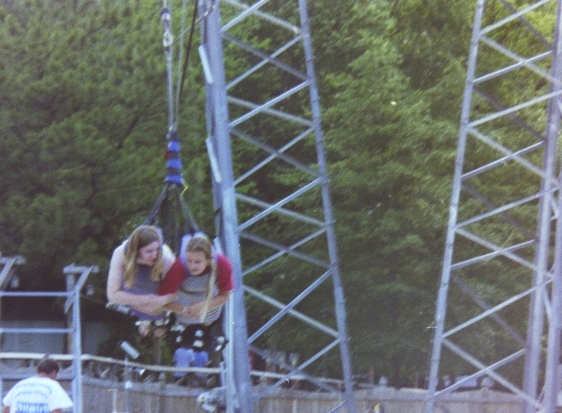 We jumped together! Fun! I was in charge pulling the cord to jump..but where was the cord?
On the horses of Laurel's neighbours. We made a very cool trail aside an old railway and through the forest and rocky fields. I think it was around 1998.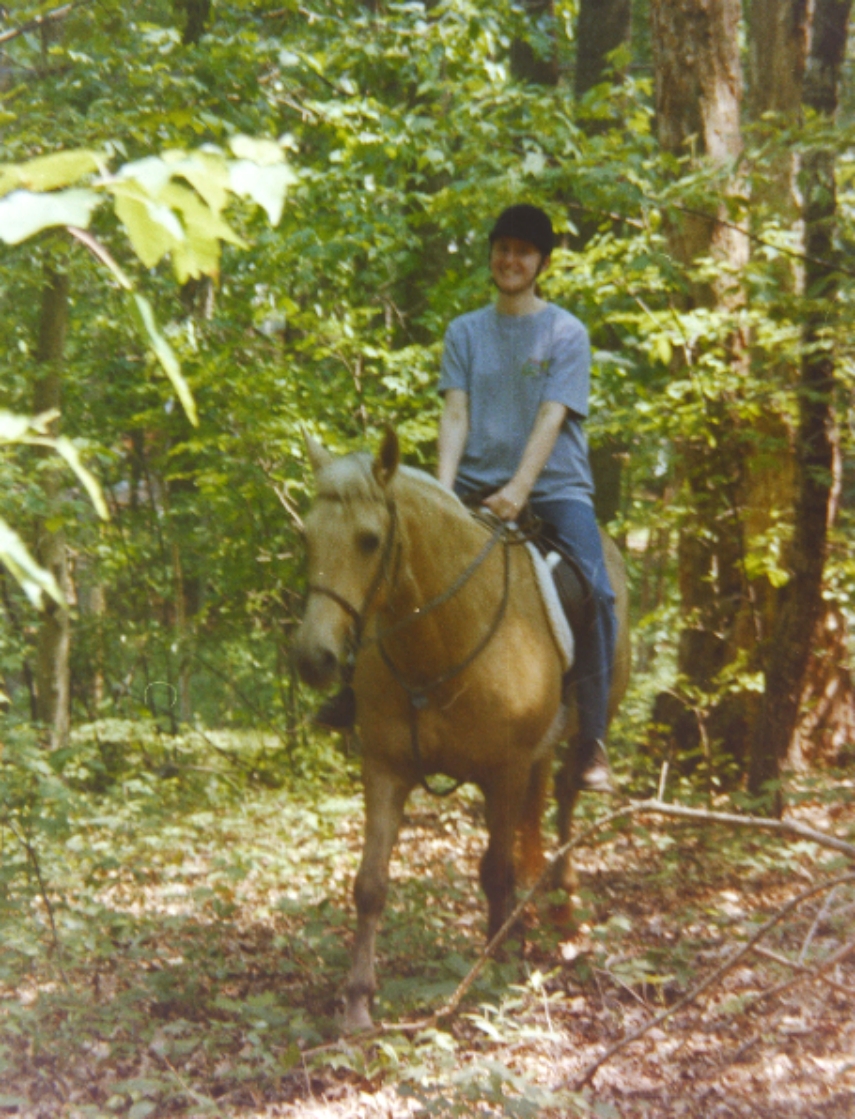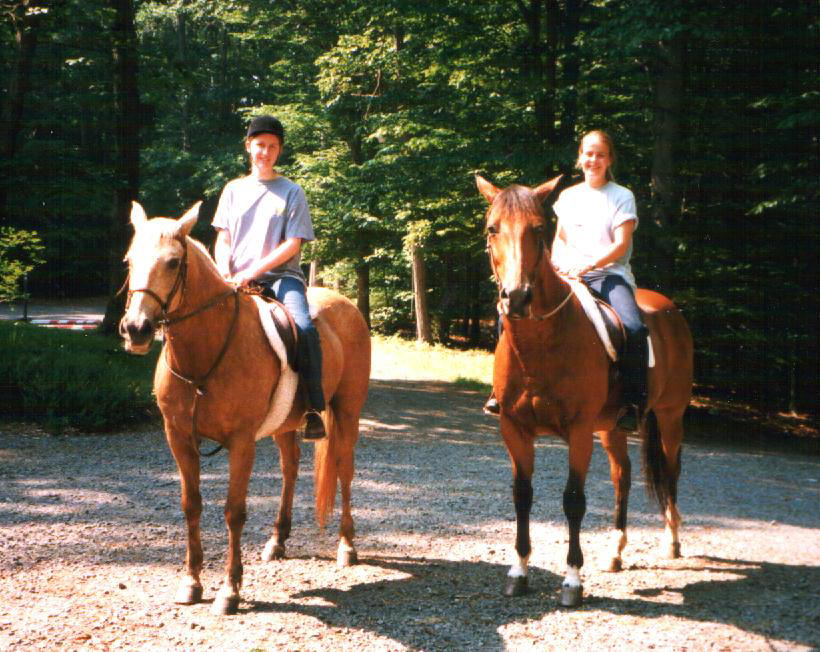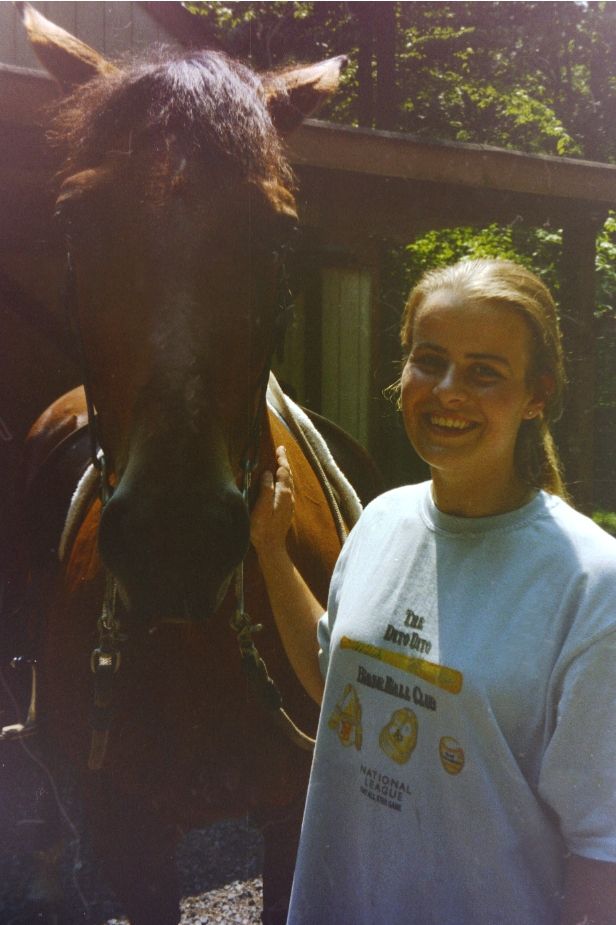 Hiking at the rocky riverside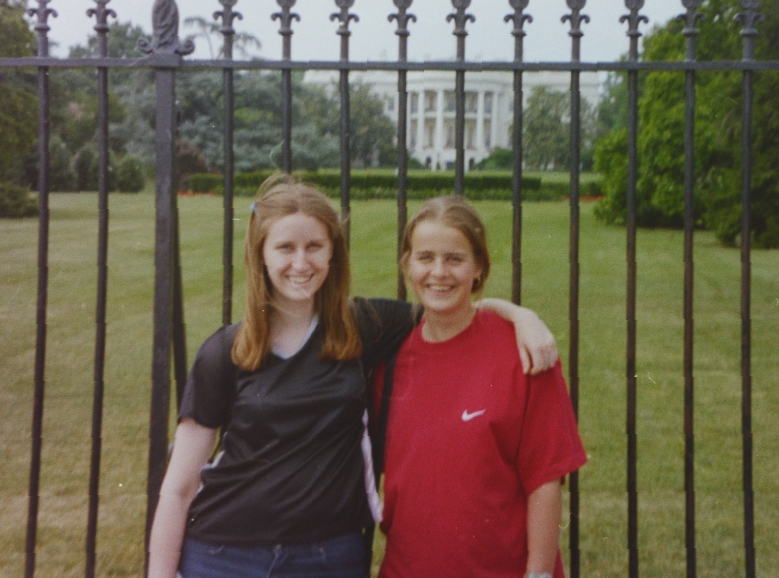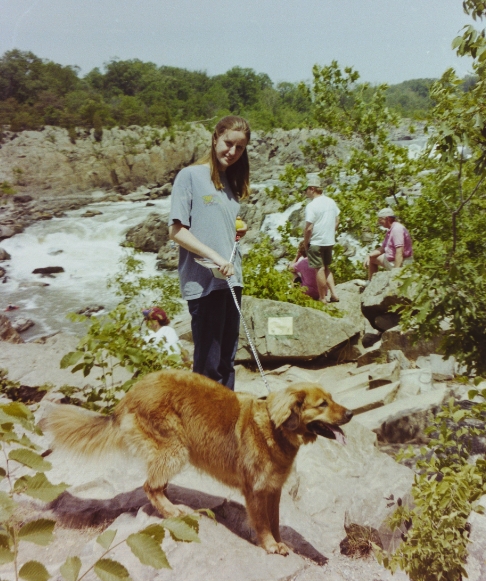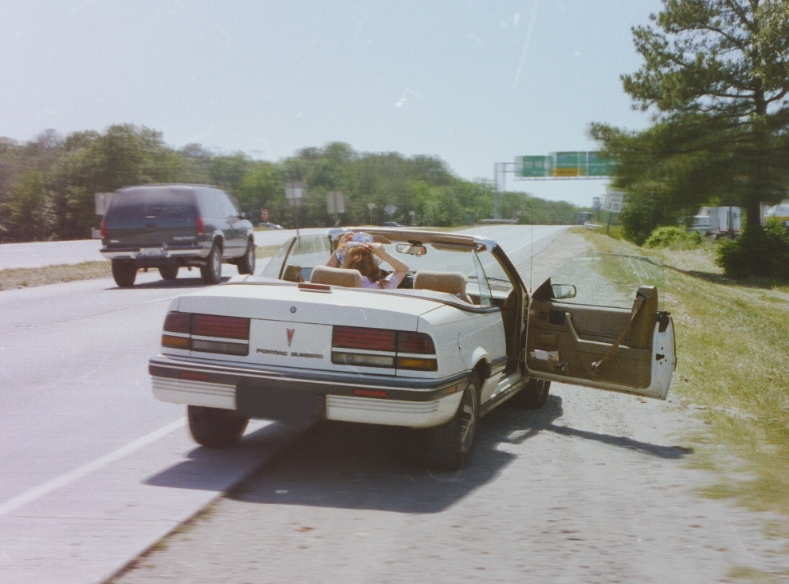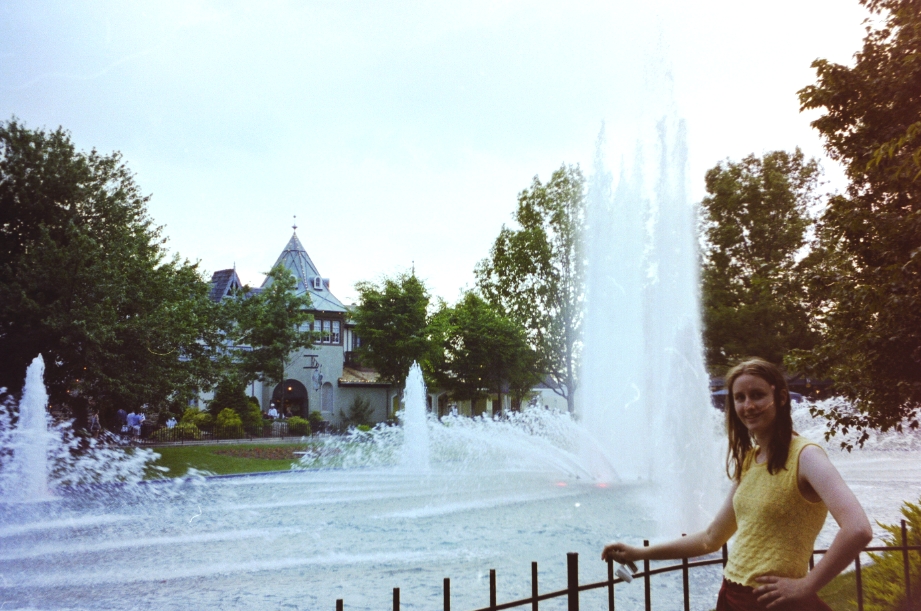 Laurel did a good job! The brand looks pretty familiar to me. Almost could smell the brewery when I was young.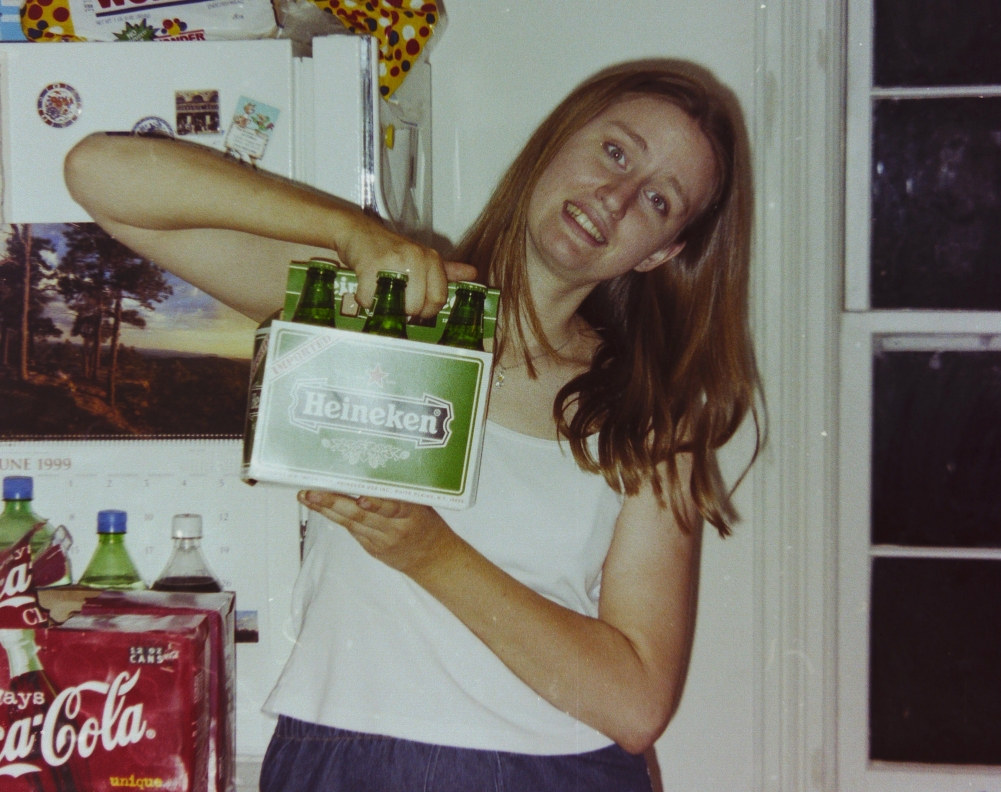 A city ride with the Clydedale horse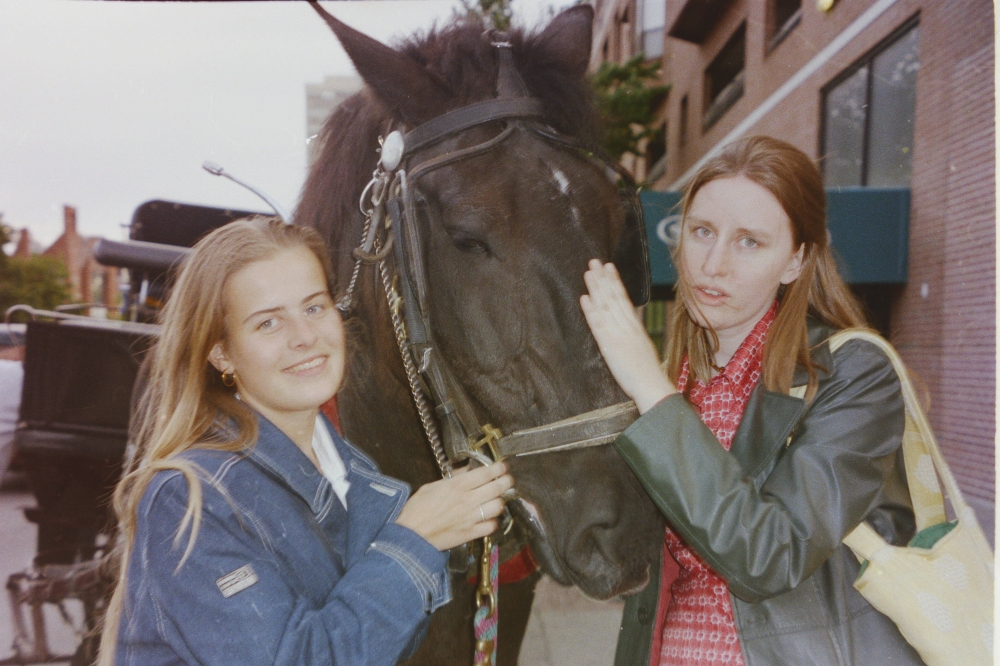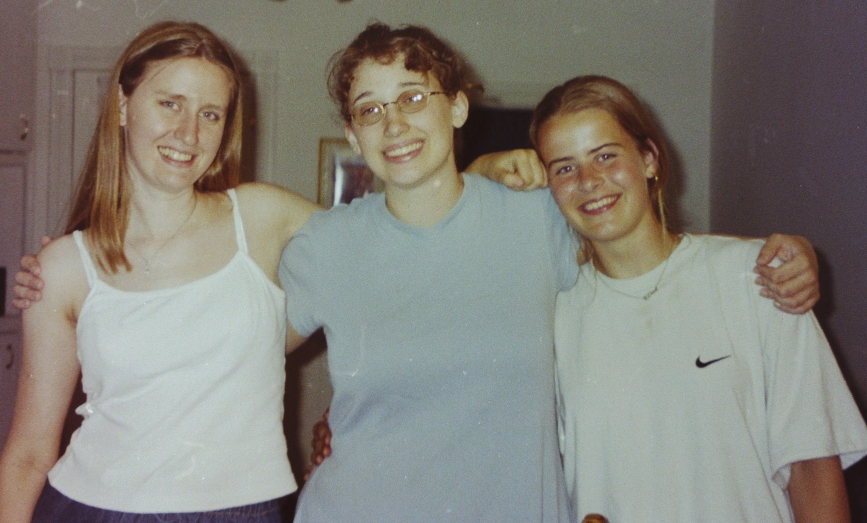 Going out in Philadelphia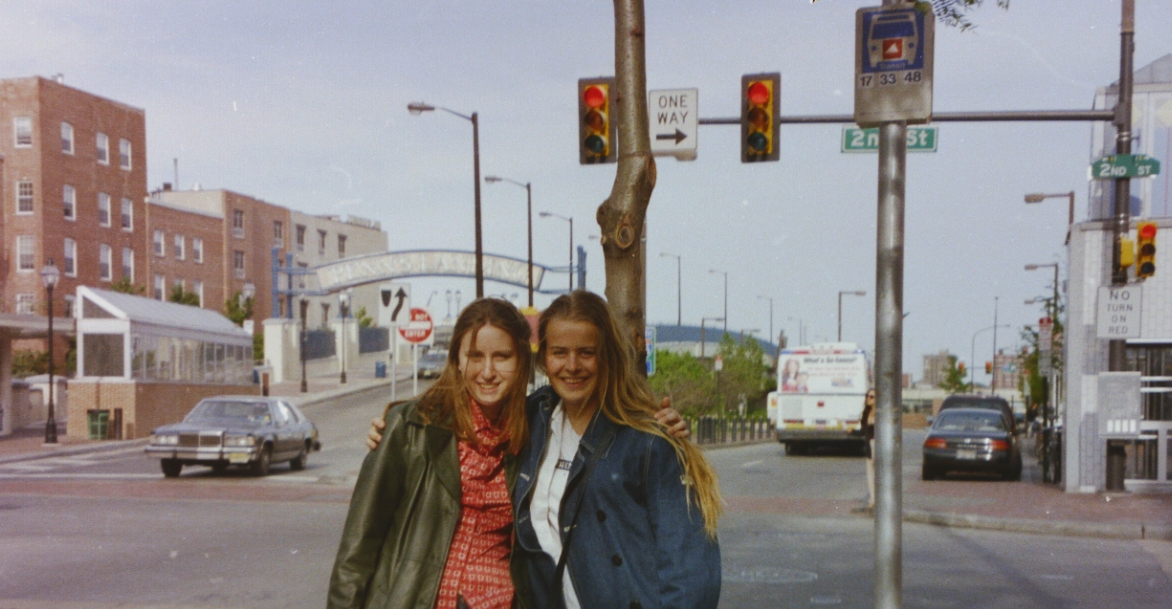 Philadelphia, Rocky steps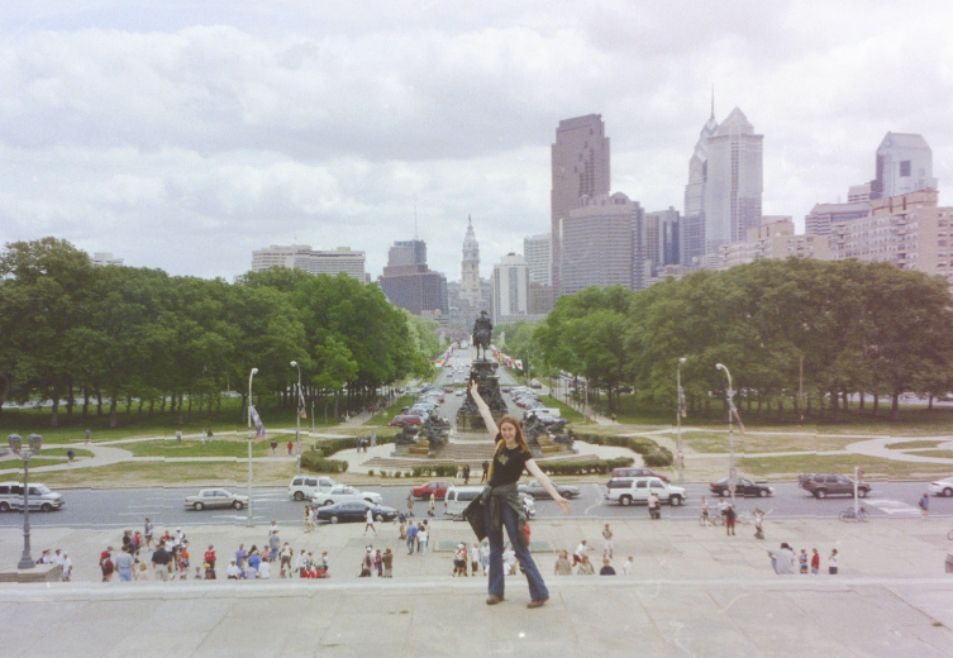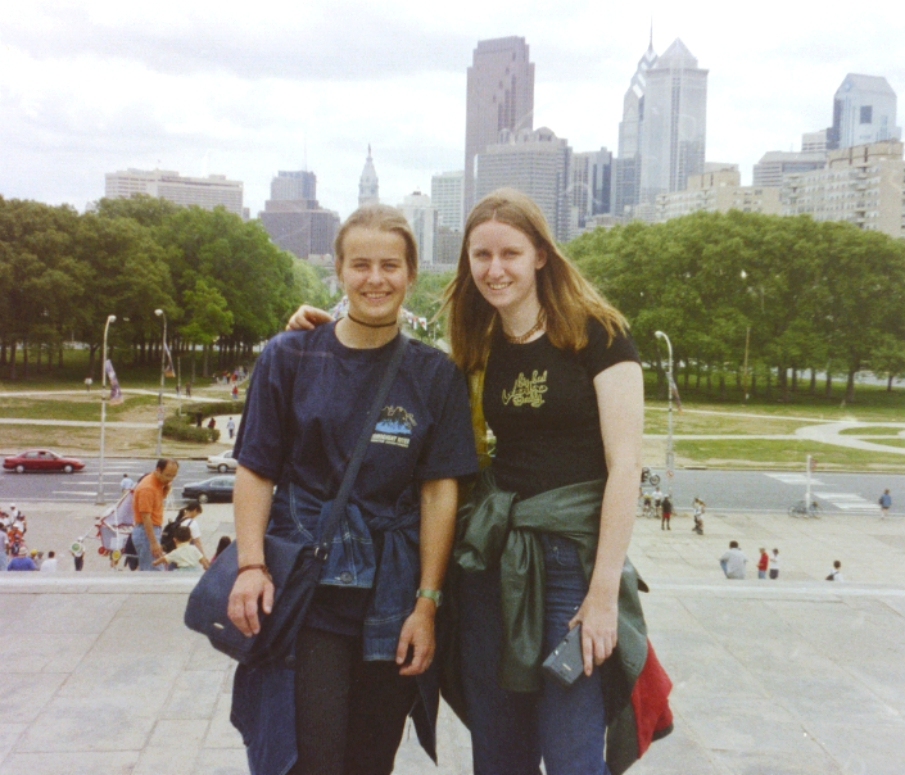 Liberty Bell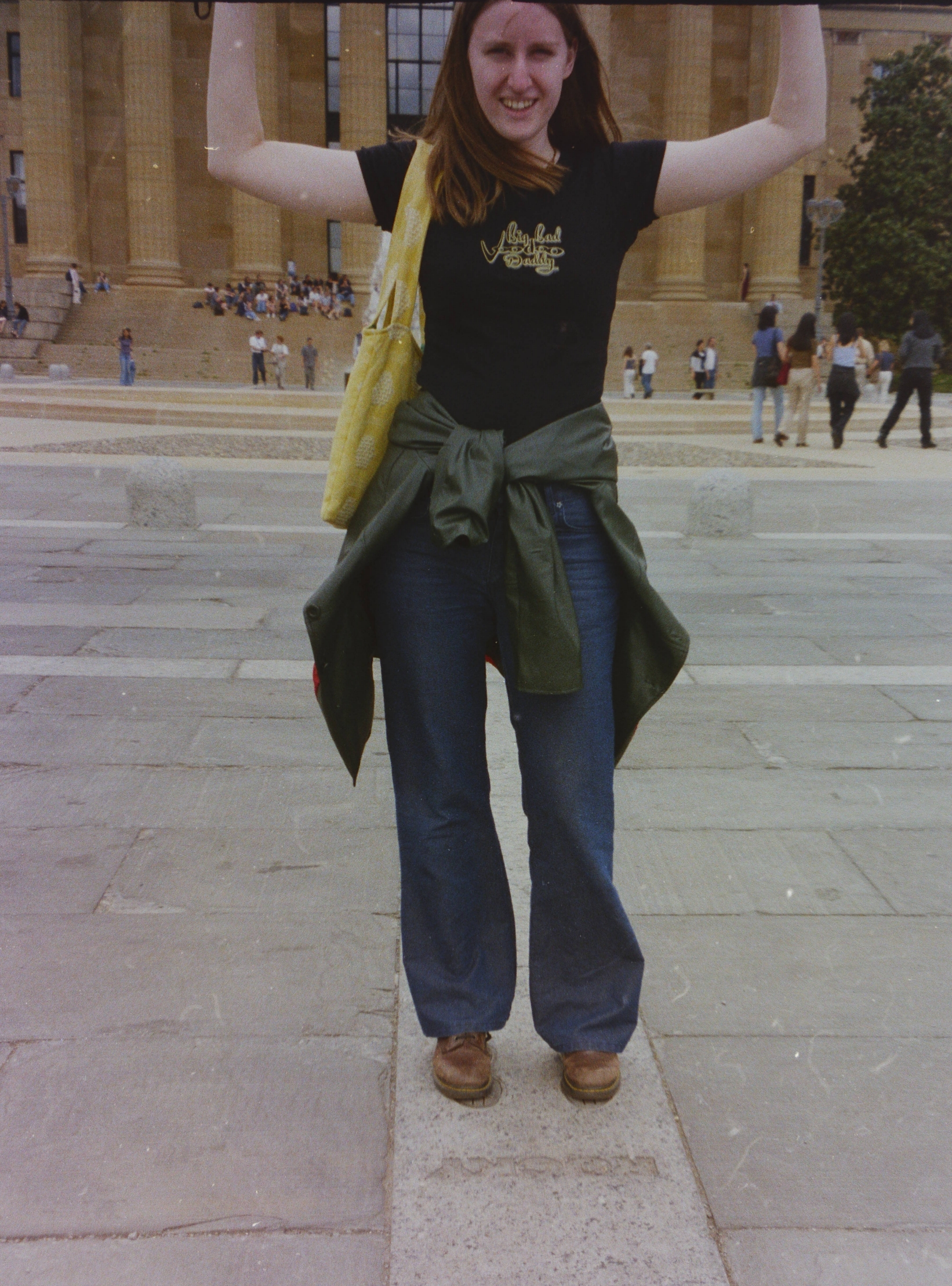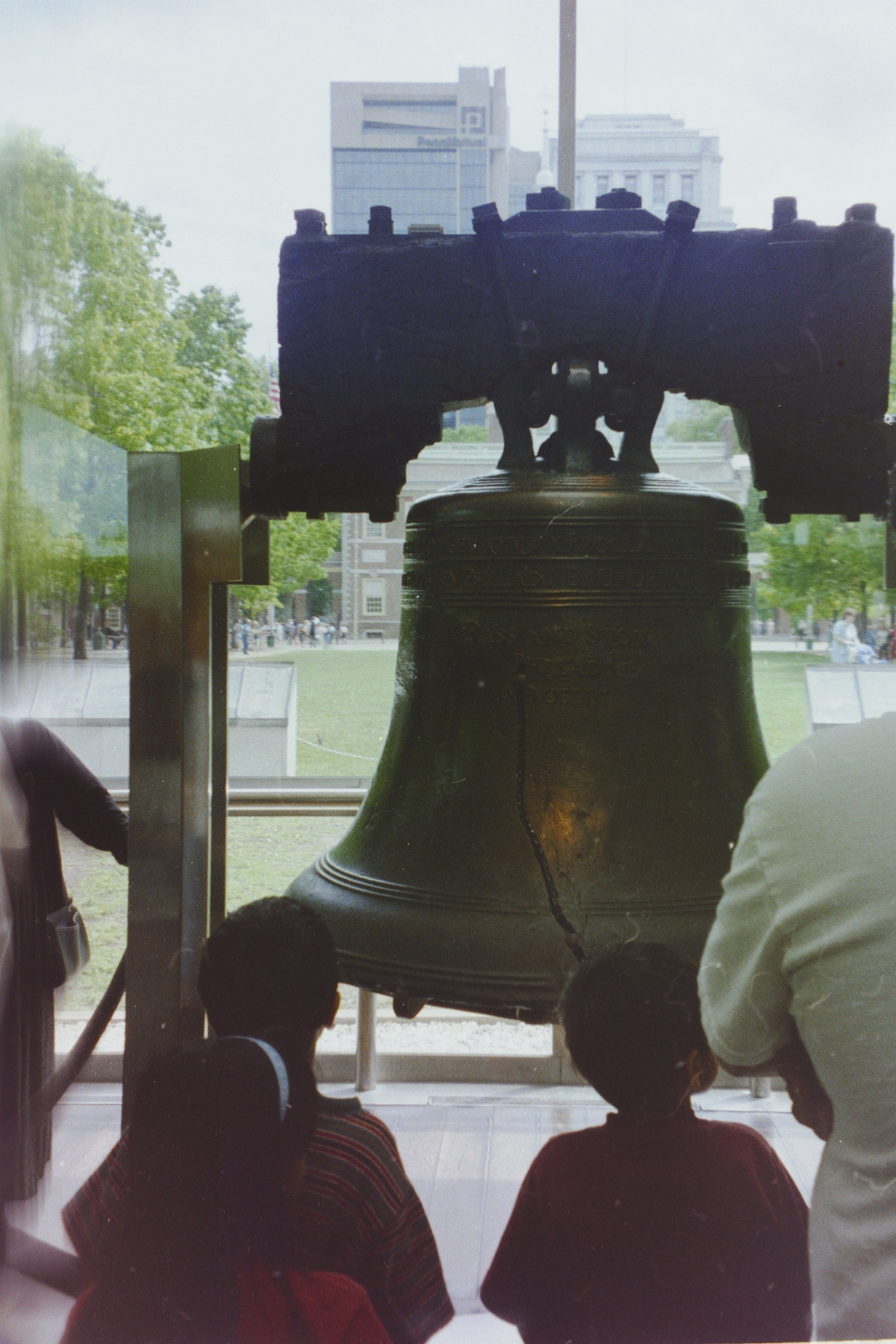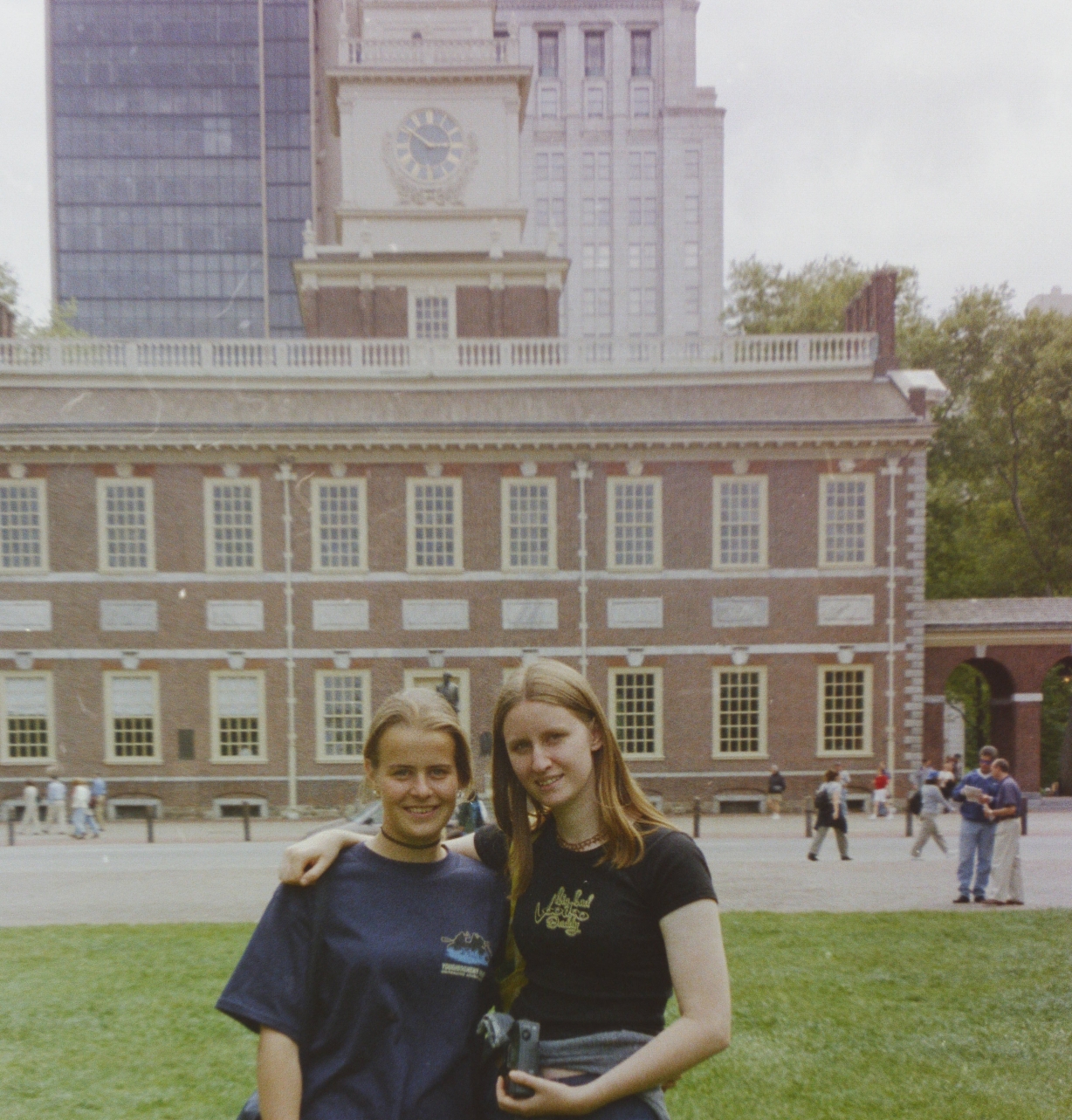 Laurel and...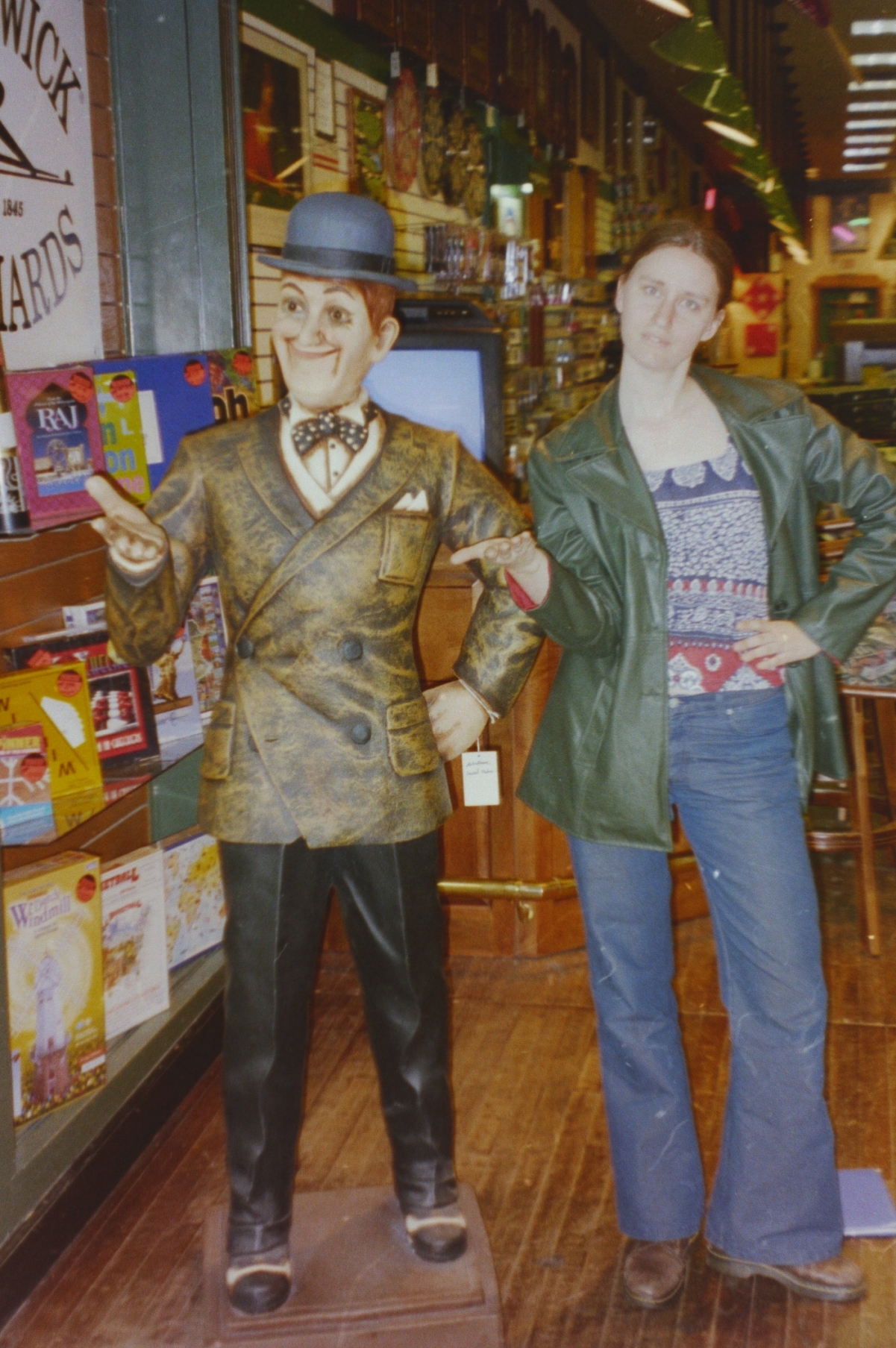 Jeremy, Laurel and Chad in 2014, during their USA tour. Laurel's friend Jason, use to be a huge fan of Chad and Jeremy and he is since many years the manager of Chad and Jeremy. Now Chad Stuart is retired, he still works for Peter and Jeremy.
Jeremy Clyde was touring together with Peter Asher 2019, but because of Covid the tour is stopped (for as long it's necessary).
Laurel, Chad Stuart, Jeremy Clyde, Peter Asher and David Prowse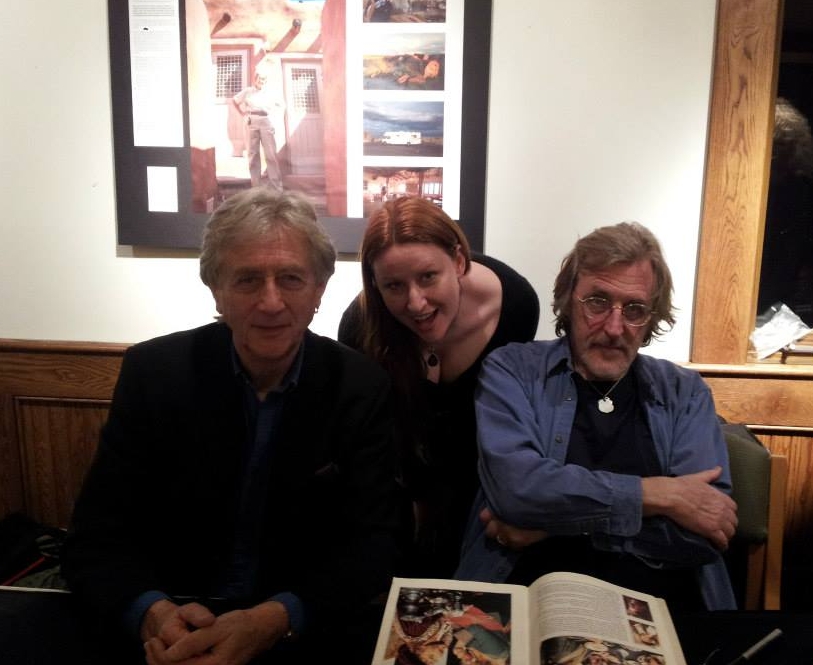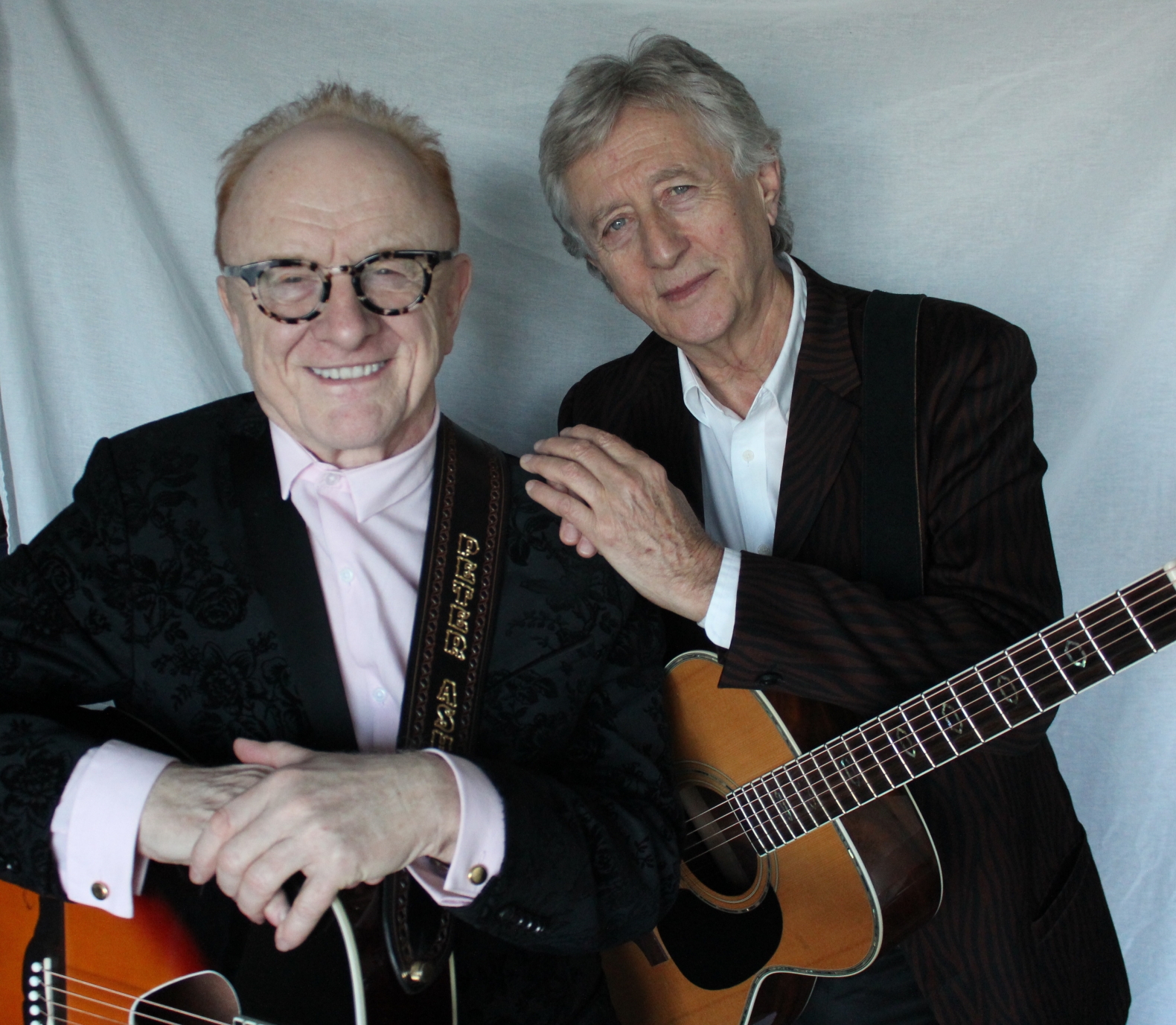 Laurel and David Prowse (in Crossbow in episode 'Lost City' and also 'Darth Vader' in Starwars)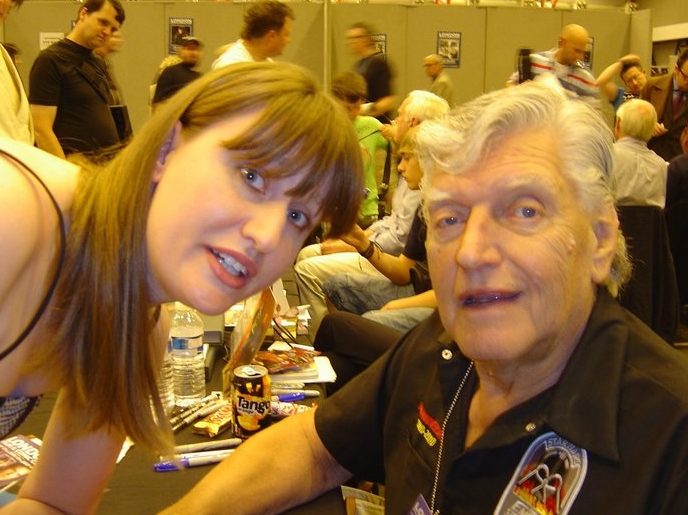 Eline's first horse 'Funsy.' With this horse you noticed that you are alive.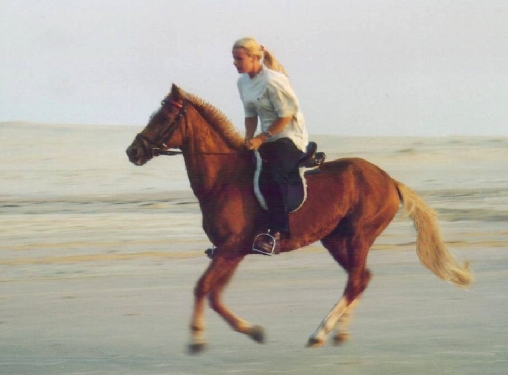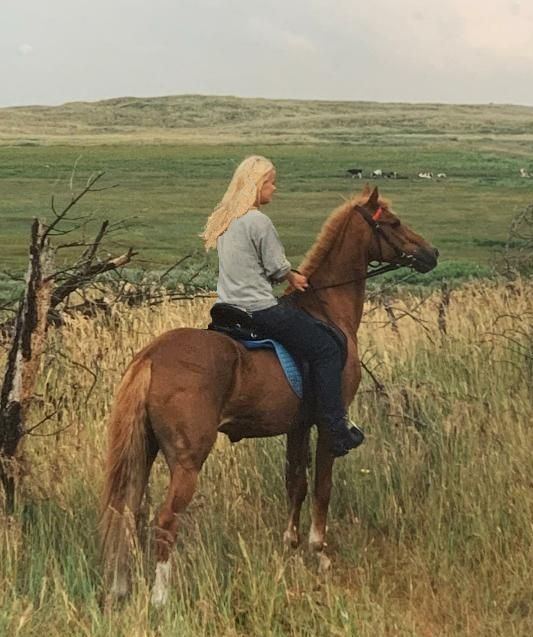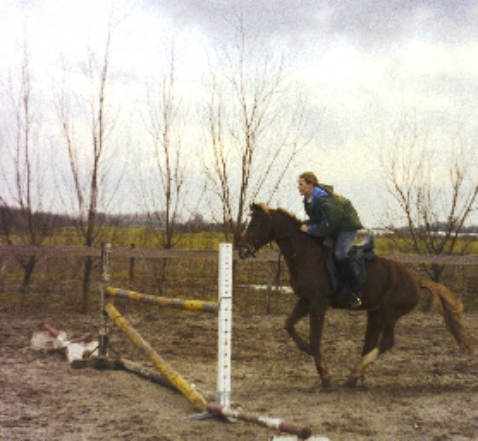 2004 What a privilege to ride such a beautiful horse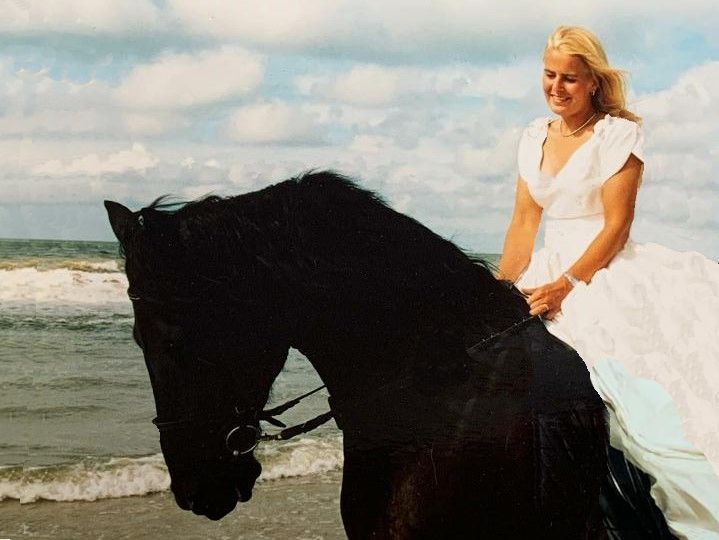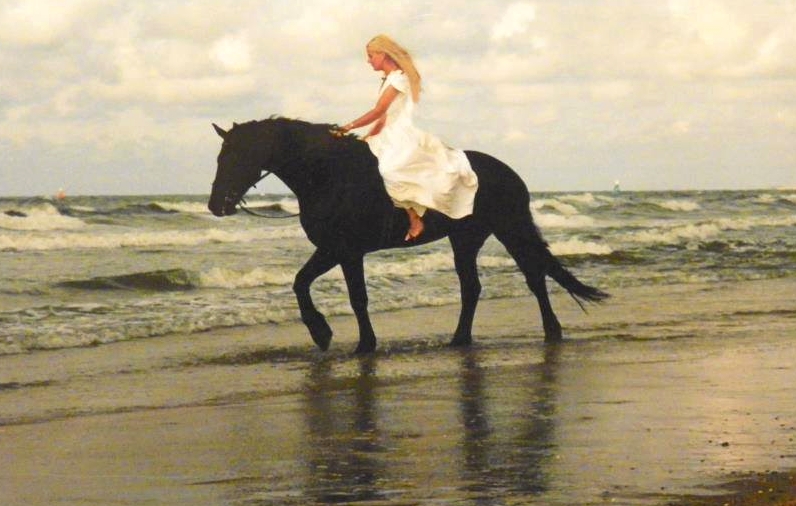 Me on Friesian gelding Melle at Vlieland, 2004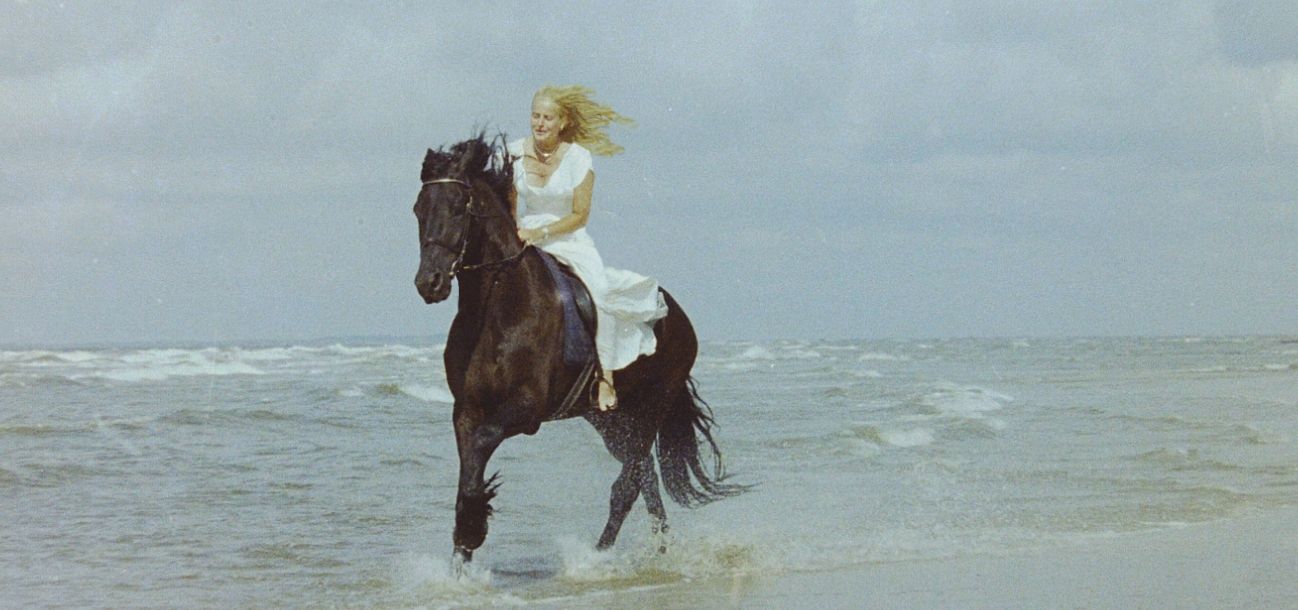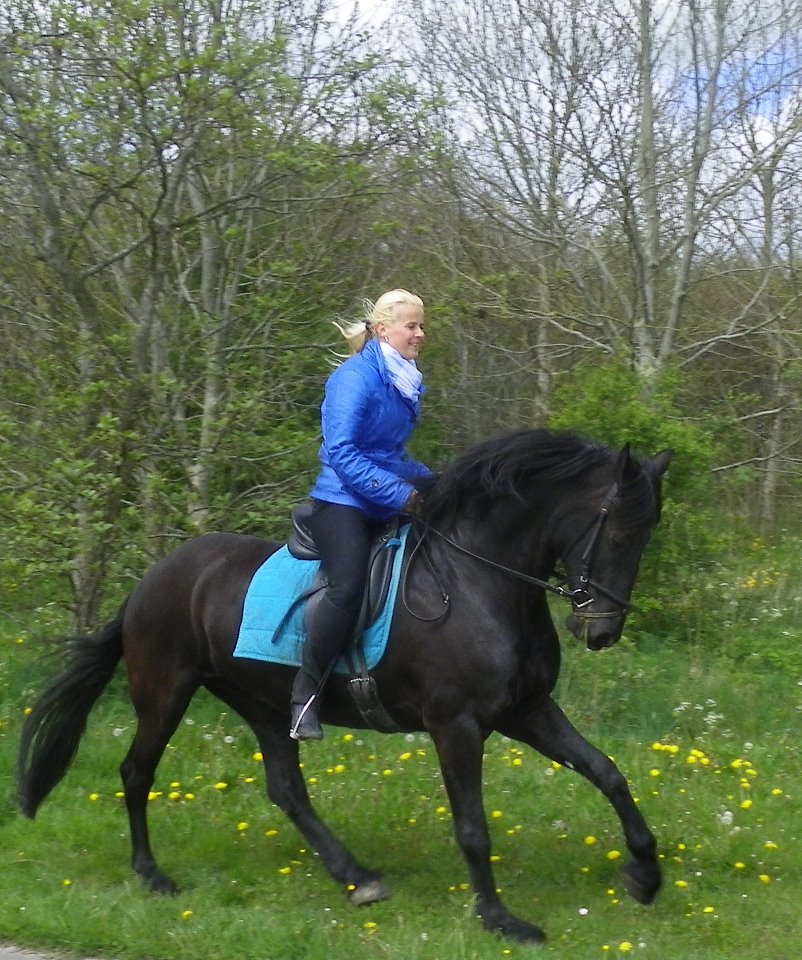 Work with horses
Vacation job. I used to guide ponycamps, children swimming with horses, this one wanted to go out of the sea :)
Together we met the sunrise on the beach on the most beautiful Unesco Wadden island Terschelling.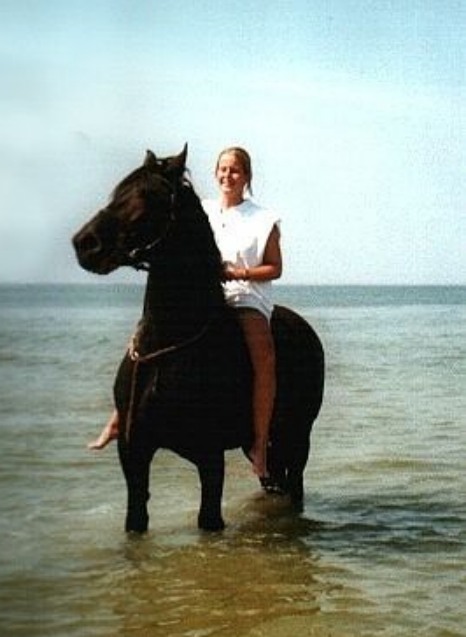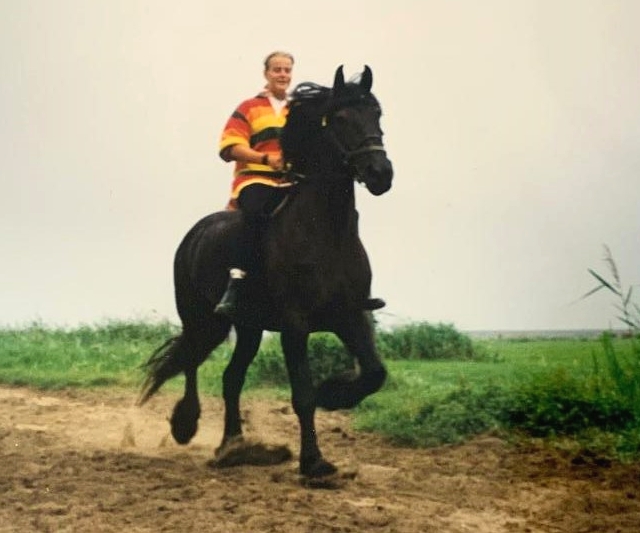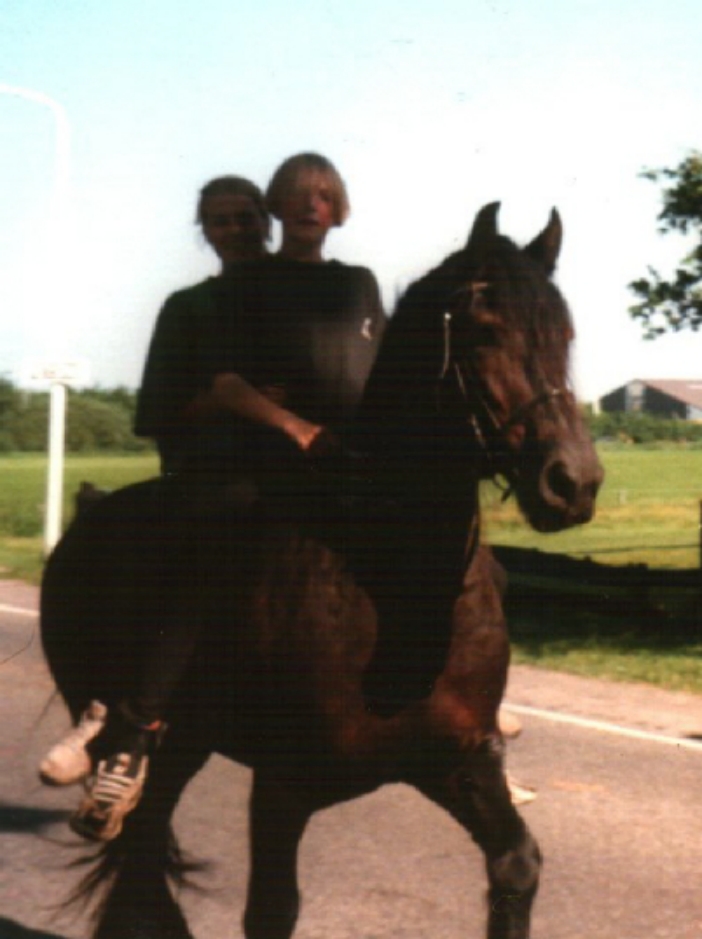 | | |
| --- | --- |
| Below: Meeting up in Harlingen, the Netherlands, Wadden | |
Our horse in 2017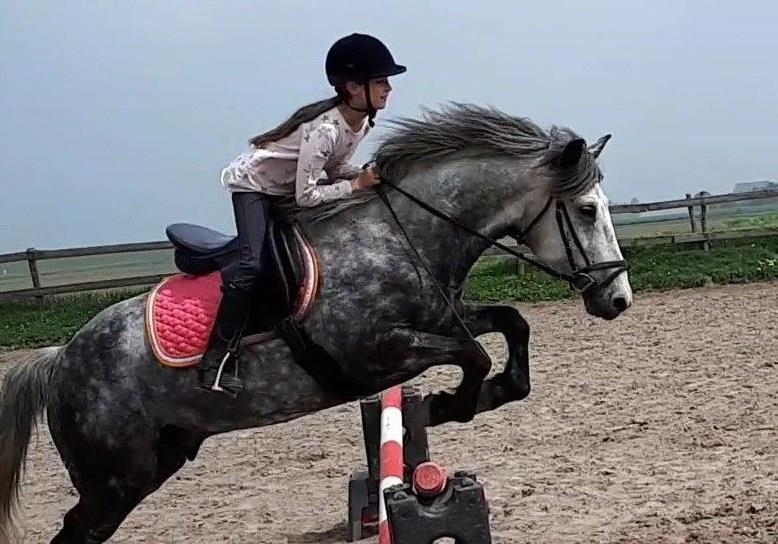 Lipizzan horses
Coincidently those Lipizzan horses came on my way. I was allowed to ride 3 beautiful mares from a Dutch breeder. This breed is used in 'The Spanish riding school' and comes from Slovenia, Lipica.
These mares were mainly used for breeding and were in the country. They were ridden rarely. I would have liked to have stayed longer than two years but I got too busy and taveling was long.
They have a nice movement, they ride well, are not that big and they are beautiful. Tell's horse is also of this breed. If the name of Tell's horse 'Napolitano' is also the bloodline name,
then these horses happen to be related somehow.
The Andalusian
This white mare I used to ride a few years ago. Do I look happy?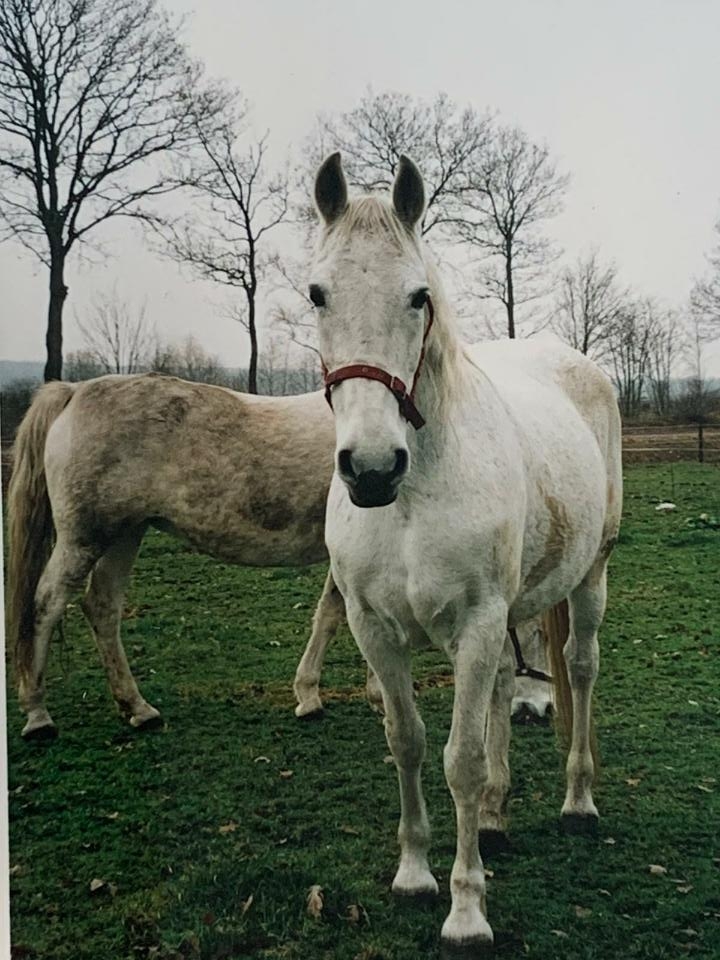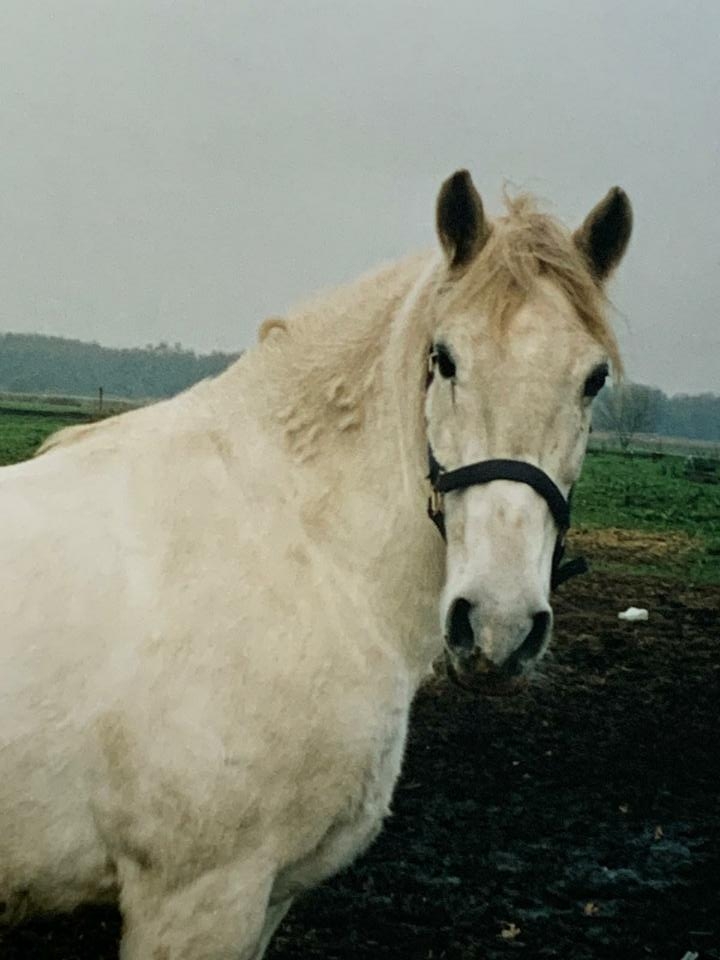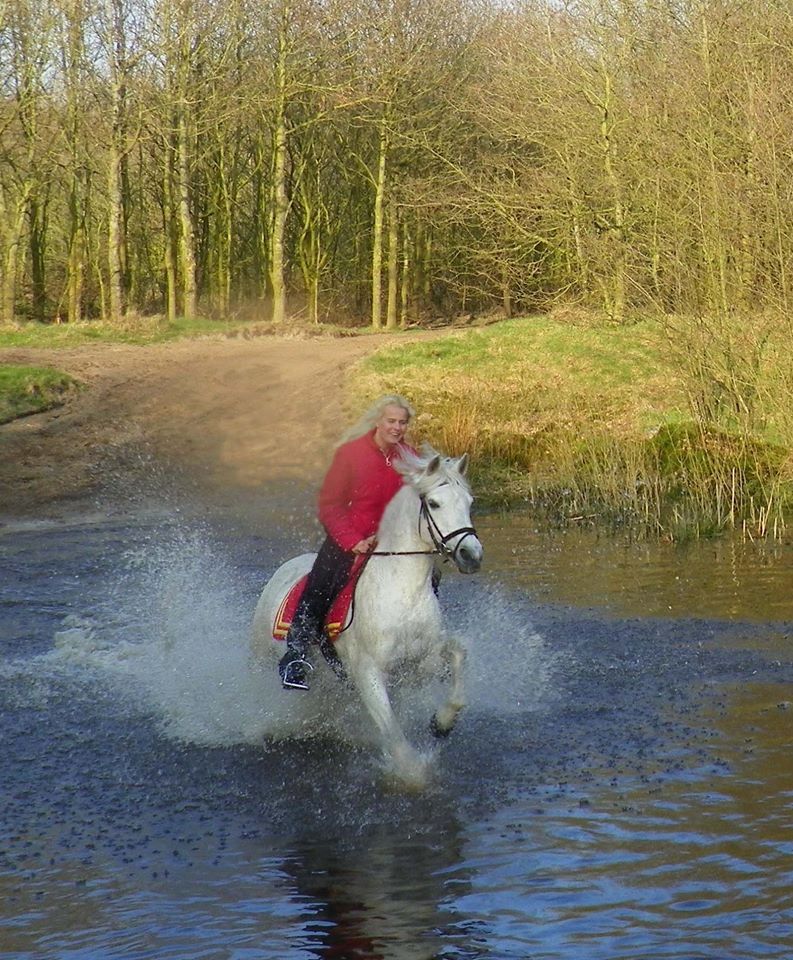 Enough about magical horses for now...;)
Always interested in ruins and hiking trips. Me in the south of Spain '98 with my friend Jacqueline More about the French hikes down this site.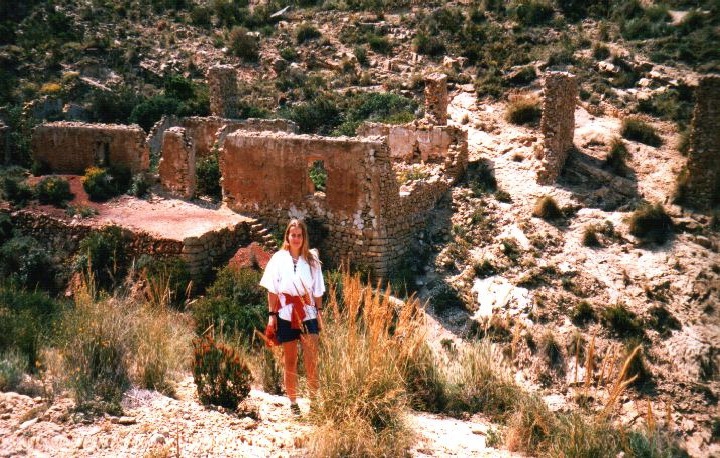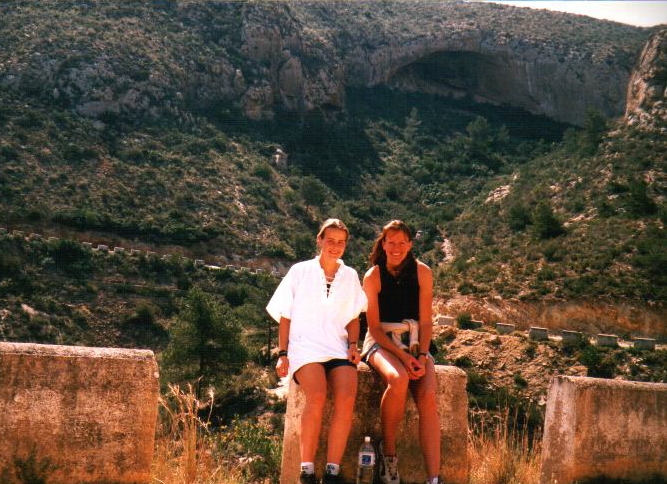 Will Lyman
Me and Patrick met Will in the summer of 2003.

It was in the year 1997, I received my first letter of Will. I still remember that moment. The years before internet became popular. Me and my husband finally met Will in 2003. His motto probably was "If you do it, then do it well." And he did. We really loved it! In our youth hostel we got a bunch of 'welcome' flowers. What a pleasant surprise, how nice! Will picked us up and invited us for lunch.

These days were so great. We combined the interview with a short city trip. Visit the places around and went whale watching. Will advised us where to take the boat and told us about his experience to be close to the whales. We didn't get that close as he got because of the stormy weather that day, but it was a great experience. We saw a mother and baby whale swimming together. Also Laurel came to visit for a day by train (from NY). It was very nice!

Will picked us up and we were invited for lunch. He took all the time to answer the questions and the questions brought many beautiful stories! It was very nice talking to him. Before we even knew we were hours further...We were amazed how much he remembered from so long ago and so much fun to listen to all those stories! We had a very nice day and this day became a lot longer than we thought). A very pleasant and fun experience to remember very well.

It was about everything, not only Crossbow. I think this was the best way to get to know Will, to hear what else he has done in his profession, his view on things, how much fun he has in theater. Nice! I would liked to see him in King Lear a few years ago. But it is a bit far for me ;)
Will, a man we respect much because he stays so ordinary, never puts himself into the spotlight, except on stage or as a chairman, dares to look at situations from different sides
and is highly appreciated by many. And above all, he always seems friendly and very respectful to everyone.
2003 Oh my, what do I look shy! ;) Shy but happy :)

Can you say that Will resembles Tell in character?

Yes, a little bit for sure. To be sure you got to know someone intensively. He certainly has a bit of 'William.' Like he is modest and also a bit of a mystery. Probably because of his modesty and need for privacy as a human and actor. It is certain that Will is an intelligent and sociable person, a nice storyteller and listener, discrete.

I think that every actor, to a greater or lesser extent, magnifies or minimizes a property of mood, emotion in himself, but acts from himself. I've seen him play a bad guy twice and I found that interesting, because I never see him like that and he certainly can do that! They probably cast him too much because of his friendly face The role of Tell seemed to suit him well. It was great fun discovering who played the role of William Tell.

I think I can describe him this way: modest, without arrogance, confident, pleasant, friendly and polite. This makes him one of those people who make him an interesting and strong person. These people don't have to show everything like many people do on social media. People see him as a wise counselor. A special person.

End 2019, he sent us the nicest Crossbow souvenir of him that has always hung in his office. Very special, a very nice gesture. I'm honored and happy we may hang it on our wall.
Jeremy Clyde
Made around '97

This actor is really unbelievably good. I think he can play all roles wonderfully. He can devote himself to his role. It is also clear that he studied speech and drama. His speeches are so natural and good. Very versatile actor and musician!

As a teenager it is more often the case that you have idols. Many friends were were crazy about all the boy bands. Not my thing. I was too calm for such things. I made an exception for Crossbow I wrote sporadically with Jeremy Clyde in the late 90s, that was always nice. I once said, against my better judgment..."if you were to be in Amsterdam, then let me know, that would be great. Perhaps we could arrange something like a meet and greet and a bit about my launched website.' A few months later I received a card and he asked me to leave my number and I was called. Nice surprise! He was with the crew in Amsterdam and he could spend an hour. That became at least two hours. I can imagine my parents were a bit worried but they knew me well. We met in the lobby and then we went to the Rembrandt cafe, Rembrandt square. I can only say 'what a charismatic, polite, entertaining and gallant gentleman he is! We talked for hours and had delicious coffee. He didn't seem to mind that I had to make myself understandable with some school English and he had a very clearly intelligible and neat English pronunciation, for me very easy to listen to. I even got an acting demonstration from Crossbow. Awesome! Afterwards we wandered through Amsterdam and I was actually somewhat distracted by the pleasant chat so for a moment we seemed strayed. An afternoon to remember.
Dominique Hulin
'The gentle giant'
Publiced April 9th – 2017, Dominique Hulin, le cinéma en partage
'Opera singer... "Silence on the set. The actors and technicians are at work. A few steps away, Dominique Hulin, attentive, keeps an eye on the scene. Difficult not to notice this colossus of 2.05 m and 130 kg! Imposing, the comedian is just as much by his filmography and his career. The Sub-Gifted, Visitors or Tom Thumb are among the films in which he participated. (imdb).
'I started as an opera singer, then I was a stuntman and finally a comedian,' he explains. Theater and advertising have also been his playgrounds. Whatever the discipline, he has cultivated a method imbued with simplicity. "It's the staging that commands, I'm here to obey. An approach that does not prevent pleasure and detachment. "You have to be relaxed." Source: ouest-france.fr/bretagne
The picture with Hulin, was a few years ago. Patrick and me were both curious to Dominique. Patrick finally decided and took me to him. We were just passing through and it came out that way, he expected us. It was a nice experience! I got a hand kiss spontaneously. It is nice to see that he has a beautiful life among this pets, free in nature and together with his wife. Here's the interview with him again. The photos also remind me of the beautiful memories! 2017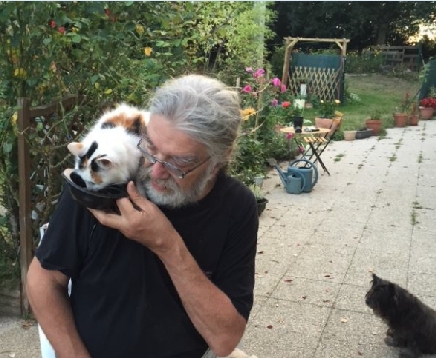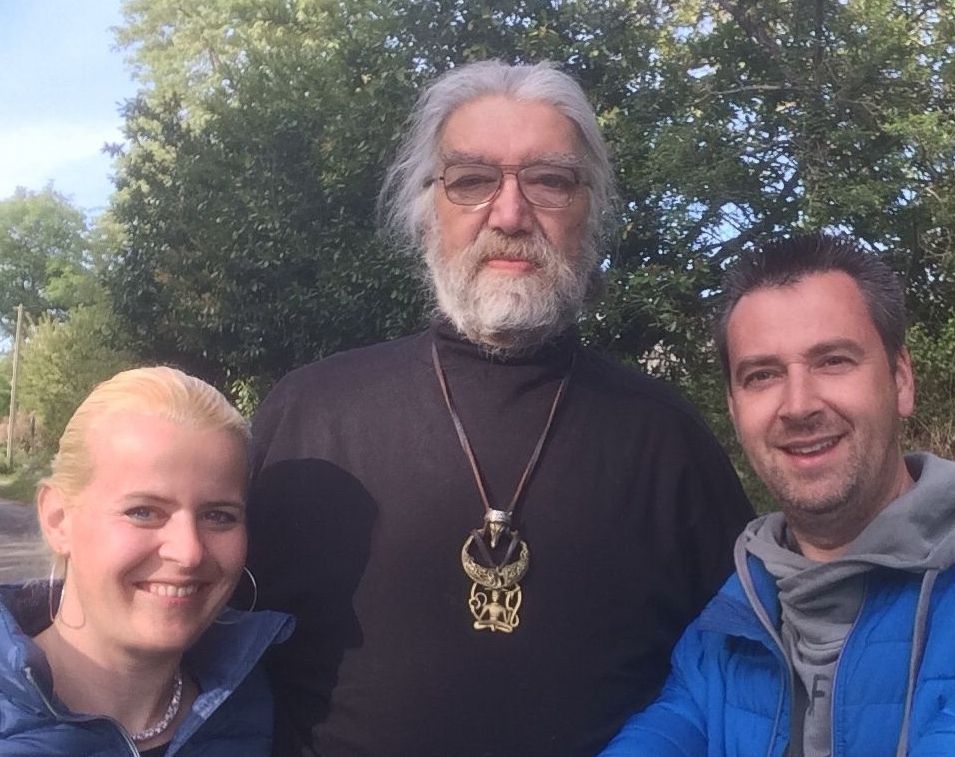 He got role in Highlander The series, Napoleon and Josephine The Lovestory and Moonraker with Anne Lonnberg (Tell's wife).
Around 1986 he and Anne Lonnberg met again in Crossbow in episode 'Santuary.'
For more click here
| | | | |
| --- | --- | --- | --- |
| James Bond, Moonraker 1979 | | | |
Painting
I would like to pick it up painting soon and am curious what will happen. Who knows, maybe I will start with French villages and perhaps I will illustrate a book. I'm Painting since I was 10. I like to paint
in different style and discover different materials. I got excited again to pick up painting and use new insights. There is always something to improve. One day I hope to illustrate seriously.
A selection of my work as a teenager. Most are from '91 to '95. The rose is an exception and most recently painted.
Left: Aquarel second one my first oil painting. I never took classes for this technique and ran into certain things. They are reduced in size.
Funsy in the middle, he was my first horse, I should have renamed 'Rod Stewart.' It always gave him a youthful foal look ;) One of my latest works 20 years ago. Aquarel 1994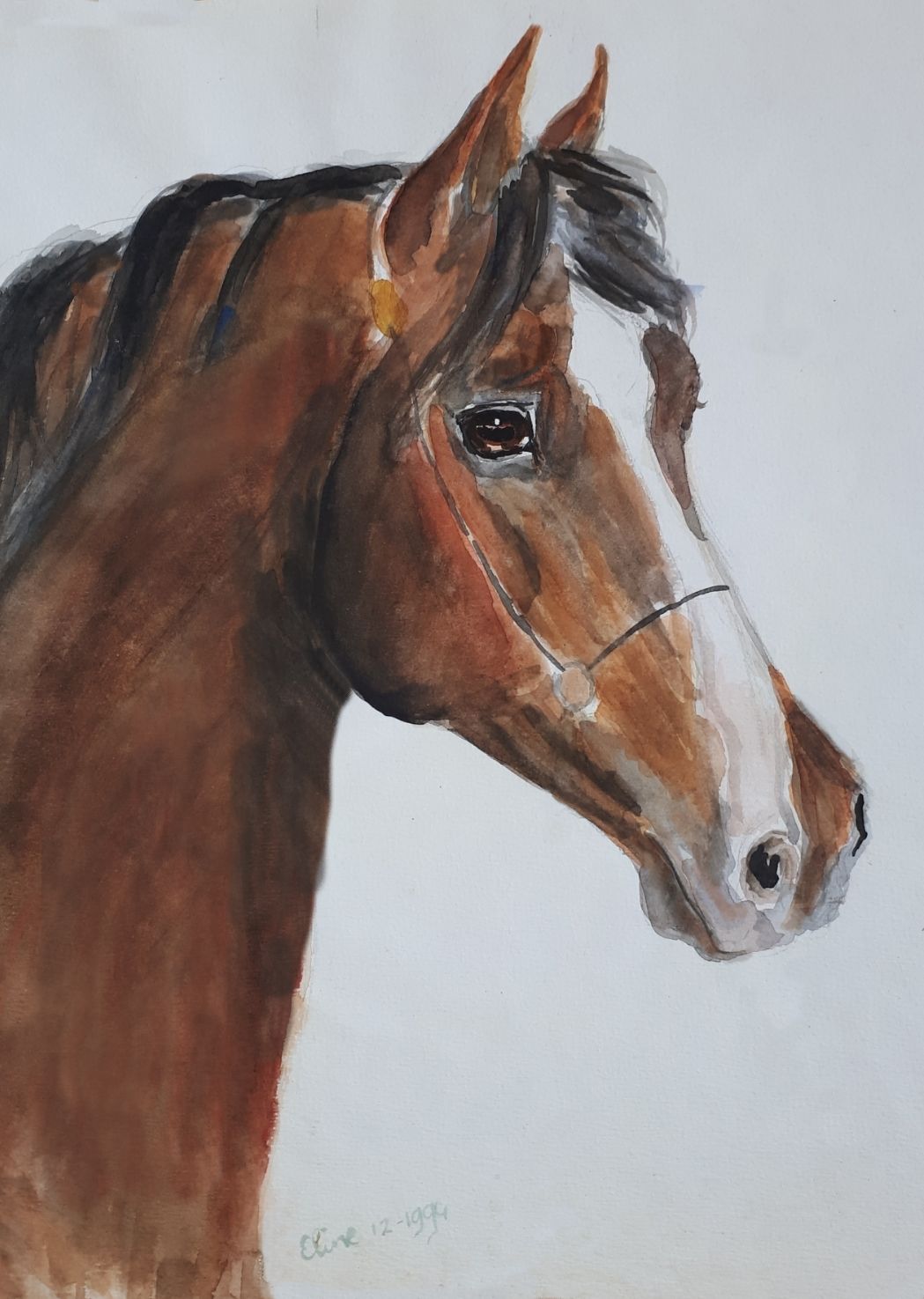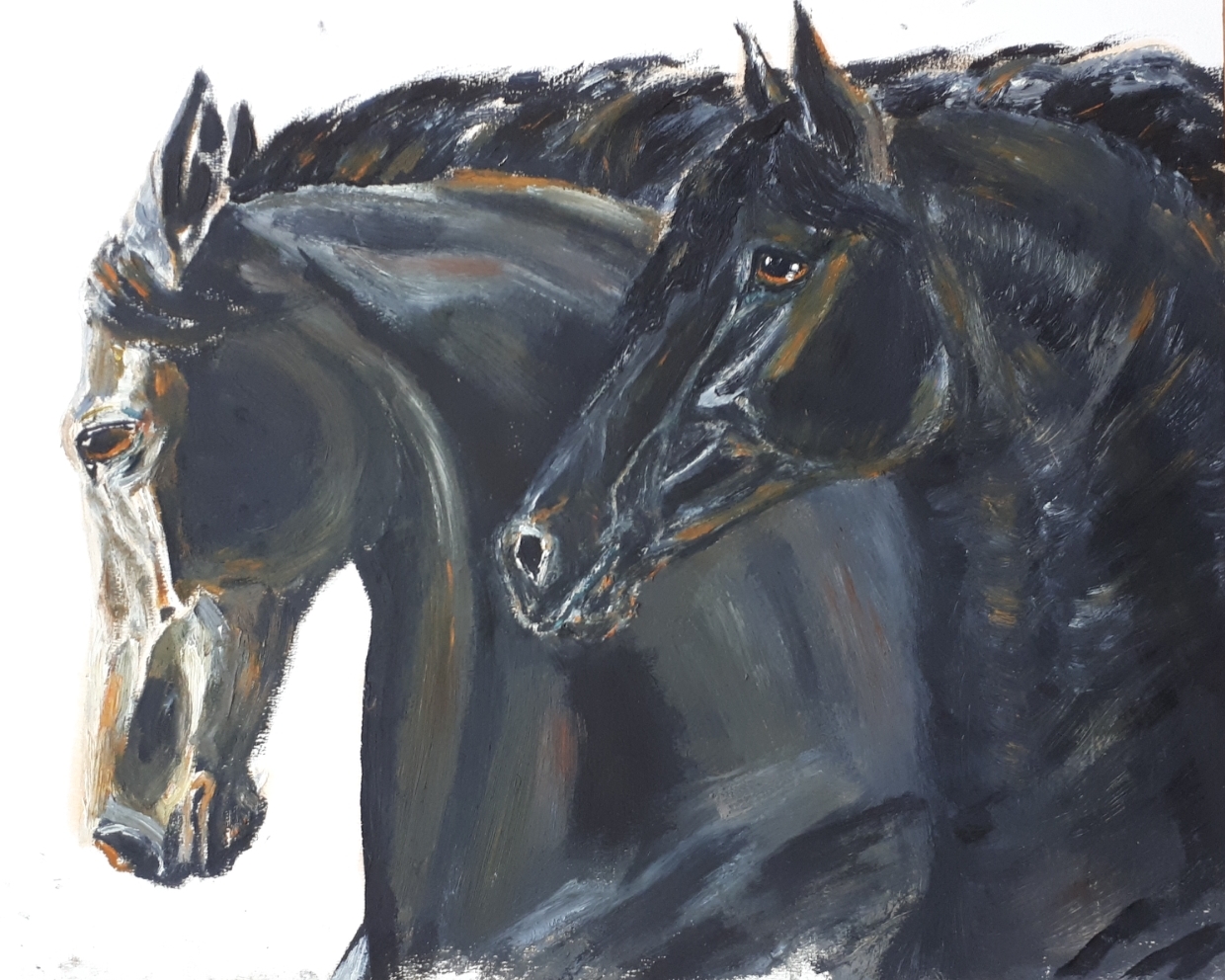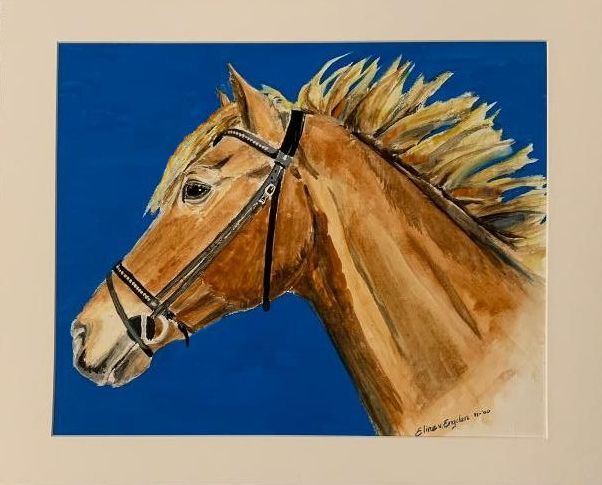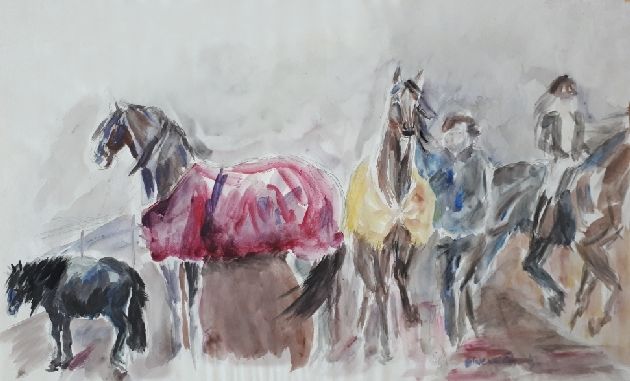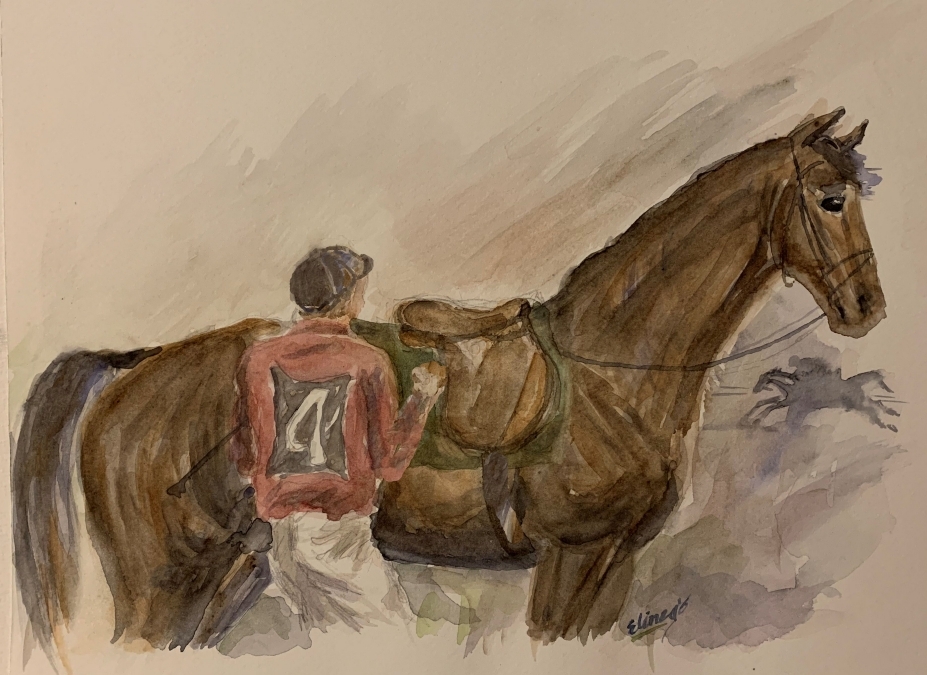 I remember I painted this on thin scrap paper within 5 minutes (on an internship). A freehand drawing (some way I always like it)
Andalusian Grace Welsh pony Friesians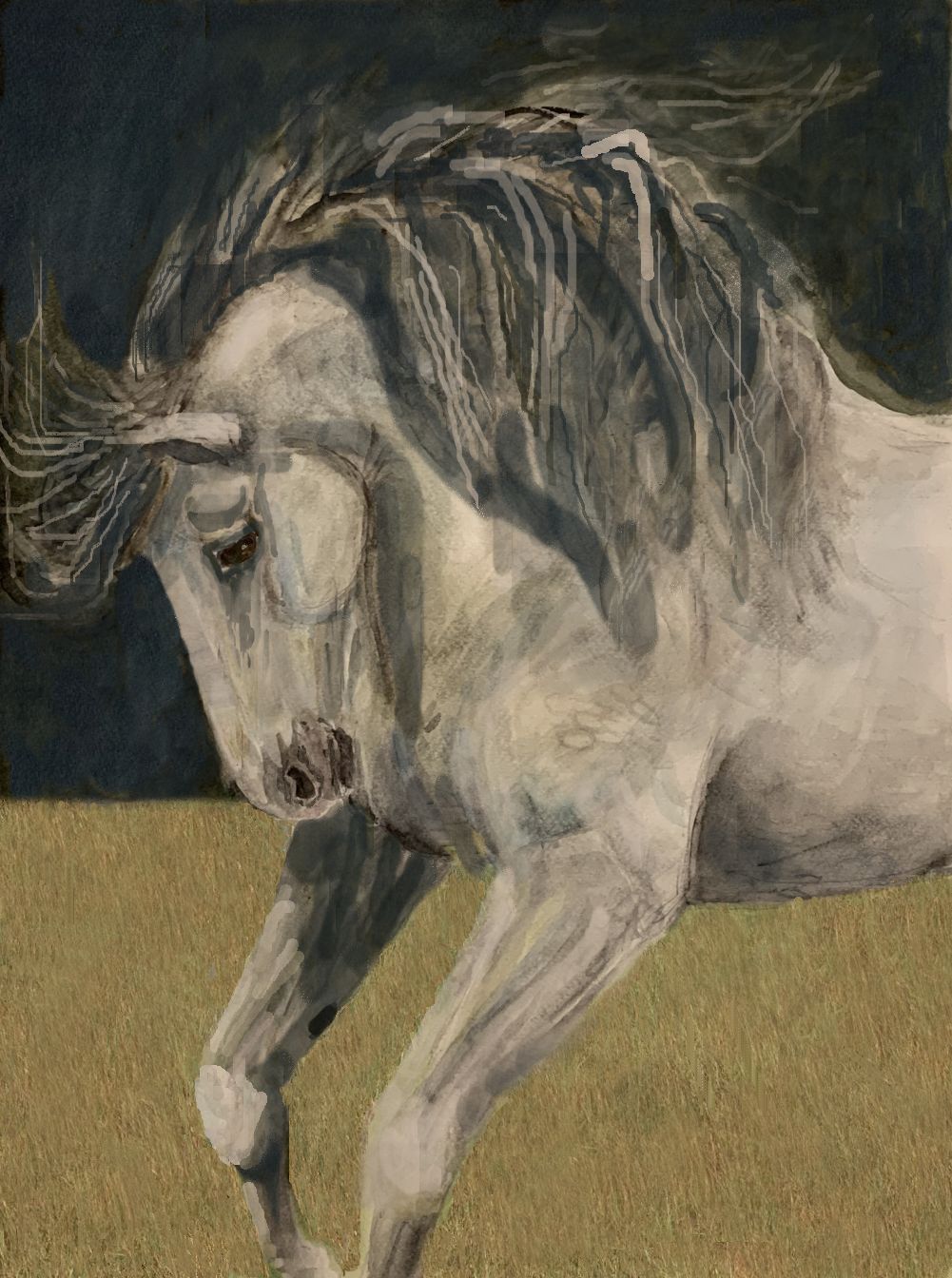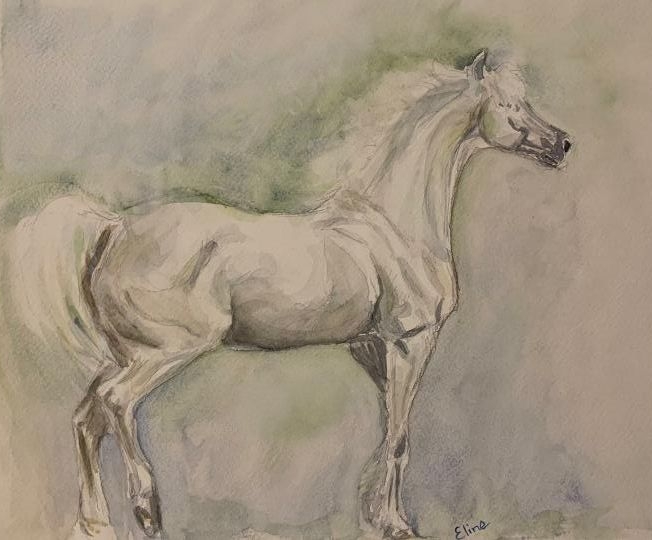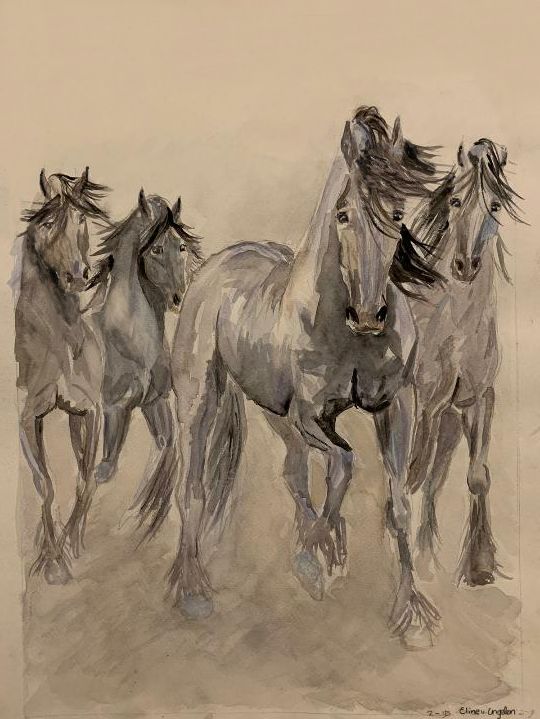 All from 1992 1993 1994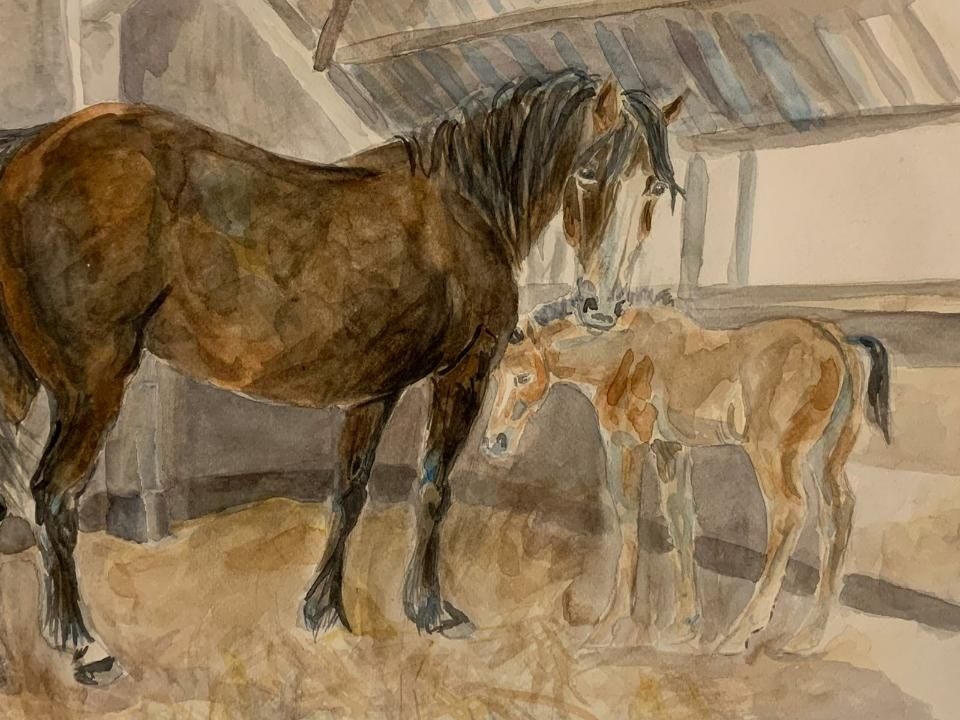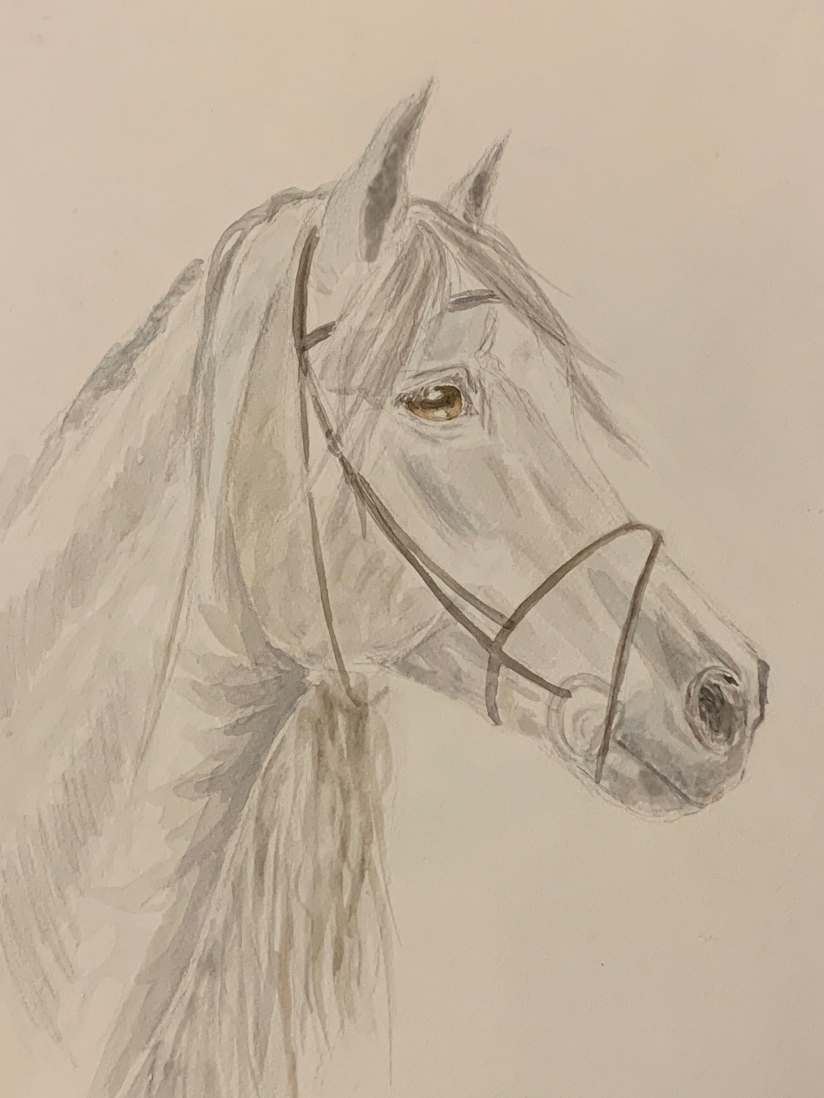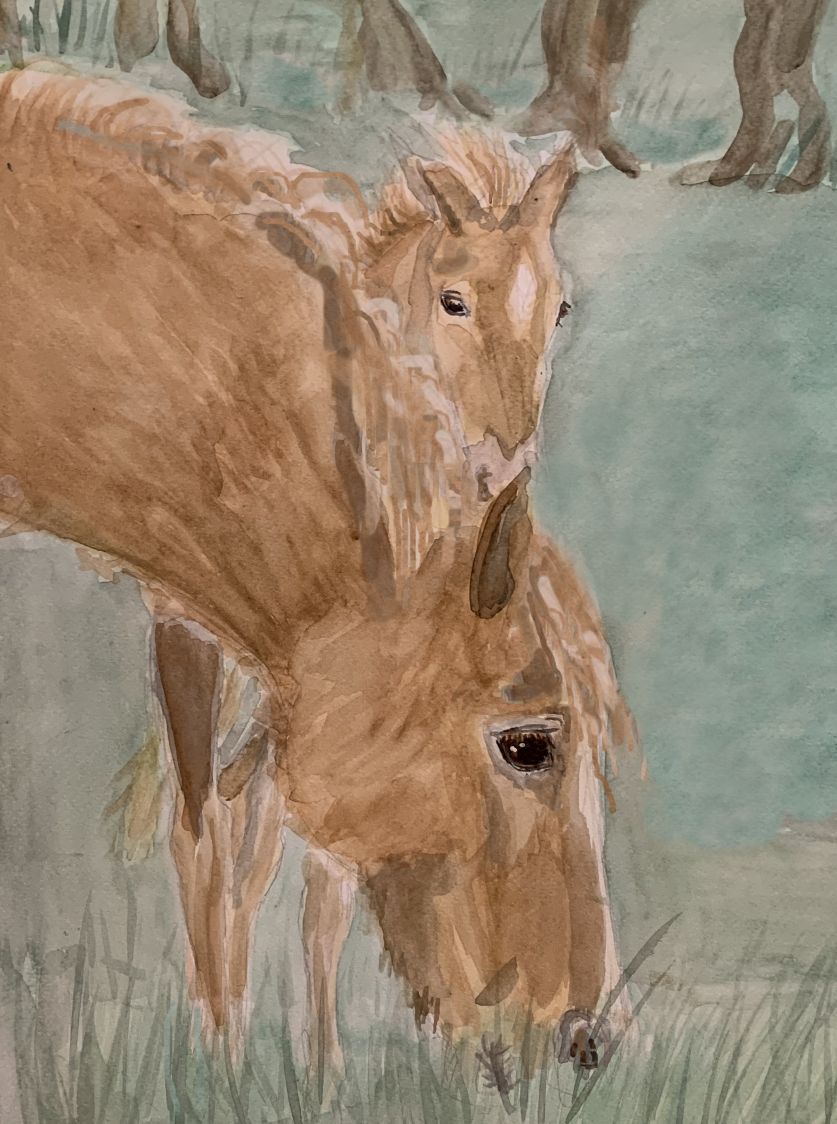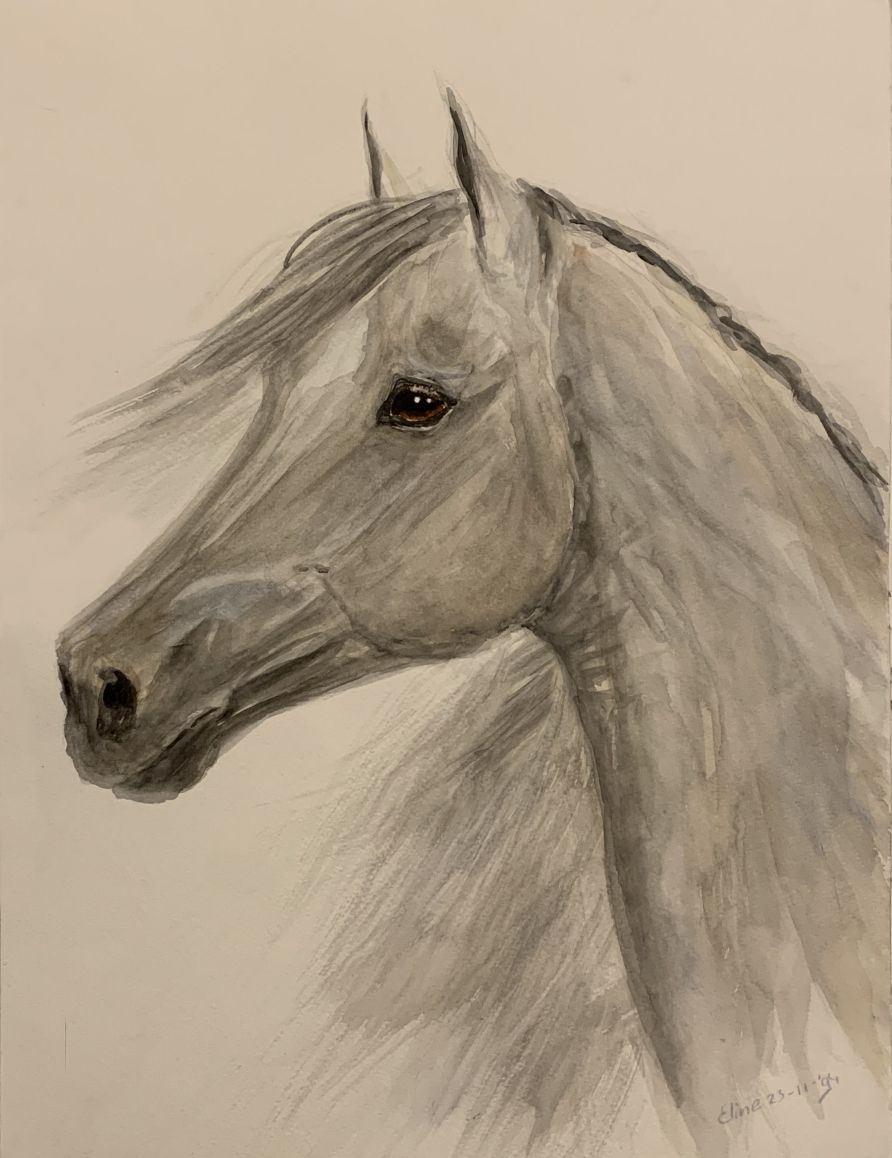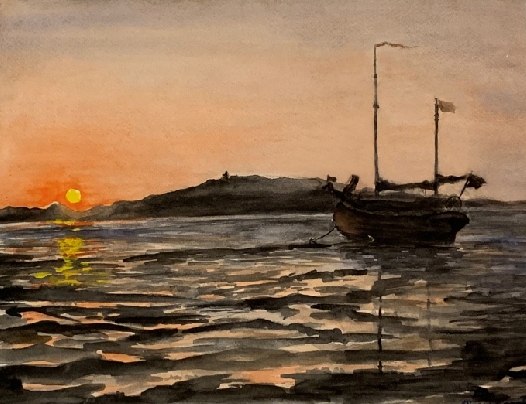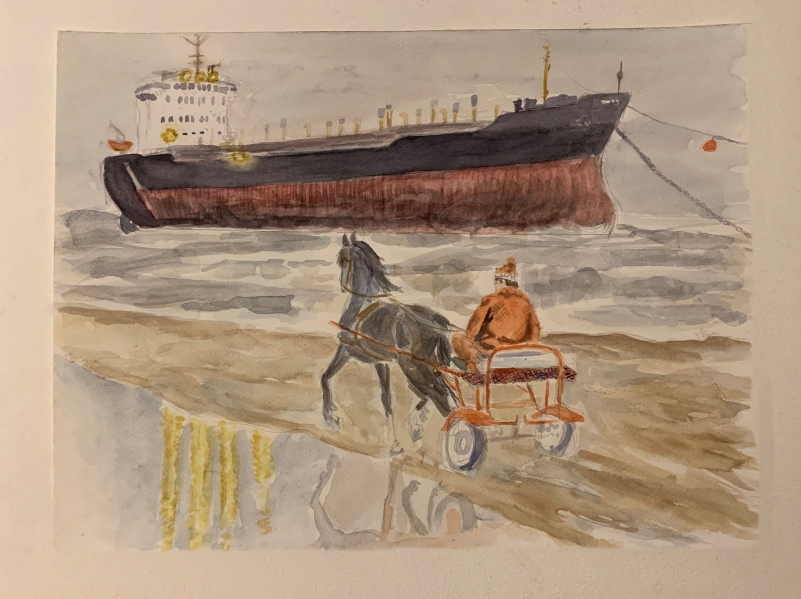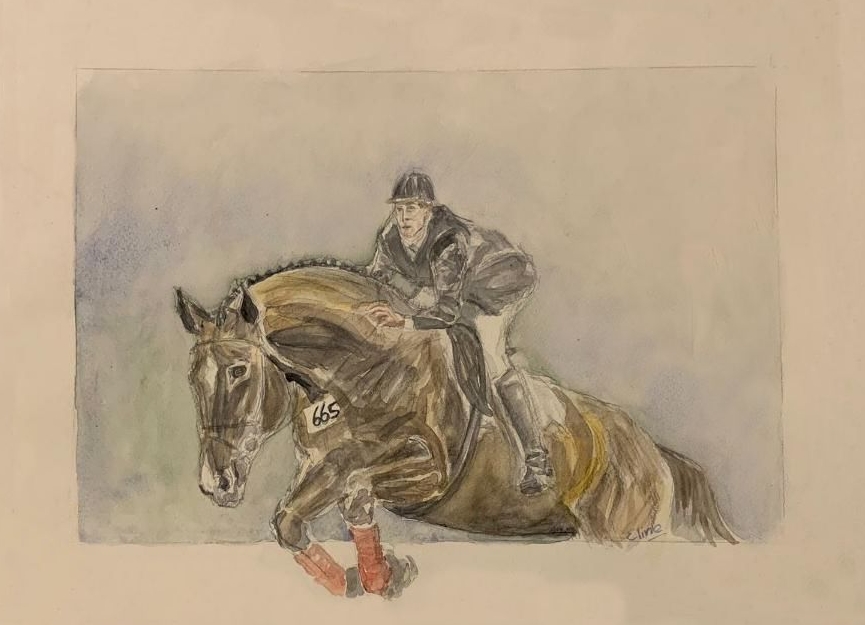 Diane, the woman with the beautiful glance Cher (from a magazin, I can't suppress saying: no fan of her who cutting off her ribs for beauty ideal)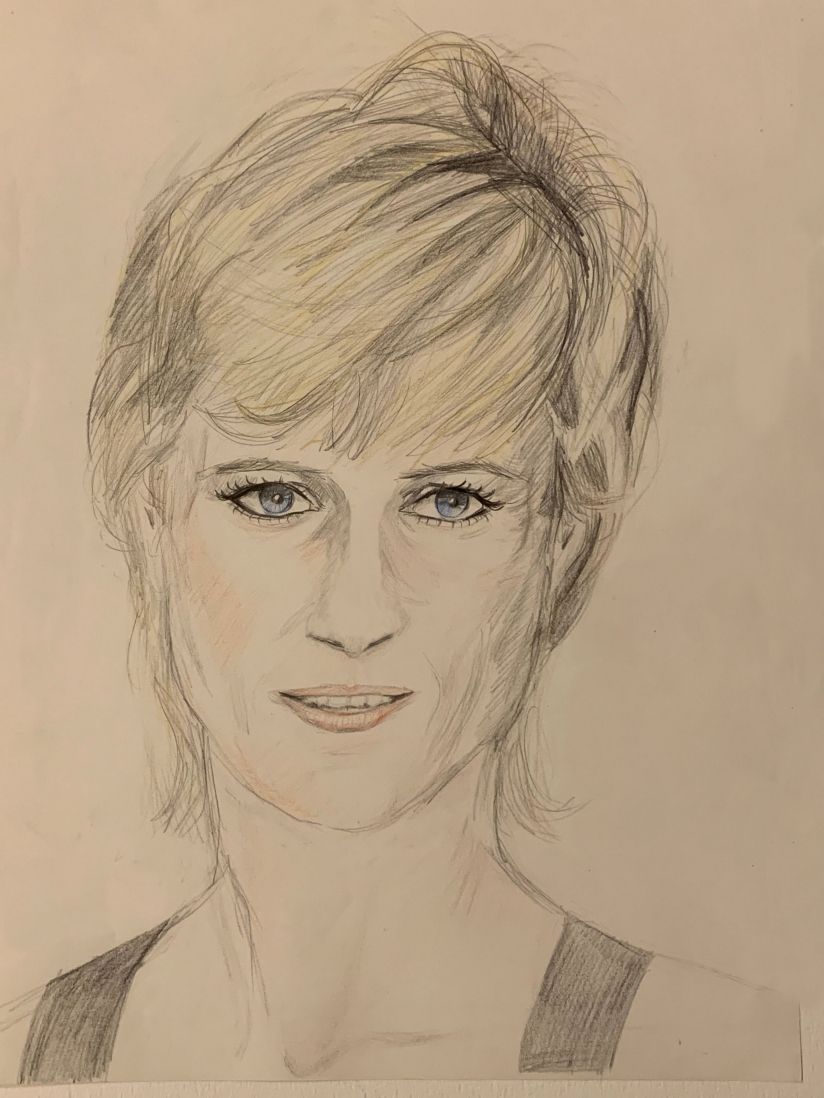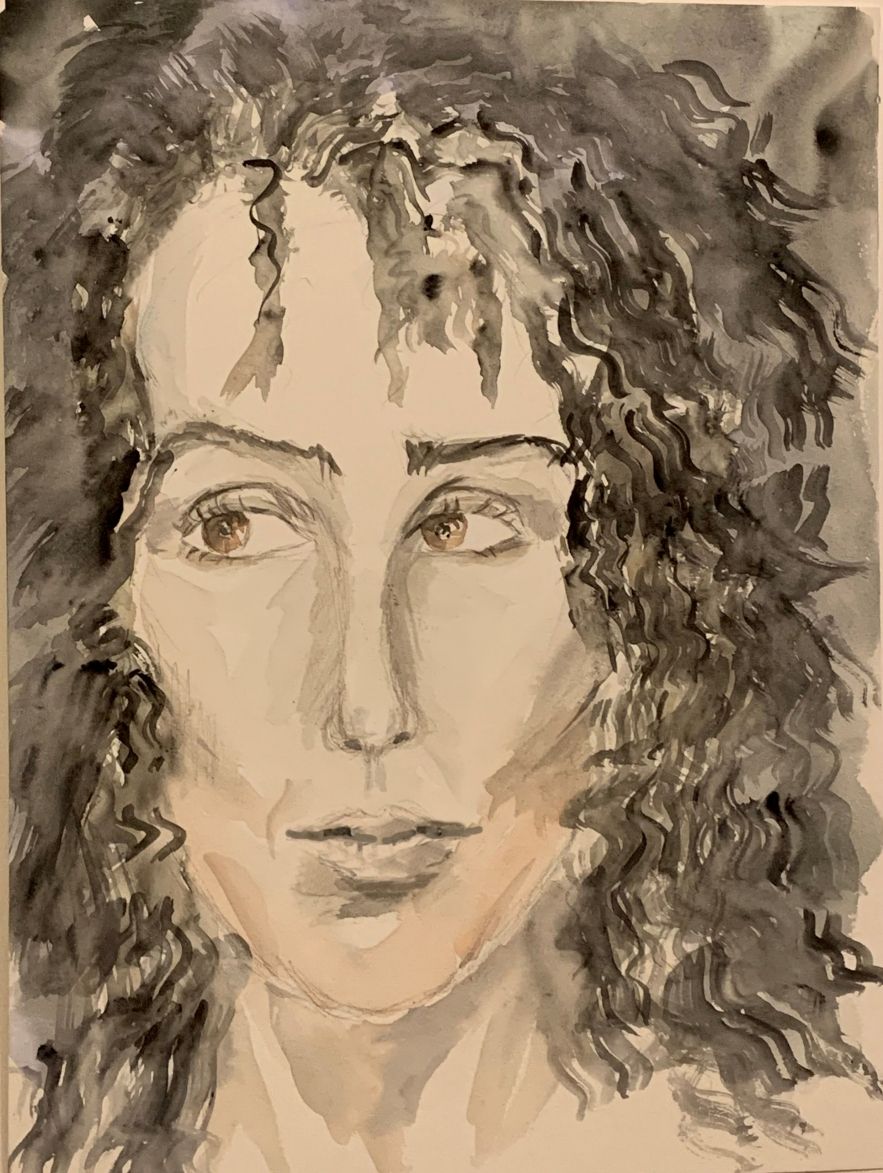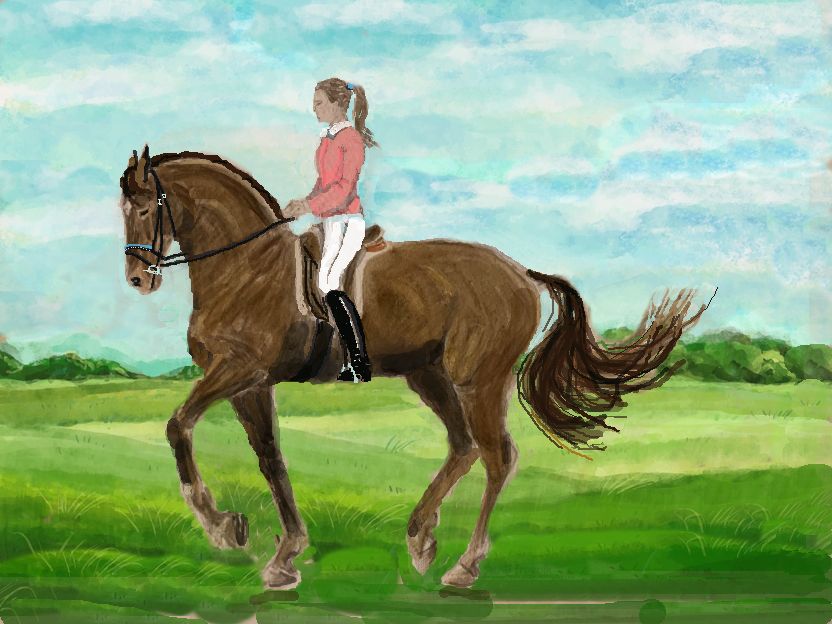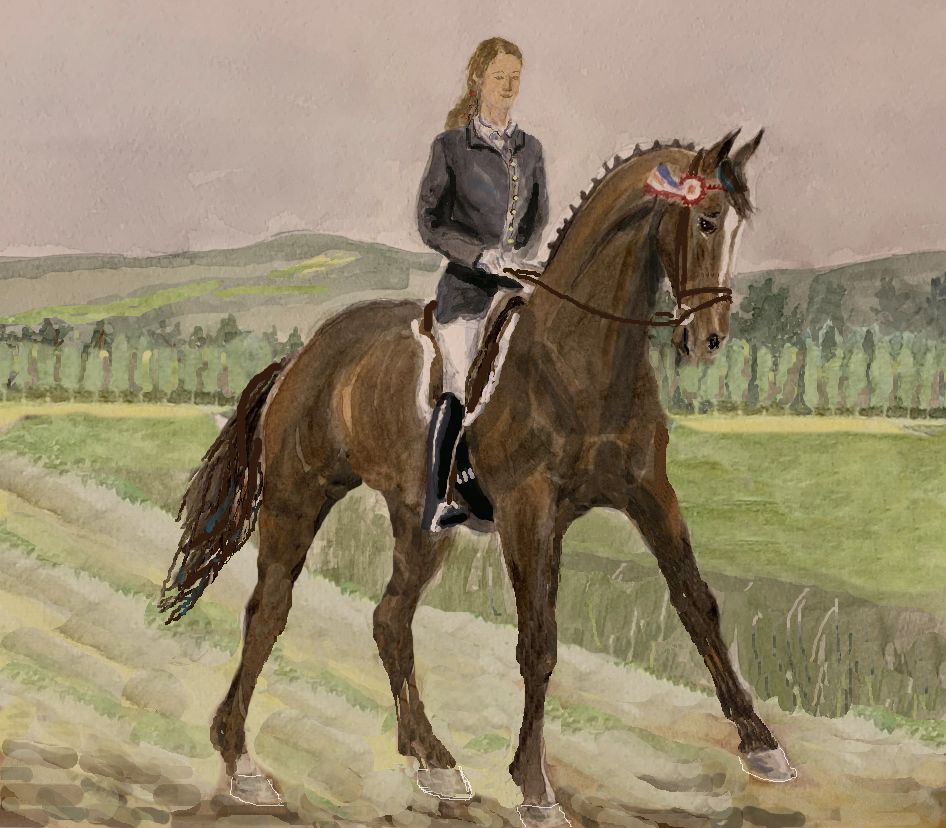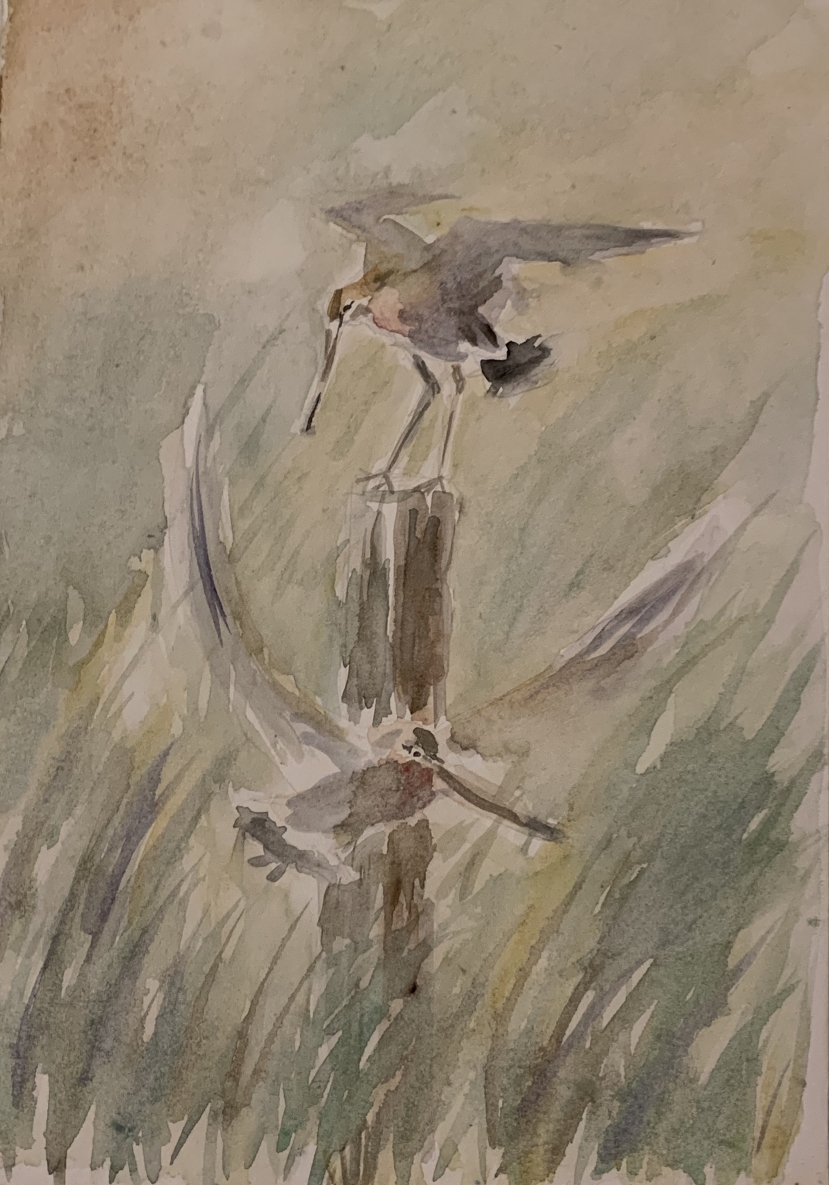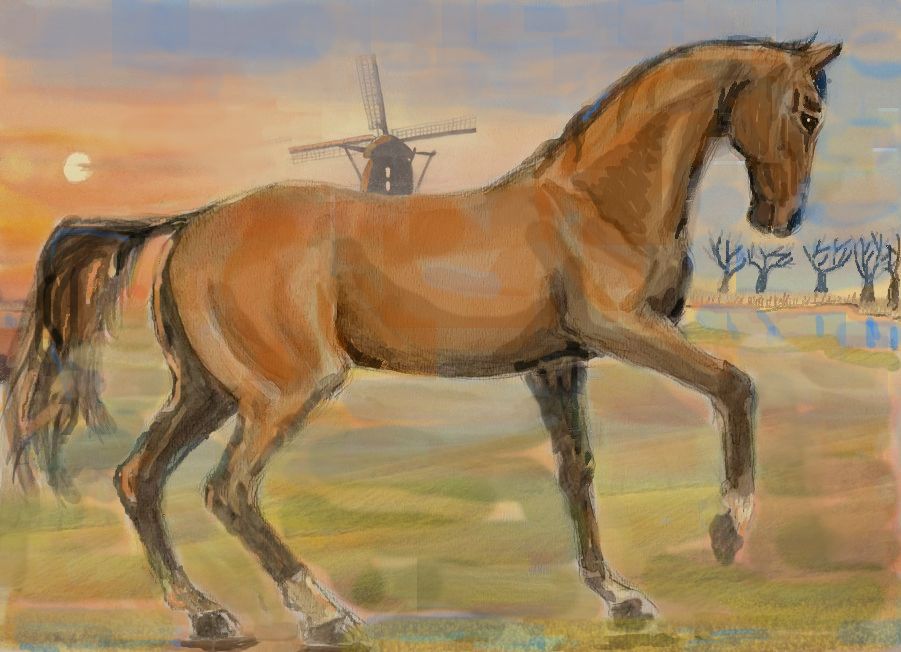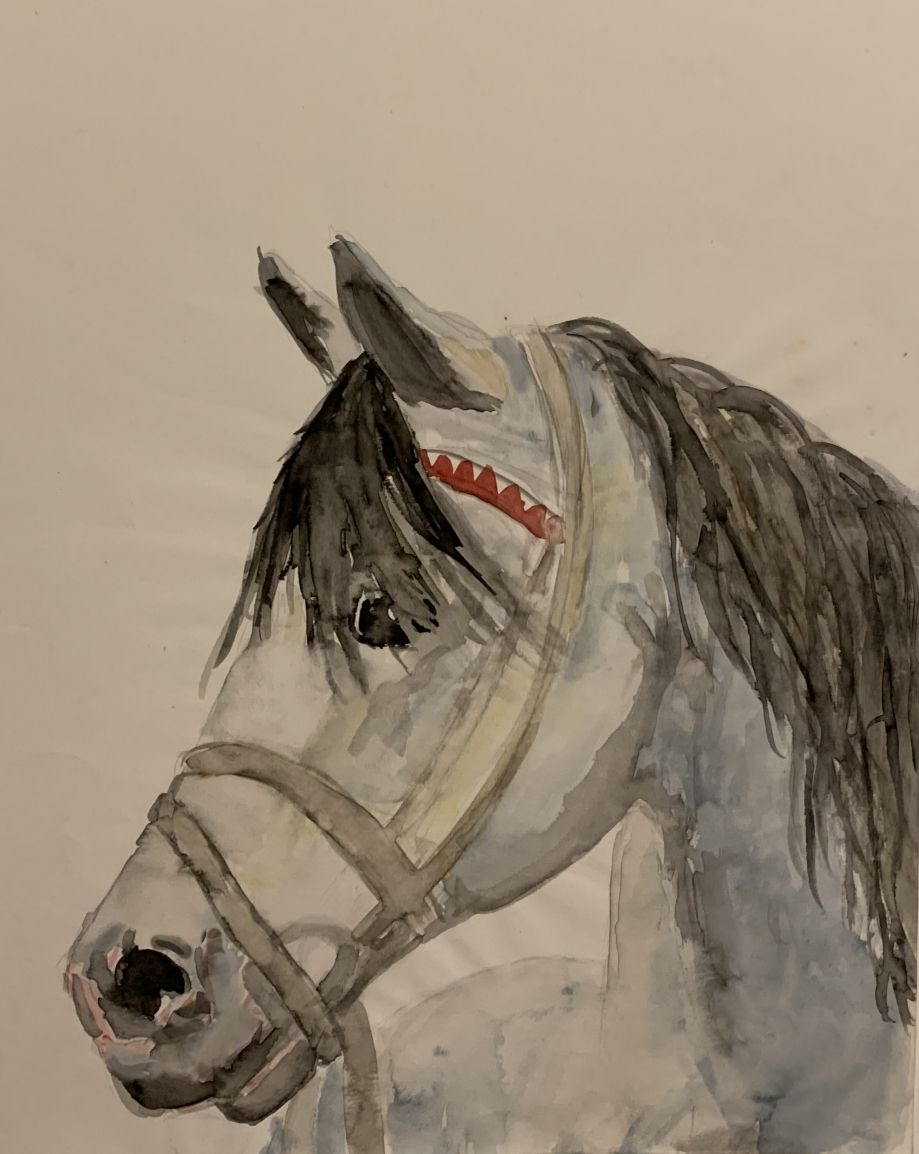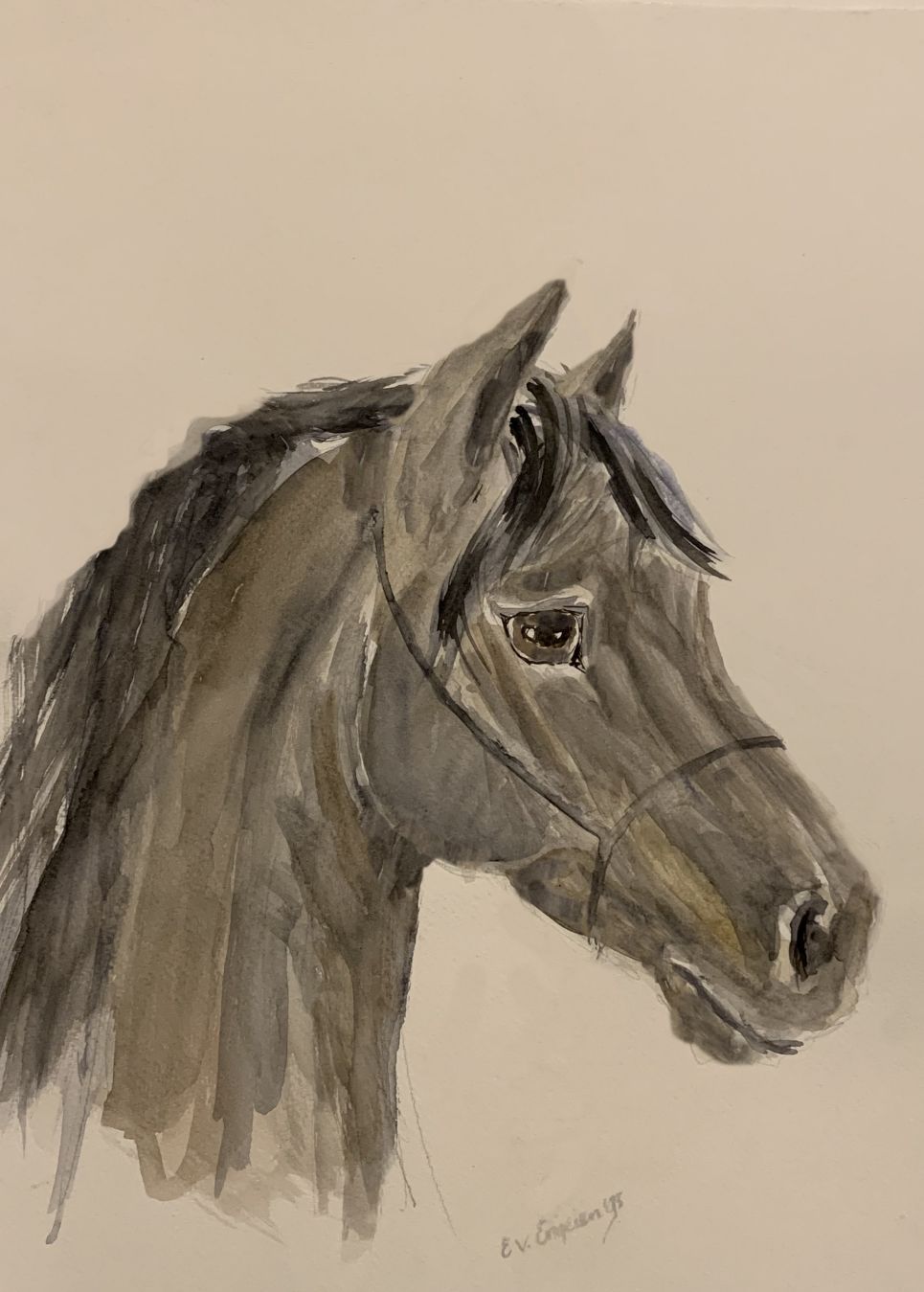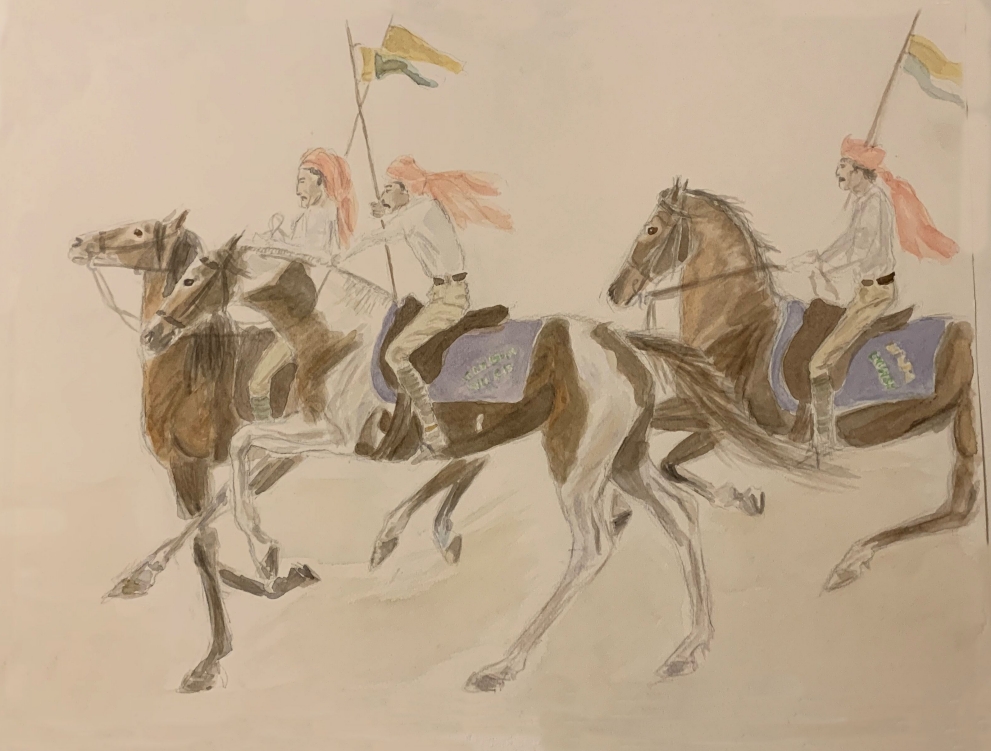 A birth announcement cards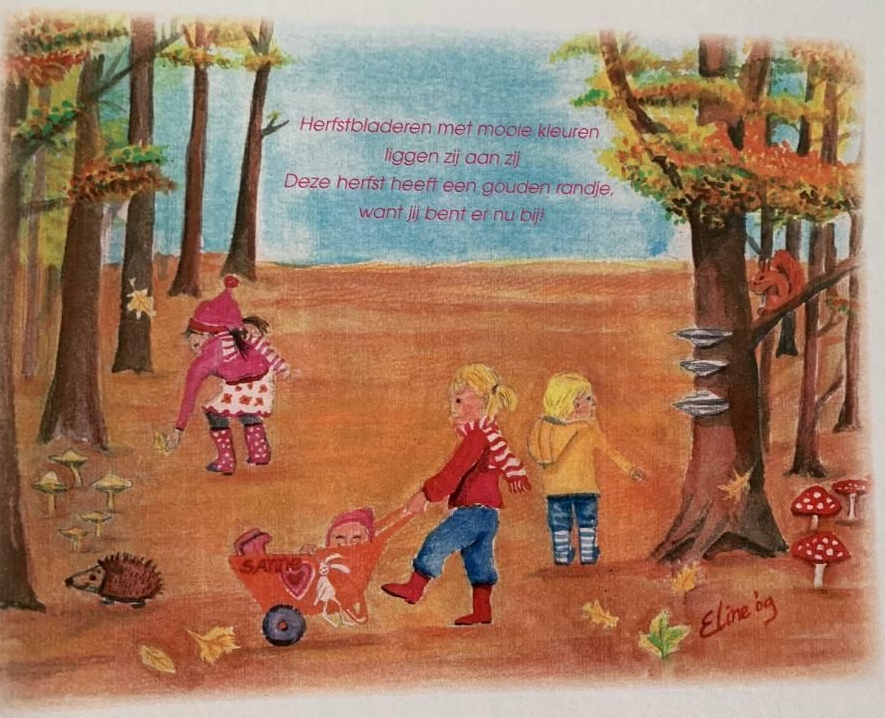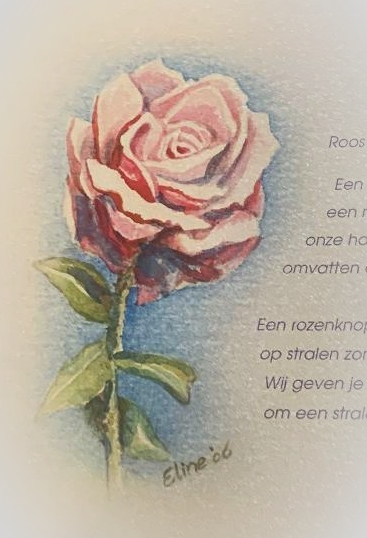 First drawing of aquarel '91 I never had the chance to finish these two below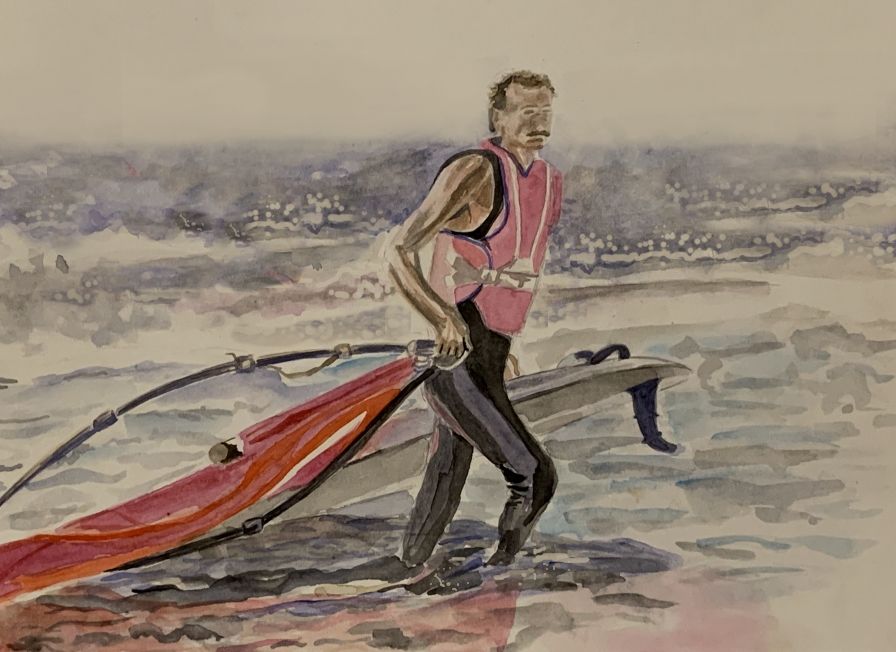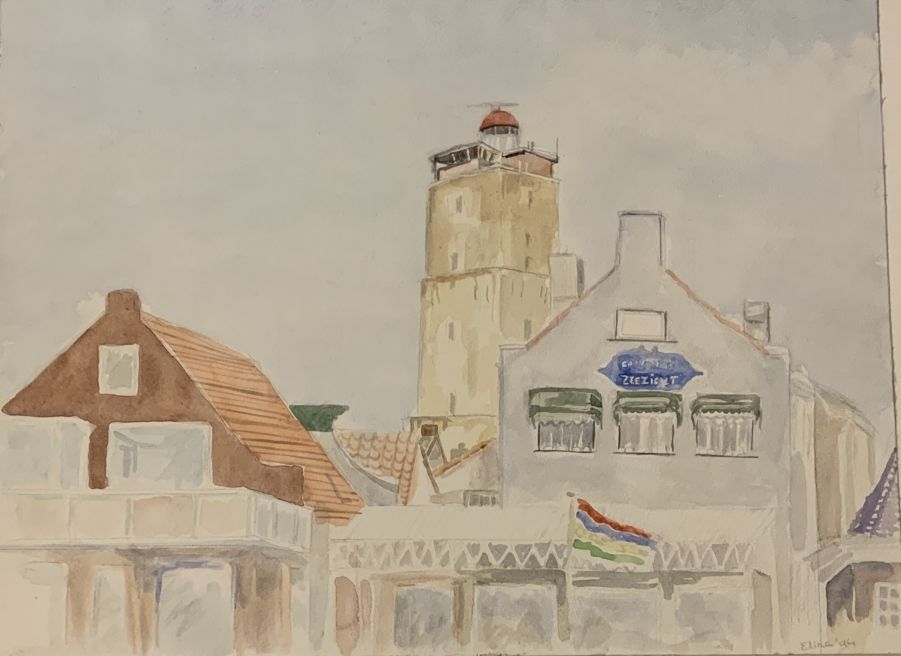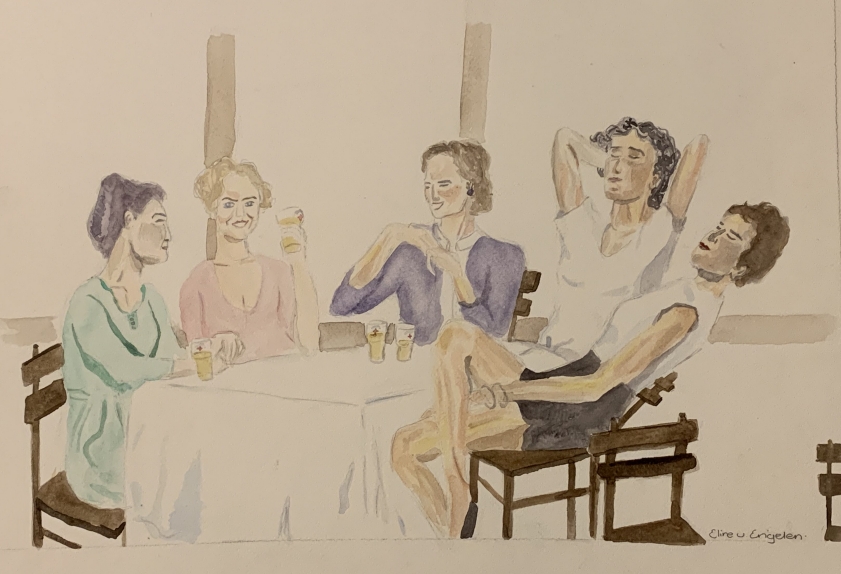 Sketches
Phil Collins '92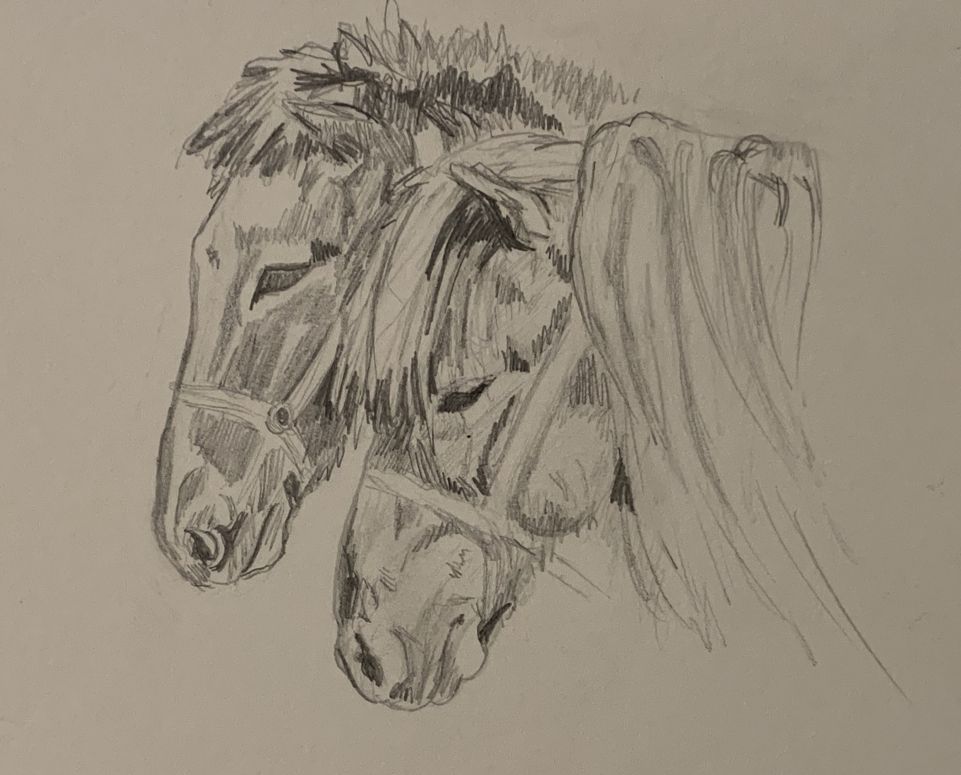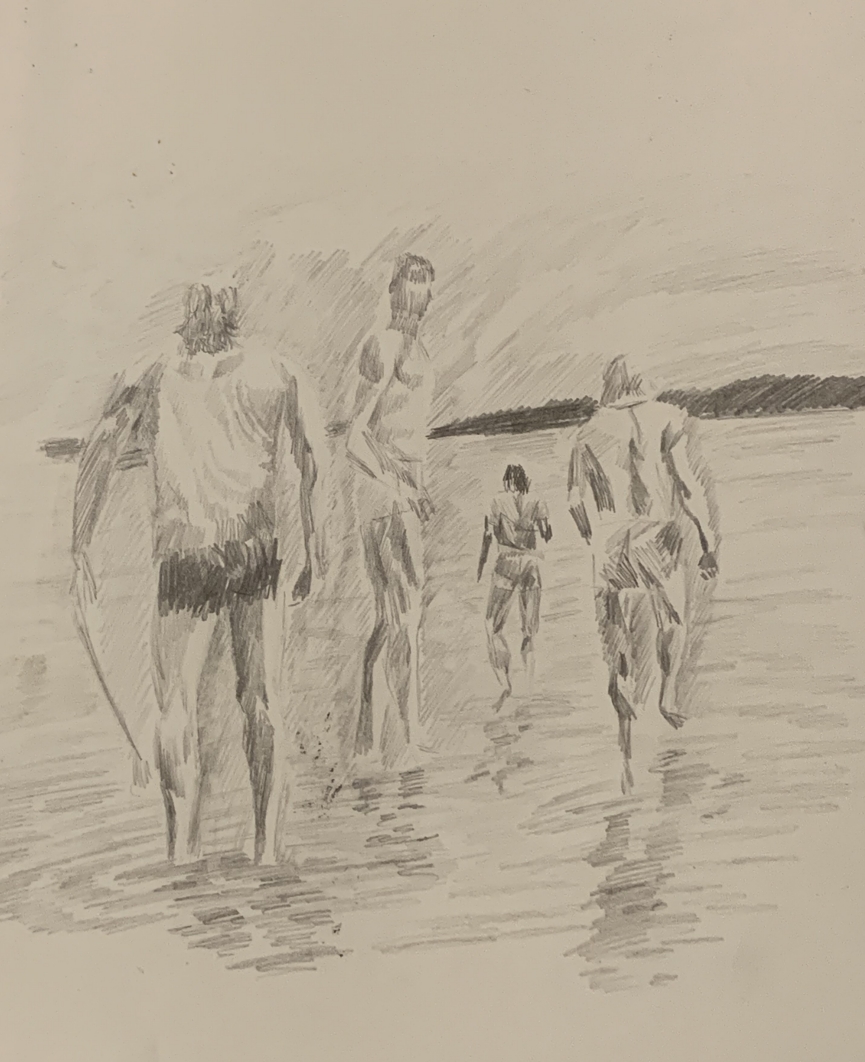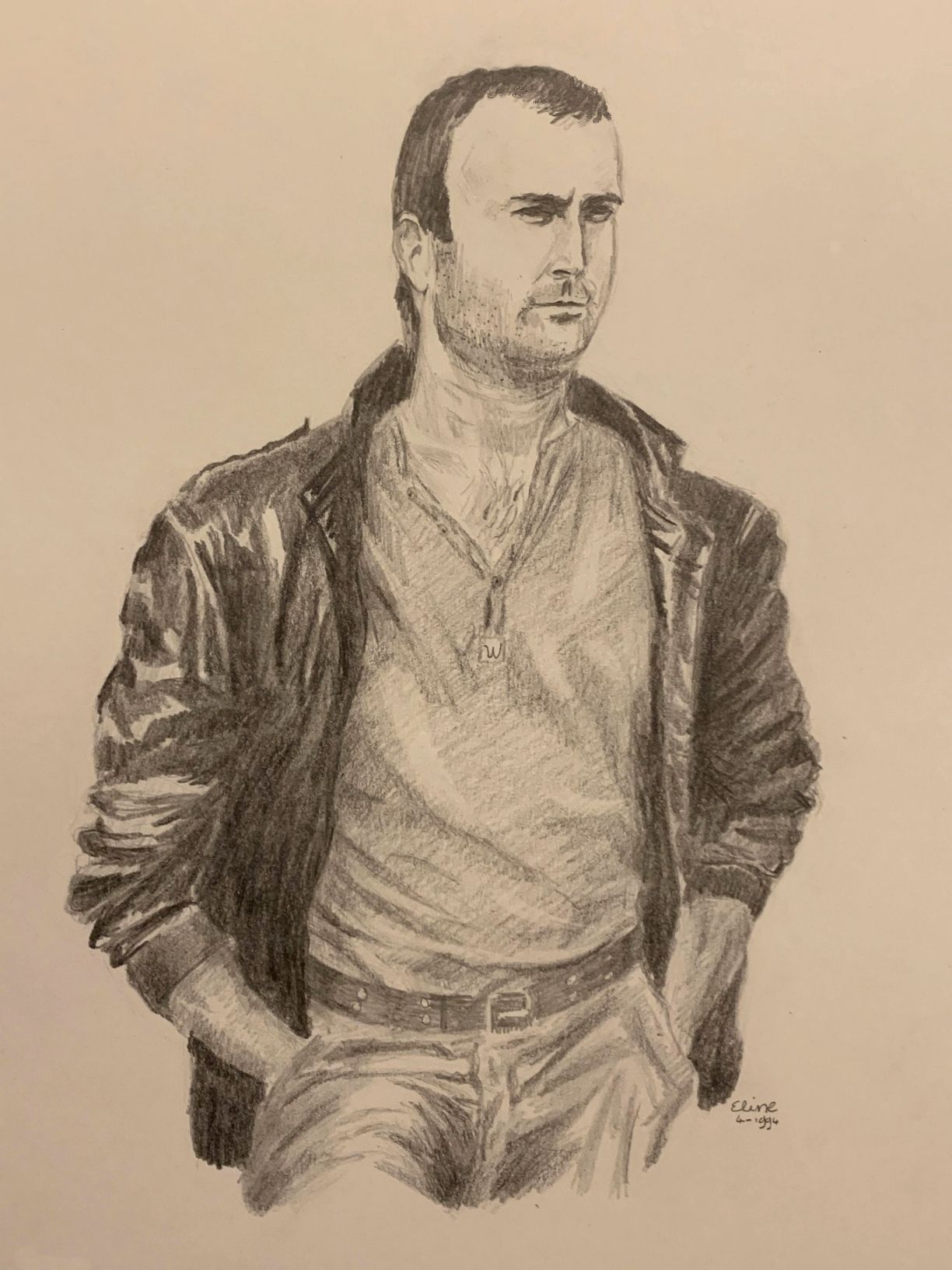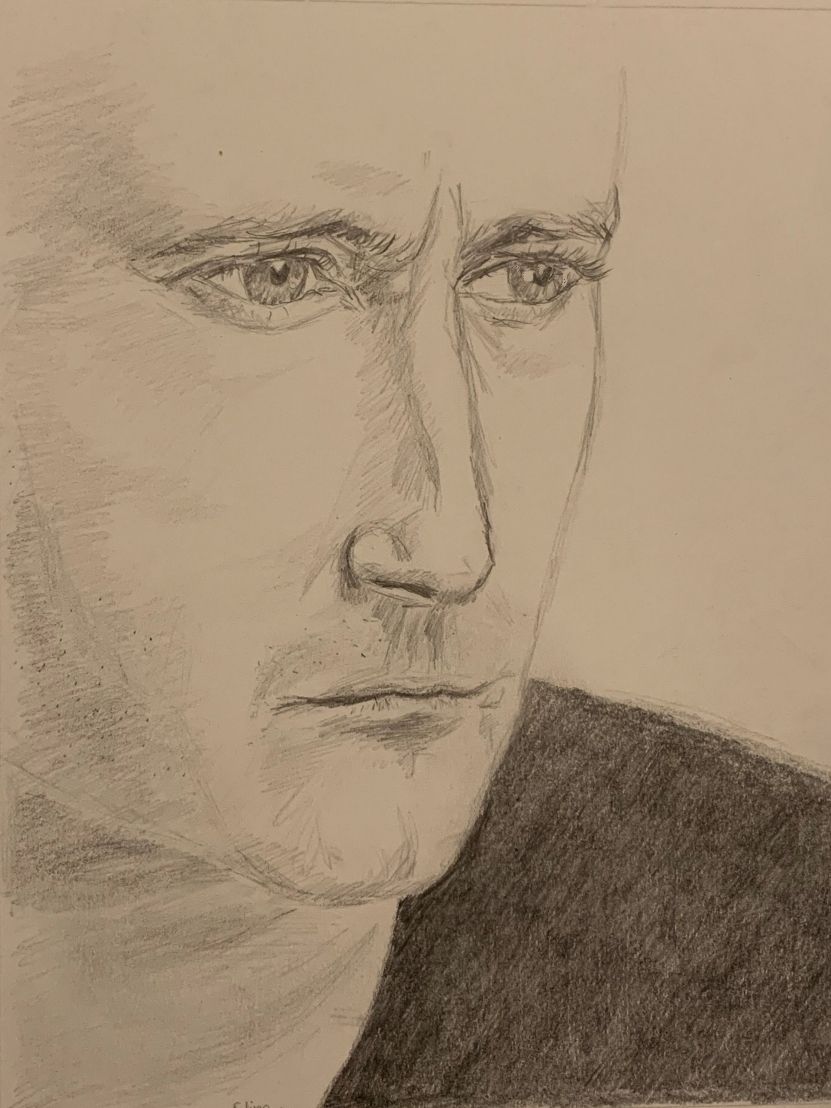 My youngest From a magazine 1990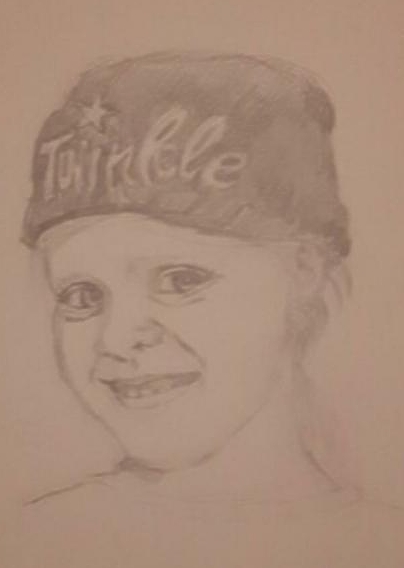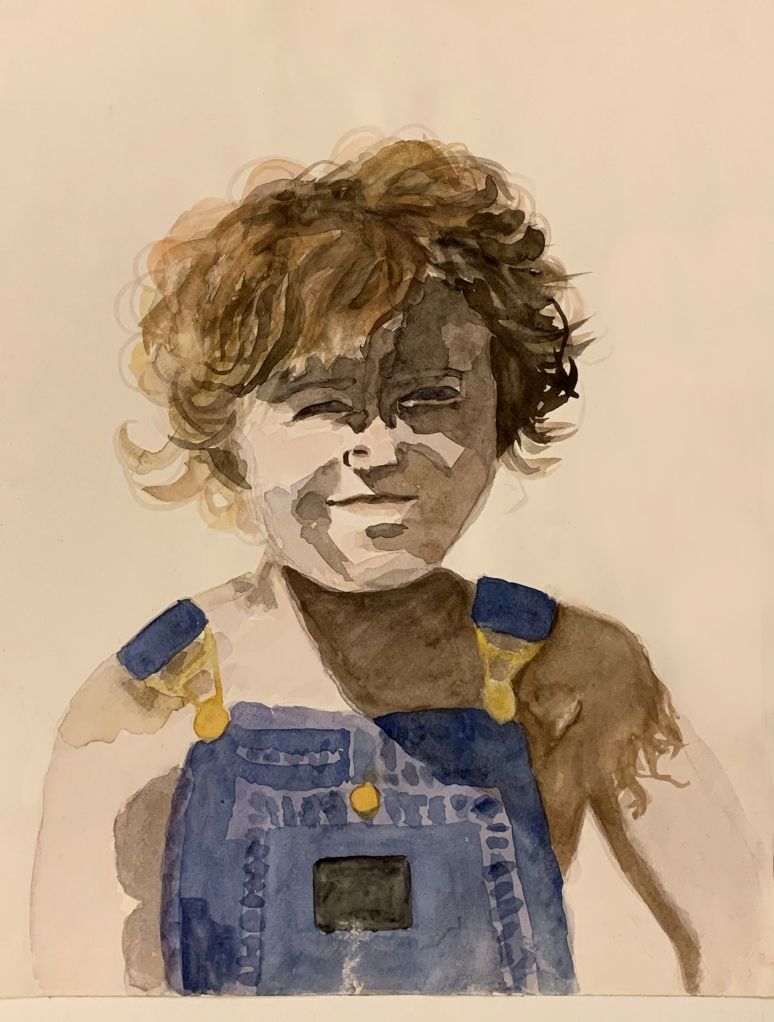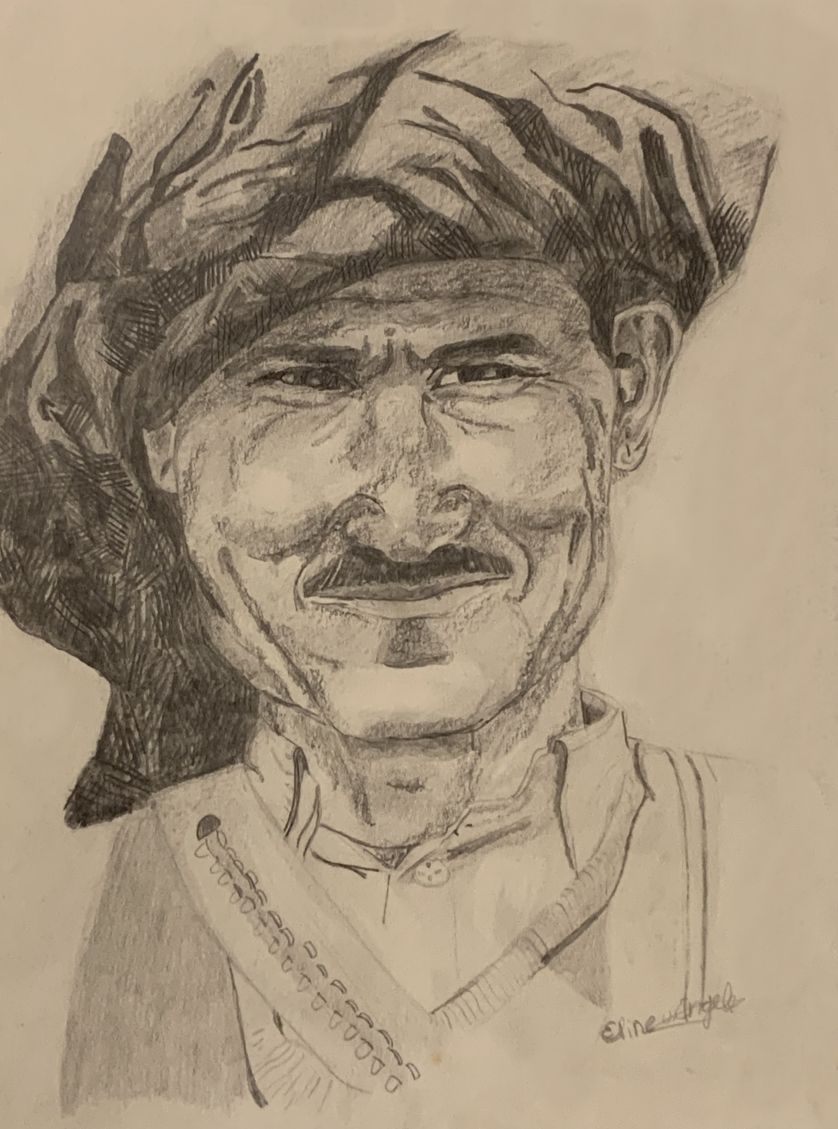 Crossbow related work
Tell and Napolitano, Oil paint Gessler, '94 I've chosen a style with hard lines and only two colors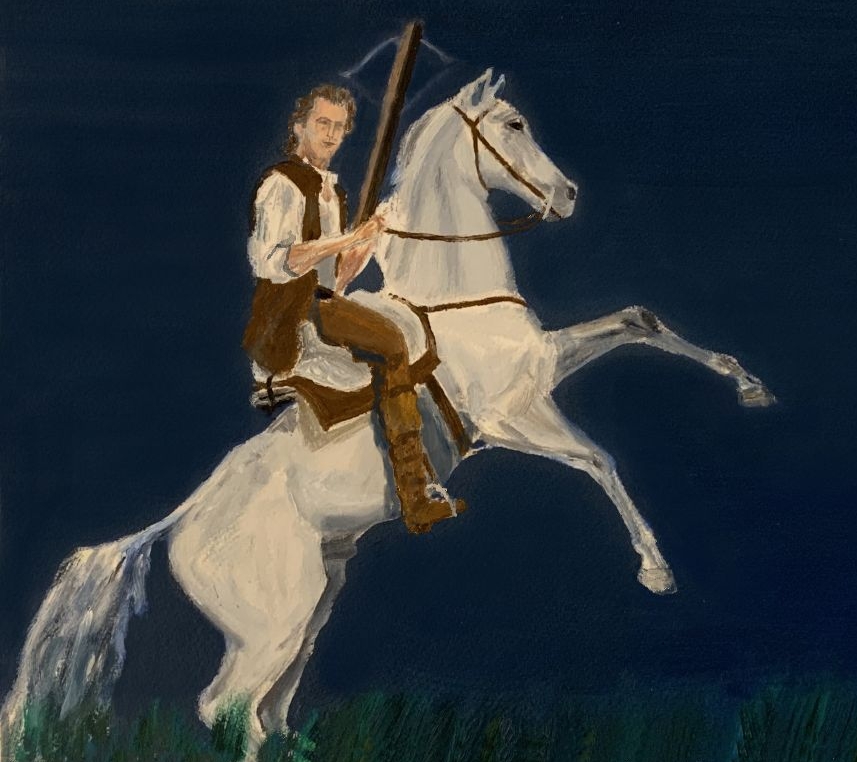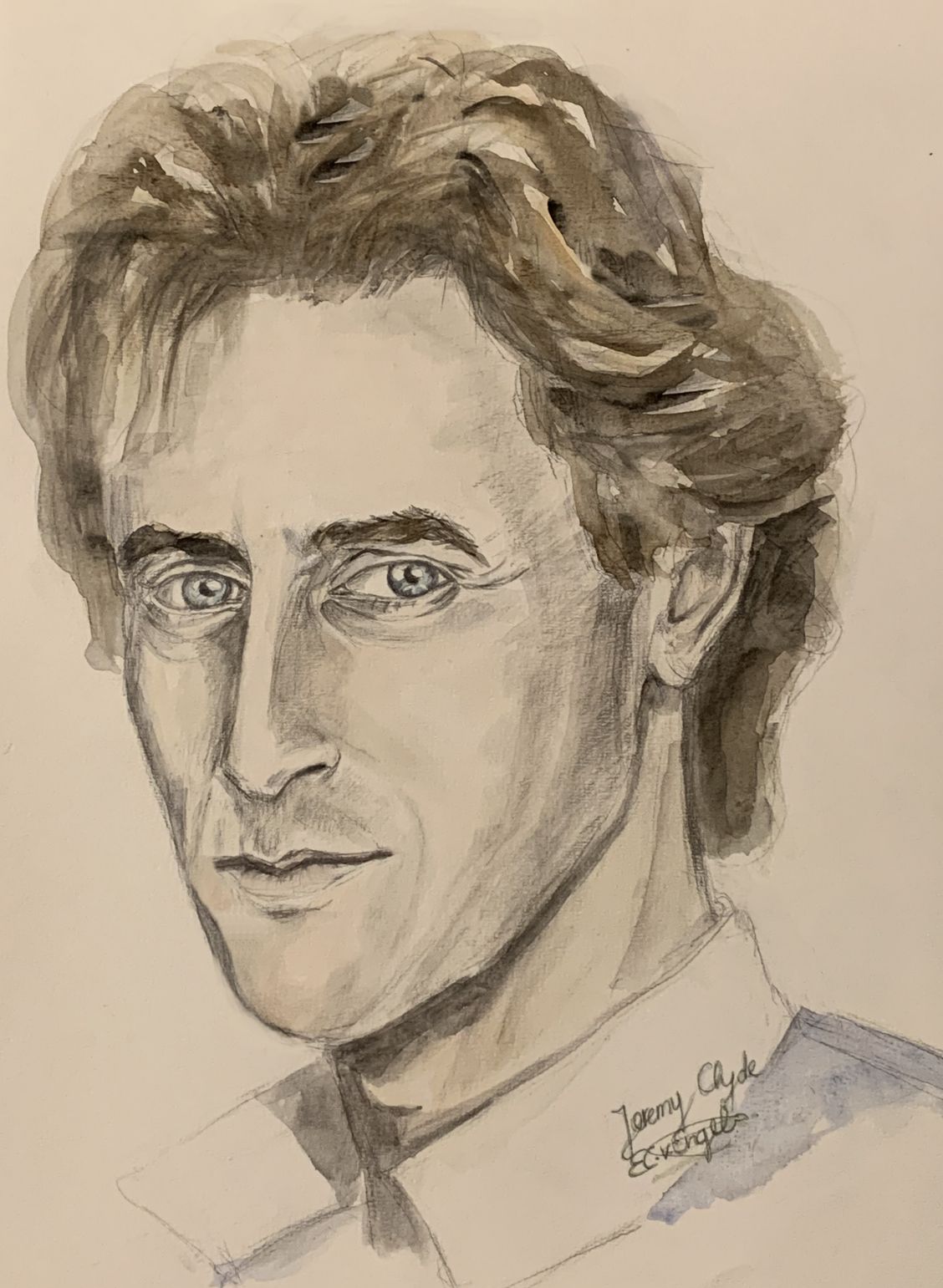 The only portrait I ever made of Tell. Drawn from a scene in episode 10, The Stallion. Scene: Tell catched by
Eléanor's men at the riverside. Made in '98 and later this year I finished it (2019). I enjoyed finishing it after 20 years, I think I need to pick
this up again, it was fun! Around 1998 I sent it to Will Lyman, I had made it as good as I could then. Now I have completed the same watercolor
(from the same time) with the technique I have now learned. But there is always something to learn.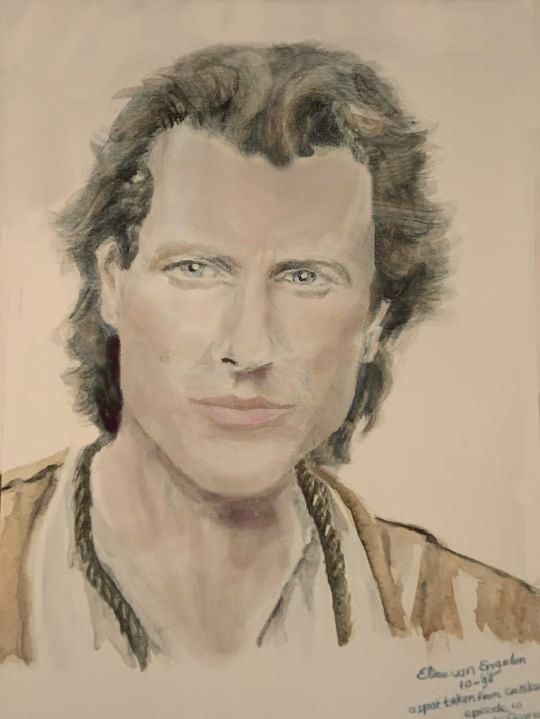 ***************************************************************************
Beau France
The other half of this site is about the pictures of beautiful places we've discovered in 'beau France.'
(in many cases pretty close to Crossbow locations)
Carcassonne
(not Crossbow) Biggest castle of Europe. And the beautiful old bridge in front.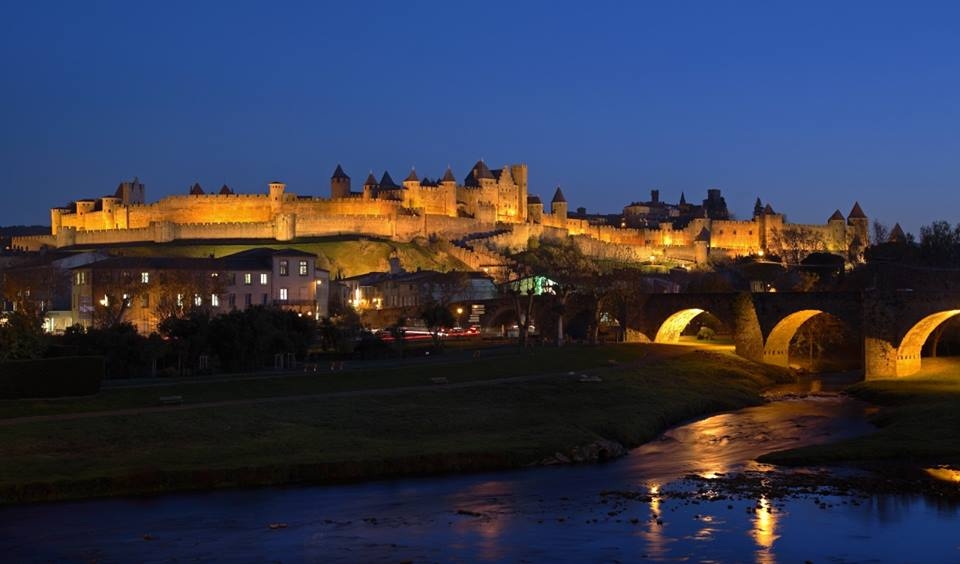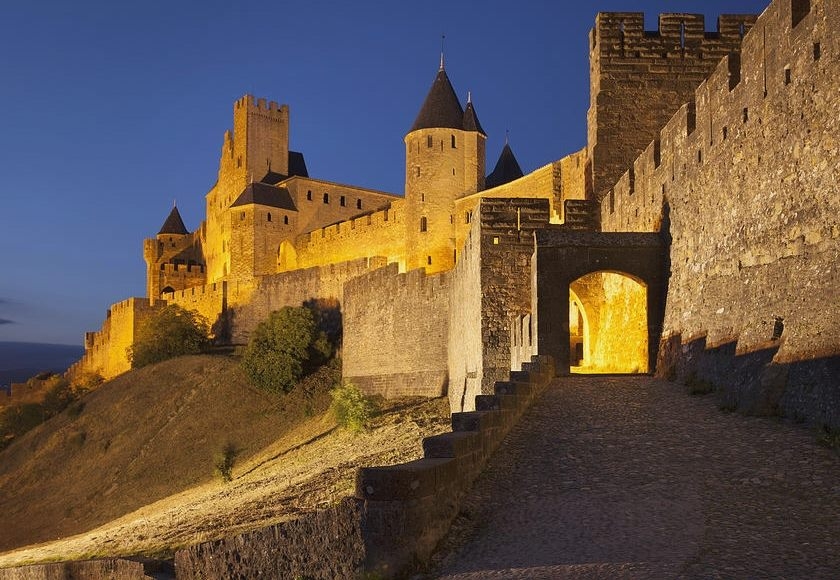 After Paris and Mont-Saint-Michel, it is the largest tourist attraction in France. The most famous attraction is the fully restored fortified old town, La Cité de Carcassonne.
This Ville fortifiée historique de Carcassonne has been on the UNESCO World Heritage List since 1997.
It is an exceptional example of a medieval city in Europe, almost completely preserved, and the largest preserved fortress from the Middle Ages.
We have been here several times. Last time at night suring a concert in the amphiteatre of the chateau.
The old castle is full of life in summer nights! And so beautifully illuminated.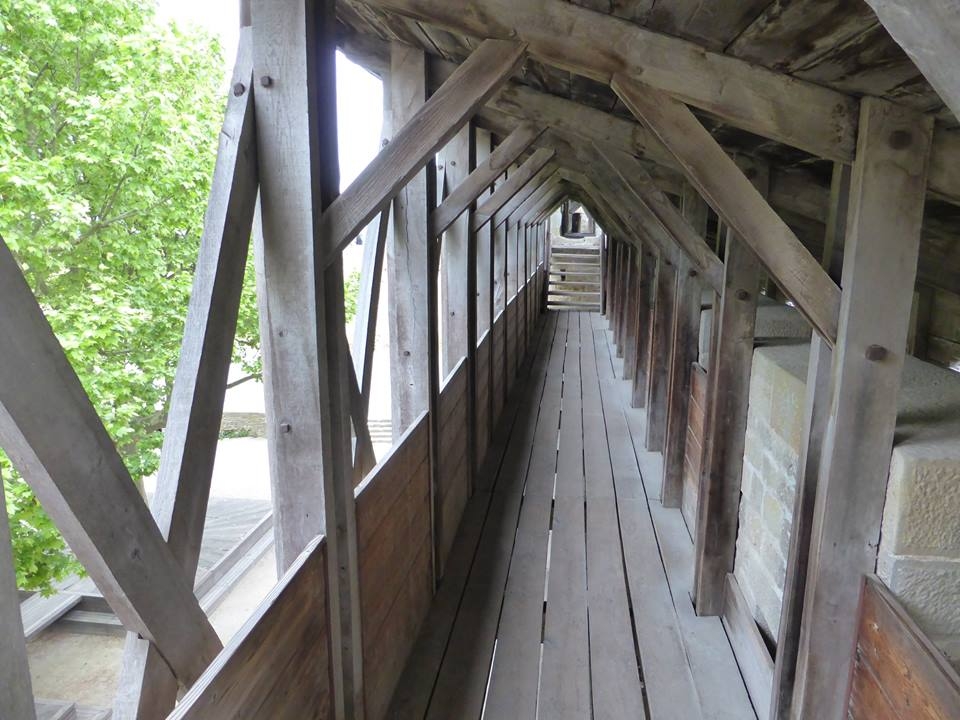 The Basilica of Saint-Nazaire in the Cité. (Carcassonne)
Walking around this impressive church in the middle of the night is impressive! It has gothic and romanesque elements in it.
Some candles were burning at night. I've been in Carcassonne three times. Always nice to return. The last time I visited it, was at the amfitheater for a concert.
Then we walked through the castle for a while and then you are busy! 90 towers! Many terraces were open, very cozy atmosphere.
Always highly recommended, especially in the evening and night.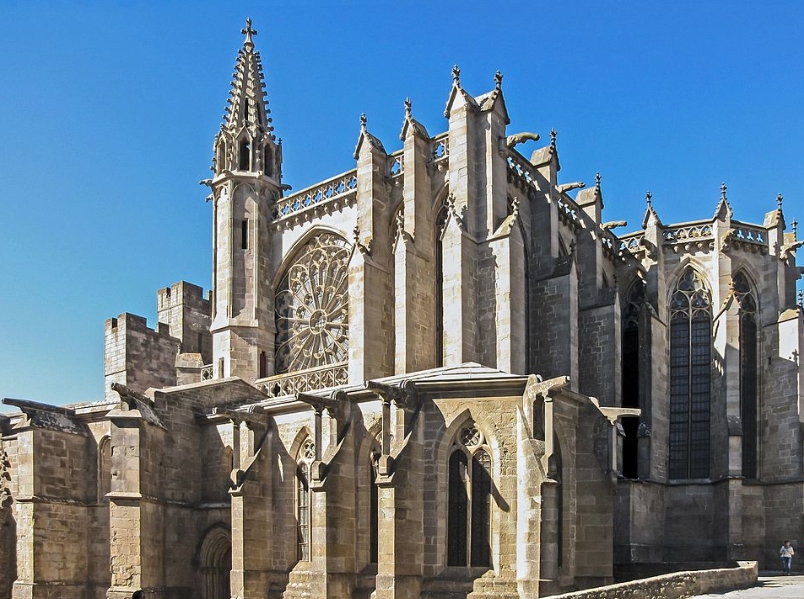 Las Tours
                                                                                                I like the towers in combination with the Cypresses (No Crossbow location)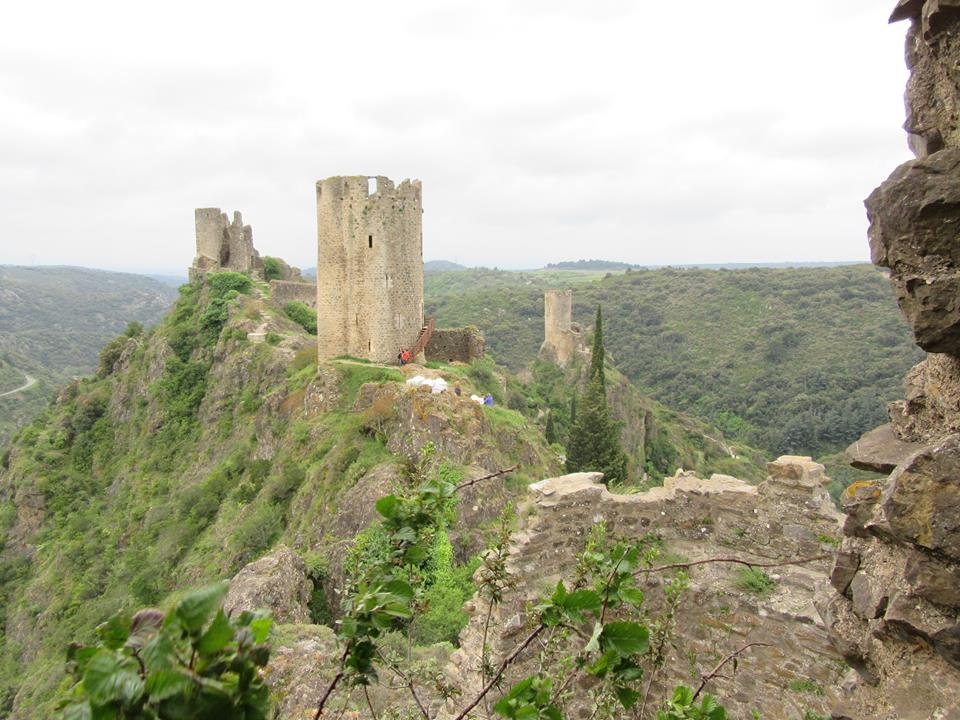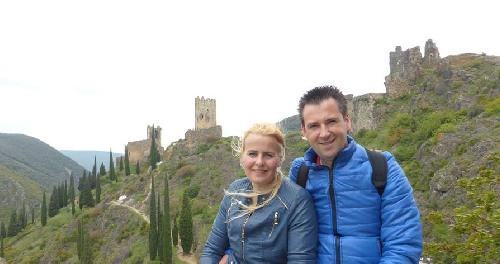 Just a break during a long hike to the ruins of Las Tours (close to Carcassonne).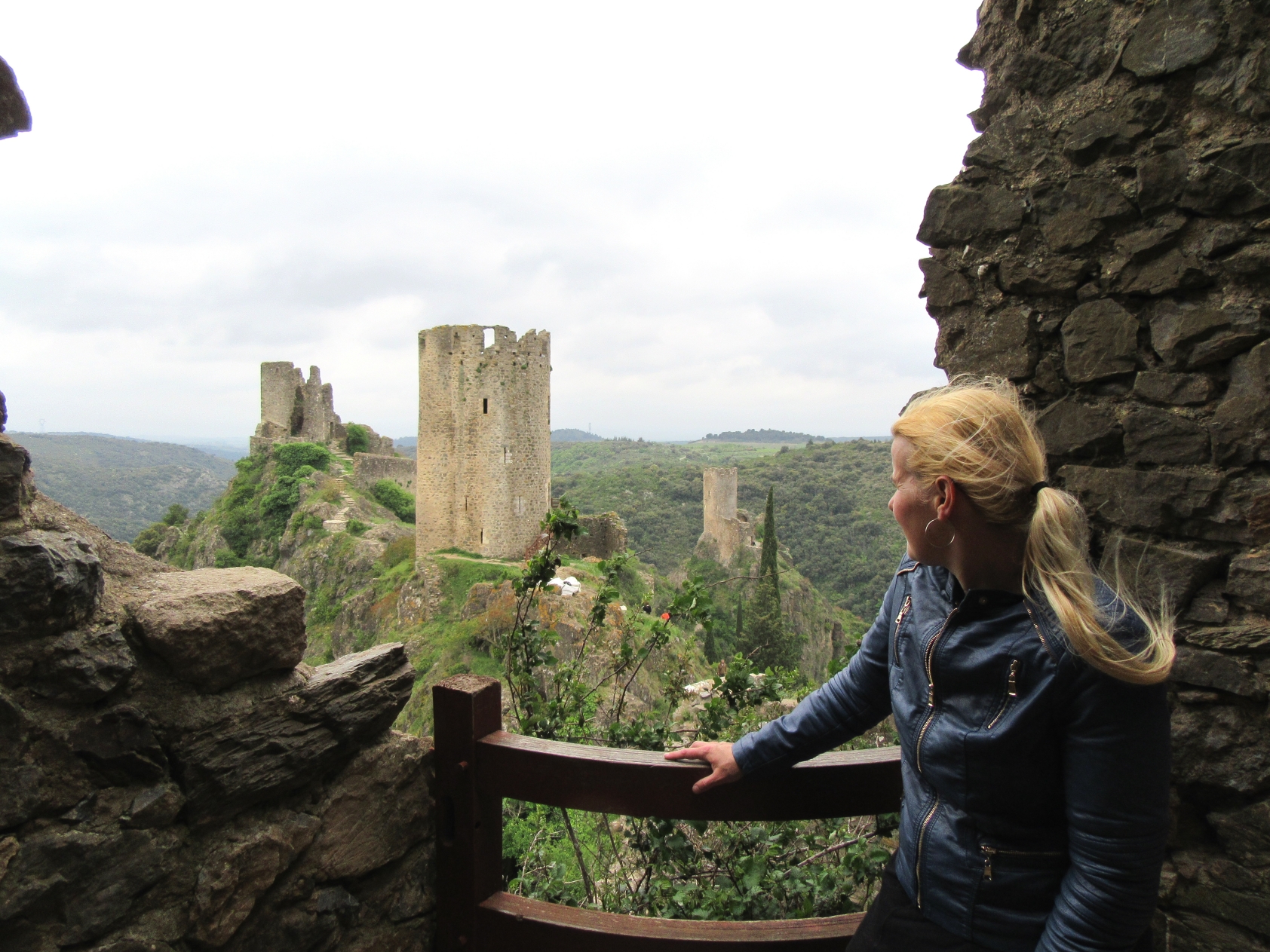 A walk to the misty towers of le Merle. It wasn't easy to find it. Can you see how beautiful it is lying there in the misty valley?
I still regret there was not time to walk to it.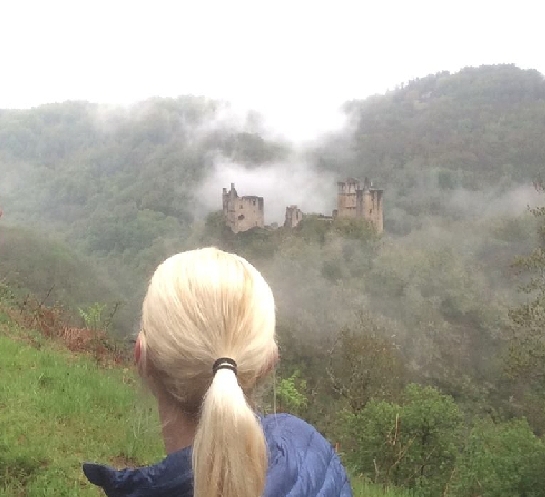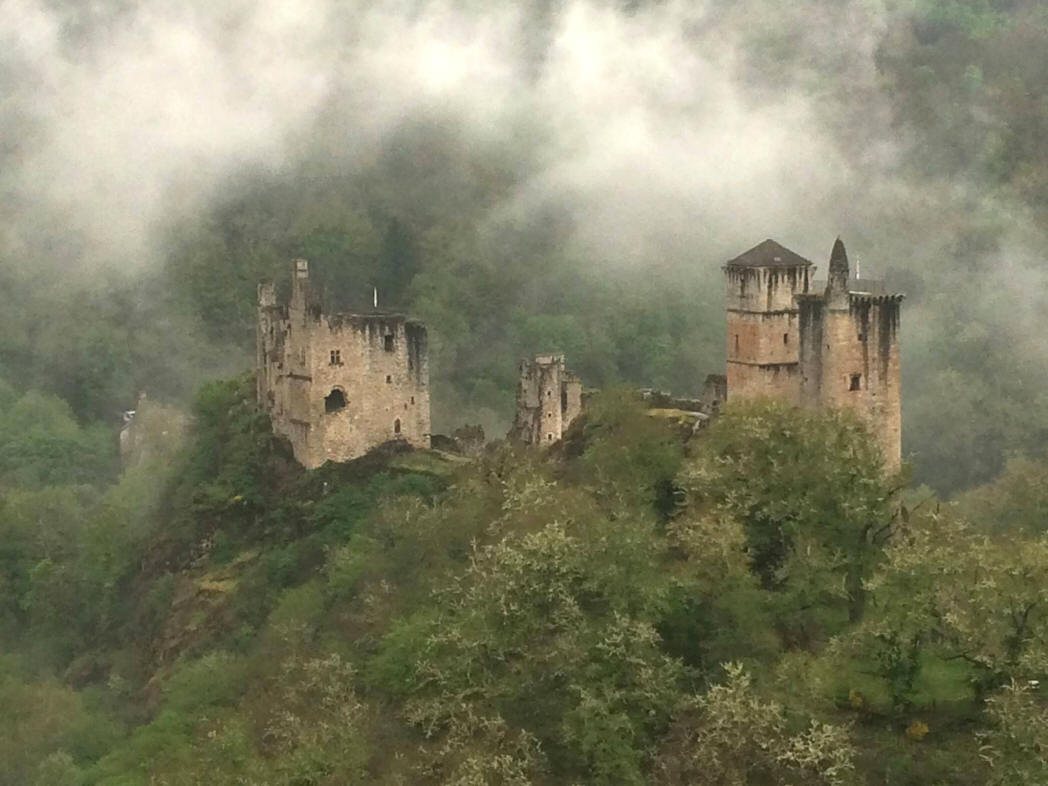 Hiking in Lozere
I remember we arrived quite late and almost walked alone. Some rocks are connected with bridges.
There are so many beautifully shaped rocks in this park among beautiful trees. A beautiful experience.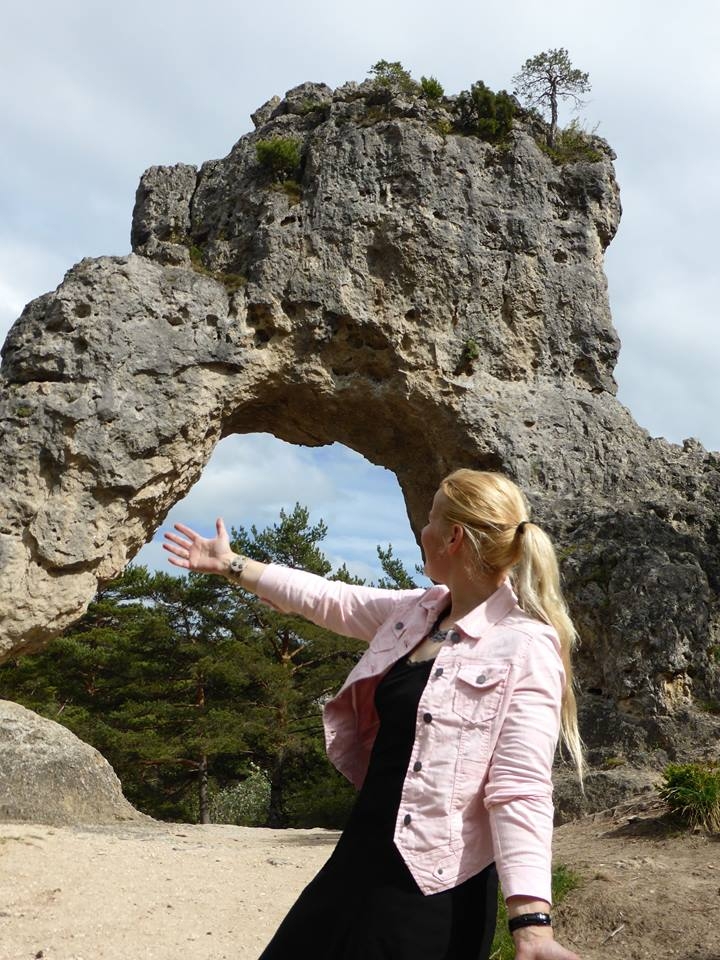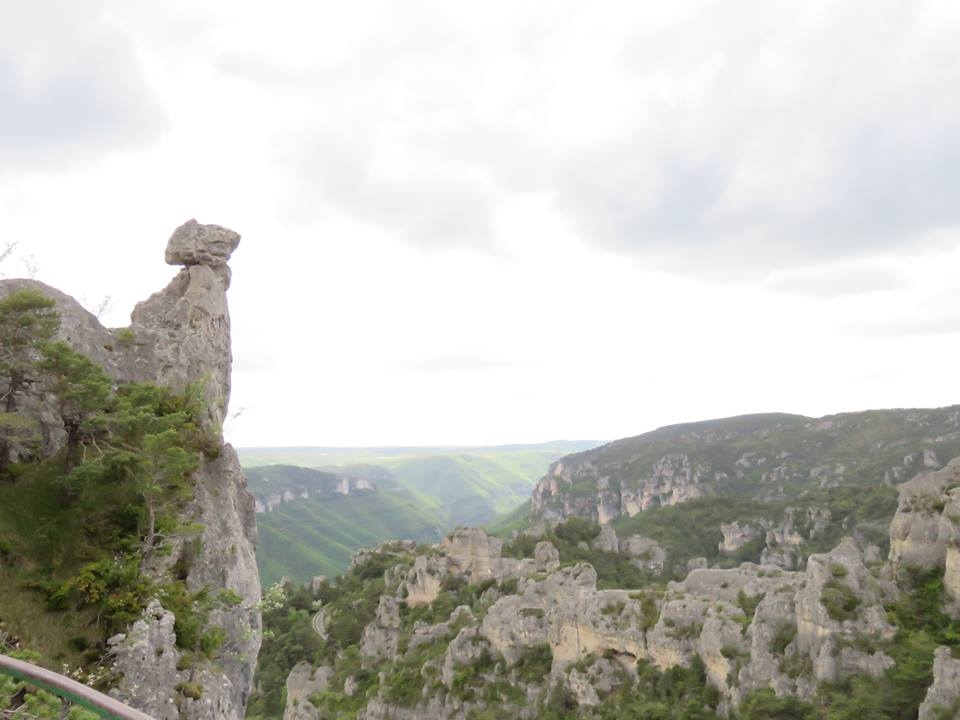 I

n our enthusiasm of all the rocks we saw, we even lost each other for a moment.
Montpellier Le Vieux, hike
A wavy rock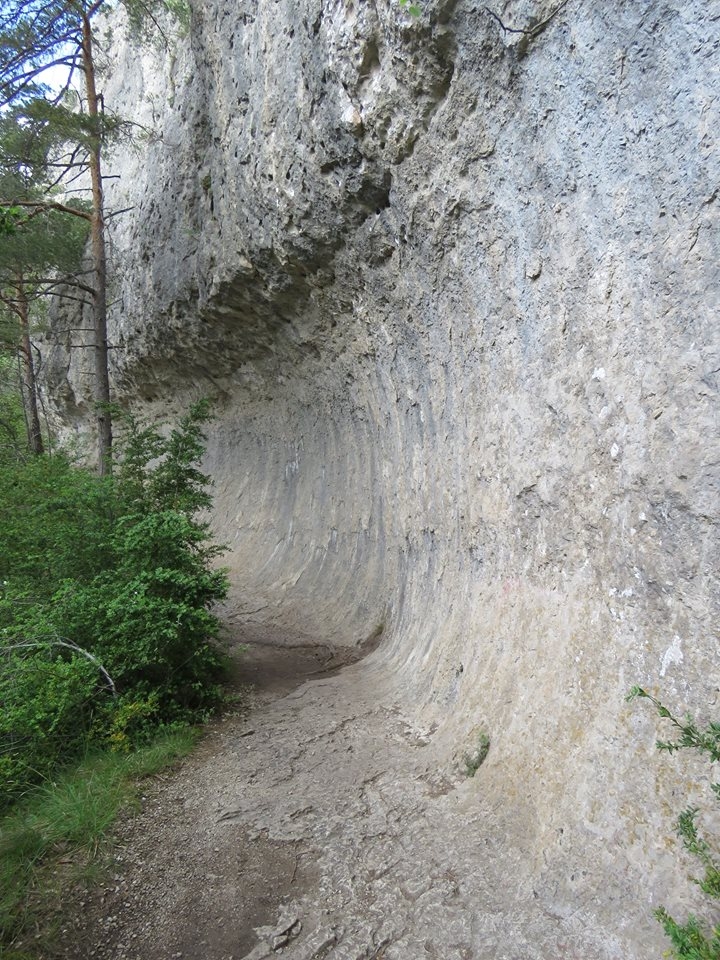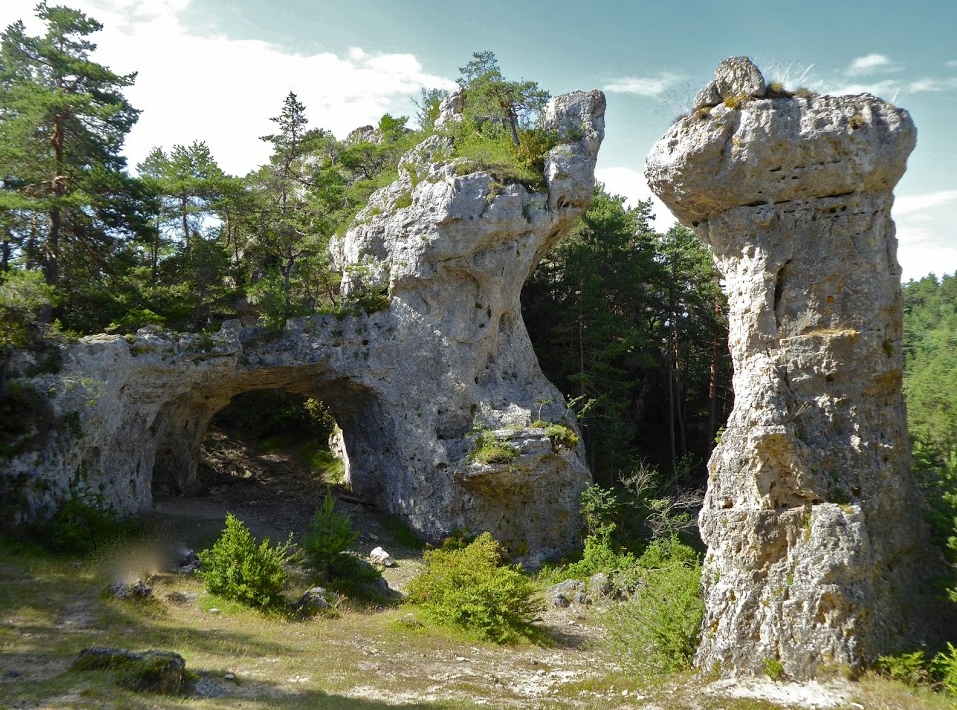 The red rocks
Those beautiful colored places can be found in several areas of the Provence. You will find these shades in the area of ​​Opedde le Vieux and Senanque.
Below some photos when the sun shines on those colorful rocks. When the evening son shines on the rocks, it's like fire.
With our kids, 2018 The red rocks, so beautiful.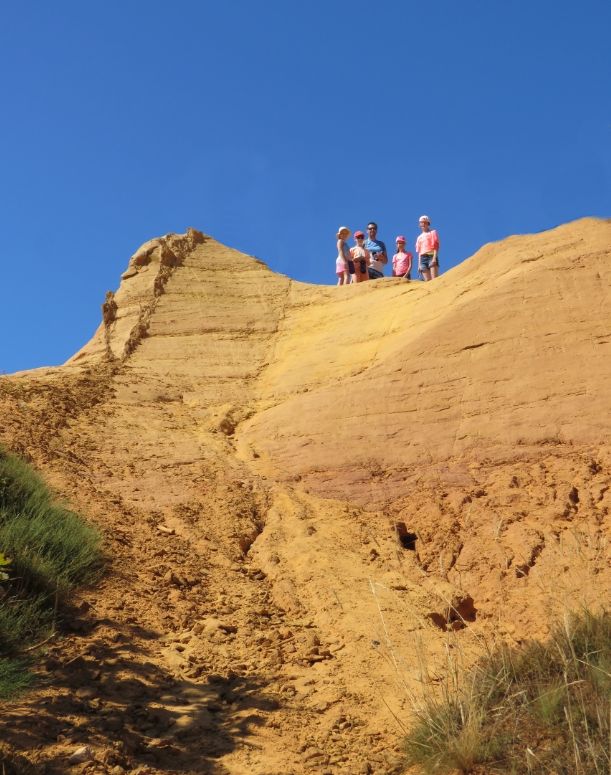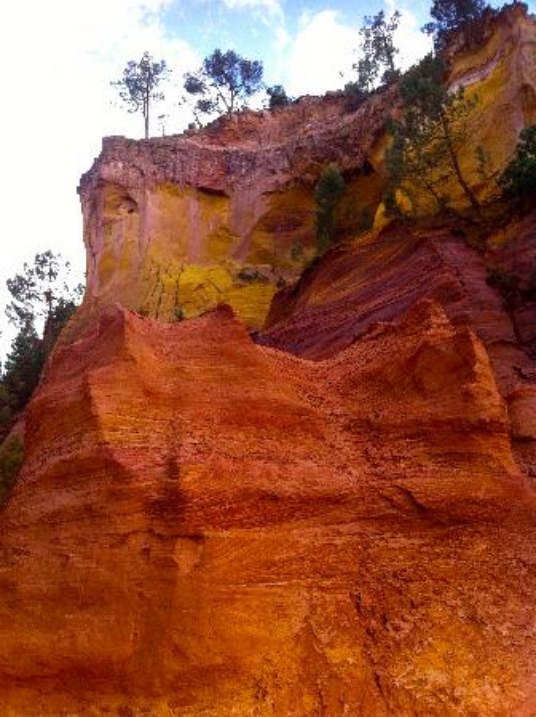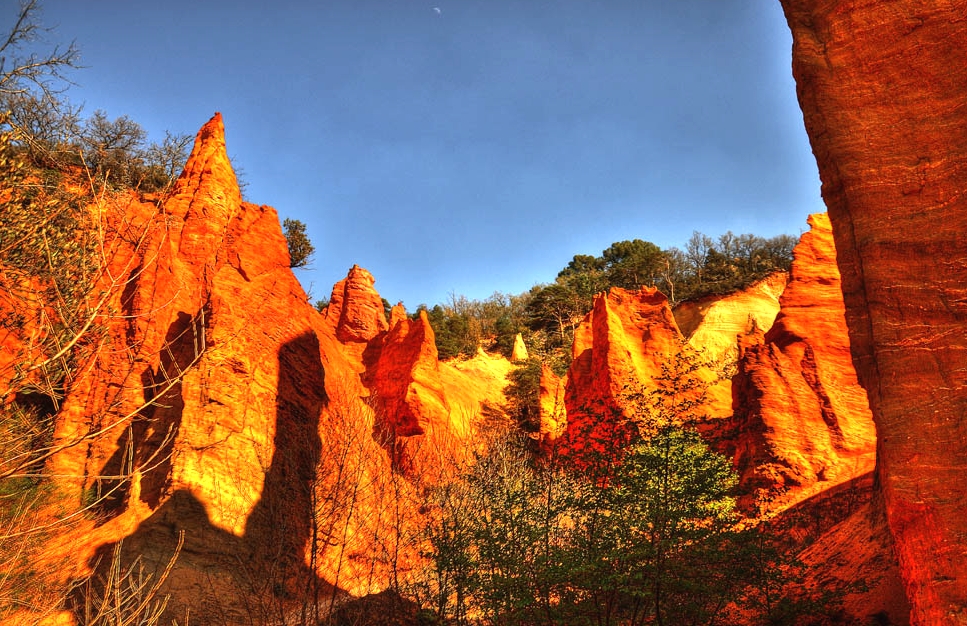 The earth is flaming red and orange. Sometimes it tends to turn yellow or even green and when the sun sets it turns dark purple. The Provence has also large nature reserves,
the ocher cliffs and the quarries in Luberon. The ocher was initially used for petroglyphs, rediscovered during the French Revolution and sold worldwide as a colorfast dye for a century.
These days, ocher is gaining popularity again as a natural pigment that is used in many (art) activities such as painting, decorative art, pottery and construction.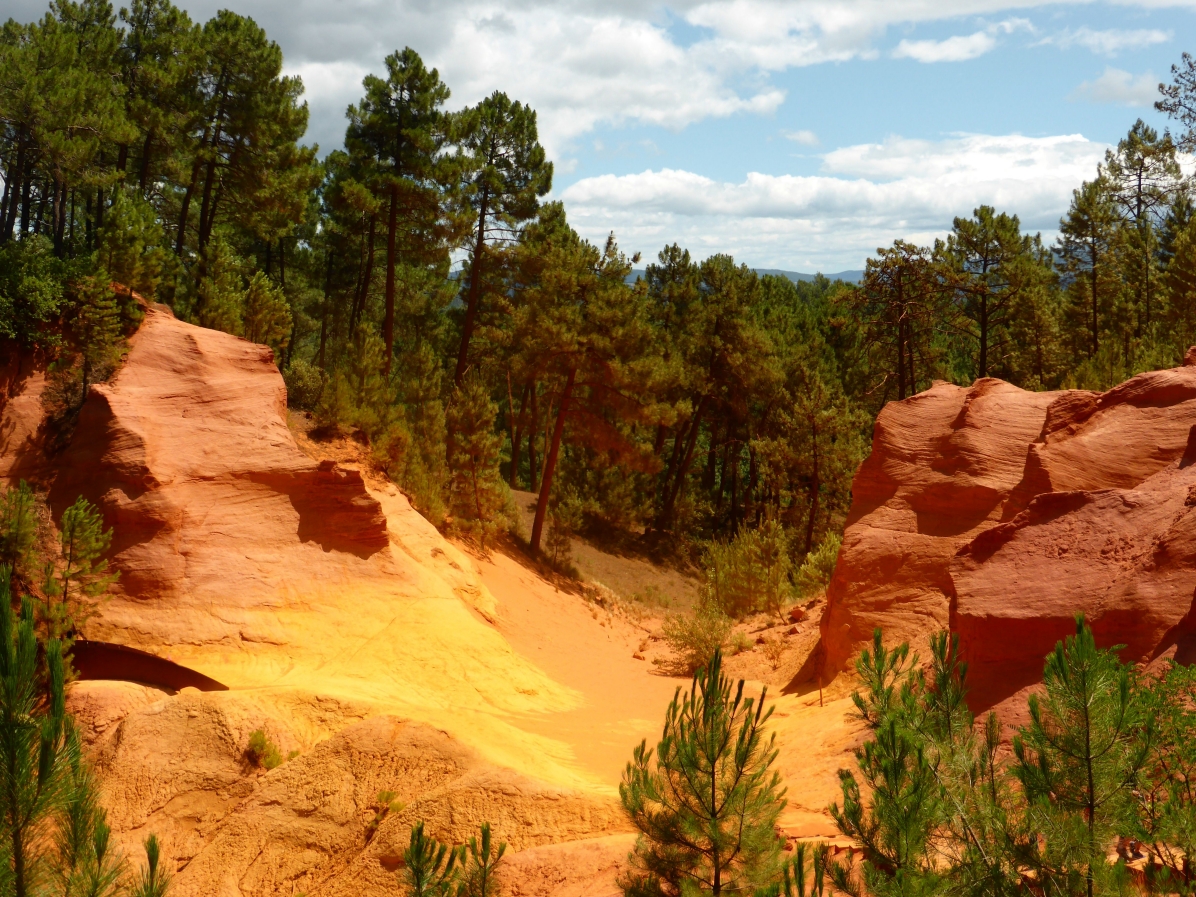 So beautiful, let us becareful with these places...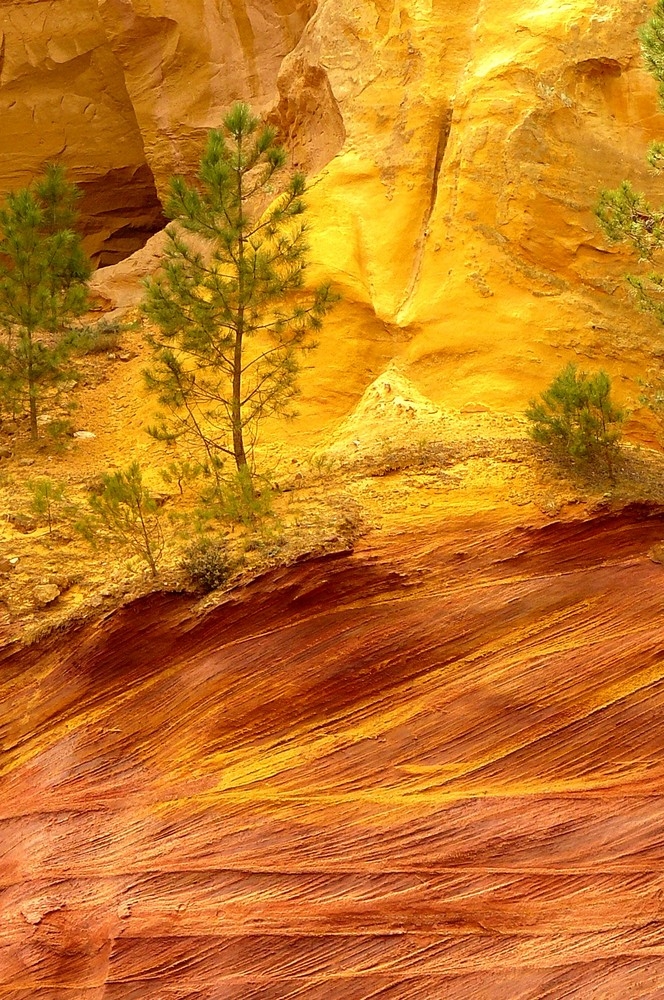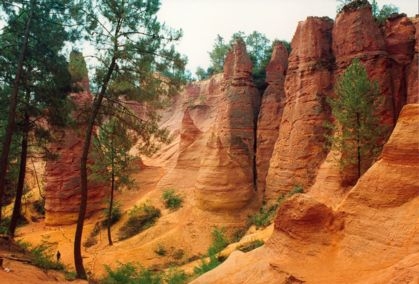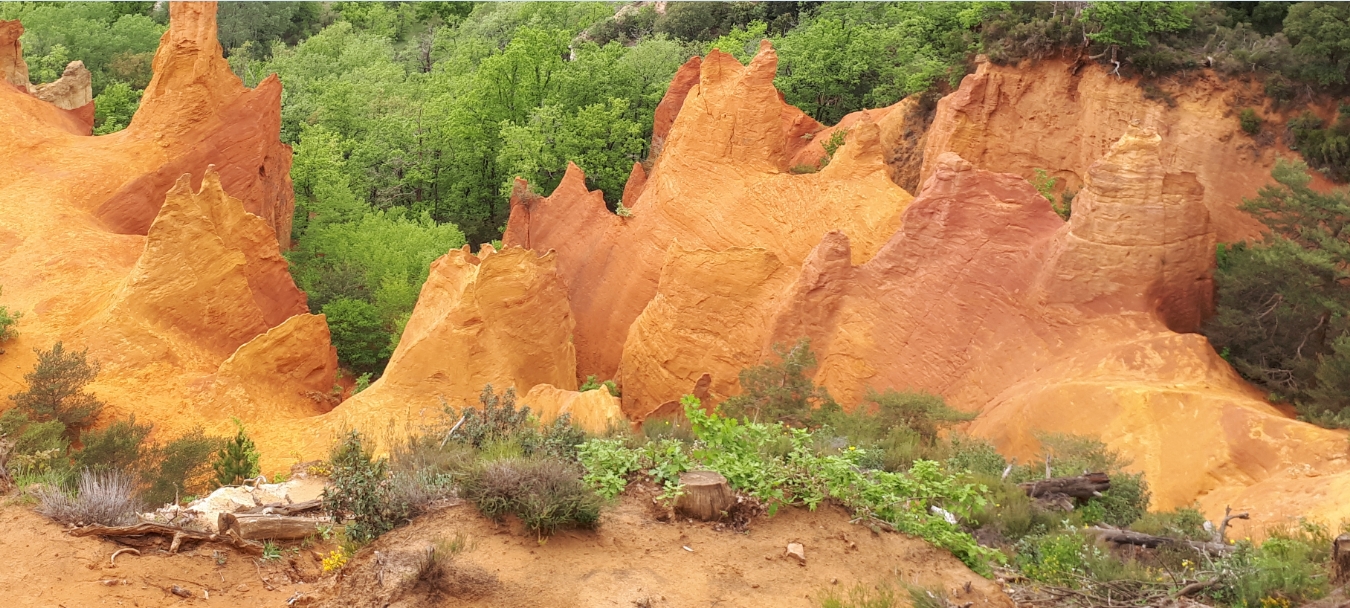 The pink lake with it's great castle! In Camargue.
Left: The lake is colored by salt (not by bacteria). This is a zoomed picture, from the opposite of the lake. In fact there is a green field in front of the castle, the zoom make the field disappear. Not realistic, but it gives the photo a cool effect.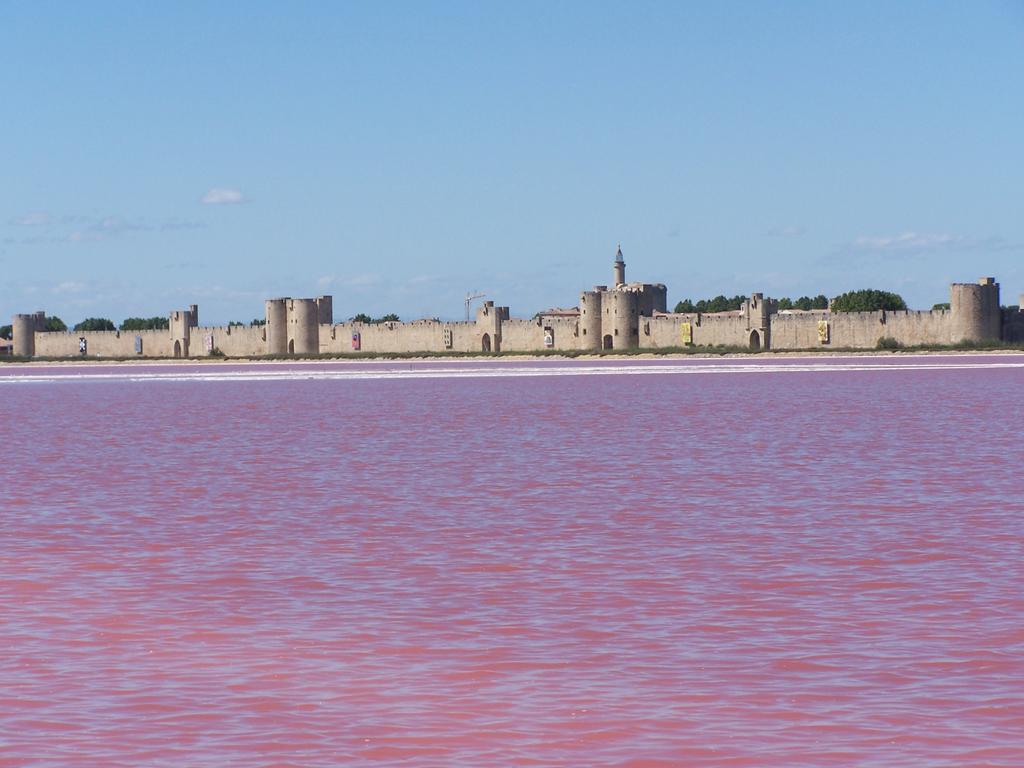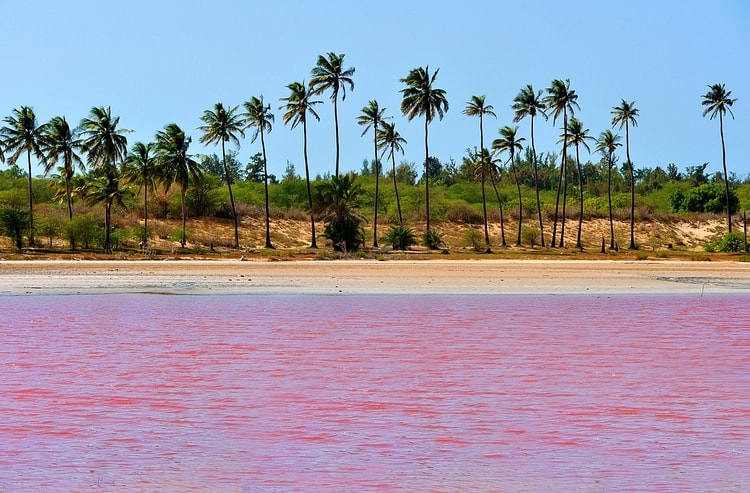 To get to the opposite of this lake you can go by train or rent a horse through the marshland. Never take the car to the marshland. ;)
For Camargue horses in the south, click here for more information about this horse.
and many flamingo's in the Camargue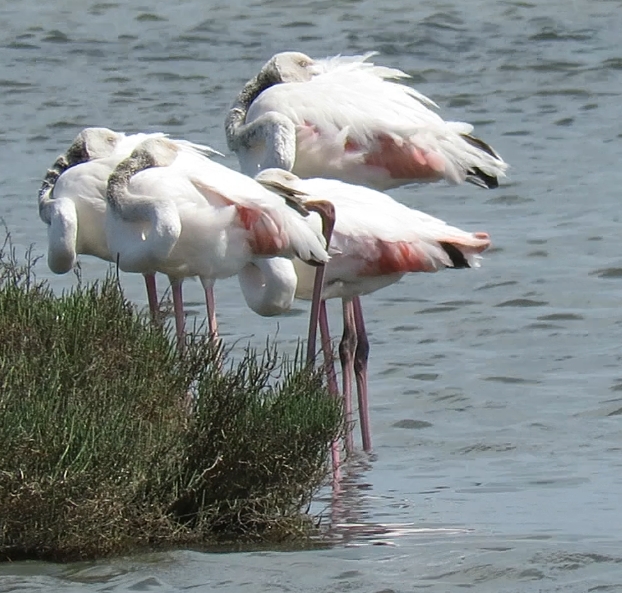 Epierre (in the series 'Clermont' and 'Albion')
Before the dog nearly slaughtered me. I went here once. Sun and thunderstorms alternated quickly. A french fan. Mr. Barthelemy went here twice,
he got permission to take some photos inside, a man was working inside and the gate was open.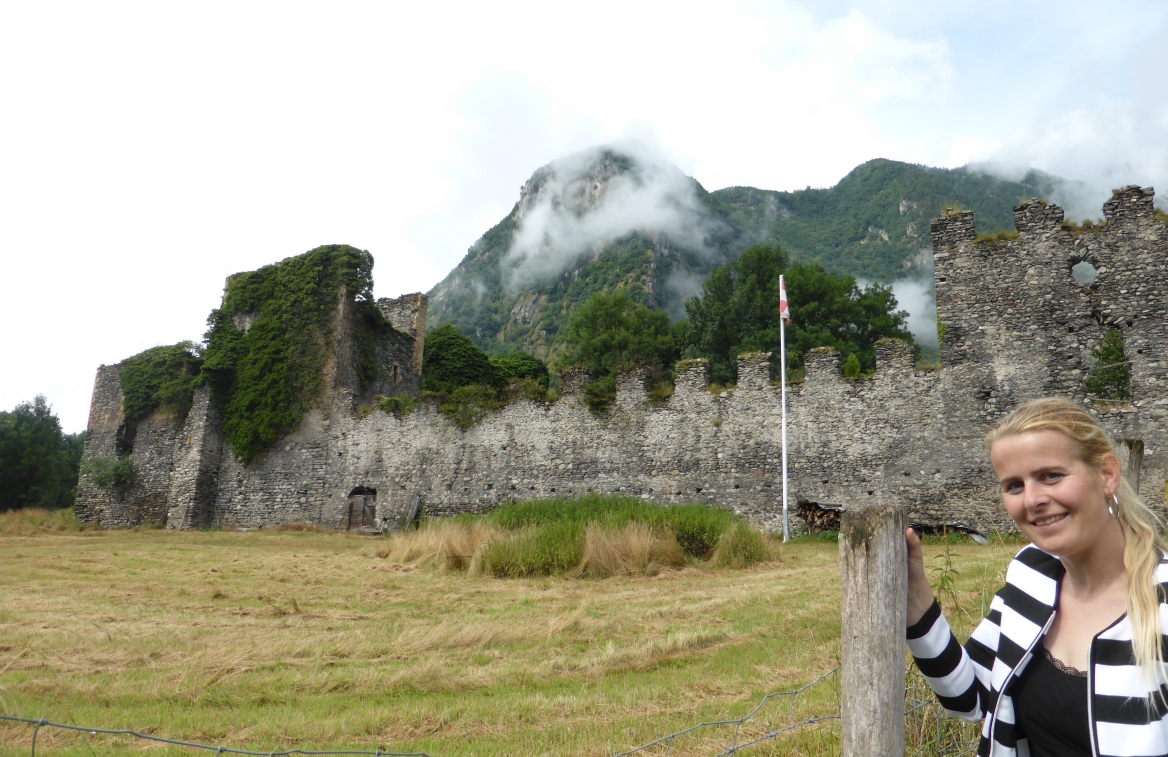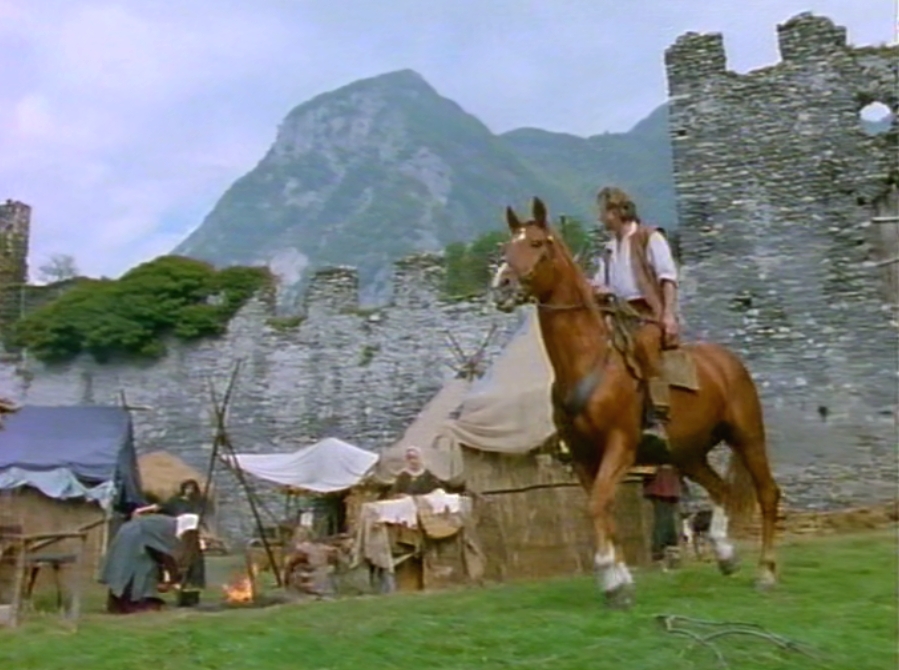 This small beautiful mountain castle located at the foot of the higher Alps, it is not as striking as Miolans. Miolans (next to the A430, the highway to the ski resorts such as Albertville, Val d isere, Tignes, Val Thorens and Chamonix) is big and is beautifully situated on a hill. Miolans is strategically very beautiful and at the gateway to the high Alps with the Mont Blanc in sight behind it. Epierre is not on this highway, but more 'between' the mountains and a little more to the south. You can reach it via a small road. When we were there in the summer a constant play of clouds, always changing the weather of the mountains. Thunder in the back but it was at the castle pleasantly calm. In between the thunderstorms, we were able to view the surroundings. As if time has stood still until a helicopter suddenly entered the valley and you awaken from a medieval dream.
Questions that occurred to me then: How do they get to this location? Who ever designated it? It's hidden in the Alps....
Also places like Brey de Vent ... how do you get there as a location manager? Local population or tourist information and monument care who knows everything about the monuments in the area. A fact is it are such beautiful places!
On the way to Chamonix to visit Aiguille du Midi, we stopped next to the road to see Miolans. For Epierre we turned off the highway and took the 'cart track' followed. ;)Unfortunately closed, after a detour and crossing a railroad a couple of times we were able to get there. Although we were visiting during summer, the weather was not stable at all in these high mountains.
Senanque

If you like to visit Senanque and you wanna see it in purple colors, then make sure you visit it in Juni or maximal the first 2 weeks of July. After that they'll cut it off for products. There is a nice shop inside, where you can buy everything about Senanque! We have visited it 3 times, we were many times nearby and everytime it touched us again. But since 2019 they discovered large cracks in the walls and real and danger of collapse.

what struck me is the peace and cold because little sunlight can come in. it feels real and medieval, partly because there are still monks alive. After Crossbow, they are returned to Senanque. Guided tours are planned every minute. They then use the rooms where the guide is not currently available.

Shortly after crossbow the monks returned and luckily. It special... the way the monks dedicate their lives to God and lead a reasonably withdrawn life. this has become increasingly scarce due to the secularization of the last decades. The special feature is that tourists are allowed. How beautiful. The monks continue to live and rotate between spaces when there is a group of visitors. Senanque also has its own shop with products from the area and especially lots of lavender and books.

Last year (2019) there was a huge setback for which a lot of money had to be collected. There was a sudden danger of collapse. More information can be found in the location gallery
Below the lavender fields in Valensole, there are also some in the east and on the foot of the Mont Ventoux near Sault.
The mountains seems blue, the flowers are purple..single trees, a small house. I reall enjoy this place and also the local lavender museum!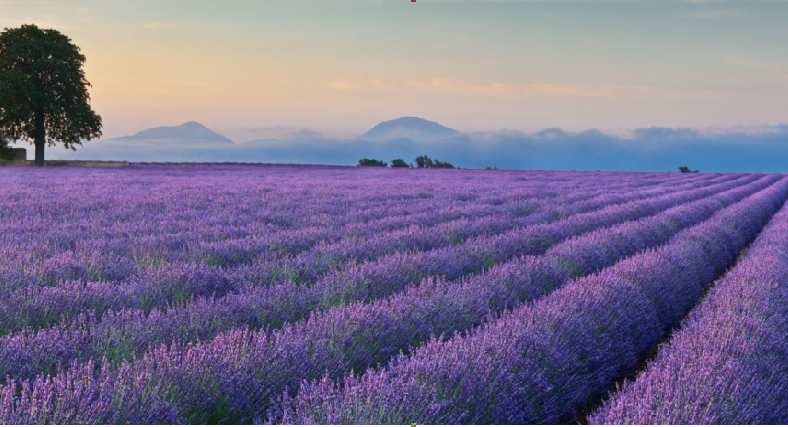 I love the trees, the blue colored mountains in the back and most of all my sweet girl who is enjoying the fields.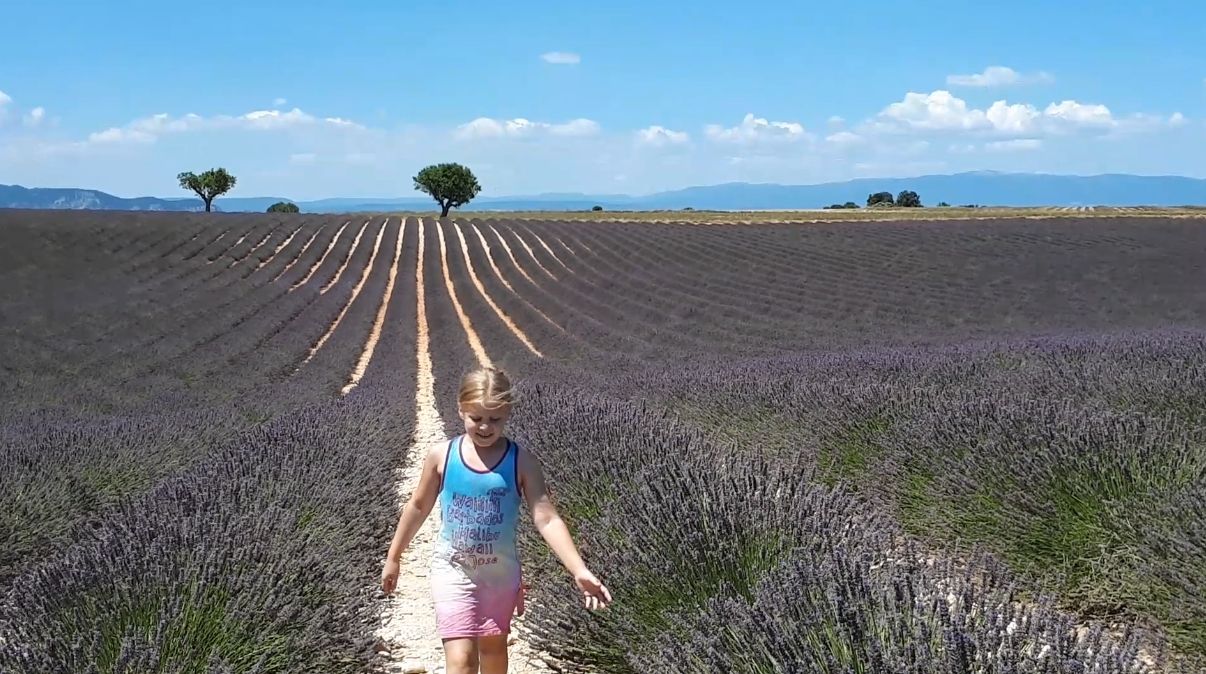 The flower is already somewhat dry and the lavender harvest is about to start.
In front of the Mont Blanc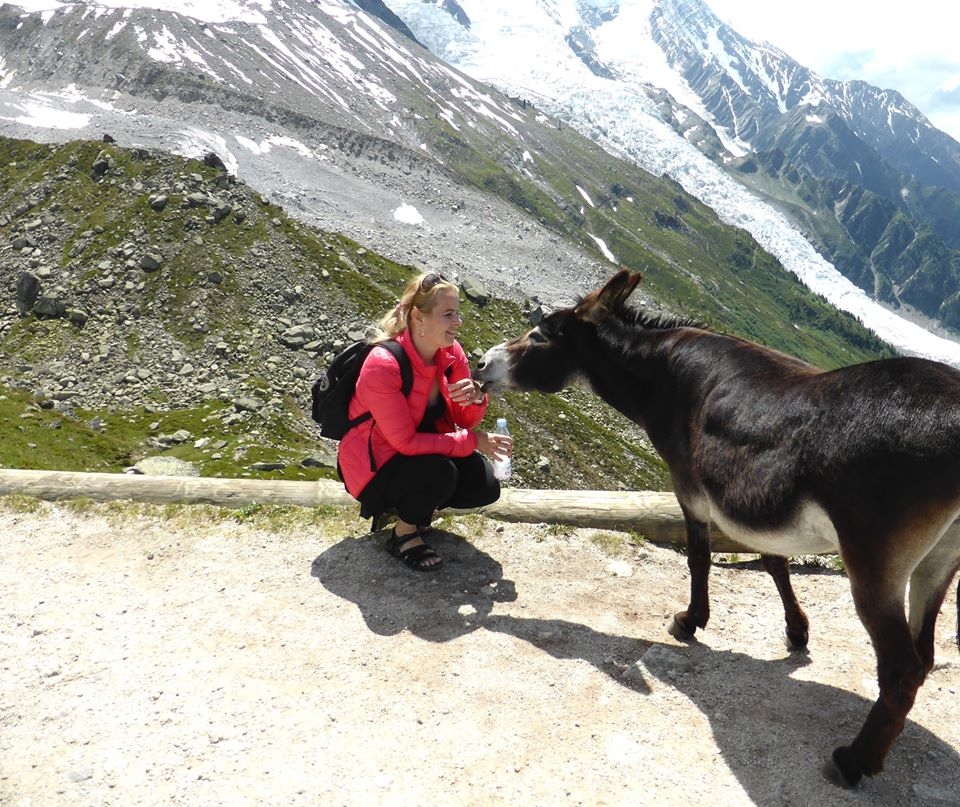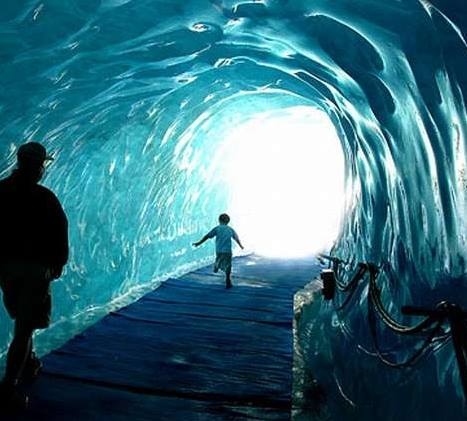 Aiguille du Alps du Midi, next to Giant of Euope' The Mont Blanc' The Mont Blanc can be seen from chateau Miolans (death castle in Crossbow). I have no photo posted of the Mont Blanc. It's not quite a spectaculair shaped mountain, but it's European's highest point. This one beside is called Mont Auguille.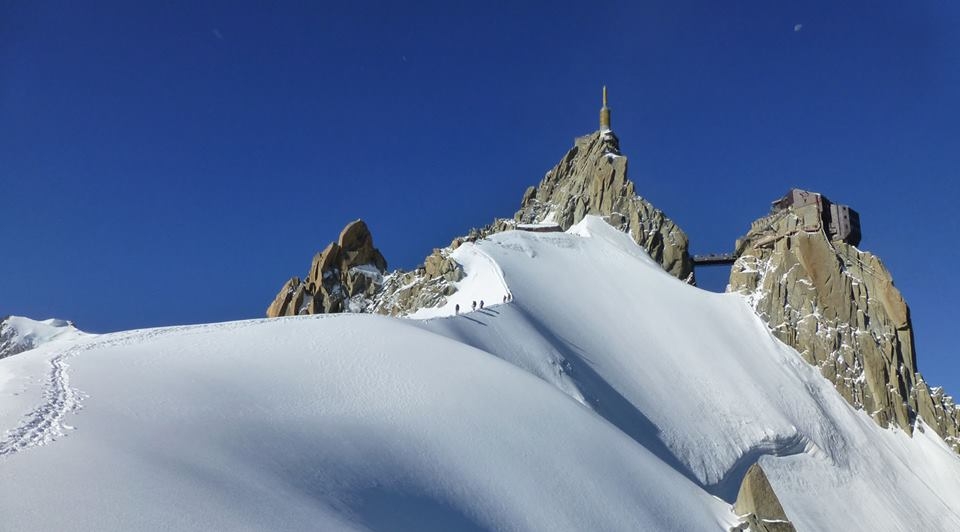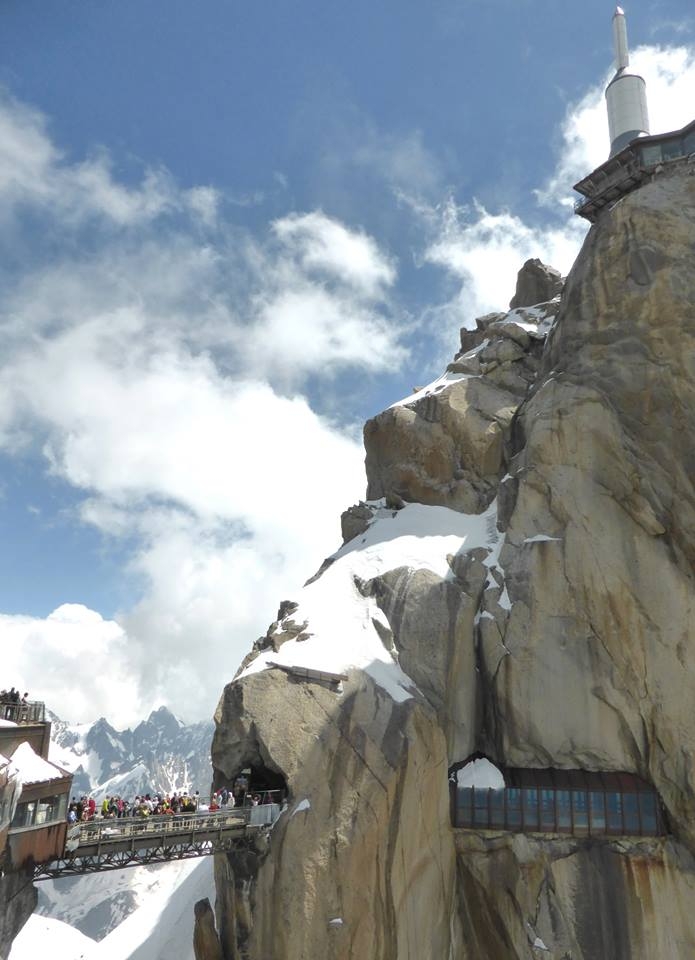 Below mountain climbers of the Mont Blanc, zoomed in though I have a straight look on the mountain but more of the climbers almost invisible with the naked eye.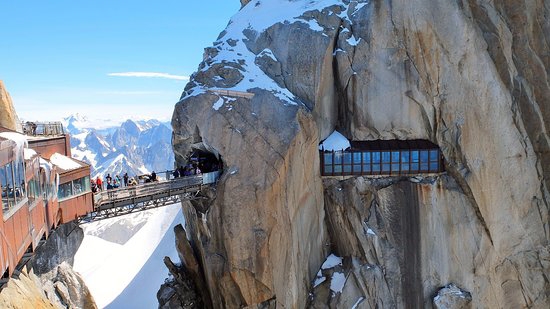 Les Baux, late in the evening
Les Baux a place to return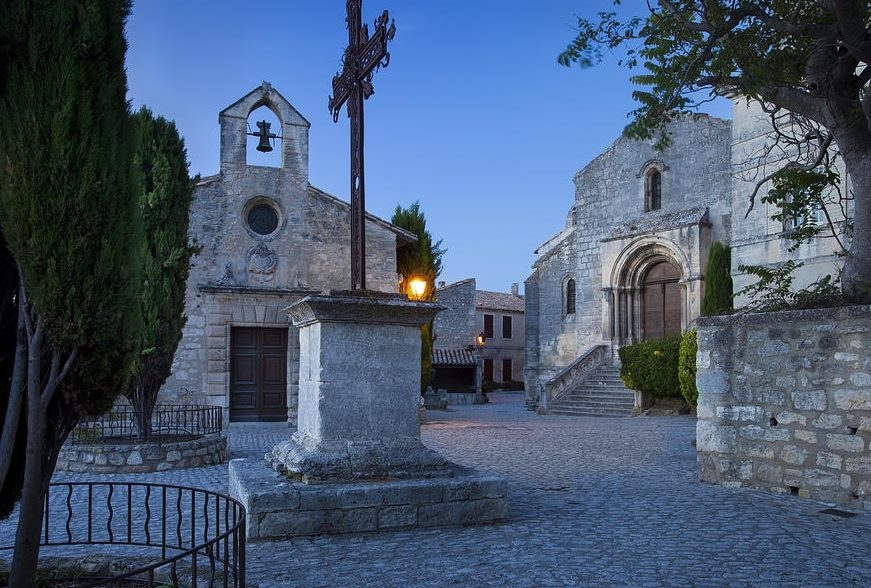 Chateau la Caze, Lozere
Spending one night at La Caze was so great! This photo below is shot by me on a spring evening. The water of the Tarn is so clear!
You can look at it for a long time. Many big fishes to see, when the river is flowing slowly you can easily see a barbel fishes.
While hiking down to the river we found many green and lightblue Emerald Lizard.
I think I need to go back to this area because there seems more to see.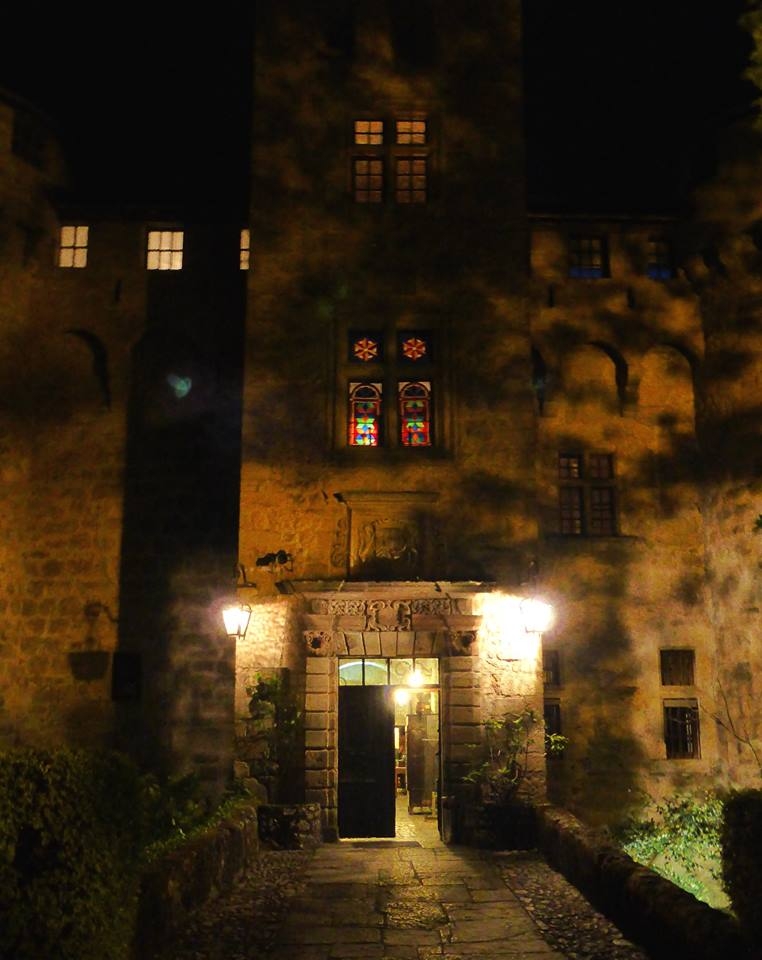 Pont du Gard
Nowadays protected by a park with entrance fee and supervision. Not a bad idea in times of grafitti and mass tourism.
My modern travel-loving grandmother used to visit it, but then unprotected, no fences (about 30 40 years ago).
Pont du gard on a rainy day I always see the eagle head in these rocks of Les Baux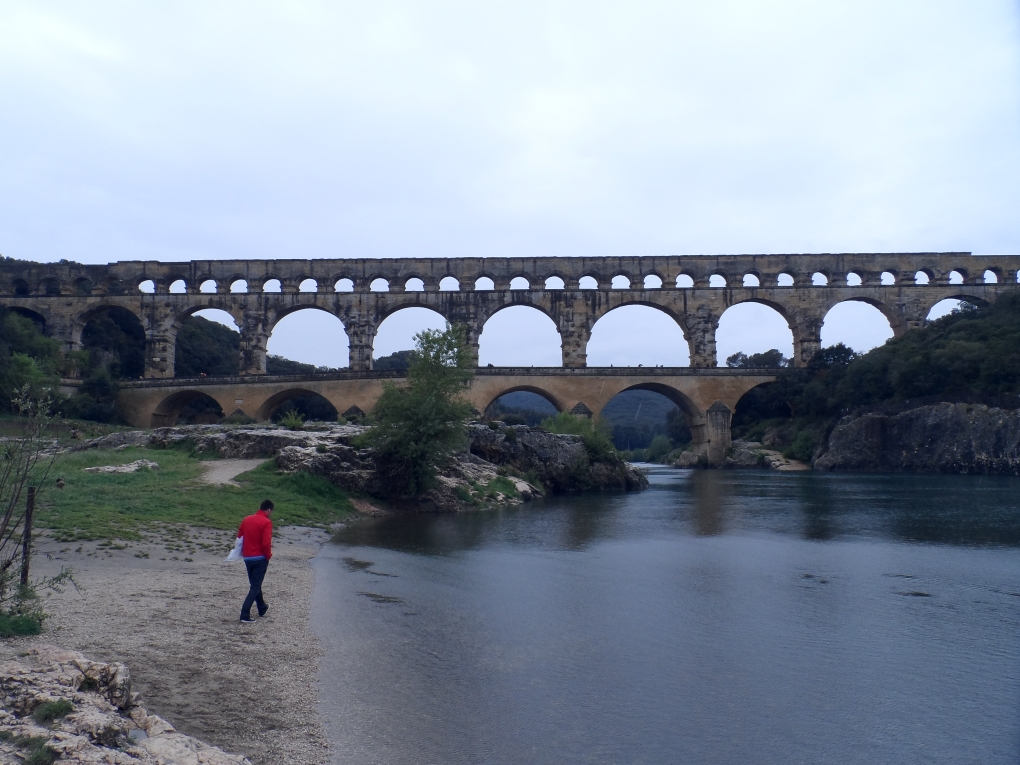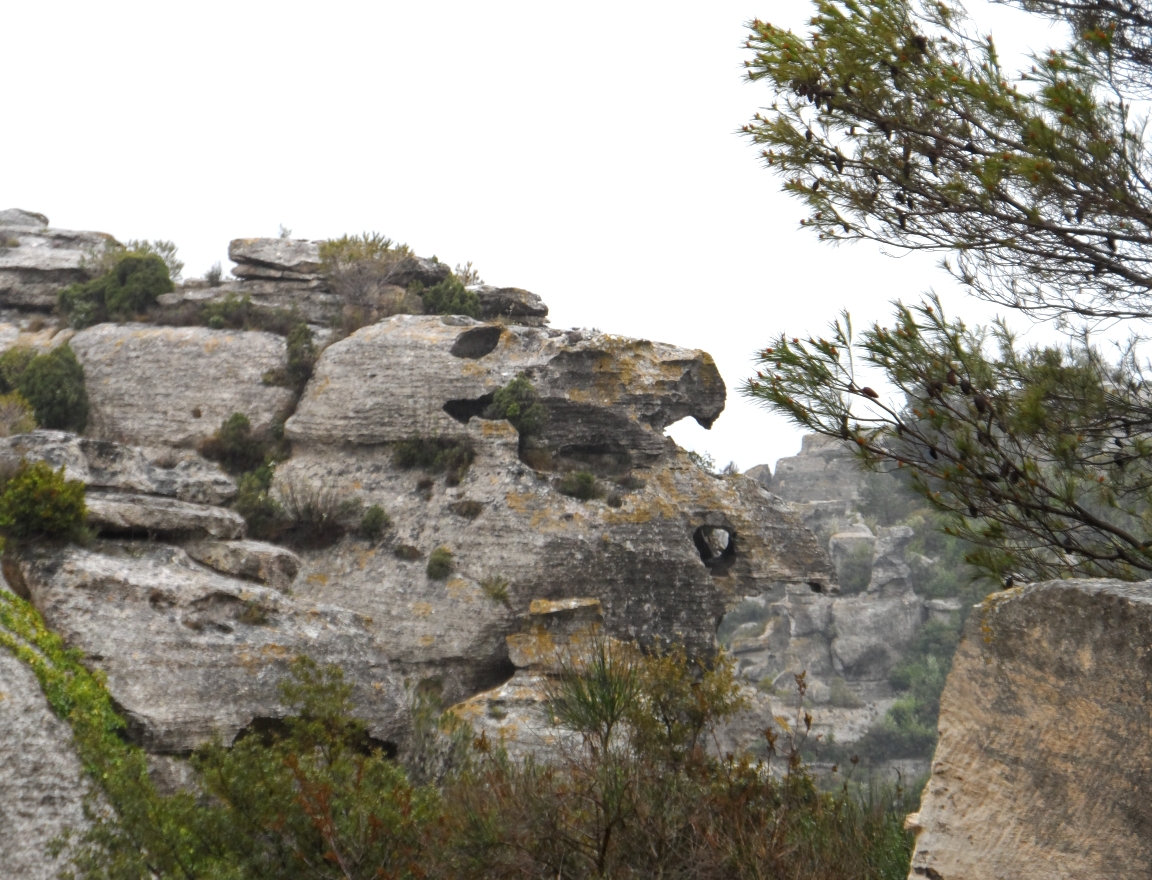 Boulbon castle
I think the first time I went to Boulbon was about 2012. It was at the top of the list. I have been there three times since I was often in the area.
Yet I thought the castle looked much smaller than in the series. That was also due to the camera tricks. But it remains a beautiful castle with a beautiful area around it!
The trees and the castle are hardened by the mistral wind. The pine trees formed by the mistral wind are very characteristic and make it absolutely beautiful!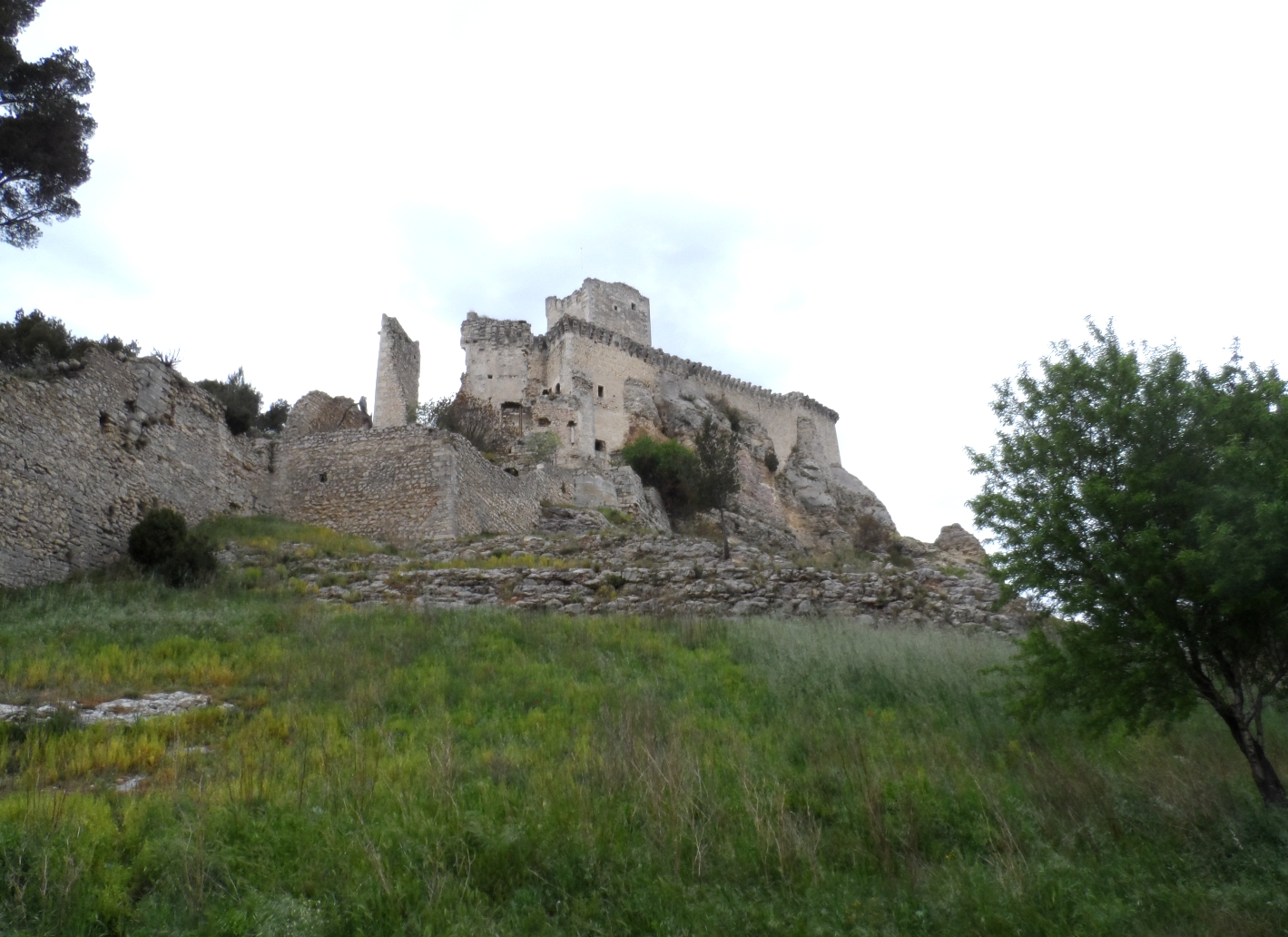 The Puys
The location became a World Heritage site in 2018.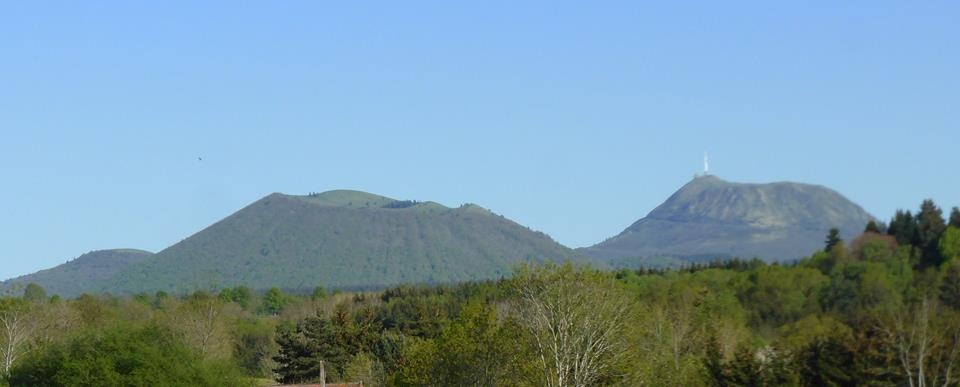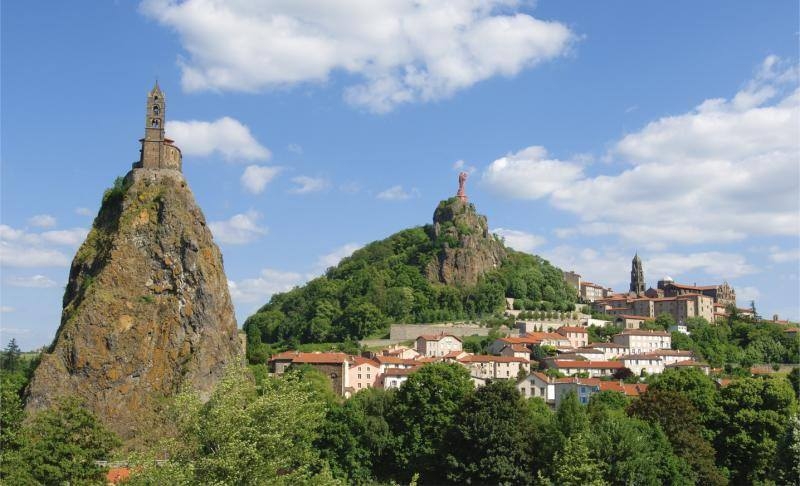 The Chaîne des Puys
A north-south oriented chain of cinder cones, lava domes, and maars in the Massif Central of France. The chain is about 40 km (25 mile) long.
and the identified volcanic features include 48 cinder cones, eight lava domes, and 15 maars and explosion craters.
Its highest point is the lava dome of Puy de Dôme, located near the middle of the chain, which is 1,465 m (4,806 ft) high.
The name of the range comes from a French term, 'puy,' that refers to a volcanic mountain with a rounded profile.
Chaîne des Puys

Monolithic Church of Saint-Jean of Aubeterre
While traveling the Dordogne, we visit this cave/church.
The church was carved in the 7th century and in the 12th century greatly enlarged by a community of Benedictine monks.
There are also tombs in the church. It's not large but very impressive!
The Subterranean monolithic church of Saint-Jean is one of the main rock-hewn churches of France. It has two "sisters" in the region:
the Monolithic church of Saint-Émilion and the Chapel of the Hermitage of Saint-Martial at Mortagne-sur-Gironde.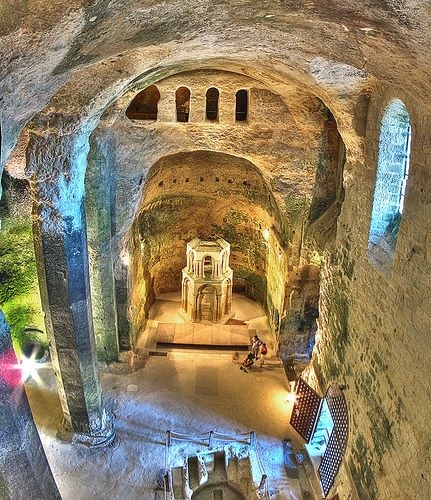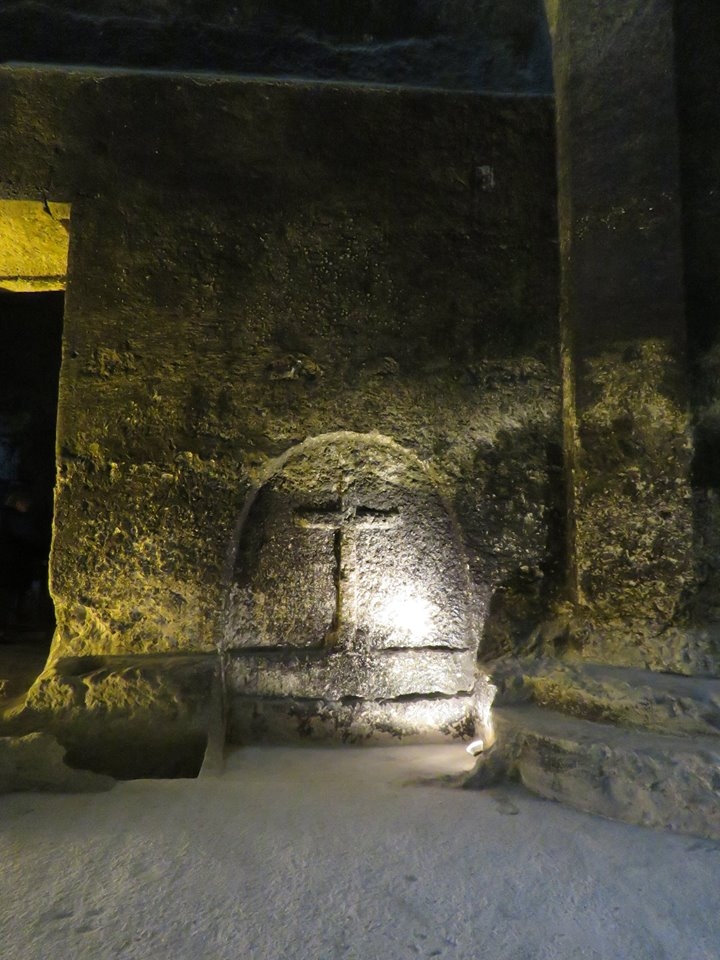 From the nave to the centre of the vault with its semi-circular arches is nearly 20 metres. At about 15 metres high it is bordered on
three sides by a gallery, a kind of triforium, which is accessed by a staircase carved into the rock. This cave church has unique furniture comprising an imposing stone reliquary (6 metres high)
a masterpiece of Romanesque art, a cave of relics, an early Christian baptismal font decorated with a Greek cross, and a crypt. It contains nearly 80 medieval sarcophagi.
These tombs were discovered between 1958 and 1961. Burials were performed in the nave until 1865 when the practice was prohibited for reasons of public health.
The Church of Saint-Jean contains the tomb of François d'Esparbes de Lussan, Marshal of Aubeterre, and Hippolyte Bouchard which is registered as a historical object.
Rocamadour

a holy town and an important place for pilgrims

Amazing all of it!

Famous for its shrines and in particular for its Black Madonna, Rocamadour attracts a large number of visitors and pilgrims every year. After Mont Saint-Michel, the village of Rocamadour is the most visited site in France. After taking the 216 steps of the Great Staircase leading to the church square, the pilgrims and walkers discover the seven shrines of Rocamadour, including the Notre-Dame Chapel, the Saint-Sauveur Basilica and the Saint-Michel Chapel. Unmissable is the Notre-Dame chapel or the miracle chapel that contains a statue of the Black Madonna from the 12th century. Near this chapel is the burial monument of Saint-amadour. The former Episcopal Palace, the entrance of which is located on the church square, houses the Museum of Sacred Art that houses a collection of religious works of the city. From the top of the medieval village, or rather the ramparts of the former fortress, the view over the entire site, just like that over the Alzou gorge and the surrounding, preserved landscapes of the Causses du Quercy Regional Nature Park, really beautiful. Don't forget to look up in the sky, you can see many vultures.

In Rocamadour, hikers can also admire the beautiful mineral drip stones as well as the 20,000-year-old rock drawings during a visit to the cave.
The cave houses
When we drive through the area to visit some beautiful places (Luberon) it often happens that we happen to drive
past these beautiful rock houses. Here you can make a 15 km trail. These natural cavities, probably used as shelters or dwellings
since the Neolithic, have been transformed into cave houses still inhabited today ...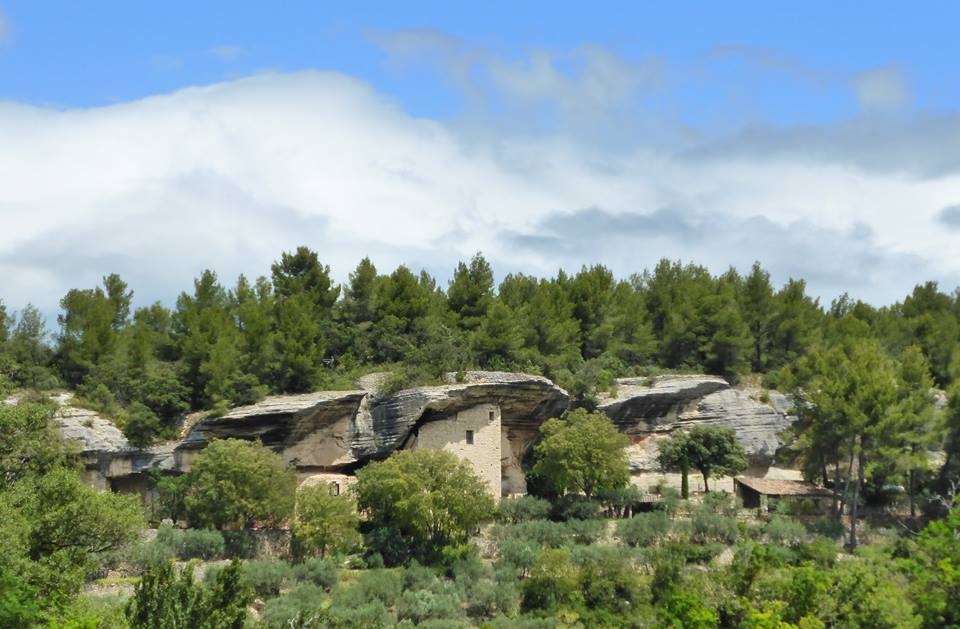 Nice stones. There is a path you can walk around them. We've been there around 2017.
Unfortunately last year (dec 2019) huge fragments of the famous rocks were demolished by the heavy storms
and thundered into the village. Two were injured.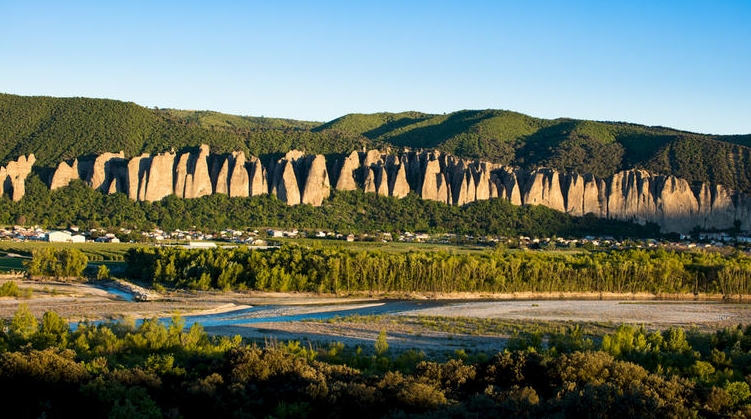 Ardeche
Here I always think back to the mountain goats. During stormy weather we drove down the abyss where below the river flowed,
suddenly a family of mountain goats came out of the bushes and so walked the road. Fortunately I was able to stop on time. Beautiful place to swim and to go by kayak.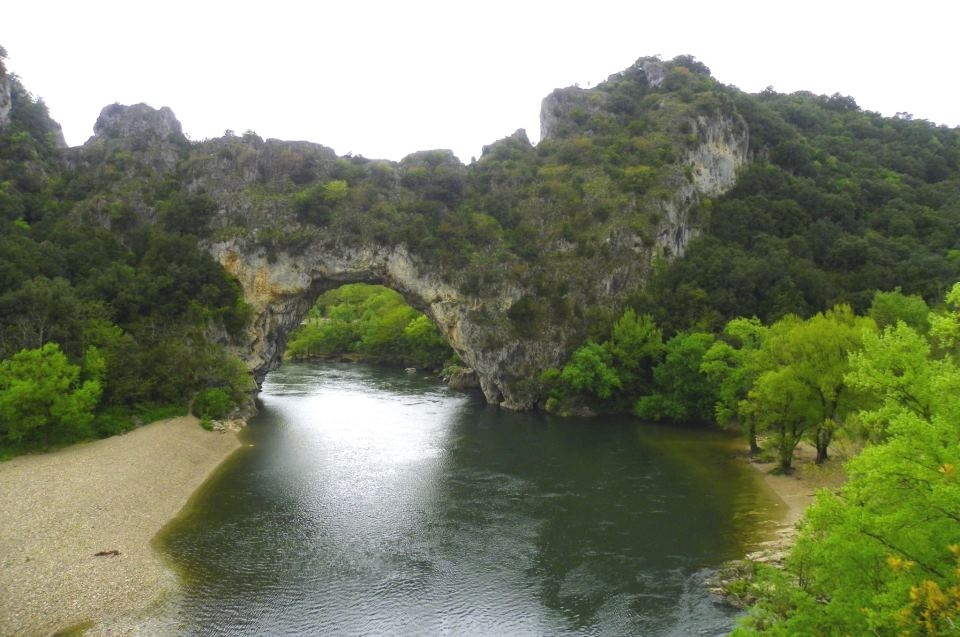 I couldn't believe my eyes, when I saw this. A wonderful hike along the see.
The rocks are characteristic of this area in Brittany and are very beautiful. Also the lighthouses. One is standing
on a rock in the sea and in a storm it almost disappears between the waves.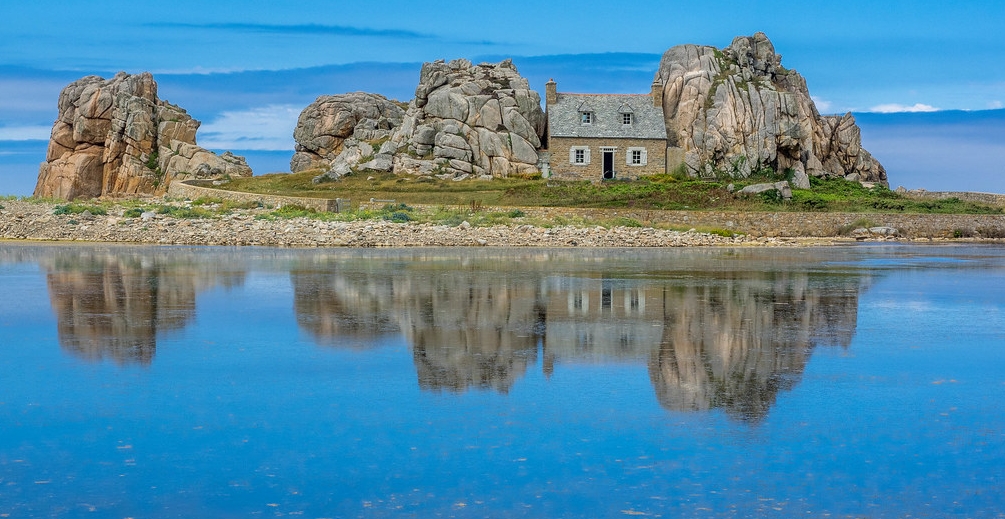 Menhirs at Mont Lozere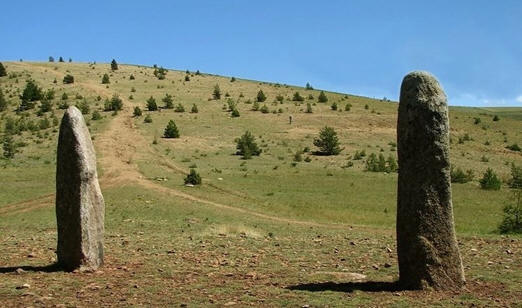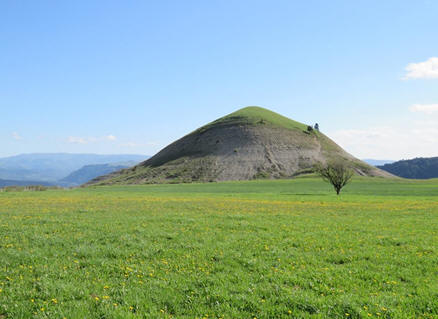 Lanuejols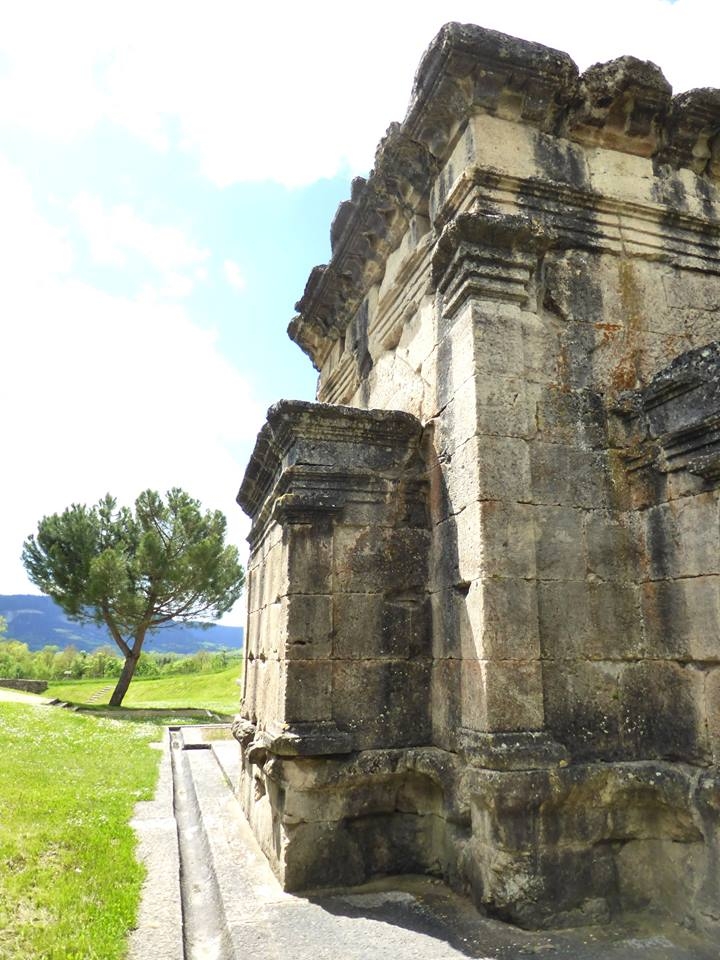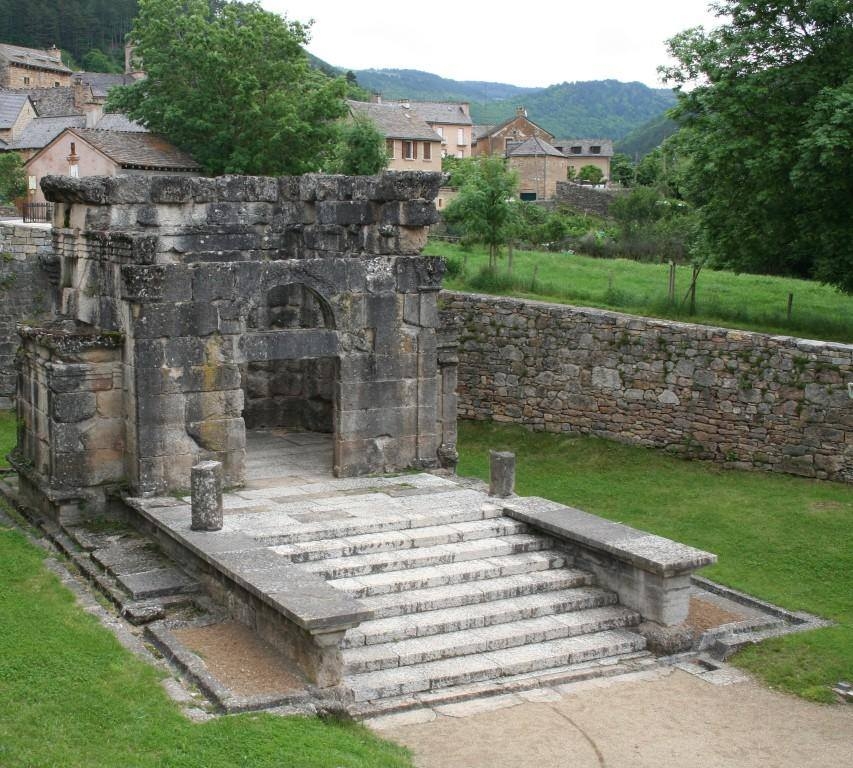 Me in the Provence
In the Alps, I believe near Cirque, Sixt Fer à Cheval
This waterfal passes me and runs below a road, then it falls another about 40 meters down
into the valley. I sit quite in top of it. Can sit here for long.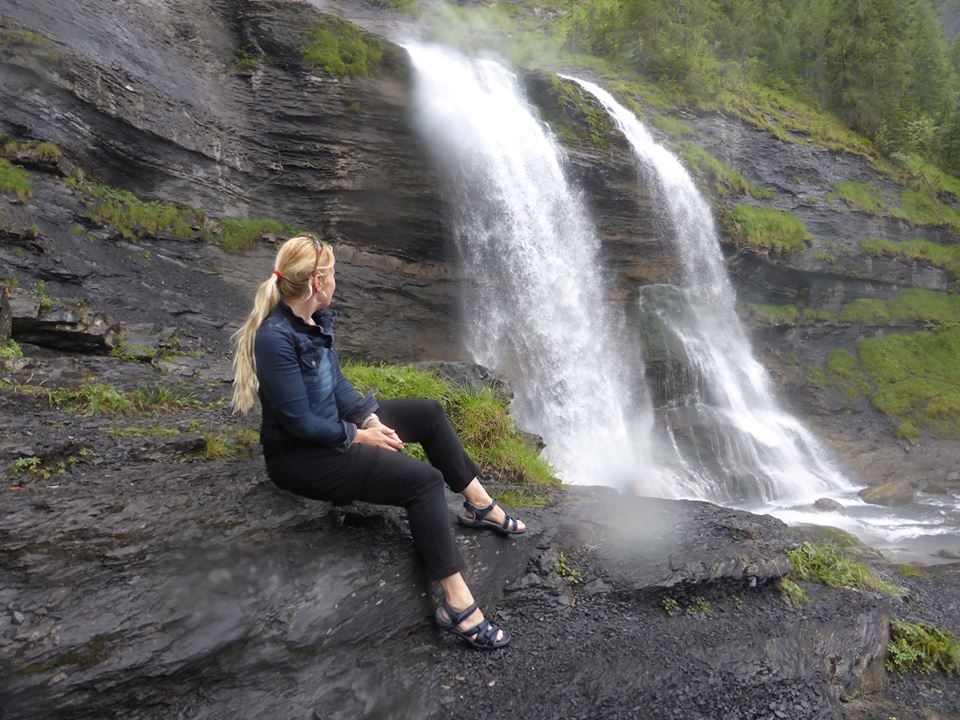 The Desert of Entremont
The photo is taken around July. full of flowers. So beautiful!! I think I needed a mountainbike or a horse...
You can decide to hike but it is so extensive that you can only cover a small part or staying a week or longer.
We found very rare plants and flowers. It's during summer a real joy. the spring could be very cold up here. We came back in May and there was still snow in the shadows. It's a ski area as well.
Desert of Entremont where the landscape is constantly changed by the clouds, which sometimes move into the hills and forests like fog gusts. Where you occasionally hear the cows calling and their bells ringing, which are all different.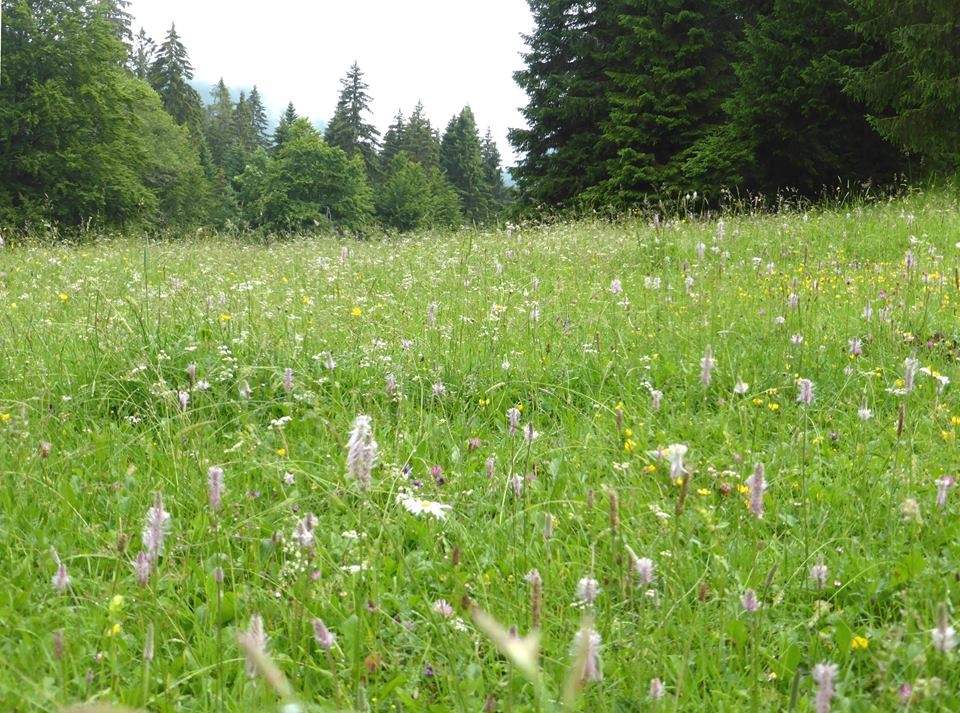 Guier's Mort rocks, Chartreuse
Pre Alps, 'Guier's Mort.' A pretty rough piece of nature. During out trail the river was very wild.
This river is populair by cavers and stunt cayaking.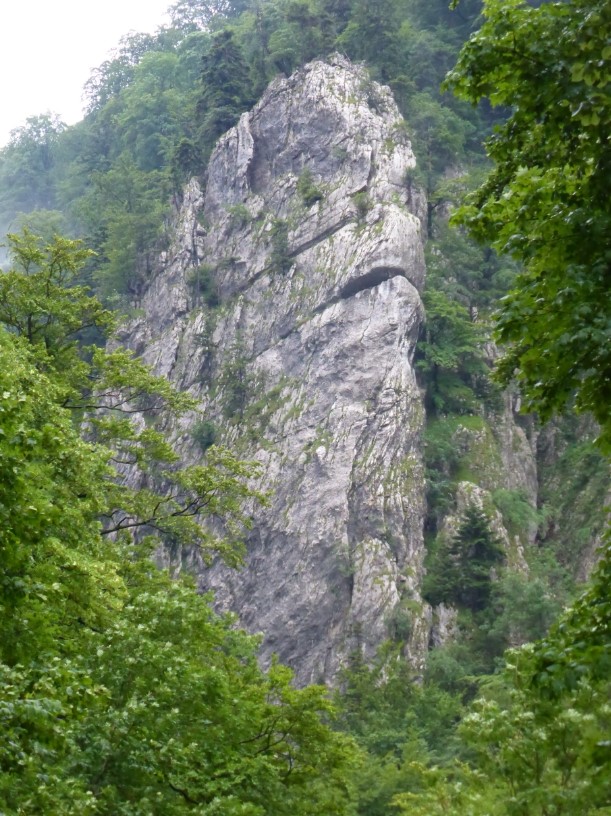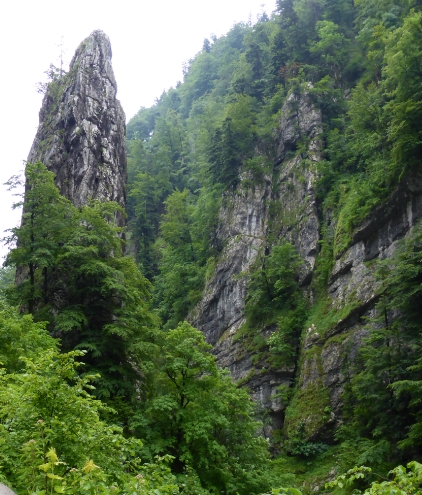 Grande Chartreuse monastere
A hike through the misty mountains the huge monastery 'Grande Chartreuse.' Forbidden to enter, but on appropriate distance visible, such a great experience.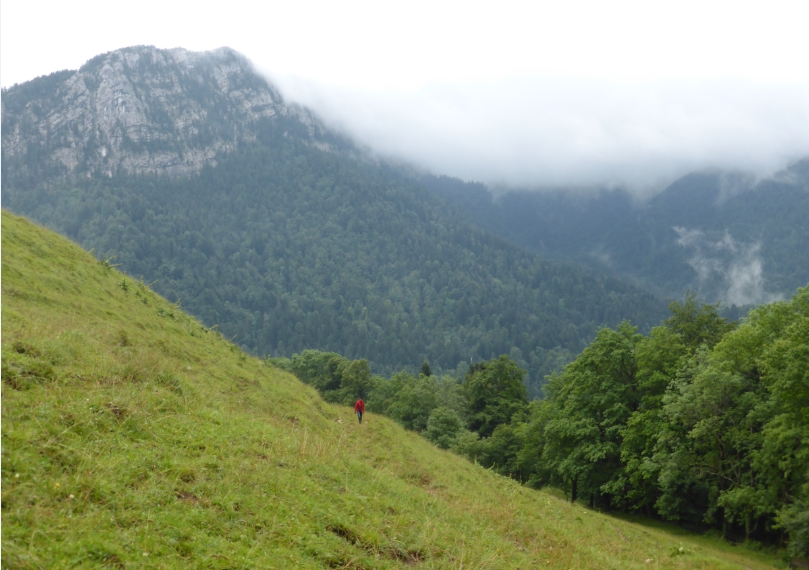 'The embraced ivy.'
Never saw such a thick one, only at Epierre and here (at the France North west coast). Is this one almost a 100 years old like the ones in Epierre castle?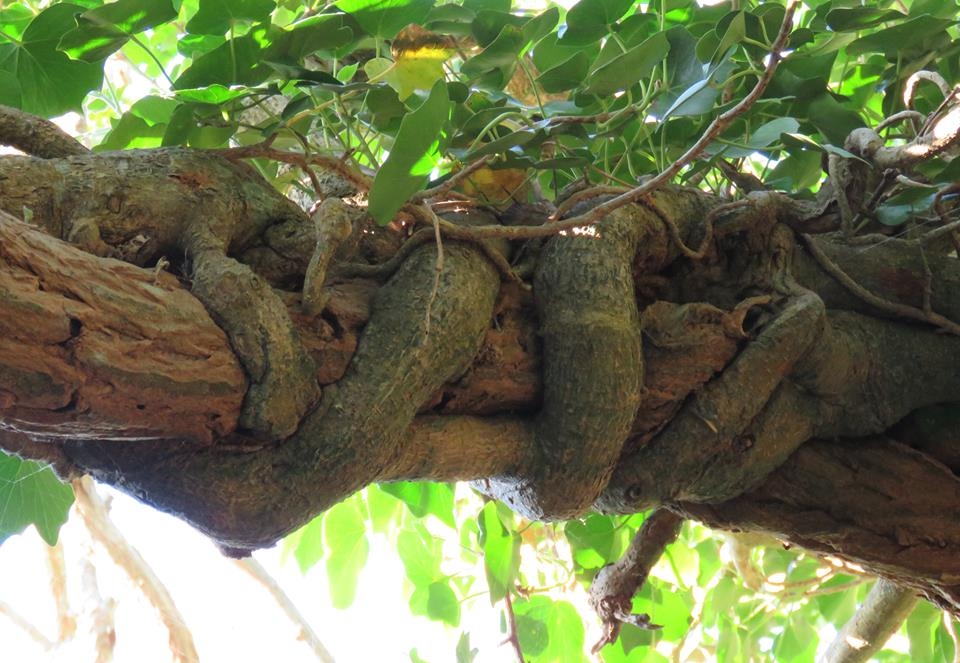 A hidden overgrown chapel in the forest around chateau Bruzac, Dordogne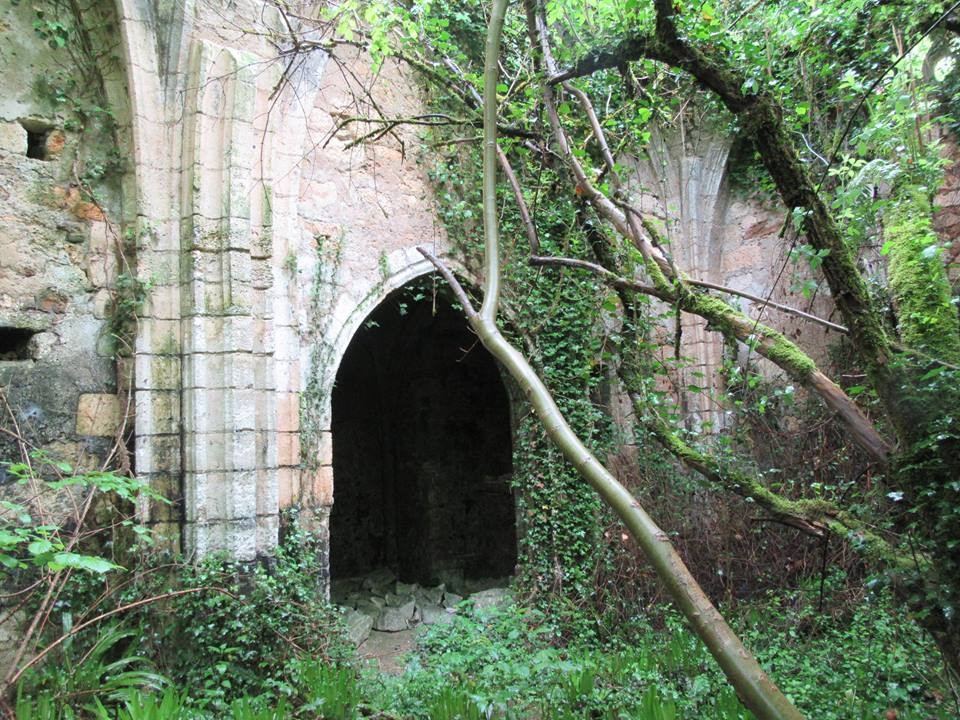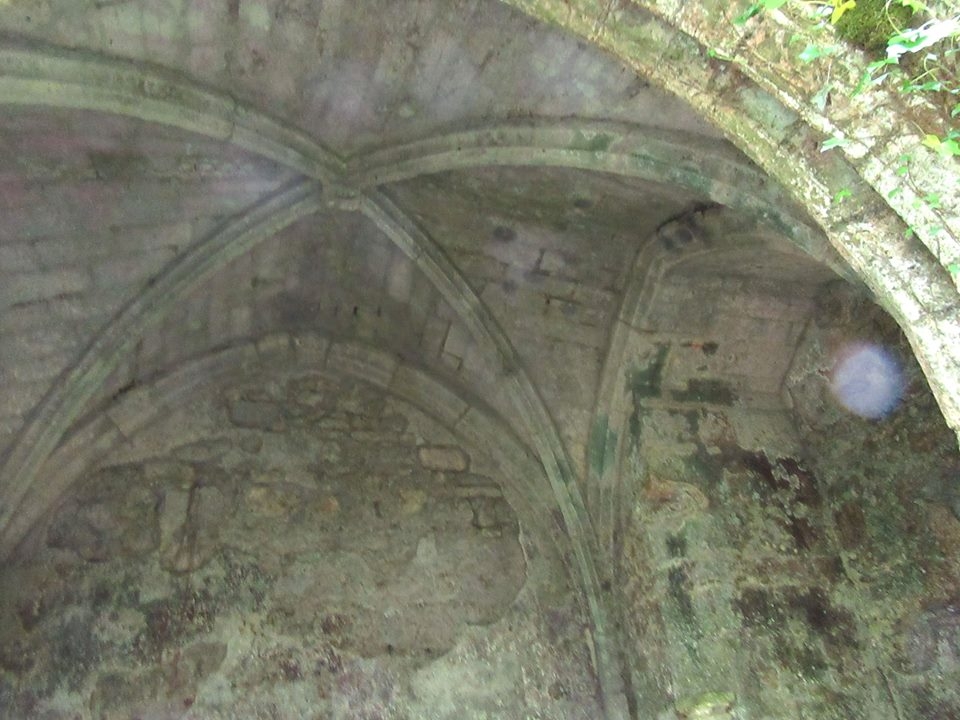 Boissets

Cirque de Navacelles
The Cirque de Navacelles is a large cauldron that lies at the southern edge of the Massif Central in the south of France, near the towns
of Saint-Maurice-Navacelles and Blandas, between the departments of Hérault and Gard in the Occitanie region.
The valley was formed about 3 million years ago by glacial erosion. The Vis river then cut through the base of the valley, creating a horseshoe lake.
The lake dried up and left behind clay and peat.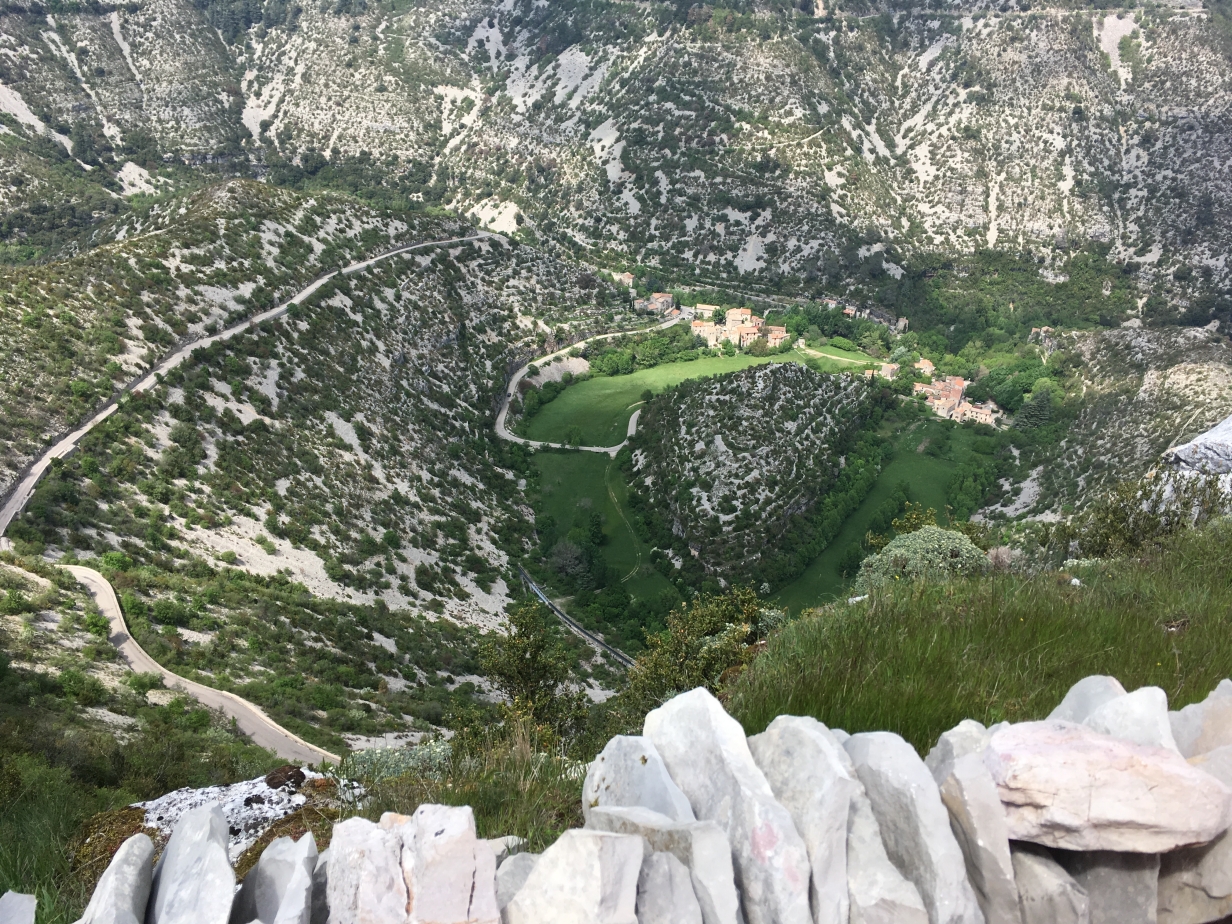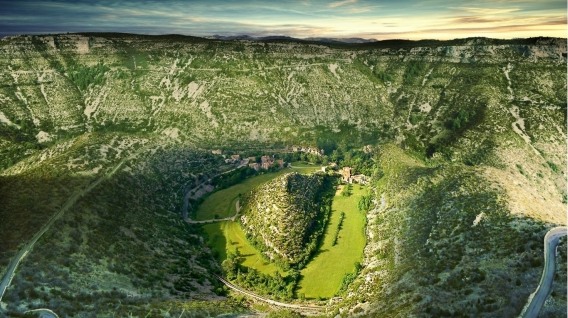 Accessibility
The cirque is very isolated; there are only a few small villages in the area. The nearest place is Millau.
The roads in the area itself are poorly maintained and wide enough for only one vehicle. A dangerous but spectacular road to the bottom of the valley is an
important attraction. It is indeed quite difficult. you have to see from a distance if nobody comes from far away, otherwise you can go back downhill on
a very narrow mountain road without railing. With a bit of luck you notice that at the start of the road but we have also seen people drive a long way back.
Legend
There is also a myth attached to the cirque. The crater is said to have been created by a hoof print of the horse of Gargantua during his world trip, father of Pantagruel.
There are two giants here, father and son, and their traces / myths can be found throughout France.
These figures were created in the 16th century by the French humanist François Rabelais, who by chance or not, taught medicine in nearby Montpellier.
The cascade de la Vis
On the road to Navacelles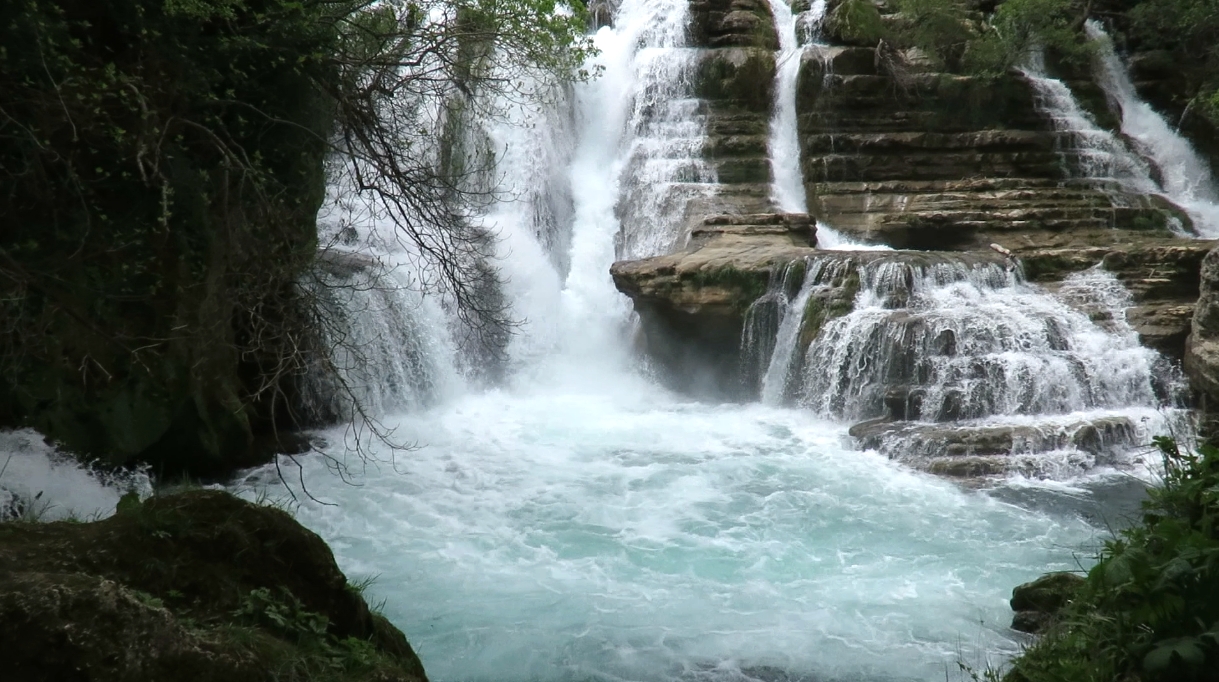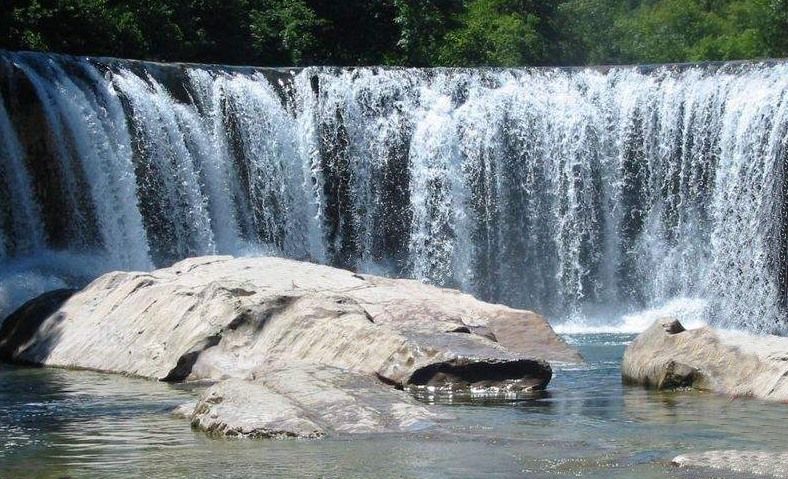 The Mont Aiguille, 2087 m, also called "Mont Inaccessible"
I will not soon forget this rock. We climbed above the tree line without materials or poles, which was tough because it is very steep, we even came in snow.
The way back was extreme, although it was of course easier due to gravity, we ran the mountain at full speed for 45 minutes without being able to stop... so steep.
Our knees just bent the other way the previous day so heavy. We just couldn't make it to the vertical edge of the rock, it would be very dangerous without a helmet at such a large rock edge.
The mountain is a kind of magical at the foot you quickly lose your sense of direction because it has so much relief, gorges and forest.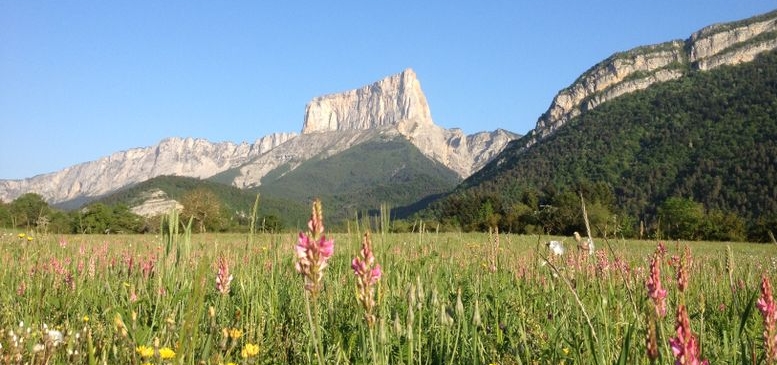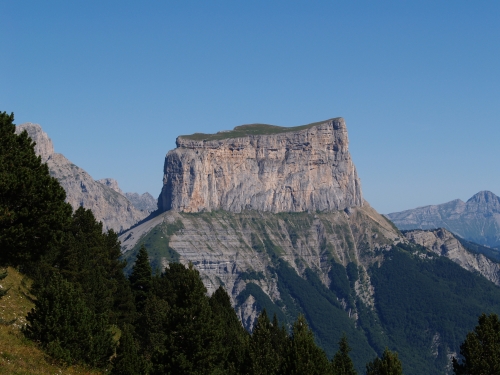 Is a striking and well-known mountain in the Vercors, a mountain range on the border of the French departments of Isère, Drôme and Hautes-Alpes.
The Mont Aiguille is a witness hill that was once part of the Hauts Plateaux du Vercors. The mountain and surroundings have been included since 1985 in the Réserve Naturel des Hauts Plateaux,
which is part of the much larger Vercors Regional Nature Park. Charles VIII, king of France from 1483 to 1498, grew up in this region and was fascinated by the "Mont Inaccessible"
as it was then called. He ordered the conquest of the mountain in 1492 to Captain Antoine de Ville, lord of Dompjulien, artillery officer and engineer.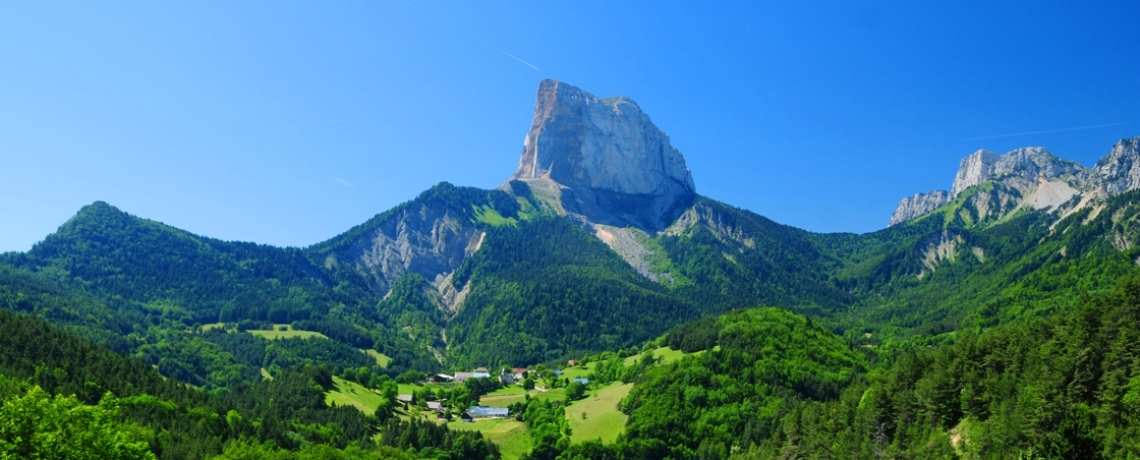 On 26 June 1492 he started the climb, together with a colorful company: servants, friends, porters, stonemasons, carpenters, ladder makers,
and especially heaps of material: ladders, gangways, ropes, chains, camping equipment, enough for a camp of more than a week.
A report of the expedition is drawn up, and the many visitors (including Rabelais) report the trip and the finds at the summit never before entered.
Because this is the first documented ascent of a mountain, undertaken with the sole purpose of reaching the top, this event is considered the birth of mountaineering.
In 1992 the 500th anniversary of this event was extensively celebrated, among other things by an evocation of the first climb.
Nowadays, climbing the summit is considered PD + or AD- (light ascent) with a few passages of 4a. From the top you can enjoy a panorama of the peaks of the Devoluy in the south
over the Massif des Ecrins and the Belledonne massif to the Mont Blanc massif in the northeast.
From my own experience I recommend never starting even at the immense steep foot of the mountain. Like the Mattherhorn (Swiss Alp Italian border), does this mountain enchanted me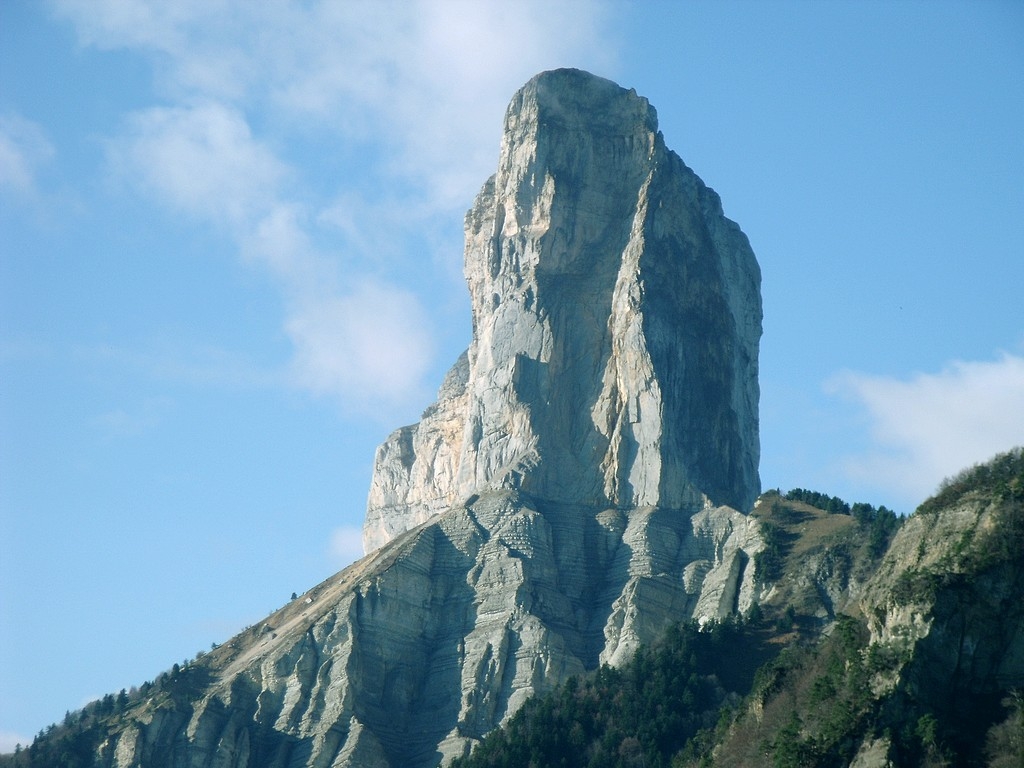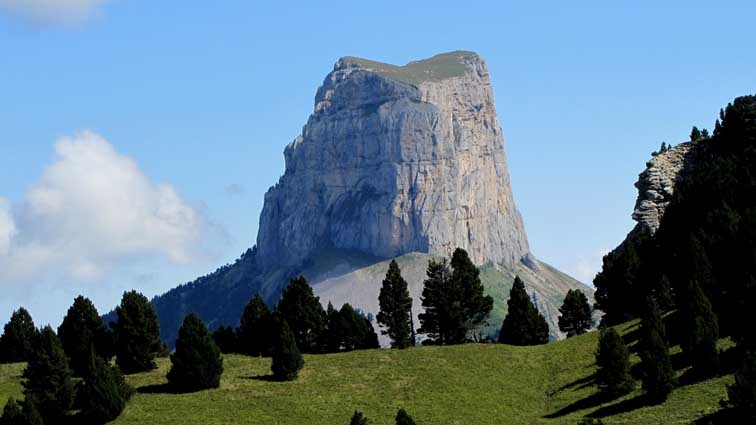 We camped nearby Avignon
After a late evening walk, we stopped at the gate of St. Andre, to see the bats. Then she liked to slip through the iron fence....
she just fitted through the massive gate of the castle and walked in. She had the time of her life at sunset she ran through the entire castle. She took this great photos.
And it took ages for her to come back. Then a young woman opened the fence, she lived there temporarily at the castle because of the artworks. I said Rose is inside and
slipped through the gate and I lost contact. Not problem, is rose a cat or a dog? ;) Nobody could ever imagine a person could pass this iron fence.
Flowers, animals, ancient picturesque buildings and lots of beauty in
Opedde le Vieux
If you open up to it and take a good look around you see natural beauty on every corner of the street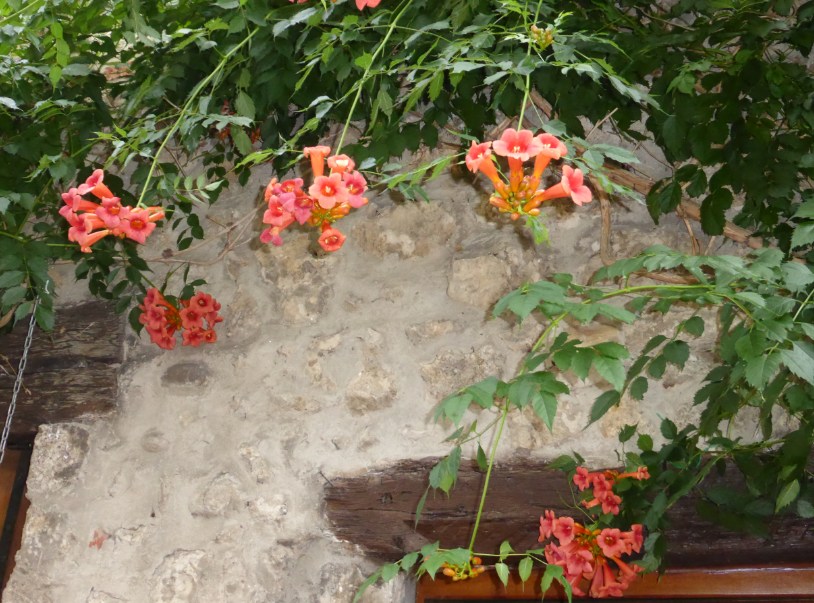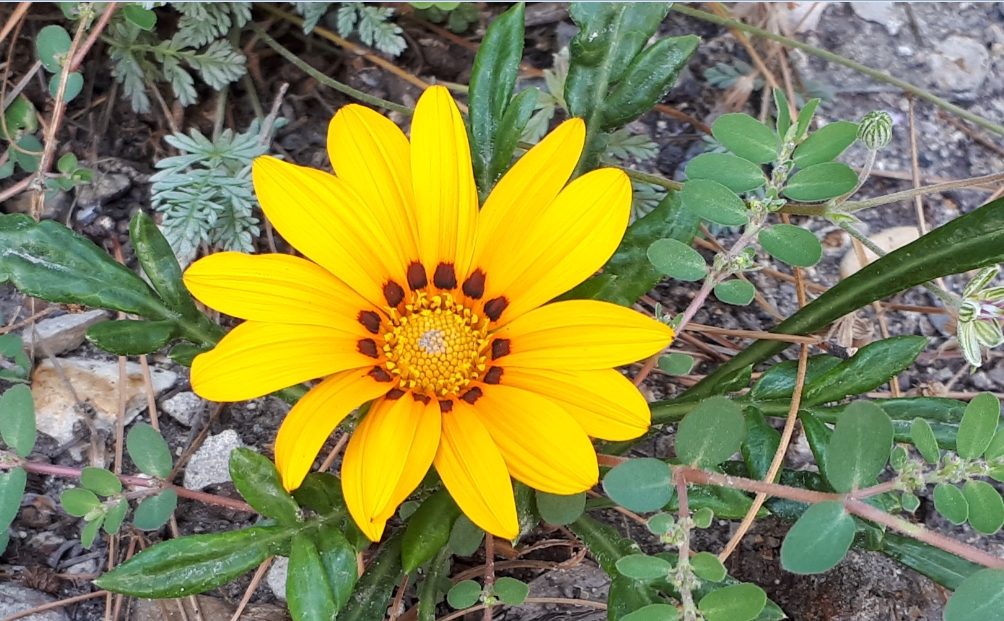 Opedde le Vieux Villeneuve les Avignon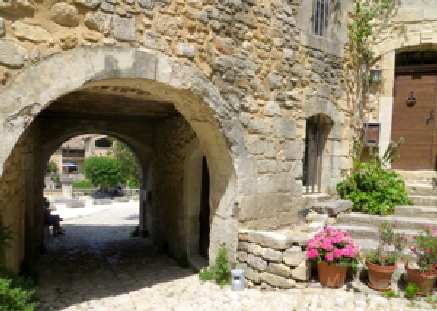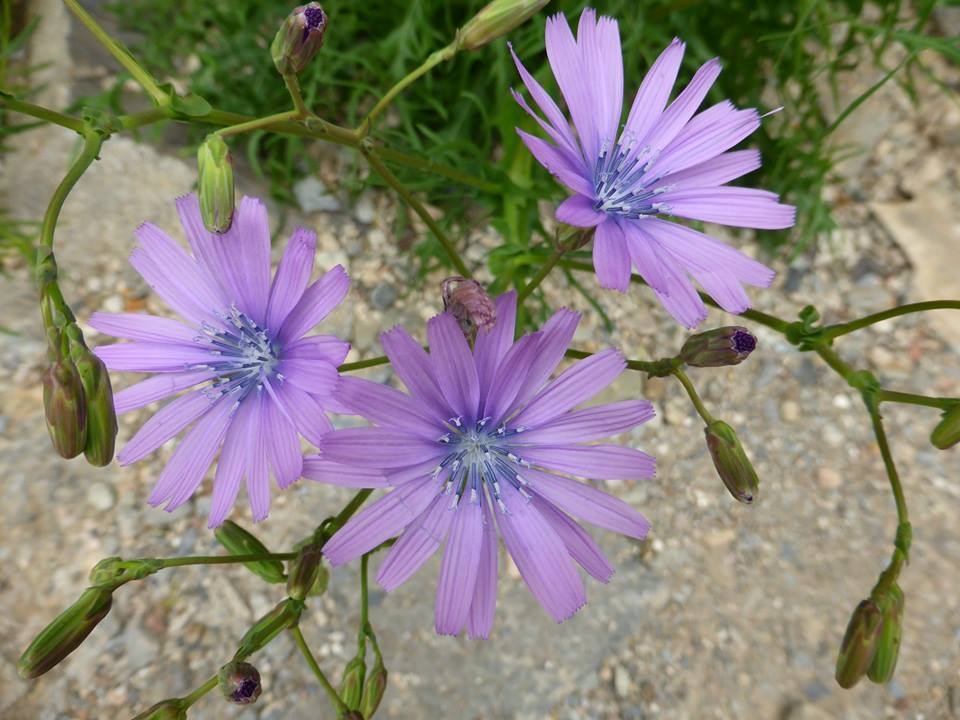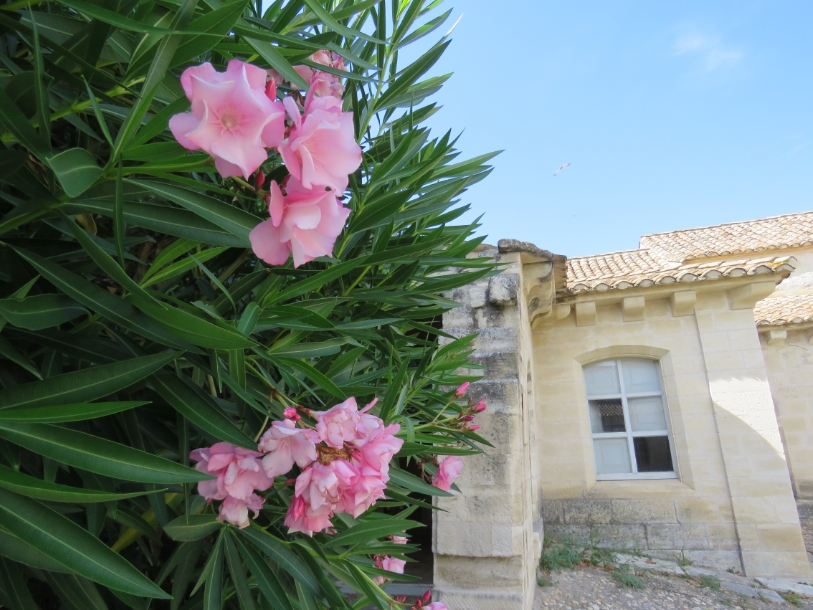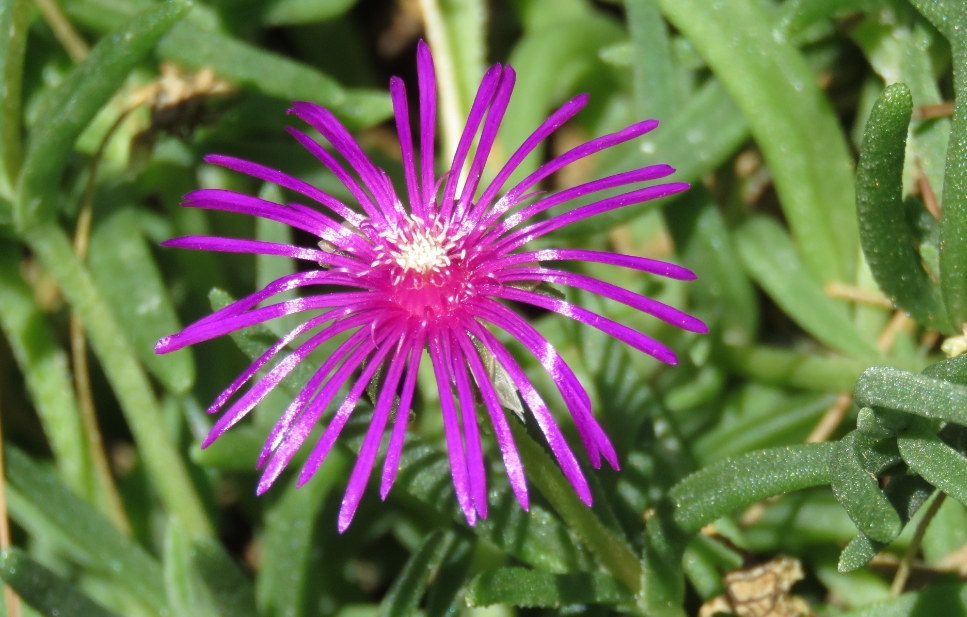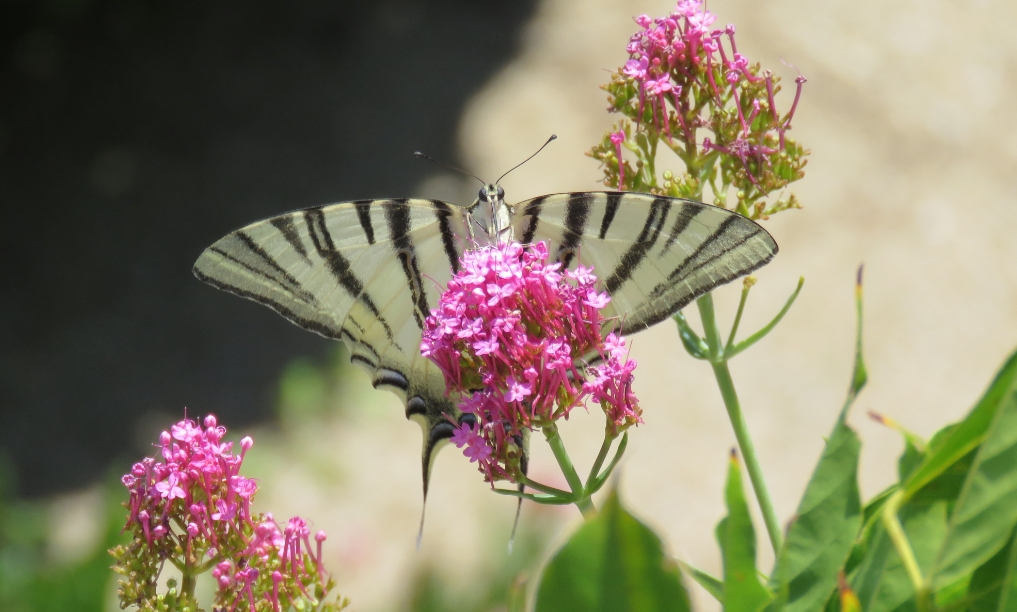 Opedde le Vieux and St. Cecile gardens.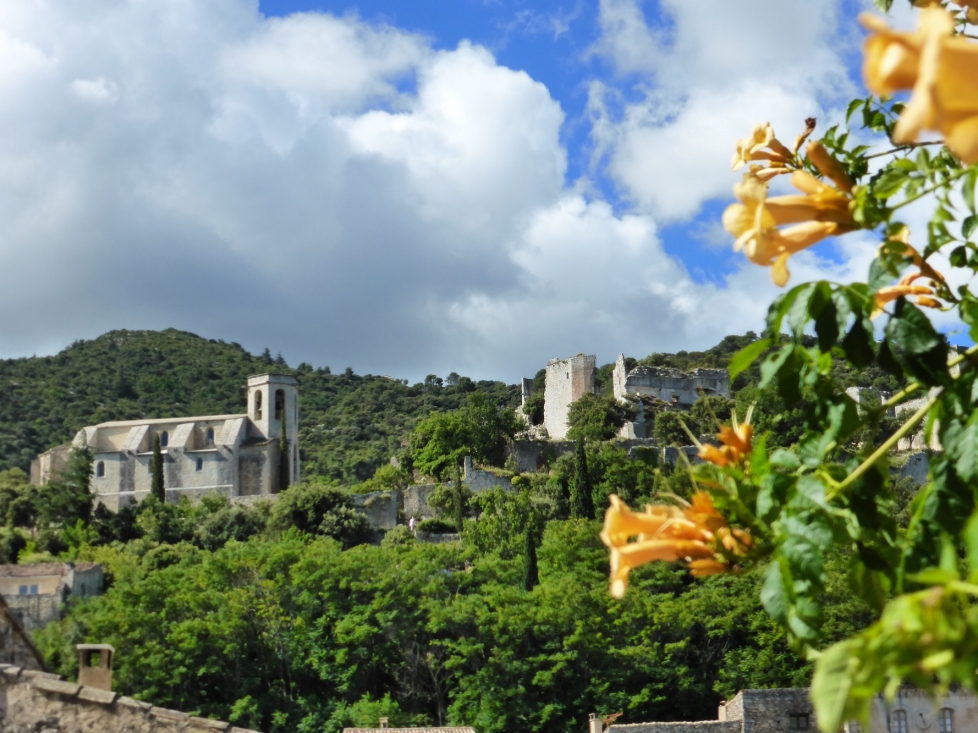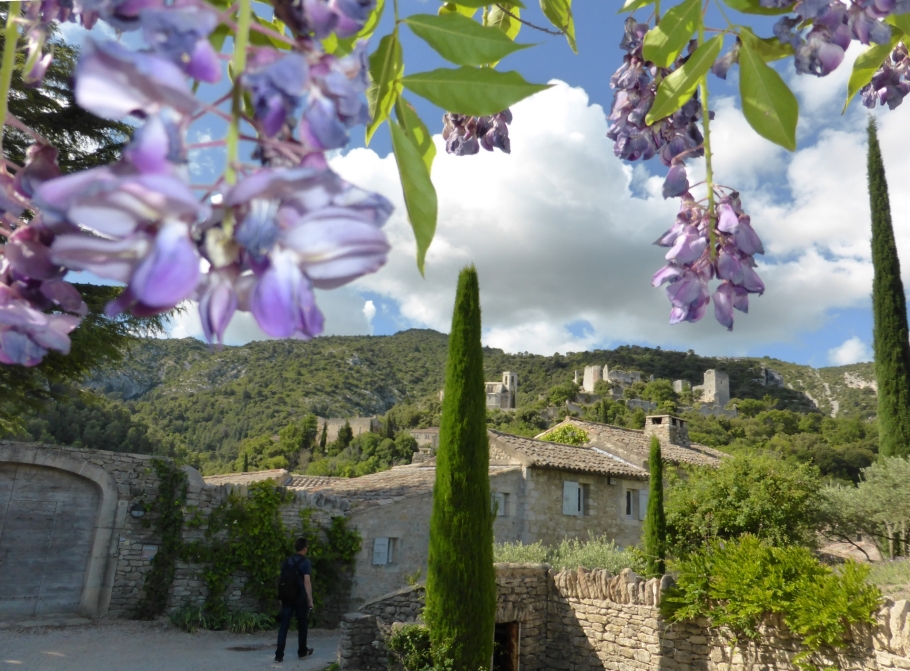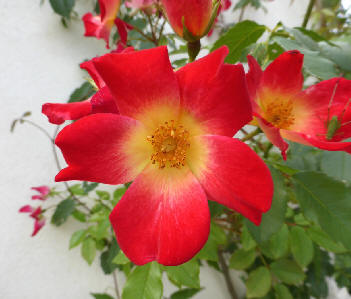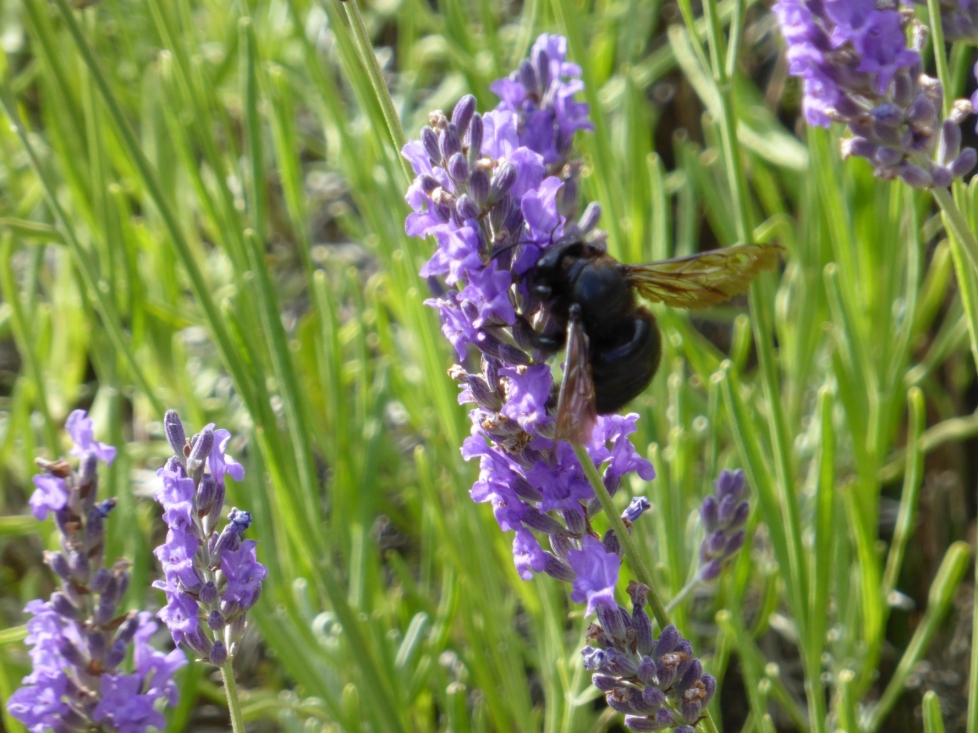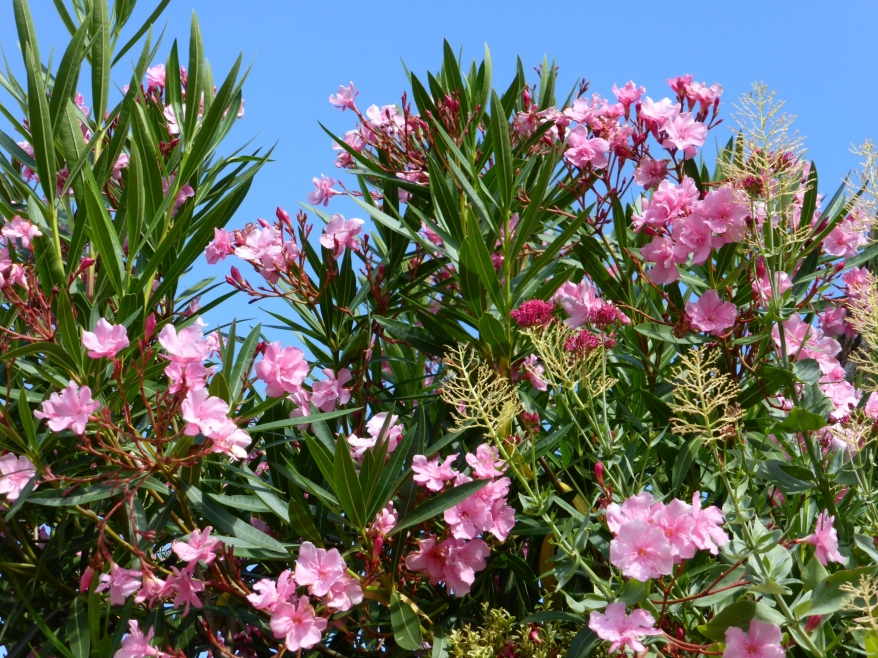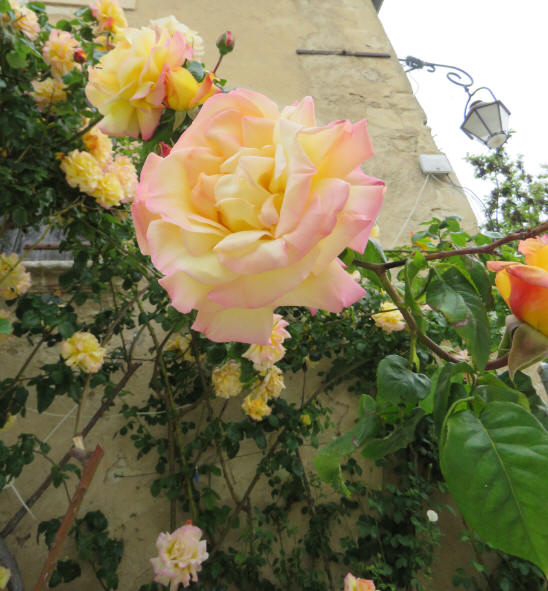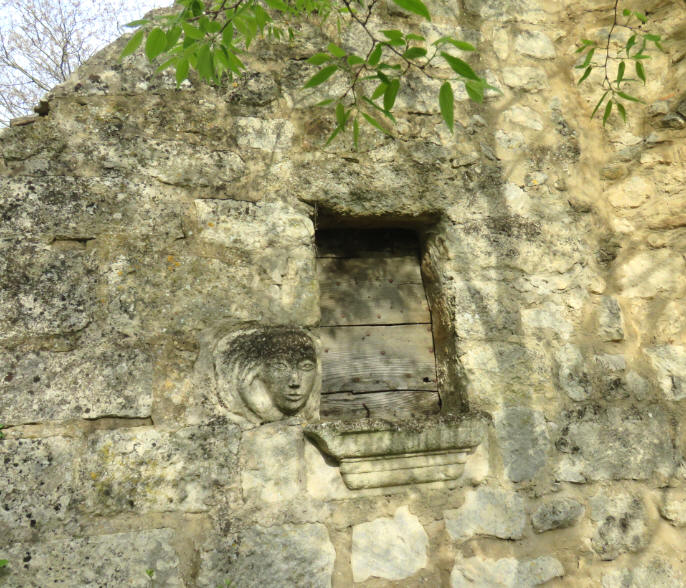 Because of my husband, we found these ones! Scorpions. and a Gecko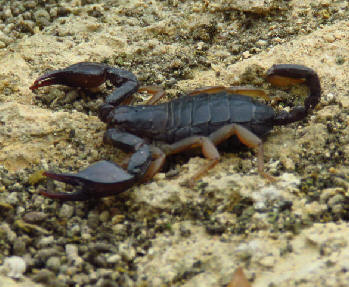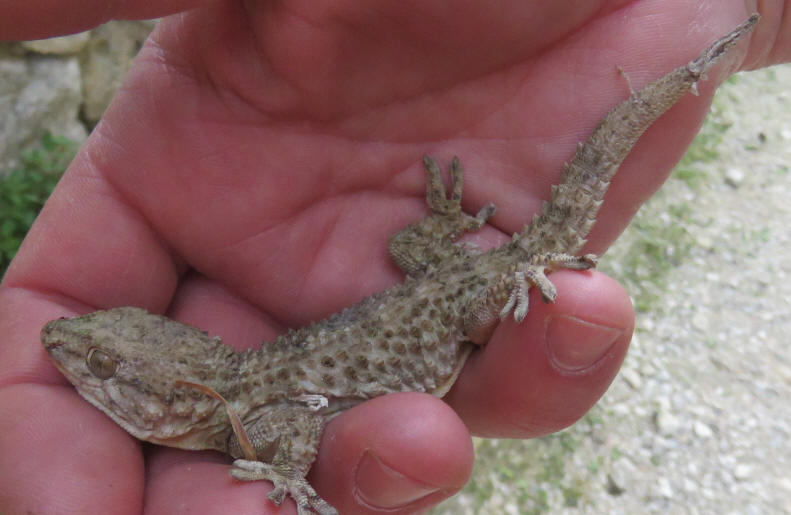 Once upon.... Oh my what town...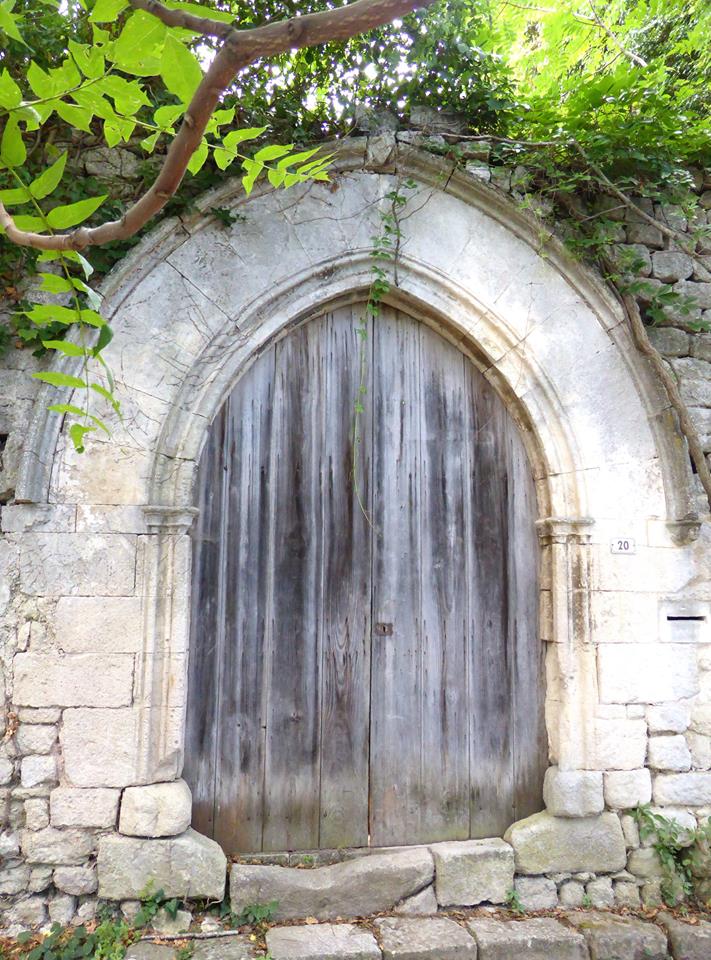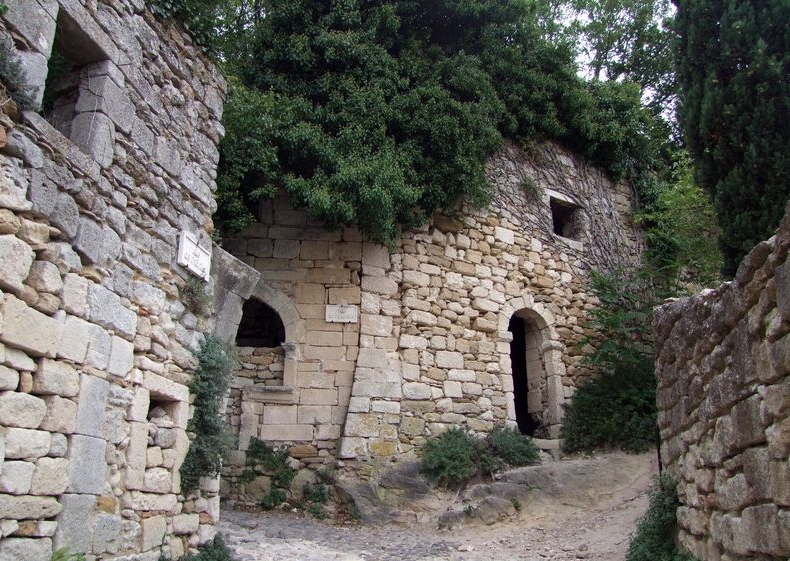 Saint Andre, Villeneuve les Avignon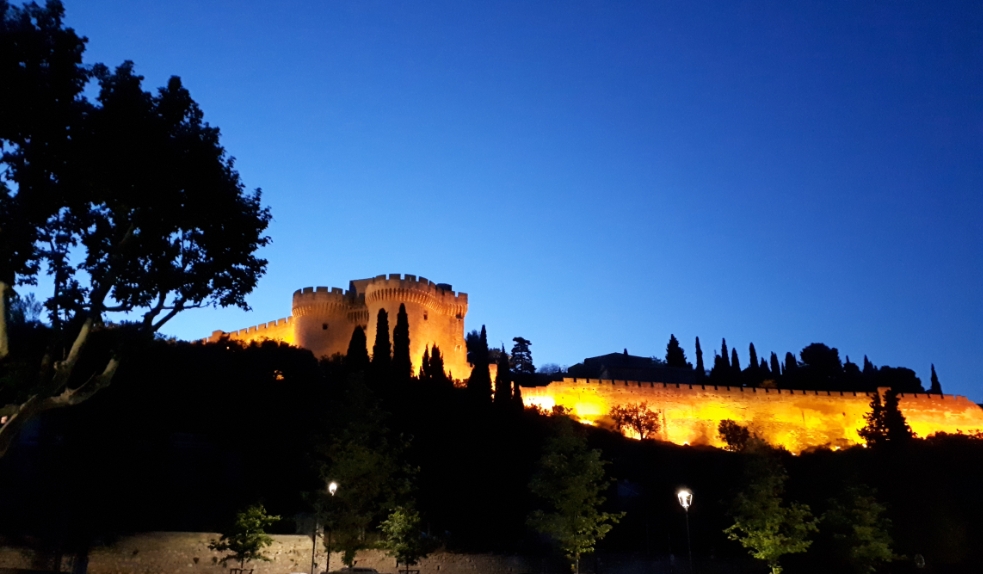 Ancient ale from and ancient town 'Perouges'
This tasted great in the most beautiful ancient town.
The real fan will recognize the tables and chairs from the 'Plague' scene ... I did not know what I saw...same furniture, same environment and the same atmosphere.
An overnight stay in this town is not really cheap but very nice.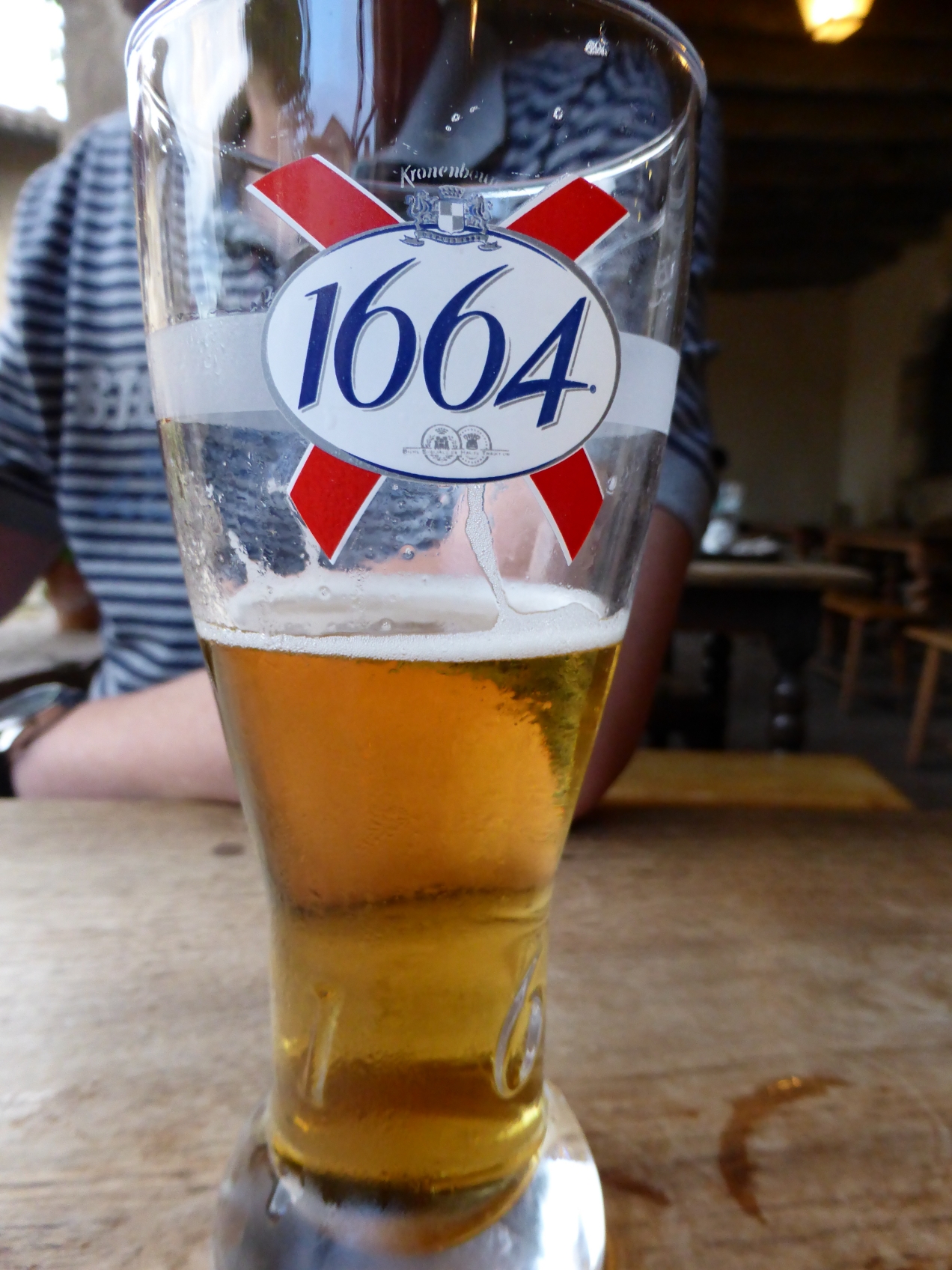 The fields of Lozere
All kind of orchids and other fragile flowers everywhere, please be careful with them.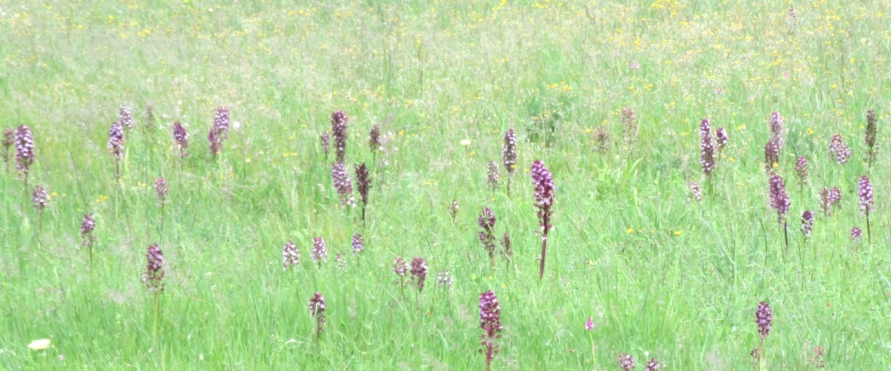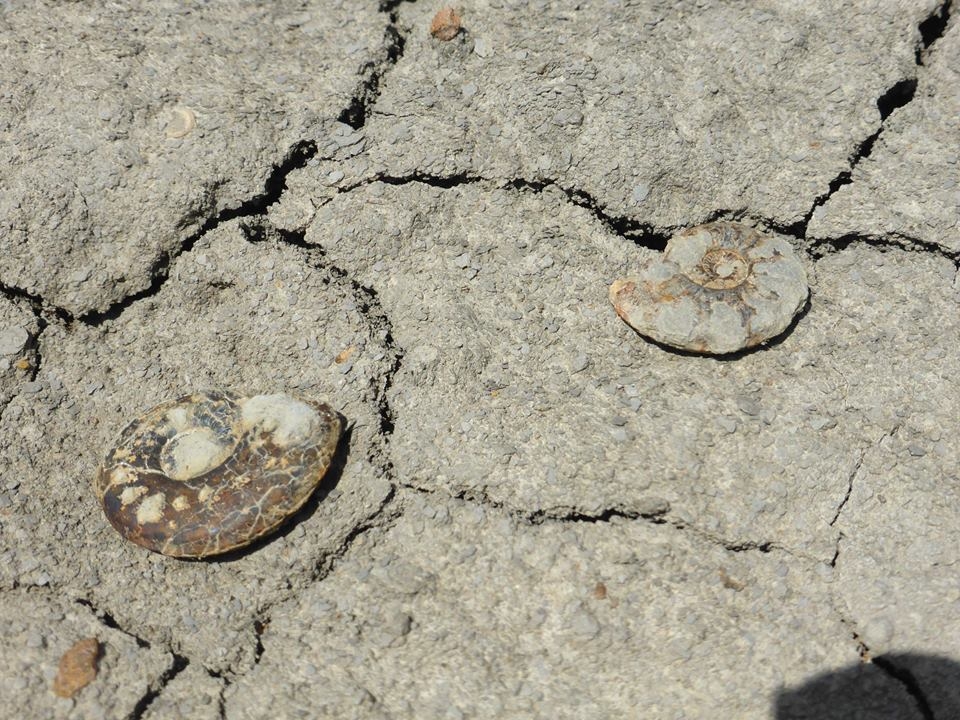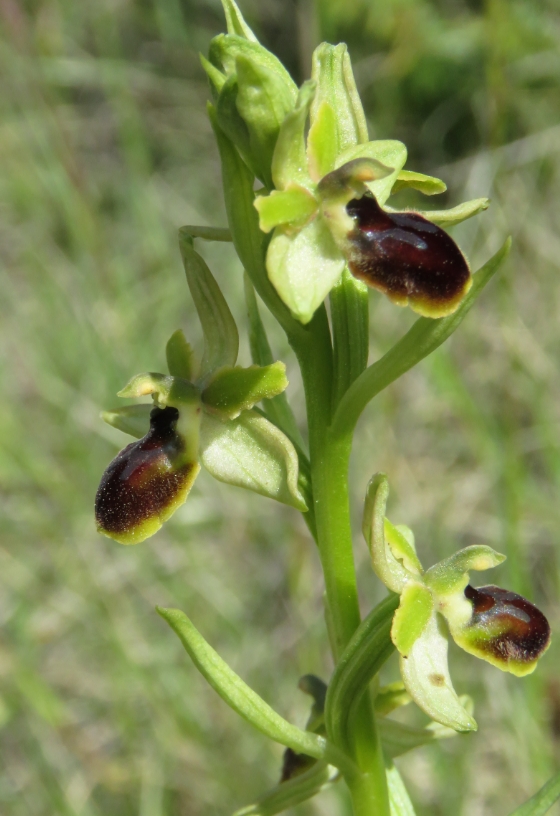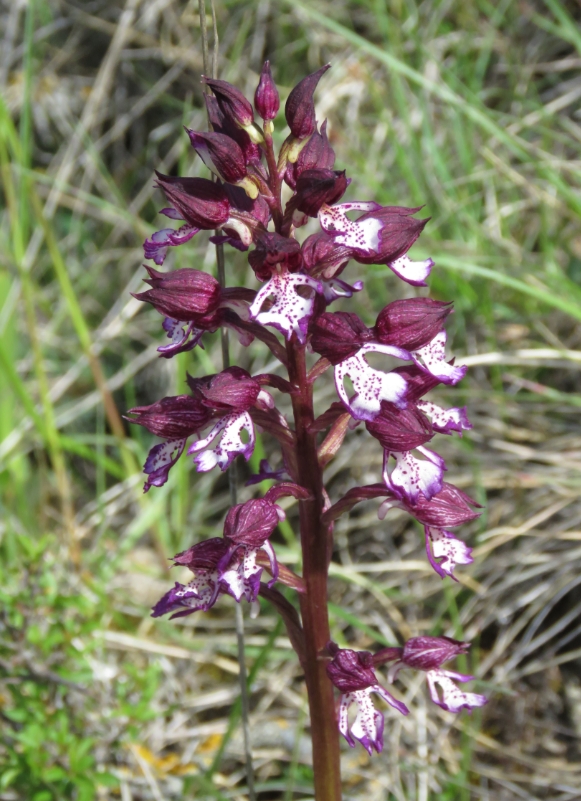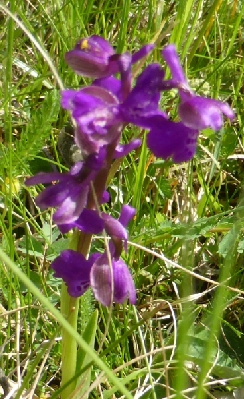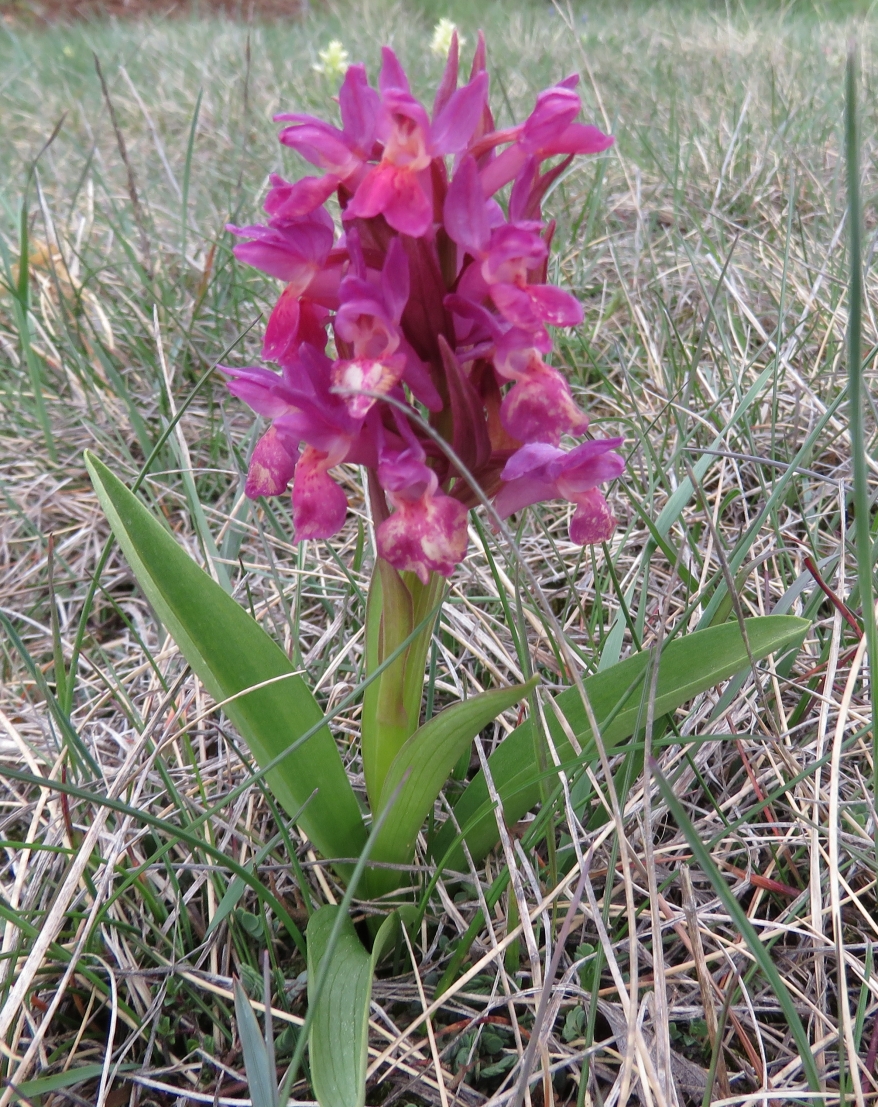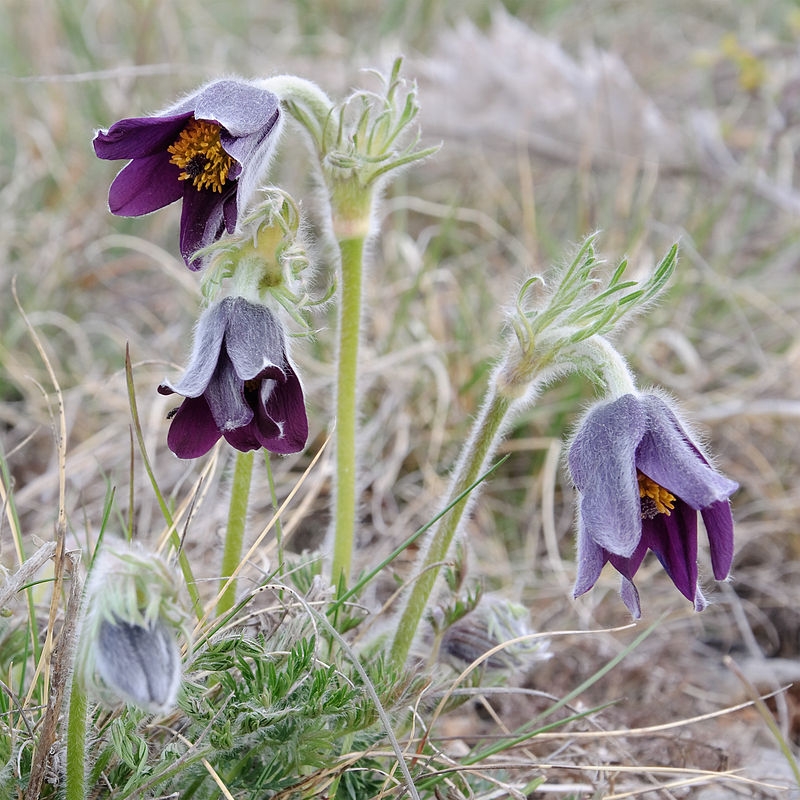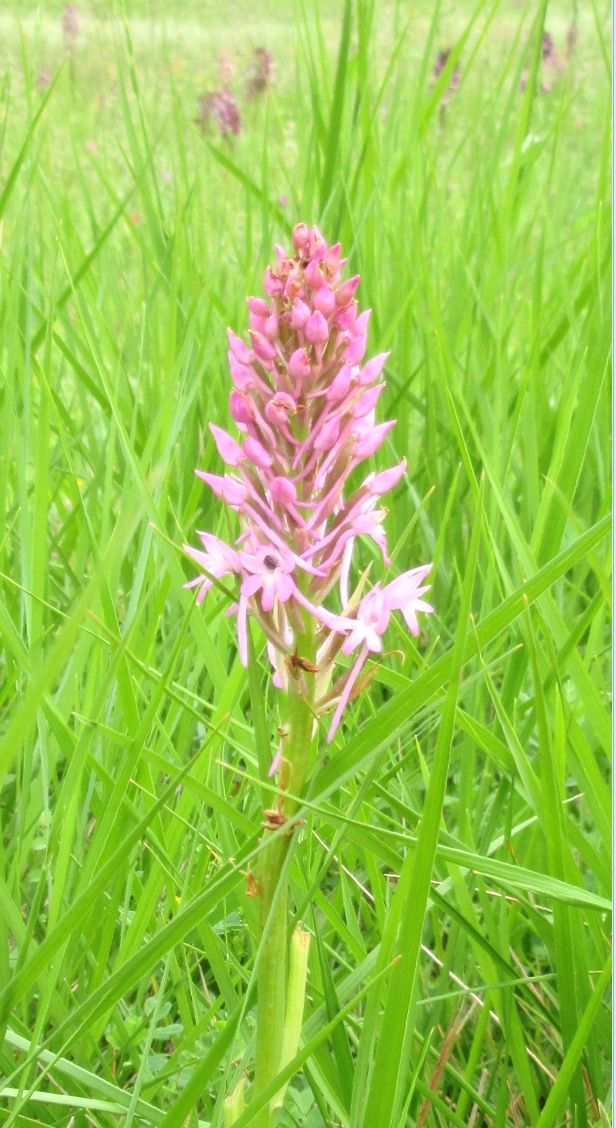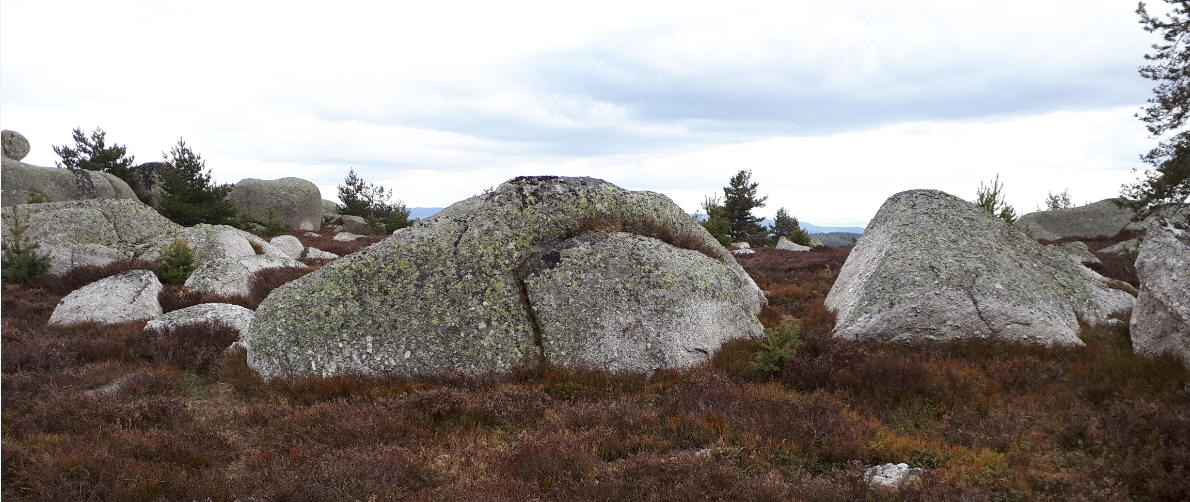 I hope never to meet this orange poison vipor so close again.
It was 1 yard from my hand, while hiking through the forest of Lozere. I didn't notice, my husband told me.
In fact we were looking in search of a prehistoric village, but we got off the track and it became too bushy.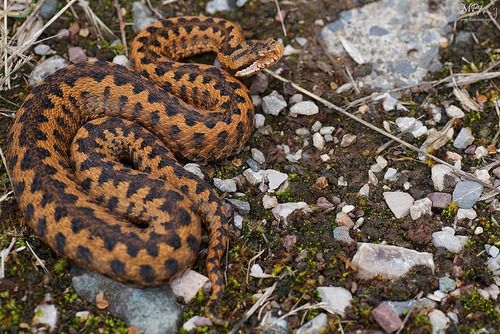 A year earlier I stood in the grasslands of Causse de Sauverterre, near Champerboux. There were some meadows enclosed by stone walls. You see many of them in this area. But this ones were so pretty, i was just about to take a picture, took one step back and got attacked by a snake on the back of my ancle. I was happy to wear ancle boots.
At Arlempdes The field in front of Lanuejols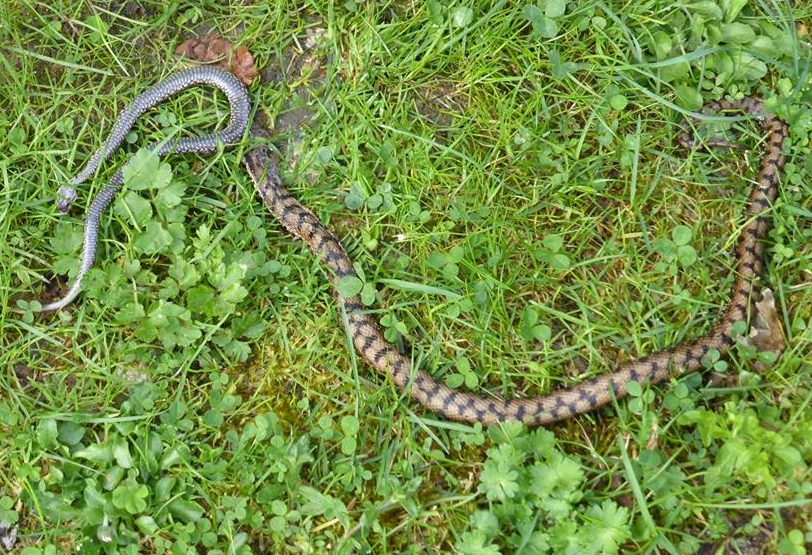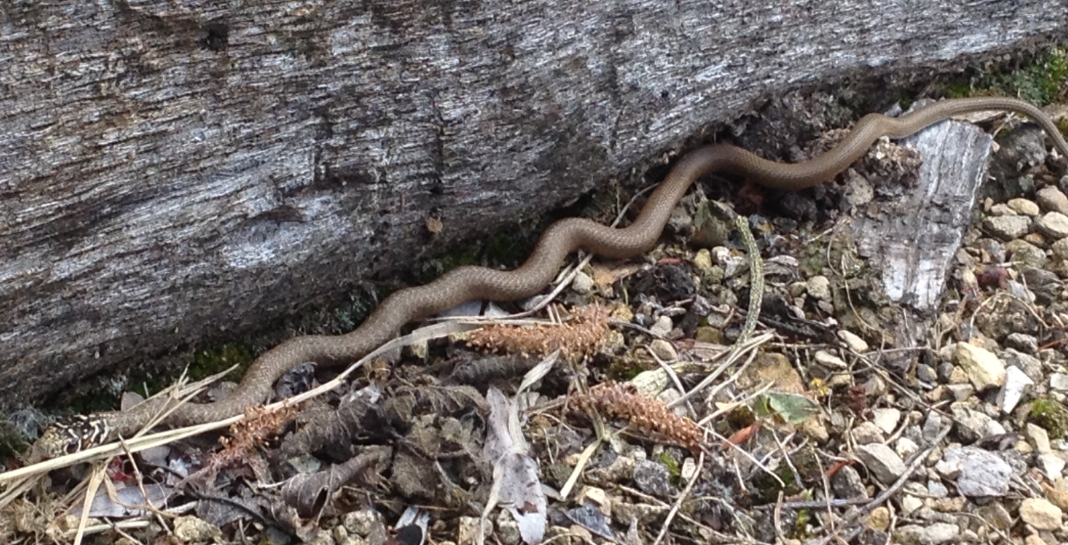 The riverside of the Tarn. the tarn is such a clear river. It's a pleasure to walk along the riverbanks. Many fishes.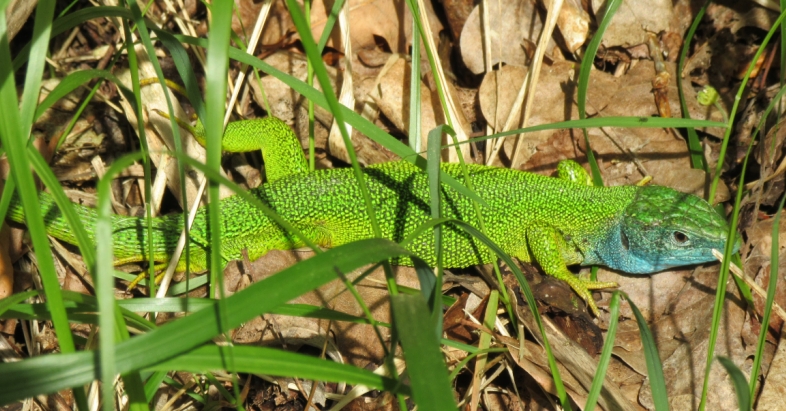 Roussillon
This town has the same colors of it's environment. Most villages have but this is a special ocre ground.
Dyes for clothing and especially paint, come from here.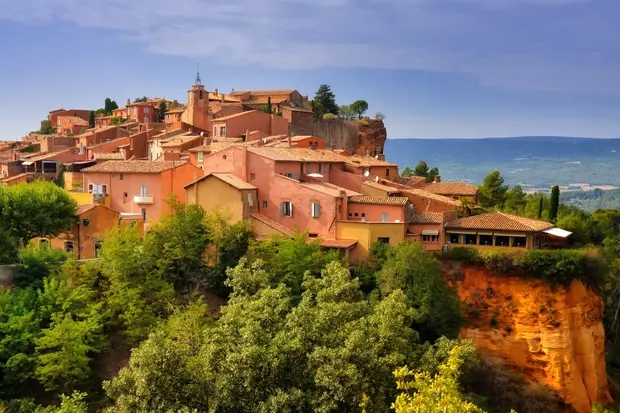 See the huge fosil?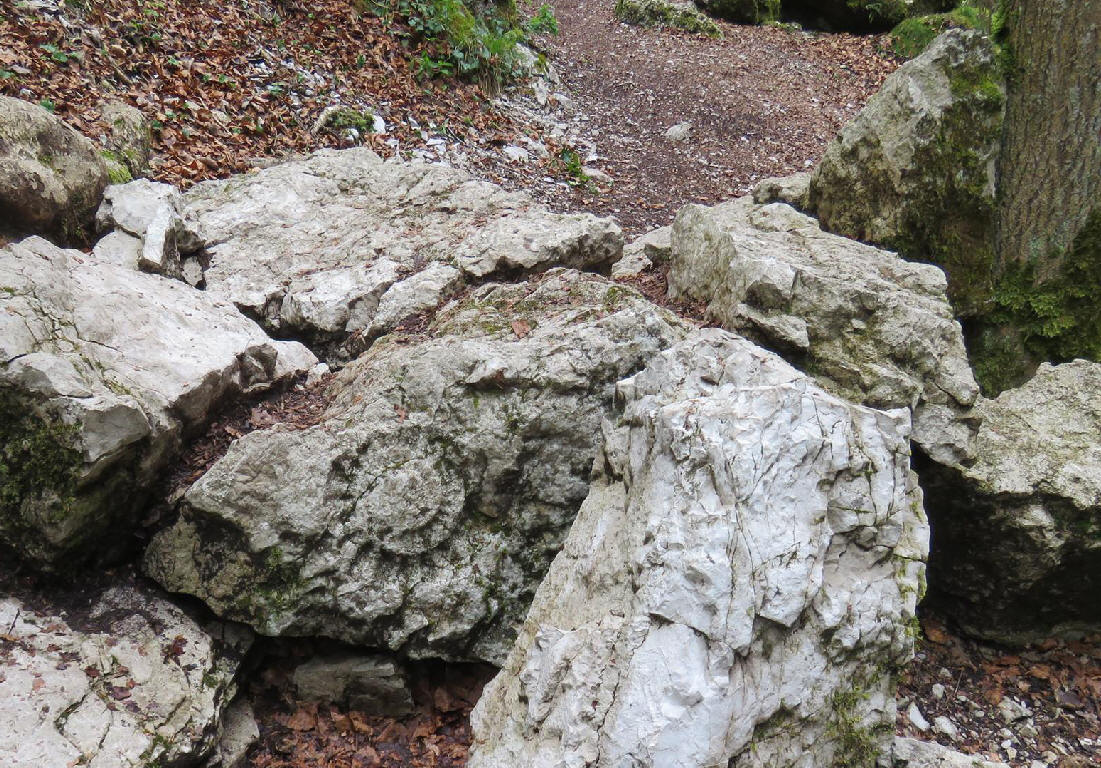 Les Baume trail, wonderful path full of falls and natural paths down the river.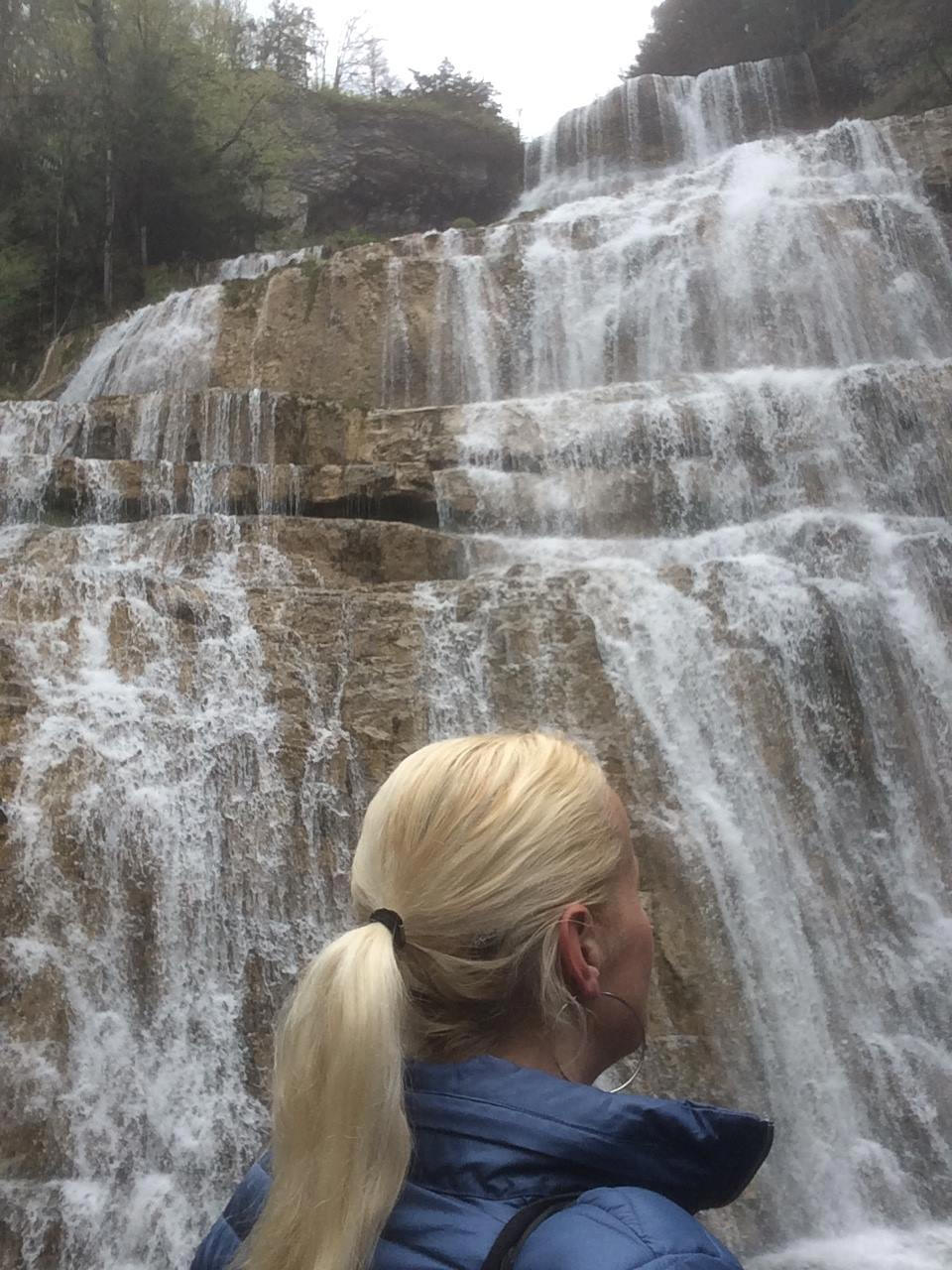 'The Gods' cave