Gueststars 1 A t/m B
John Abineri
Albion as Geswin (18 May 1928 – 29 June 2000) was an English actor.
Born in London, he attended the Old Vic drama school and described himself as "Well educated from the age of five to eighteen". He spoke a number of languages
(including German, Russian and French) fluently, which led to him being cast as a number of different nationalities.
His extensive television performances included numerous roles in Cult TV drama series, for which he is now probably best remembered. He had regular roles in Survivors as Hubert Goss,
and in HTV's Robin of Sherwood as Herne the Hunter. He appeared on four occasions in Doctor Who and also in the Blake's 7 episode Hostage, taking over the role of Ushton after the
sudden death of the actor Duncan Lamont, with whom he had co-starred in the Doctor Who serial Death to the Daleks. He also appeared as Sir George Mortenhurze in the BBC's
The Moon Stallion, as Arnold Rimmer's father in Red Dwarf, and as Father Gruber in the 1989 TV adaptation of Around the World in 80 Days.
He received an Emmy nomination for his performance as Chingachgook in the TV adaptation of Last Of The Mohicans (1971) and Hawkeye, The Pathfinder (1973). He also played
the butler in the original Ferrero Rocher Ambassador's reception advert.
His film credits include roles in Funeral in Berlin (1966), The McKenzie Break (1970), Pope Joan (1972), The Godfather Part III (1990) and Giorgino (1994).
He was the father of actors: Sebastian Abineri, Daniel Abineri and Jaz Abineri. Click here for more about John Albineri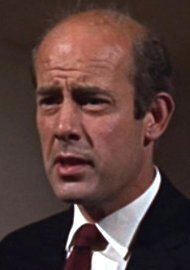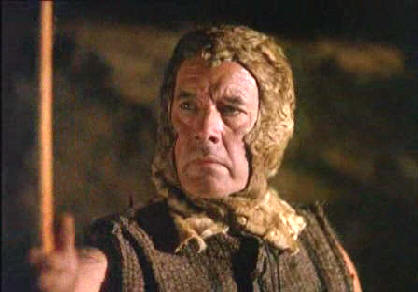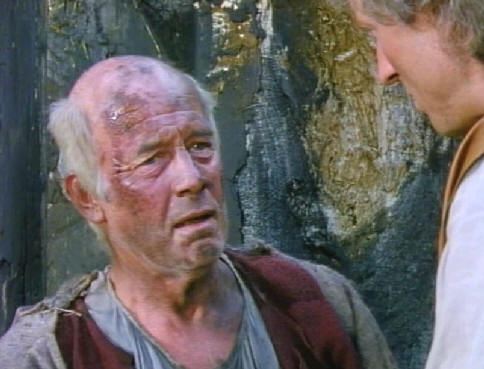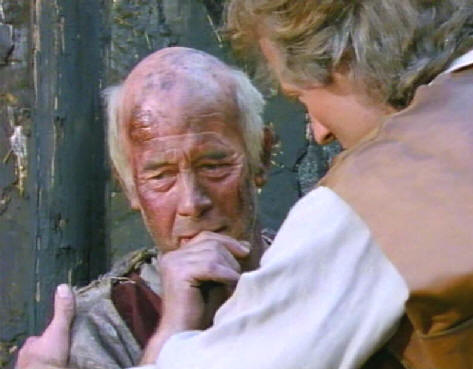 In Episode 6 Albion John Albineri plays 'Geswin.' Geswin leads them unintentionally on Tell's track. Tell heard from Stefan
Clermont has been destroyed. In Episode 6 Tell went back to his hometown and sees with his own eyes what must have been happened.
When he enters his former hometown Clermont, he find a man humming. He is named John Geswin. Geshwin doesn't recognize Tell,
Only his name. Tell is worried: John, what happened to you?" The violence has made him confused. Tell offers to help Geswin and see some friends together,
but he insisted to stay. Geswin tells everyone went to Albion. Tell leaves for Albion and is reunited with brother Gregory. But still no sign of his son and wife.
The mercaneries (attracted by the price on Tell's head) follow his path and forces Geswin to talk. Finally Dantes met Tell in Albion.
During a battle, with obvious force majeure, Tell managed to leave Albion but is shot by Dantes.
The next episode Santuary. Tell just managed to reach a monastery, he will be reunited with his wife coinciently. No trace of Matthew...
Dallas Adams
Dallas Adams was born on 17 Feb 1947 and he died of Aids in 1991 (aged 44 years). 4 years after his role as Marc the Scribe in Crossbow.
He was an English actor noted for his television performances. His credits include: Strange Report, Thriller, Space: 1999, Bergerac, Doctor Who
(in the serial Planet of Fire), Robin of Sherwood and Agatha Christie's Poirot. According to the audio memoirs of John Nathan-Turner, in the early '80s, Adams was
the largest palimony lawsuit winner in English legal history. He died in 1991.
His television credits include Strange Report, Thriller, Space: 1999, Bergerac, Doctor Who (in the serial Planet of Fire), Robin of Sherwood and Agatha Christie's Poirot,
and his film credits include A Midsummer Night's Dream (1968), The Abominable Dr. Phibes (1971), Frankenstein: The True Story (1973), From Beyond the Grave (1974),
Gulag (1985) and King Ralph (1991). According to the audio memoirs of John Nathan-Turner, in the early 1980s, Adams was the largest gay palimony lawsuit winner in English
legal history, and his casting in Doctor Who had been criticized by homophobic elements in the British tabloid press. For his imdb list you can click here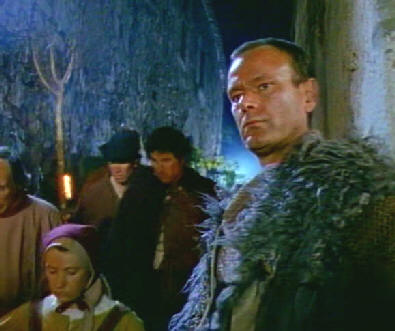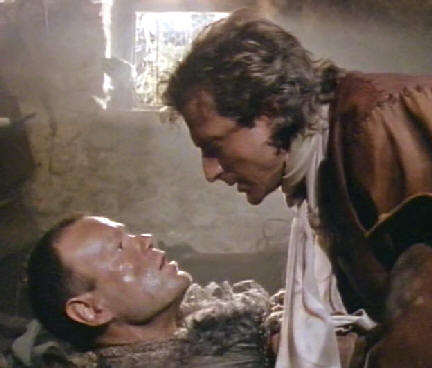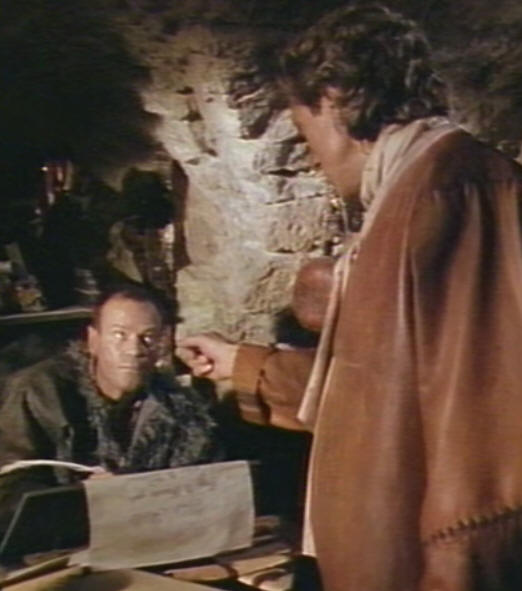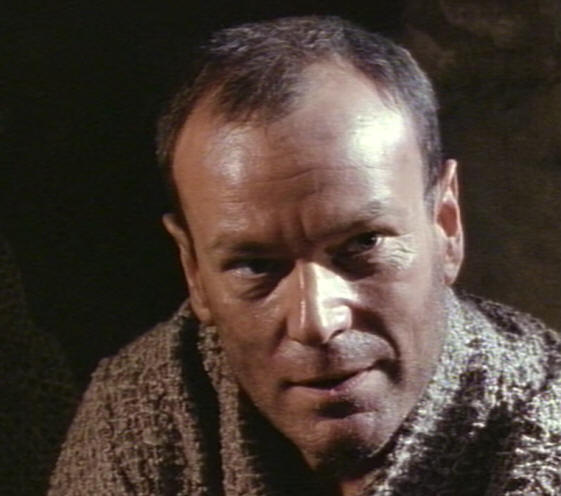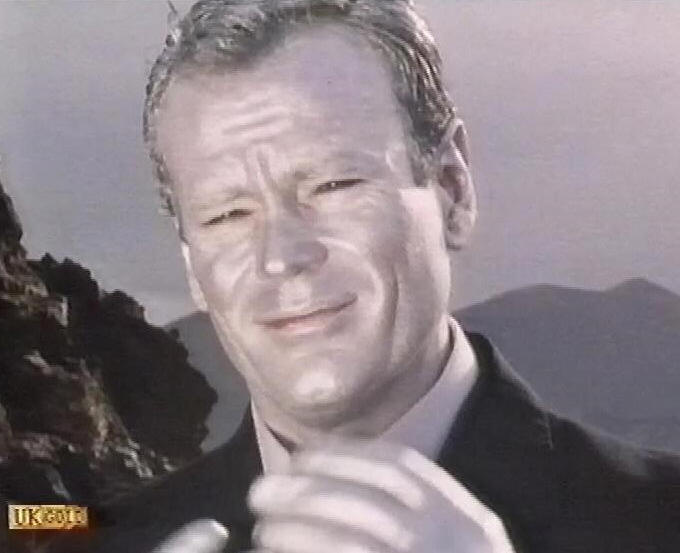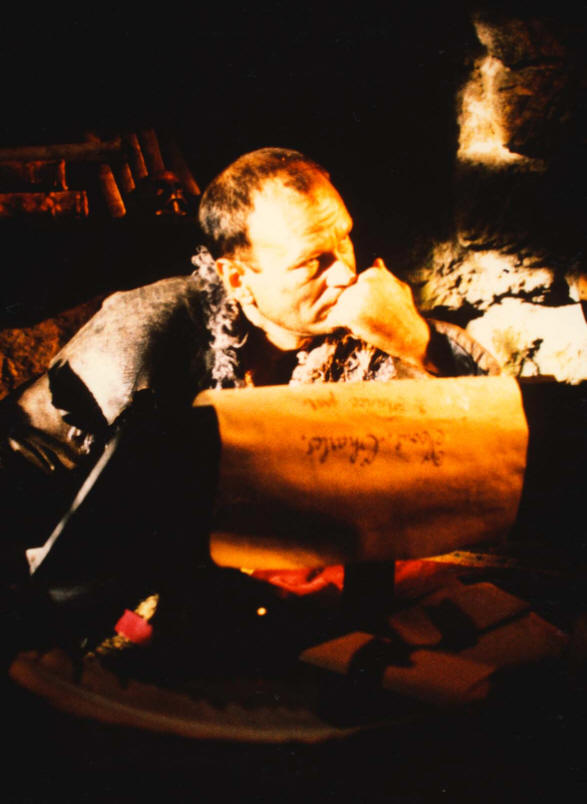 Robin of Sherwood (TV Series) 1984 as Peter Verdelet The Swords of Wayland and Doctor Who Planet on fire 1984 and in 1983 in Bergerac (series)
advocate Ninety Per Cent Proof . In the year of his dead he did two projects King Ralph (1991) and Poirot (series 1991).
Robert Addie
'Aris' was in at least in 4 episodes, 1989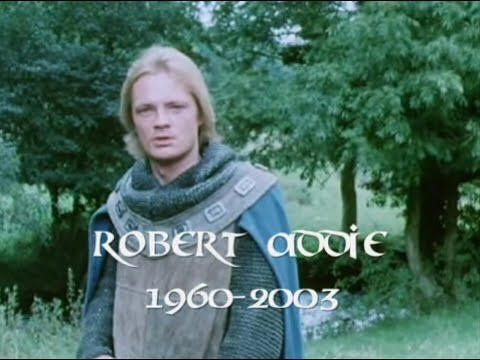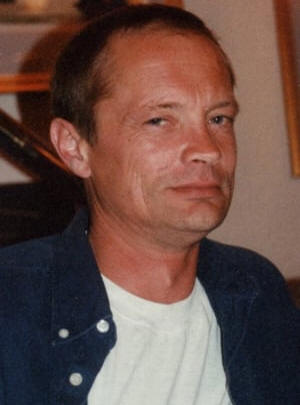 Robert Addie as Aris, the last of Gessler's Captain's. Horst's replacement, popped up in the final series of episodes. He made few,
but memorable appearances as Gessler's sleazy, cunning, and effective sidekick. He shares the Governor's taste for corrupt and wanton behaviour and is much
more chummy than his predecessor. His trademark is a helmet mounted with the figure of a silver wolf (see below on his helmet), which makes him appear rather
mysterious. His corruption is not inpenetrable, however. When Gessler's power begins to wane, Aris sees the error of his ways and enters a life of prayer and repentance.
In the final episodes we are introduced to Brother Aris!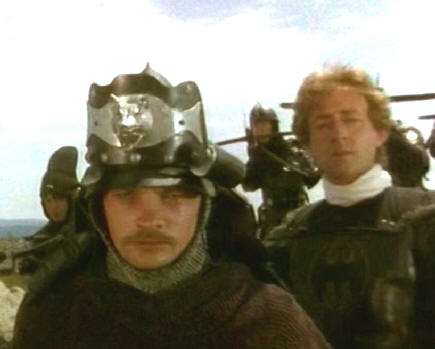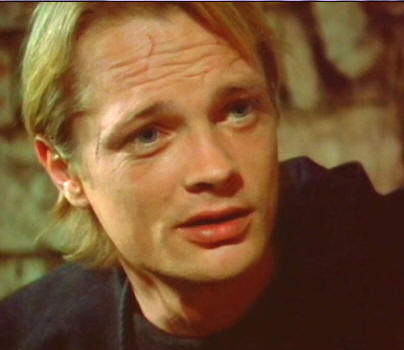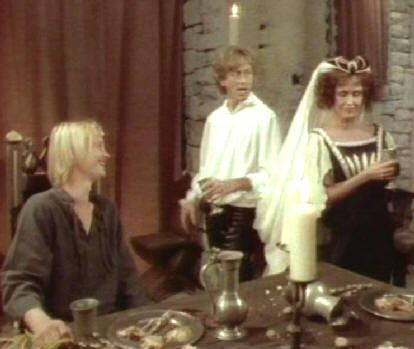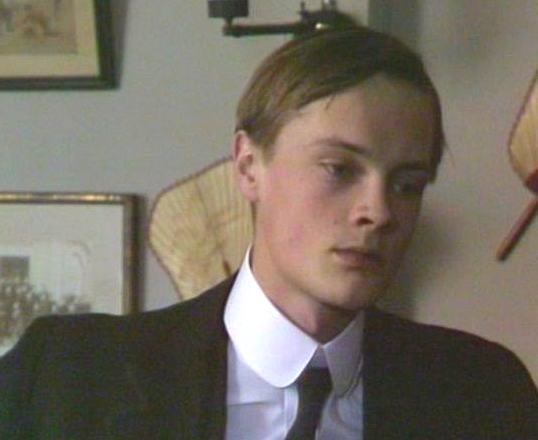 Robin of Sherwood
Addie played the character of Sir Guy of Gisbourne in the 1984–1986 English television series Robin of Sherwood (although still being only in his mid-twenties and physically
somewhat young-looking for the part of a veteran ennobled medieval knight), a role which brought his career national exposure. Robert Addie is, of course, best known for playing
another Medieval second in command. He enjoyed many years of success in the role of Guy of Gisbourne on the hit series, Robin of Sherwood (Laurel had the biggest crush
on him when she was 7), a character slightly less suave and intelligent than Aris. Other credits include Excalibur, Merlin, A Knight in Camelot (I see a trend),
Another Country, Captain Jack, and Mary, Mother of Jesus. Personal life: Addie's stepfather was Jack Williams, a highly regarded polo player, developer of the modern game and
associated in the sport with both the British royal family and foreign polo players and teams, including the Sultan of Brunei, and numerous American teams.
Under Williams's tutelage Addie an imposing physical figure at 6'2" in height himself became an accomplished horseman and polo player. Addie also spent time in Argentina pursuing the sport.
<![if !vml]>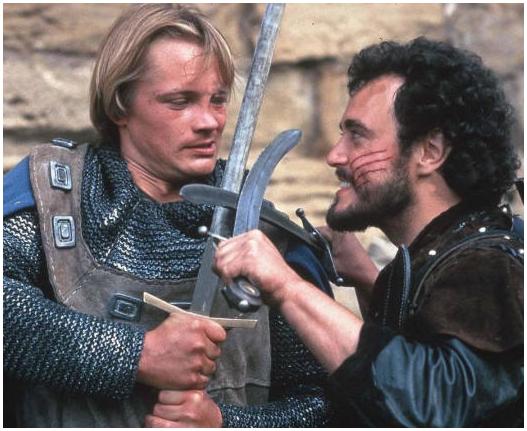 <![endif]><![if !vml]>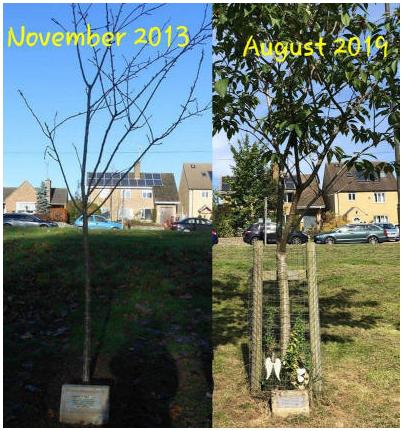 <![endif]><![if !vml]>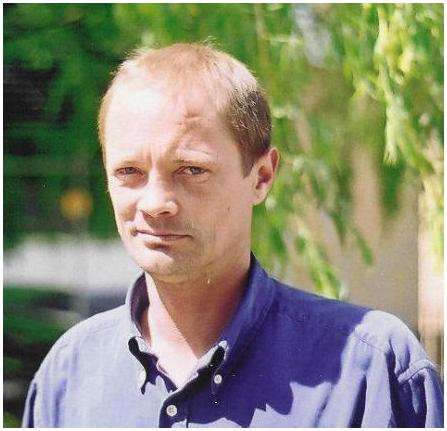 <![endif]>
As a kid Laurel had a hugh crush on Robert Addie. Both actors were in Robin Sherwood and also both in at least 2 episodes in Crossbow.
Polo
His family's house in Sapperton in the Cotswolds, near Cirencester meant that he was involved in polo every day through the season through much of the
1970s and early 1980s. As well as being a keen horseman and accomplished swordsman Addie was a competitive archer. At the time of his death Addie was divorced,
having been married and divorced on three separate occasions, and was in a relationship with Helen Lovitt, whom he had met at a Robin of Sherwood fan convention in Bristol.
The marriages produced three children: Alexander, Alastair and Caitlin.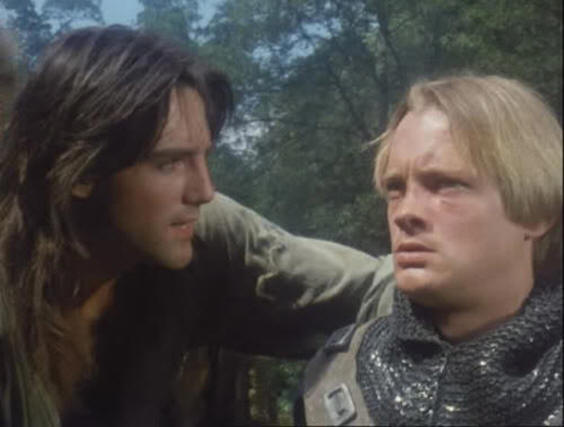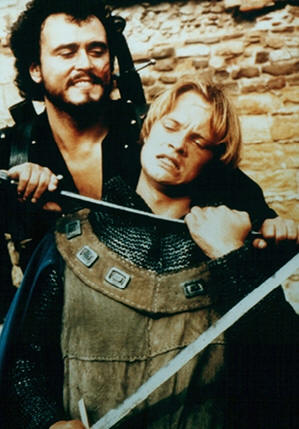 Robert Addie was born on 10th February 1960 and grew up in a busy stable yard in Gloucestershire, England, UK. After leaving Marlborough College he spent some time as
a professional polo player and horse trainer, then as an estate agent (realtor) before joining Michael Croft's National Youth Theatre...
February 10, 1960 in London, England, UK
November 20, 2003 (age 43) in Cheltenham, England, UK
Robert Alastair Addie was an English actor who was best known for playing Sir Guy of Gisbourne in the television series Robin of Sherwood.
Career: Addie was educated at Marlborough College, leaving at 16 to join the National Youth Theatre. He left there in 1978 to study at the Royal Academy of Dramatic Art (RADA),
which, in turn, he left in 1980, to appear in John Boorman's film Excalibur as Mordred. In 1989 Robert left acting, but returned to his acting career in 1995 both on the stage with Exiled Theatre
and in Film and Television.
Addie's stepfather was Jack Williams, a highly regarded British Polo player, developer of the modern game and an individual very involved with both the British Royal's and
foreign polo players and teams including the Sultan of Brunei and numerous American teams and individuals. Under Williams' tutelage, Addie became an accomplished
horseman and polo player. Williams' son and grandson are the polo players, Nick Williams Sr. and Nick Williams Jr. Addie also spent time in Argentina, again with Williams.
His family's house in Sapperton in the Cotswolds, near Cirencester meant that he was involved in polo every day through the season through much of the 1970s and early 1980s.
He was a keen horseman and accomplished swordsman and former competitive archer.
Personal life
Addie was married and divorced three times. He had three children: Alexander, Alastair and Caitlin. He died on 20 November 2003, aged 43, just three weeks after being diagnosed with lung cancer
November 2003 in his 44th year in Cheltenham General Hospital in Gloucestershire, England, from the effects of lung cancer.
Memorian cherry tree
Addie died on 20 November 2003 at age 43 in Cheltenham General Hospital in Gloucestershire, England from the effects of lung cancer, three weeks after the disease was diagnosed.
A funeral took place at the Church of St John the Baptist, Cirencester for Addie's body, which was cremated, with his ashes being buried in the graveyard of Holy Trinity Church, Minchinhampton.
A memorial cherry tree bearing a commemorative plaque was planted in Addie's memory in the Jack Gardner Memorial Garden in Cirencester on the tenth anniversary
of his death, funded by a group of fans of his career. Click here for his imdb list. Above you can see a photo of this tree. It's made by a R. Addie fan. A group of fans is active on Facebook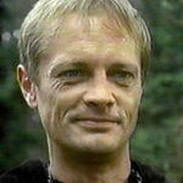 Pamenta in 1 episode Doppelgangers 1989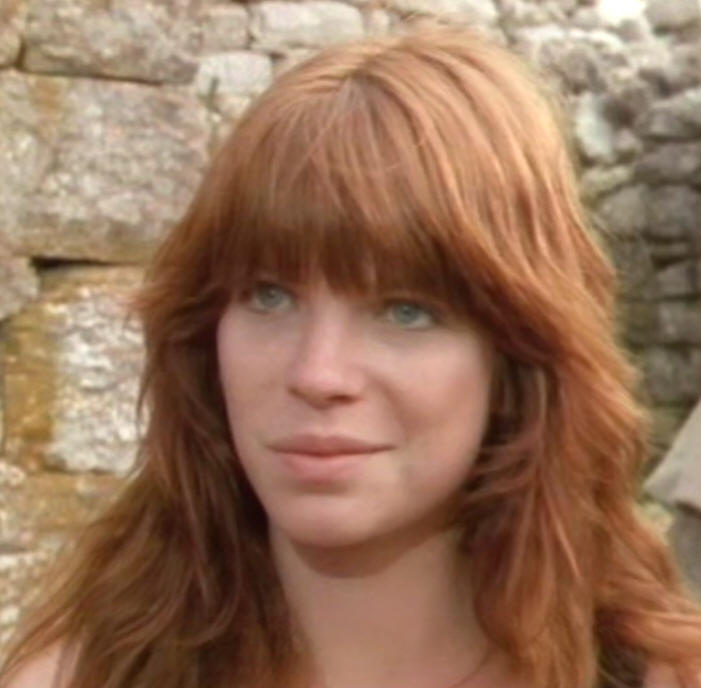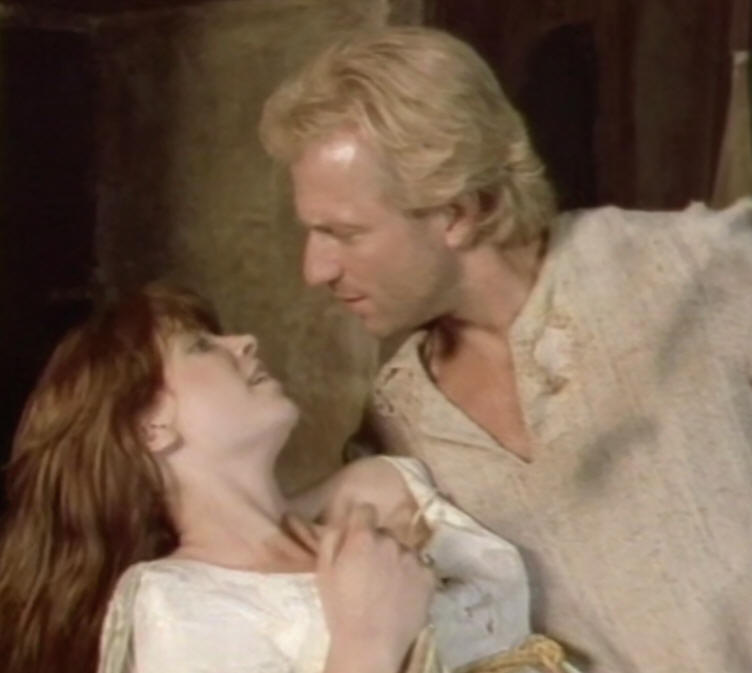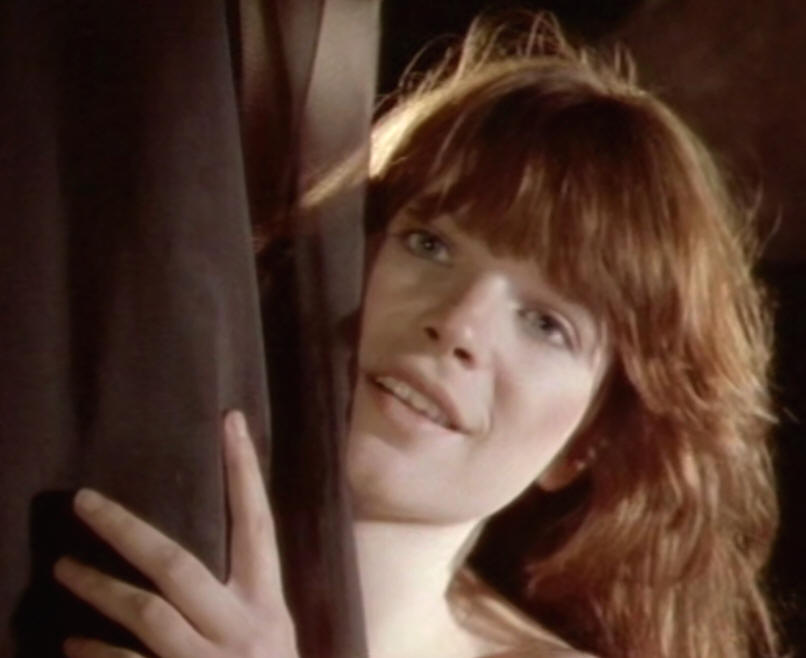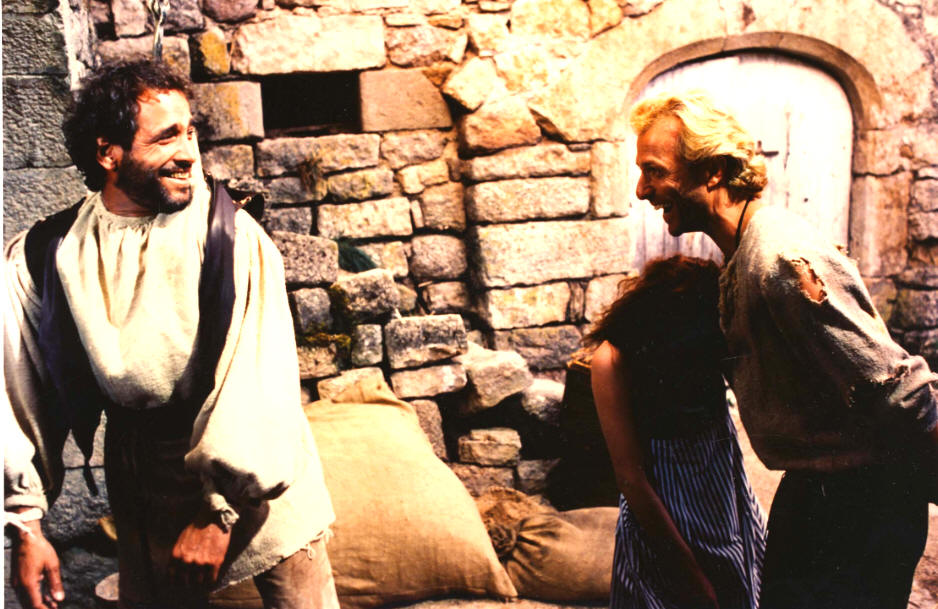 Imogen Annesley (born 28 May 1970) is an Australian actress and director who is perhaps best known for her performances in the films Playing Beatie Bow, Howling III:
The Marsupials and Queen of the Damned. Annesley made her feature film debut as a teenager, with the leading role of Abigail Kirk in the 1986 Australian film Playing Beatie Bow.
A time travel drama based on the novel by Ruth Park and directed by Donald Crombie, it was a failure at the box-office despite a number of positive reviews of the film and
Annesley's performance. The film proved more popular on video release. Her television credits include: Families, Water Rats, Farscape, Above the Law, Blue Water High and East
of Everything. Annesley is also the lady with the child in the Jimmy Barnes 1987 Australian music video, I'm Still On Your Side, filmed at Sydney's picturesque Hawkesbury River Train Station.
and most recent East of Everything (2008). Click here for her imdb list.
Howling 111 (1987)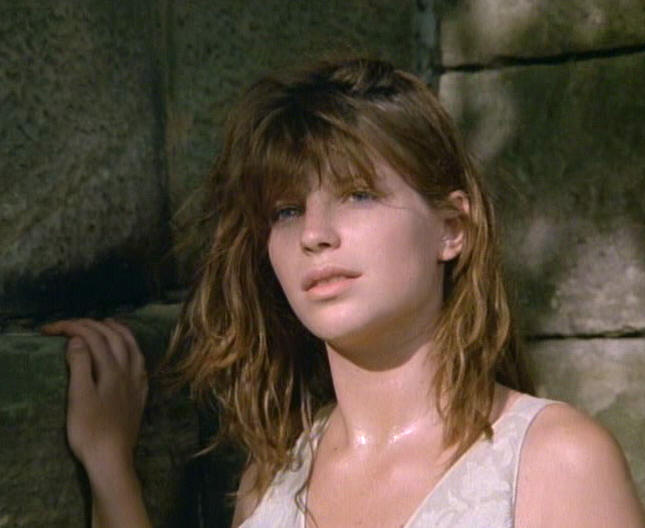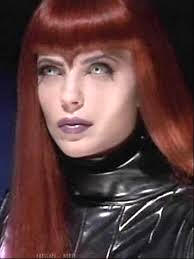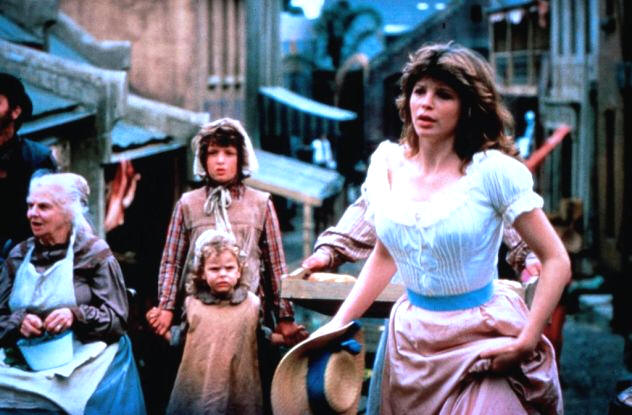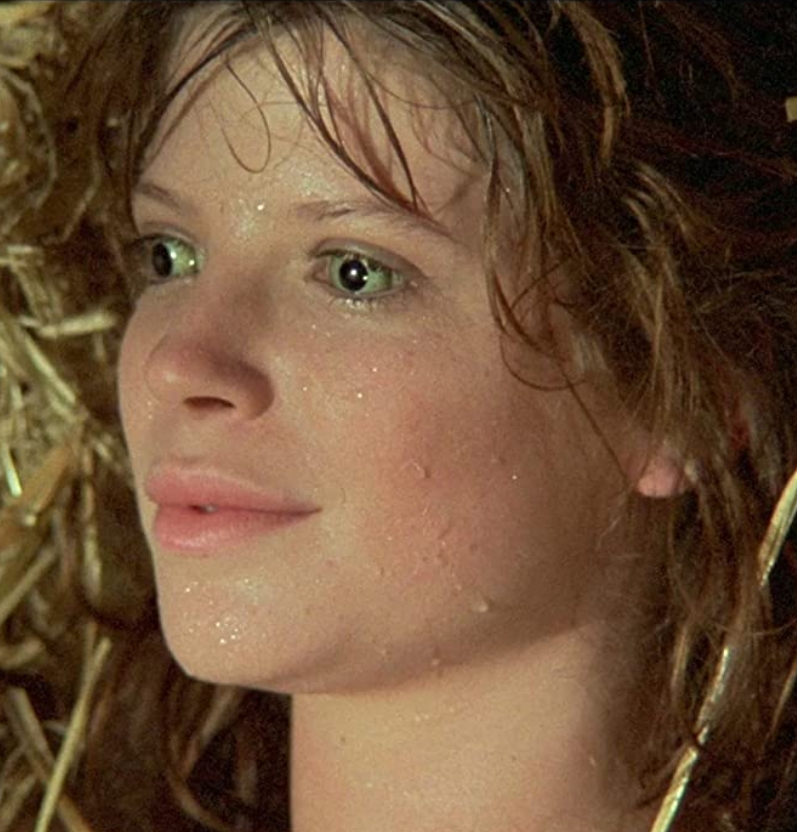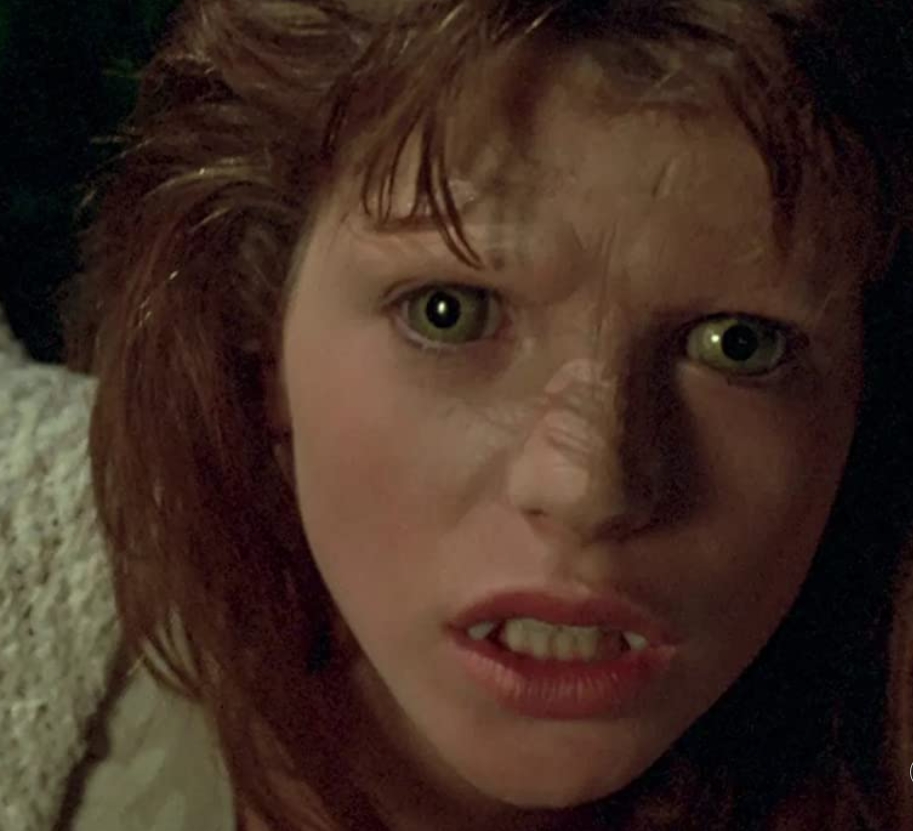 Episode 52, 'Doppelgangers' - Plays Pamenta, a woman who's dowry was stolen by a man claiming to be William Tell.
She then expects the real Tell to fulfill the false Tell's promise of marriage
Crossbow backstage Crossbow Doppelgangers Promotional shot Crossbow Howling 111, '87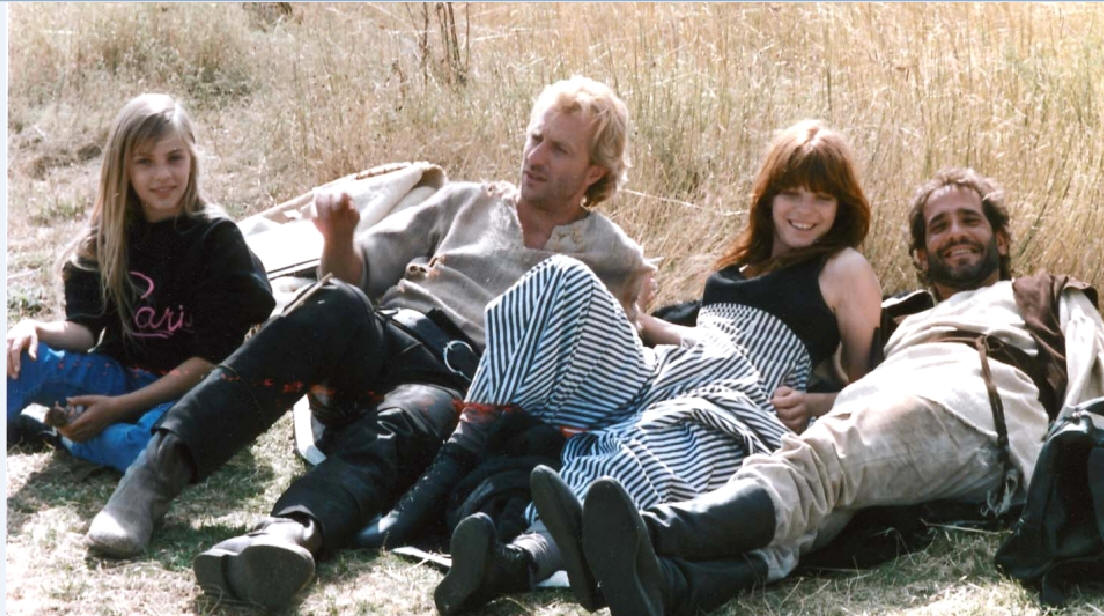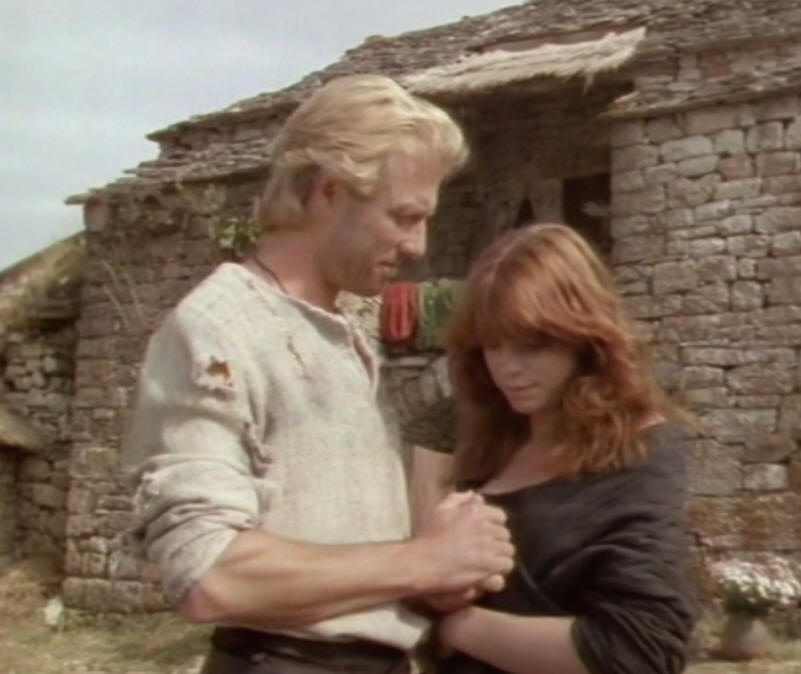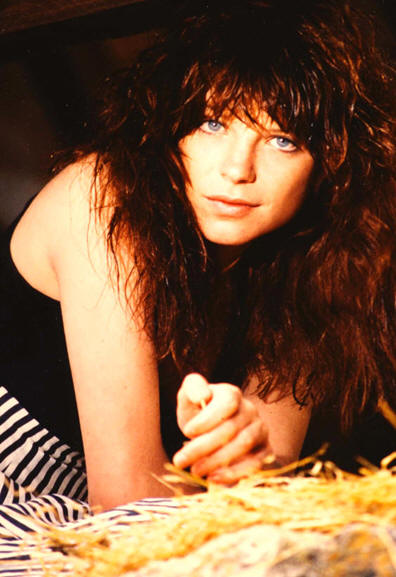 Gabrielle Anwar
Gabrielle is in episode 55, The Bounty Twins as Alana.
The former Press Ganger and star of The Three Musketeers appeared in one of the later episodes as Alana, a young girl who is the prisoner of a set of
very large siamese twins that will do anything for her.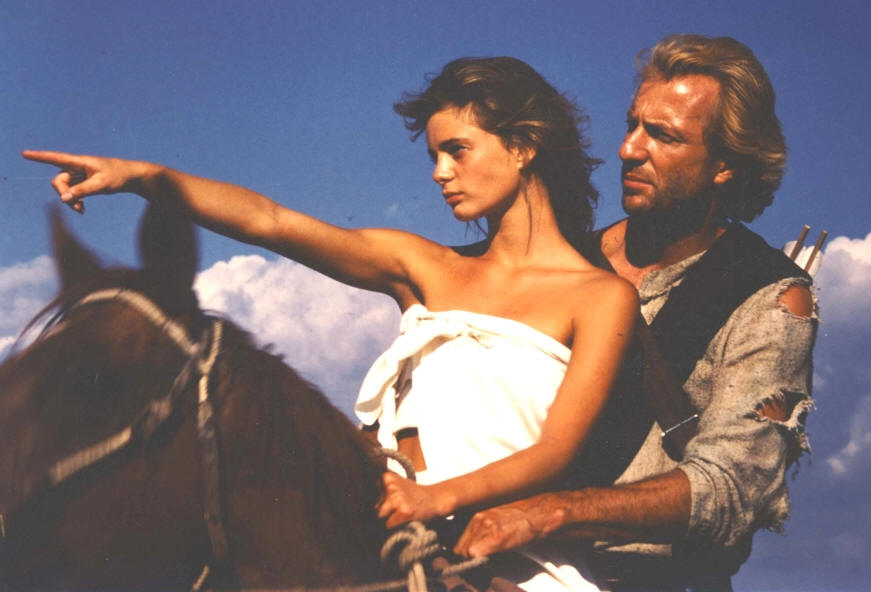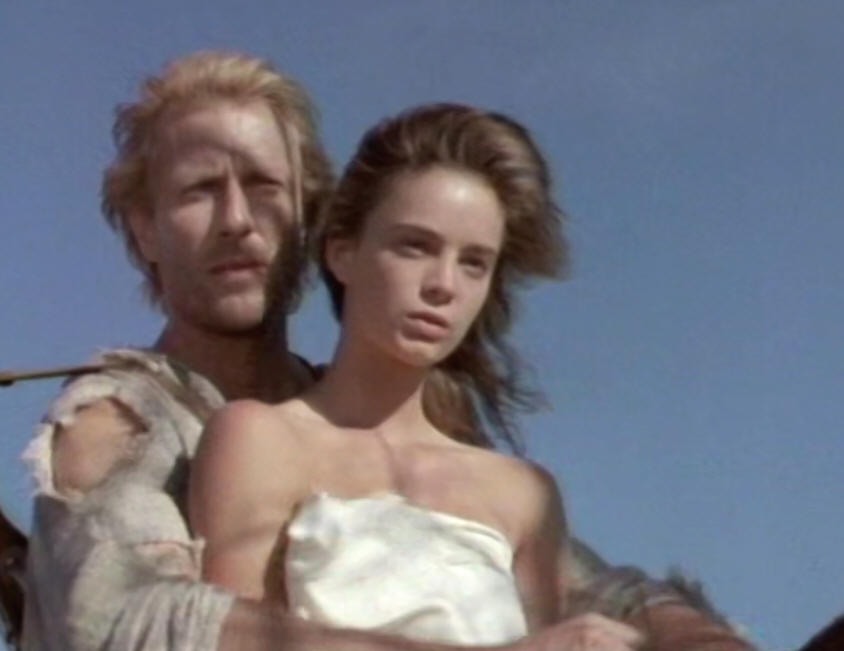 Gabrielle Anwar (Laleham (Middlesex), 4 februari 1970) is een Engels actrice. Ze werd in 2007 genomineerd voor een Saturn Award voor haar rol in de televisiefilm The Librarian:
Return to King Solomon's Mines en in 2008 voor een Gemini Award voor de televisieserie The Tudors. Anwar maakte in 1986 haar acteerdebuut als Tracy Wright in de miniserie
Hideaway. Haar eerste filmrol volgde in 1988, als Tina in de tragikomedie Manifesto. Also as Fiona Glenanne on Burn Notice, Lady Tremaine in the seventh season of Once Upon a
Time, and for dancing the tango with Al Pacino in Scent of a Woman.
Early life: Anwar was born in Laleham, Surrey. Her mother, Shirley Hills, is an actress, and her father, Tariq Anwar, is an award-winning film producer and editor. Her paternal grandmother
was an Austrian Jew, while her paternal grandfather was an Indian Muslim. Anwar attended Laleham C of E Primary and Middle School from 1975 to 1982; an end-of-term St Trinian's
sketch in the school concert of 1982 gave an early indication of her theatrical leanings. She studied drama and dance at the Italia Conti Academy of Theatre Arts in London.
Career:
Anwar's acting debut was in the British miniseries Hideaway. She made her film début in Manifesto, which was followed by more British television productions including First Born, Summer's Lease,
Press Gang, and The Mysteries of the Dark Jungle. While working on films and television in London, she met American actor Craig Sheffer, and moved with him to Hollywood. Anwar and Sheffer
have co-starred in a number of American films together, such as In Pursuit of Honor, The Grave, Turbulence 3: Heavy Metal, Flying Virus, Save It for Later, Water Under the Bridge, and Long Lost Son.
Her first American film was If Looks Could Kill, in which she played the daughter of a murdered British agent (played by Roger Daltrey). In 1992, she made a guest appearance on Beverly Hills
90210 as Tricia Kinney. She followed that with the films Wild Hearts Can't Be Broken (inspired by A Girl and Five Brave Horses), Scent of a Woman, Body Snatchers, For Love or Money, The Three Musketeers,
and Things to do in Denver When You're Dead.
In 1994, People magazine named her one of the 50 most beautiful people in the world. One of her most memorable moments on screen came in 1992's
Scent of a Woman, when she danced a tango with Al Pacino, whose character was blind.
Personal life: Anwar and actor Craig Sheffer had a daughter, Willow (born 1993), before separating. She was later
married to actor John Verea, with whom she had a son, Hugo, and daughter, Paisley, before divorcing. Sheffer is godfather to Hugo and Paisley.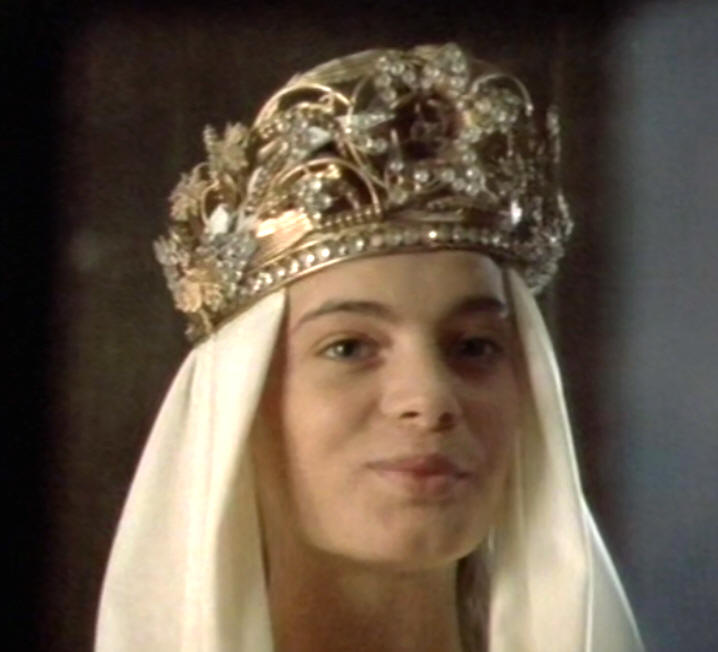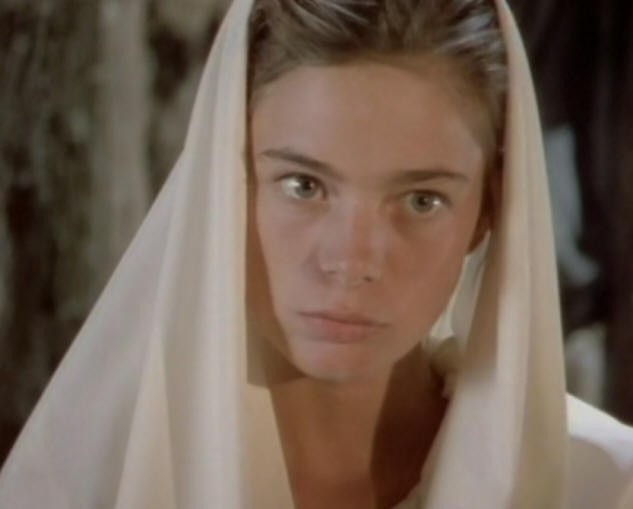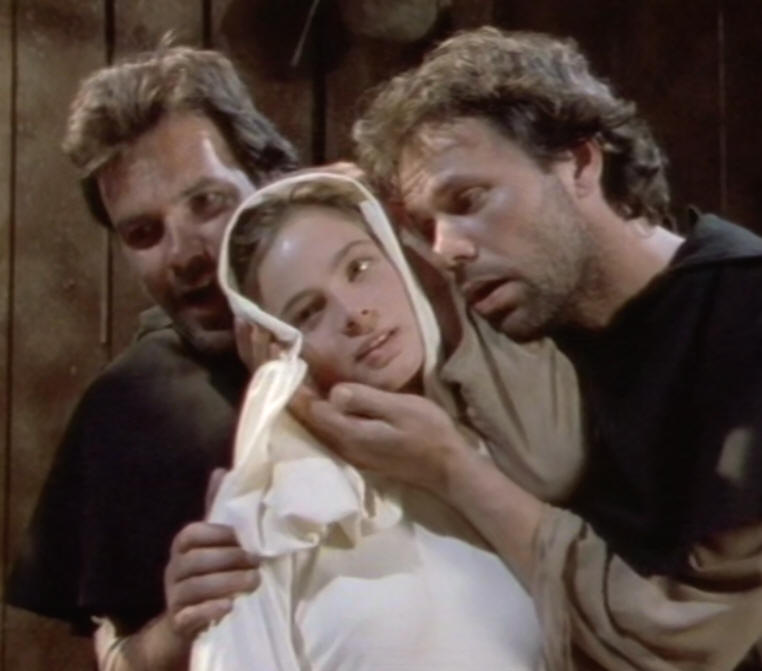 Above and below as 'Alana' in episode The Bounty twins. For her imdb list you can click here
Alain Aparis
In episode 'Amnesty'
Made the secret weapon for Gessler. Especialle made of Arabian steal. They call him in Crossbow: 'Kalash, the turk.' I really though 'kalash' was an Arabian actor ;) Well done.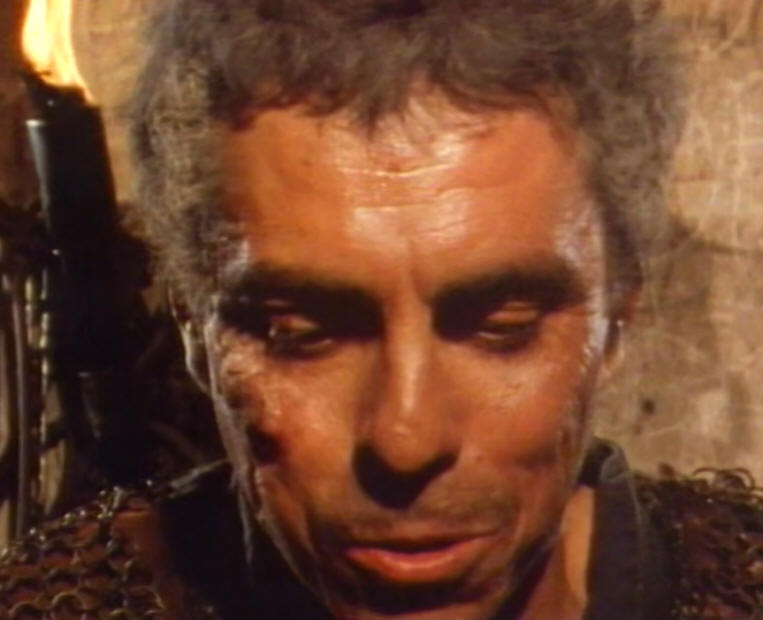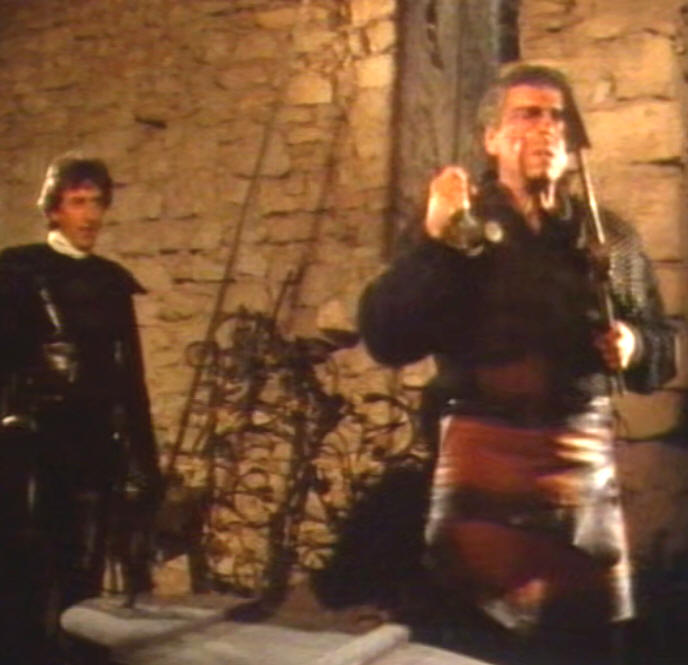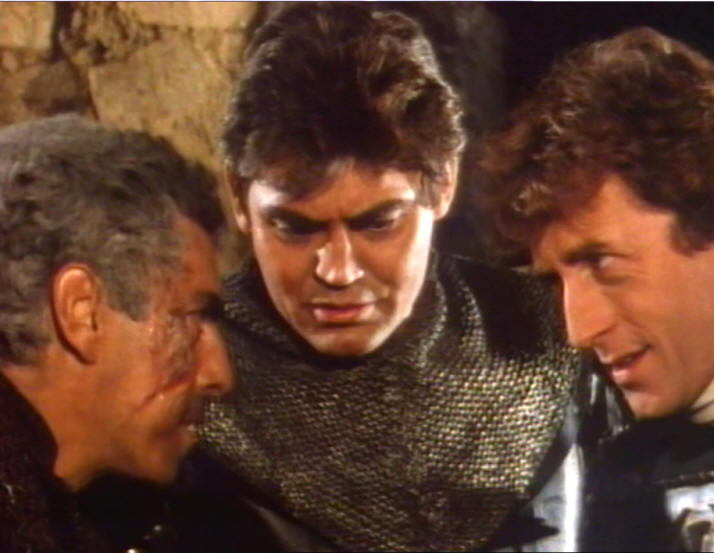 Alain Aparis is an actor, known for Le hussard sur le toit (1995), A Year in Provence (1993) and Une mère en colère (1996)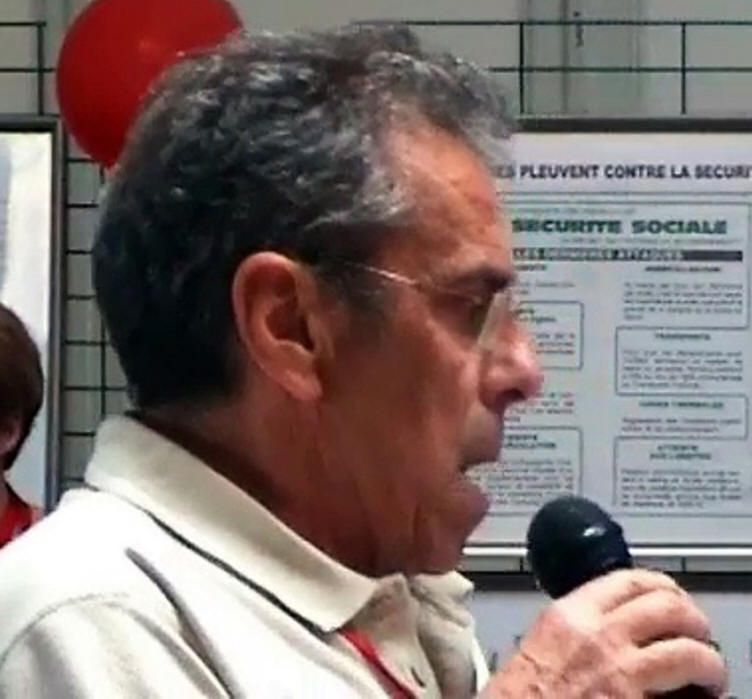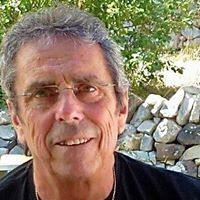 Edwin Apps
2 episodes, 1988-1989. Slave auctioner in episode The Mission and barron in episode 'The Pit' and 'The Rock,'
Episode 54, 'The Mission' - Apps does not appear with such neatly coiffed hair in Crossbow. Instead he has a long scragly white beard and
an eye patch in his role as the slave auctioneer in the wasteland. He has the very entertaining pleasure of auctioning off Gessler.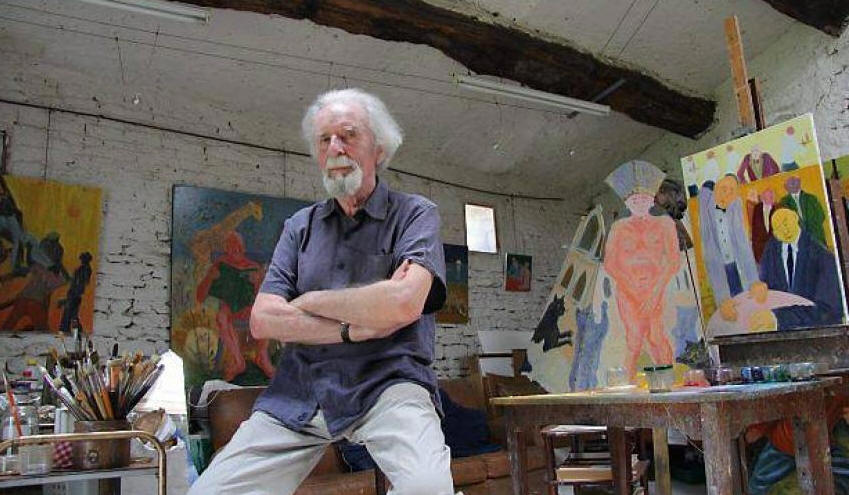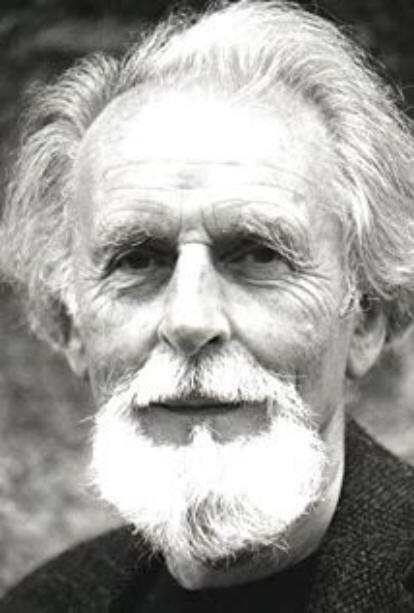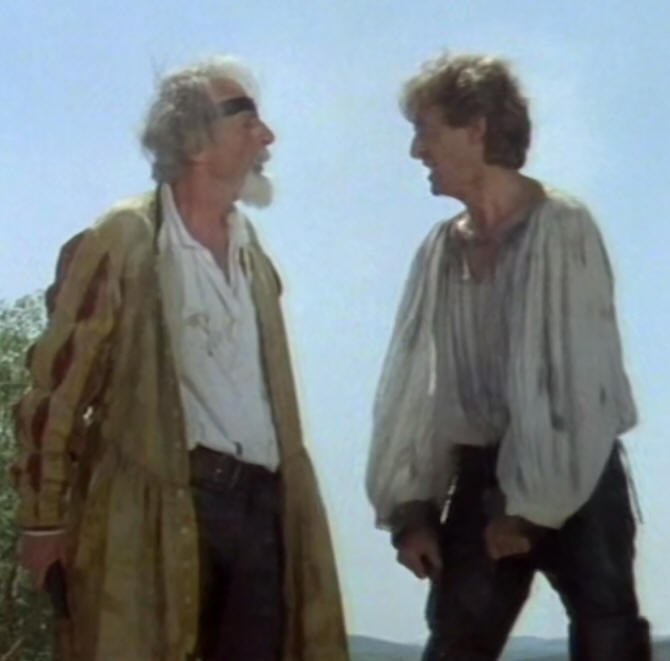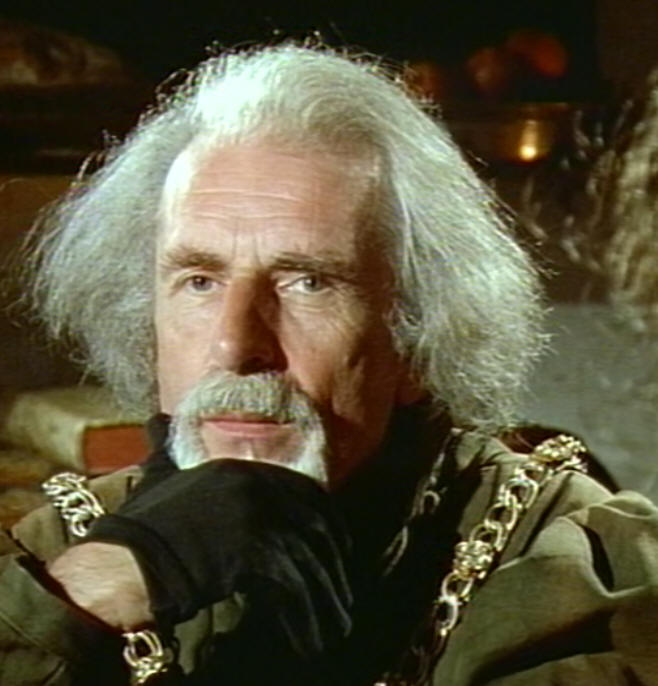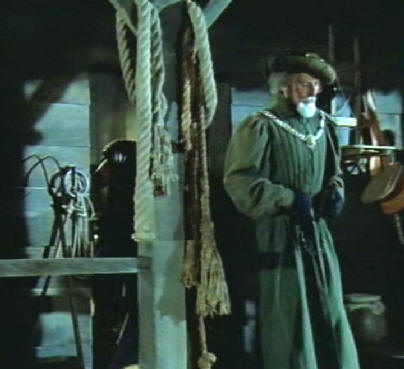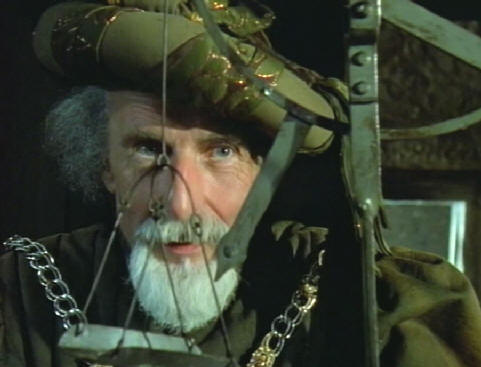 Edwin Apps was born on May 14, 1931 in Wingham, Kent, England. He is an English television actor and writer and he paints. Summer Comedy Hour (1965) and Whack-O! (1956).
He is married to Pauline Devaney. He appeared in many British and French television series and films, which include Whack-O!, I Thank a Fool, Danger Man, The Avengers, Steptoe and
Son, My Wife Next Door, Special Branch, Katts and Dog, The Messenger: The Story of Joan of Arc, Vatel, Joséphine, ange gardien, 15 ans et demi and others. He created and co-wrote
sitcom All Gas and Gaiters (1966–71) with his wife, Pauline Devaney.
Messenger: The Story of Joan of Arc 1999
La Tremoille, at the left Christian Erickson (episode 8 Crossbow as Lascal) and right Edwin Apps. Apps on imdb click here and on Wikipedia here
Edwin Apps in The Avengers In Danger man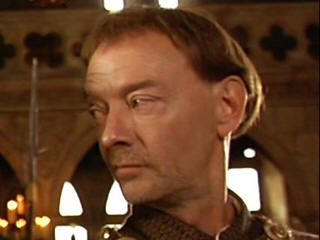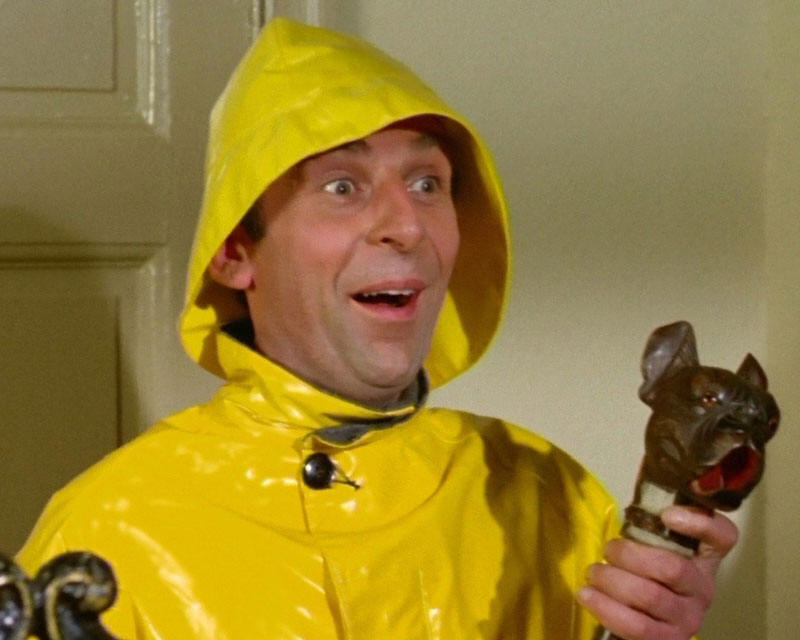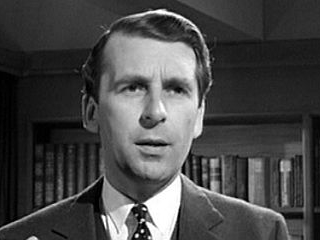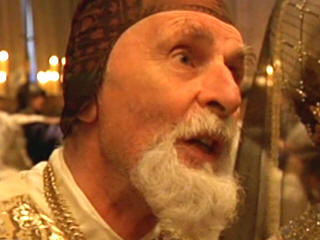 Edwin Apps died (age 89) in Liez, Sud-Vendée, Pays de la Loire, France
The Children's Father 1 episode, 1989
Episode 64, 'The Children' - as a parent whose children have both mysteriously disappeared and one returned dead under equally mysterious circumstances.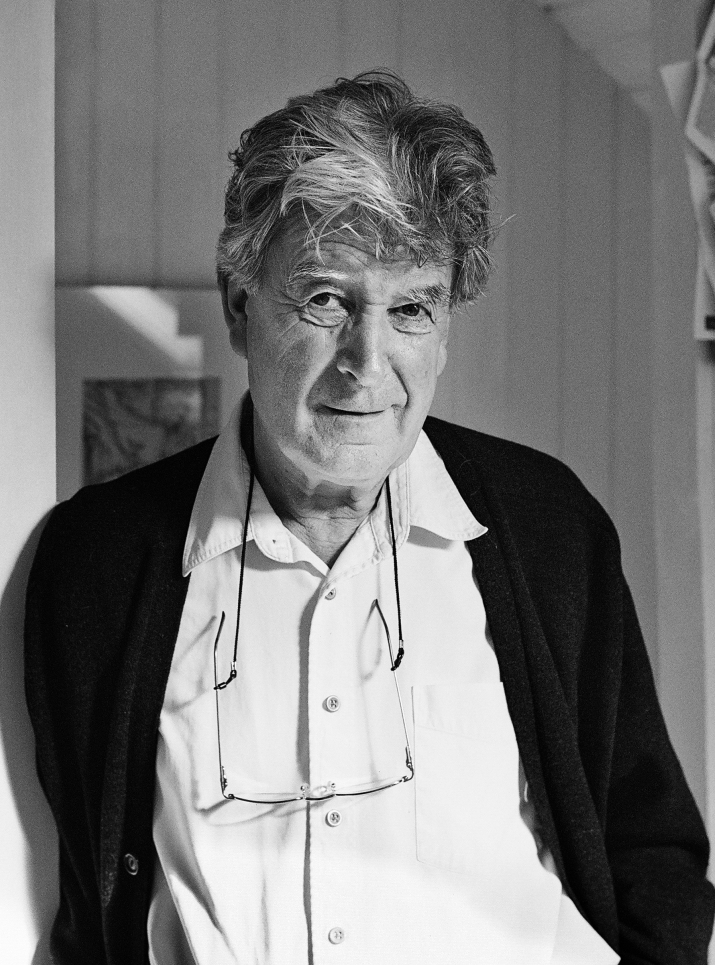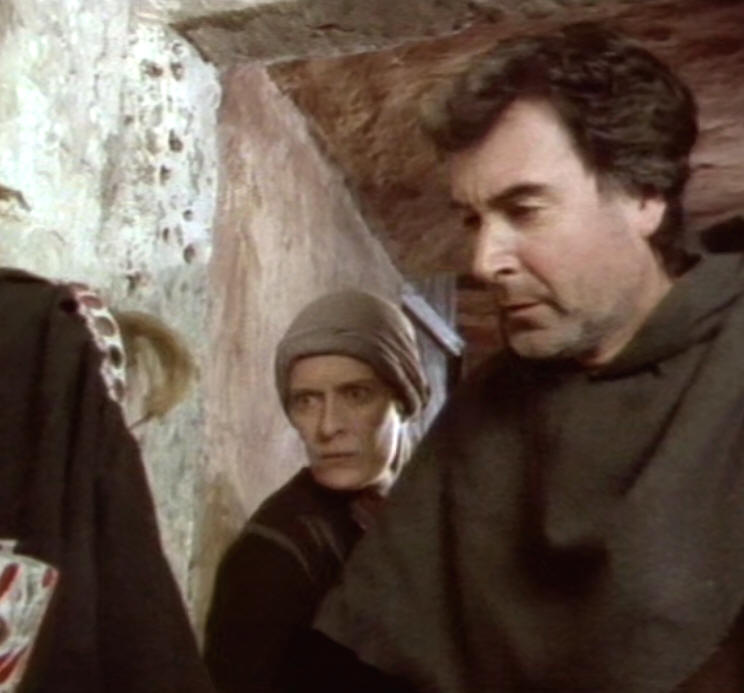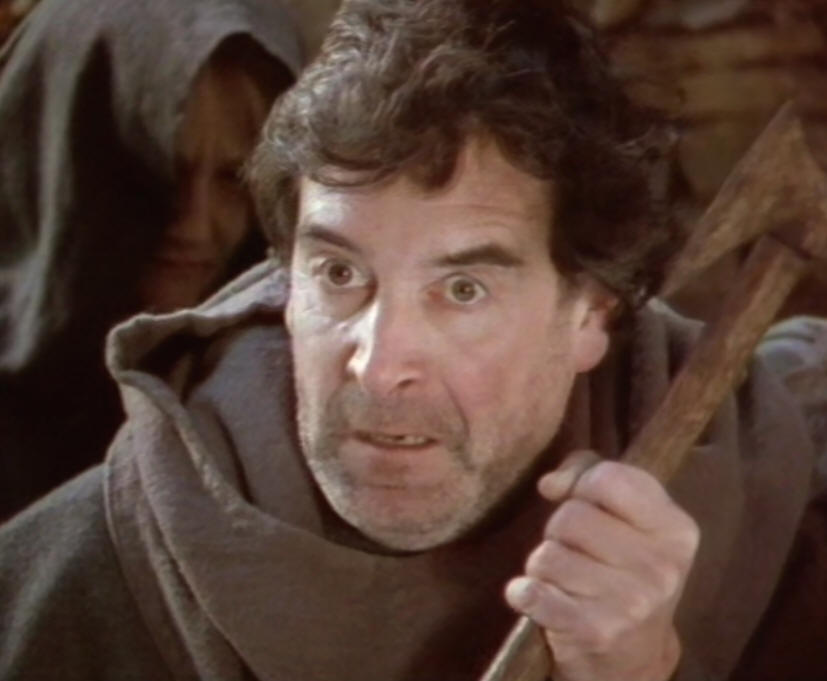 Television
Ashton was one of the early scriptwriters for EastEnders, the long-running BBC soap opera that first aired in February 1985. He wrote for series two of BBC hospital drama
Casualty, becoming main writer for series three (1987–88). His monologue Stations (1988), broadcast as part of the BBC's Play for One series, provided actor Andrew Keir with
"a tour de force solo role" according to The Independent newspaper. Another one-off drama for BBC2 was The Other Side (1992), starring Frank Finlay and Richard E. Grant.
He wrote four episodes for series two of the BBC1 comedy-drama The Hello Girls (1996–98), as well as individual episodes of Badger (1999) , which featured Jerome Flynn
as a police wildlife liaison officer, and Murder Rooms: The Dark Beginnings of Sherlock Holmes (2001), both for BBC1. A television series based on his McLevy radio
series and novels is currently under development.
He was also in Doctor Who 1985 Timelash, The Flying Doctors '87 (TV Series) Cab Drive in episode Realms of Gold (1987) ...Cab Driver and - Friends and Lovers (1987)...
as Cab and Driver Coronation Street 1985 Crossbow 1989 and as first sealord in James Bond Tomorrow never dies 1997.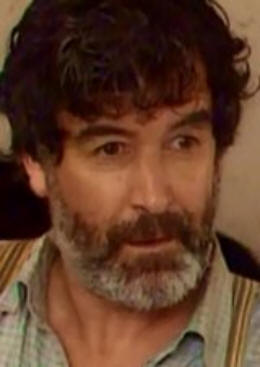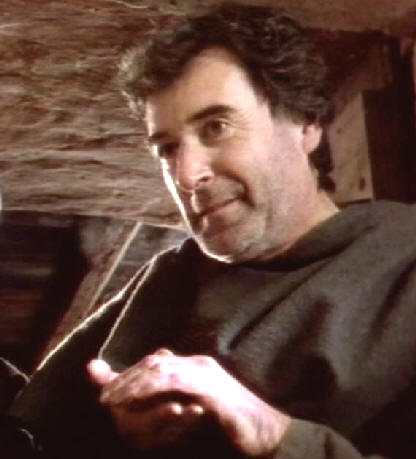 Films
1981: Eye of the Needle - Oban Radio Operator 1983: Notable for playing "Dr. MacDuff" on Brass 1986: Just Us - Parramatta Warder 1992: Freddie as F.R.O.7 - Additional Voices
1996: Indian Summer - Paris Mourner 1997: Tomorrow Never Dies - First Sea Lord 1998: Stiff Upper Lips - Dr. Henry 2000: The House of Mirth - Lawyer
2003: Winter Solstice 2006: The Last King of Scotland - Dr. Garrigan - Senior 2009: The Silent Cormorant
David Ashton was born as David Scott. He is an actor and writer.
Scottish actor working in UK and Scottish media. .
as acted in both the Doctor Who Franchise and Eon James Bond series.
David Ashton is now probably most famous for his creation of the McLevy historical detective series on Radio 4. There have been 12 series of McLevy as of 2016, and 4 novels.
He did a lot of theatershows. For more Information and intervieuws you can click here
Roger Ashton-Griffiths
Town Crier
- The Citadel (1988) ... Town Crier (I'm not sure about this episode, and the intro and outro of episode The Moor 1 and 2)
Roger Ashton-Griffiths (born 19 January 1957) is an English character actor, screenwriter and film director. He is best known for his role as Mace Tyrell in HBO
series Game of Thrones. Dual Canadian/British nationalities. Read Music at Lancaster University (1975-78) before joining English National Opera as singer (1979-81). Theatre credits
subsequently include Gloucester (King Lear) at Colchester, Judge Turpin (Sweeney Todd) at Liverpool and Watford, Algol (Space Queen Maladjusta) at Southampton, Angelo (Archangels Don't
Play Pinball) at Bristol. Married BBC studio manager Sharmini Thillaimuthu. Two children. Lives in London and Suffolk.
2010, Fellow of Furness College, University of Lancaster. - PhD (creative and critical writing, University of East Anglia) 2015. - In 2009, he played Cardinal Wolsey in the TV show "Henry VIII:
Mind of a Tyrant", centered on King Henry VIII of England. Later that year, he played Sir John Hutton in the TV show "The Tudors", also centered on King Henry VIII.
For his imdb list you can click here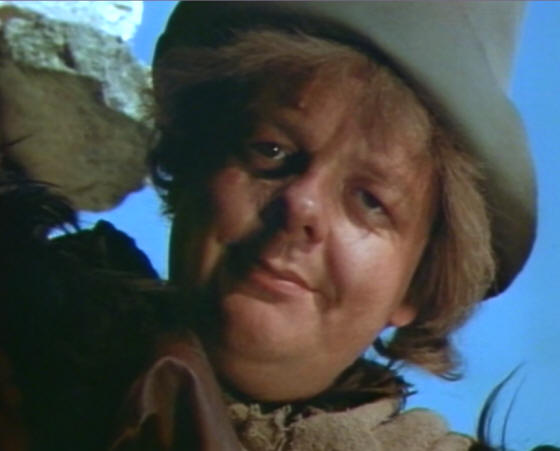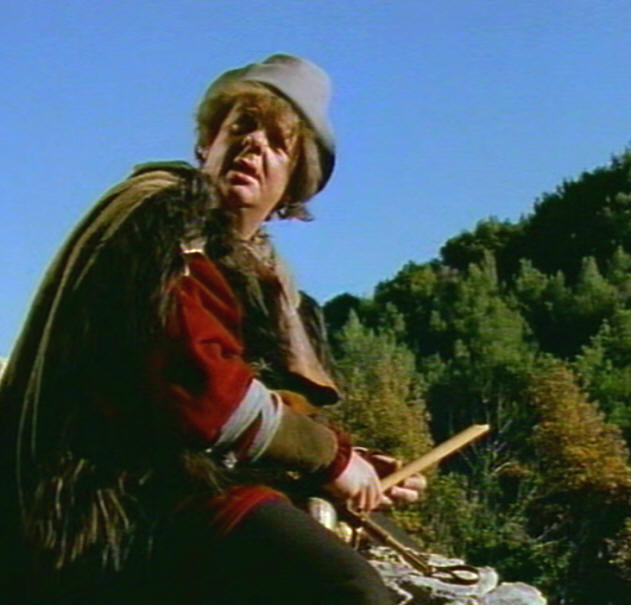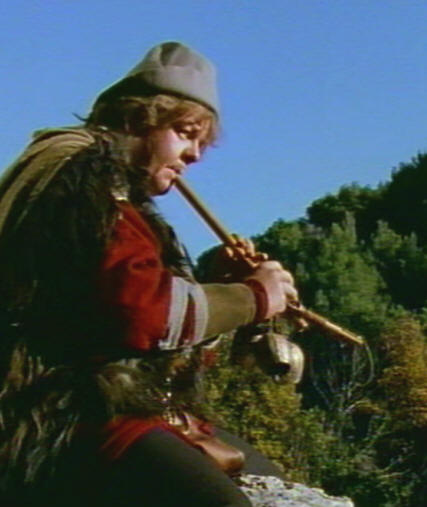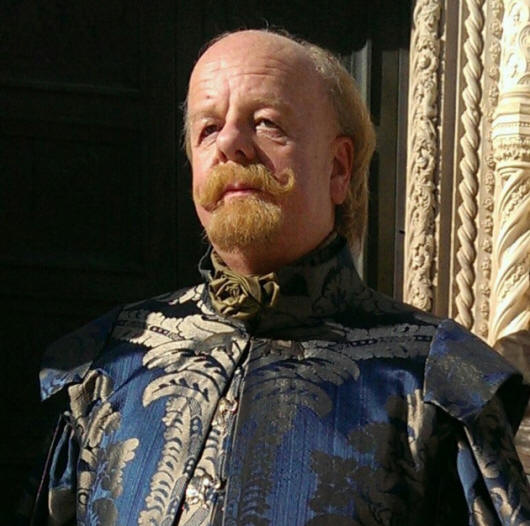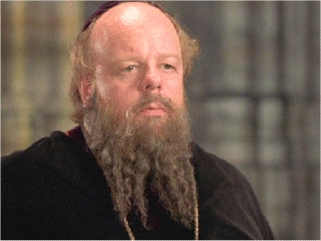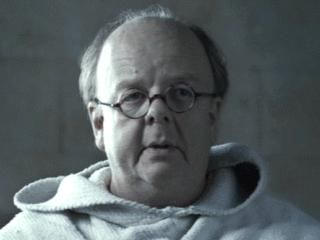 Born in Hertfordshire, Ashton-Griffiths studied at Lancaster University (1975-78), where he was a member of Furness College, and graduated with a BMus. He began his career as a singer
with English National Opera at the London Coliseum between 1979 and 1981.
He has appeared in numerous high-profile films, including Terry Gilliam's Brazil (1985) and The Brothers Grimm (2005), Dreamchild (1985), Young Sherlock Holmes (1985), Gene Wilder's
Haunted Honeymoon (1986), Roman Polanski's Pirates (1986), Peter Greenaway's The Cook, the Thief, His Wife & Her Lover (1989), Mountains of the Moon (1990), Chicago Joe and the
Showgirl (1990), Shadowlands (1993), The Portrait of a Lady (1996), The Wind in the Willows (1996), A Knight's Tale (2001), Martin Scorsese's Gangs of New York (2002), Woody Allen's You =
Will Meet a Tall Dark Stranger (2010), Olivier Dahan's Grace of Monaco (2014) and Mike Leigh's Mr. Turner (2014).
He has also worked extensively in television, including Jack the Ripper, The Odyssey, Merlin, Margaret, The Tudors, Doctor Who, Coronation Street and Father Brown.
He portrays Lord Mace Tyrell in Game of Thrones in Season 4, Season 5, and Season 6.
Ashton-Griffiths lives in London and Suffolk. He is married to Sharmini Thillaimuthu, a BBC studio manager, with whom he has two children. In 2003, he attained an MA in Fine Art from the
University of East London, and in 2016, he attained a PhD in Creative Writing from the University of East Anglia.
Dicken Ashworth
As Morgan in episode 5 and 10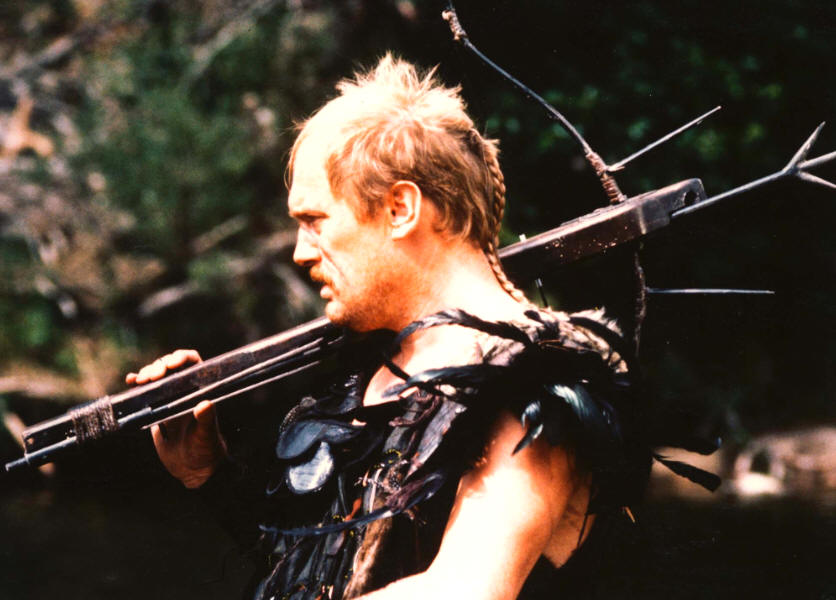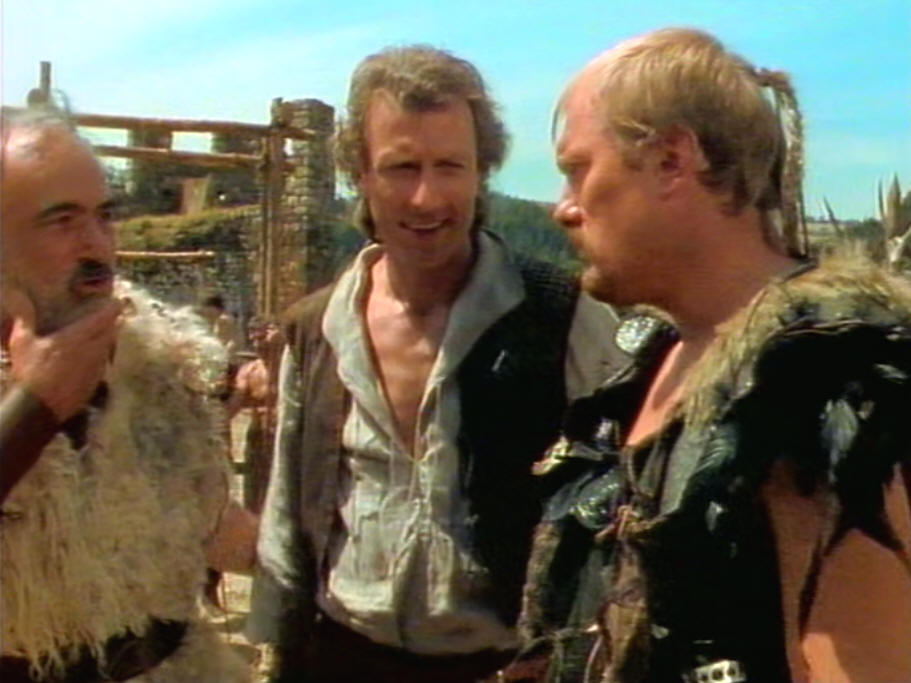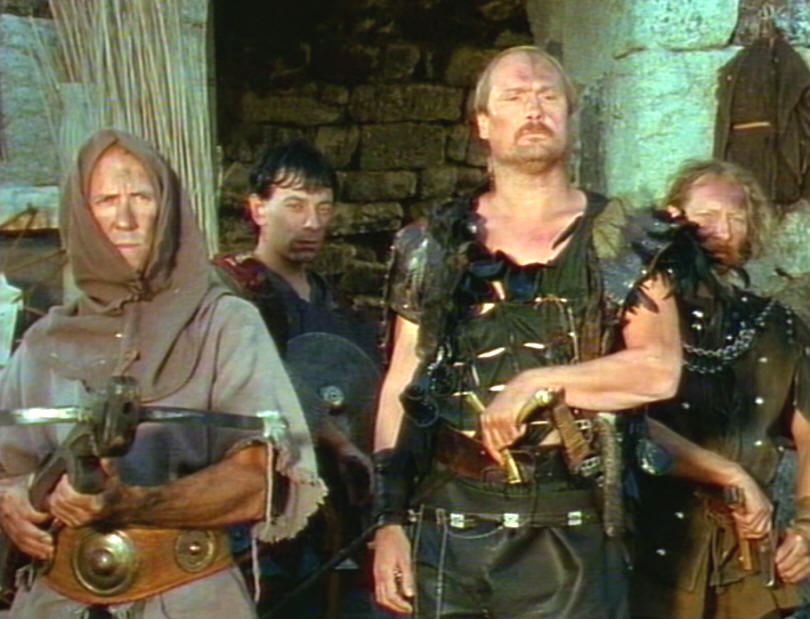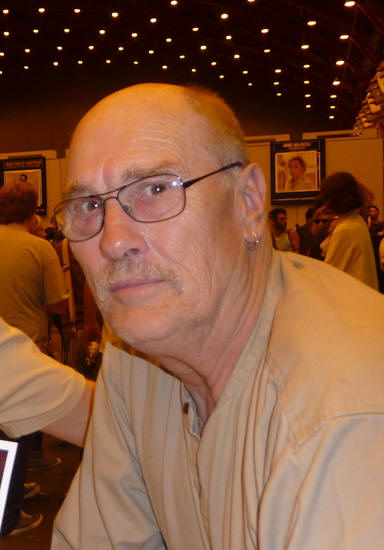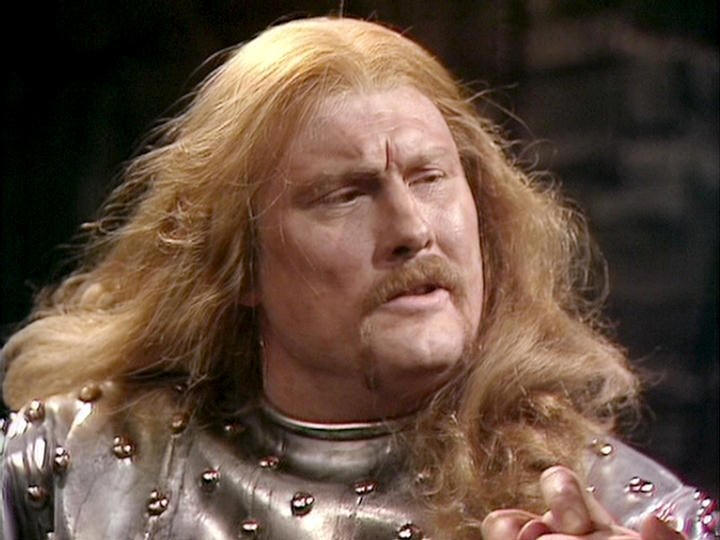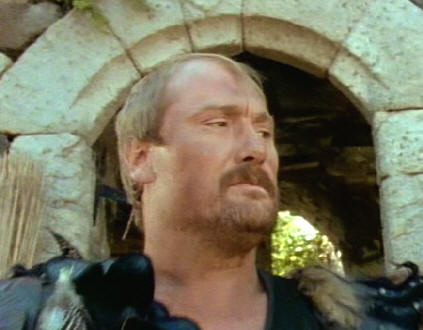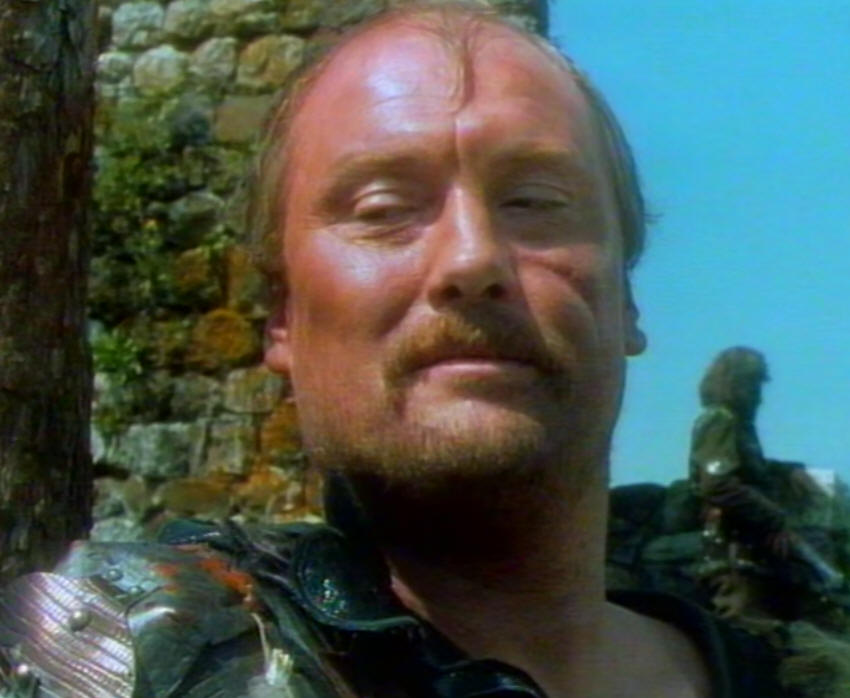 Born: in Todmorden, West Yorkshire.
Ashworth's film credits include King of the Wind, Force 10 from Navarone, Tess, Krull and Wallace & Gromit: The Curse of the Were-Rabbit.
On television, Ashworth played Alan Partridge in Brookside from 1983 to 1985, Geoff Horton in Coronation Street from 1992 to 2000 and Duke Woods in Emmerdale from 2007 to 2008.
Other television credits include Grange Hill,Juliet Bravo, Minder, Blake's 7, The Chinese Detective, Doctor Who, C.A.T.S. Eyes, The Bill, Boon, Inspector Morse, Dangerfield,
Keeping Up Appearances and Where the Heart Is. Ashworth appears in the video to the Pretenders' 1986 single "Don't Get Me Wrong".
Dicken Ashworth was born on July 18, 1946 in Todmorden, West Yorkshire, England as Terence Dicken Ashworth. He is an actor, known for Tess (1979), The Curse of the Were-Rabbit (2005)
and Krull (1983). He is married to Jane Ripley. They have one child. For his imdb list you can click here
Career
Ashworth's film credits include King of the Wind, Force 10 from Navarone, Tess, Krull and Wallace & Gromit: The Curse of the Were-Rabbit.
On television, Ashworth played Alan Partridge in Brookside from 1983 to 1985, Geoff Horton in Coronation Street from 1992 to 2000 and Duke Woods in Emmerdale from 2007 to 2008.
Other television credits include Grange Hill,Juliet Bravo, Minder, Blake's 7, The Chinese Detective, Doctor Who, C.A.T.S. Eyes, The Bill, Boon, Inspector Morse, Dangerfield,
Keeping Up Appearances and Where the Heart Is. Ashworth appears in the video to the Pretenders' 1986 single "Don't Get Me Wrong".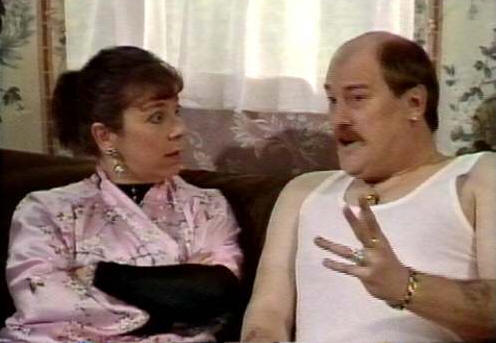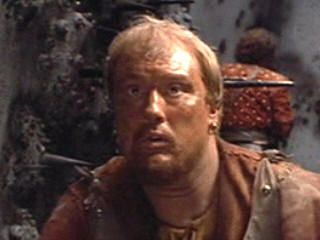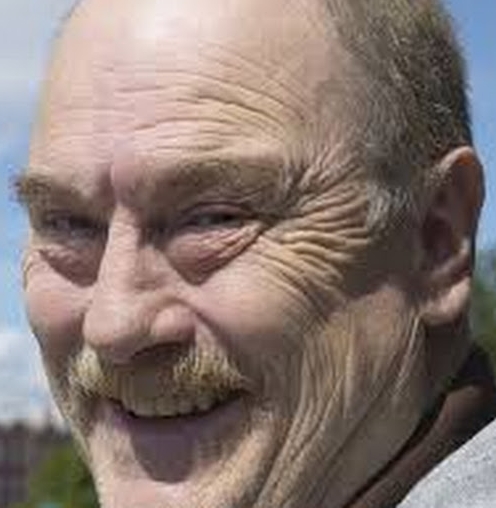 Partial filmography
Force 10 from Navarone (1978) - Nolan
A Nightingale Sang in Berkeley Square (1979) - Charlie the Chubb
Tess (1979) - Farmer Groby
Remembrance (1982) - Frank
Krull (1983) - Bardolph
Out of Order (1987) - Pool Player
Vroom (1988) - Huff
King of the Wind (1990) - Woodcarter
B & B (1992) - Jeremy
The Revengers' Comedies (1998) - Lorry Driver
Wallace & Gromit: The Curse of the Were-Rabbit (2005) - Mr. Mulch (voice)
Féodor Atkine
The Inquisitor, 1 episode, 1988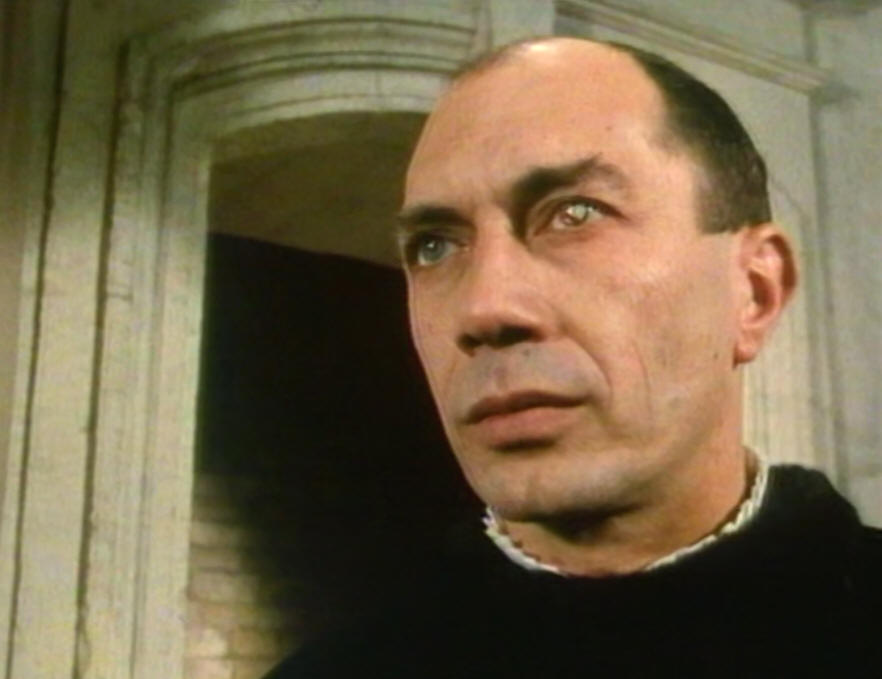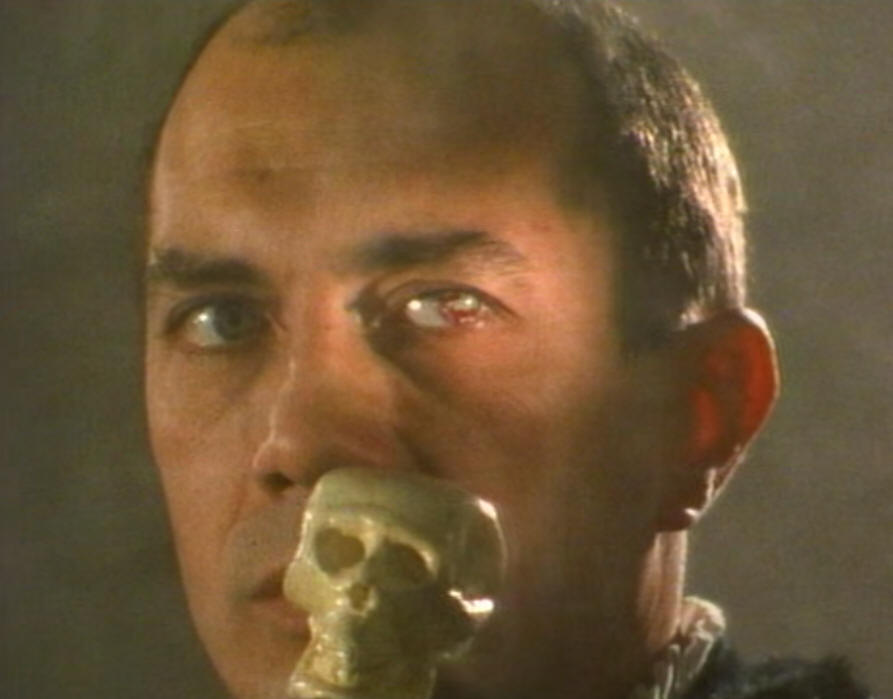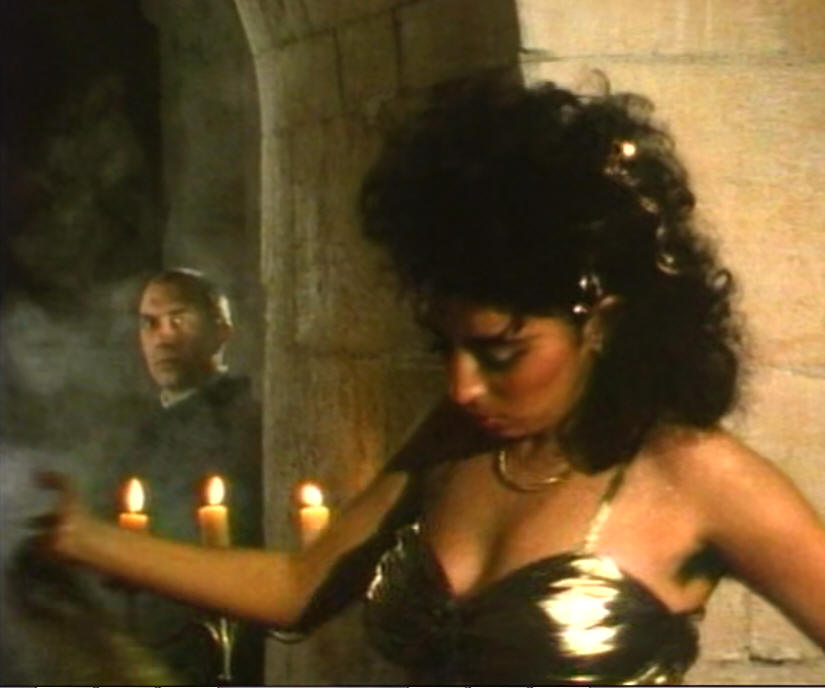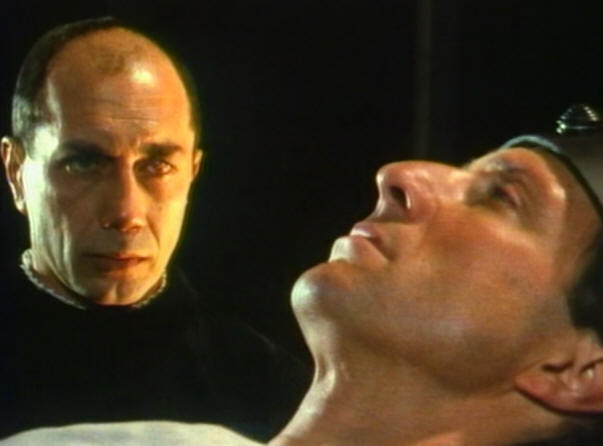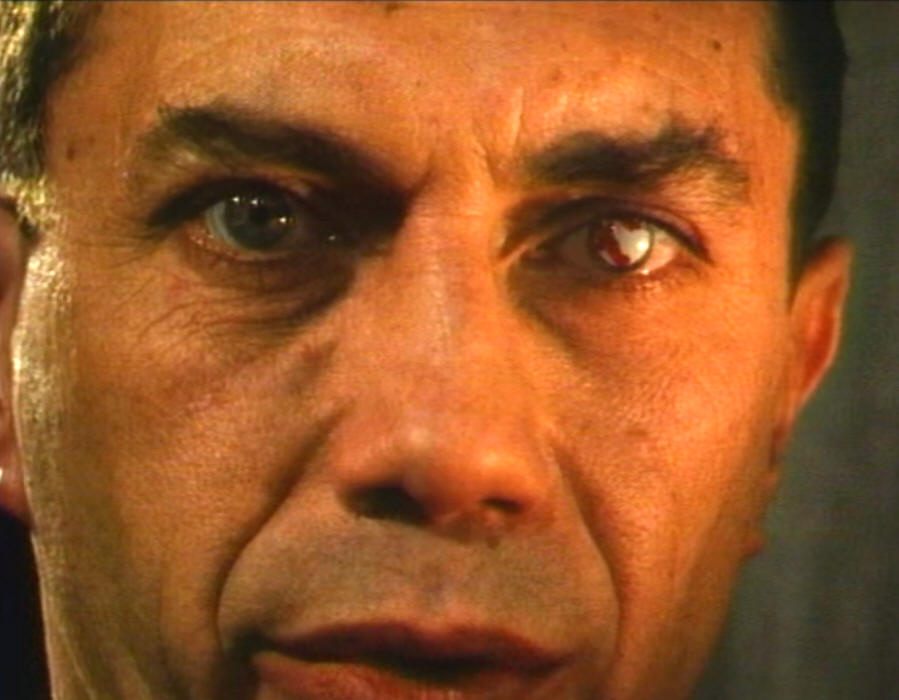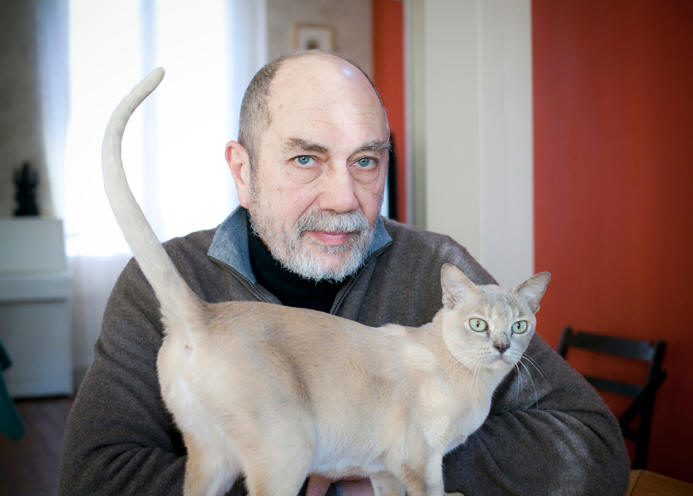 Episode 45, 'The Inquisitor' - Played the inquisitor who tortures Tell trying to get him to make false confessions
under Gessler's direction. His credits include Sharpe, Ronin, A Head For Business, the Dancer, and Exit.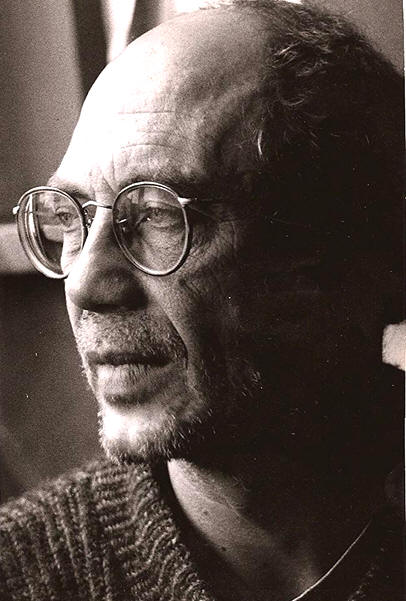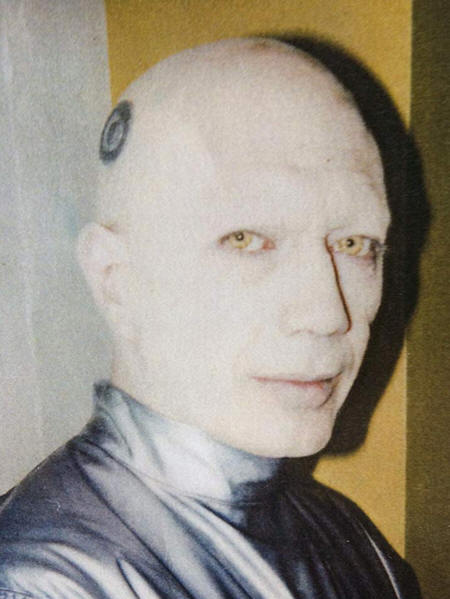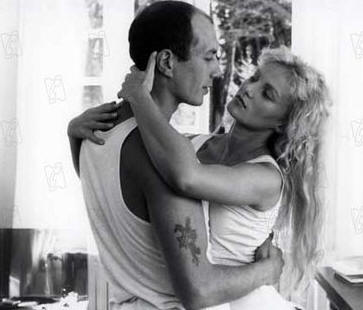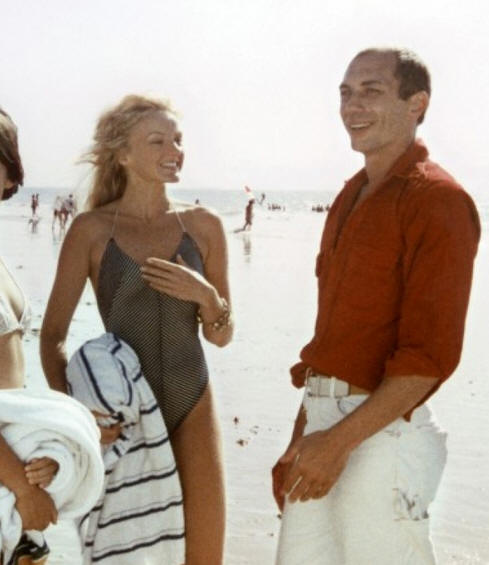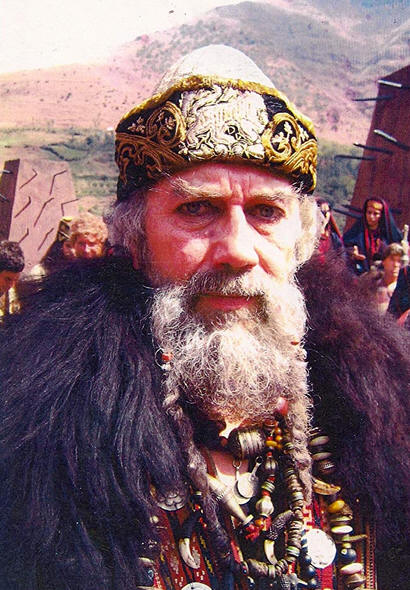 The great Feodor Atkine, who plays in five languages ​​the most beautiful auteur films, Hollywood blockbusters, soon with Brad Pitt, and also, he adds with malice,
"an incalculable number of Nanars". Today he is the poster of The Memory in the flesh, the second feature film of the great film buff and critic Dominique Maillet.
Feodor Atkine, also a voice and a look, of course. His imdb can be seen by clicking here
Leader in 1 episode, 1989
Episode 69, 'The Headhunters' - as the leader of the Headhunters, a cult which believes that when you kill a man you gain his strength.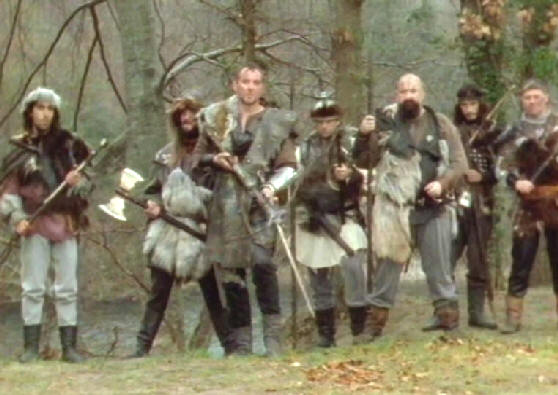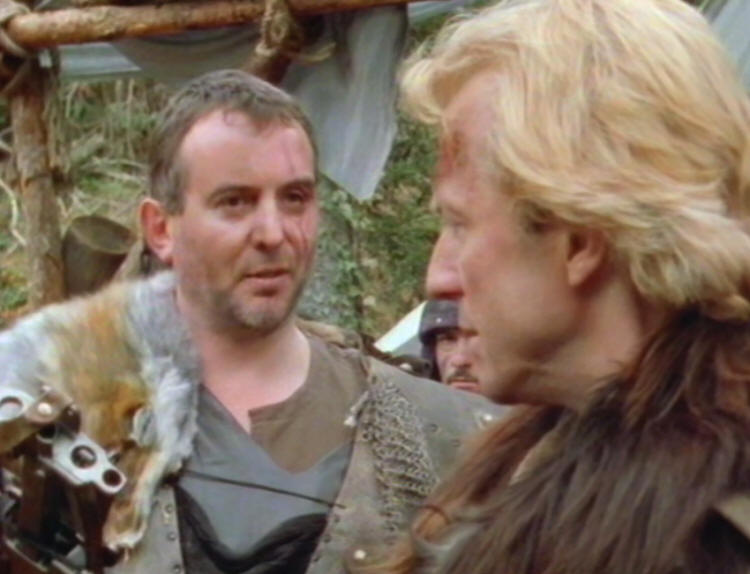 Michael Atwell with Phill Collins in film Buster 1988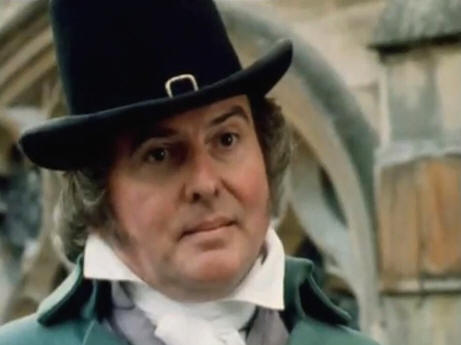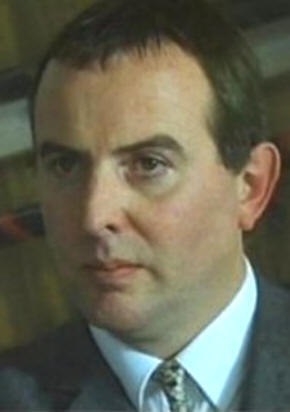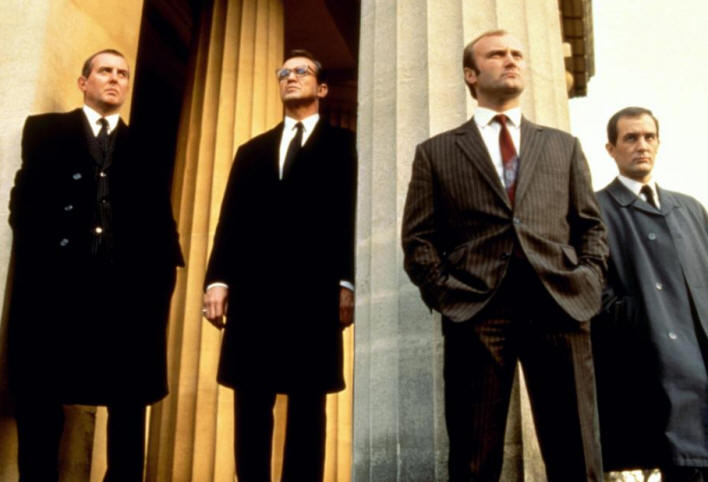 Michael Attwell was born on January 16, 1943 in Watford, Hertfordshire, England as Michael John Attwell. He was an English film and television actor, known for Joseph (1995),
Oliver Twist (1985), EastEnders and Scarlet and Black (1993). He died on March 18, 2006 in London, England.
He was in 7 episodes of Doctor Who, 4 in 1967 The Attack Of The Icewarriors (episodes: 3,4,5,and 6) and 2 in 1985 called: 'Attack Of The Cybermen (part 2 and 5) He was 9 episodes in
EastEnders 1989, Inspector Moors 1990, The New Adventures of Black Beauty tv series 1990, episode 'The Old World' and 'A Horse Called Beauty' 1990 (as Barret).
His other TV credits include: Doctor Who (in the serials The Ice Warriors and Attack of the Cybermen), The First Churchills, Only Fools and Horses, Minder, Bergerac, C.A.T.S. Eyes,
Wycliffe, Bugs, Silent Witness, Pie in the Sky, Casualty, The Bill, Hotel Babylon, and Are You Being Served?.
He is possibly best known for his role as Kenny Beale in the television soap opera EastEnders.
In 1979 and 1980 he played Razor Eddie a.k.a. Edward Winston Malone in two series of the comedy-drama Turtle's Progress. The character had originally been created for the ITV
drama serial The Hanged Man, where he was played by Gareth Hunt.
In 1978 he played Bill Sikes in the revival of Lionel Bart's musical Oliver! at the Albery Theatre and in 1985 he played Bill Sikes again in the BBC's Sunday afternoon classic serial Oliver Twist.
He appeared in: the 1988 film Buster, based on the life of the Great Train Robber Buster Edwards.
Designer
Zoe works as a designer for newspapers at home and abroad.
As well as acting, between 1981 and 1993 Attwell also had a considerable career as a political cartoonist for several British national newspapers including 'The Sun', Sunday People and the
'News of the World.' A self-taught artist. He signed his cartoons "Zoke", an amalgam of his two eldest children's names.
He Had 3 children, two (Zoe and Jake Attwell) by Inger Cederstrand, and one (Cassie) by Caroline Cornish. Considered for Brash Guard in Lifeforce (1985). More to read at his imdb list, you can click here
Attwell died in London on the 18 March 2006 aged 63 from complications following surgery. His life and work was honoured at the British Academy Television Awards in 2006.
David Auker
The Pit and The Rock, one of the Bolgar brothers Wolf and Crow.
Tell: 'I think I'm not very pleased to meet you.' Brothers: 'Wait, until you meet our father.' David Auker was born in March 1949 in Wood Green, Middlesex, England. He is an actor,
known for A Bridge Too Far (1977), Unman, Wittering and Zigo (1971) and Bridget Jones: The Edge of Reason (2004).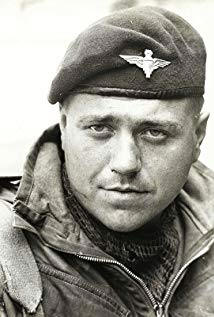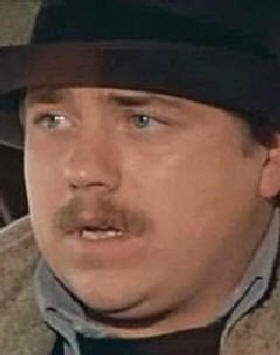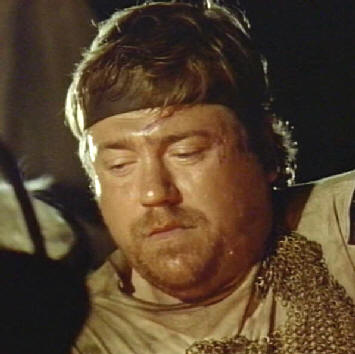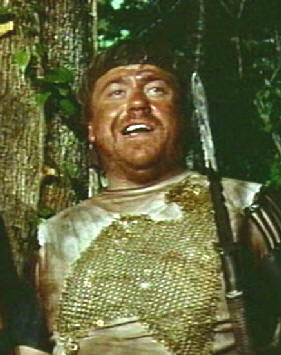 Peters is a minor character in the 1977 James Bond film The Spy Who Loved Me. He was played by Film biography
Peters is a crew member of HMS Ranger, one of Britain's four nuclear submarines. He played chess with Andrews on the board when the submarines encounters something strange
underwater, the submarine surfaces and see a supertanker's bow opening to swallow the vessel. He remains a prisoner onboard the Liparus until James Bond frees him. Talbot leads a
raid on the ship's armory and provides weapons for the newly liberated British, American and Soviet sailors. His fate is unknown. His imdb list is here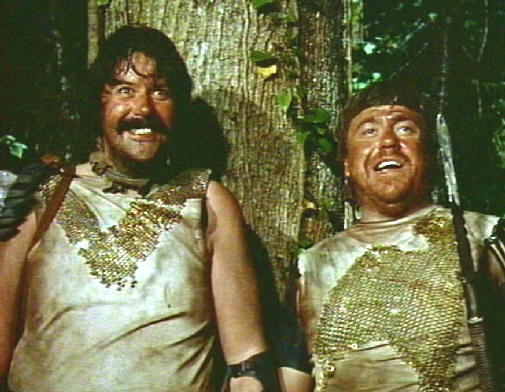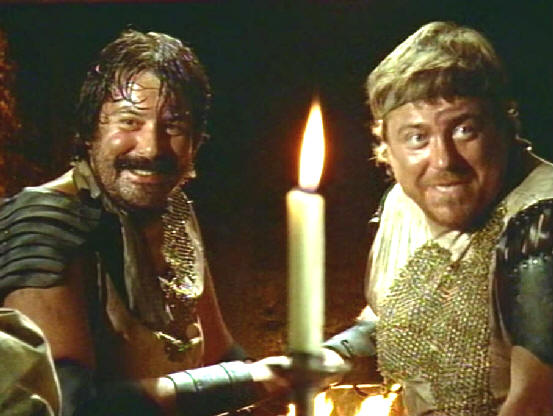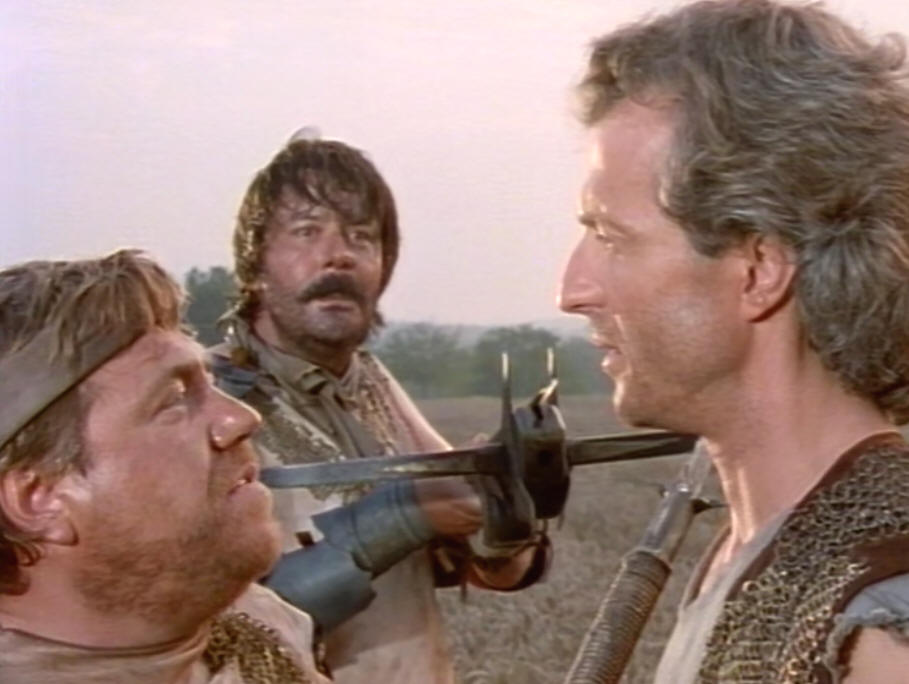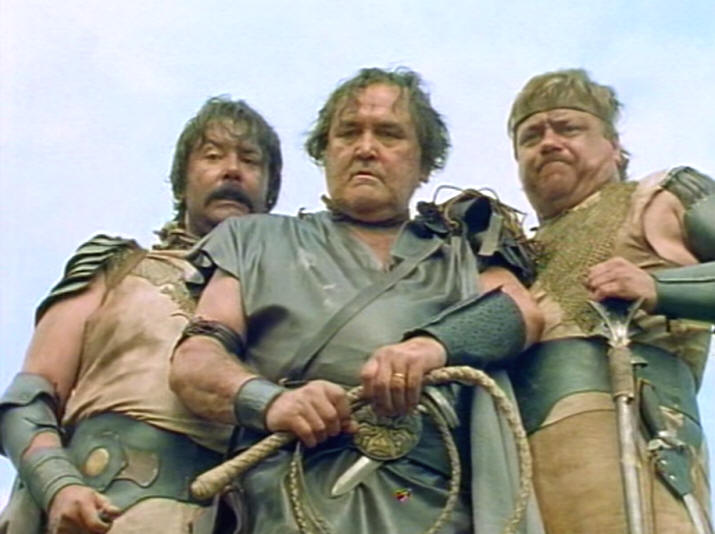 Serge Barbuscia
Serge Barbuscia is an actor, known for Corps et biens (1986), Le juste (1996) and Un privé au soleil (1989
Founded in 1983 by the company Serge Barbuscia, the Théâtre du Balcon has established itself as a permanent and "emblematic" place for Avignon's theatrical life. Space of
creation and diffusion, the Theater of the Balcony contributed to the discovery and the blossoming of many artists, musicians, actors, authors ... who knew to weave the
confidence of a demanding and curious.
The company Serge Barbuscia has managed, for 27 years, to affirm his artistic approach. His shows reveal universes and forms as different as the image,
the music, the text, the song, the dance and the gesture.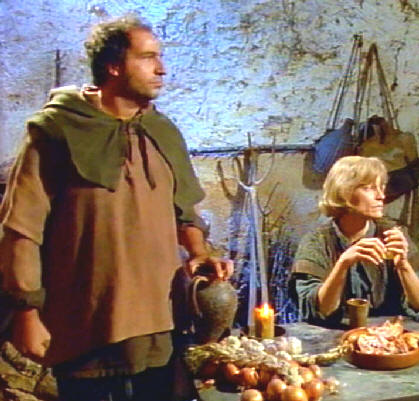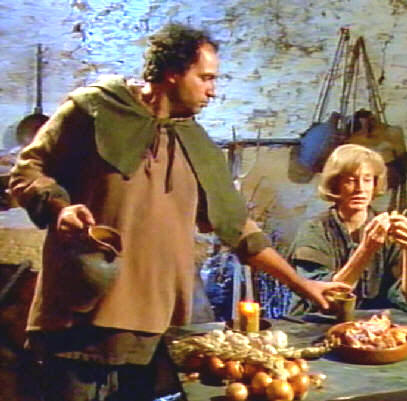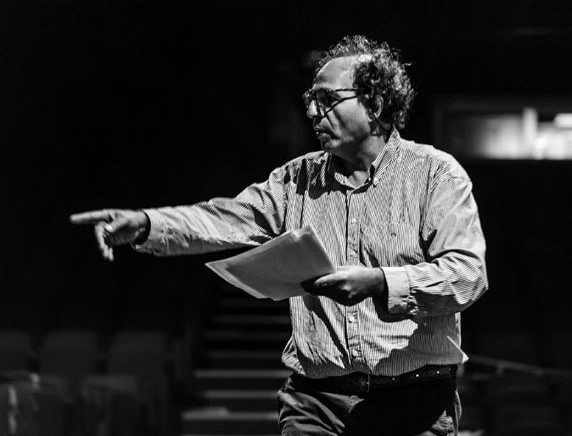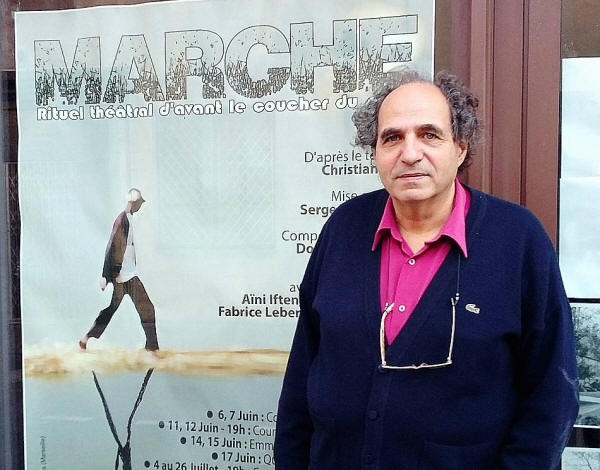 For the site you can click here
Krystal 1 episode, 1989
Episode 68, 'The Amazon' - A familiar face on British television, particularly as Eleanor Ashby in the acclaimed miniseries
'Brat Farrar'. Here she plays Krystal a member of a group of amazonian women who stumbles upon Tell in the forest.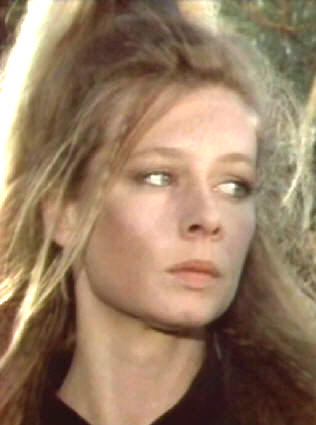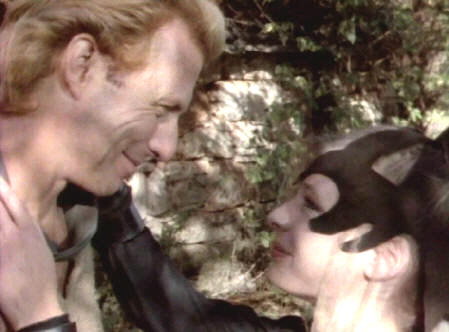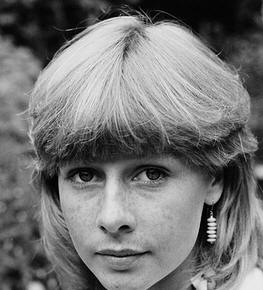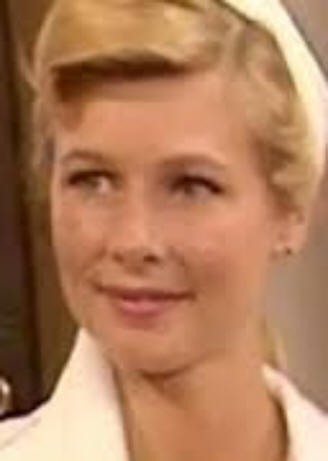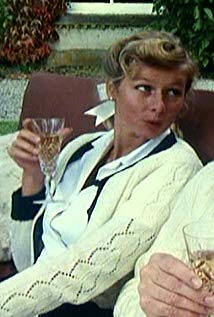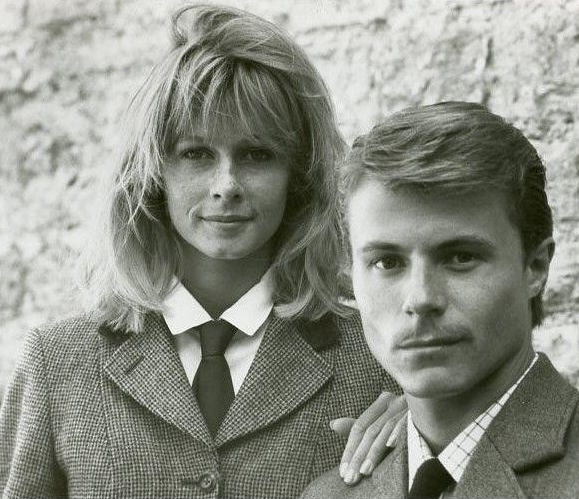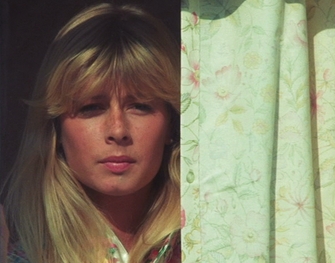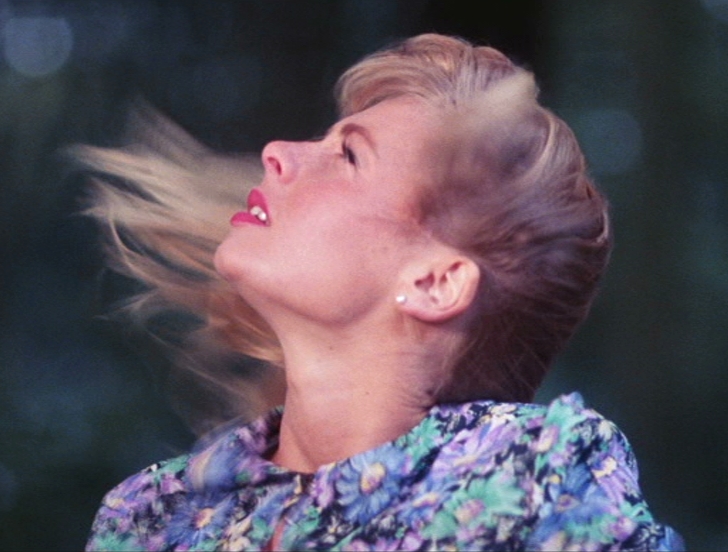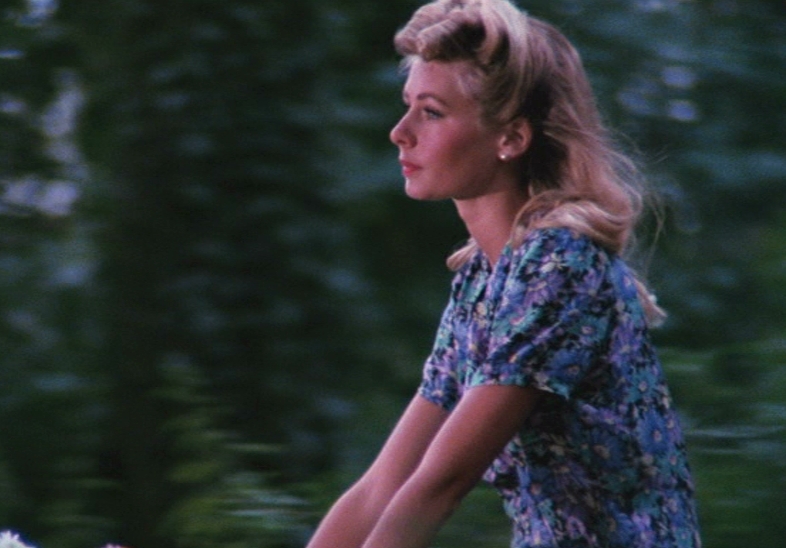 Dominique Barnes was born on June 21, 1966 in Barnet, Hertfordshire, England, UK, is a Actress. Well, we're here to silence all rumors – and highlight other bits of Dominique
Barnes like net worth, marriage, age, and wiki-bio. Known for Brat Farrar (1986), It Couldn't Happen Here (1987) and Return to Waterloo (1984). There is no trace of her.....It seems she quit acting.
Reine Barteve
In Crossbow episode Rejection. The widow of St. Pierre. She gets help by a farmer Johannes.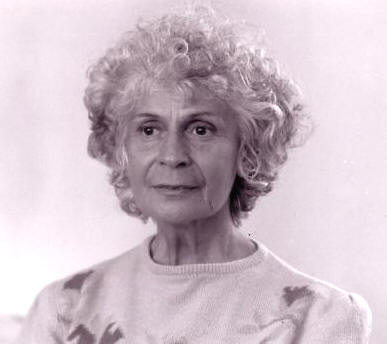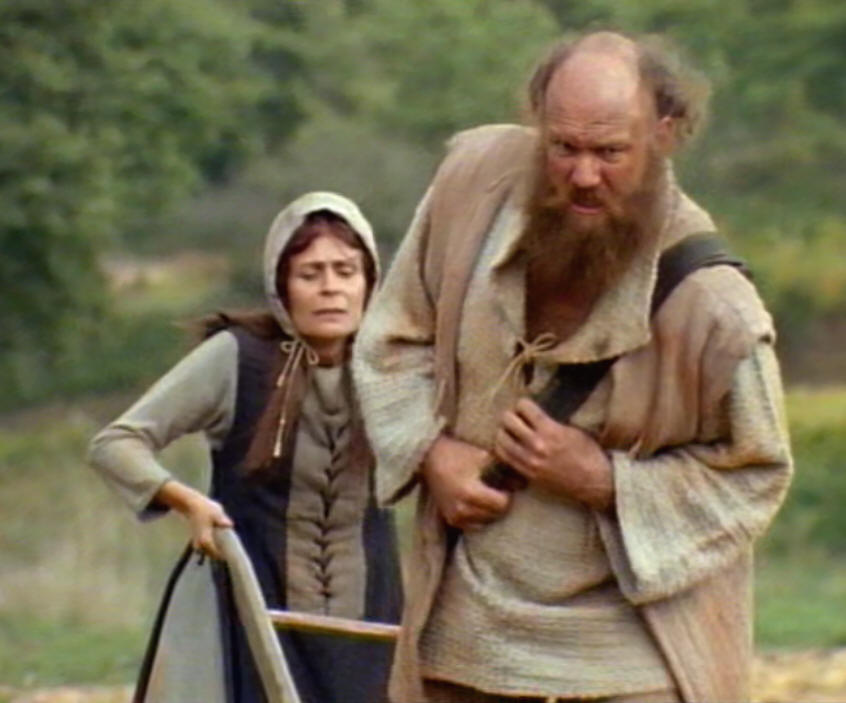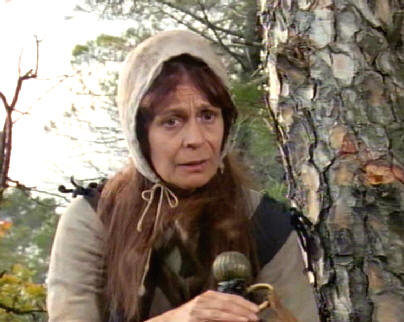 Reine Barteve had role in in the youth series Silas (TV Mini-Series) as Teresa in the episodes: - Silas wird in die Hauptstadt eingeladen (1981) ... Teresa (uncredited)
1975 1987 1993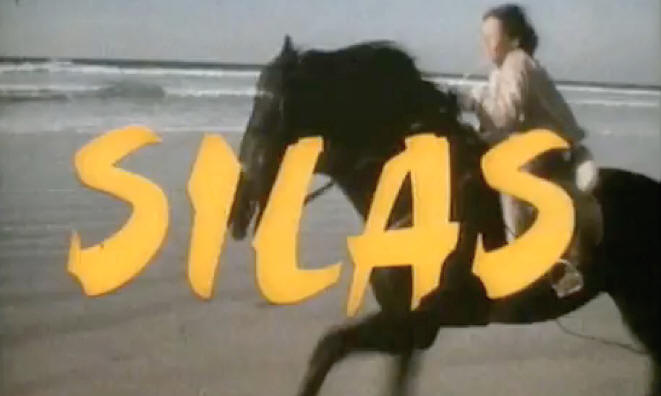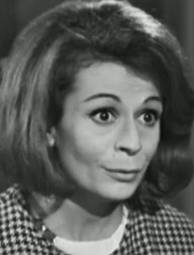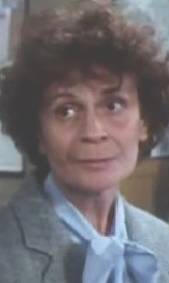 Antoine Baud
Antoine Baud was born on November 6, 1925 in Gentilly, Seine [now Val-de-Marne], France. He is known for his work on Les anges gardiens (1995),
Mauvais sang (1986) and Le chevalier de Pardaillan (1962). He died on November 24, 2014 in Bron, Rhône, France. at the age of 89.
Role in Thierry la Fronde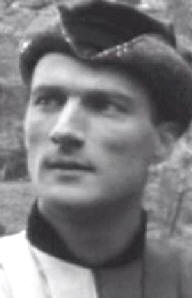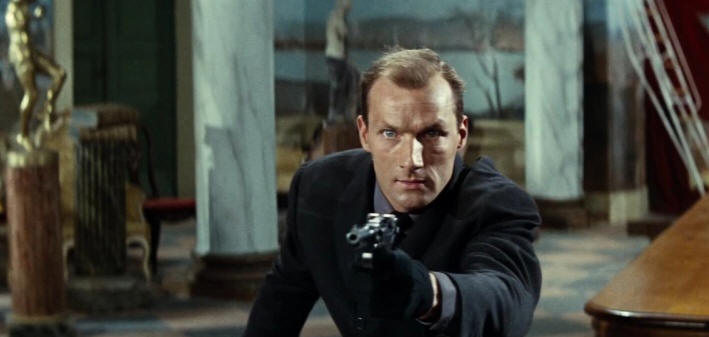 1 episode, 1987, one of the dukes of Zharingen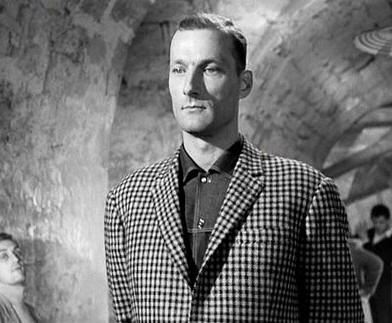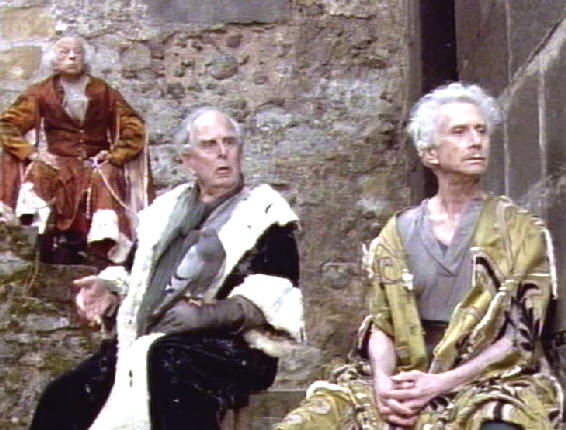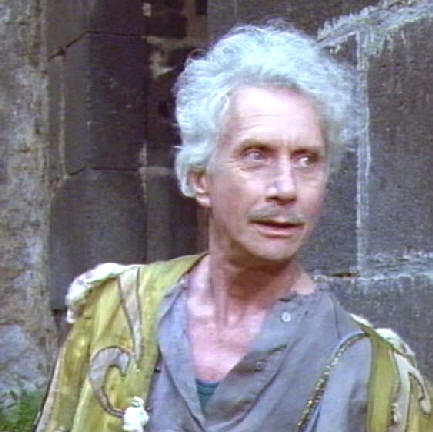 Antoine Baud also played in the films of André Hunebelle, whose "Fantomas is unleashed" and "Fantômas against Scotland-Yard", as well as in "Les Grandes vacances".
From a fanside: Stuntman Antoine Baud, loyal employee of Claude Carliez, died in November 2014, at the age of 89. For several years he was retired from the cinema and he
lived near Lyon. Occasionally we had telephone contact with him and he was always nice to us. On several occasions there was talk about a possible meeting to hold an interview about
his career and about the films he had recorded with Louis de Funès. No matter how tired he was, he politely refused our proposal, preferred to trust by telephone. When we talked
about his career, there was often a nice anecdote about Louis de Funès. This memory went back to the recordings of the film "The Captain Fracasse" by Pierre Gaspard-Huit, made
in 1960 (released in April 1961). Also, in remembrance of this warm and very friendly man, here is a memory - among many - of Louis de Funès, who was entrusted to the
site's authors in August 2012:"I especially keep a painful memory of Louis de Funès, I shot with him" The captain shatters "with Gerard Barray and the Claude Carliez team
In a scene I fought with him and he had to switch me
off. I find myself on the ground and, to knock myself out, he grabs a vase within his reach and breaks it on my head, except that it was not a fictional object, made up by
the props, but of a real vase, carried away by the scene, he was mistaken, I fell down the stairs, half sounded When the director said "cut", everyone came to stand up to
congratulate me because I had played the stage well, they did not understand that I had not pretended and that me I was knock out! (Laughs). " The scene in question of
"Captain shatters" (P. Gaspard-Huit, 1961) Source click here and for imdb here
His last role was in Crossbow.
Robert Barr
2 episodes: The Banquet and The Bet, 1986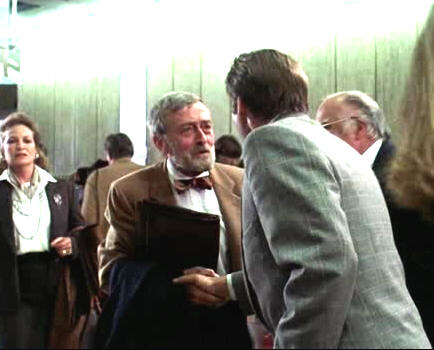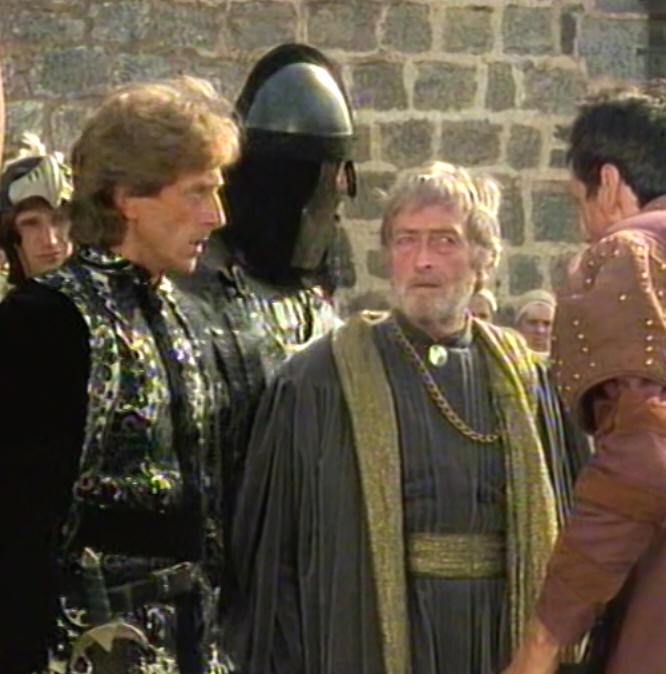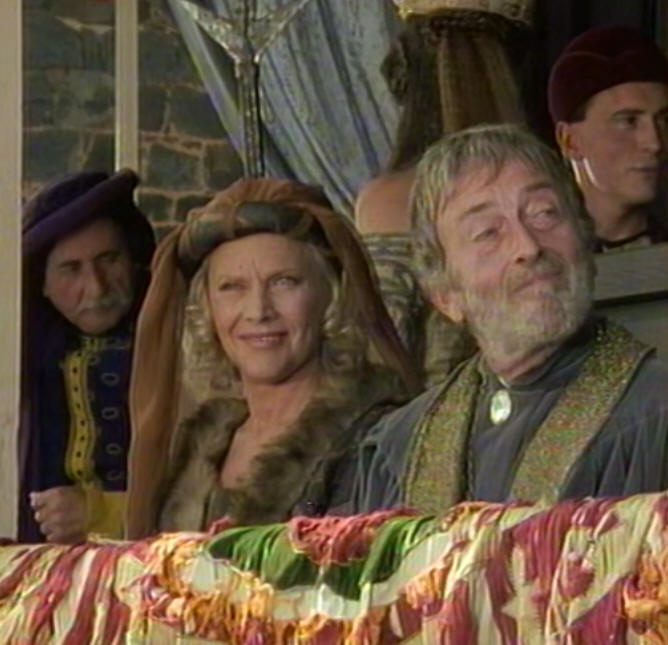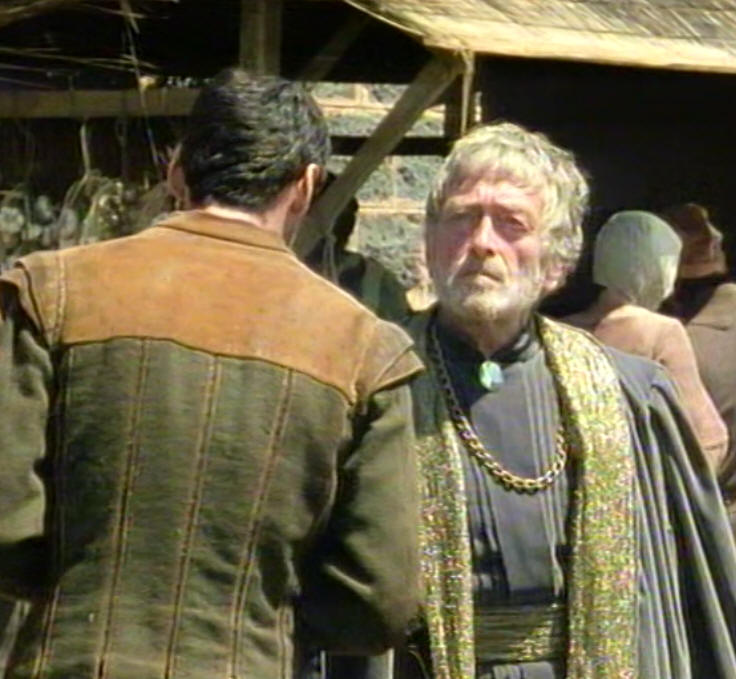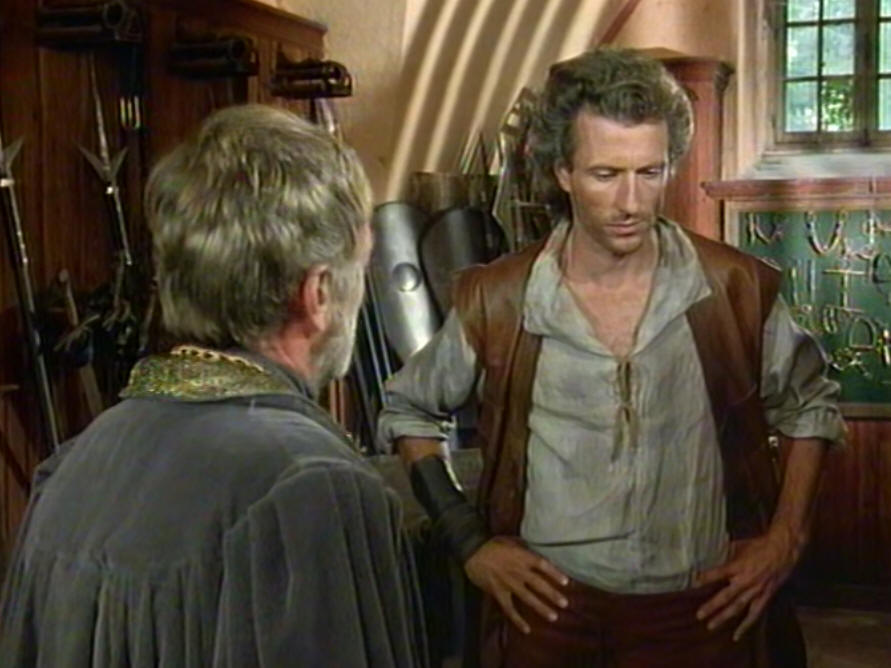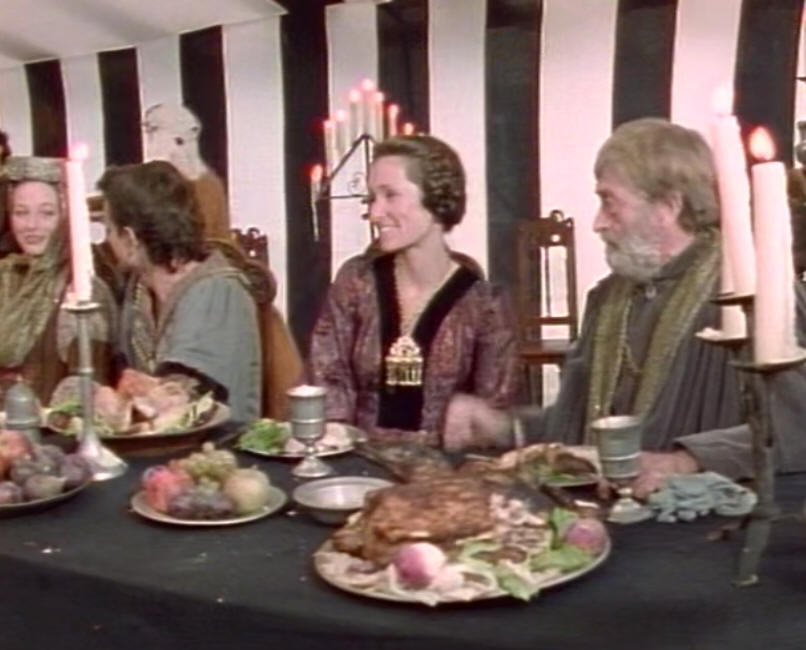 Dana Barron
Eleanor, at least 6 episodes, 1987-1989
She played Eleanor, the daughter of Tell's friend Stefan. She only played in the first season.
Dana Barron as Eleanor, Stefan's tom-boyish daughter. Having grown up without a mother, Eleanor learned to fight, ride, swim, and hunt just like her old man. Surrounded by her
Father's rebel friends, she has learned to be careful of strangers and is always ready to defend herself. When she first meets Tell she over powers him and takes him prisoner,
unaware of who he is. She's the best scout around or so her father boasts, and she has proved it by the amount of times she's managed to track Tell down
She and her father accompany Tell in the search for Matthew in the first series and more than pulls her wait in the search, she's never shy with her actions or her opinions.
She can take care of herself and everyone else, frequently acting on her own initiative. At one point she even manages to rescue Tell from Gaston.
Though she is constantly in the company of men and performs tasks thought to be reserved predominantly for men, there is nothing masculine about her. She is a beauty and
her scouting skills are enhances by her swift and graceful movements, never lumbering. She is most at ease in trousers and and riding boots and is only once seen in a dress,
but she wears it well. She has a gentle and sweet temperament when she is not on her guard, but watch out, when she feels threatened. She'll speak her mind and then some.
A terrific role model growing up for us tom-boys. Sadly she stayed for the first series and was seen no more.
Dana Barron, began her career as a child actress and is best known as the original Audrey Griswold in National Lampoon's Vacation. Her work in television includes a stint on
One Life To Live, Beverly Hills 90210, and The Magnificent Seven. Among her films are He Knows You're Alone, Heartbreak Hotel, City of Industry, Man in the Iron Mask II,
and most recently Python, Roomies, and The Perfect Nanny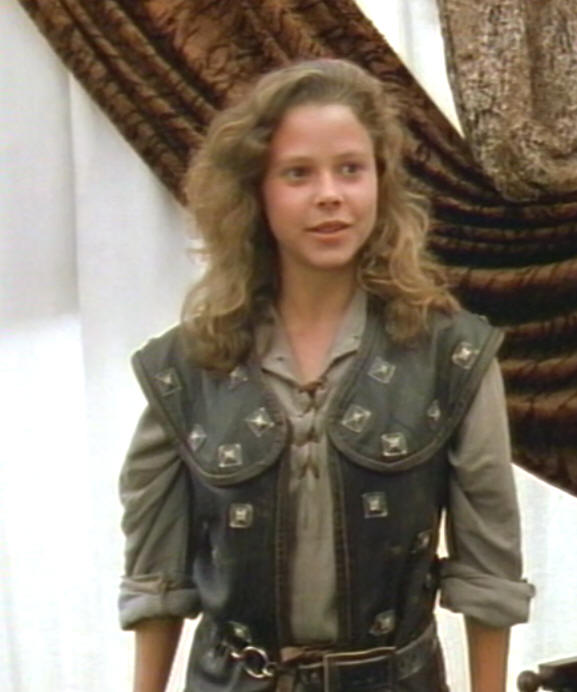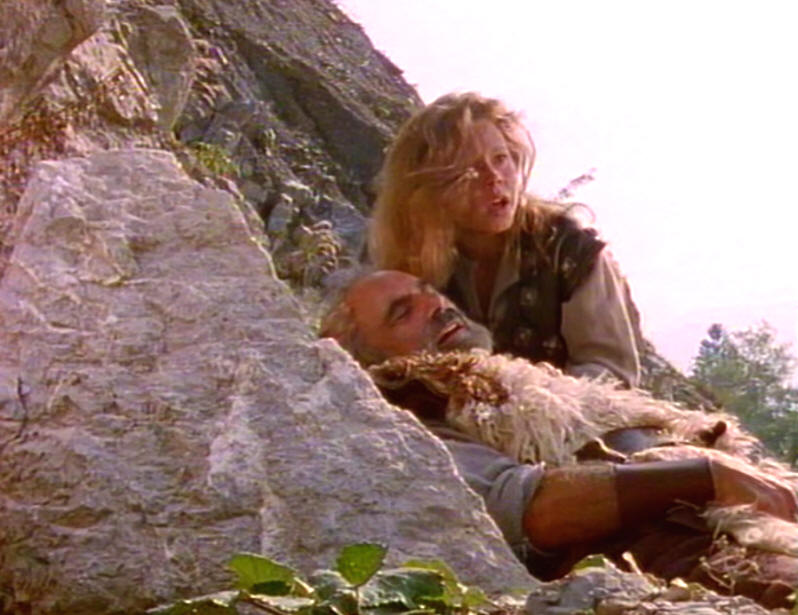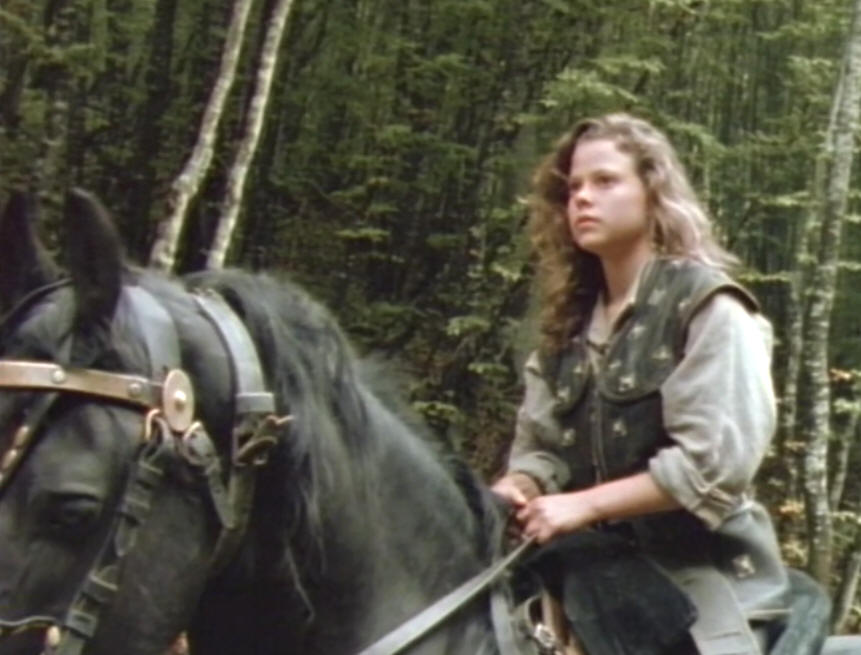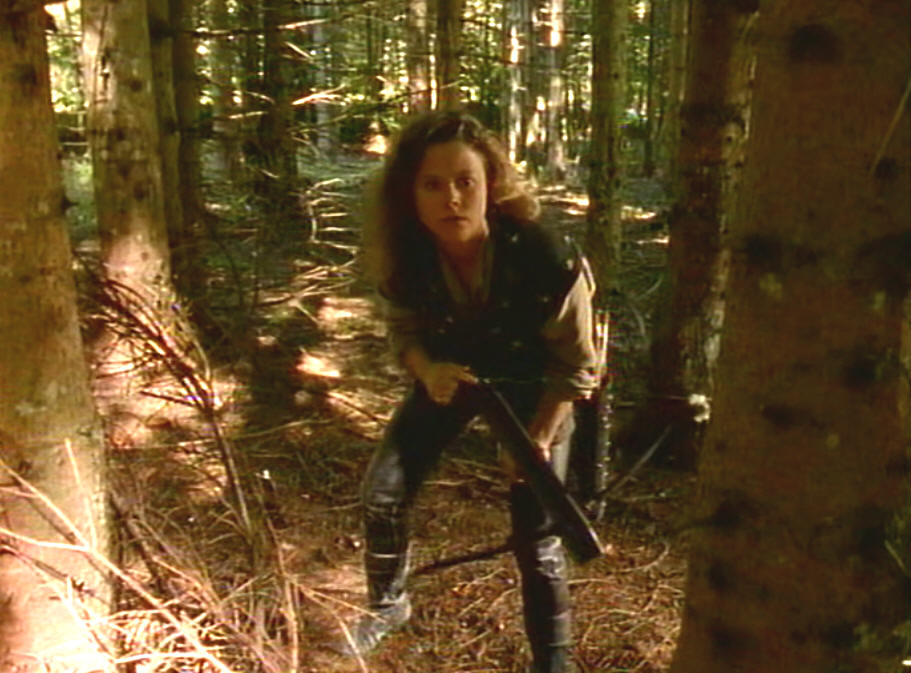 Dana Barron (born April 22, 1966) is an American actress who has starred in film and on television. Barron is best known for her role as the original Audrey Griswold in the 1983 film
National Lampoon's Vacation which she reprised in 2003's Christmas Vacation 2: Cousin Eddie's Island Adventure for NBC television.
Barron was born in New York City, New York, the daughter of Joyce McCord, a stage actress, and Robert Barron, a commercial director and former child actor.
She has a sister named Allison

Barron appeared on the

soap opera One Life to Live from 1984–1985 as Michelle Boudin. She starred in the 1998 TV series The Magnificent Seven
as Casey. She had a recurring role as Nikki Witt on the Fox series Beverly Hills, 90210

, for which she won the Youth in Film Award for as best recurring actress.
Barron has made guest appearances on TV shows including The Equalizer, In the Heat of the Night, Murder, She Wrote, and Babylon 5 as a telepath named Lauren Ashley in the Season 5
episode "The Corps is Mother, the Corps is Father".
Personal life:

Barron is married to writer/director Michael Vickerman, and they have a son, Taylor
In Beverly Hills 90210 with Jason Priestley With Tom Hanks in the thriller: He known you're alone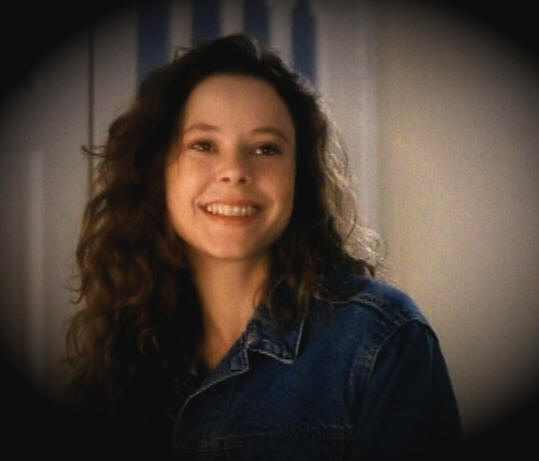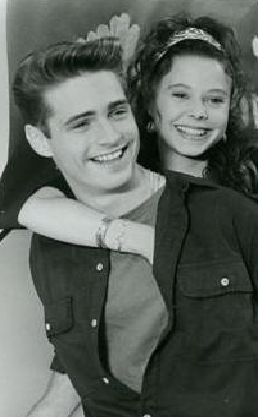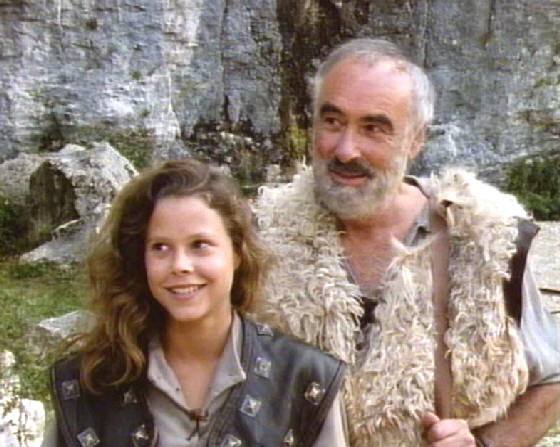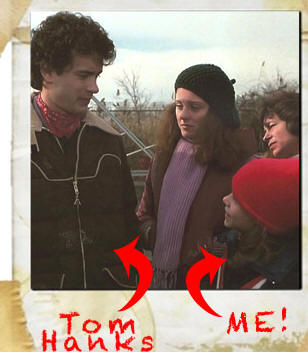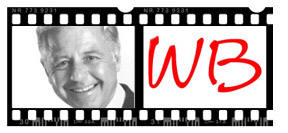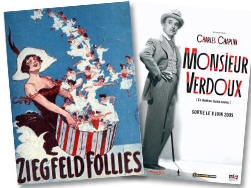 Dana Barron was born in New York City into a well known and respected theatrical family. Her grandmother, Marion Weeks, was the first person to sing in 'talkies' directed by
Thomas Edison. Marion's sister, also a vaudevillian, won local acclaim for her performance in "Monsieur Verdeaux", a Charlie Chaplin film.. Her grandfather was an opera singer.
Dana's father, Robert Barron, followed his
mother's passion for the theatre and after a successful career as an actor and director opened the world's first school for commercial and soap opera acting. The Weist-Barron School
of Television has been in business for over fifty years with at one time eleven locations throughout the United States.
National Lampoons Vacation Dana and her family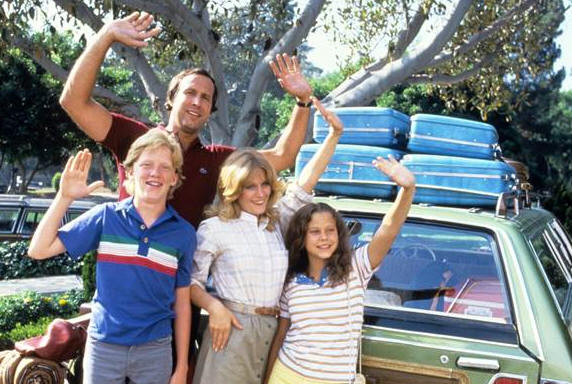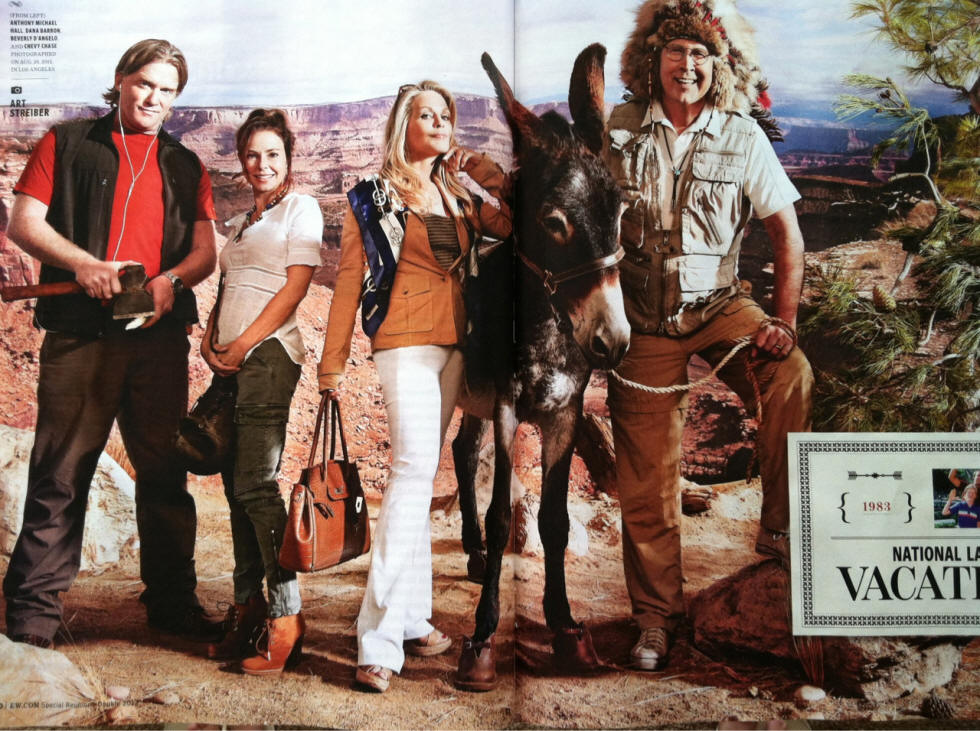 Why They Got A New Audrey For National Lampoon's "Vacation" Interview with Michael Yo Michael Yo caught up with Dana Barron, the actress who played Audrey in National Lampoon's
Dana attended the Hunter School for eight years, and after graduating, she attended New York University's Stern School of Business from where she graduated with distinction, majoring in business
marketing. In 2005, she received her Associates degree/ certification in Early Childhood Education from Santa Monica College. She also did a restaurant management course at the New York University.
Some Non-Acting Business Experience:
At age twenty-two Dana attended a restaurant management course at NYU and with several other students from the business school opened and managed a restaurant (Chumley's ) in
Greenwich Village. After seven years, the last three of which Dana spent in Los Angeles pursuing her acting career, it became evident her partners were something less than honest (addictions)
and the business relationship was dissolved.
When in New York, Dana is a part-time teacher at the New York City Zoo & the Natural History Museum
Charity Business:
One of Dana's greatest passions is her charity various work. Despite her busy schedule, Dana for the last nineteen years has been a teacher and volunteer for United In Harmony -
an organization that provides a summer camp for homeless and under privileged children. In the year 2000 Dana, along with Pierce Brosnan and Jane Seymour, became a
founding member of 'Children Uniting Nations' – an organization that holds a mentoring event (International Day of the Child) for two thousand foster children.
Producing Business:
Dana won an Emmy for best actor on a project for Symphony Pictures, 'No Means No.' Symphony Pictures is an independent film company co-founded by Martin Sheen. In pursuit of her
ambition to develop and make films Dana joined Symphony Pictures as Director of Development and Co-produced her first film for Lifetime called, "Seduced By A Thief" starring Sean Young.
In 2002, Dana became an executive producer for National Lampoon and produced several projects for their television network. Her biggest project was a co-production between Symphony Pictures
and National Lampoon called, "Pucked," starring: Jon Bon Jovi & David Faustino.
In 2006 her biggest dream was realized by the birth of her son, Taylor Barron Vickerman. Kind-hearted, altruistic yet wonderfully cheeky Dana (along with Michael Vickerman (writer/prod/director
–Long term relationship) could not be prouder of their son. Although Dana has slowed down in acting 'just a tad' Dana has still has appeared in several projects – including,
'HAPPY THANK YOU MORE PLEASE' that won the 2010 Sundance Audience award, Hallmark's 'NAUGHTY OR NICE' that was the highest rated cable movie of 2012 and Dean Devlin's
LEVERAGE (starring Timothy Hutton). Dana's latest project, 'SNOW BRIDE' is released on the Hallmark channel in Nov/Dec 2013. (source Dana Barron website)
The future is the future, I don't know. I have recently invested in a health food restaurant, which is very important to me. They talked about doing a National Lampoons 
Vacation night,  so that fans come and greet 

me at the restaurant. I really believe in health food. We are working with Ellen De Generes her chef. He is her personal chef
in vegan food. 

Elovate is the name, easy to find on the web. 

It's a special place now for me. 

Other things I do is that 
I am a mother, he's almost 10 now. And I am on real estate.For her imdb list you can click here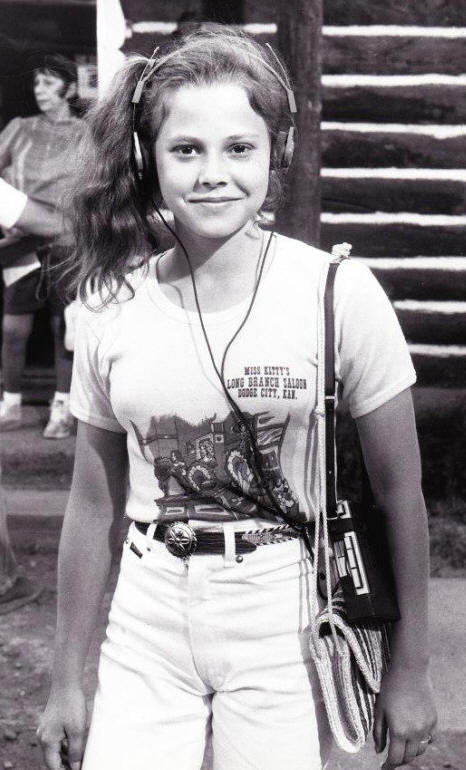 Catherine Bary
From Belgium. Catherine Bary is an actress, known for Comme sur des roulettes (2005), Légitime défense (2011) and Sauveur Giordano (2001). For her imdb list you can click here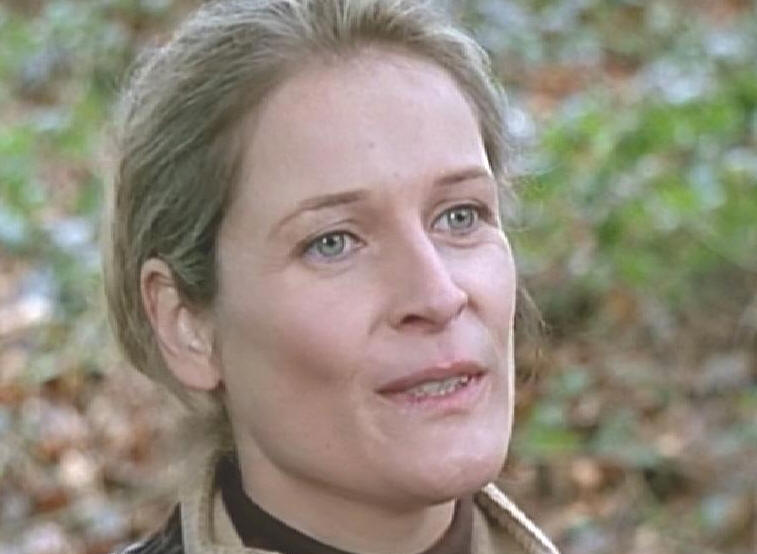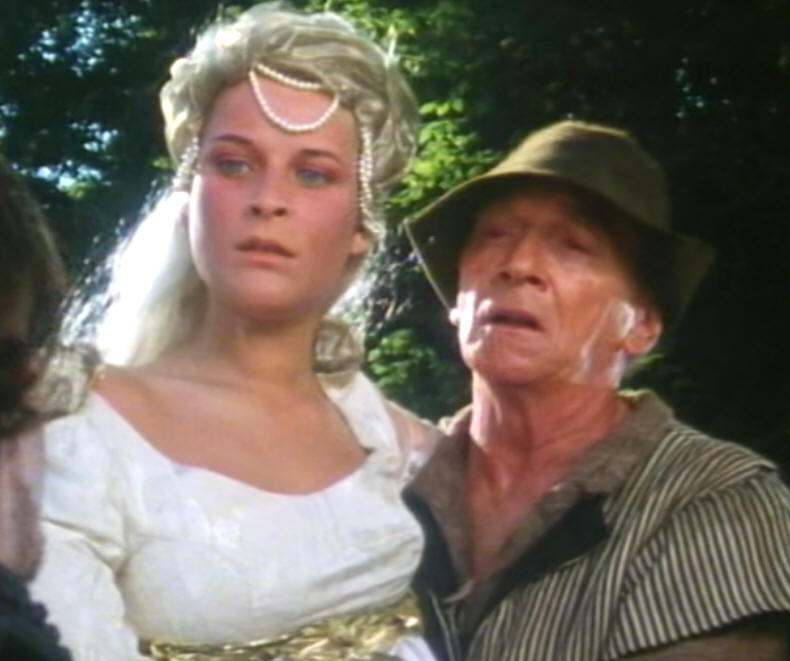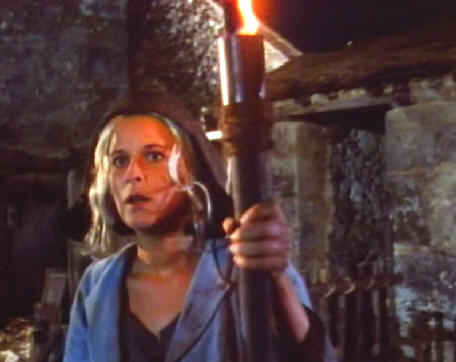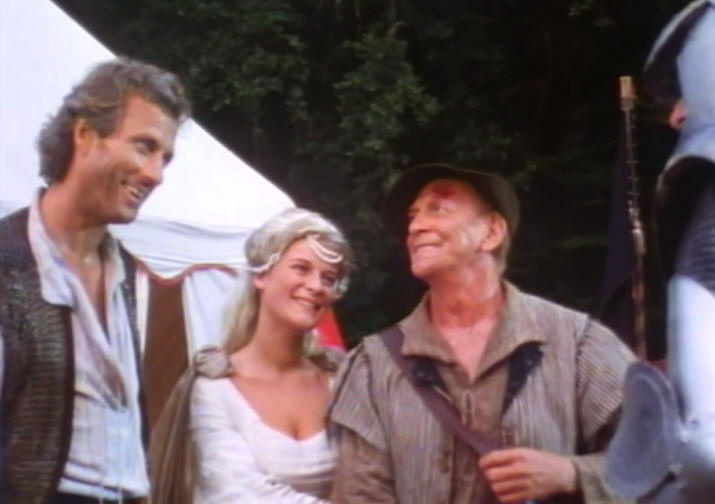 Daniel Benzali
Mad Monk, 1 episode, 1988
Episode 38, 'The Soul Seekers' - A familiar face on US television on shows like NYPD Blue and LA Law, and in films like The End of Violence, Murder at 1600,
Afterburn, and Citizen Cohn. On Crossbow he played a mad monk, who kidnaps new recruits in order to perform experiments on them in order to discover their souls.
episode 38, 'The Soul Seekers' - A familiar face on US television on shows like NYPD Blue and LA Law, and in films like The End of Violence, Murder at 1600, Afterburn,
and Citizen Cohn. On Crossbow he played a mad monk, who kidnaps new recruits in order to perform experiments on them in order to discover their souls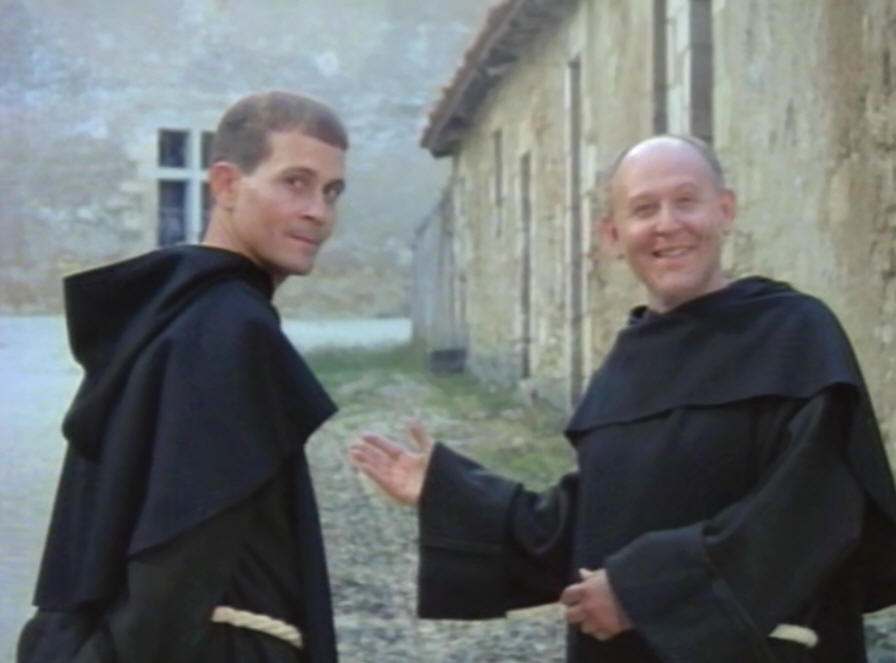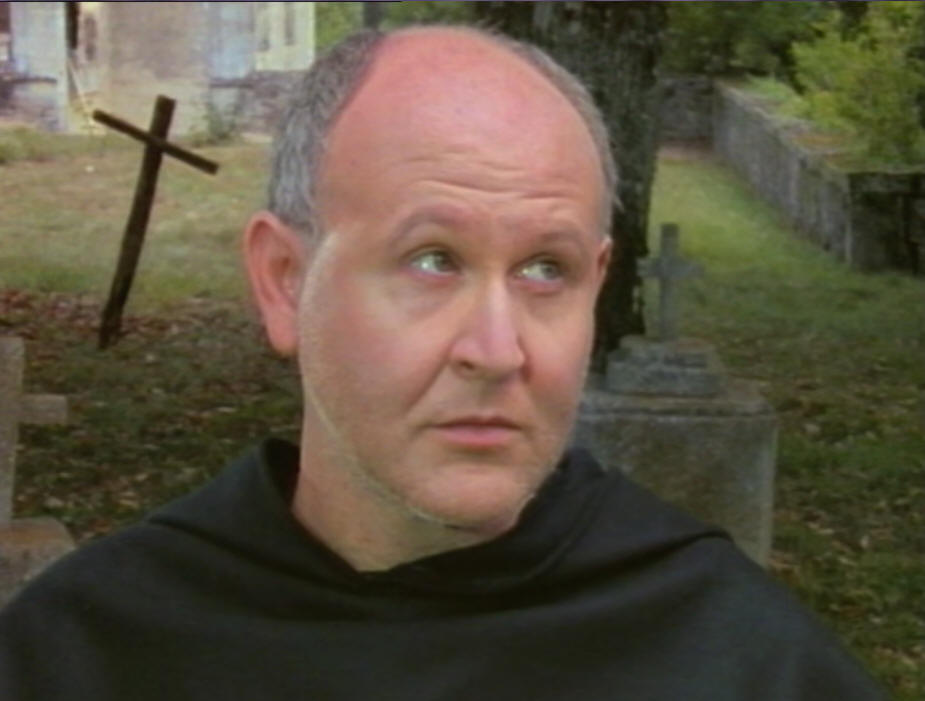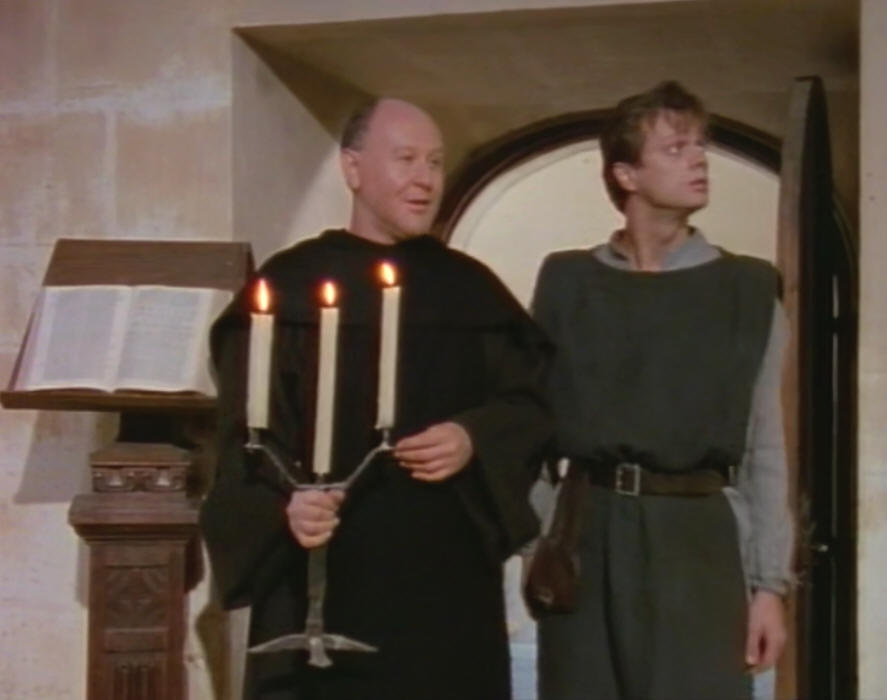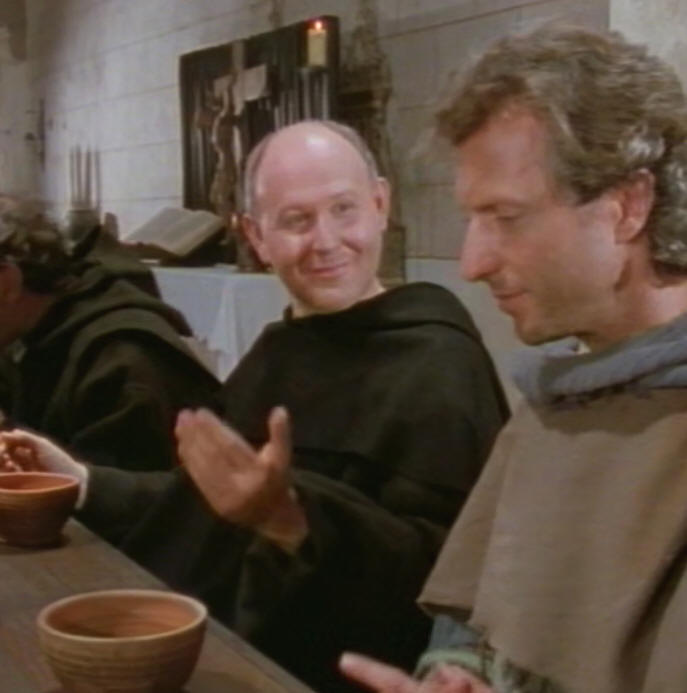 Daniel Benzali got his big break co-starring as "Howe", Stacy Sutton`s crooked, underhanded, in-the-pocket-of-Max Zorin boss. Benzali`s scenes as Howe were brief, but he left the movie
with a bang. His list of credits since A VIEW TO A KILL have been an impressive mix of both television and feature films. And his look and acting stance has taken a curious twist in 15 short years.
A view to a kill, James Bond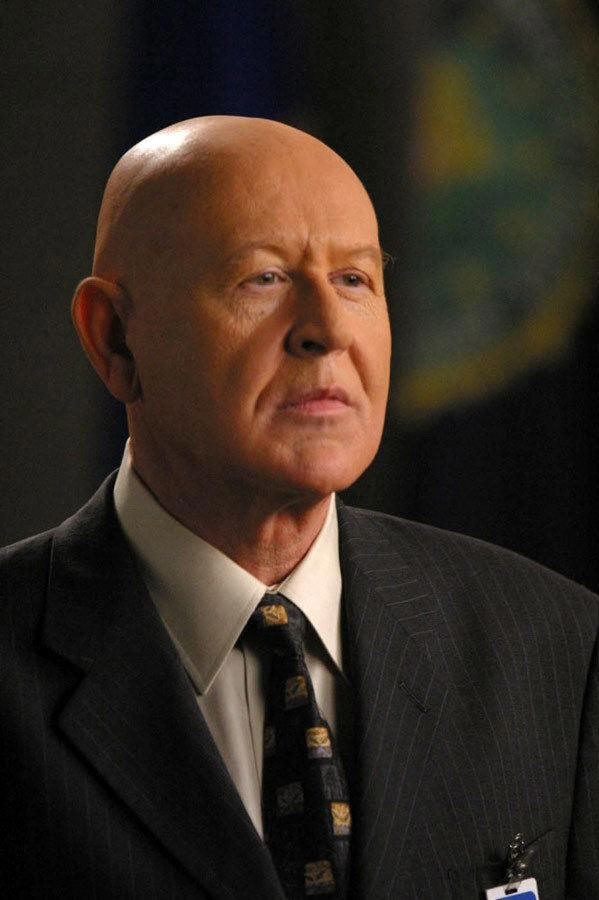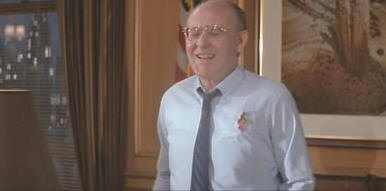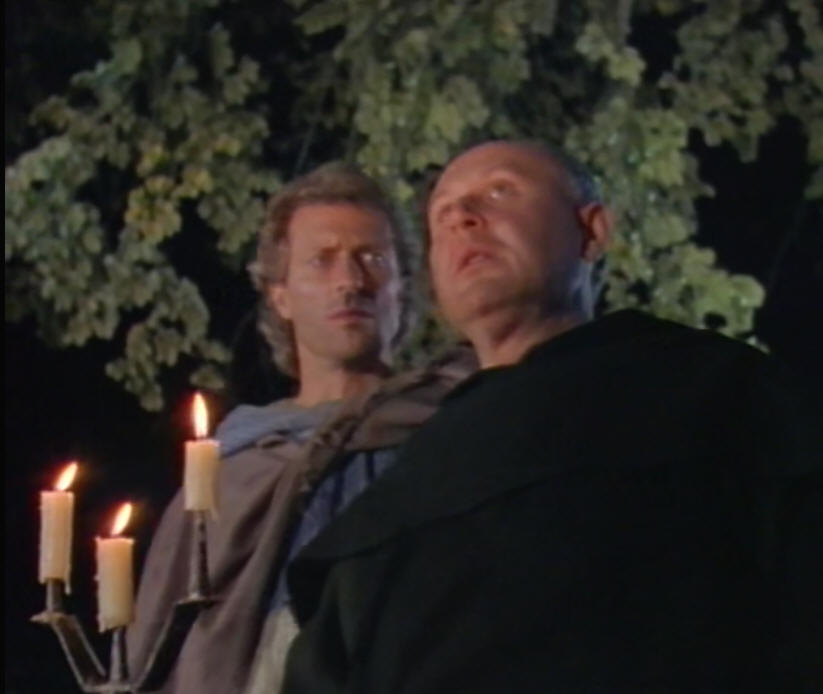 Most noteable among his post-AVTAK experiences has been a recurring character on NYPD Blue, the ABC-TV hit show. That stint working with Steven Bochco led the producer to cast
Benzali as the lead in an ambitious new legal drama called MURDER ONE. In MURDER ONE, the audience would follow the case of an accused individual for a full year as it wound
its way through the court system, rather than wrapped up in sixty minutes. The drama lasted less than two full seasons, despite critical praise. His next prominent role was as
Nick Spikings in MURDER AT 1600, a thriller involving a murder investigation within the White House. Benzali had the films best line: "You were born to be a chalk outline."
With his voice deeper and his hair gone, Benzali would be the perfect choice to play Blofeld in any future Bond films. He can be seen in the summer of 2000 opposite Norm MacDonald
and Danny Devito in Screwed and has appeared on The Practice on television.
Golden Globe nominated Actor, Writer and Singer
Benzali was born in Rio de Janeiro, Brazil, the son of Lee, a cook, and Carlo Borov, a salesman who had also been an actor in Brazilian theatre and Yiddish theatre. His family are
Brazilian Jews. Daniel Benzali is the middle son of three. The family moved to the United States in 1953, and the boys were raised in Brooklyn, New York City.
Television and feature films
In 1985 he was cast role in the James Bond film A View to a Kill as W. G. Howe, the Californian director of Oil and Mines, based at San Francisco City Hall. The character was shot dead in his office
there by Max Zorin (played by Christopher Walken). Subsequently, he began making guest-starring roles on television series such as Strong Medicine, Star Trek: The Next Generation,
The X-Files, and in recurring roles in NYPD Blue and L.A. Law. NYPD Blue and L.A. Law creator Steven Bochco was so impressed with Benzali's performances that Bochco later cast him in
the lead role of his 1995 series Murder One, playing attorney Ted Hoffman. For his performance, Benzali was nominated for a Golden Globe Award. The series was not especially successful,
and Benzali left after its first season. Bochco later revealed that he fired Benzali because he refused to leave his home before he completed his morning bowel movement and was
perpetually late to the set.Benzali's stage performance in Holiday at The Old Vic so impressed director Anthony Page that Page cast him opposite Teri Garr in the Hallmark Hall of Fame TV movie
adaptation of Pack of Lies, a play by English writer Hugh Whitemore. Benzali also starred in the TV series The Agency and appeared in feature films including By Dawn's Early Light (1990),
Murder at 1600 (1997) and The Grey Zone (2001). Another role was as Reggie, a drug smuggler working at a car dealership in Suckers (1999)". He appeared in the post-apocalyptic CBS
series Jericho as the enigmatic former Department of Homeland Security director Thomas Valente. After that, he starred in the FX television series Nip/Tuck as Dr. Griffin. In December 2010,
Benzali joined ABC's General Hospital. Benzali played a character named Theodore Hoffman, a reference to his role on the mid-1990s television series Murder One. Click here for his imdb list.
Wanda 1 episode, 1989
Episode 57, 'Gansari's Zombies' - as Wanda, a girl trying to free her dead brother from Gansari's spell.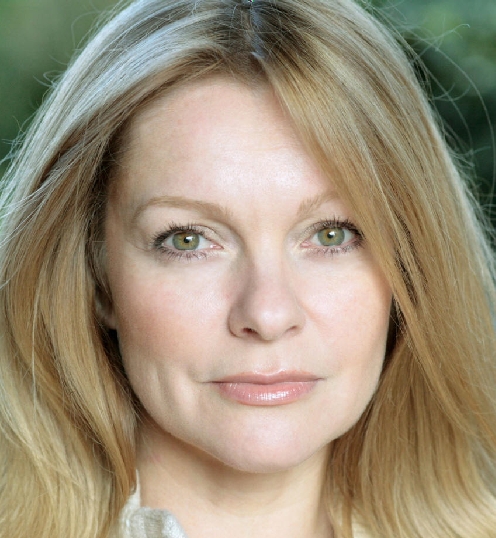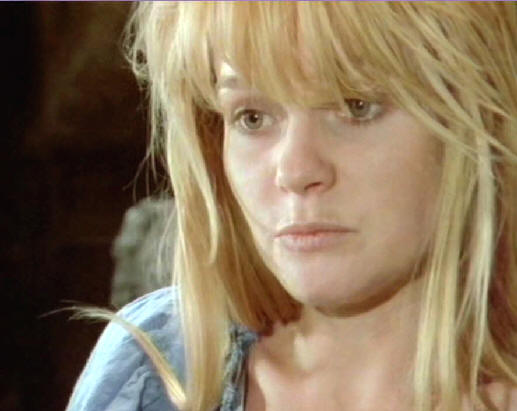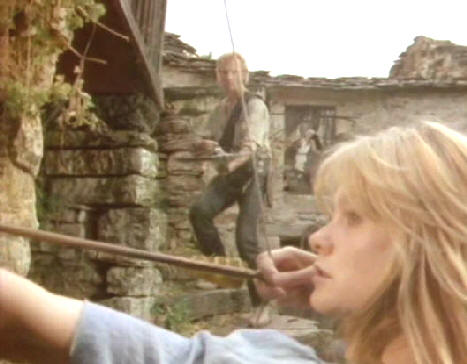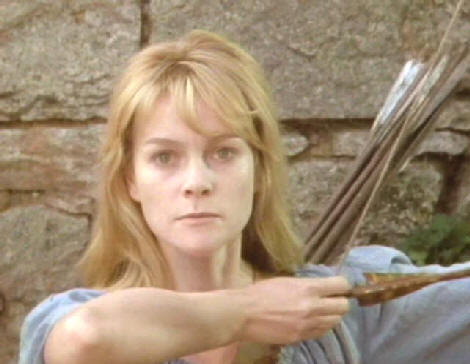 Andrée Bernard can be an celebrity, known for Hollyoaks (1995), The Crying Video game (1992) and Chaplin (1992). You can click here for her imdb list.
The Emperor, Soldier
Luc Bernard is an actor and writer, known for Léon (1994), Highlander (1992) and Tais-toi! (2003). All the films and information about him can be find here
Luc Bernard is actor, actor, "Leon", "Shut up" or more recently "Jappeloud" are part of his filmography. He is the lining of many TV series voices like the character
"Paul Young" in "Desperate Housewives", and he raises cows in Courgenard with his wife Agnès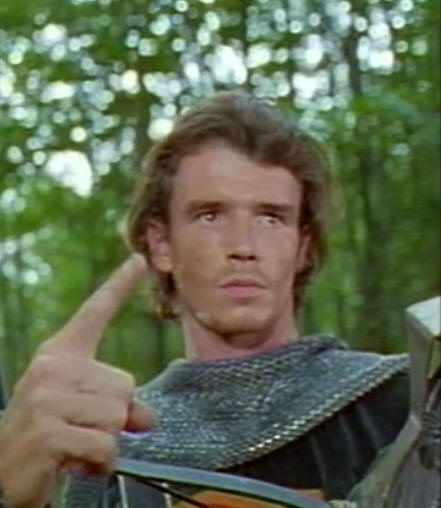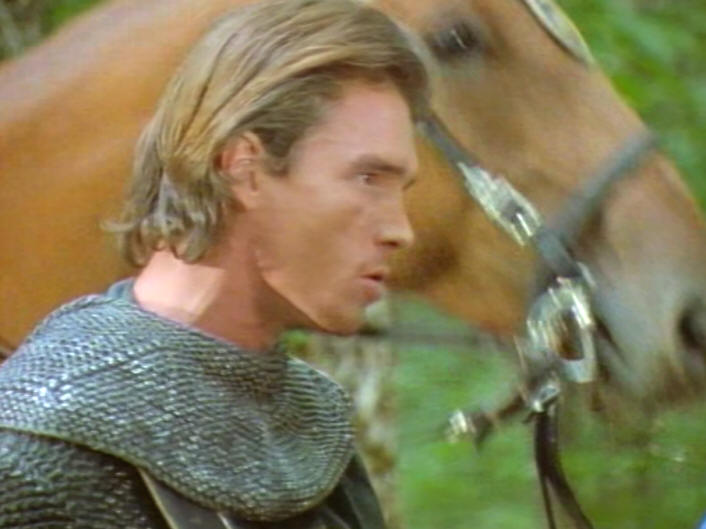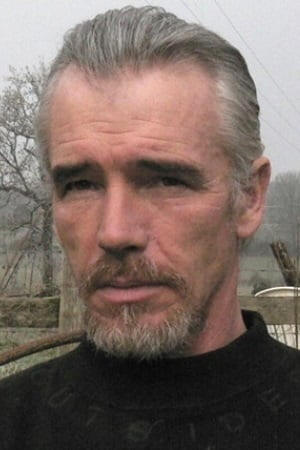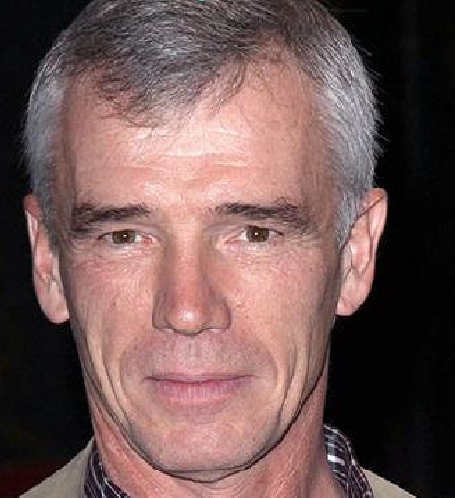 Luc Bernard, on his 35 organic hectares. With his wife Agnès, they raise racehorses and cows to meat.
Luc Bernard: the voice that speaks to horses' ears
In his childhood dreams, Luc Bernard wanted to be a cowboy. A real one with a ranch, horses and a lasso hooked to his saddle, as in the westerns of which he is a fan. The open
spaces attract him, he wants to go to Australia to see the country. "But at the time, I was refused a work visa," recalls the man who likes to talk to horses. A dream that falls. But he gets up.
His rogue side "on the shoulder, he gives voice, leaving high school, sometimes bored, advance by force of will, small jobs accepted without flinching. Then a friend of his mother
who works at the Comédie Française signs to him, a piece of curtain rises on his beginnings of appearances, then on a role in the Night of the Kings of Terry Hands.
Rather handsome, he broadcasts his photo, responds to castings. My Uncle of America, Alain Resnais with Nicole Garcia and Gerard Depardieu, it's for him.
A foot in the stirrup that embeds him in a gallop race as he likes them. The cinema, the theater, the television smile in turn. "The beautiful life, recognizes Luc. I take classes, play tennis,
work with a troupe, go on tour, meet actors, directors ... His life takes shape. Until this turn. His meeting with Marie-Christine Darah, French voice of Whoopi Goldberg. In his deep,
metallic voice, he doubles the overused villain, the experienced cop, the authoritarian military ... Clinging to his "mouth" of cinoche with the deep look, his voice allows him to
incarnate several times, Mark Moses in the American series broadcast on French television. The dreaded Paul Young in Desperate Housewives is him.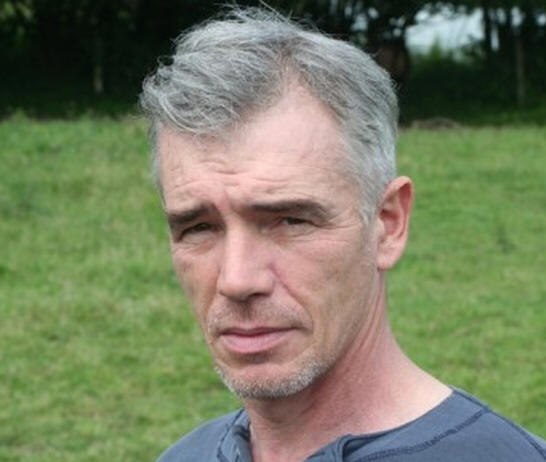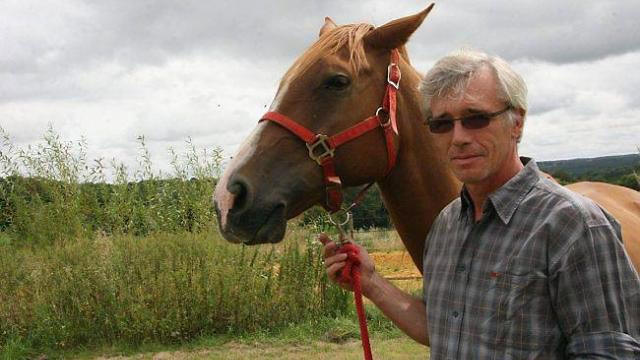 Jean-Yves Berteloot
1 episode Masterplan / The Elite , 1988
Jean-Yves Berteloot was born on August 27, 1958 in Saint-Omer, Pas-de-Calais, France. He is an actor, known for The Da Vinci Code (2006), Hereafter (2010) and La révolution française (1989).
From June to August 2007, he shot for RTL in the TV movie The Pope Assassination, in which he plays a security guard (Andrea Conti) of the Vatican.
In German television he was in 2007 in the role of the prisoner of war Francois Beauvais on the side of Maria Furtwängler in Kai Wessel's two-parter Die Flucht.
If you like to see his imdb list you can click here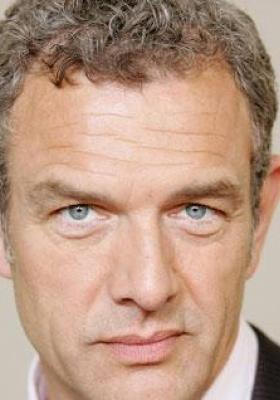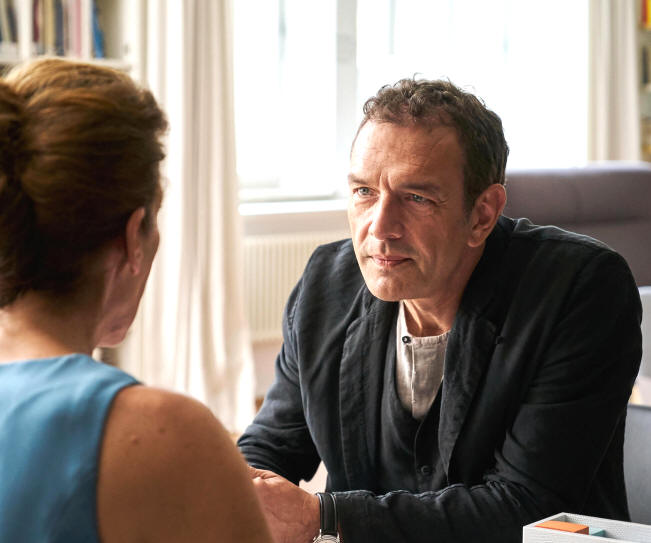 Below the Dutch movie: 'A month later,' from 1987 by Nouchka van Brakel. The film has the international title 'One Month Later.' Jan Donkers wrote a play based on an advertisement
in the newspaper about a woman who wanted to exchange a month of life. Liesbeth is a married housewife, who wants something different. The second is Monika, a single freelance
journalist, who wants to know how the marriage is. The first month passes quickly, when the ladies decide to stick to it for another month. This decision leads to a choice that the
ladies have to make for the rest of their lives.
I was surprised spotting Jean-Yves Berteloot (exact in the same period as Crossbow was shot in) He is playing a the French boyfriend of Renée Soutendijk in this Dutch movie with
Monique van der Ven (my favourite Dutch actress, lady in the middle).
It was in this movie Monique van de Ven and Edwin de Vries got a relationship during the shooting and their still going strong. De Vries is actor, writer and producer and van der Ven is
acting and writing. They made wonderful and succesful series together. The series is about a doctor on a small island, a doctor who was there for everyone. It's based on the real Docter Deen,
who still lives there anno 2019 but he has been retirening for a while.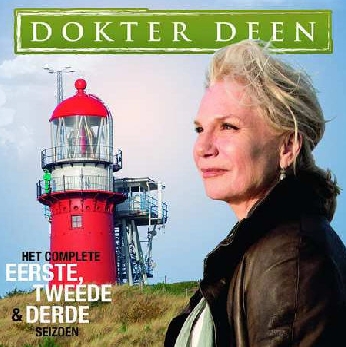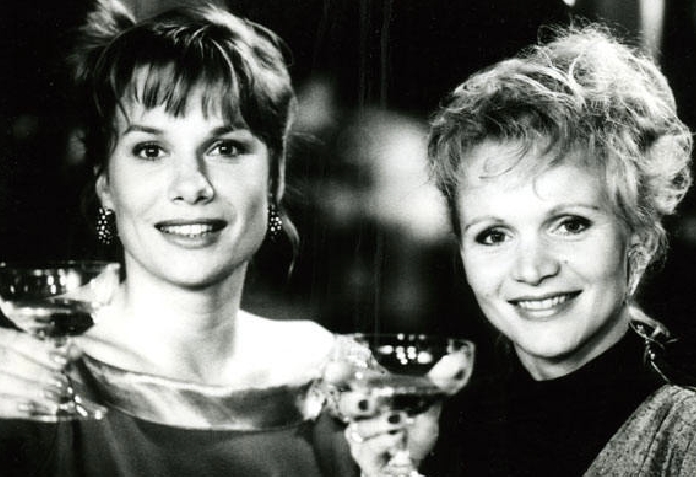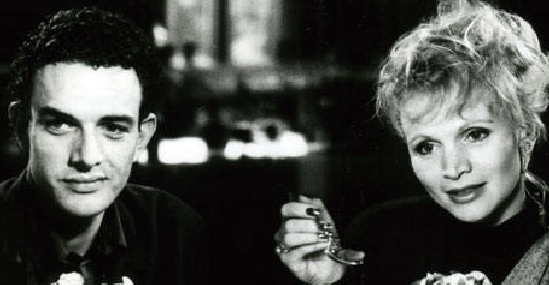 A recent series with Monique (turned blond) almost 25-30 years later in my favourite 'place to be' island and series Doctor Deen Monique as 'Doctor Deen'
and her husband Edwin de Vries the writer and creator. Nice to see her together with Jean-Yves in one production.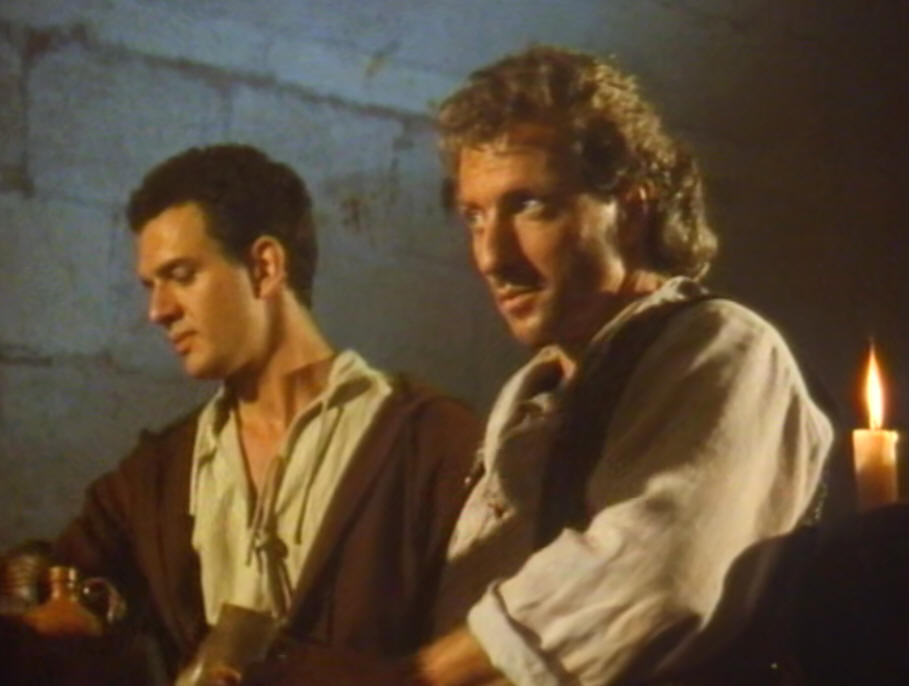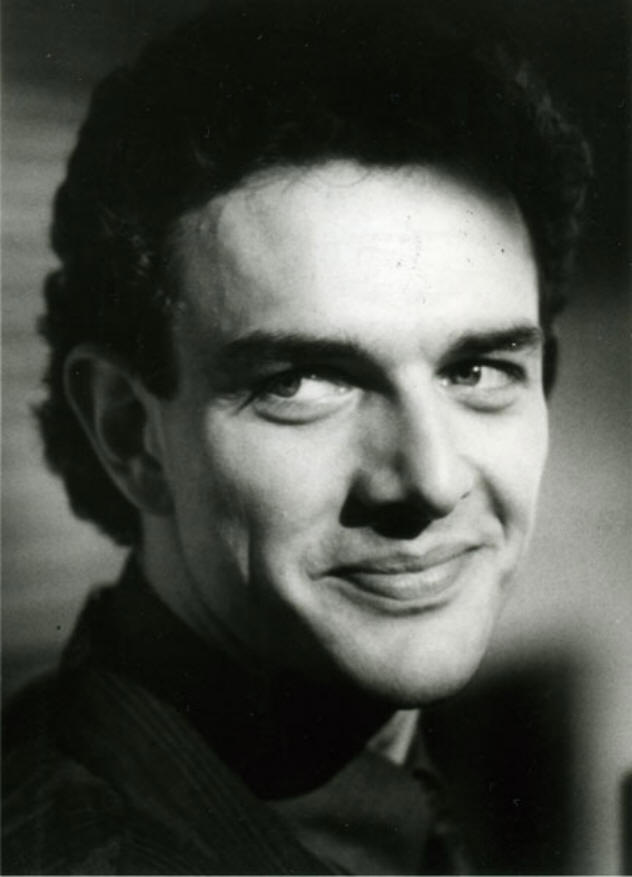 In Crossbow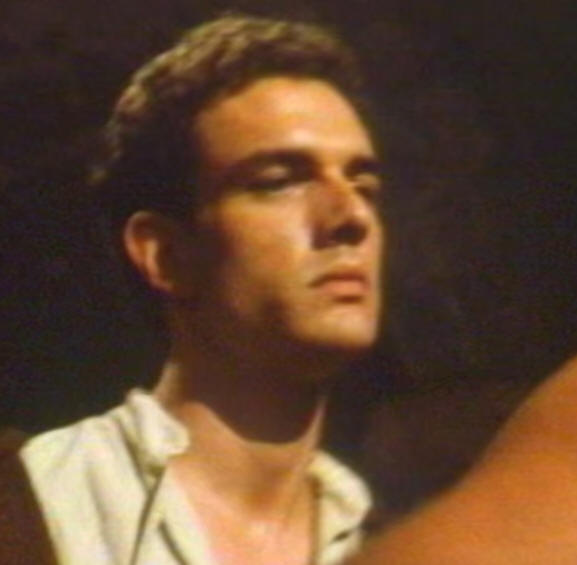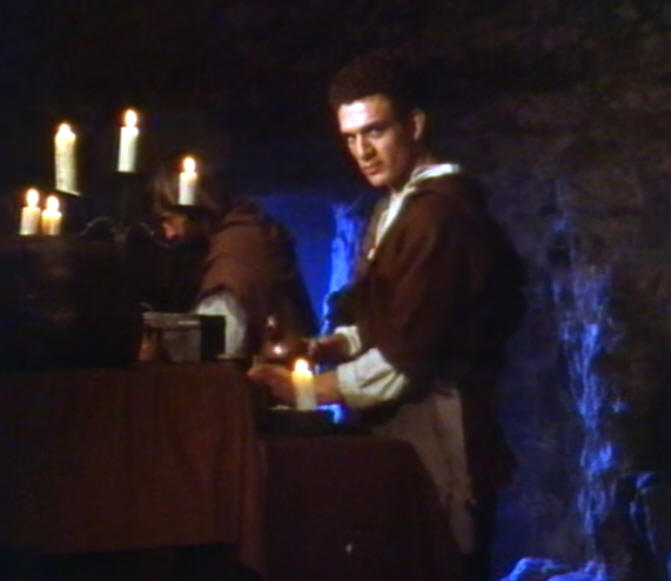 After supporting roles in Claude Chabrol's The Blood of Others (1984), Philippe Labros The Unveiling (1984) and Manoel de Oliveiras The Silk Shoe (1985) and Gérard Ourys Who\
Stole the Rabbi's Coke (1985) is replaced by Bertrand Blier's feature film Evening Suit in which he plays a hustler who is put on the bisexual Gérard Depardieu by Michel Creton.
This short but concise performance is followed by starring roles, such as Hugo alongside Renée Soutendijk in the Dutch role reversal film, Alain Tanner's A Flame in My Heart,
and Caroline Huppert's The Train to Vienna. In Robert Enrico's fresco The French Revolution (1989) he plays in the segment Les Années lumière (Years of Hope) alongside Peter Ustinov,
Claudia Cardinale and Michel Duchaussoy the Comte Axel de Fersen.
In 1990, Berteloot was nominated for the role of Pierre Gravey in René Féret's champagne of love (Baptême) for the César as best young actor. Féret also occupies him in Promenades
d'été. In the 90s, adventure films such as Sword and Passion and Gold before Gibraltar, dramas such as Alain Bonnot's Une soupe aux herbes sauvages with Annie Girardot and Erroir
Médicale and comedies like Palazzo. In 2001, Berteloot starred in John Mackenzie's Quicksand - Caught in the quicksand alongside Michael Caine and Michael Keaton's Vincent Deschamps
and alongside Nathalie Baye in the mini-series The Long Road to Freedom and the Da Vinci Code movie - Sacrilege alongside Tom Hanks and Audrey Tautou as Remy Jean. For his imdb list you can click
Michel Berto
1 episode Rejection, 1988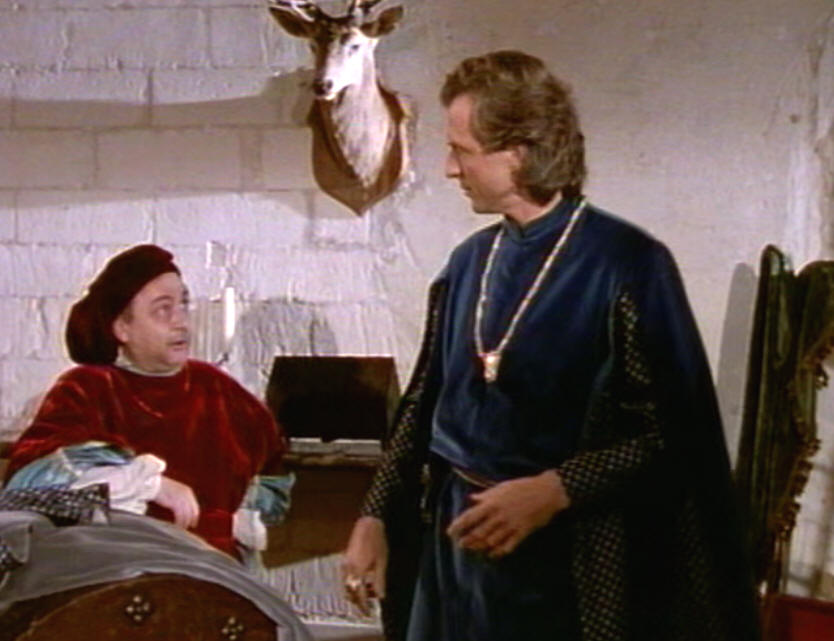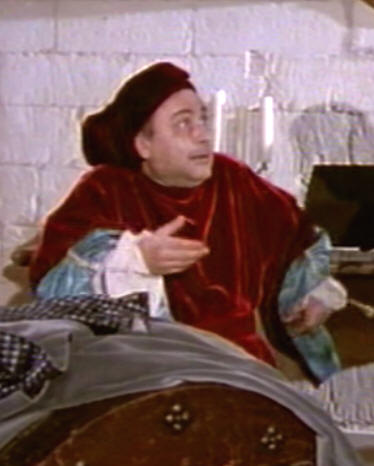 Michel Berto was in episode 'Rejection.' He was born on December 25, 1939 in Grenoble, Isère, France as Michel Hugues Ernest Noël Bertoliatti. He was an actor, known for Roberte (1979),
Beau-père (1981) and Jeanne la Pucelle II - Les prisons (1994). He was married to Marie Berto and Juliet Berto. He died on December 25, 1995 in Paris, France.
Michel Berto (real name Michel Hugues Ernest Noel Bertoliatti) was a French actor born in Grenoble on December 25, 1939 and died in Paris, it is assumed on December 25, 1995,
because he was found dead in his apartment of the fifteenth, the 2 January 19961.
Director of theater, founder of the company Off Limits, he creates Adamov's last piece Si l'été came back to the cartoucherie de Vincennes in 1971. Associated with Jean-Michel Ribes,
he directed in 1975 La Poisson de René Gaudy. Charles Trenet wrote for him the song Michel. He was married to actress Juliet Berto, then to actress Marie Berto.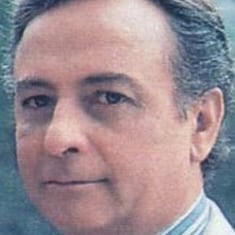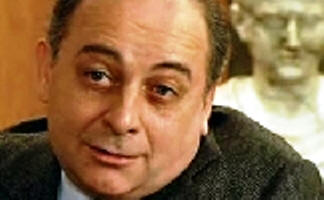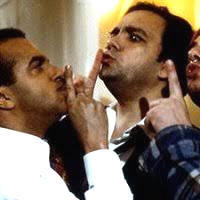 Mark Billingham
He is in one episode as son of the magician
In Crossbow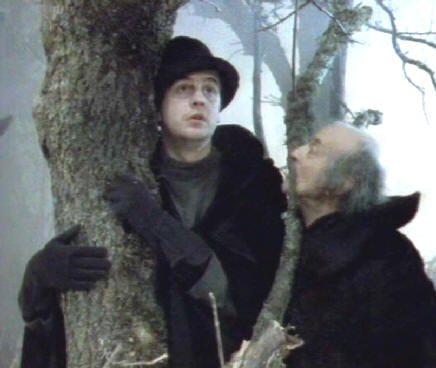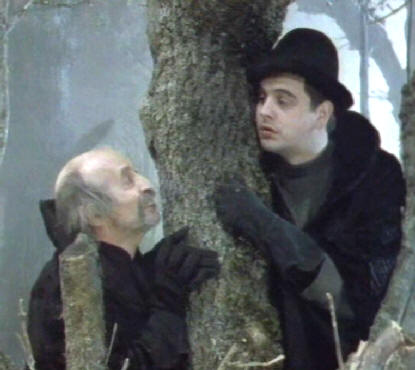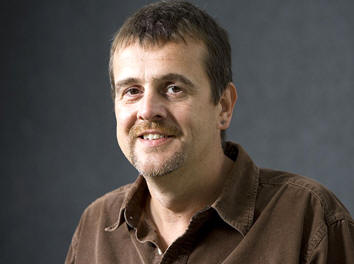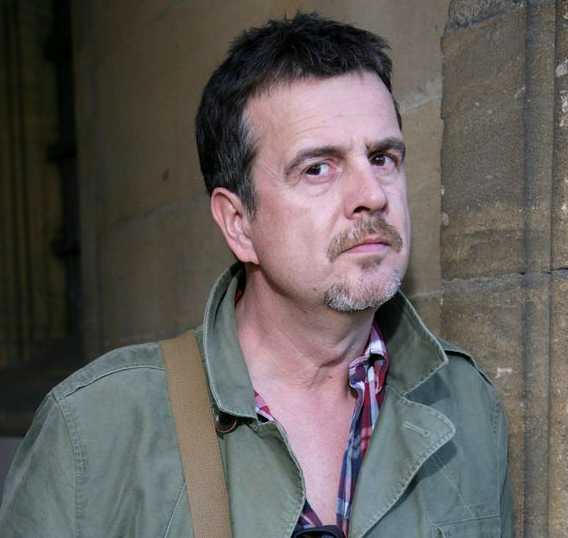 Mark Philip David Billingham is an English-language novelist who achieved a bestseller in the crime genre with the series about "Tom Thorne". He is screenwriter for television and has
become known as an actor and comedian
Mark Billingham was born in Birmingham on July 2nd 1961 and attended King Edward VI Camp Hill Grammar School before going on to graduate with a B.A. in Drama and Theatre Arts from
the University of Birmingham. Whilst also pursuing a career as a stand-up comedian, he played several supporting roles in television shows, notably from 1989 to 1992,in 'Maid Marian and
Her Merry Men', a comedic take on the Robin Hood story, nominally a children's show but containing many satirical and topical jokes best understood by adults. In addition to playing gormless
Gary, one of the sheriff's guards, he also contributed scripts. Later in the 1990s he wrote for 'Knight School', another show supposedly for children and also with a medieval setting but with
lots of anachronistic humour. However, in the twenty-first century, whilst still continuing as an occasional stand-up comic, Mark has been associated with a totally different style of writing to
his children's programmes. This is as the creator of the stocky, no-nonsense police detective Tom Thorne in a series of mystery novels. He was awarded the Theakston's
Old Peculiar prize for
the best crime novel of 2005 for his book 'Lazy Bones' and the Sherlock award for the best new fictional detective by a British writer. As of January 2009 the television rights to the books have
been optioned with the likelihood of David Morrissey playing Thorne. Mark, his wife Claire and their children now live in Hertfordshire, where he supports Wolverhampton Wanderers
from a distance and lists among his hobbies 'smuggling examples of Victorian taxidermy into the house.' In 2010 Thorne did indeed make his small screen debut, played by David Morrissey.
For his imdb link you can click here
Michael Bilton
A double role. Angry Townsman in episode 'Birthright' (1988) and in episode 'Lotus,' the assistant of a rich merchant.
Episode 26, 'The Birthright' - A familiar and well loved face on television for many years in Waiting for God, Brideshead Revisited, To the Manor Born and many, many others.
He appeared in this episode as an angry townsmen who wishes to kill a baby and its mother on the misapprehension that they are devils.
Below: In Crossbow In episode Lotus as servant In Crossbow episode Birthright as angry townsman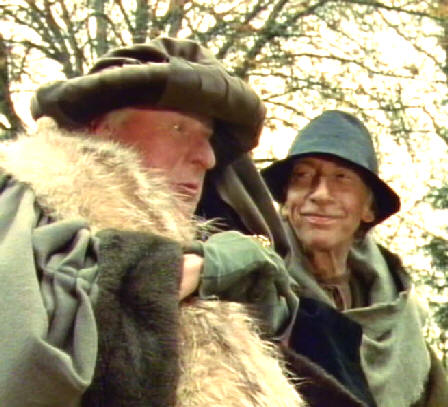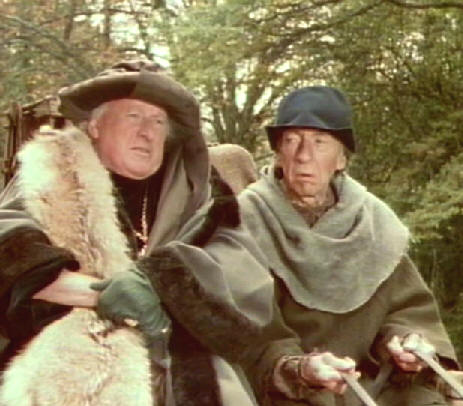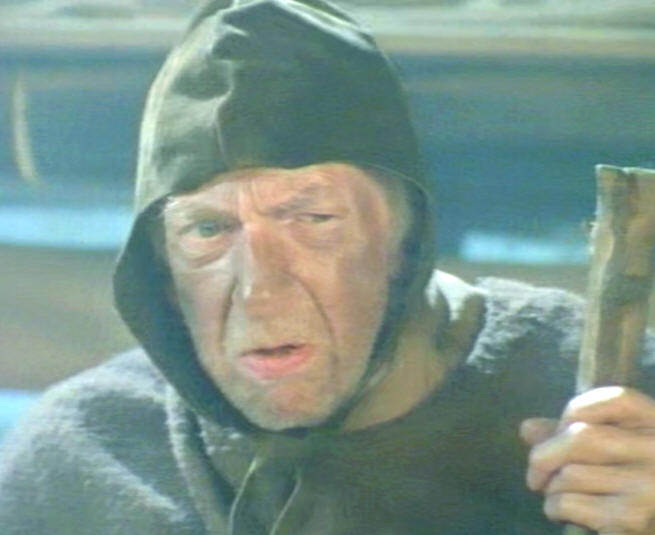 1966 camerashop owner 'Bolande' in to kill a saint with Roger Moore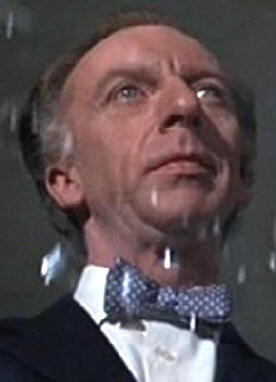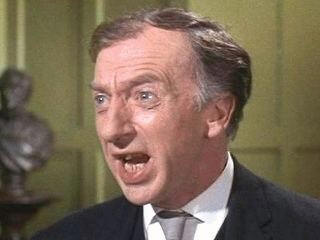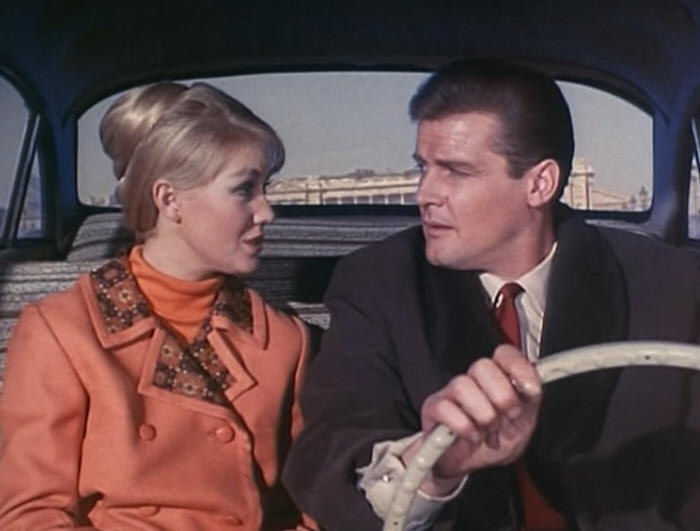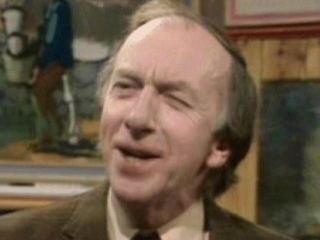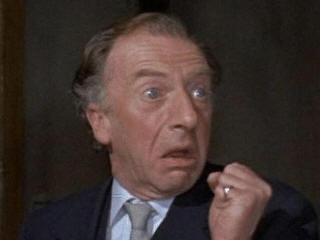 Michael Bilton (14 December 1919 - 5 November 1993) was an English actor best known for his roles in the British television sitcoms
To the Manor Born (playing the gardener and sometime butler Ned) and Waiting for God (playing Basil, a septuagenarian satyr).

He attended Hymers College, Hull. In the Second World War he was commissioned as a Second Lieutenant and
was wounded at the Battleof El Alamein. After his recovery he began his acting career in repertory theatre.

He had a strong comedic bent and featured in Keeping Up Appearances, One Foot in the Grave and Grace and Favour (1992). He also appeared in Pennies
From Heaven, The Saint,The Avengers, The Prisoner, Quatermass II and The Champions, He also appeared as the doorman at a hotel in Terry and June. He also
featured in the Doctor Who stories The Massacreof St Bartholomew's Eve, Pyramids of Mars and The Deadly Assassin. He also appeared as the butler Stevens in
"The Adventure of Shoscombe Olde Place" episode of The Case-Bookof Sherlock Holmes; also notable in the cast was Jude Law as an aspiring jockey. Bilton's film
appearances included A Taste of Honey (1961), The Thirty Nine Steps (1978) andThe Fourth Protocol (1987), as Kim Philby.

But his most successful television work was as the woman-chasing Basil in three series of Waiting for God, the sitcom set in a retirement home, and as the gardener in a Yellow Pages
commercial, going about his tasks with a battered lawn-mower and being called over by his employers to be told of its new replacement just when he thought he himself was about to be pensioned off.

Bilton died on 5 November 1993 in Berkhamsted, Hertfordshire, aged 73. For his imdb list you can click here
Donald Bisset
A double role! He was in 2 episodes in Crossbow: as Bailiff in episode Trolls and as a rich merchant in epsiode 'Lotus.'
episode 27, 'Trolls' - as the money grubbing bailiff who bleeds a poor town dry of crop and livestock.
Donald Bisset was born on August 3, 1910 in Brentford, Middlesex, England as Donald Harold Gunn Bisset. He was an actor and writer, known for
Murder in the Cathedral (1951), Ragtime (1981) and Doctor Who (1963). He died on August 10, 1995 in London, England
Donald Bisset (30 August 1910 – 10 August 1995), was an English actor. He also wrote stories for children which he mostly illustrated himself.
They have been translated into 16 languages.
You can click here for his imdb.
As a rich merchant in Episode Lotus And as Bailiff frightened by a monk covered with blood The saint 1962 with Roger Moore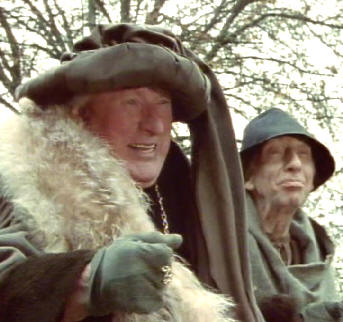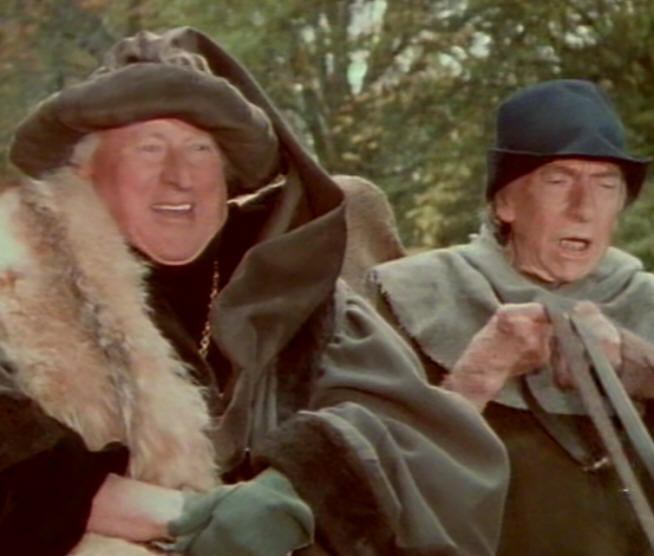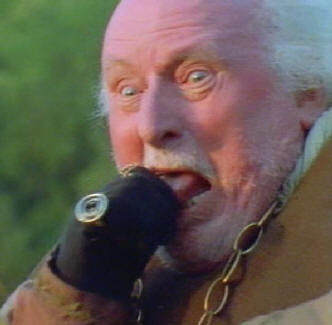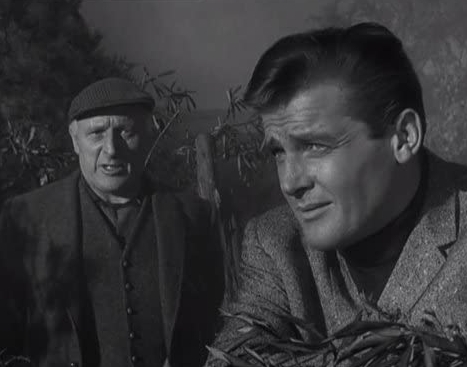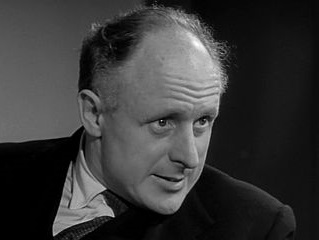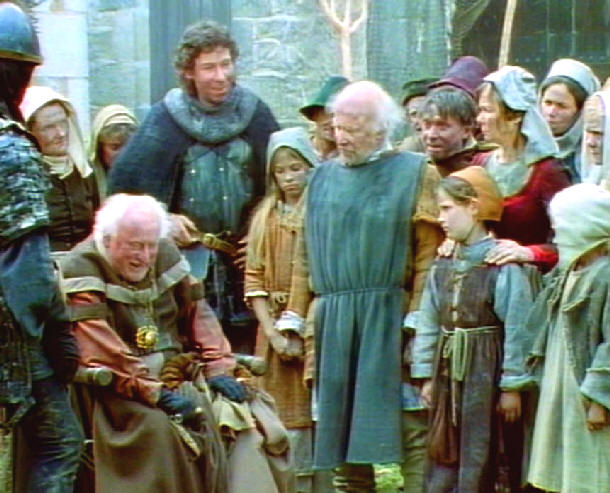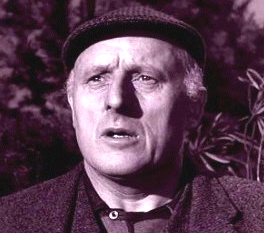 Actor
Donald Bisset - writer, actor, artist and TV host. His works are small stories addressed to the youngest readers. During his long life, more than a hundred short fairy
tales created by Donald Bisset. "Forgotten birthday" - one of the few works of the English author, known in our country.
Donald Bisset was born in 1910. During the war years he served in the Royal Artillery with the rank of lieutenant. And then, in 1946, he decided to devote his life to cinema.
Then, at the beginning of his acting career, Bissett married. However, the marriage did not last long. Soon the actor divorced, but from his first marriage he had a son.
Little is known about the life of the British actor and writer. Perhaps it can be called the most mysterious of all the storytellers.
It is known that he was fond of horse riding in his youth, starred in films and led television shows. At different periods of his biography, Donald Bisset took part in sixty-four
television projects. These were feature films, various shows, and children's programs. The brightest projects in which Bisset was involved can be called Doctor Who,
One foot in the grave, Thank you for the purchase. In the filmography of the actor over twenty roles. However, films by the Russian audience with the participation of
Bisset are unfamiliar, while compatriots associate, the name of this children's writer primarily with cinema.
Donald Bissett's favorite characters were animals. They reasoned like people, listened attentively to stories of the storyteller, traveled. There were also people: a queen,
a wizard, a girl from a high hill. The plots of Bisset's tales were sometimes unexpectedly interrupted, resembling an unfinished story, and sometimes had an unexpected
denouement. Donald Bissett was an author who can hardly be compared with any other writer. His characters are not like any of the classic fairy tale characters.
TV host
Bissett began to compose his stories on the order of one of the British television channels. But later he began to read his works in the children's program. As a writer and
professional actor, he quickly gained popularity among young viewers. But this did not stop Donald Bisset. In time, he began to supplement his books with his own illustrations.
Painter
By the next issue of the transfer Bisset drew small posters. Strange and uncomplicated at first glance. Reading to young viewers the stories about Uncle Tik-Tak, Nolse, a girl from
the Highgate Hill, a philosopher beetle and other fictional characters, he showed these funny pictures for clarity. And perhaps no one else could complement unusual tales
with illustrations so harmoniously. Subsequently, publishing his first collection of fairy tales, the author designed it himself.
Donald Bisset died in 1995. At home, he became famous primarily as an actor. In Russia, the name Bisset became known thanks to the cartoons created from his works.
Surd them: "Raspberry jam", "All somersault", "Crococot", "Vrednbga", "Music Lesson".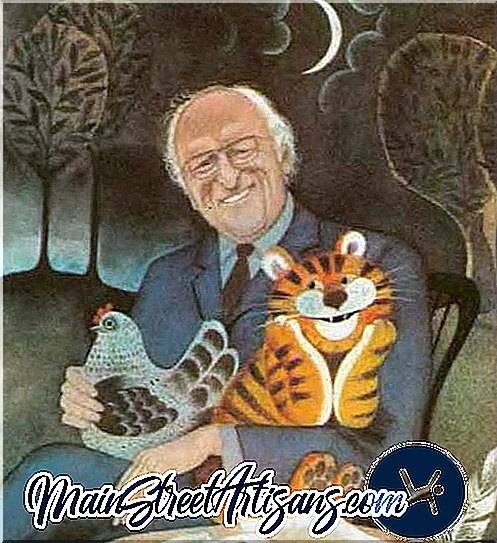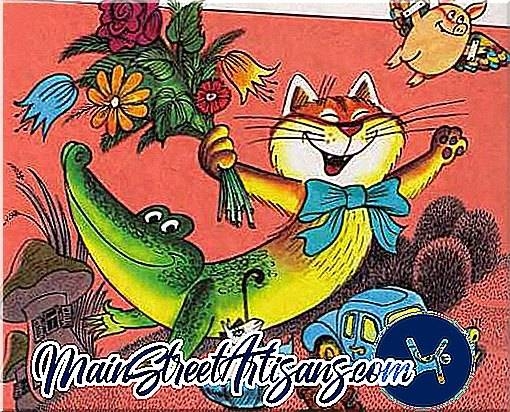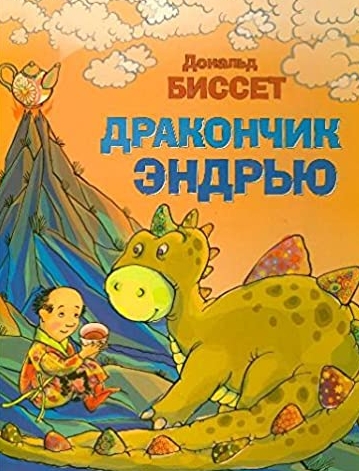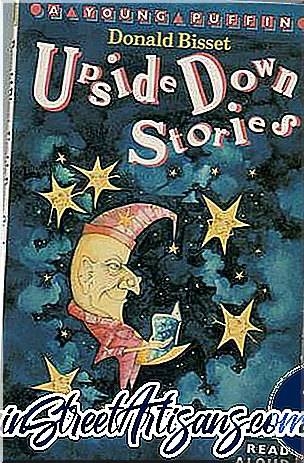 Crispin 1 episode Goldilocks 1989
Episode 67, 'Goldilocks' - Played Crispin, the corrupt knave who has been trying to take power from the Queen of Hearts by keeping her daughter away
from her making her insane and unfit for rule in this strange fairytale episode.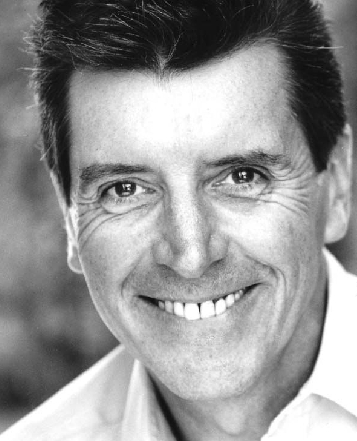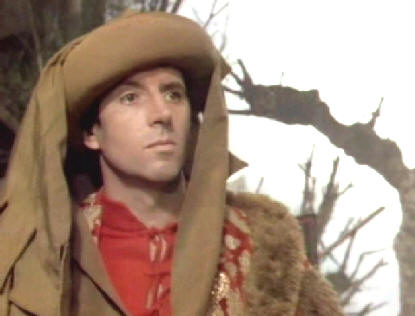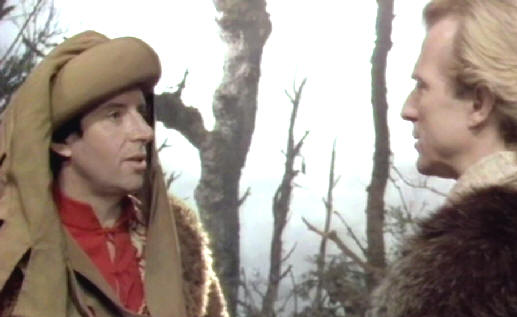 Peter Blake was born on december 8, 1948 in Selkirk, Scotland as John Beattie Dempsey. (8 December 1948 – 21 July 2018). He was always referred to by his parents as Ian, the Scottish Gaelic
term for John. His first professional appearance was at the Edinburgh Festival, in Frank Dunlop's production of The Winter's Tale in 1966. Probably best known as the character Kirk St Moritz in
the BBC sitcom Dear John, by John Sullivan, his other high profile moments came through his playing of a 'Fonz'-type character in Pepsi-Cola commercials which led to a hit record in
1977 "Lipsmakin' Rock 'n' Rollin", Andy Evol the disc-jockey in Agony with Maureen Lipman for LWT and in an episode of Taggart ("Do or Die") as Sgt. Bill Kent. He also had a long association
with The Rocky Horror Show playing Frank-N-Furter over a thousand times between 1975 and 1994.
Television & Film:

Peter Blake's best-known role was the flamboyant and boastful Kirk St Moritz, resplendent in white suit, big collars and golden medallion, in the British sitcom
Dear John (1986–87). He appeared in other British television series including as Tony Miller, a member of CI5 in the hard-hitting police drama The Professionals (1978). As Michael Vincent
in Penmarric (1979), Andy Evol in Agony (1979-1981), Carl Pierce in A Very Peculiar Practice (1986), Aubrey Owen in Dogfood Dan & the Carmarthen Cowboy (1988), David in Split Ends (1989),
His film appearances include Intimate Games (1976), Panic (1978), Murder on Line One (1989), Cash in Hand (1998), The Lift (2008) and Man and Dog (2010).
For his imdb list you can click
here
Honor Blackman
Noblewoman in episode The Bet 1 episode, 1987
Episode 9, 'The Bet' - The former 'Avenger' and star of Tale Of The Mummy, To Walk With Lions, and The Sight is best known for her role as Pussy Galore in Goldfinger.
She appears here as a flirtatious and beautiful noble woman with a taste for gambling and horse riding.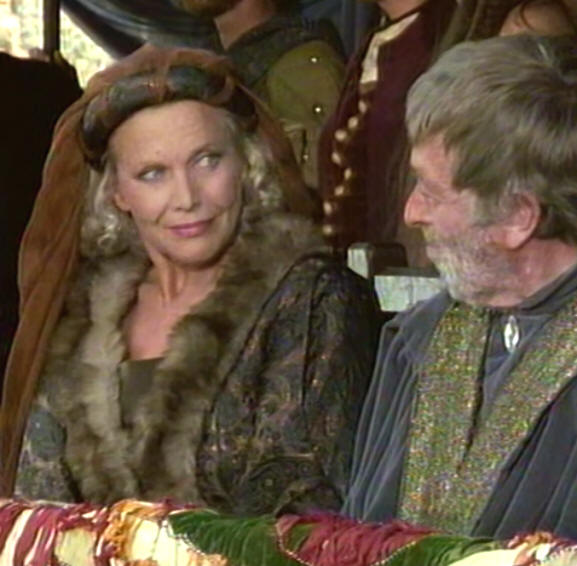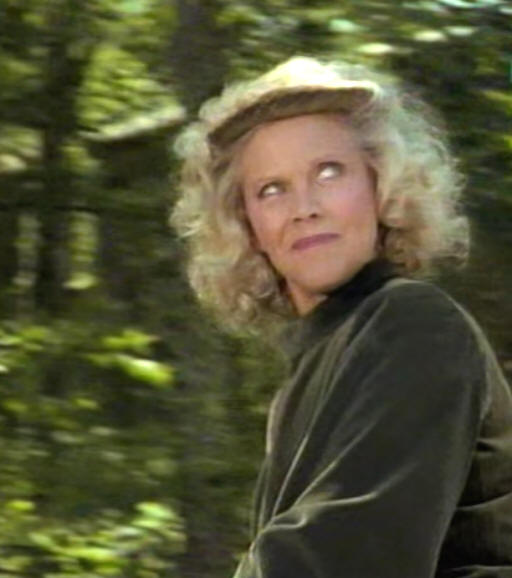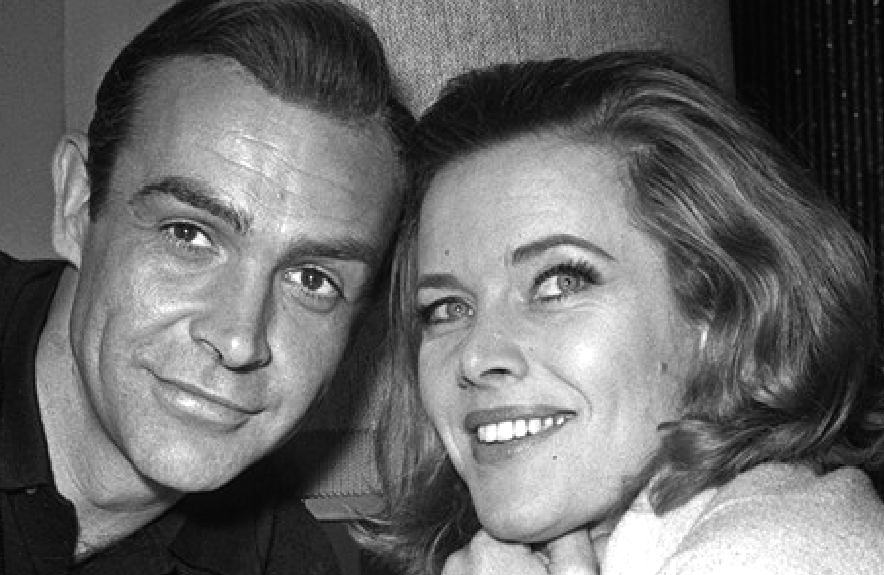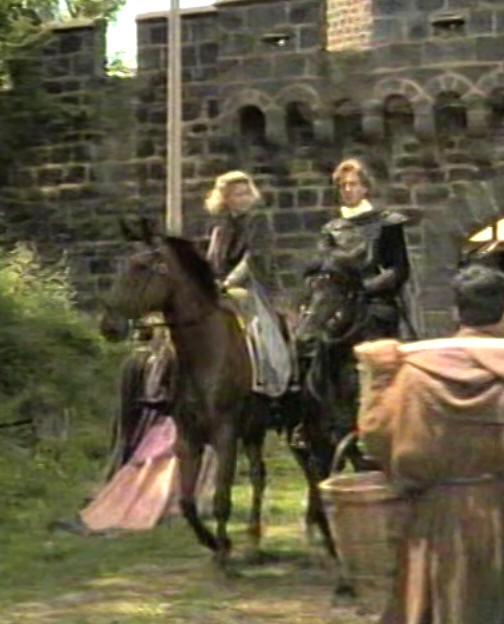 Blackman's film career dates back to the 1940s and she has appeared in many UK and US films and television shows, including A Night to Remember and Jason and the Argonauts.
She is best known for playing two iconic female action characters of the 1960s — Catherine Gale in The Avengers (a series created by Sydney Newman), and Pussy Galore in the James Bond film, Goldfinger.
Her family described her as an "adored mother and grandmother" who had "an extraordinary combination of beauty, brains and physical prowess.
She also appeared in productions of The Sound of Music, My Fair Lady and Cabaret. She died of natural causes unrelated to coronavirus (April 5 2020 at the age of 94).
' On an E-Type Jaguar whilst attending the re-launch of Spangles in central London in 1994 (68)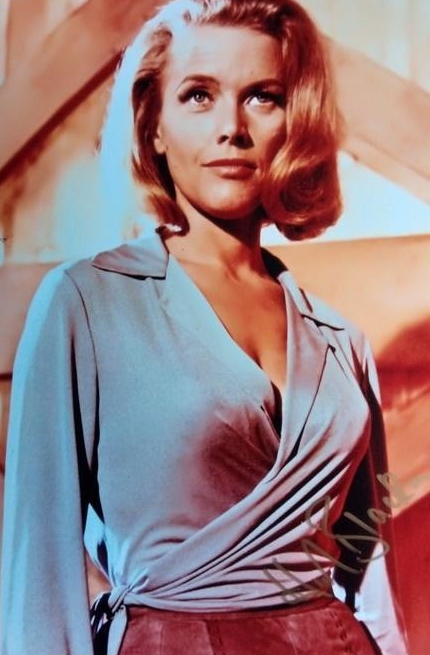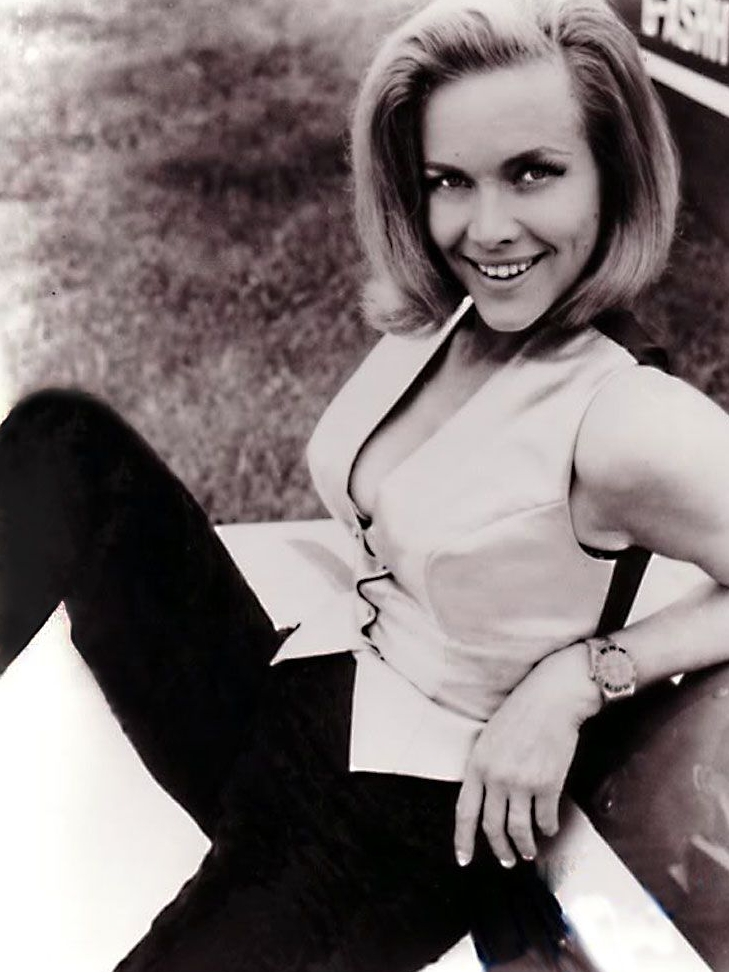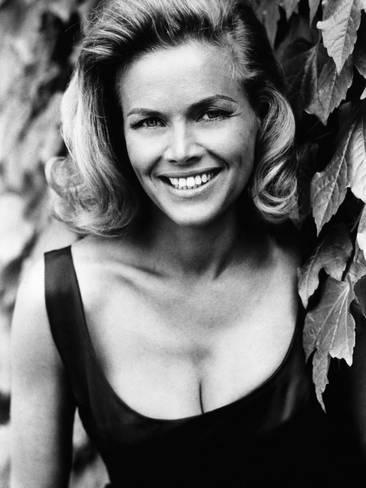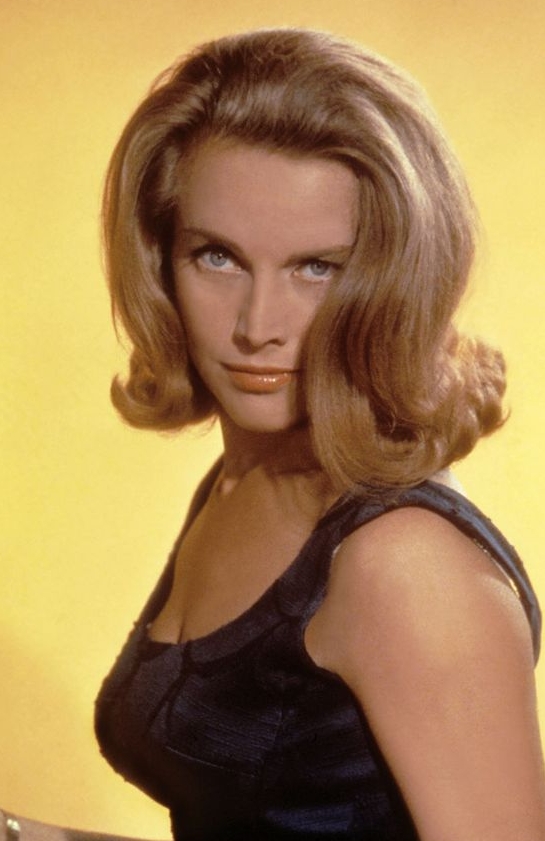 If you would like to know her a better...and hear her opinion about james Bond...this is a nice interview, you can click here
A lot of stories and pictures about her here. Here for a newspaper article and for imdb here.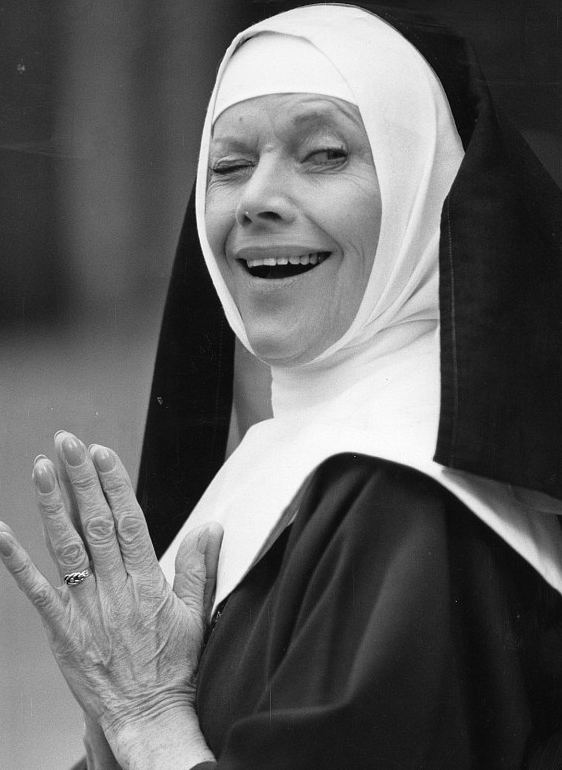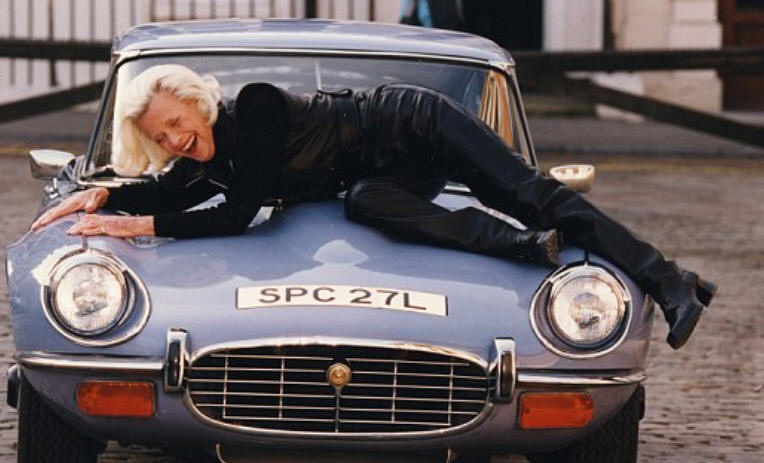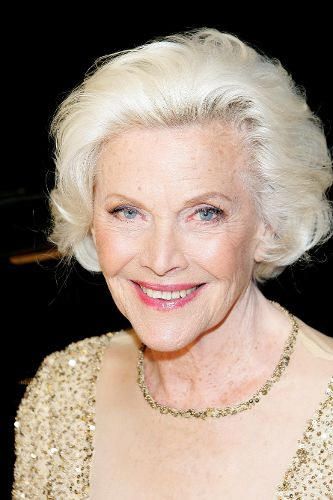 Honor Blackman (born 22 August 1925) is an English actress, widely known for the roles of Cathy Gale in The Avengers (1962–64), Bond girl Pussy Galore in Goldfinger (1964),
Julia Daggett in Shalako (1968) and Hera in Jason and the Argonauts (1963). She is also notable for her role as Laura West in the ITV sitcom The Upper Hand (1990–1996)
Some of her recent productions including the film Bridget Jones's Diary and a brief run on Coronation Street.
She played Professor Lasky in the Doctor Who television story Terror of the Vervoids. She later voiced Queen Anahita in the Big Finish Doctor Who audio story The Children of Seth.
She was also offered, but declined, the role of Vivien Fay in The Stones of Blood (the role went to Susan Engel).
For her 15th birthday, her parents gave her acting lessons and she started training at the Guildhall School of Music and Drama in 1940. While attending the Guildhall School,
Blackman worked as a clerical assistant for the Home Office. And a nice article you can click on here. I'm glad to hear and see she is at the moment
(dec 2018) still so youthful! With a touch of glammour with her pair of gold flats
And below you can read the wise lesson of this beautiful old actress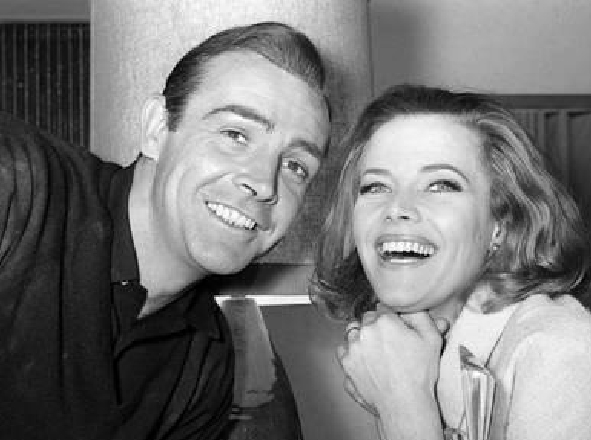 Brian Blessed
He was in 3 episodes: 11, 12, and 13 as Gaston.
Actor Brian Blessed is made an Officer of the Order of the British Empire (OBE) by Queen Elizabeth II at Windsor Castle

. He received for his services to the arts and charity in the
Queen's Birthday Honours 2016. You can find his imdb list here
- The renowned Shakespearean actor counts among his many film and television credits Flash Gordon, Black Adder, Robin Hood: Prince of Theives , and most recently as animated
charcters in Star Wars: The Phantom Meanace and Disney's Tarzan.
In Crossbow
He played a bandit named Gaston, but wanted to be called 'governor' by Tell and Gessler. Gaston is irritated cause Roland cheated him, by using Tell's name. When Gessler is about to
kill Tell, Gaston intervenes and catches Tell and Gessler and let them fight against each other. But it does not go according the plan. This all with a malicious sense of humour.
The man responsible for providing us with the hilarious spectacle of what happens when you chain Tell and Gessler together and let have at eachother in 'The Misalliance'.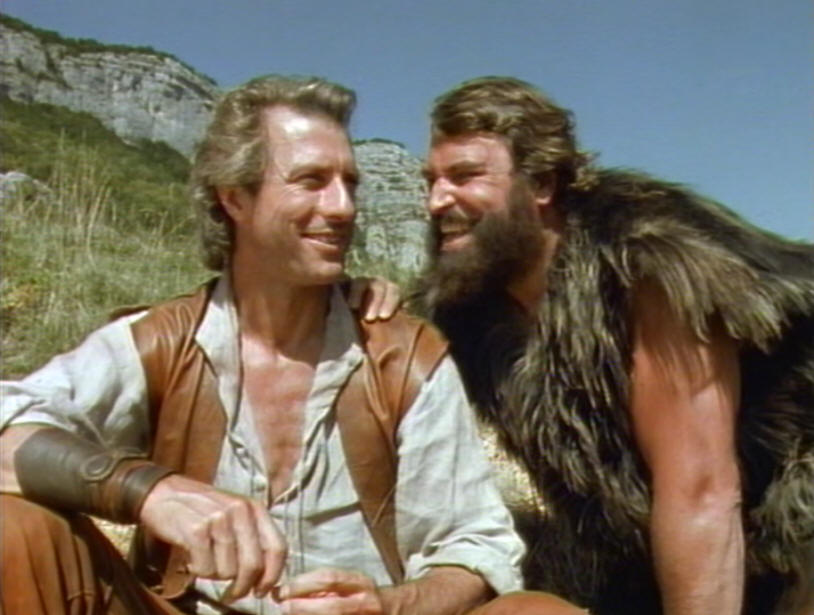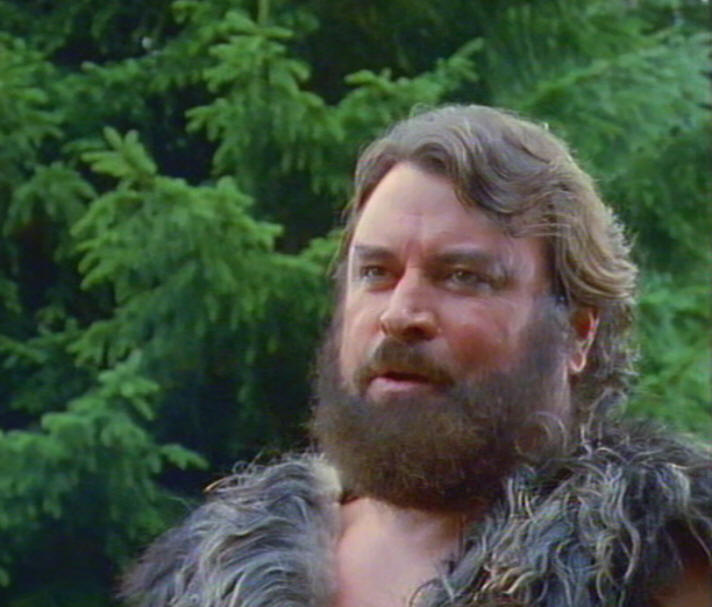 Brian Blessed, born 9 October 1936) is an English actor, writer, presenter, and comedian. He is known for his booming voice and his roles in Z-Cars, I, Claudius, Blackadder, and Flash Gordon.
His early life: Brian Blessed was born on 9 October 1936 at Montagu Hospital in Mexborough, Yorkshire, the son of William Blessed (1906–2005), a socialist coal miner at Hickleton Main
Colliery (and himself the son of a coal miner),and Hilda Wall (1909–1997). Blessed's great-great-grandfather, Jabez Blessed, was the father of 13 children and worked as a china and glass
dealer in Brigg, Lincolnshire; many of Blessed's relatives hail from Brigg. Blessed went to Bolton on Dearne Secondary Modern School and started drama training at the Bristol Old Vic Theatre School.
Always seems to enjoy these roles!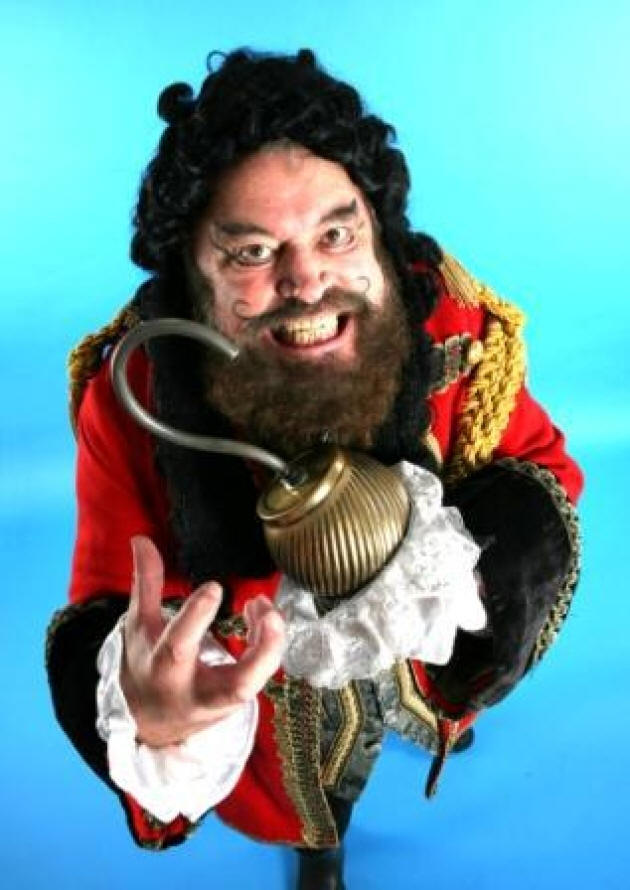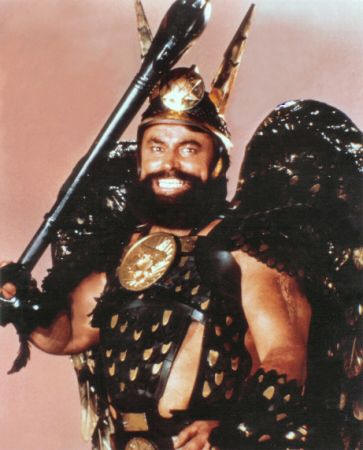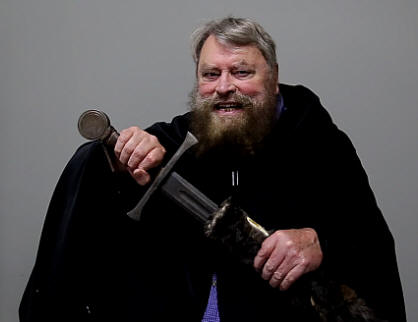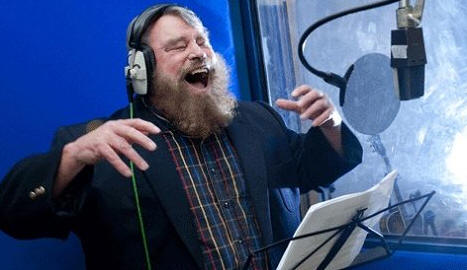 Blessed married American actress Ann Bomann when they were both 20 years old, and they had a daughter named Kathy. Due to work constraints, they drifted apart and eventually separated.
They divorced in the late 1970s in order to allow Blessed to marry English actress Hildegarde Neil. Blessed is a patron of PHASE Worldwide, which works to improve education, healthcare and
livelihoods in remote areas of Nepal.
He played Long John Silver in the 10-part serial Return to Treasure Island (1986), King Yrcanos in the Doctor Who serial Mindwarp (1986), General Yevlenko in the mini-series War and Remembrance
(1988), and Lord Loxley, the father of Robin Hood, in the Hollywood film Robin Hood: Prince of Thieves (1991). Much more about him at Wikipedia.
Blessed lives in Windlesham, Surrey. He married Hildegarde Neil in 1978. Their daughter, Rosalind, is an actress. Blessed has worked alongside Rosalind on Doctors. He owns several dogs and is a
patron of the Hopefield Animal Sanctuary. On 19 January 2015, Blessed collapsed on stage during a performance of King Lear with the Guildford Shakespeare Company, in which his
daughter Rosalind was also acting. He received medical attention from a doctor in the audience and returned to the stage to complete the play 20 minutes later. On 30 January 2015,
it was announced that Blessed had been "compelled to withdraw" from the production on the advice of his heart specialist. He has been fitted with a pacemaker.
It's the first time Brian and his youngest daughter Rosalind have acted together on stage, although they've done some TV together 5' 9" (1.75 m) Blessed is an English actor.
He is known for his sonorous voice and "hearty, king-sized portrayals".He has also distinguished himself as an author and adventurer.
Brian was born in 1936 and grew up in the mining village of Goldthorpe in South Yorkshire. His father, William Blessed was a miner who wanted a better life for his son; Brian lost 3 uncles in the pit.
At a young age he displayed an acute talent for acting in school productions, but also had a penchant for boxing, a direction that would be short-lived. He began his training at the Bristol Old Vic
Theatre School. He has written about his early life in his autobiography, Dynamite Kid (1992)
Working various blue-collar jobs from undertaker's assistant to plasterer, Brian managed to attend the Bristol Old Vic and was off and running. He has lent his musical talents to several productions
-from playing Old Deuteronomy in "Cats" to The Baron in the more recent "Chitty Chitty Bang Bang". In the 1970s he began appearing more and more on-camera with both classical and contemporary
performances. In costumed TV movies he has played Porthos in "The Three Musketeers" (1966) and "The Further Adventures of the Musketeers" (1967), Augustus in "I, Claudius" (1976), and
Long John Silver in Treasure Island (1985) and has been a part of various reenactments including Catherine the Great (2000) (TV), "Lady Chatterley" (1993), The Hound of the Baskervilles (1983) (TV)
and Kidnapped (1995) (TV). On film he's appeared in robust support in several 'William Shakespeare (I)' adaptations including Henry V (1989), Much Ado About Nothing (1993), Hamlet (1996)
and Macbeth (1997). He is married to British actress Hildegard Neil who made an appearance with him in Macbeth (1997). More recently he appeared in Oliver Stone's epic-scale Alexander (2004) and
in Kenneth Branagh's film version of Shakespeare's As You Like It (2006). Spouse: Hildegard Neil and they have one Daughter: Rosalind. Brian Trademark booming voice. A friend of Patrick Stewart
since childhood. Was nearly killed when filming his death scene in Robin Hood: Prince of Thieves (1991).
In Flash Gordon (1980) his character, Prince Vultan, says "Who wants to live forever?" during the battle between the Hawkmen and Ming's Imperial Fleet. This later became the title of a Queen song
on the soundtrack for Highlander (1986). As a child he and his friends used to play at Flash Gordon (Queen), inspired by the Buster Crabbe TV serials. In these childhood games Brian would always
play Vultan, leader of the Hawkmen. In the 1980 film Flash Gordon he played the same role as he had in childhood.
Facts: His younger brother Alan, seven years his junior, died in 1996 at the age of 52. * Frequently gives up his time to appear at fan conventions for different series in which he has appeared.
* Has starred opposite his real-life wife Hildegard Neil in King Lear (1999) (which he also directed) and the short film Mr. Bojagi (2009).

Adventurer
Blessed is also an adventurer. He climbed Mont Blanc at the age of seventeen, and he has remained an active mountaineer throughout his life. He has attempted to climb Mount Everest on three
separate occasions, but has never reached the summit. During his attempt in 1991, the then 55-year-old climbed higher than any other man of his age; the height record was later broken by
Sir Ranulph Fiennes in 2009. He has successfully climbed Aconcagua in Argentina as well as Kilimanjaro in Tanzania. He also holds the record for being the oldest man to trek on foot to the
magnetic North Pole, and has undertaken an expedition deep into the jungles of Venezuela.
Personal Quotes: He says of Shakespeare: "The blue planet has had its author. It would be greedy to want another."
Other roles have emphasised his comedic abilities: notably Prince Vultan in Flash Gordon (1980) - for which he is frequently remembered for the famous line "Gordon's alive!"; the mad, comic
figure of Richard IV in the first series of The Black Adder (1983); and Spiro in the BBC adaptation of My Family and Other Animals (1987). He also played the role of General Yevlenko
in the 1988 miniseries War and Remembrance. Blessed jokes he almost starred in Blackadder II (1986) as Queen Elizabeth but he wasn't available at the time of filming.
Early life: Career: An early role was that of PC 'Fancy' Smith in the BBC police drama Z-Cars from 1962 to 1965. In 1966, Blessed appeared in "Incident at Vichy" at the Phoenix
Father in Hamlet (1996) and the dual role of Duke Frederick and Duke Senior in As You Like It (2006). He also provided the voice of Bob in the animated series Kika & Bob (2008).
He provided the vocal links on the Sony-Award-winning Christian O'Connell Breakfast Show on Virgin Radio and introduced adverts for Orange mobile phones. At Christmas 2006, he presented
a panto Cinderella for Virgin Radio starring actors such as David Tennant and Thandie Newton. In November 2006, Blessed made a surprise appearance on the midday talk show Loose Women.
Also, he is featured reading the story "The White City Part 1" which is the final piece on the album Late Night Tales: Nightmares on Wax. Blessed was also the voice of Jean Valjean in Focus on
the Family Radio Theatre's audio dramatic adaptation of Victor Hugo's Les Misérables.
After a successful campaign on social networking site Facebook, satnav manufacturer TomTom has decided to record Brian Blessed's distinctive voice as an option for those using its satnav
devices; Blessed's voice has been available in devices since October 2010.
Other achievements:

He also has an honorary position as official Shoutsperson of the University of York's Douglas Adams Society, and in 2011 the student body voted to name a new study space
as the 'Brian Blessed Centre for Quiet Study'.
He was President of the Television and Radio Industries Club (TRIC) 2007-2008, and presented the 2008 TRIC Awards at the Grosvenor House, Park Lane. TRIC is an organisation which honours
achievers in the film and radio industries. He has honorary degrees from the University of Bradford, awarded in July 2003, and Sheffield Hallam University, awarded in 2004.
He also stars in the Living Legend show in Jersey, Channel Islands. It features many celebrity faces, such as Roger Lloyd Pack, Samantha Janus, Kevin Whately and Tony Robinson.
The story is of the history of the island.
Personal life:

Blessed lives in Windlesham, Surrey. He married actress Hildegarde Neil Zimmermann in 1978 and they have one daughter, Rosalind. He also has a number of dogs. Blessed and Neil
appeared together on an episode of the ITV game show All Star Mr And Mrs on 23 May 2009. In the show, it was revealed that the only thing that he cannot do without is condensed milk.
Blessed is a lifelong friend of another noted Shakespearean and science fiction veteran Patrick Stewart whom he first met at the Bristol Old Vic Theatre School.
Blessed is a supporter of the UK Human Space Flight programme and has demonstrated his interest in potential space travel by subjecting himself to various tests, usually reserved for astronauts,
such as a G-force simulating centrifugeBlessed is a life-long supporter of Manchester United which he revealed on Soccer AM.Source. This story above is shorted a bit (as much as if It'was possible ;) ) http://www.bbc.co.uk/derby/content/articles/2008/10/10/brian_blessed_ed_george_2008_feature.shtml
The interview click here about his childhood forest he wants to restore
And another article

here
The little Brian Blessed! Below King Lear together with his daugther Rosalind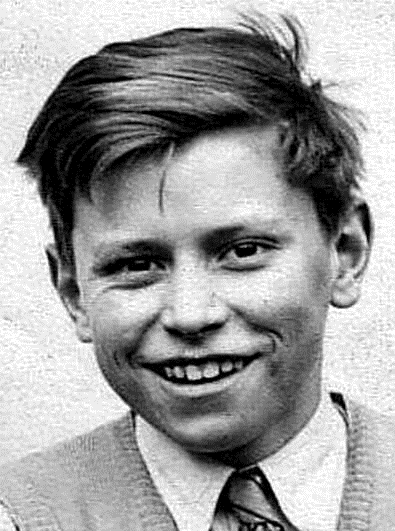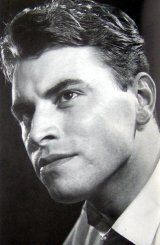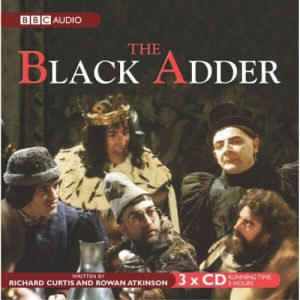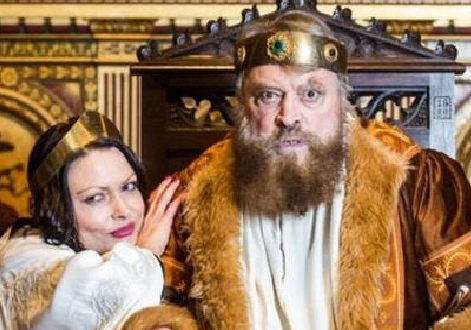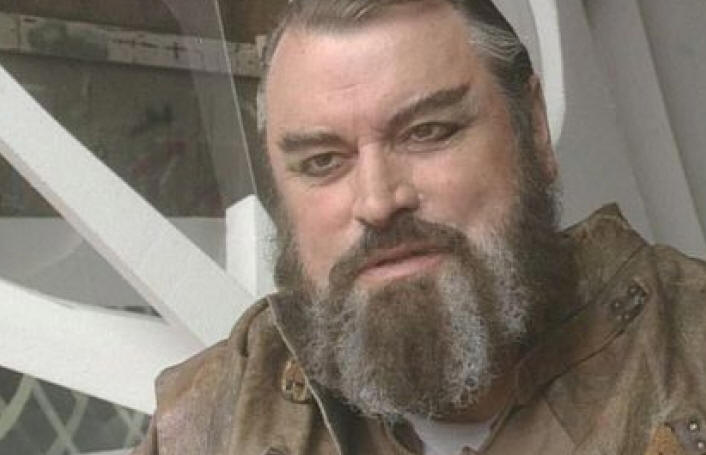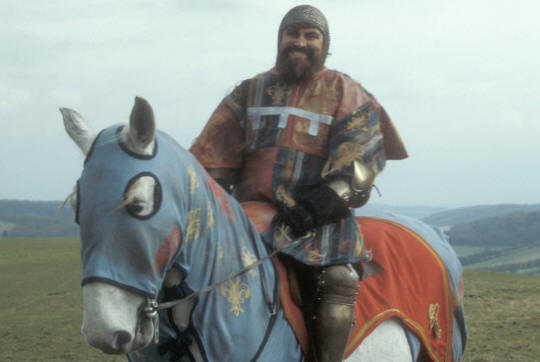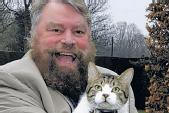 Andrew Bloch
Albert, 1 episode, 1988 'Message To Geneve'
episode 43, 'Message to Geneva'- as Albert a slow, but well meaning servant who is the only person who knows a secret message for Tell, but can't remember it due to his obsession with food.
Andrew Bloch is known for his work on Hard to Kill (1990), Hangar 18 (1980) and Remington Steele (1982). For his imdb you can click here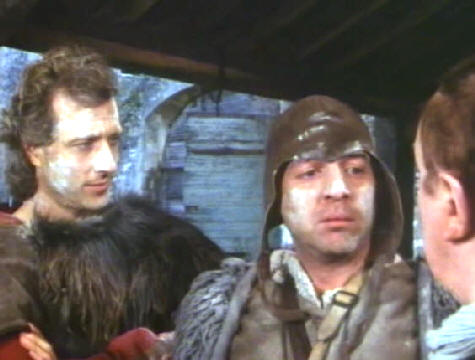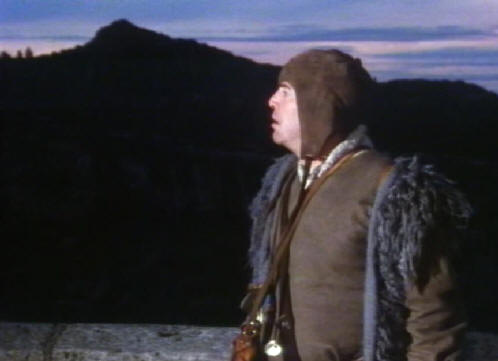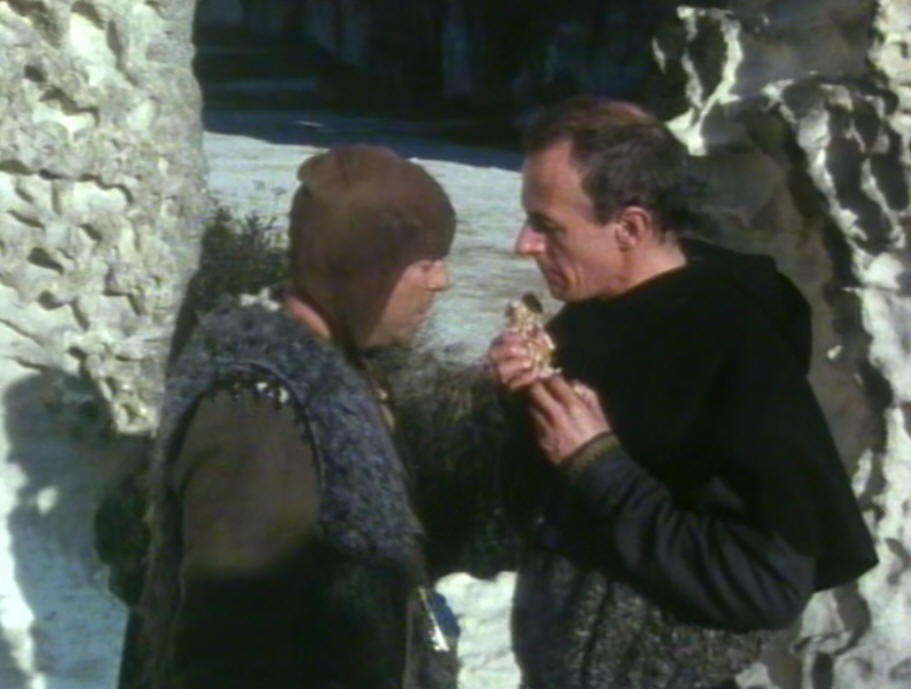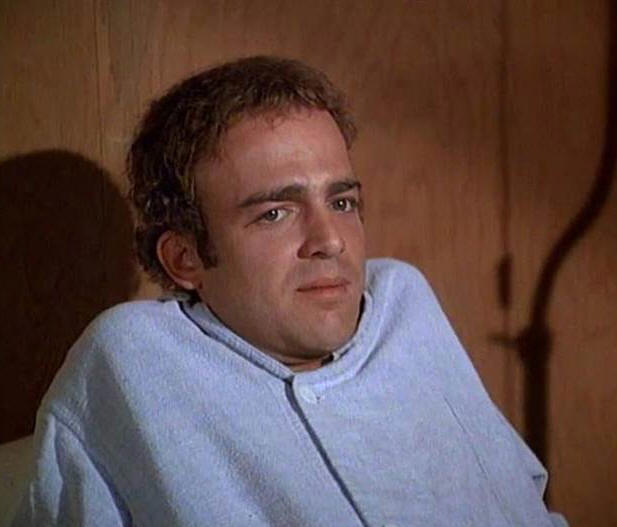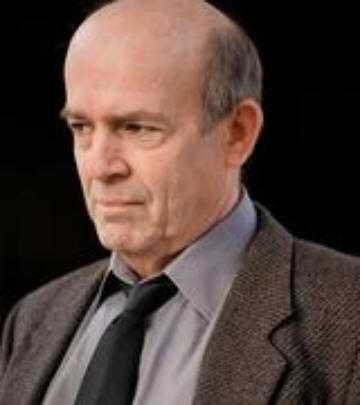 Benedict Blythe
Gessler's brother! At the end of season 2. Gessler's brother comes to visit. He tries to win trust but can not be trusted. He is in a double episode.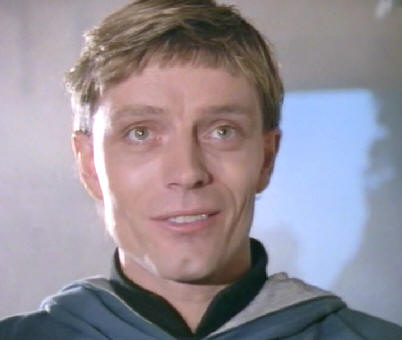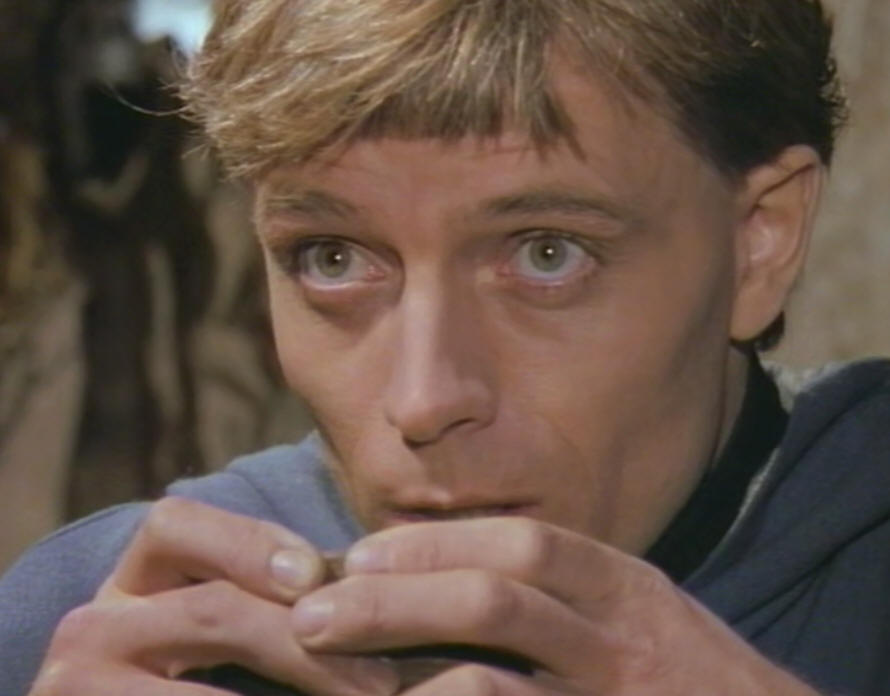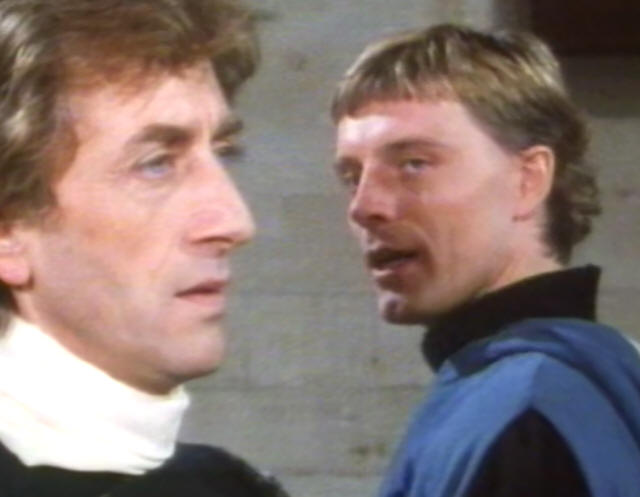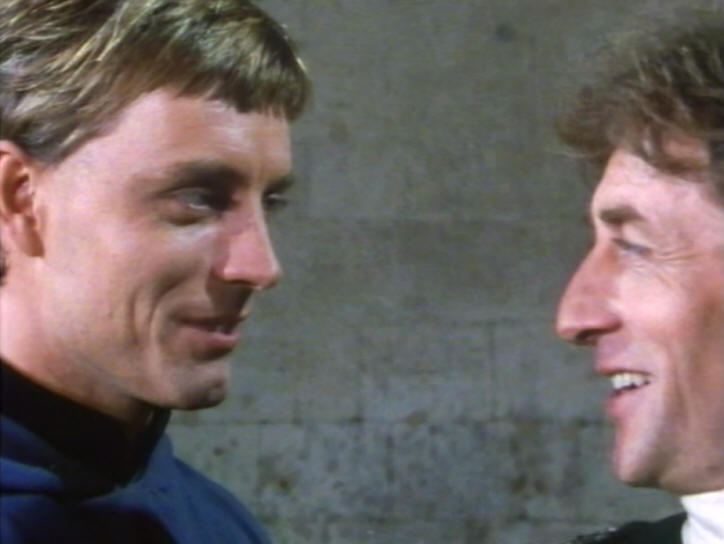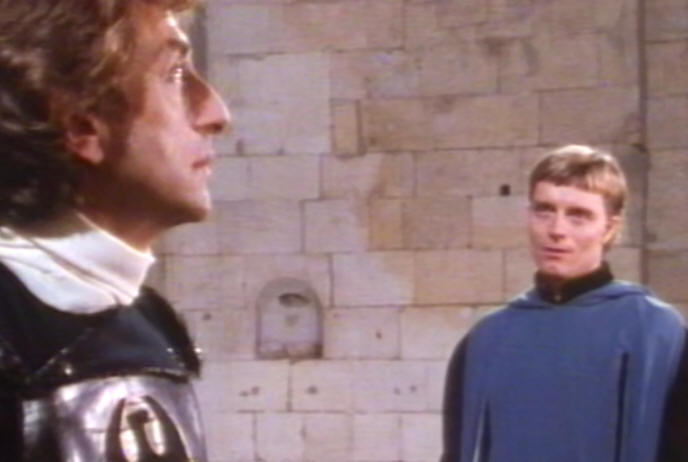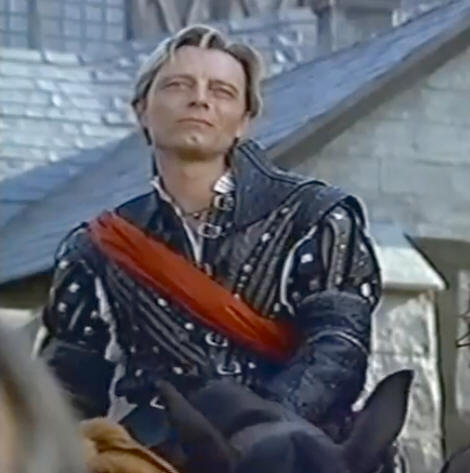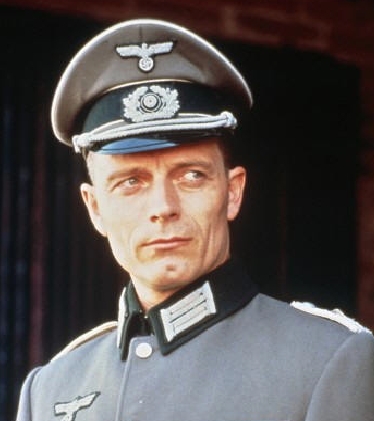 Benedick Blythe is an actor best known for films such as Seven Years in Tibet and Miracle at Midnight. Benedick's stage credits include Good (Royal Shakespeare Company),
Woman in Mind (Vaudeville) and The Winslow Boy (BBC TV).
Benedick Blythe is a versatile character actor who has had great experience in both stage and screen work. He is currently playing Major Metcalf in Agatha Christie's 'The Mousetrap' at St
Martin's Theatre in the West End. Benedick is best known for films such as 'Little Riders', in which he played the lead opposite Paul Scofield, Rosemary Harris and Malcolm McDowell,
and 'The Hunchback of Notre Dame', in another leading role alongside Mandy Patinkin, Salma Hayek and Richard Harris. His TV credits include 'The Winslow Boy', 'Dracula',
'Midsomer Murders' and 'Holby City', to name but a few.
His many stage credits include 'Good' with the Royal Shakespeare Company, 'Woman in Mind' at the Vaudeville and 'Me And Mamie O'Rourke' at the Novello Theatre.
For his imdb list you can click here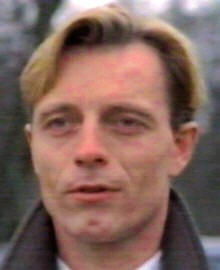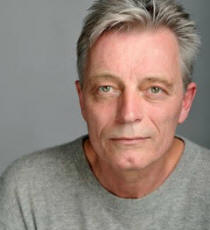 Gregorio 1 episode The Gods, 1989
episode 56, 'The Gods' - as Gregorio, the high priest of a pagan village isolated from the outside world. He proclaims, the first visitors, as gods
in order to use them to strengthen his rule. This episode is recorded in beautiful Castlebouc, Lozere.
For his imdb list you can click here
As Gregorio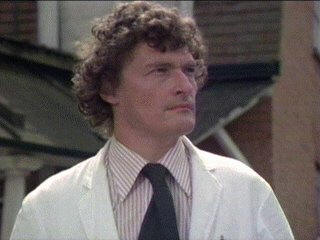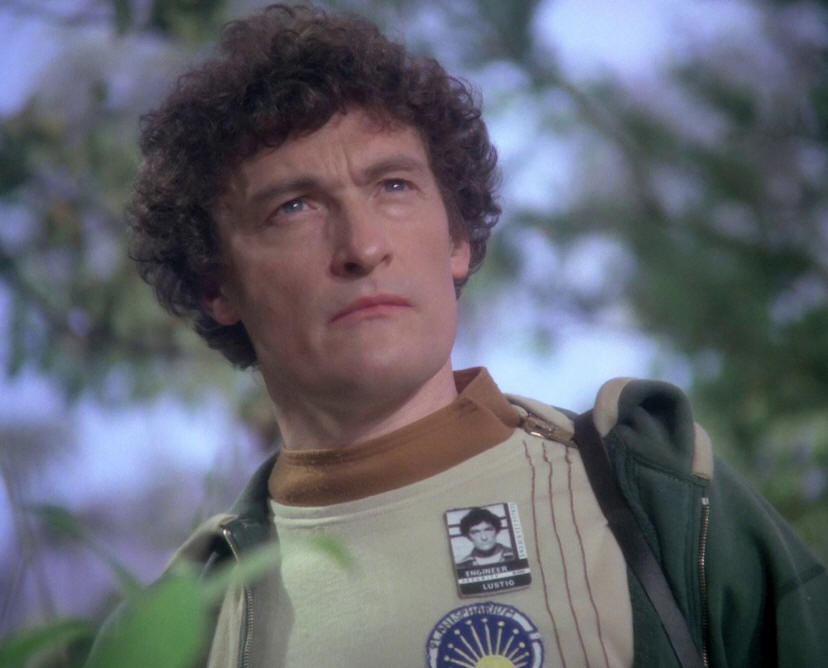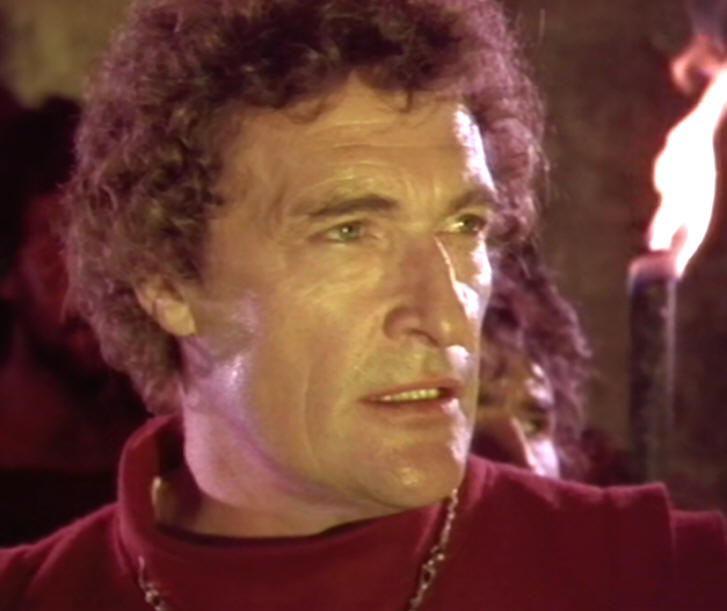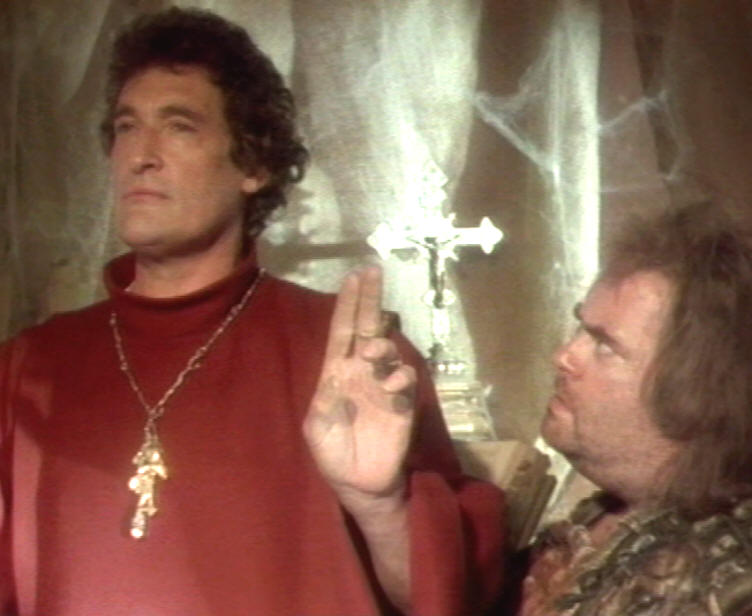 By the way...is this Mrs. and Mr. Lyman in the back? Georgia was also on this set, see foto's of G. Lyman.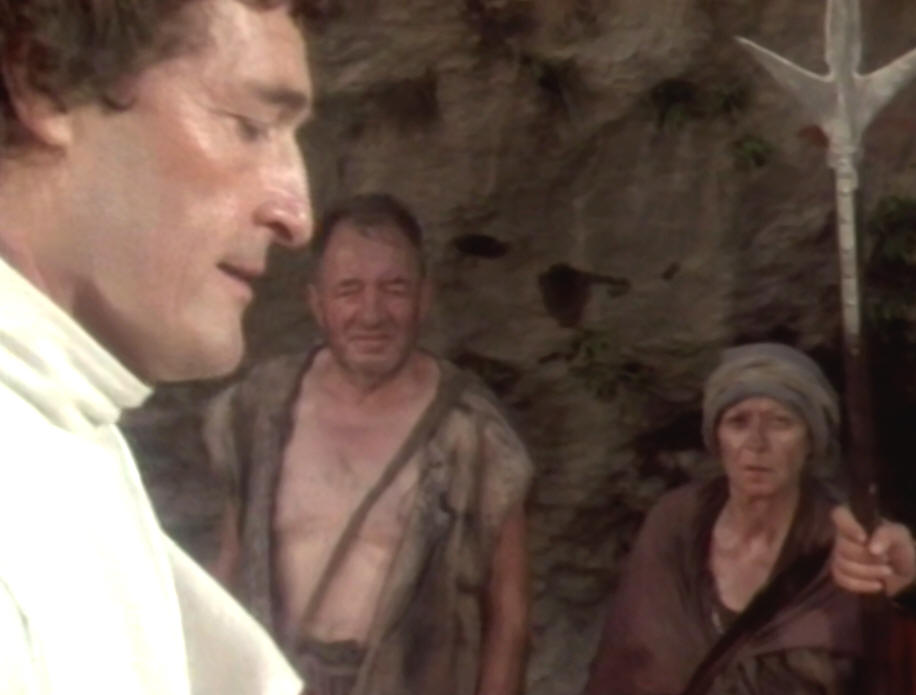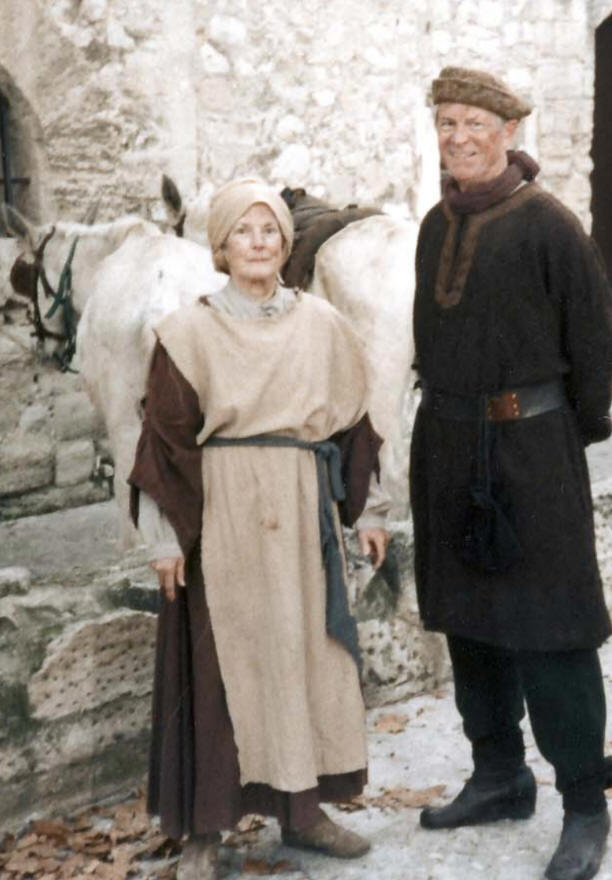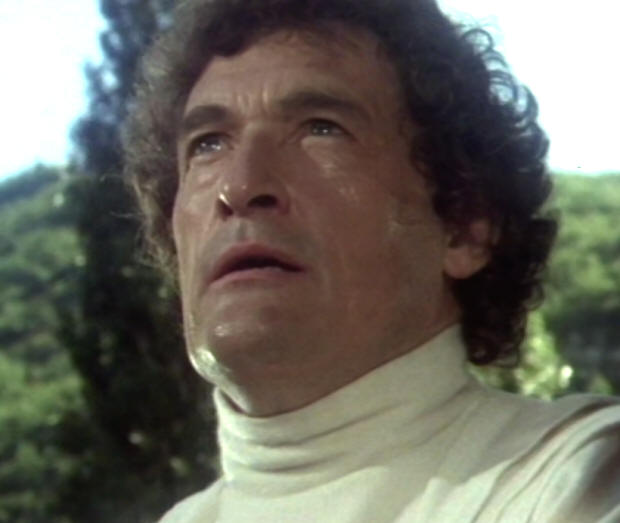 Mad Maurice in 1 episode Headhunters, 1989
Episode69, 'The Headhunters' - Kenny Maguire of Brookside and Phil Jennings of Coronation Street appears here as Mad Maurice, a man who
taunts death and laughs in the face of danger. He's is caught with Tell in the deadly games of the Headhunters.
Tommy Boyle was born on May 3, 1948 in Manchester, England. He is an actor, known for Chariots of Fire (1981), The New Avengers (1976),
A Raging Calm (1974), Taggart 1993, Coronation Street and Z Cars. For his imdb link you can click here.
On top of castle La Caze attacked by the fourth Headhunter.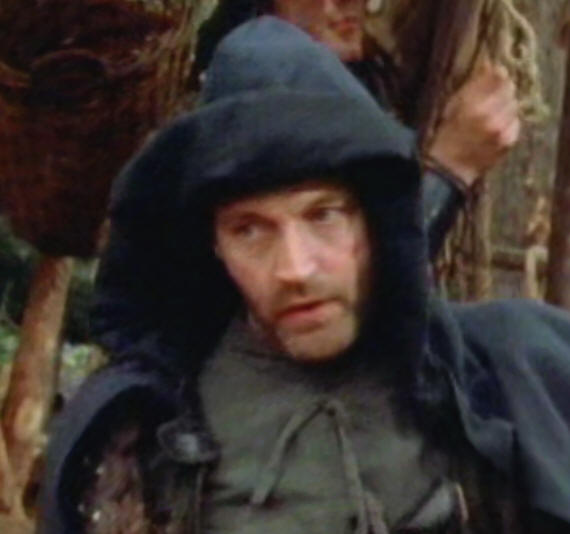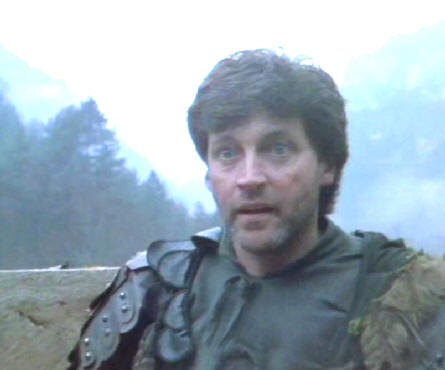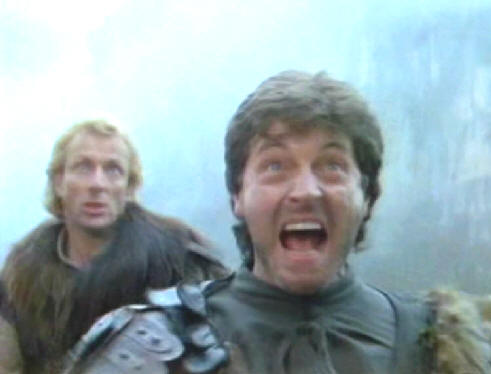 Looking for a safe way out La Caze castle. A ressurected version of Dantes (Dominique Hulin) in on their track.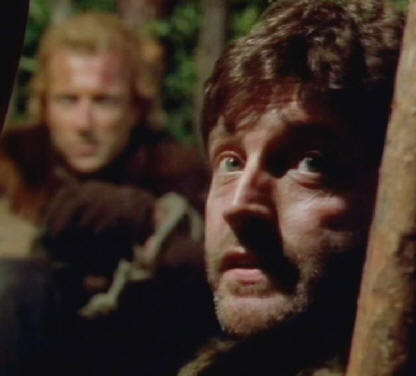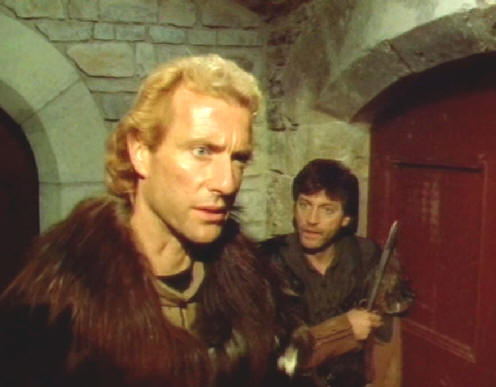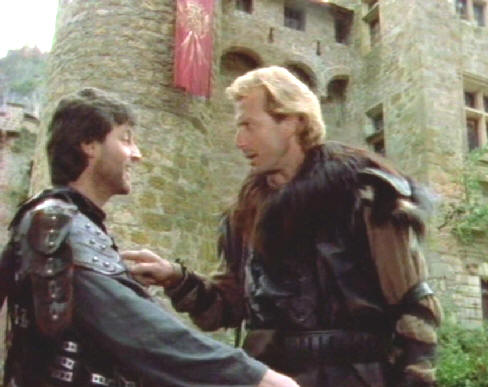 Coronation Street Follyfoot 1971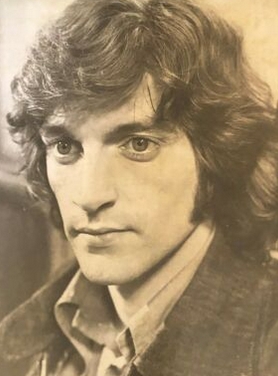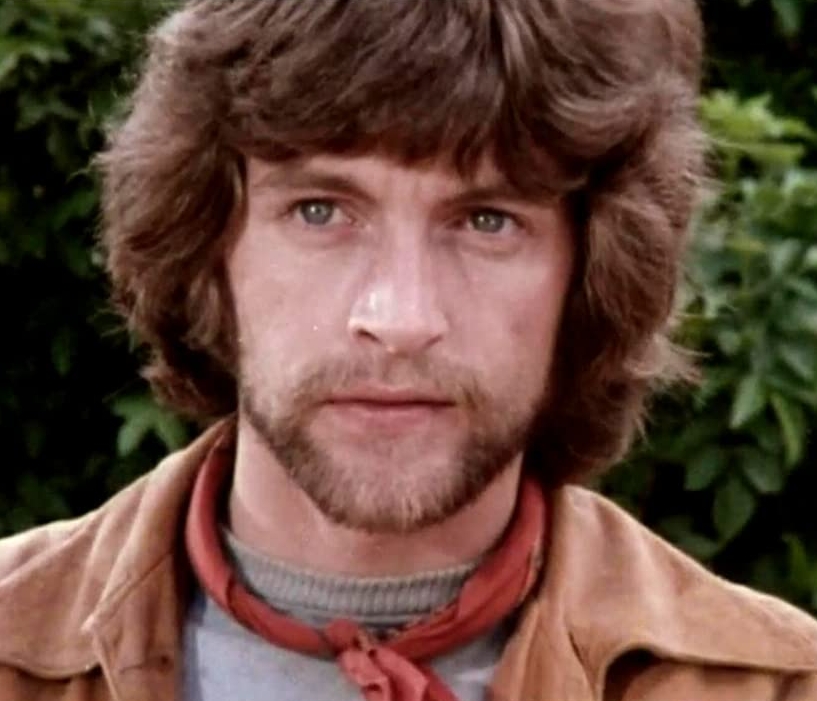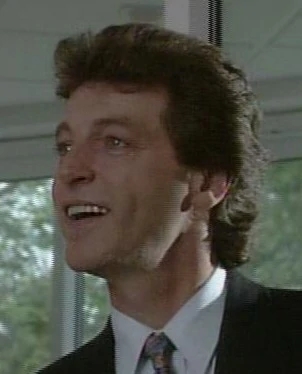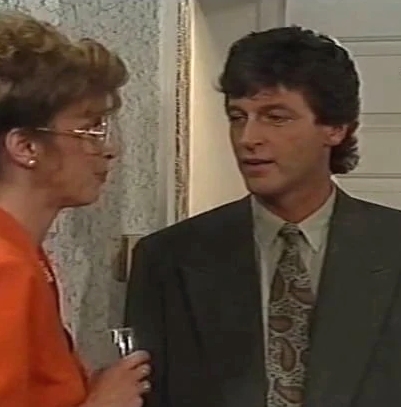 Georges Branche
1 episode, 1988, Crossbow (TV Series). The Taking of Castle Tanner (1988) Soldier
Georges Branche stuntman and also actor. Is known for his work on Banlieue 13 (2004), Gladiator (2000) and Taken (2008).
Corinne and Georges Branche
Georges Branche love horses for many years, Corinne and Georges Branche has been in the equestrian world for many years.
For her, a training in riding French tradition that led him to specialize in academic riding and dressage Haute-Ecole. Today she shares her know-how and knowledge through teaching.
For him, a specialization in staging and making stunts and a taste for work in freedom that lead him naturally to work for the film industry. Discovered by Anglo-Saxon directors such
as Khennet Branagh, Jerry Zucker, Steve Barron (Pinnocchio, 1995 - Arabian Nights, 1998), Tim Burton or Ridley Scott (Gladiator, 2000), he also works with French directors such as
Alain Chabat (Asterix and Obelix, 2001), Thomas Langmann and Frédéric Forestier (Asterix to Olympic Games, 2008), Etienne Chatillez, Philippe de Broca (Mrs. Without embarrassment,
2001) or Valérie Guigabodet (Dance with him, 2007) as equestrian advisor.
Georges Branche has participated in the creation of more than 250 films, as stuntman, advisor, coordinator or equestrian manager. For them, the same philosophy of working with
the horse: no risk taking, no rush but a patient work to win the trust of the horse and total respect for the animal. For his imdb list you can click here
Ian Brimble
Horst's Lackey, 4 episode, 1988
Episode 22, 'The Physician' - Appeared with his brother Nick as a subordinate of Horst's who is sent to find Tell in a plague ridden village. Credits include Miss Marple,
Barchester Chronicles, and Sense and Sensibility. Brother of Nick Brimble (Horst). Nick and Ian coming from an actor's family. His imdb list can be found here
Ian. Detective Sergeant Lake in 4:50 from paddington Below Vincent Brimble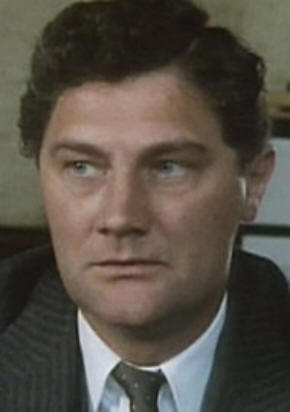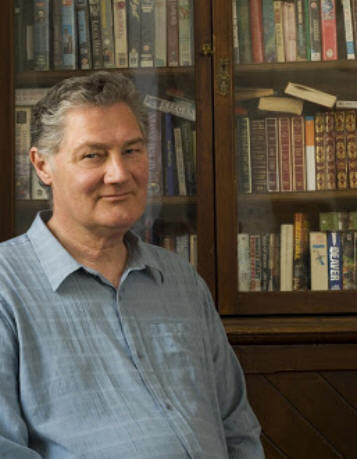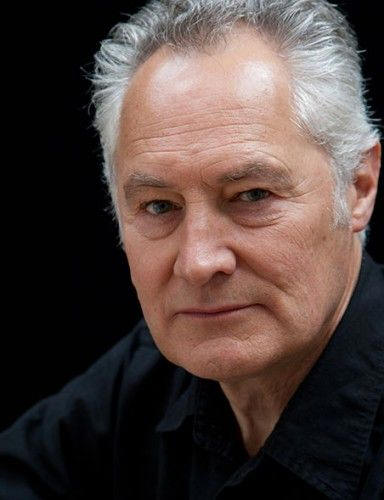 Ian Brimble was born in 1948 in Bristol, England. He is an actor, known for Sense and Sensibility (1995), Get Real (1998) and Miss Marple: The Body in the Library (1984).
He was previously married to Fiona Mathieson. Casualty, Doctors (2003) Inspector Morse 1990 tv series
Episode: The Physician at St Andre, Avignon Episode: The Physician at Chazey garden.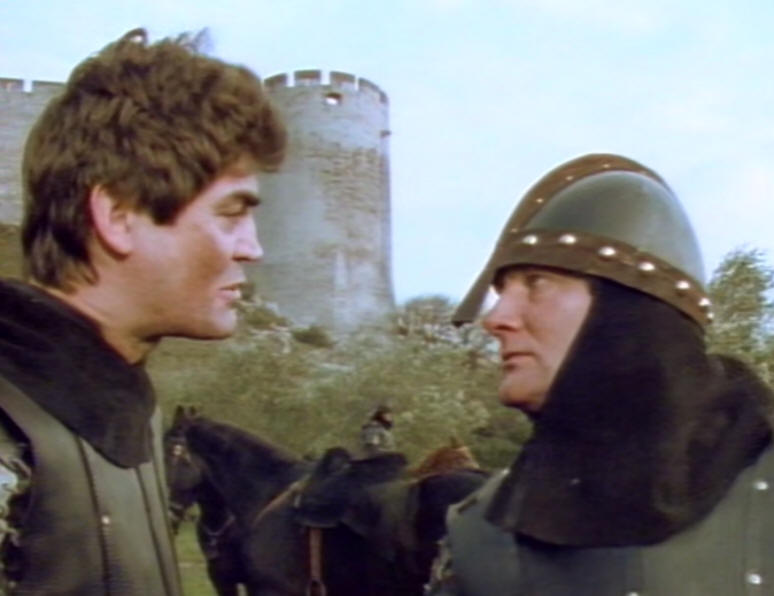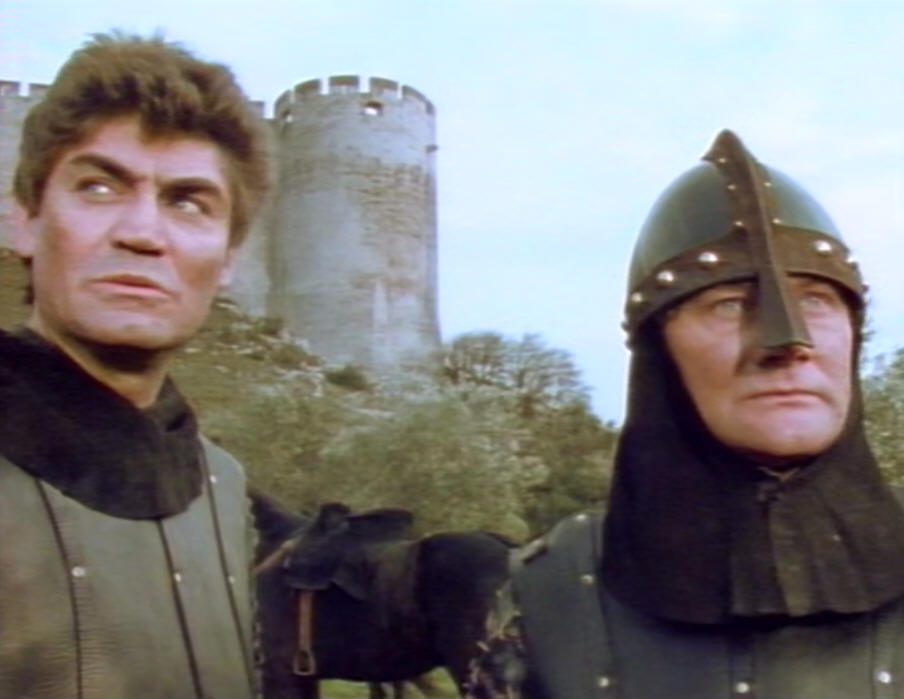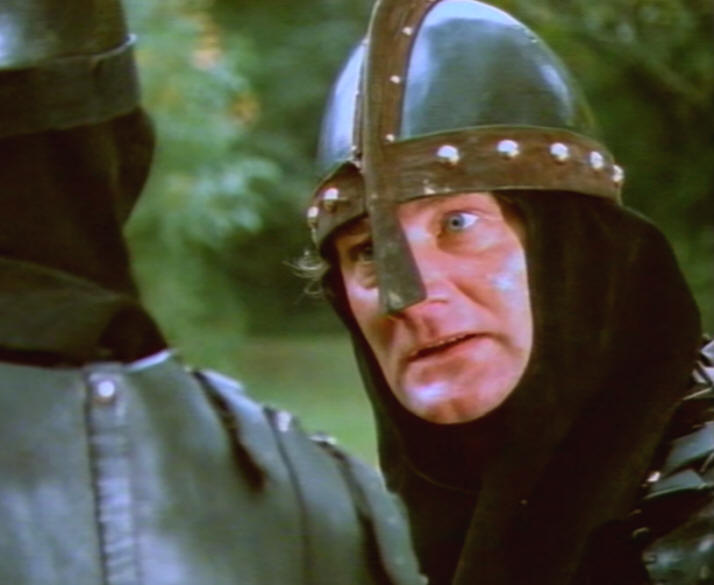 Below: episode Physician. Ian Brimble says this town is dead, because of Plague. The other wants to follow the order to search each town.
They're doubting and then Ian invites the knight to go in this Plague town. Is this also Ian in the episode The Inquisitor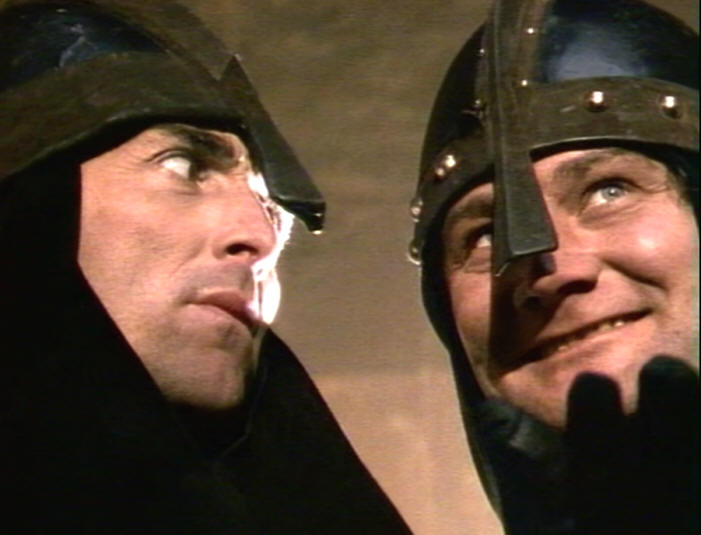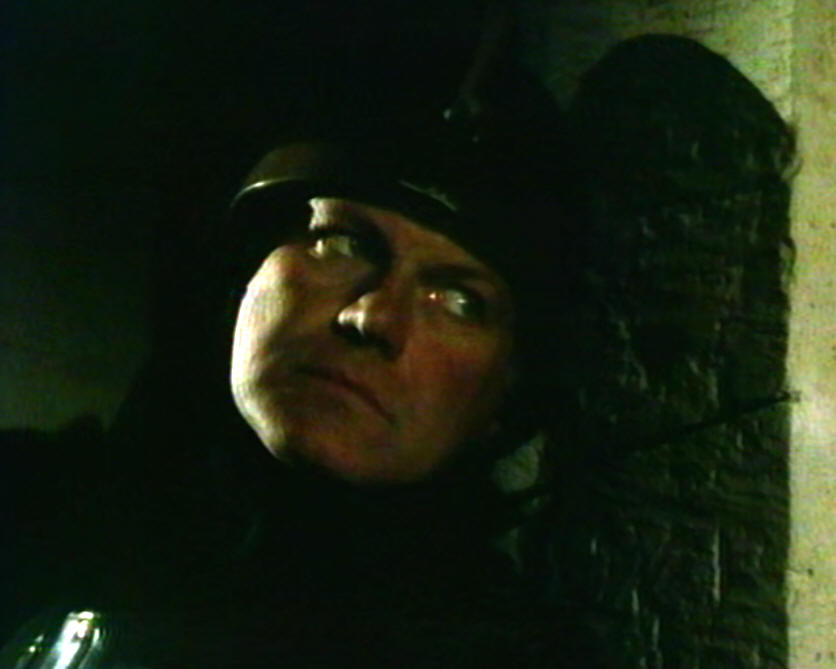 Adrustus 1 episode, 1989
Episode 68, 'The Amazon' - as Adrustus the long lost leader of a village who returns home to find the women have compensated
for the absence of men by training themselves for battle in true amazonian style.
The war chief Doctor Who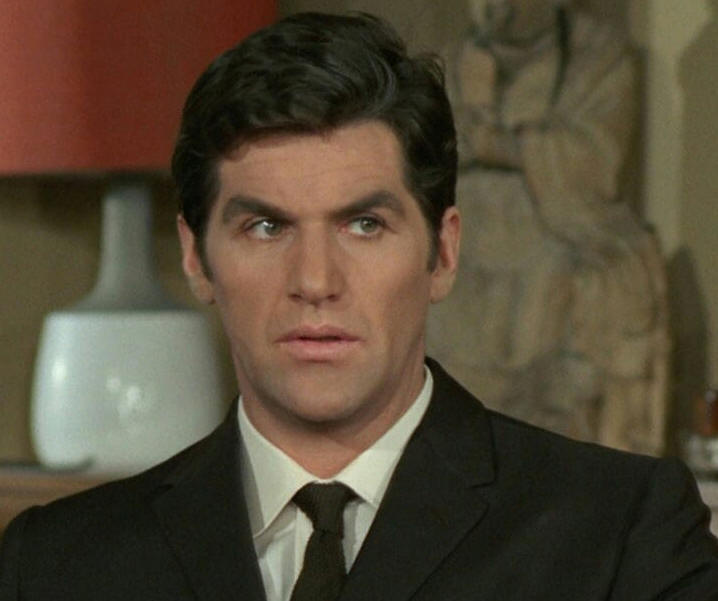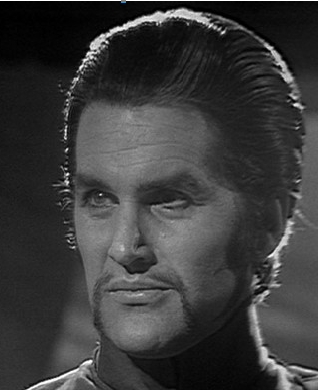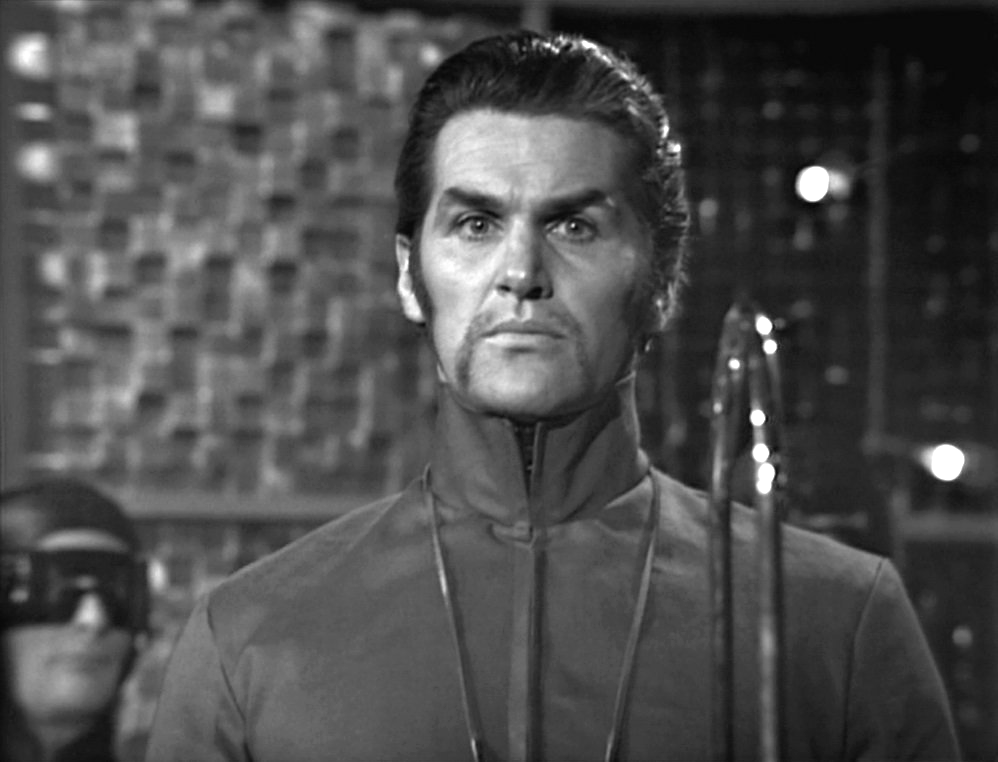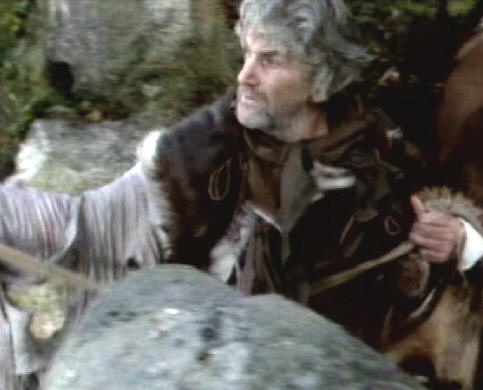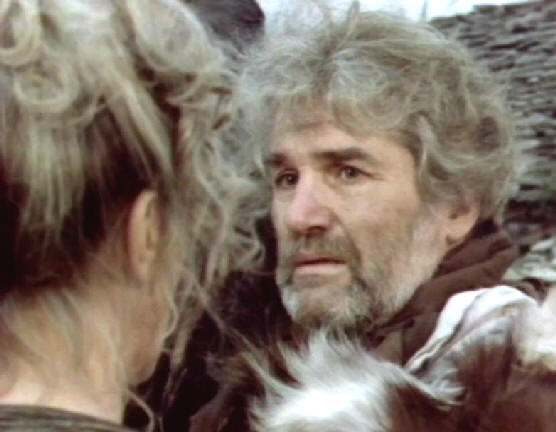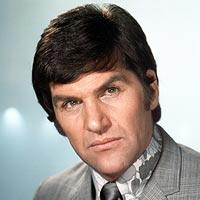 Edward Brayshaw (18 October 1933 – He died one year after Crossbow of Throath cancer in 28 December 1990) was a British actor.
His television roles include the part of Rochefort in the 1966 serial The Three Musketeers and 1967's The Further Adventures of the Three Musketeers. He is probably most
recognised for playing Harold Meaker in the children's series Rentaghost, throughout its eight-year run on BBC1. He often appeared in TV adventure series, taking roles in several
ITC series including The Saint, The Baron (in two episodes but in different roles), The Champions and Return of the Saint, often in villainous roles. In The Champions, for example,
he played a mob boss. He appeared twice in Doctor Who: first as Léon Colbert in 1964's The Reign of Terror, and second as the War Chief, one of the main villains in the 1969 serial
The War Games. He appeared in the 1969 Avengers episode "Homicide and Old Lace", which had been re-edited from an unfinished story entitled "The Great Great Britain Crime".
Later roles included The Bill and Bergerac.
Brayshaw also appeared in various television commercials, including a 1980s advert for the Nationwide Building Society.
Brayshaw died of throat cancer in 1990. For his imdb you can click here
Nona, 1 episode Forbidden Fruit, 1989
Episode 60, 'Forbidden Fruit' - as Nona, the beautiful high priestess of a cultish city. Kept against her will by a tyranical leader. Annabel Brooks was born January 4, 1958 to Caroline Diana
Todd and Robert Noel Brooks. She appeared in the several films of the 1980s and made her first on-screen appearance in the poorly received sci-fi horror, Nightflyers (1987). She had the role
of Eliza. The same year, she appeared in A Handful of Dust (1988), and later, in The Witches (1990),… Biography,Her first on-screen role came in 1987 when she appeared as Eliza in Nightflyers.
She has since appeared in productions including A Handful of Dust, The Witches and Last Run. In 1981 Brooks married English director Damian Harris. They have one child together, daughter
Ella. Later the pair divorced and Brooks married James Dearden.
She runs a company that rents holiday accomodations with high standards (houses from Brian Adam, Mick Jagger and Mell Gibson etc.)
For her imdb list you can click here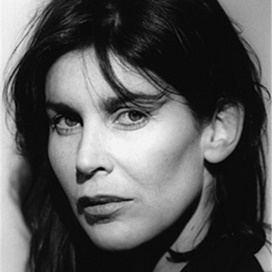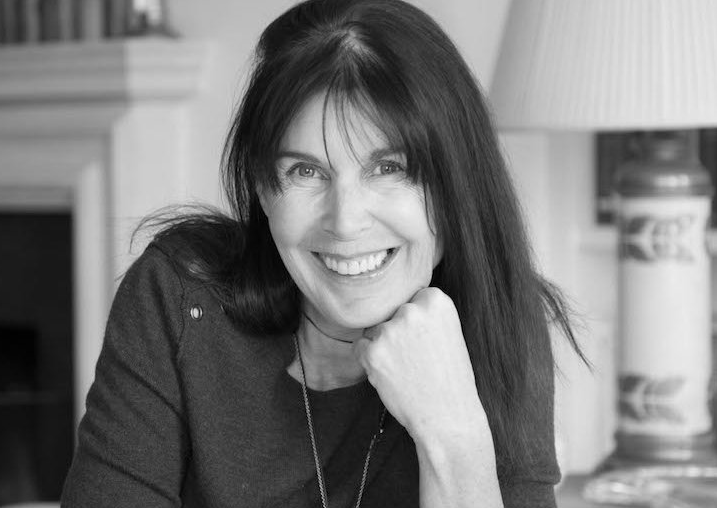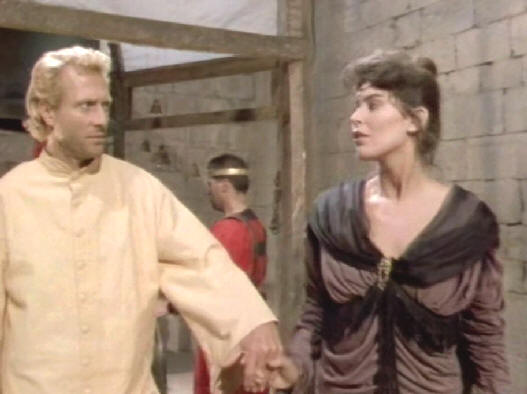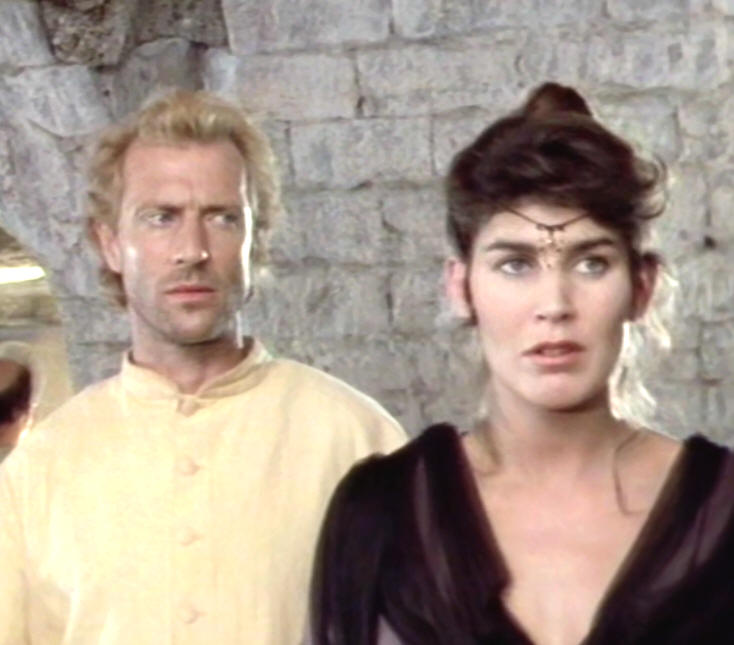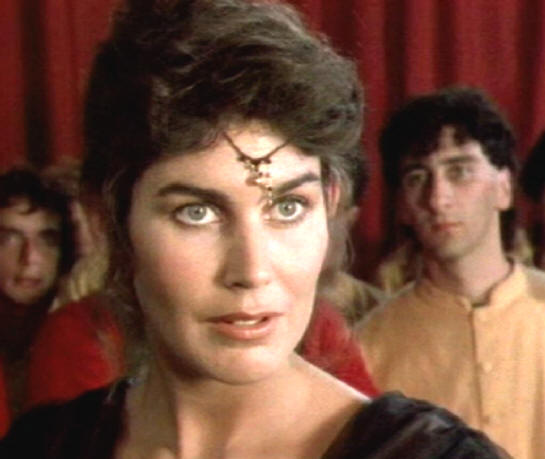 Steve Buscemi
Captain of the Guard in episode The Lost Cruisader, 1 episode, 1988
Episode 35, 'The Lost Crusader' - Known as the Independent film king, the star of Reservoir Dogs, Armegeddon, and Fargo made an early career appearance
as an evil marauding Captain of the guard at odds with an ageing crusader. For his imdb list you can click here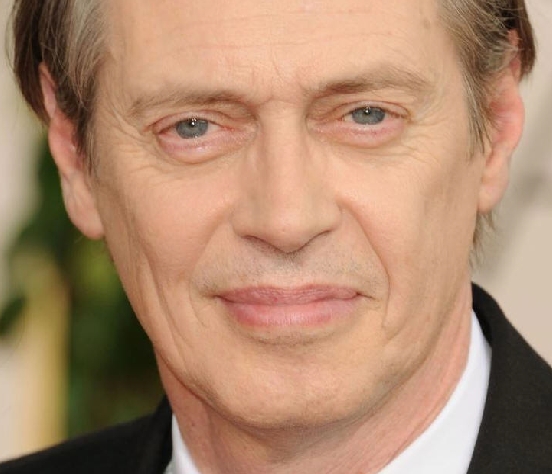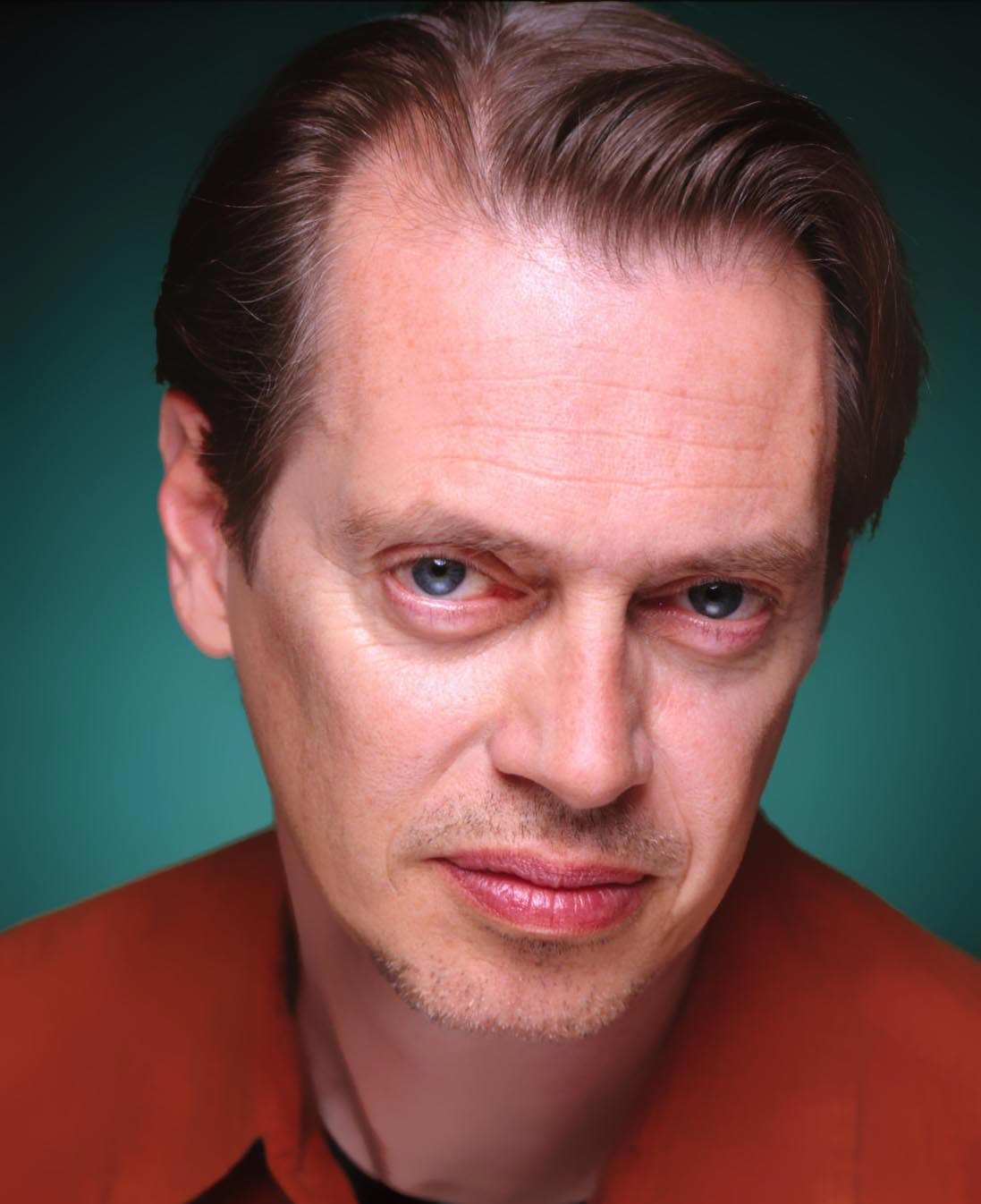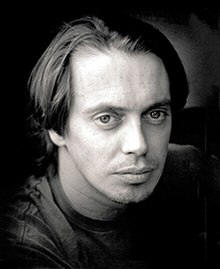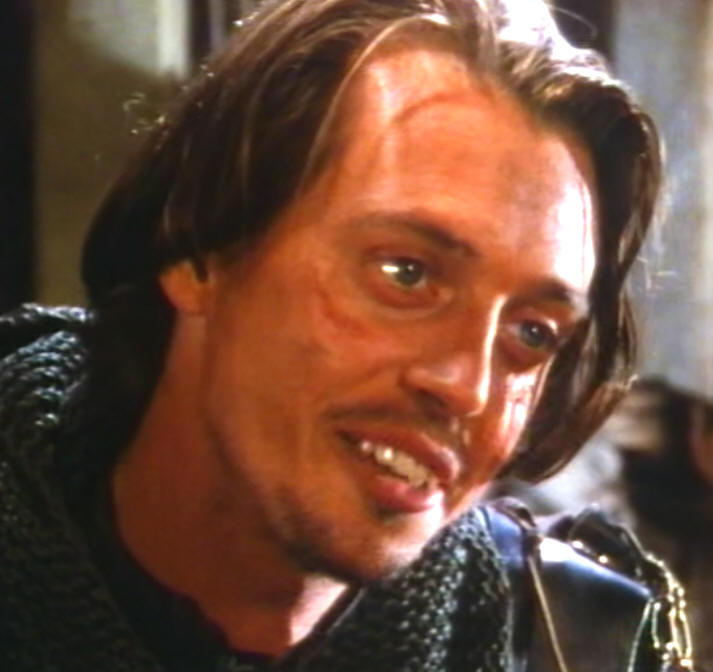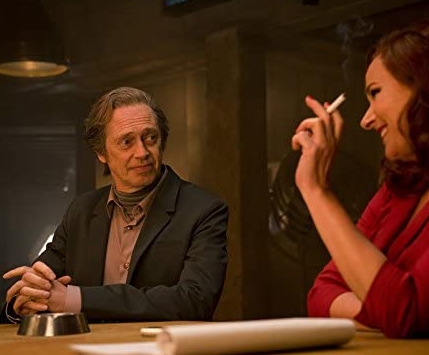 Lean on Pete 2017 Boardwalk 2010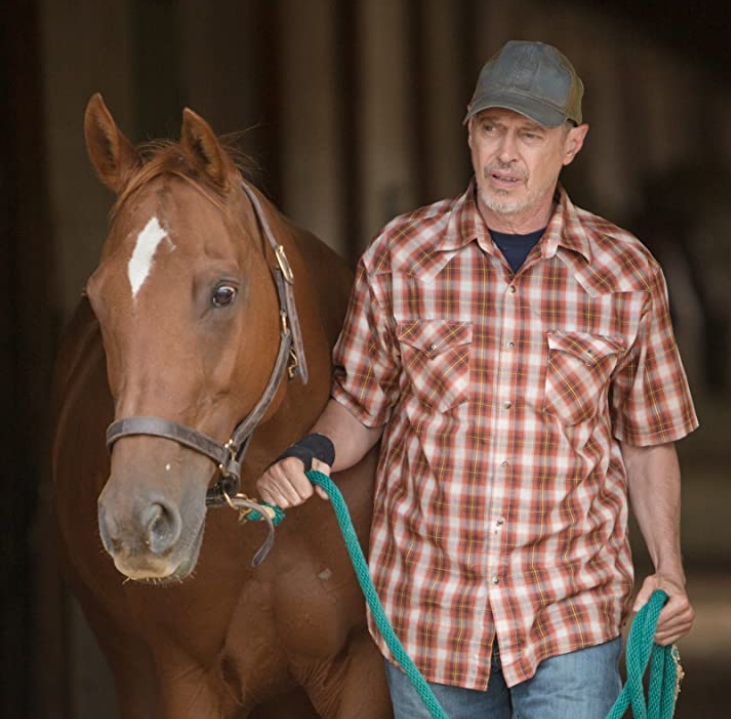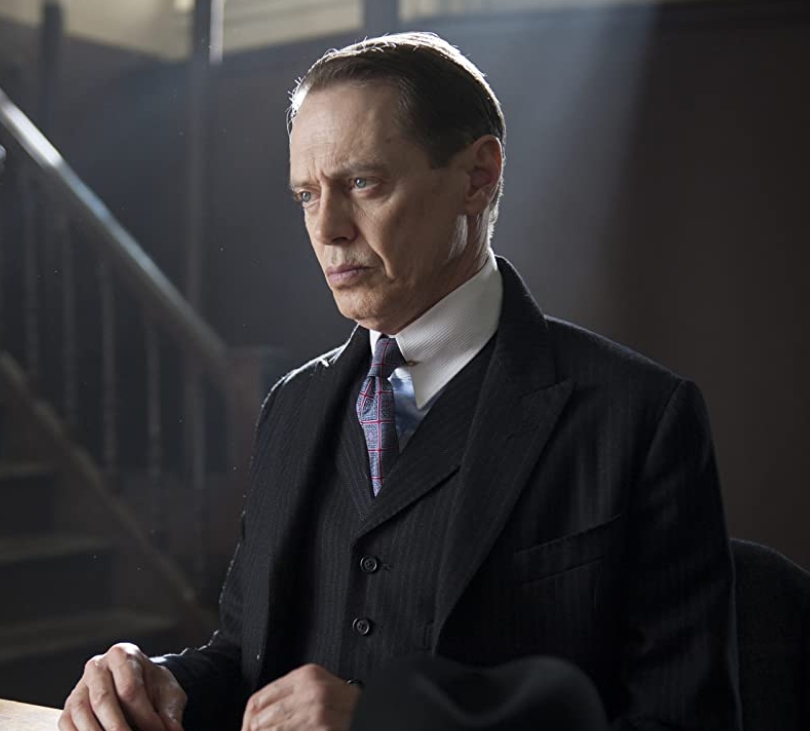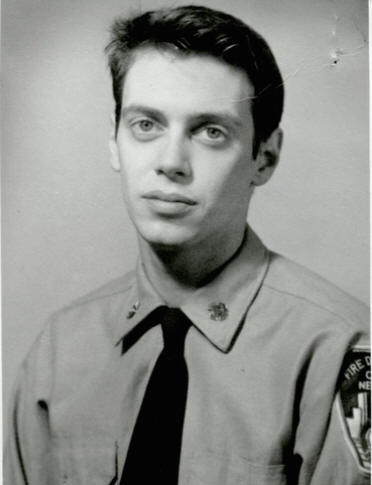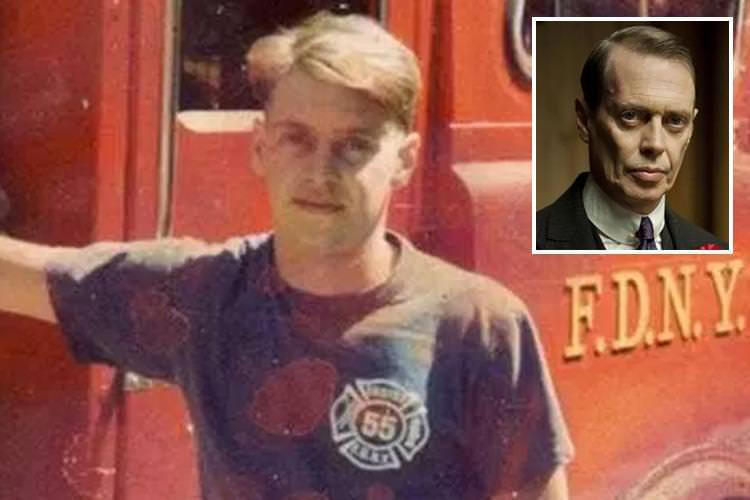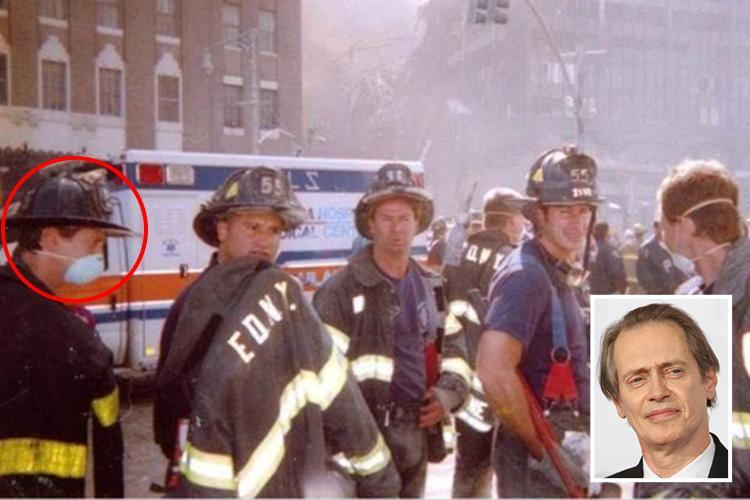 Who was a firefighter in his earlier days. A day after the attack, he rushed back to the Fire Department to assume his previous role, eager to help out in whatever way he could.
Celebrated actor Steve Buscemi spent four years as a firefighter with the Fire Department of New York before becoming an actor full-time. And while acting has made him
a household name, the...9/11 anniversary - How Hollywood star Steve Buscemi spent the week after Twin Towers attacks helping New York firefighters hunt for survivors
Buscemi refused interviews and photographs after his volunteer efforts were discovered. However, a witness secretly snapped a photograph of the actor in his fire gear.
Buscemi served FDNY for four years in the little Italy section of New York City. He continues to stay involved with FDNY. After Hurricane Sandy, Buscemi starred in a PSA to help raise
money for firefighters who were victims of the storm.
Young Firefighter
Born December 13, 1957) is an American actor, comedian, director, and former firefighter. Buscemi's acting career began in the mid-1980s, with roles in Not Necessarily the News,
Parting Glances and Kiss Daddy Goodnight, among others. His supporting work in Jim Jarmusch's 1989 film Mystery Train earned him a nomination for an Independent Spirit Award.
A few years later, he won that award, for his work in Quentin Tarantino's film Reservoir Dogs. He has received other forms of recognition in subsequent films such as Fargo (1996),
Trees Lounge (1996, as writer and director), and Ghost World (2001). In television, his work on The Sopranos, Boardwalk Empire, and Portlandia has received recognition.
Buscemi has starred and supported in numerous successful Hollywood and indie films, including Parting Glances, New York Stories, Mystery Train, Reservoir Dogs, Desperado, Con Air,
Armageddon, The Grey Zone, Ghost World, Big Fish, and The Death of Stalin. He is also known for his appearances in the Coen brothers films Miller's Crossing, Barton Fink, The Hudsucker
Proxy, and The Big Lebowski. Buscemi provides the voice of Randall Boggs in the Monsters, Inc. franchise.
From 2010 to 2014 he portrayed Enoch "Nucky" Thompson in the critically acclaimed series Boardwalk Empire, which earned him two Screen Actors Guild Awards,
a Golden Globe, and two nominations for an Emmy Award. He made his directorial debut in 1996 with Trees Lounge, in which he also starred. Other works include
Animal Factory (2000), Lonesome Jim (2005), and Interview (2007). He has also directed numerous episodes of TV shows, including Homicide: Life on the Street, The Sopranos,
Oz, 30 Rock, and Nurse Jackie. He currently hosts the Emmy Award-winning AOL On comedy talk-show Park Bench.
He has incredible much nominations and won many. Look here for all his work.