Gueststars 6 - S-T
Caroline Schweich
She was in episode 'Sanctuary' as one of the nons. The Adventures of William Tell (Video) (production coordinator) 1989 and as actress, the non who
found Tell in Episode Santuary Mylène Farmer: Libertine (Video short) (trainee assistant director) 1986. Caroline Schweich, Producer / Vice-President.
Caroline has produced over a dozen television series in France, Canada and the US. She headed up international casting for Atlantique Productions in Paris
for numerous years and her knowledge of the inner workings of international television co-production runs deep. Most recently, Caroline's knowledge of production work
and broadcast public relations has led her to produce large festivals and events throughout the world, including the Los Angeles Sister City Festival, the Tahiti Film Festival in
Bora-Bora which premieres in October 2006. She has headed up numerous TV and radio PR campaigns, specializing in consumer and lifestyle PR for Internet
companies. She has also produced countless trade shows and events in a wide range of industries, implementing creative communications solutions adapted to any budget,
helping clients get their message across in the most effective-and efficient-way possible.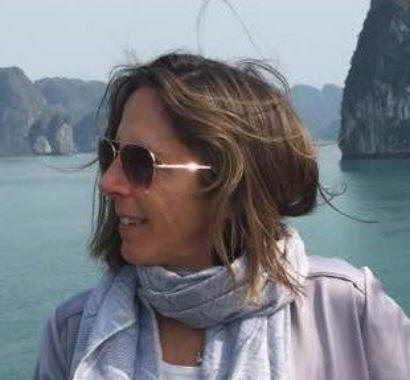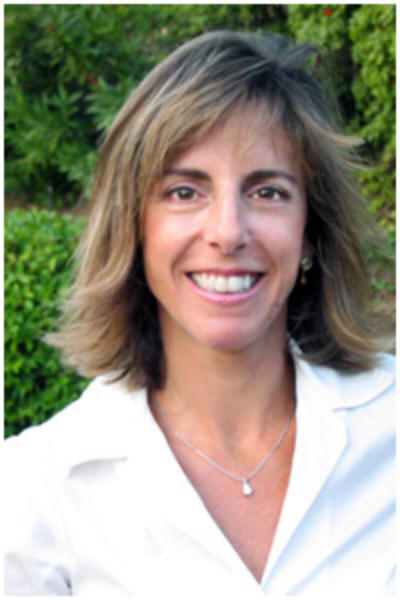 She is the non who works in the vegetable garden en she hears something. She in the beginning of the episode when she finds Tell.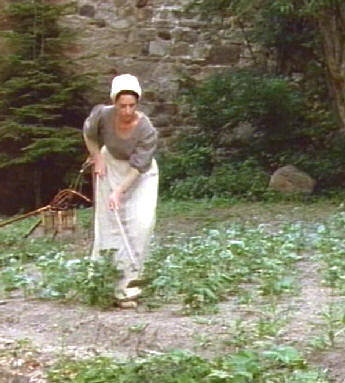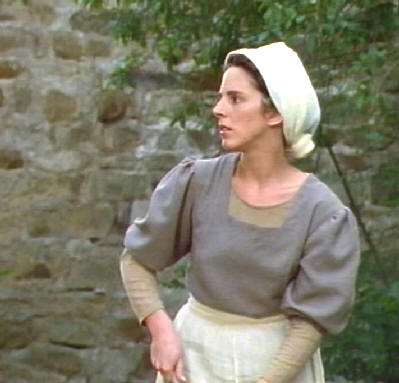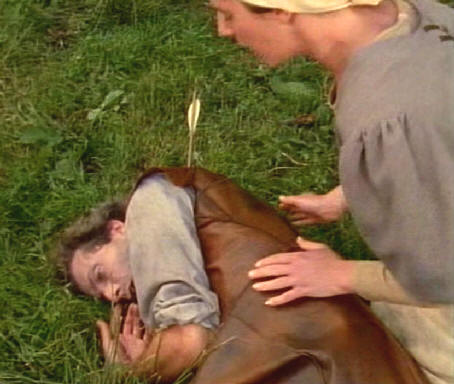 Trevor Sellers
Was one of the gambling brothers in episode The Silver Rider 1989. Episode 63, 'The Silver Rider' -as a knight whose
eyes have been blinded by a silver mask locked onto his head by a pair of gamblers samplers for their own sport.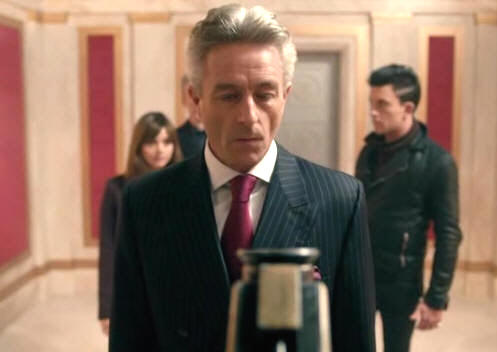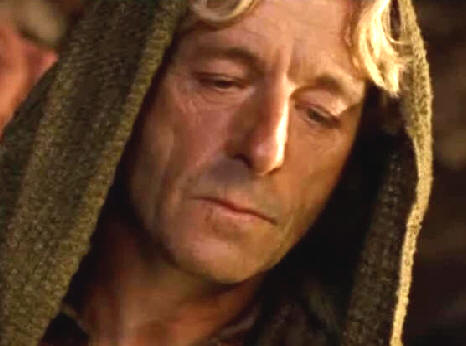 Trevor Sellers is an actor, known for 99-1 (1994), Gems (1985) and Merlin (2008).
Above Sellers in Mertlin. Below: Trevor Sellers in 2015 in The Bastard Executioner.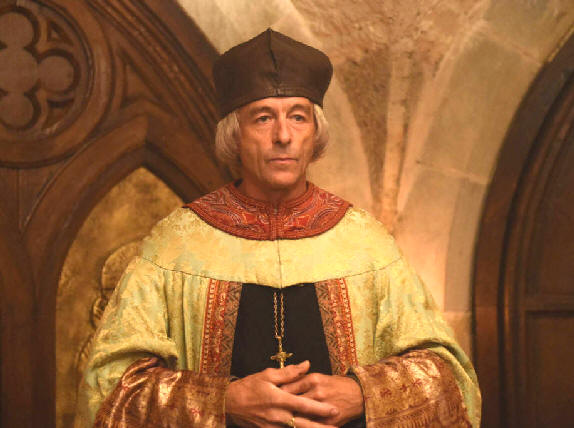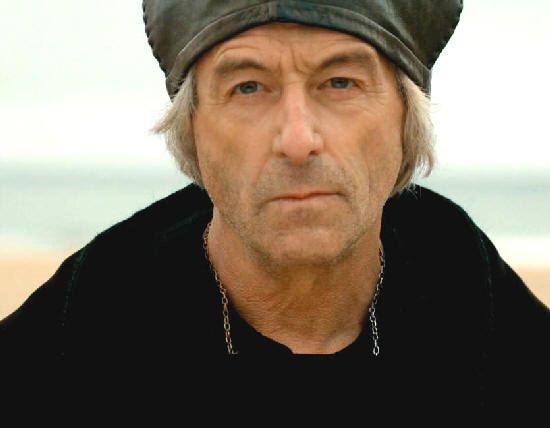 In Crossbow Trevor Sellers is one of the gambling brothers in episode The Silver Rider (shot in Cenaret, Lozere)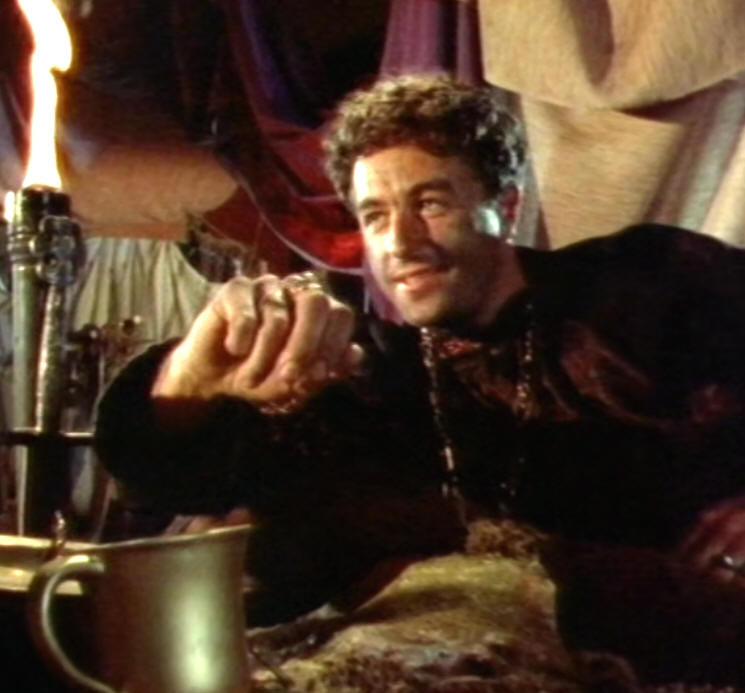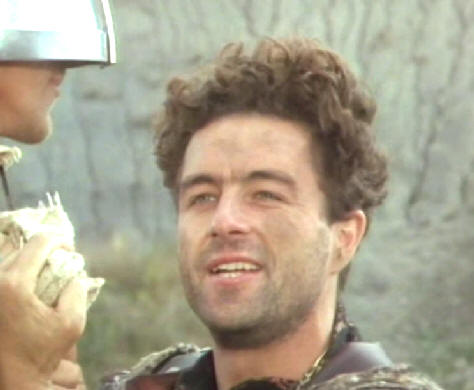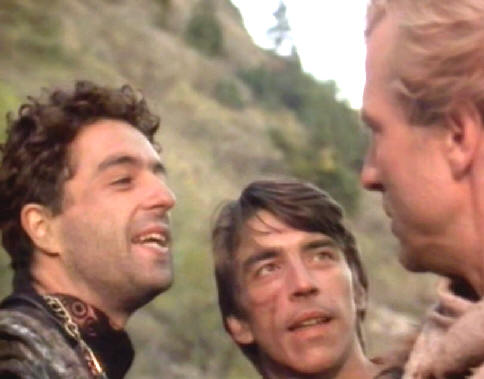 Trevor Sellers played the character Iseldir, a druid and priest of the Old Religion in the Series 1, 3 and 4 episodes The Beginning of the End,
The Coming of Arthur: Part One, The Coming of Arthur: Part Two and Aithusa of the BBC drama series, Merlin and doctor who 2014.
Pierre (Peter) Semmler
Wolf in 4 episodes, 1988-1989. He played a soldier of Gessler in episode 'Betrayal' and 'Blood brothers.' His name in the series is Wolf.
Pierre Semmler was born on April 19, 1943 in Gladbeck, Germany. Pierre Semmler was a German-born French actor. In the beginning of his cinema career
he was credited under his real name Peter Semler but later he was mostly credited under a French version of his name. He was an actor, known for Le grand
bleu (1988), Nachtschicht (2003) and Sturm der Liebe (2005). His television work at imdb. He died on September 9, 2011 in Germany (Age 68, cancer).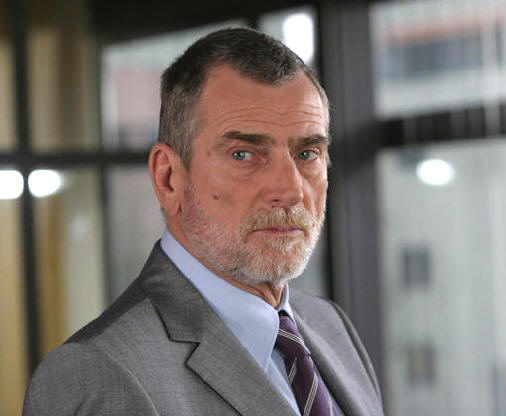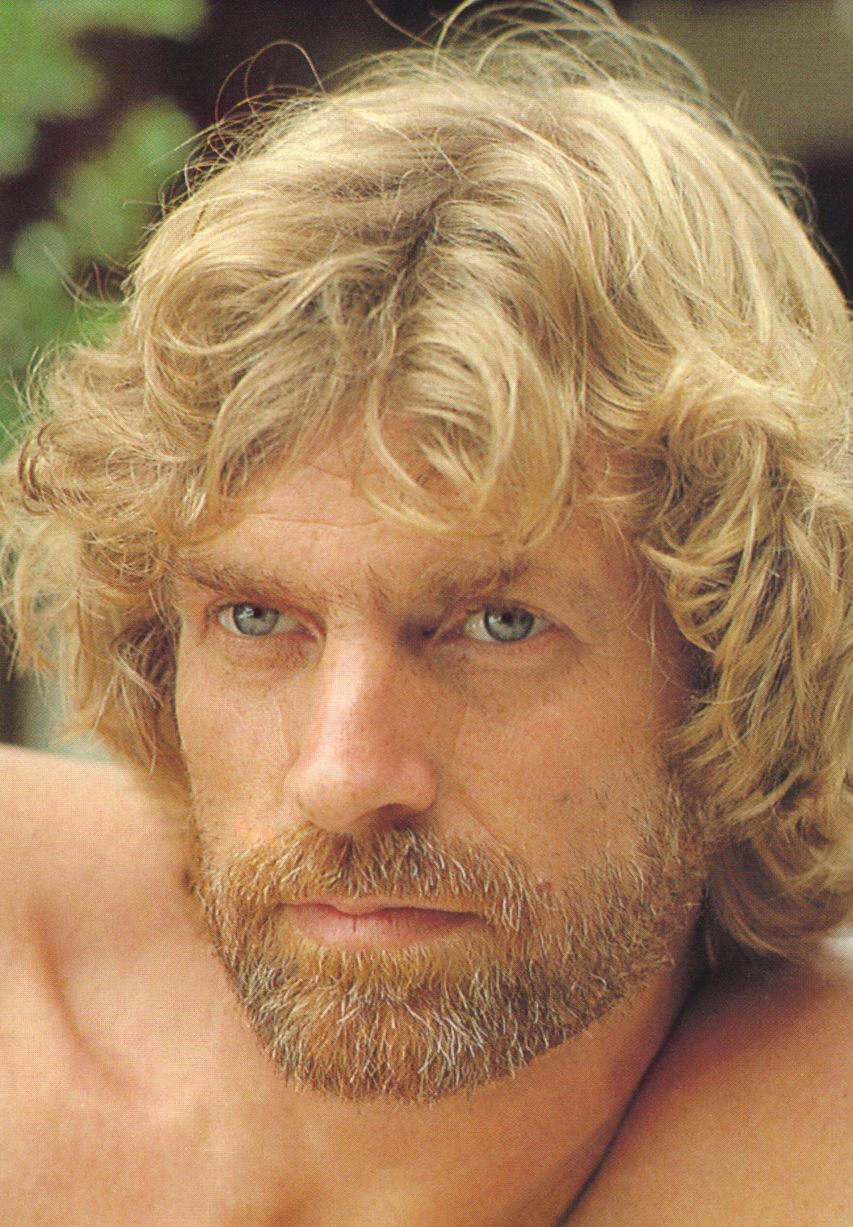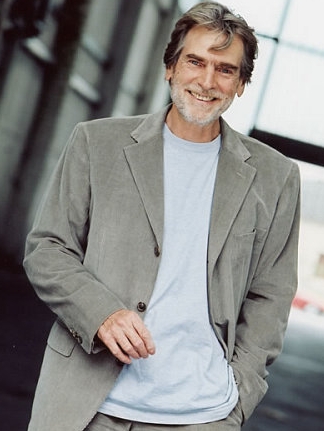 Born in Gladbeck (Germany) on April 19, 1943 in coal dust and air polluted by chemical factories in Westphalia, and passed away in Germany). The father dies in 44. Excludes,
despite him, to 16 years of the family unit with the only happiness that of being released from the military obligations, because last name bearer. The beginning of a life without a landmark.

Learn the trades of electrician, mechanic and welder. Work on the chain at Ford, then resign to finish SDF with only companion, his dream of freedom, love and peace.
After a brief stay in the asylum of the tramps and then in recovery house, resumes a job as representative of door to door. Finally works in Berlin as an electrician in different companies.

Then at 21, he decides to follow his childhood dreams and goes to other horizons hitchhiking. Morocco, Algeria, Tunisia, Libya.Pass a long time in the Sahara
where he works in the conveyance of goods from Tripoli to Chad. Will be extremely marked by the desert as an initiation that answers his quest for harmony. In his exploration
he crosses several countries: Chad, Cameroon, Gabon and carries on different kinds of jobs: radio mechanic, building contractor, bartender, head of factory in a perfume
factory, head of a workshop sewing, then specialized deep-sea diver.

After his African period, he dreams of going to New Caledonia, but destiny directs him to Paris where he arrives in 1970. For a while, he travels between New York
where he spends a year and a half , Sweden, Ireland, Seychelles, Maldives thanks to its meetings ...

Then in 1974 he started drama lessons at Renà Simon in Paris. He studies the art of staging and comedy for four and a half years. Compensated by three prizes at the
end of his studies, he immediately begins his acting career. In his private life, he is passionate about nature, alchemy and sacred geometry.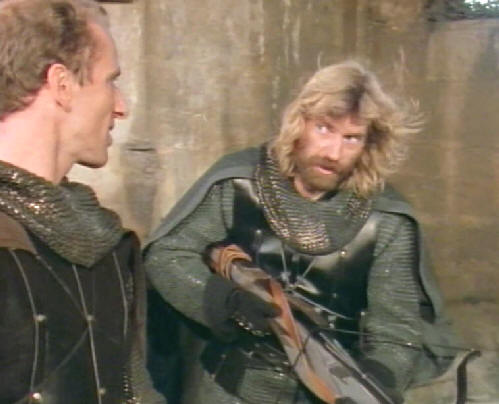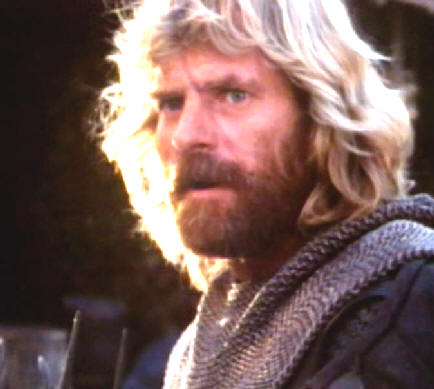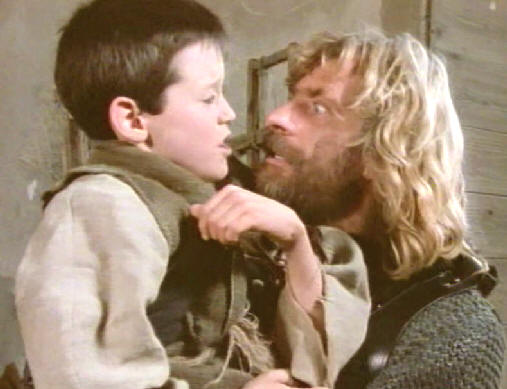 Below Wolf without a beard in Crossbow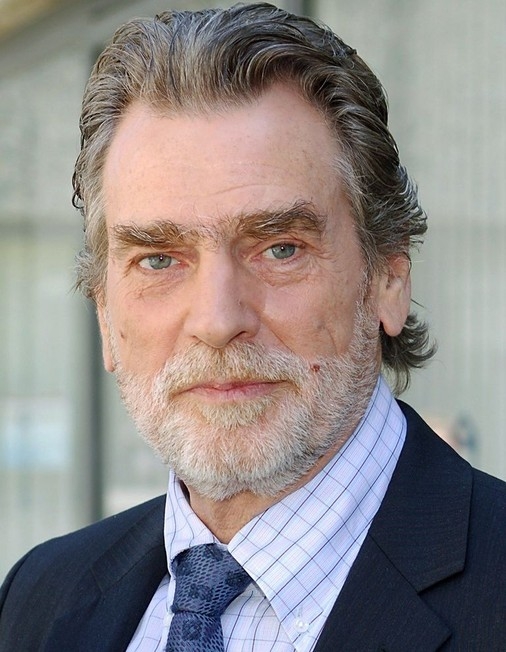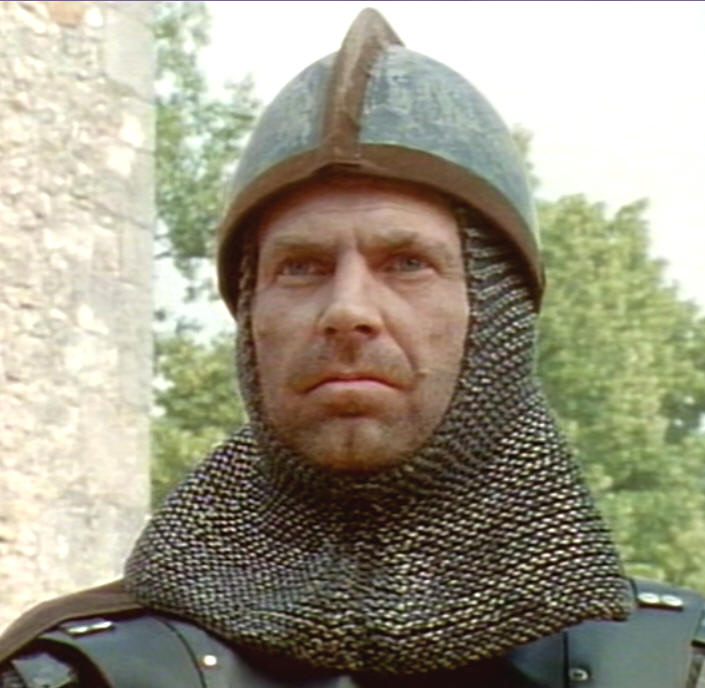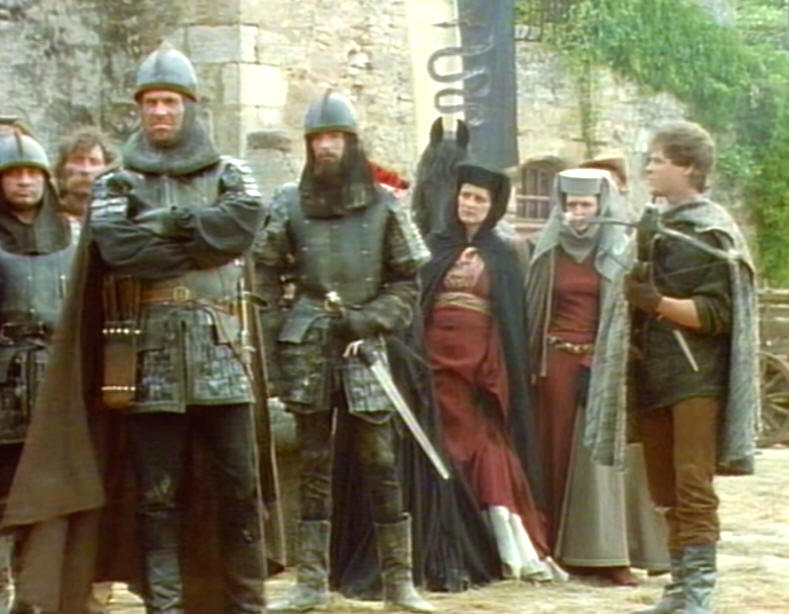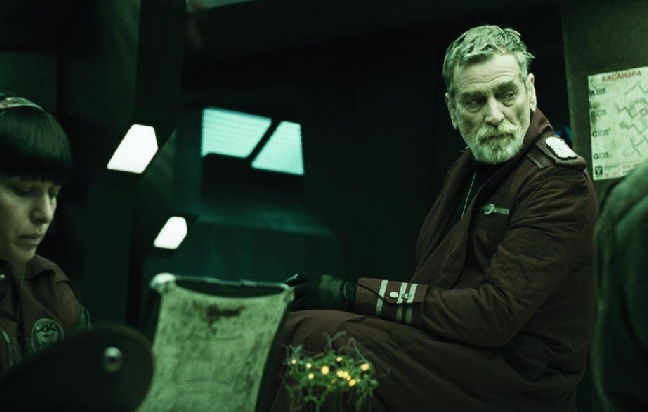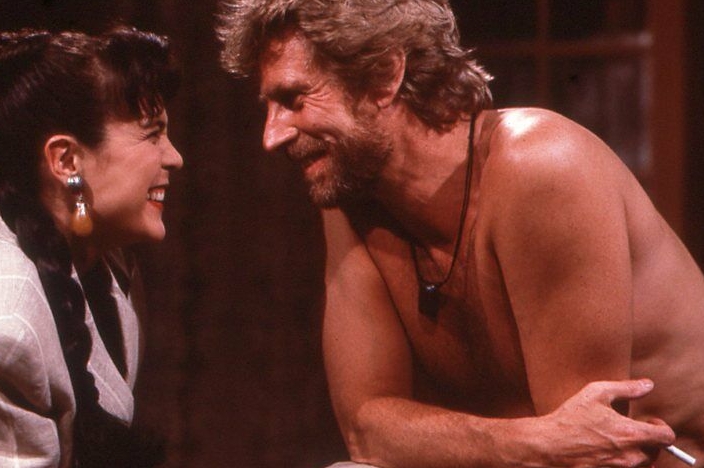 Gia Sereni
Beatrice, 4 episodes 1987-1988. Episodes 18, 19, 20, and 23 'The Handmaiden' - as Beatrice, the Princess' servant, who has a soft spot for Matthew.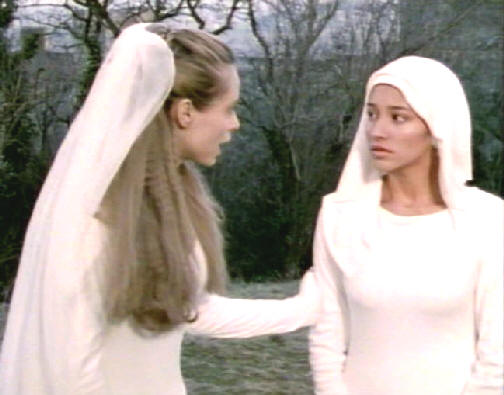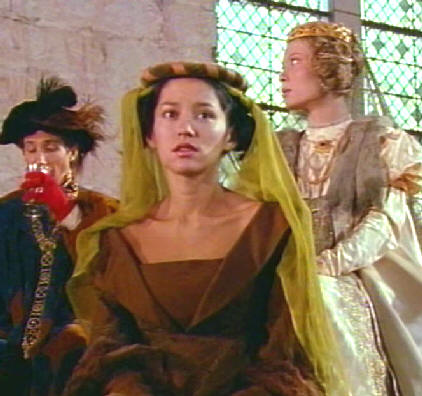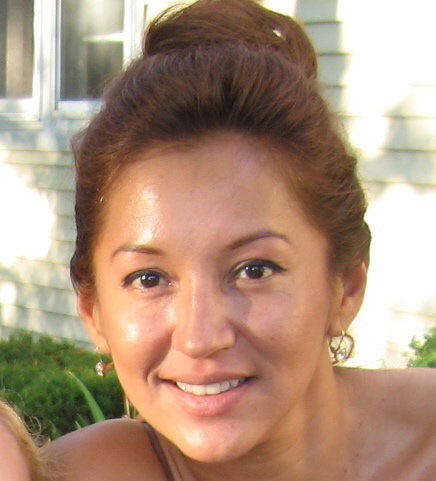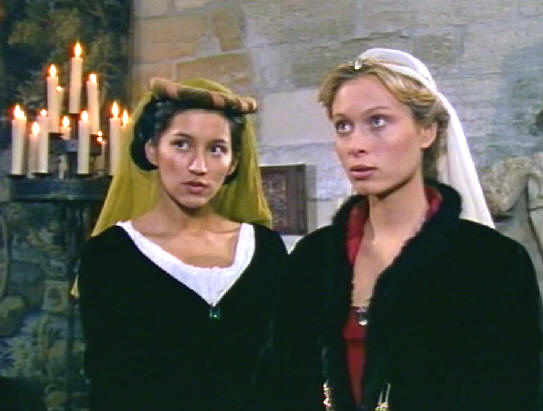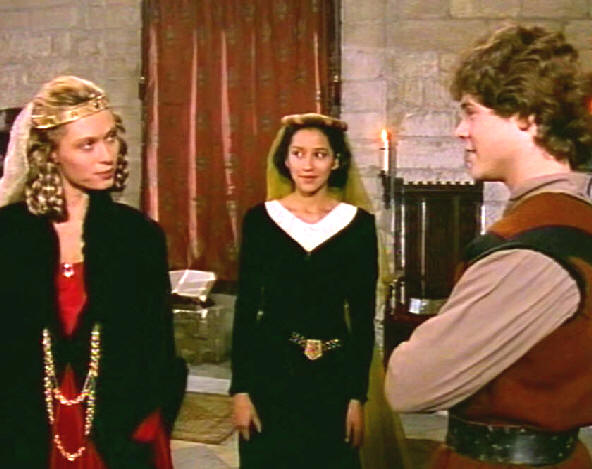 Like she said: Mom, activist, model, actor, entrepreneur. Originally from Brooklyn, NY and presently live in Ecuador. Started a organic health & wellness company in 2015.
She is

 committed to the original inhabitants of Ecuador and their natural environment. Against corruption, money and abuse of power.
Would you like to read more about it: the group has a public Facebook account. Click 

here for imdb.
We do not live in the best of all possible worlds and in a way we are responsible for what happens. But in the game of life a few have played with an advantage...
We put at your disposal the information you need to be free. The difficult criteria to disconnect from what has been learned and begin to discern the truth is all yours ...
Justine Shapiro
1 episode, 1988, Noble woman, Lady Sophy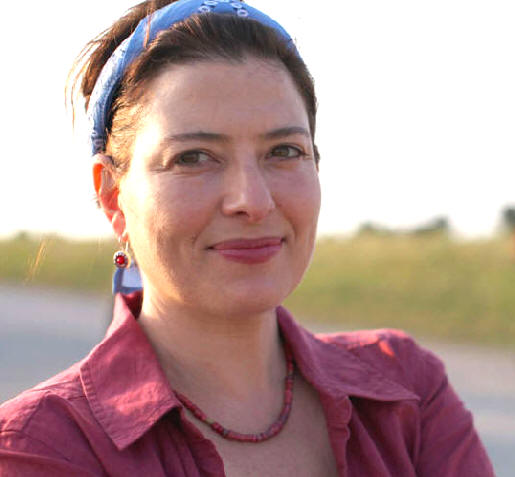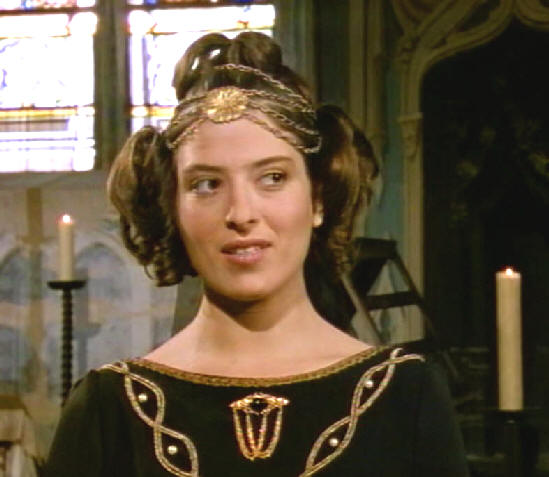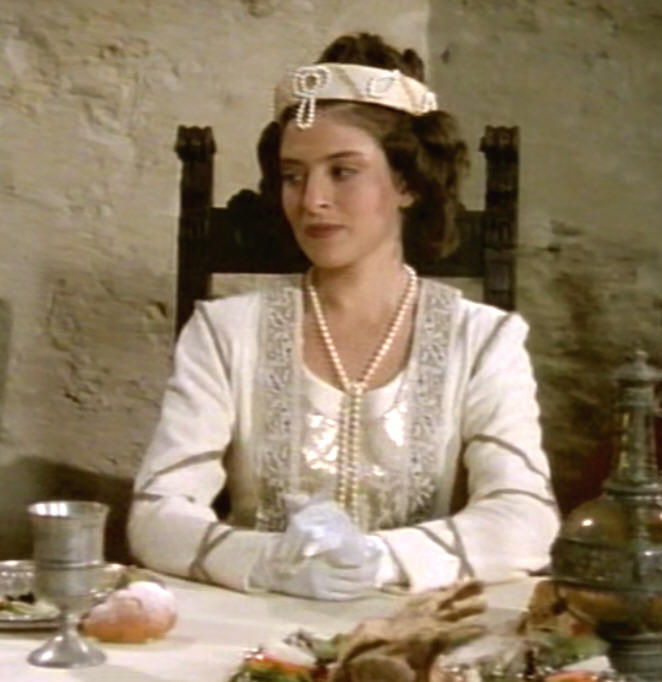 Justine Shapiro (born March 20, 1963) is an South African-born American actress, filmmaker, writer, hostess and producer, who was one of several main hosts of the Pilot Productions travel/adventure
series Globe Trekker (also called Pilot Guides in Canada and originally broadcast as Lonely Planet). Shapiro was born in South Africa and grew up in Berkeley, California. She has one child, Mateo Bolado.
She is a survivor of the World Airways Flight 30 airplane crash at Boston's Logan Airport on January 23, 1982.
During an October 2006 broadcast of the Globe Trekker Venice City Guide episode, Shapiro revealed that she went to Tufts University (majoring in history and theater) with Oliver Platt,
who recognized her in the crowd while she was covering the Venice Film Festival, where Platt was promoting Casanova. In her lead-up to a Globe Trekker visit to the
Auschwitz concentration camp she stated "Like many Jewish Americans, I have Polish roots. And the Auschwitz concentration camp was where many of my relatives died
during World War II." In Globe Trekker's "South Africa 2", Shapiro and co-host Sami Sabiti traveled to South Africa. While in Soweto, Shapiro visited the nanny she had as a child.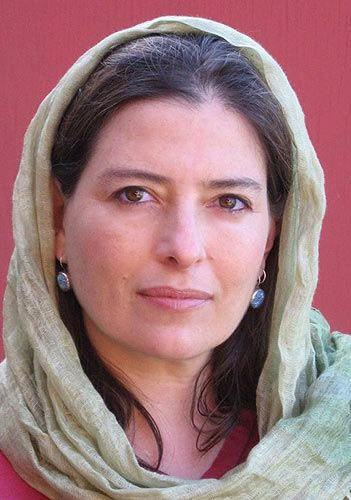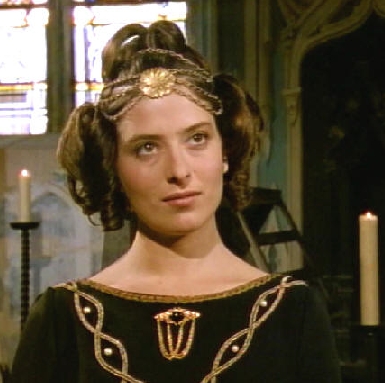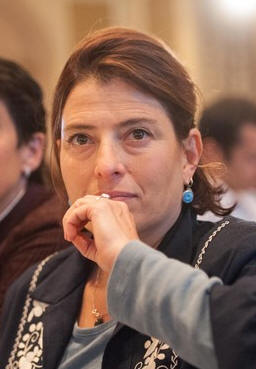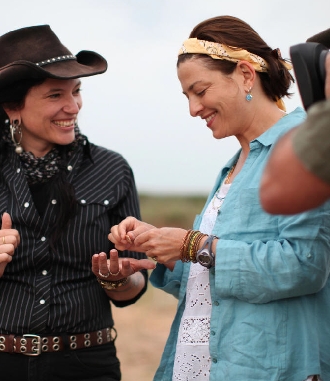 When Berkeley-based filmmaker Justine Shapiro announced she would be shooting her next documentary in Iran, she got a range of reactions. It was 2007, and against the backdrop of
continuing ground wars in Iraq and Afghanistan, tensions were mounting between the U.S. and Iran, as well. Shapiro's friends sent concerned emails and left worried voicemails on her answering
machine. Not only was she a Jewish American woman heading to a country many people perceive as unwelcoming to Jews, Americans and women, she planned to bring her 6-year-old son, Mateo.
She's traveled extensively, both in her personal life and as a host for the PBS travel show "Globe Trekker." But something about Iran still worried those close to her.
Shapiro's last directing project was the 2001 Oscar-nominated documentary "Promises," which looked at seven Palestinian and Israeli children who lived around Jerusalem,
focusing on the commonalities between the two cultures. Shapiro went into her new project with a similar goal: By showcasing daily, middle-class life in Iran —
a nation she felt was often misrepresented by the nightly news — she hoped to help viewers relate across geographical and political boundaries
Justine Shapiro is one of several main hosts of the Pilot Productions travel/adventure series Globe Trekker. In an interview around "I want to meet Iranian mothers
in their homes before our sons meet on the battlefield," said Justine Shapiro, Jewish- American filmmaker and formerhost of travel series GlobeTrekker.
Most importantly, Justine is the creator of the documentary, "Our Summer in Tehran". The film documents Justine and her then 6-year-old son,
Mateo, on a 2007 trip to Tehran, Iran. That year, they spent their summer exploring, filming, and meeting three families. The families varied from a religious family with strong ties
to the government to a cosmopolitan, secular family and even another single mom like Justine with a son the age of Mateo. The goal was to humanize Iranians and highlight our similarities
before a potential military confrontation where the news media would inevitably portray Iranians as the 'other' or opponents as was done with Iraqis during the Iraq war.
When speaking with her friends and family about the idea of traveling to a country which has no diplomatic relations with the U.S. government, everyone was opposed and thought it
would not be safe for her or her son. However, after consulting with several people, specifically those who recently traveled to Iran themselves, Justine decided to proceed with her project.
Throughout their summer, Justine and Mateo visited the bazaars, restaurants and even went on a road trip to the holy city of Mashhad. They experienced the Iranian people's
hospitality and kindness to strangers. For American viewers, this film is an educational experience. In fact, it is being used a tool in classrooms across the country to show Iranian
culture, its people and a glimpse into family life for the middle class. For members of the Iranian Diaspora, the film is a nostalgic experience.
While much of the movie highlights positive elements of Iranian culture and family life, Justine witnessed first-hand what tensions between two governments can cause.
Mid-way through her trip, Justine was abruptly asked to leave by Iran's Intelligence Agency without any reason and her materials were confiscated at the airport. After three months
of daily outreach, Justine eventually secured her materials and was able to edit it into the full length film. One of the most touching moments of the film is when Justine says goodbye
to the mother of the religious family she visited. The mother had prepared a goodbye note for her new friend that read, "When you return to your country, I will miss you, really, in
spite you are a Jewish with a different religion and culture, but you found me." This line symbolizes one of the many lessons Justine set out to learn, which is that "we all
have a lot more in common than we have differences." Source (from 2012) and an interview
Patrick Sezaf
In episode The Mission, season 3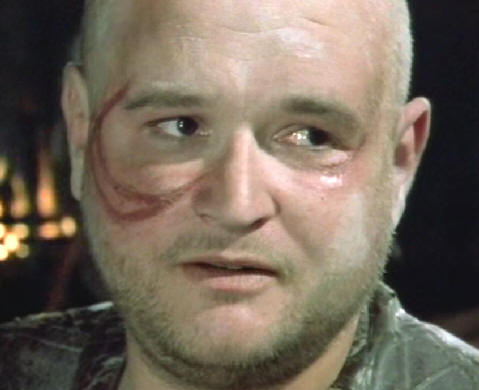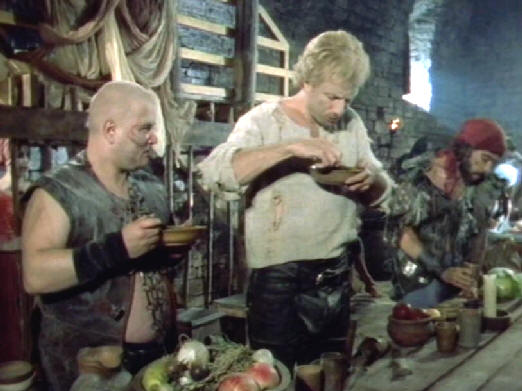 John Sharp
Bishop Grimaldi in episode Rejection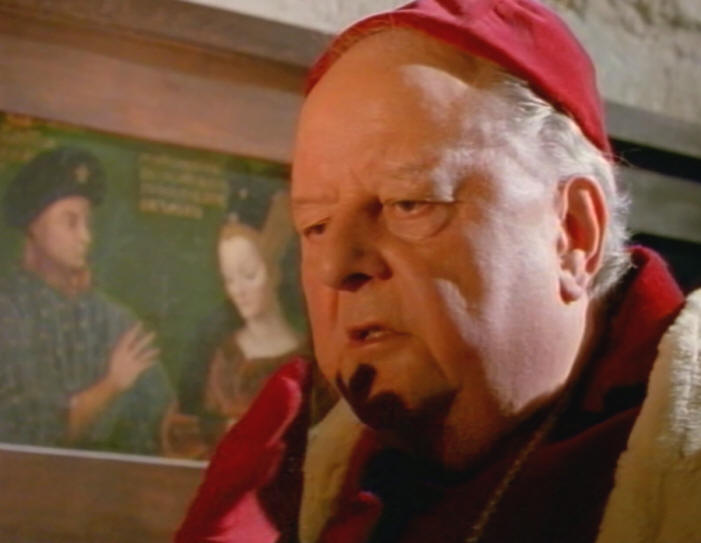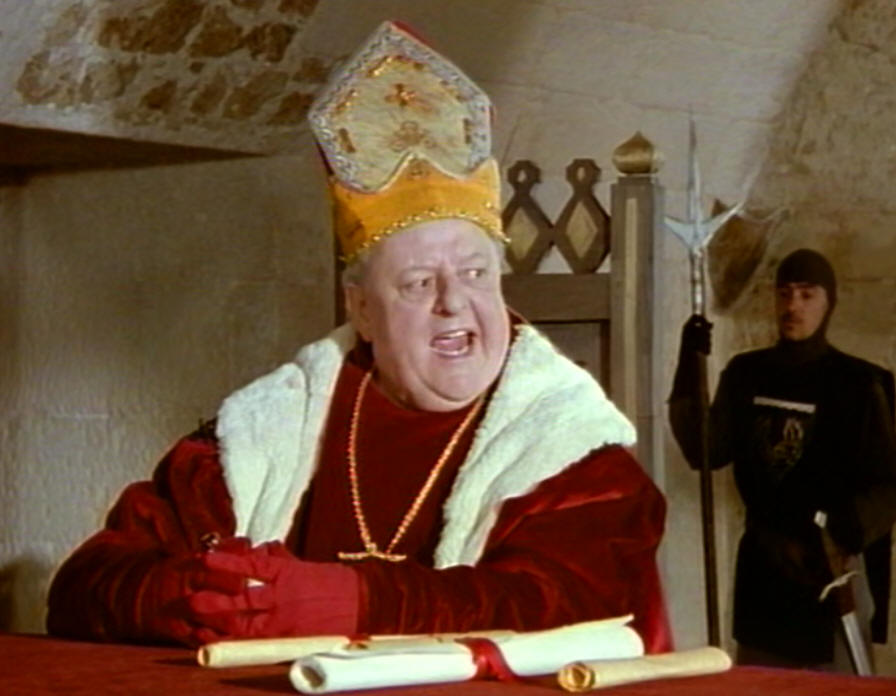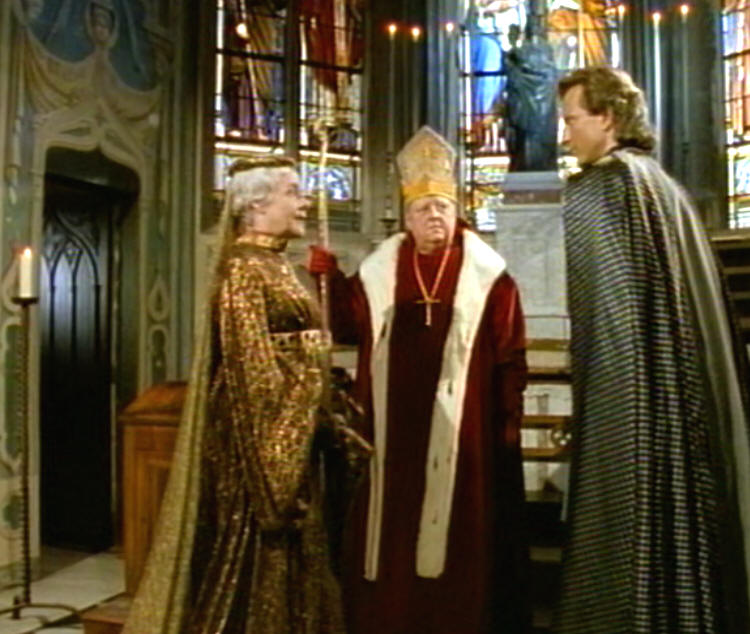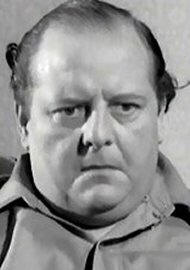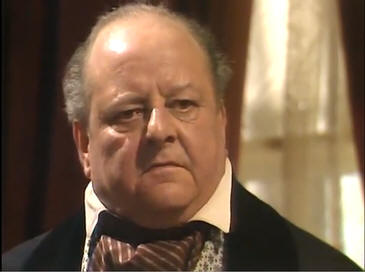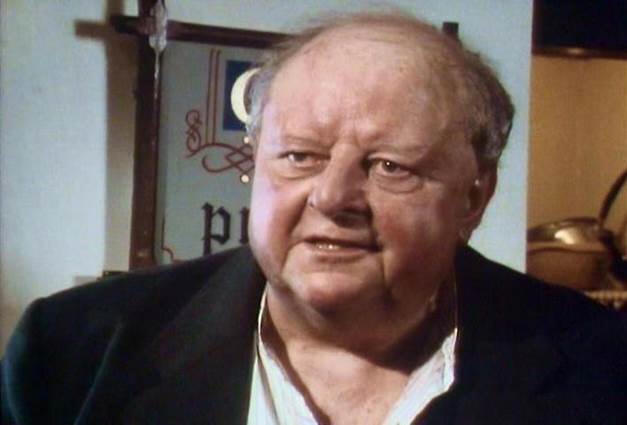 John Herbert Sharp (5 August 1920 – 26 November 1992) was a British actor, often on television.
He made more than 100 appearances in television and occasionally films between 1949 and 1991. Although active in theatre, Sharp began as a film actor in 1949 and appeared in films
throughout the 1950s. By the mid 1960s he mostly appeared in British television on popular shows of the era such as The Avengers "Murdersville" episodes, the Randall and Hopkirk
(Deceased) episode "The Ghost Who Saved the Bank at Monte Carlo"; The Prisoner, Not On Your Nellie opposite Hylda Baker, Z-Cars, and The Sweeney (1976 episode "On the Run").
He performed in Charles Dickens TV adaptations in the 1980s. In 1991, he made his last television appearance in the programme Lovejoy. He played the role of the "apparently cynical"
Uncle Will in Luigi Comencini's 1966 Incompreso. https://www.imdb.com/name/nm0789070/ Sharp's most notable television appearances in a recurring role was on the All Creatures Great
and Small television series, in which he portrayed Ezra Biggins,an aged, frugal Yorkshire dairy farmer.
William Morgan Sheppard
He played a double role, as 'Otto' (episode Trailbreak) and 'Parker' (episode The Scarvengers). 2 episodes, 1987-1989 In episodes 4, 'The Scavengers' and 53 'Trailbreak' -
Appears twice in the series, first as Morgan a blind blacksmith and later as Otto, a wandering theif, who steals Tell's amulet. William Morgan Sheppard (24 August 1932 –
6 January 2019) was an English actor who appeared in over 100 films and television programmes, in a career that spanned over 50 years. Sheppard was the father of
actor Mark Sheppard. Sheppard died on 6 January 2019, in Los Angeles, California at the age of 86.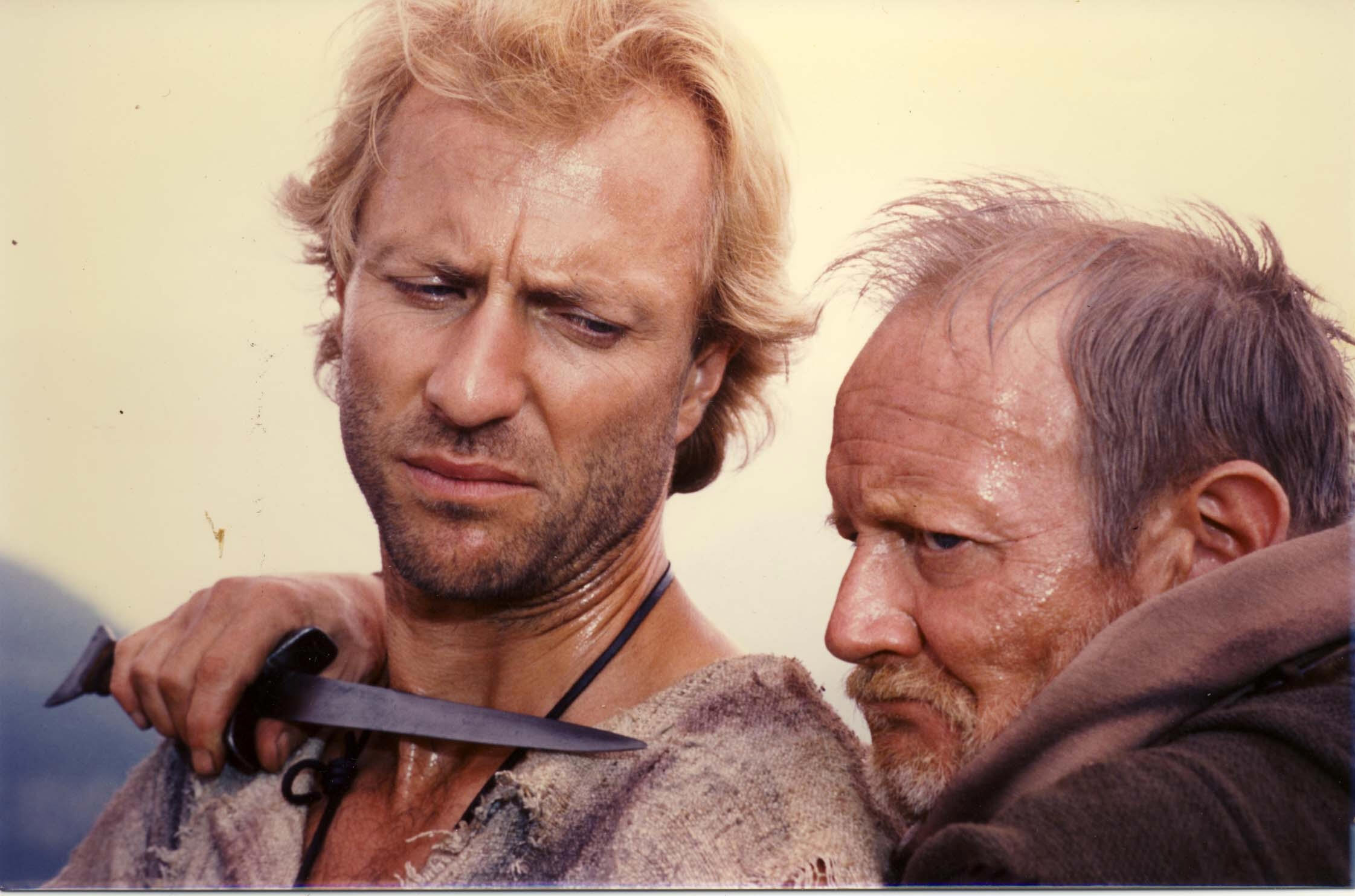 24 August 1932, London, England, UK For an interview click here
From an Anglo Irish family. Born in London but educated in Ireland. Graduated from the Royal Academy of Dramatic Art 1956-58 then 12 years as Associate Artist with the
Royal Shakespeare Company. Appeared on Broadway in 1966 with "Marat-Sade" and later in 1975 with "Sherlock Holmes". He won the Los Angeles Drama Critics Circle award for
"The Homecoming" in 1995, at the Matrix Theatre.
Trademark: Rasping voice - Was the runner-up for the role of Ambassador G'Kar on "Babylon 5" (1994). Drama-Logue Award 1995 for "The Homecoming", Matrix Theatre. - Father of Mark
Sheppard.He appeared in the opening episode of series six of Doctor Who, "The Impossible Astronaut" playing the character Canton Everett Delaware III. He portrays an older version of
Delaware while his son Mark Sheppard portrays the younger version in the same episodes. He and his son are among the few actors to have appeared in both the Star Trek and
Doctor Who franchises. Along with Matt Frewer and Amanda Pays, he is one of only three actors to appear in both Max Headroom (1986) (TV) and "Max Headroom" (1987)
Has appeared as different characters in four incarnations of Star Trek. He was the warden of the Klingon penal colony in Star Trek VI: the Undiscovered Country (1991), Dr.
Graves in the Star Trek: The Next Generation episode The Schizoid Man (2.6), Qatai in the Star Trek: Voyager episode Bliss (5.14), and as the Vulcan Science Minister in Star Trek (2009)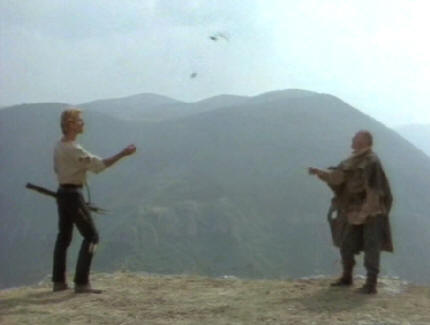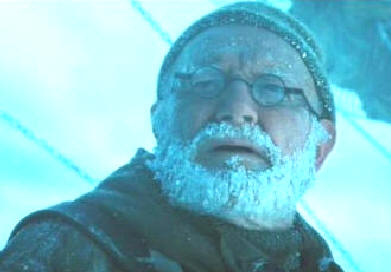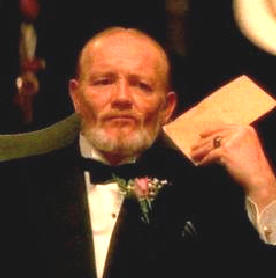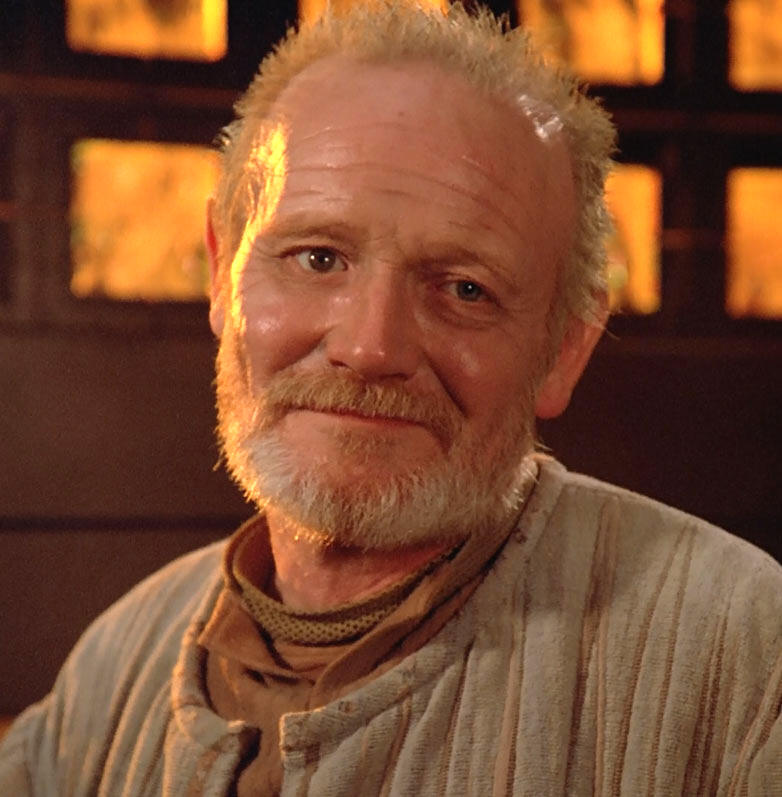 He appeared in several episodes of different series of Star Trek: The Next Generation, notably "The Schizoid Man", as well as the feature film Star Trek VI: The Undiscovered
Country. Sheppard appeared recently in Star Trek as a member of the Vulcan High Council but was uncredited. Outside of Star Trek he is probably best known for his roles as
Blank Reg onMax Headroom and Confederate General Isaac Trimble in the films Gettysburg and Gods and Generals.
He has appeared in two roles on the science fiction series Babylon 5 (1994–1998) and was a runner-up for the role of Ambassador G'Kar on the show, though
the roleeventually went toAndreas Katsulas. He also played a computer hologram for an A.I. program during the first and second season of sea Quest DSV.
He was one of several Star Trek actors who voiced characters on the animated series Gargoyles, including playing the father of Jonathan Frakes' character
David Xanatos and as the Norse god Odin.
He appeared in two notable episodes of MacGyver, as the incarcerated (and rather insane) serial killer "Dr. Zito" as well as appearing in the show Minder in
Series 1 episode"Come in T-64, Your Time Is Ticking Away".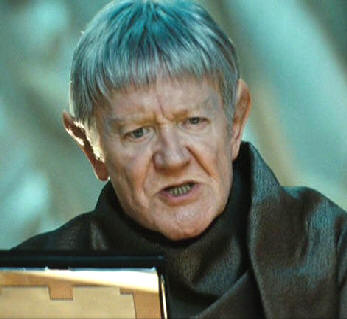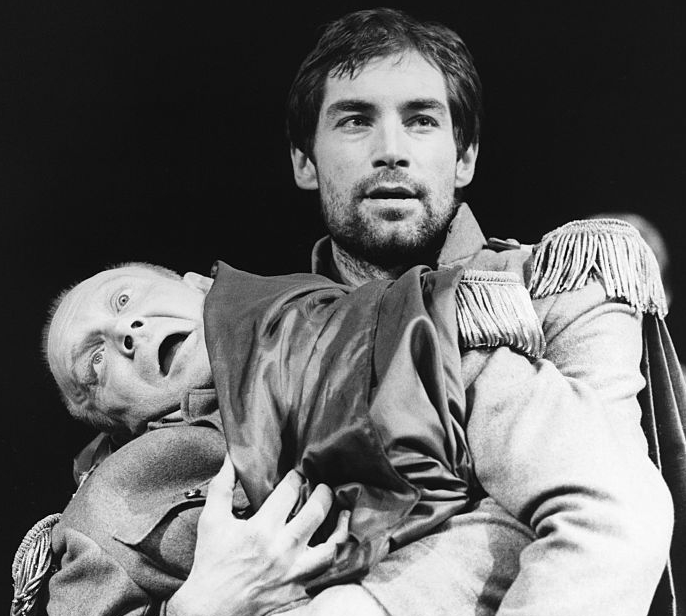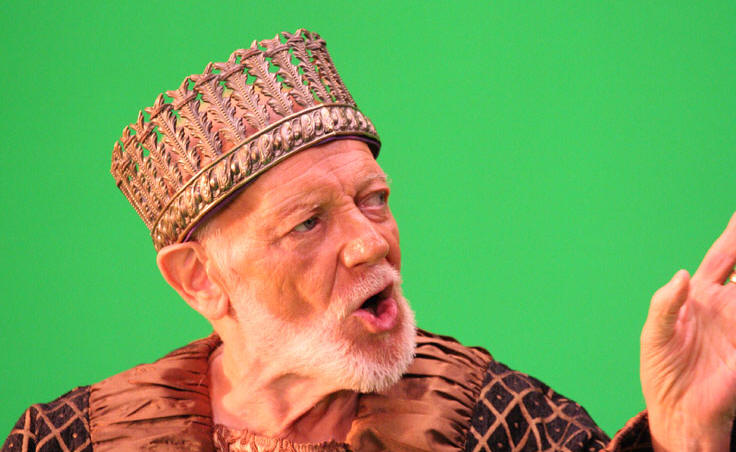 He appeared in the 1978 TV-film The Nativity. He starred alongside John Terry in the 1980 fantasy film Hawk the Slayer. He appeared in the 1992 comedy film There Goes
the Neighborhood. He narrated the introductions and mission briefings for the first three installments of the Medal of Honor video game series.
He appeared in the 1988 comedy horror film Elvira, Mistress of the Dark as Elvira's Great-Uncle Vincent Talbot who was an evil warlock.
Sheppard was cast in the 1996 adventure game Zork Nemesis, playing the live-action role of Bishop Francois Malveaux, one of the four alchemists central to the plot of the game.
In 2000, he voiced the character Ignatius Cheese in the game Escape from Monkey Island.
Sheppard played the role of Captain Archibald Witwicky in the 2007 live action film Transformers.
He voiced over for the character John Adams in the Wii game The Conduit, and provided the voice of the keeper of the underworld in the television series Legend of the Seeker
throughout its second season. Sheppard appeared in the TV show NCIS, in episode 06.13 - "Broken Bird". On August 4th, 2010 Sheppard was announced as the voice actor
for the video game Civilization 5.
Sheppard appeared on Season 4 of Mad Men, Episode 10, playing the part of Lane Pryce's father. On December 4, 2010 Sheppard appear on Hallmark Channel Original Movies Farewell
Mr. Kringle as Kris Kringle. In December 2009, Sheppard voiced the part of Santa in Disney's Prep & Landing Christmas Special. Following that, he returned as the voice of Santa in the
sequel Prep & Landing: Operation Secret Santa. Movies: https://en.wikipedia.org/wiki/W._Morgan_Sheppard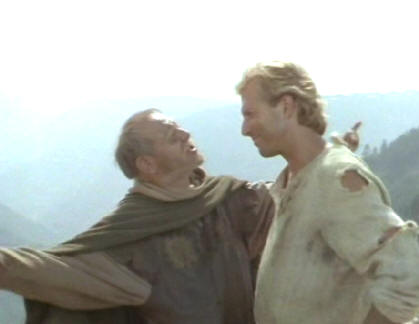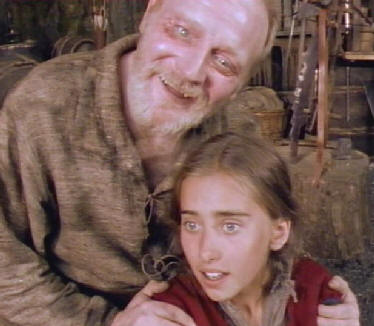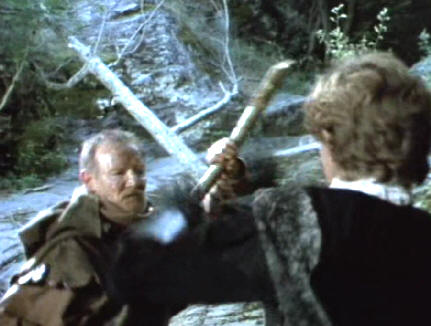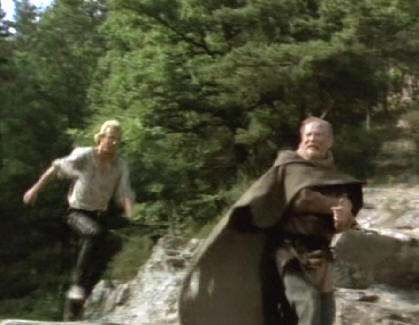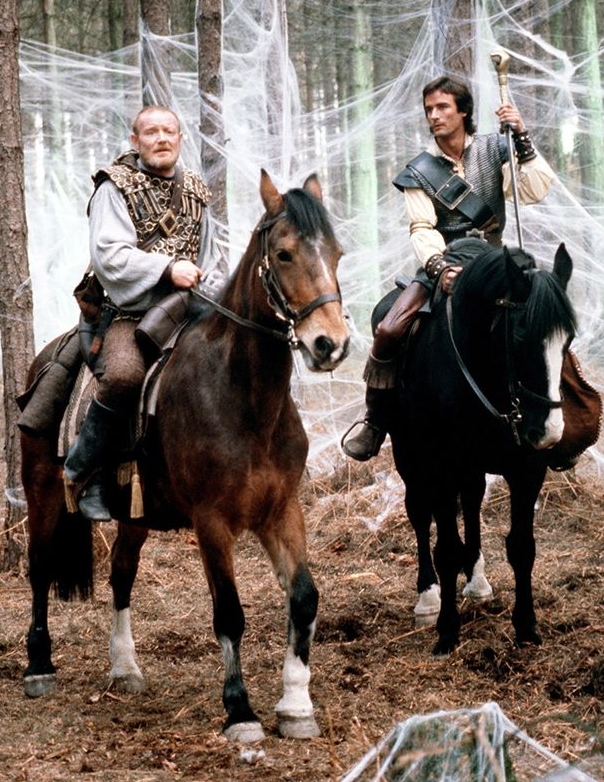 Shope Shodeinde
In Crossbow she played 'Jamilla' in Episode the Moor 1 and 2 (the wife of the Moor). Shope Shodeinde is an actress, known for No Problem! (1983), Star Cops (1987) and Watch All Night (1980)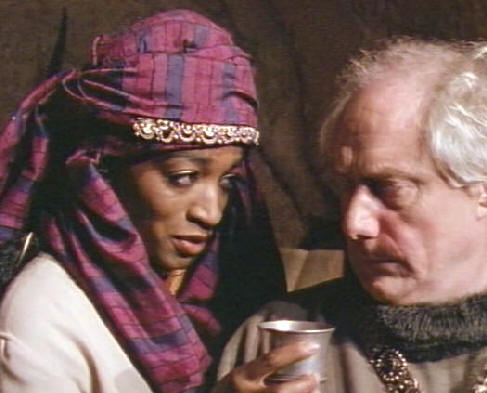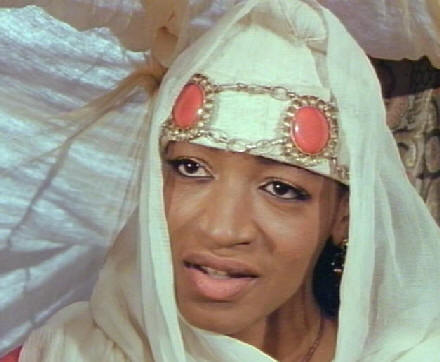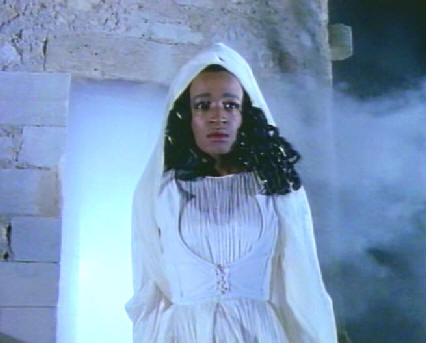 Shobe Shodeinde in 'No Problem'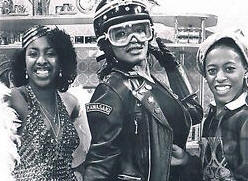 Howard Shrier
Reunion and Stallion. Howard Shrier is an actor and writer, known for Republic of Doyle (2010) and A Twist of Fate (1979). Howard Shrier was born and raised in Montreal,
where he earned an Honours Degree in journalism and creative writing at Concordia University. He has since worked in print, magazine and radio journalism, theatre and television,
sketch comedyand improv, and corporate and government communications. His acclaimed first novel, Buffalo Jump, which introduces Toronto investigator Jonah Geller, won the Crime Writers of
Canada's Arthur Ellis Award for Best First Novel of 2008. The sequel,High Chicago, won the Arthur for Best Novel of 2009, making Howard the only author ever to win these awards in consecutive years.
The third Geller novel, Boston Cream, received starred reviews in both Publisher's Weekly and Library Journal, while the fourth, Miss Montreal, was shortlisted for another Arthur Award and a Bony Blithe
ward for best humorous mystery. All the Geller books were originally published by Random House/Vintage Canada intrade paperback and are now available in print and digital formats here at howardshrier.com.
Howard is also the author of one standalone thriller, Lostport (2011), about a man who goes into the U.S. witness protection program only to be forced back into crime by a corrupt lawman. His story Milk Teeth,
set in the gritty world of Montreal in 1950, was published in Akashic Books 2017 anthology Montreal Noir and hailed by critics as an outstanding selection. Howard now lives in Toronto where he publishes
new crime fiction, teaches in class and online, and mentors emerging writers, all at howardshrier.com. Note: I tried to search for him but people can change a lot. This below are the men in these
two episodes. If somebody know more...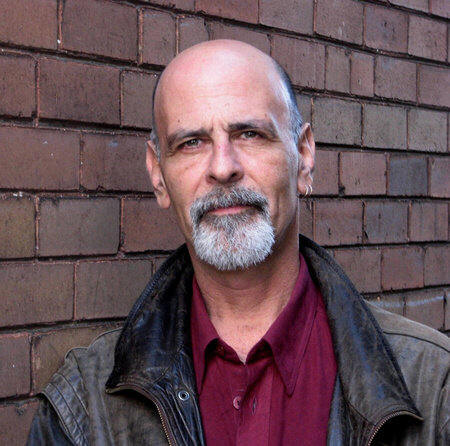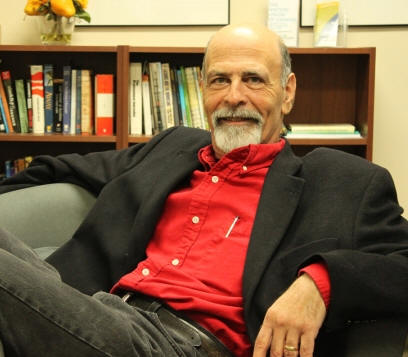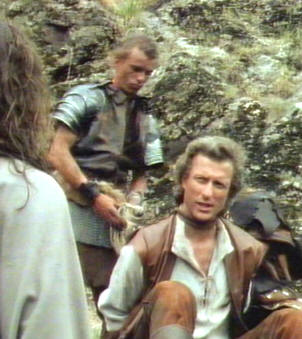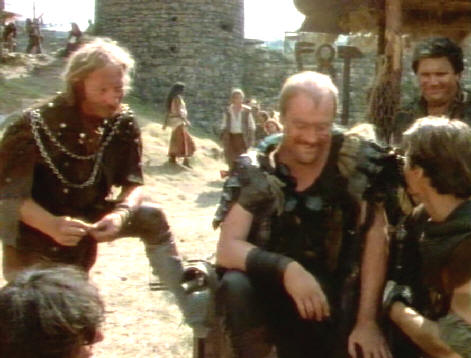 Georgia Slowe
Georgia Slowe was born on June 3, 1966 in London, England. She is an actress and producer, known for
Four Tails (2014), The Company of Wolves (1984) and Bekenntnisse des Hochstaplers Felix Krull (1982).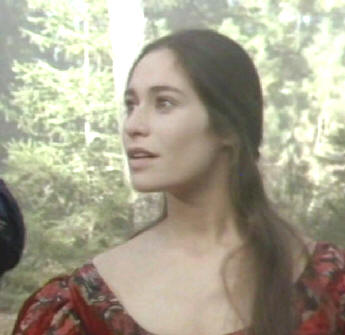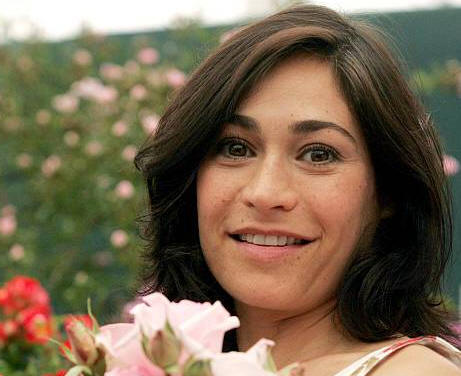 Georgia Slowe (born June 3, 1966) is an English actress. She is best known for playing Perdita Hyde-Sinclair on the British soap opera Emmerdale from 2006 to 2008.
Slowe received a Laurence Olivier Award nomination for her performance as Juliet in the 1989 production of Romeo and Juliet. She is a writer and co-producer of the 2014 short film
Four Tails, in which she also played a leading role Early life: Slowe was born to Jewish parents. Her mother is from Hungary and her father comes from a Russian family.
The family surname was originally Slovedinski, which was anglicized to Slowe. She has one sister, Tania, who is three years older. Her mother, Zsuzsi,
escaped Hungary after the 1956 revolution at the age of 16.
Career: Slowe began acting when she was a child and in a career that has spanned nearly 30 years, she played young Maggie Tulliver in the 1978 BBC production of The Mill
on the Floss, she has worked alongside Denholm Elliott (Marco Polo), Jenny Agutter (Secret Places), Angela Lansbury (The Company of Wolves), Oliver Reed (Black Arrow) and
Richard Chamberlain (Wallenberg). As a member of the Royal Shakespeare Company, Georgia has starred in numerous theatre productions, including Romeo & Juliet, where
she played the doomed heroine twice, alongside Mark Rylance and David Harewood. She and David had a short relationship during the production. In 1989, Georgia was
nominated for a Laurence Olivier Award for her performance in Romeo & Juliet.
She made a guest appearance on The Family Channel's Zorro as the Native American maiden, Keenona, in its episode "Rites of Passage".
In 2006, Slowe appeared in the long-running serial drama Emmerdale as the new lady of the manor, Perdita Hyde-Sinclair. Her final appearance was broadcast on 22
July 2008, an episode which, for the first time in over three months, beat BBC soap EastEnders in the ratings battle.
In 2011, she appeared in the short film Lab Rats. Slowe has set up a film production company Slowe Motion Film.
Personal life: Slowe was married to Ray Kelvin (founder of the Ted Baker clothing chain) from 1993 until they divorced in 2000. - They have two sons. Slowe married
photographer Stuart McClymont in 2017. Has two son, Benjamin Solomon Kelvin, born in 1994, and Josh Kelvin, born in 1996. - Her ex-husband Ray Kelvin is the founder
of the Ted Baker clothing line and is one of the richest men in Britain. Classically trained, Georgia worked with The Royal Shakespere Company. - Took a 13 year break
from acting to raise her children. - Lives in Hampstead, North London with her two young sons.
Started acting at the age of 12 after studying to be a ballet dancer. - Her Hungarian-born mother hid in a cellar for part of the Second World War and escaped the country after
the 1956 revolution. Her father is of Russian descent. Georgia was raised in the traditional Jewish faith.
Her maternal grandmother was murdered by Hungarian Nazi's during the last days of World War II.
Playing Emmerdale's newest lady of the manor Perdita Hyde-Sinclair. (August 2006)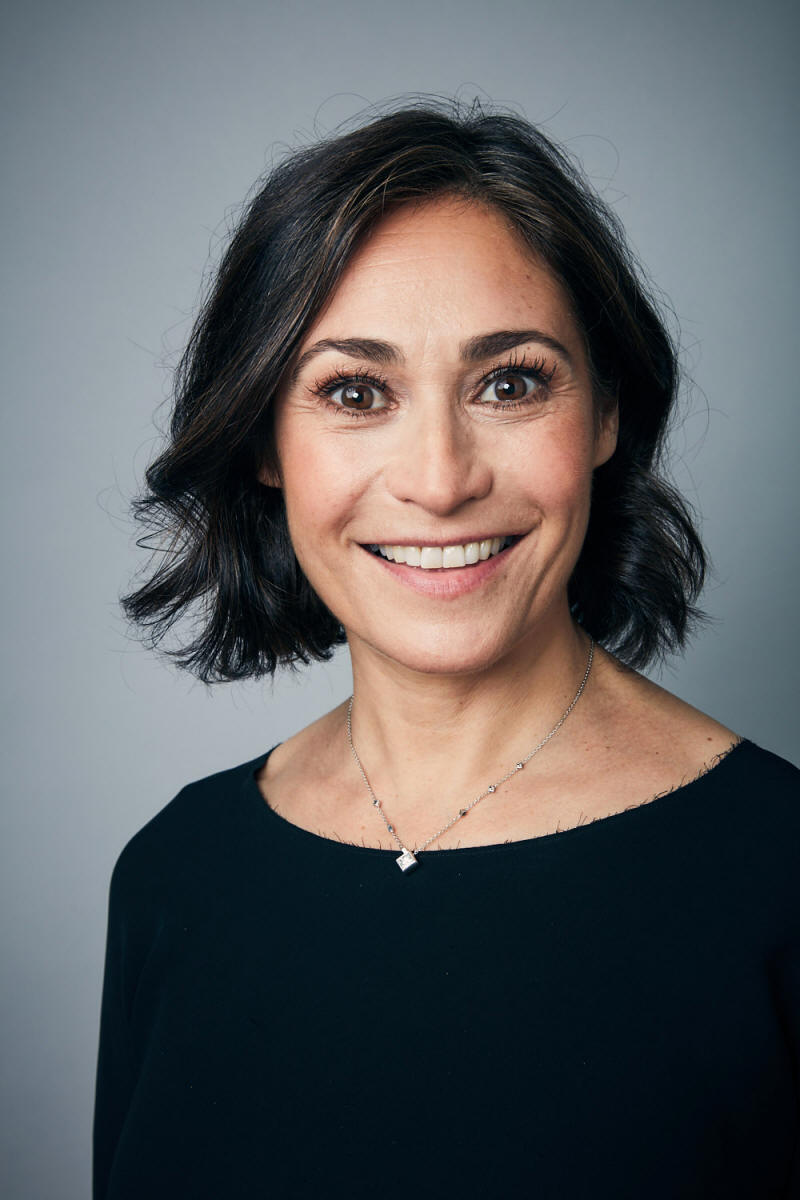 James Snell
Albion 1 of Dantes men. James Snell is an actor, known for Sid and Nancy (1986), Gandhi (1982), Doctor Who (1971) and A Bridge Too Far (1977). You can click here for more.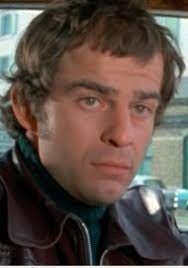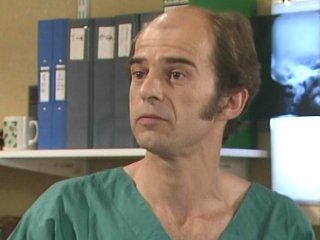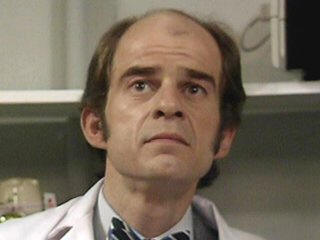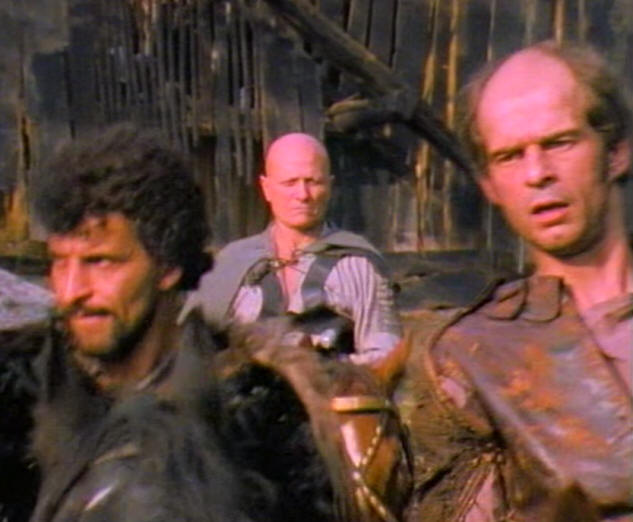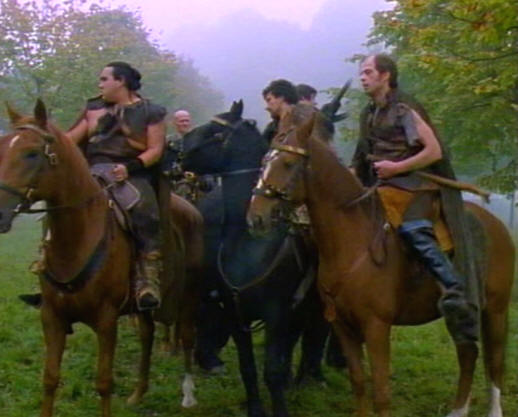 Carrie Snodgress
Pretends to be Lady Montal, Mathilde Lovelock, captain of the guard, 1 episode, 1988. Episode 40, 'Ladyship' - The distinguished actress and star
of Rabbit Run appeared as the mysterious Lady Montal. A woman in soldiers garb escaping the clutches of Gessler with a little help from Tell.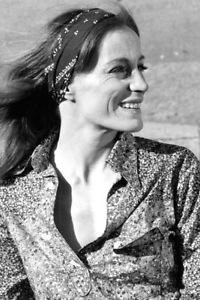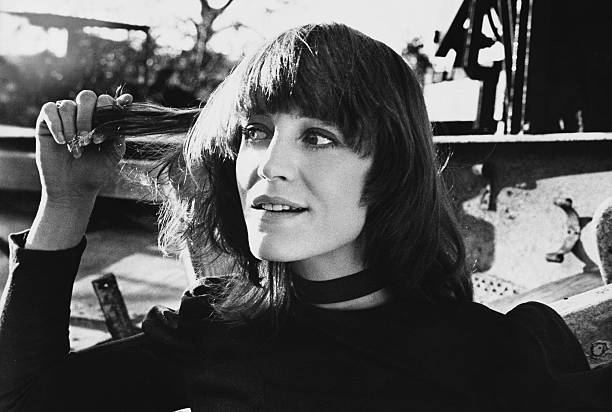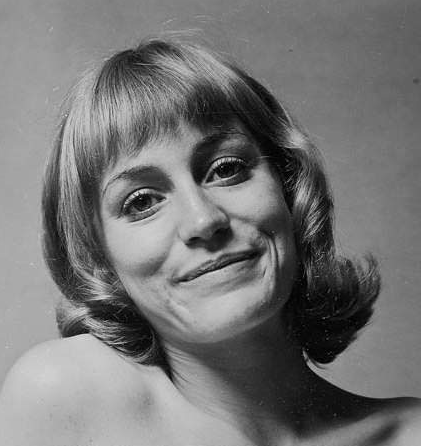 Life and career: Born in Barrington, Illinois, Snodgress attended Maine Township High School East in Park Ridge, then Northern Illinois University before leaving to pursue acting.
She trained for the stage at the Goodman School of Drama, in Chicago. After a number of minor TV appearances, her film debut was an uncredited appearance in Easy Rider in 1969 and
a credited appearance in 1970 in Rabbit, Run. Her next film, Diary of a Mad Housewife (1970), earned her a nomination for Academy Award for Best Actress and two Golden Globe wins,
as Best Actress in a Comedy or a Musical and New Star of the Year - Actress. In the '90s, most of Carrie's supporting actor roles are being filmed for Television. One of the big screen
films that she made was the critically acclaimed Blue Sky (1994), which was released years after being made and gave Jessica Lange an Oscar.
Carrie has also turned up on series Television in The X Files (1993) and Murder, She Wrote (1984).
She left acting soon after to live with musician Neil Young and care for their son Zeke, who was born with what was thought to be
cerebral palsy, but which doctors later attributed to a slight brain aneurysm before birth. She returned to acting in 1978 in The Fury.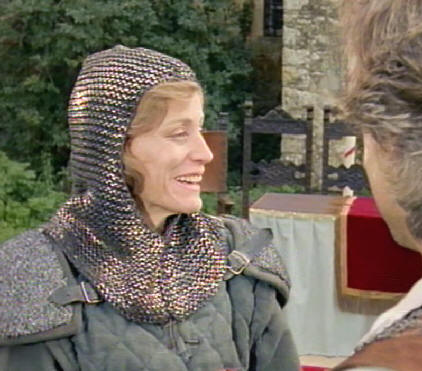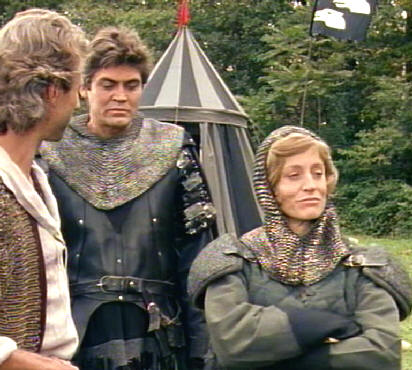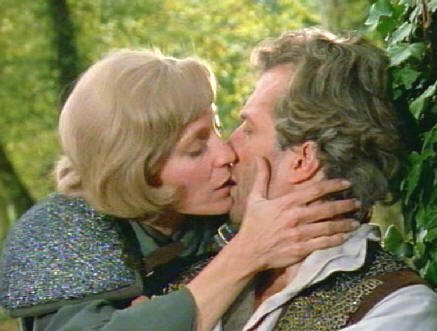 Neil Young's song "A Man Needs a Maid" was inspired by Snodgress, featuring the lyric "I fell in love with the actress/she was playing a part that I could understand.
"The song "Motion Pictures" from On the Beach is also inspired by their relationship. She and Young split in 1974, and his song "Already One" bookends their relationship.
Later she and musician and film score composer Jack Nitzsche became lovers. Nitzsche had previously worked with Young on several albums. In 1979, Nitzsche was charged
with threatening to kill her after he barged into her home and beat her with a handgun. He pleaded guilty to threatening her, was fined, and placed on three years' probation.
Her Broadway debut came in 1981 with A Coupla White Chicks Sitting Around Talking. She also appeared in All the Way Home, Oh! What a Lovely War!, Caesar and Cleopatra,
Tartuffe, The Balcony and The Boor (all at the Goodman Theatre, Chicago); and Curse of the Starving Class at the Tiffany Theatre (in Los Angeles). Other films include Murphy's Law,
White Man's Burden, Pale Rider and Blue Sky. She also worked extensively in television.
In 1979, her ex-boyfriend, songwriter Jack Nitzsche, was charged with threatening to kill her after he drunkenly forced his way into her home
and bludgeoned her with a handgun. Nitzsche pleaded guilty to threatening her, and was fined and placed on three years probation.
Her husband, Robert Jones, was a painter. She attended Maine Township High School East (class of 1963) in
Park Ridge, Illinois. The same high school attended by Harrison Ford (class of 1960) and Hillary Rodham (class of 1965).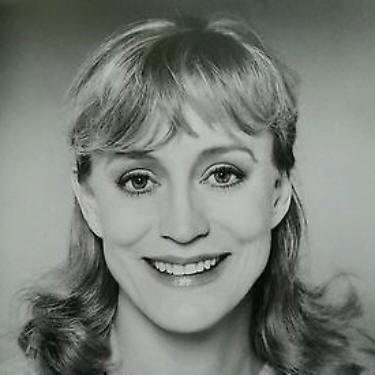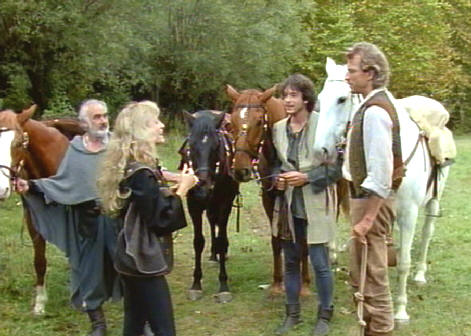 Death: Born: October 27, 1945 in Park Ridge, Illinois, USA Died: April 1, 2004 (age 58) in Los Angeles, California, USA
While waiting for a liver transplant, Snodgress was hospitalized in Los Angeles, where she died of heart and liver failure on April 1, 2004. She was 58 years old.
Source imdb and wikipedia. For the Wikipedia link click here
For television work of Carrie, click here Golden Globe Award for Best Actress - Motion Picture Musical or Comedy
Golden Globe Award for New Star of the Year - Actress
Laurel Award for Best Dramatic Performance, Female
Laurel Award for Star of Tomorrow, Female
National Society of Film Critics Award for Best Actress (5th place)
Nominated-Academy Award for Best Actress
Nominated-BAFTA Award for Most Promising Newcomer to Leading Film Roles
Adrian Sparks
He was in episode 'Rejection' as a farmer and became Tell's friend.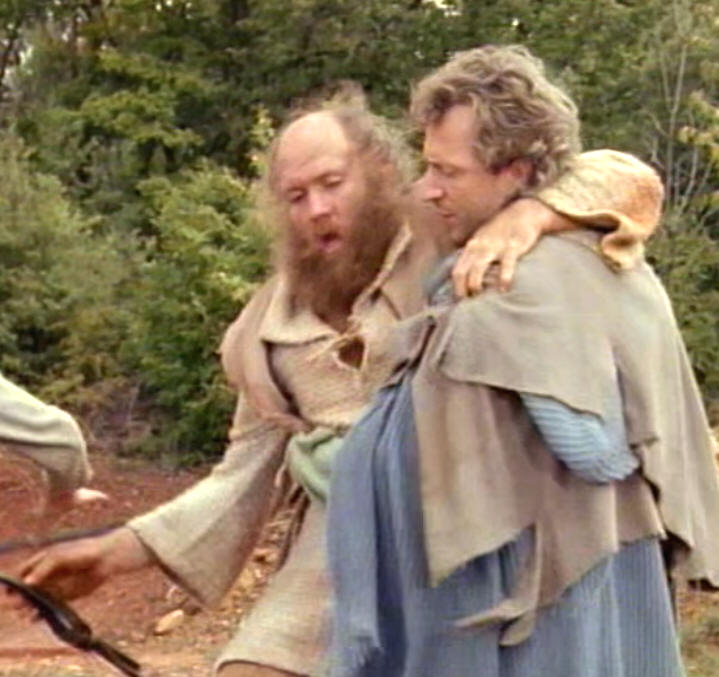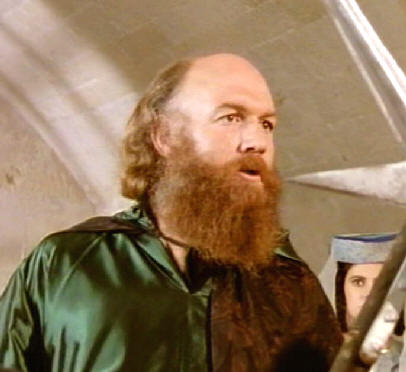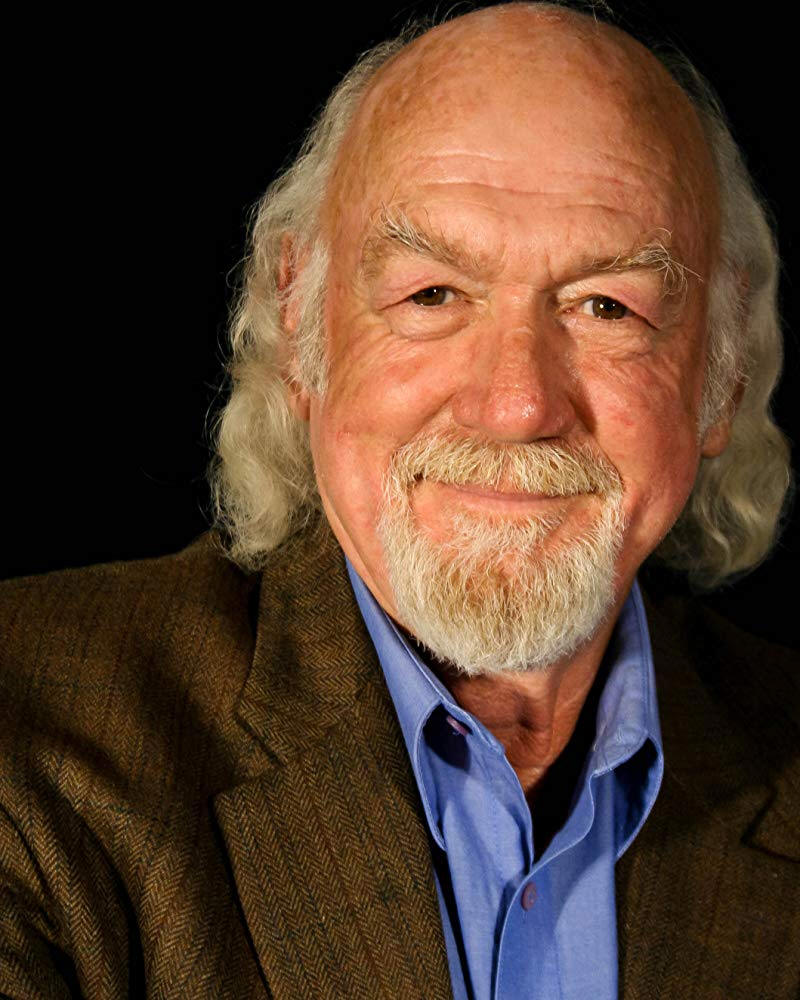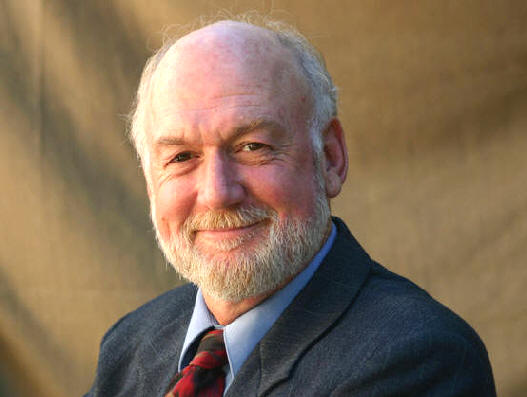 Born in the UK and raised in the US, Adrian Sparks is an award winning veteran actor of the American stage. He has played leading roles at some of the most prestigious
theaters in the country including The Tyrone Guthrie in Minnesota, Seattle Repertory, Long Wharf, and the Shakespeare Theater Company in Wash, DC, to name a few. His 2005
Los Angeles performance of Ernest Hemingway in the one-man play Papa, by Pulitzer Prize winning author John de Groot, garnered Adrian an Ovation Award nomination for Best Actor.
In 2009, he rec'd an Acclaim Award for Best Leading Actor, as well as a CEA Award for Best Actor for his portrayal of Sharky in The Seafarer, at the Ensemble Theater in Cincinnati.
Since 2010, he has spent multiple seasons at The Old Globe in San Diego as a leading member of the Shakespeare Company created by Adrian Noble. During his tenure at The
Globe, his portrayal of Matthew Harrison Brady in the acclaimed production of Inherit the Wind, led to a nomination for a Craig Noel Award as Best Actor 2013. As a film actor,
he has appeared in more than 75 film, television, and commercial productions. Most notable is his portrayal of Ernest Hemingway in the 2015 film Papa Hemingway in Cuba
(2015), written by Denne Bart Petitclerc and directed by Bob Yari. His own site is here.
Bernard Spiegel
Weevil, 47 episodes, 1987-1989
Bernard Spiegel is an actor, known for Crossbow (1987), Tendre poulet (1977) and Gotcha! (1985). For all his television work, you can Click here.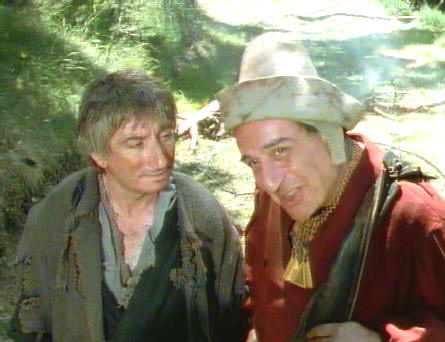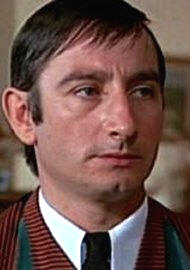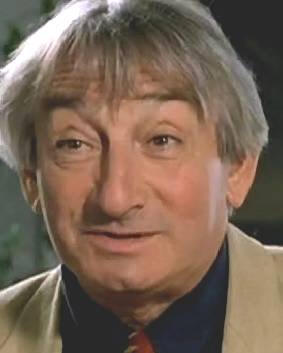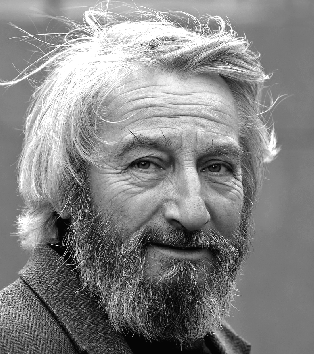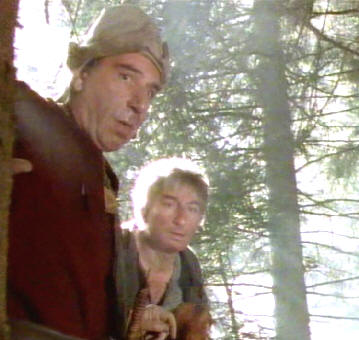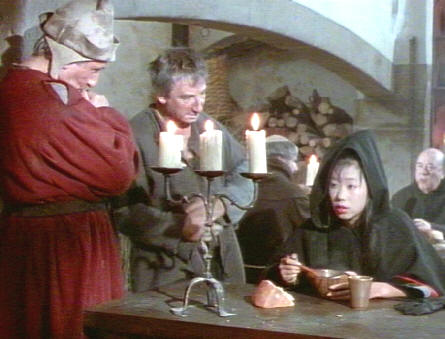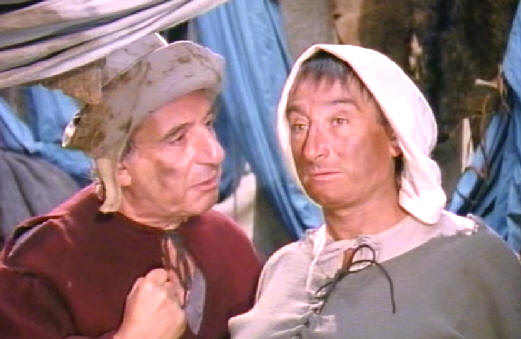 Above the duo Ambrose and Weevil in episodes: 'The Prisoner' and 'Lotus.' Below (left): Bernard Spiegel as a barmaid.
Paul Spurrier
1 episode, 1988 'The Taking Of Castle Tanner'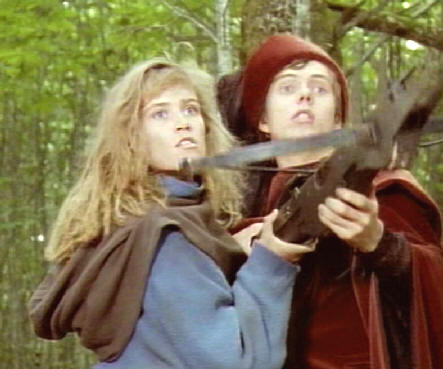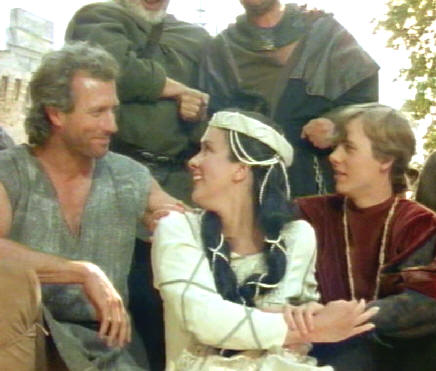 Paul Spurrier (born 23 May 1967 Suffolk) is a British former child actor on stage, television, and film, and a screenwriter and film director. He appeared in more
than thirty different roles, with credits including Anna Karenina and The Lost Boys for the BBC, Tales of the Unexpected for Anglia Television, and the feature film
The Wild Geese as Richard Harris's son Emile. He also appeared in Der schwarze Bumerang [de] – an Australian/German TV-Serial in 4 parts in 1982.
Here he played the role of the 15-year-old boy, had adventures in Australian outbacks with some aborigines.
Paul Spurrier was born on May 23, 1967 in Suffolk, England. He is an actor and writer, known for Eullenia (2018), The Forest (2016) and P (2005). He Speaks
fluent Thai. The first Westerner to make a movie in Thailand in the Thai language. Currently between Great Britain and Thailand planning his next film.
Recoreding The Forrest 2015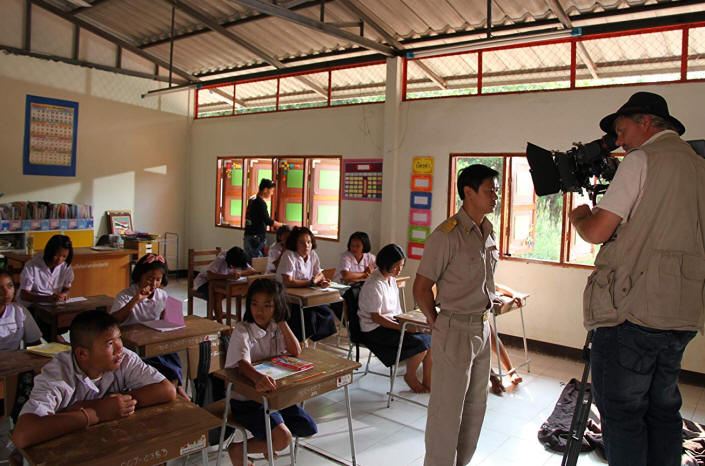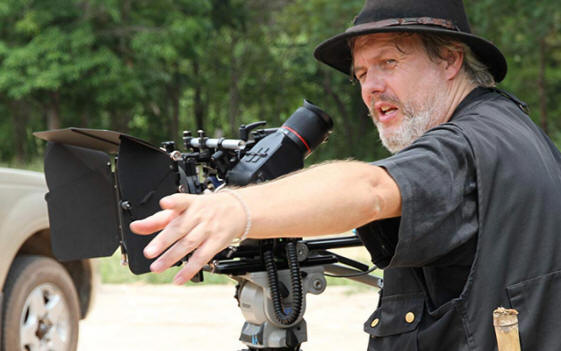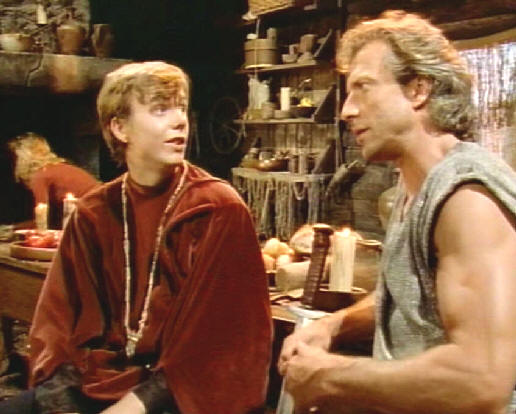 Expat British filmmaker Paul Spurrier delivers a rewarding fantasy-drama set in a remote Thai village.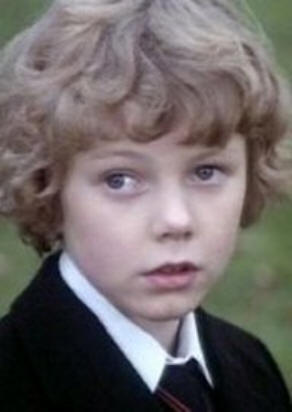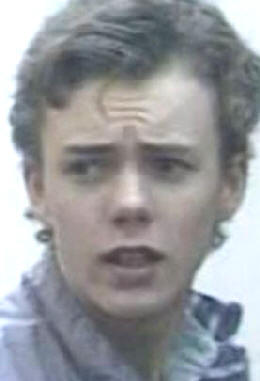 An exploration of the living and the dead.
Through hauntingly beautiful cinematography and classic storytelling, writer-director Paul Spurrier delivers a masterpiece of good and evil, the weak and the strong.
The surrounding forest of a village in rural Thailand houses an evil spirit. The school in the village houses a mute girl. Chased by bullies, the girl finds refuge in the forest.
Despite the warnings of her teacher, she embraces the forest and revels in the friendship she discovers with a young, wild boy. But from where did this boy come? Are the
rumors about the forest true? Dark and intense, The Forest is a thoughtful exploration of life and redemption.-Amelia Masters
Spurrier worked for the Ministry of Defence in Great Britain and for such companies as Avid, 3Com, and Cisco before writing and directing feature films
including Live on Arrival, Underground (1998), and P (2005). The latter was made in the Thai language in Thailand, where Spurrier has now settled. In 2007, Spurrier was
director of photography for The Edge of Empire—an epic historical drama about the birth of the Thai nation. In 2009, he was director of photography for 60 episodes of a
Thai television series Nak Su Nork Sang Wian, the first time a Westerner had performed this task. In 2008 and 2009, Spurrier was the international administration
director of the Bangkok International Film Festival, and the programming director for the Thailand International Film Destination Festival. In 2015 he directed the Thai
feature film, The Forest' and in 2019 'Eullenia'. In 2021, in collaboration with the Thai writer, composer, and conductor, S. P. Somtow (Somtow Sucharitkul)
he directed The Maestro: A Symphony of Terror. The imdb link is here
Timothy Stark
Timothy is in 6 Crossbow episodes! Episode 1, 18, 19, 20, 21, and 24 'The Citadel' - Plays Prince Martin, the Emperor's grandson,
who takes Matthew home with himto have someone to play with, thus causing a lot of confusion as to Matthew's whereabouts.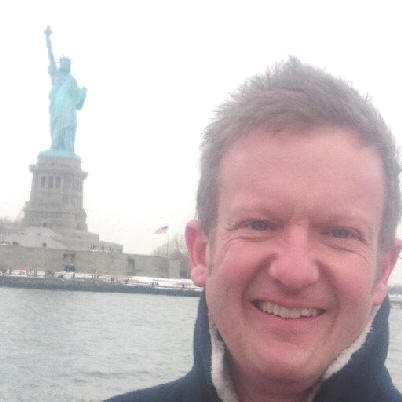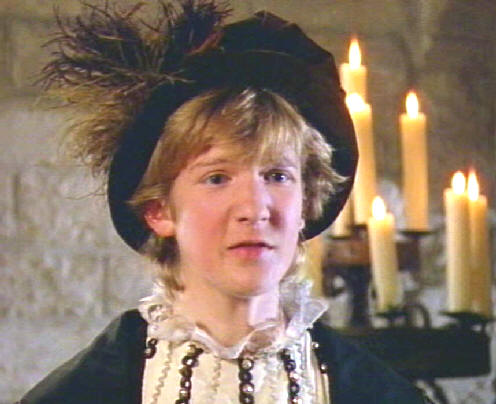 Timothy Stark was born on December 3, 1970 in London, England as Tim Stark. He is known for
his work onPurple Rain (1984), A Shocking Accident (1982) and BBC Play of the Month (1965)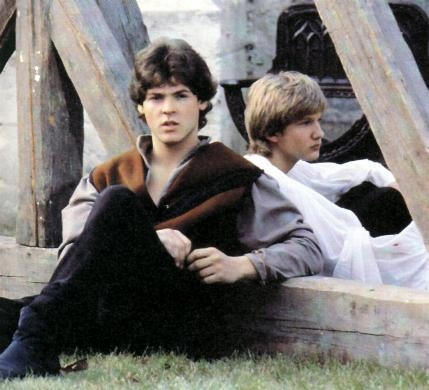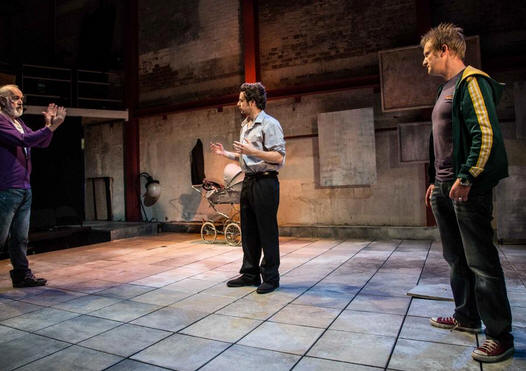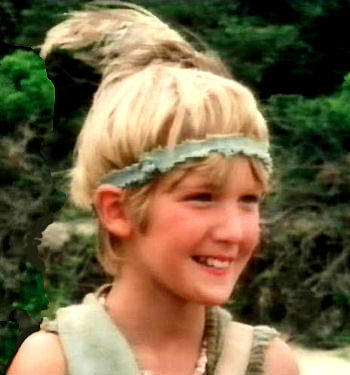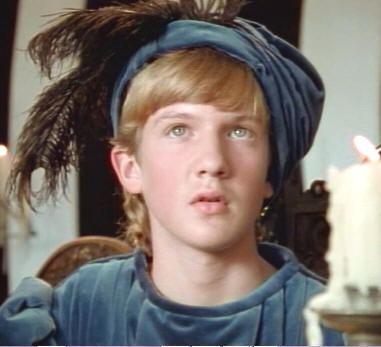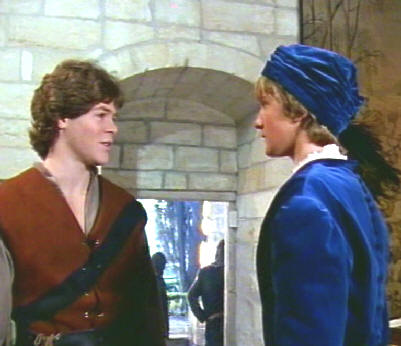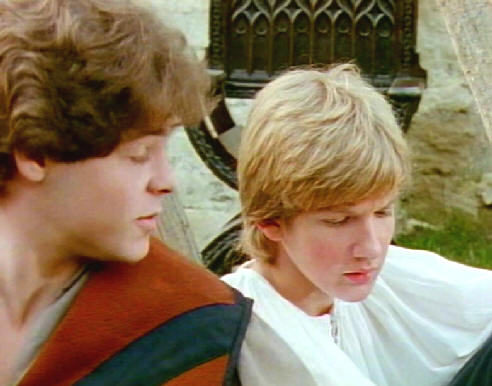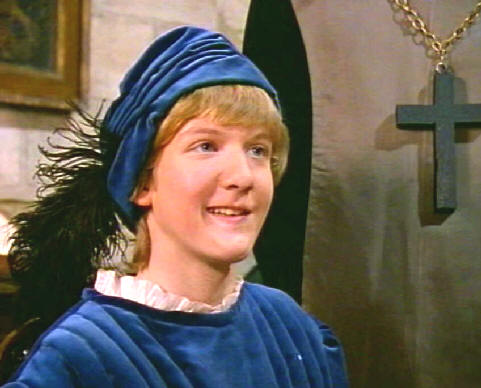 Appeared on stage with the Royal Shakespeare Company in the 1988/1989 season in Stratford-upon-Avon, starring in the plays "Across Oka", "Restoration",
"The Man Of Mode" and "Making Noise Quietly."
Currently a theatre Director, Winner of the Cohen Bursary at National Theatre. Credits include Kurt & Sid with Danny Dyer and Shaun Evans WOS Award nominee,
The Last PilgrimOff West End Theatre Awards Three Nominations, Twisted, Festen, Mayhem & Rafts & Dreams. (November 2010). https://www.imdb.com/name/nm0823276/
Valérie Steffen
Princess Irena, 5 episodes, 1987-1988. She was in episodes 18, 19 20, 21 and 24 'The Princess.'
Jean-Paul Belmondo and Valérie Steffen in Le solitaire (1987). December 31, 1963 in Paris, FranceCredits include Does This Mean We're Married? and Sky Bandits. She had a recurring role as
Princess Irena,the Emperor's haughty granddaughter. Her hand is sought by Gessler, whom she detests. So much so that she helps William Tell escape and risks her life to avoid marrying Gessler.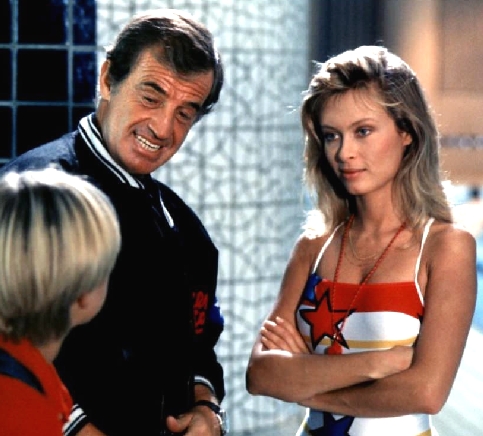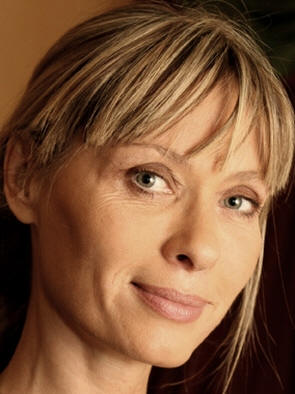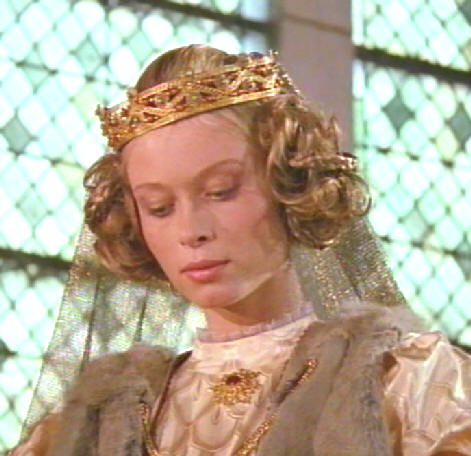 With David Carradine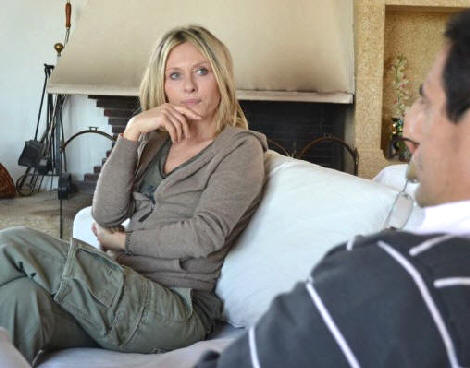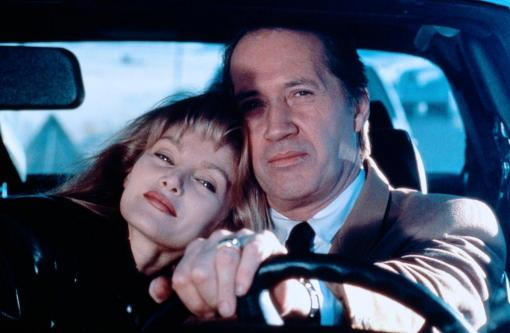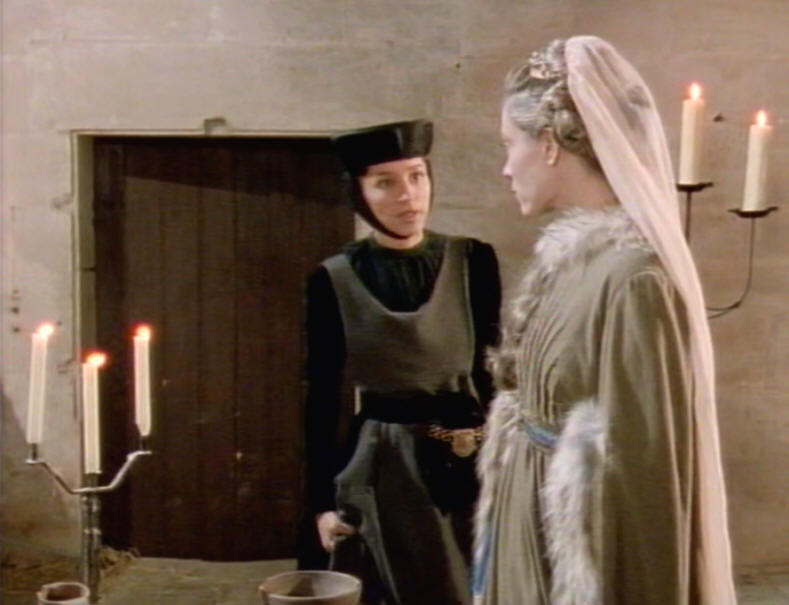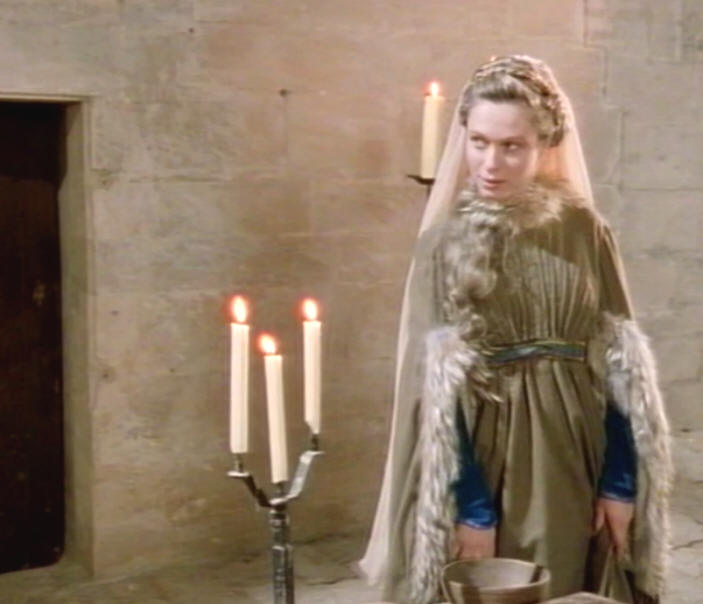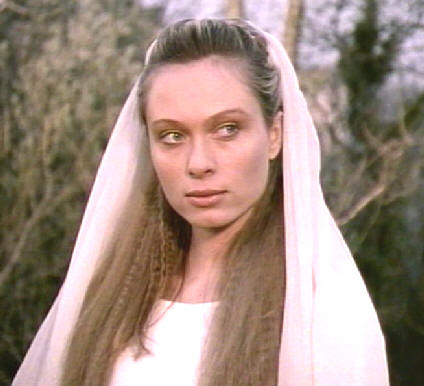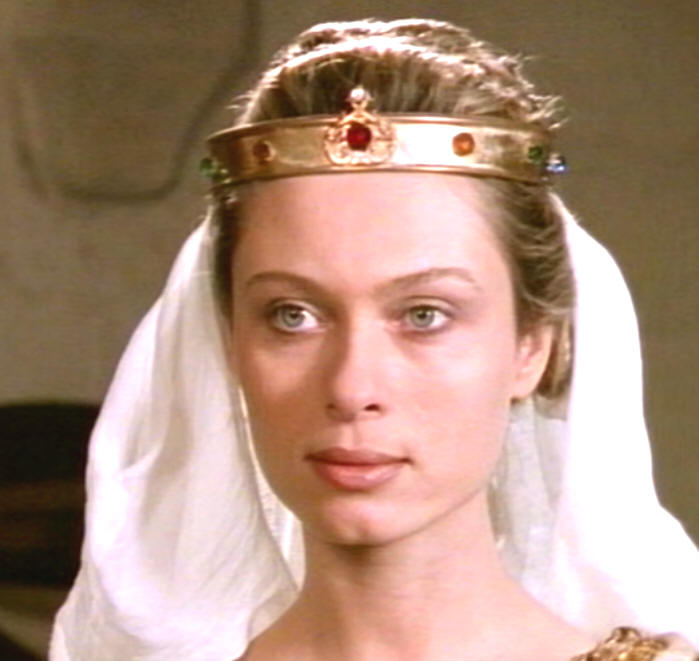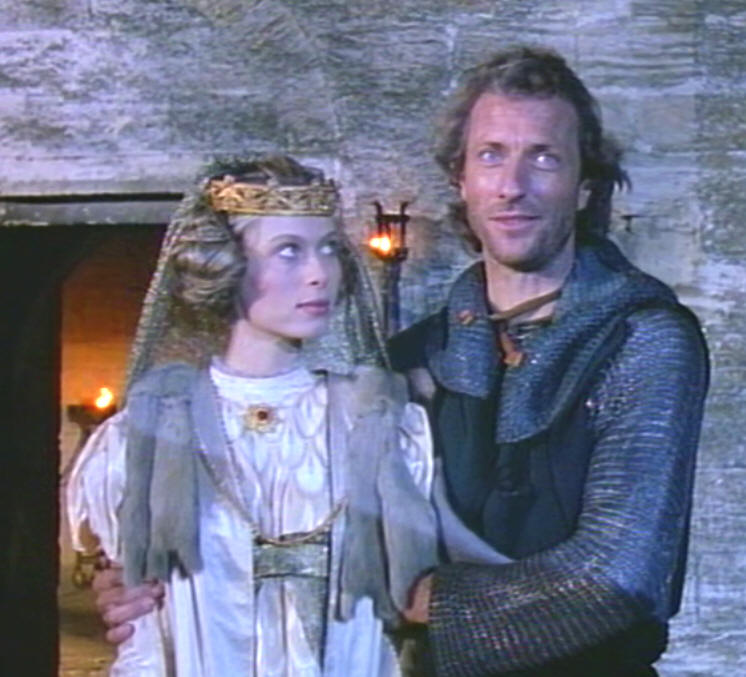 Valérie Steffen was born on December 31, 1963 in Paris, France. She is an actress, known for Napoleon and Josephine: A Love Story 1 episode as Jeanette Foures ep 1.2 (1987), Le solitaire (1987)
and Le coeur des hommes (2003) And with her band in the 80 ties. Unfortunateley not able to watch anymore, because they put this Youtube link on 'private'. Imdb valerie Steffen: click here
Jadrien Steele
Simon in episode The Little Soldier, 1 episode, 1987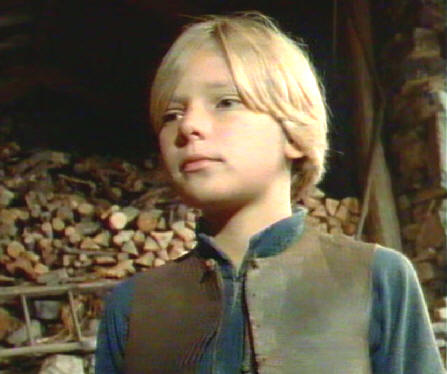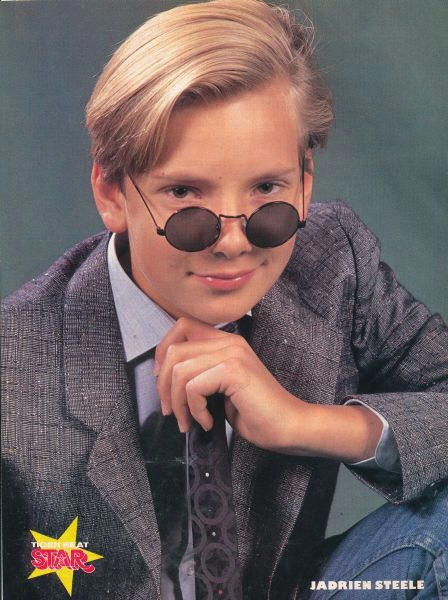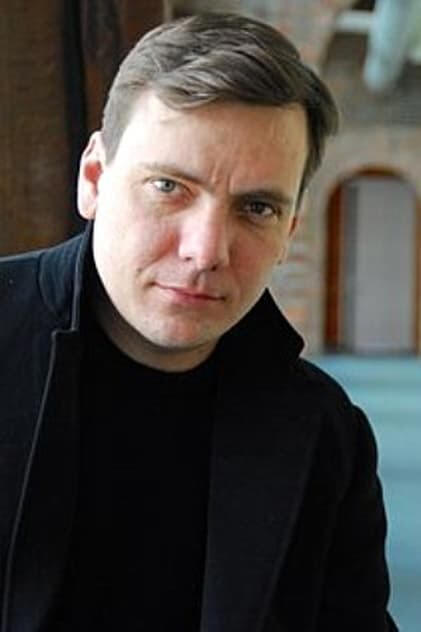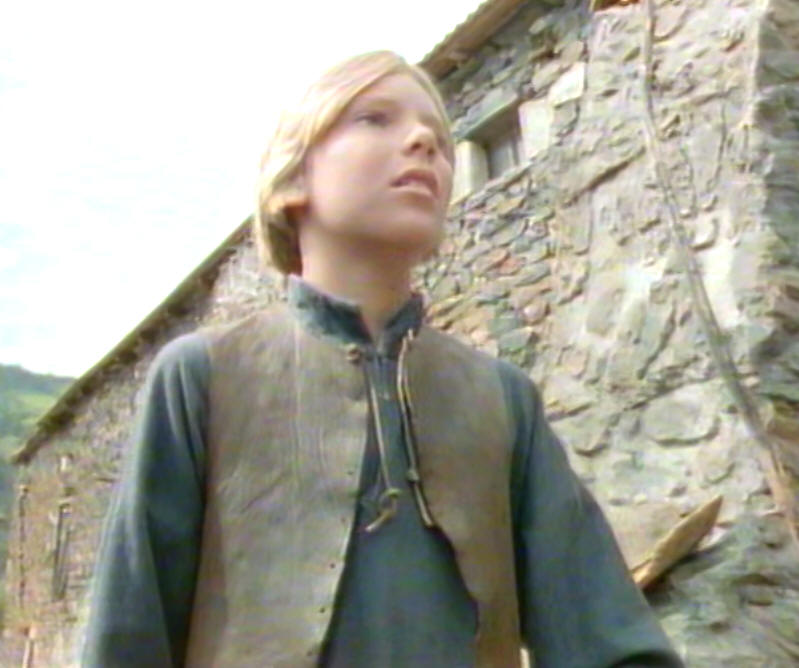 Jadrien Ford Steele (born November 22, 1974 in New York City) is an American actor, author, and film director. As an author, he writes under the name J M Steele.
Steele graduated from Princeton University, and later obtained a master's degree in Cinematography at the University of Southern California. He is the son of two New Yorkers,
Walanne Steele (a broker) and Jerry Steele (an academic). As an infant he was cast in the long-running television soap opera Ryan's Hope as the Little John Ryan from 1975 to 1985
when he turned 11 years old. Steele received his first major role the following year, playing Jerry Fox in the film The Mosquito Coast, where he starred alongside Harrison Ford, Helen
Mirren, and River Phoenix. He married Sarah Elizabeth Bagley in 2009.
Authorship

Steele has written two books for young adult readers. He has also written several short plays. One of these, "Silent Mercury", was made into a short film, which Steele
himself directed, and premiered at the 2001 Sundance Film Festival. In 2008 he both directed and acted in his own production of another of his short dramas, "Just Make Believe".
Chad Stuart
Prince Frederick, 1 episode, 1987. He was in episode 1, 'The Banquet' - Chad and Jeremy fans will know that Chad Stuart is one half of the 1960s singing duo, Jeremy Clyde being
the other half. Well the two were reunited in the very first episode of Crossbow in which Stuart plays Prince Frederick, the Emperor's son and the instigator of the whole apple on
head idea. Many shots in this episode show Stuart
and Clyde in poses together that very strongly resemble some of their album covers. Other credits includeThe Jungle Book '67, as the voice of a Vulture. He and Jeremy also appeared
together on tv in the 60s in Batman and The Dick Van Dyke Show, they're a hoot!. Nowadays he is a DJ at a Radio Station. In the 60-ties as the british pop duo Chad & Jeremy and later
they did appear together again in Crossbow
Chad & Jeremy are an English singing folk rock duo originating in the 1960s, comprising Chad Stuart (born David Stuart Chadwick, 10 December 1941,Windermere, Cumria) and
Jeremy Clyde (born Michael Thomas Jeremy Clyde, 22 March 1941, Dorney, Buckinghamshire). They were part of the British Invasion, a large influx of British rock rock and
pop musicals to the American music scene. Career: The duo's first single, "Yesterday's Gone", for the Ember Records label, which was arranged by John Barry, was their only UK hit.
However, Chad & Jeremy's strings-backed sound
held a greater appeal in the United States, where World Artists Records released their early 1960s strain of commercial folk music.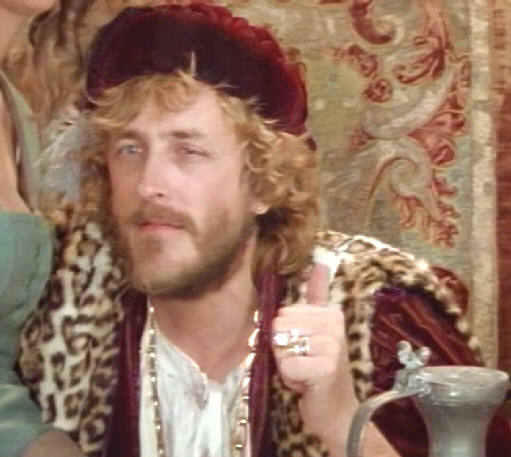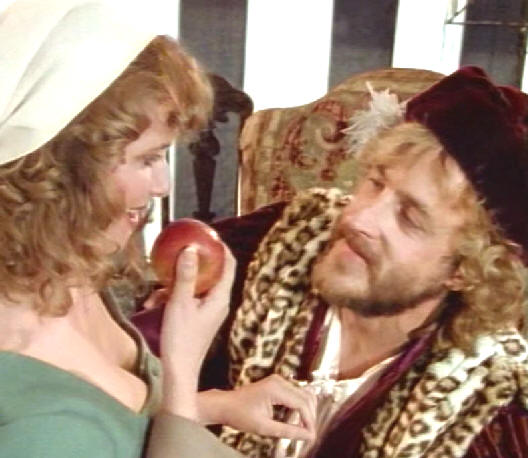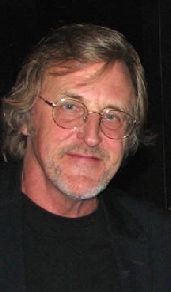 Their second single, "A Summer Song", hit 7 on the Billboard Hot 100 in 1964. Follow-ups included "Willow Weep for Me" (a 1930s song that was recorded by Paul Whitemen
and Billie Holiday; with Chad & Jeremy's cover version climbing to Number 1 on the Easy Listening chart) and on Colombia Records in 1965, "Before and After" reached the Top 20.
In total Chad & Jeremy had seven US Top 40 hits between 1964 and 1966.
In the fall of 1967, they released the album, Of Cabbages and Kings. This psychedelic album sold poorly, as did the 1968 follow-up, The Ark.
The duo also made several television guest appearances. In back-to-back sitcom appearances, they first played fictional singing duo The Redcoats (Fred and Ernie) on the February 10,
1965 episode of the TV sitcom Dick Van Dyke Show that satirized Beatle mania. The following week they appeared on the Patty Duke Show as unknown British singing duo
Nigel & Patrick, performing "A Summer Song", "The Truth Often Hurts the Heart" and "Yesterday's Gone". They appeared as itinerant actors in That's Noway, Thataway,
a January 1966 episode of the comedic western Laredo, which was intended as a pilot for their own spin-off series.
The duo appeared as themselves in the December 1966 episodes The Cat's Meow and The Bat's Kow Tow of the television series Batman, in which the guest villain
was Julie Newmar as Catwoman.- Clyde appeared in 1966 as a bachelor contestant on The Dating Game where he won. Stuart voiced Flaps the vulture in Disney's 1967 film The Jungle Book.
In 1968 they composed, recorded and released music to the film soundtrack of Three in the Attic, the music soundtrack was released in the US on Sidewalk Records. In
1987 they performed in short residencies at both Harrah's Casino in Lake Tahoe, and the Reno Hilton before again breaking up. In 2003, PBS reunited Chad & Jeremy in
the 60s Pop-Rock Reunion special, which also prompted a tour the next year. They have been touring ever since. In 2008, the group released Ark-eology, an album featuring
re-recordings of their 1960s hits and selected cuts from their original albums. In September 2010, Chad & Jeremy marked 50 years of performing together with a limited-edition
CD entitled Fifty Years On. They performed at the Sundance Film Festival in Park City, Utah in January 2009.
Jeremy Duncan and his brother Chad in the comic strip Zits are namesakes of this duo.
Labels: UK: Ember, US: World Artists Columbia Sidewalk Rocshire Ark. Here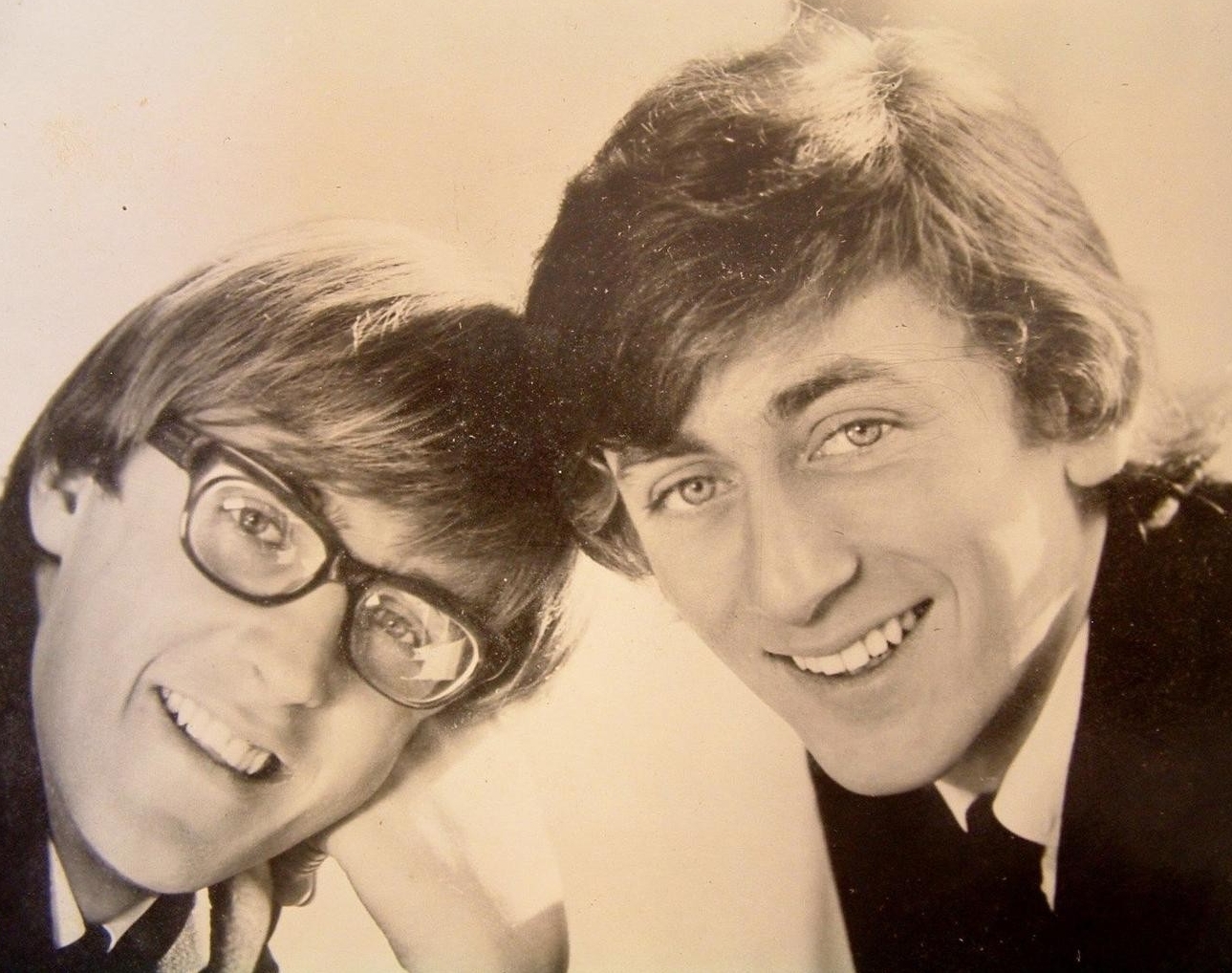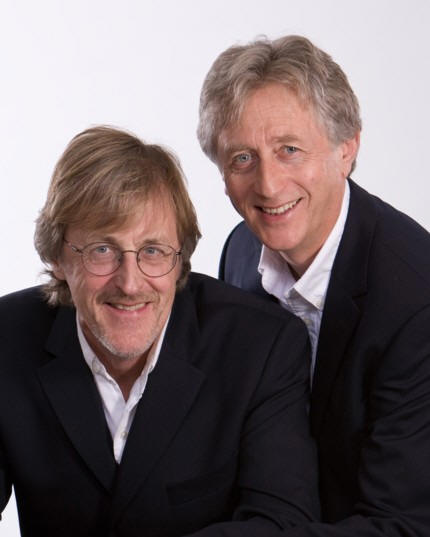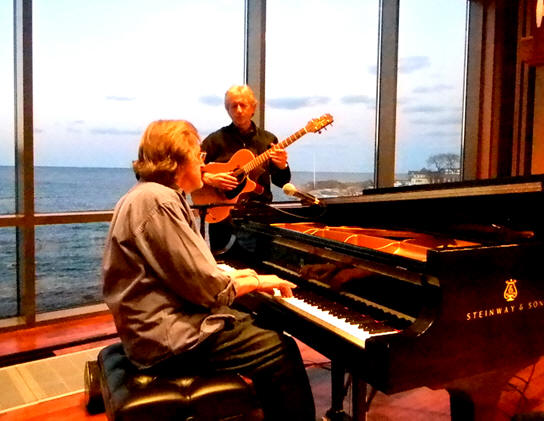 Chad Stuart, one half of the British pop/folk duo Chad & Jeremy, has died. He was 79. According to a statement on the Chad & Jeremy official Facebook page, Mr. Stuart passed
away Dec. 20 at his Idaho home after developing pneumonia (non-Covid related) following an accidental fall. The statement read, in part: "... We ask for love, celebration
but also space while the family adjusts to life without this incredible force. The family would like to thank his fans from around the world for the outpouring of birthday wishes
and gifts he received every year. Chad took the time to read each and every card. The world has lost a legend today, but his voice will continue to touch our lives through his music."
Mr. Stuart and Jeremy Clyde made their mark in America amid the 1960s British Invasion with 11 Top 40 hits between 1964 and 1966, including "A Summer Song,"
"Yesterday's Gone," "Willow Weep for Me" and "Distant Shores." Their songs were instantly recognizable for the duo's whispery-soft harmonies and gentle acoustic guitar strains.
Bill Stewart
Silas,1 episode, 1988. Episode 25, 'Nightmare' - The well-known British character actor, whose credits include A Touch of Frost and Ana and the King, plays Silas, a con man with
many disguises, who rescues Tell from execution. Bill Stewart was born on December 7, 1942 in Liverpool, England. He was an actor, known for Napoleon and Josephine: A Love Story
(TV Mini-Series) and Mac Guyver (both 1987) G.B.H. (1991), Anna and the King (1999) and Splitting Heirs (1993). Black Beauty coachman (1994). He got role in Casualty (1995),
101 Dalmatians (1996), The Scarlet Pimpernel (2000), Midsummer Murders (2015). Click here for his movies. He died on August 29, 2006 in London at the age of 63 (motor neuron disease).
England Attended the Bristol Old Vic Theatre School in the early 1960s.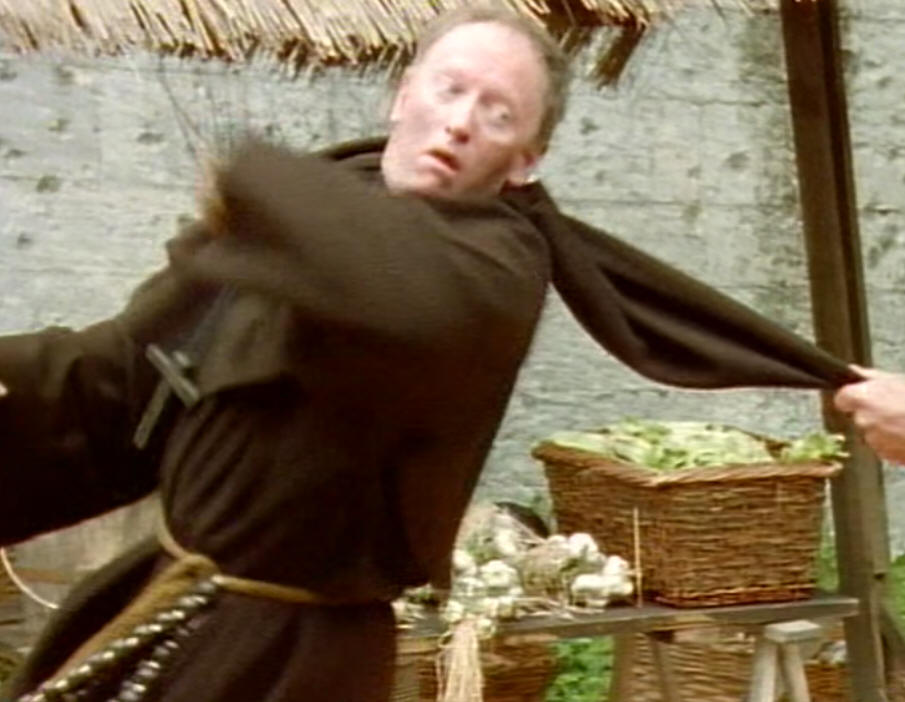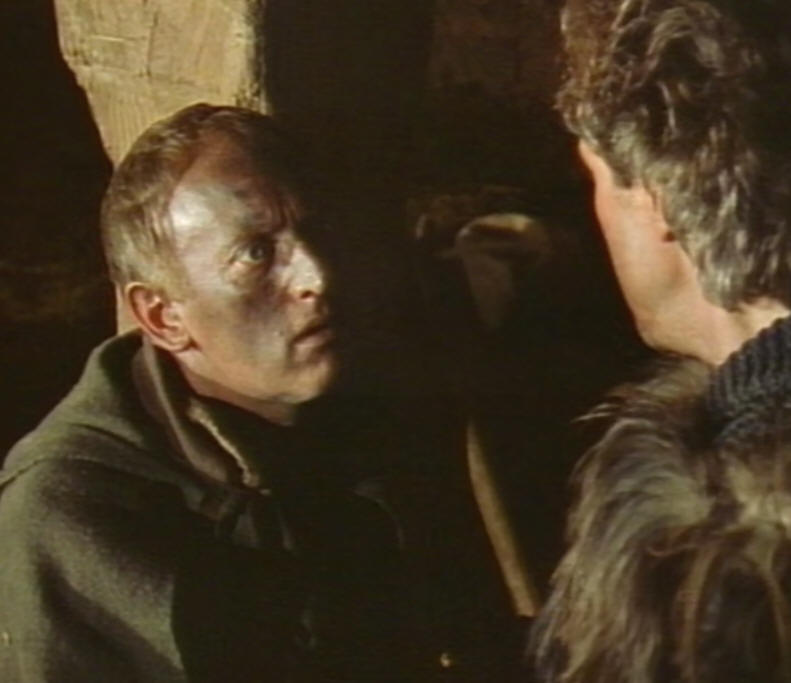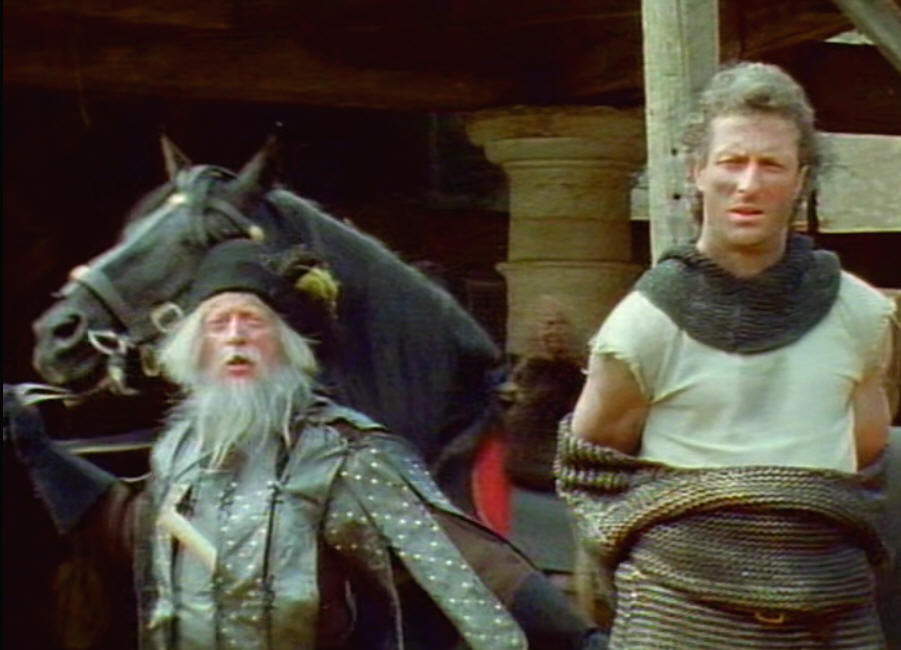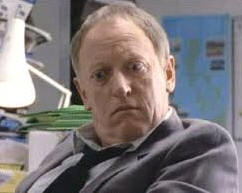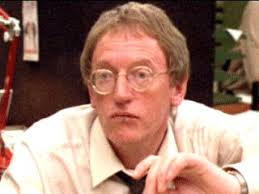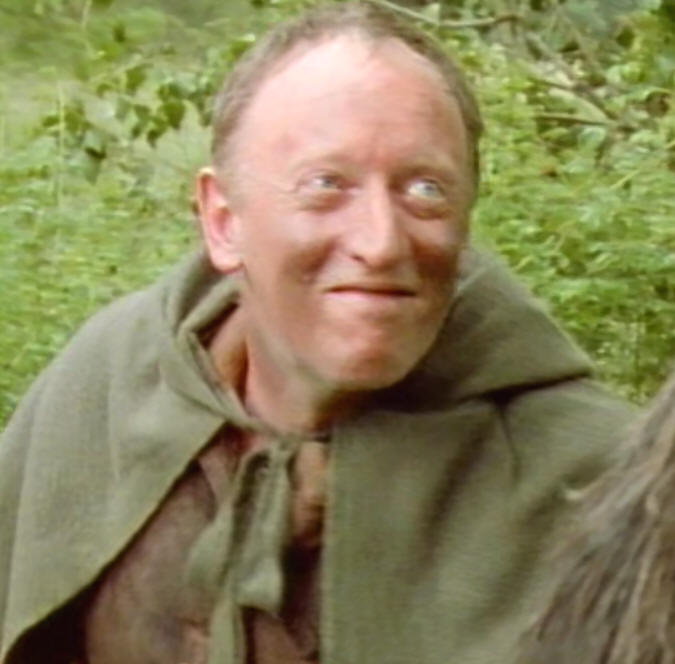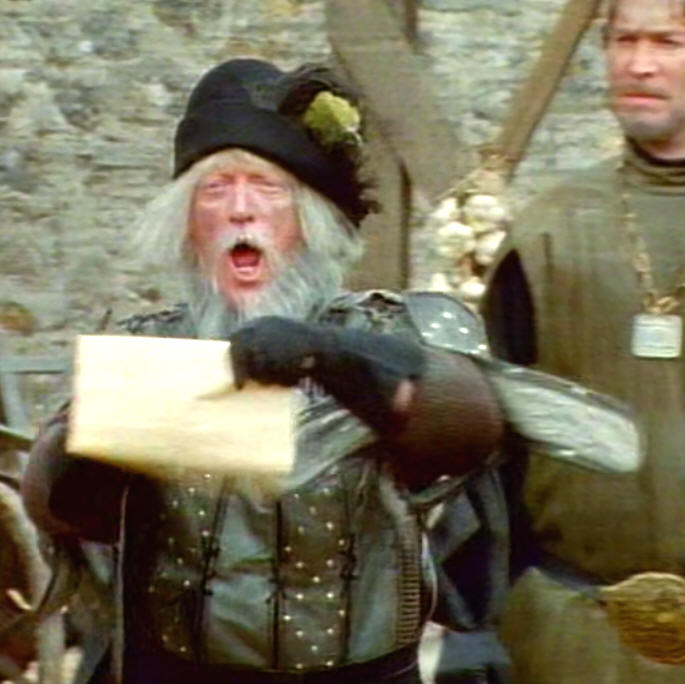 Richard Strange
The troll Tell catches in Trolls. Richard Strange was born in January 1951 in London, England. He is known for his work on Batman (1989), Harry Potter and
the Deathly Hallows: Part 1 (2010) and Robin Hood: Prince of Thieves (1991). He has been married to Kelly Dearsley Strange since September 10, 2011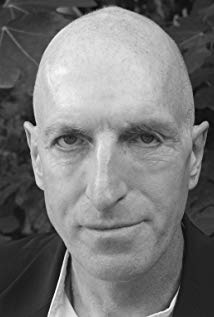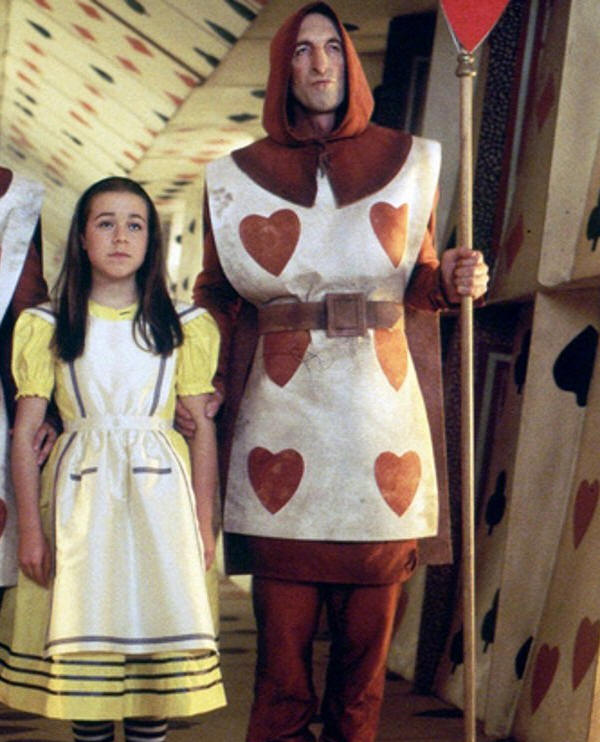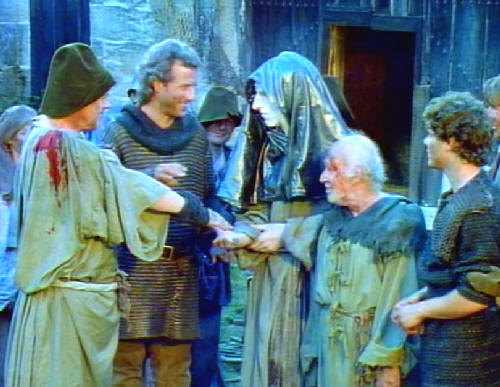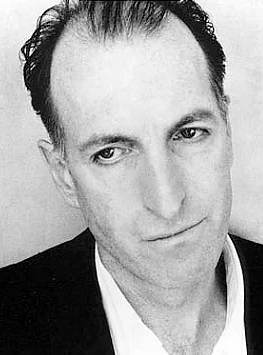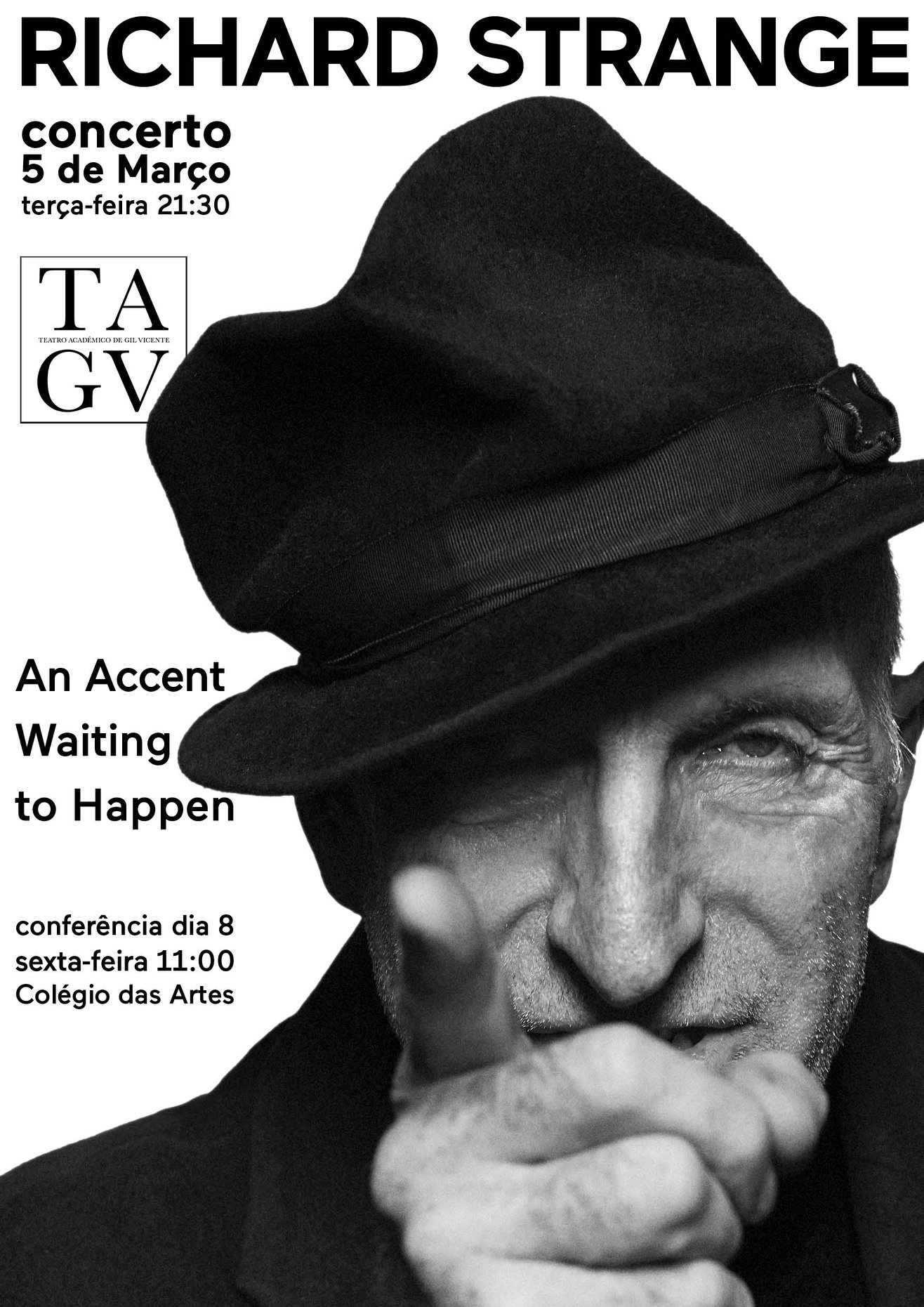 Episode Trolls, Crossbow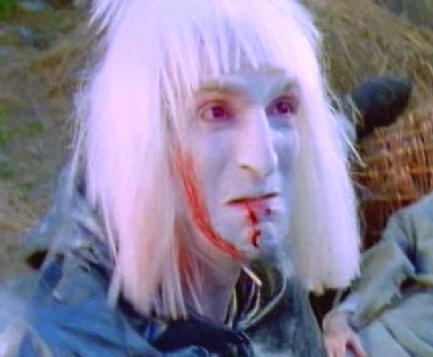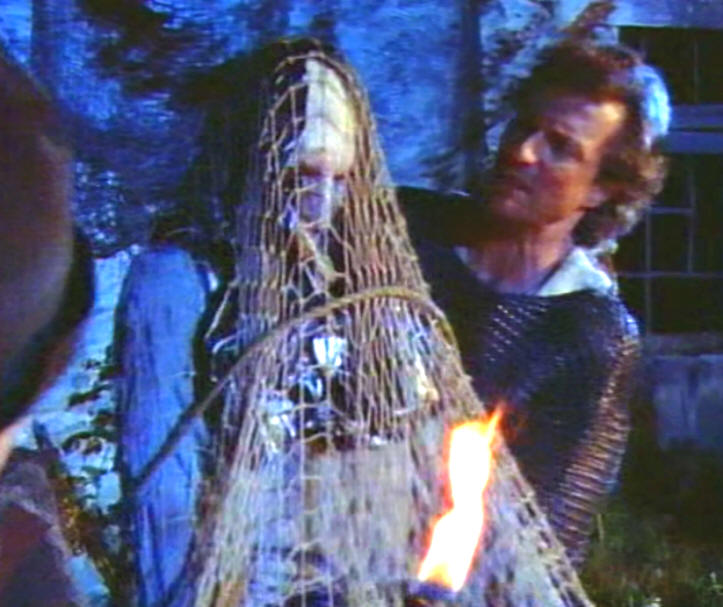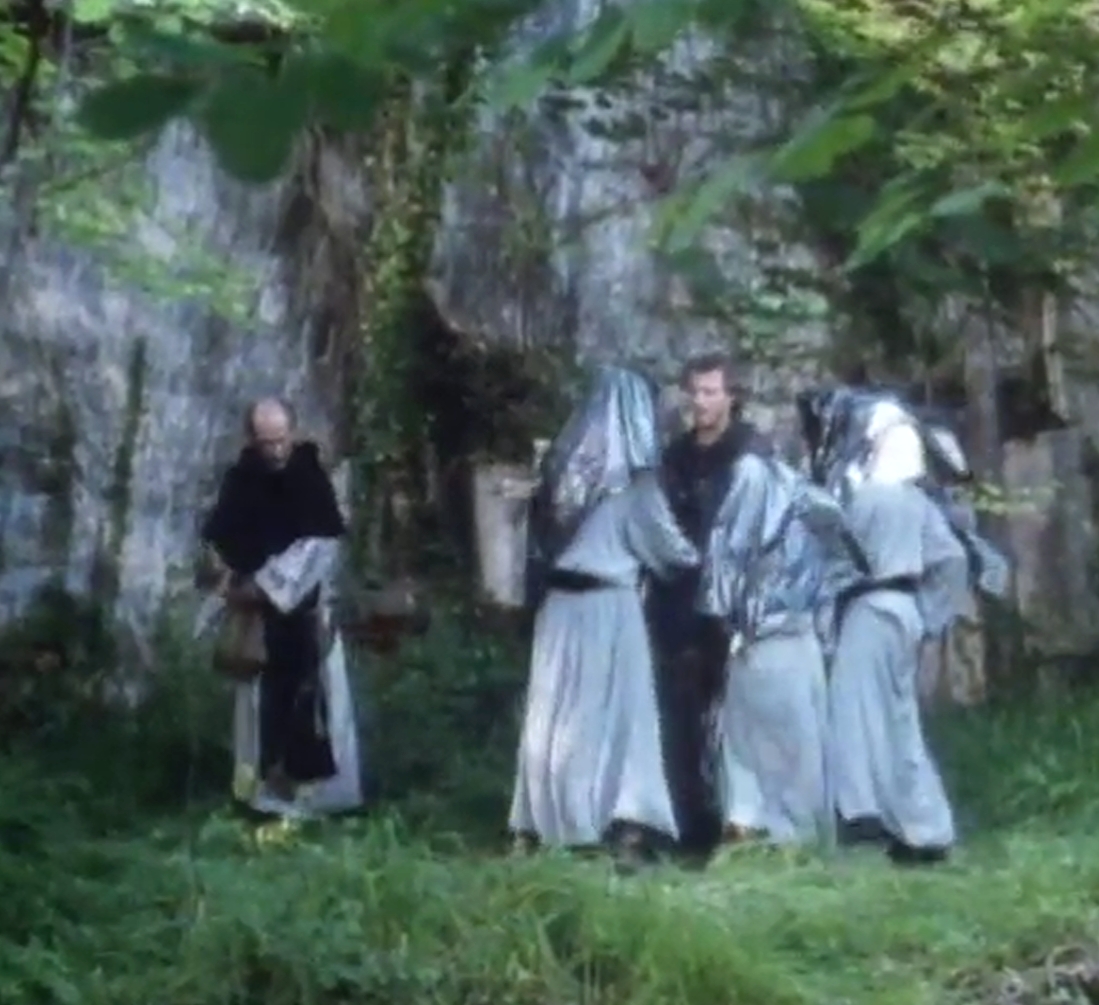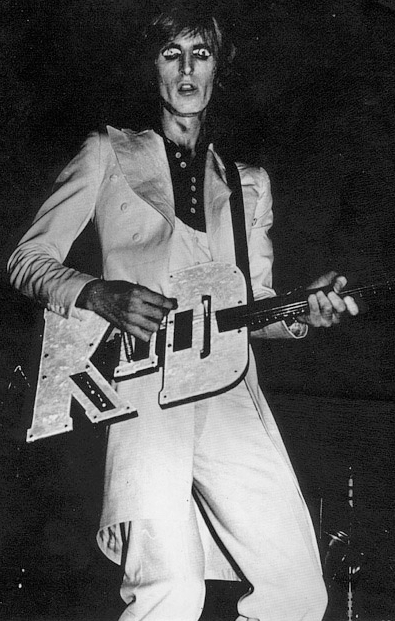 Since the band was first unleashed on an uncomprehending public in 1975, Strange has been a Zelig-like figure whose presence has been felt in every corner of London's cultural life. He founded the hugely
influential mixed-media Cabaret Futura in 1980, and has subsequently worked as a musician, writer and actor. His numerous movie appearances include Batman by Tim Burton, Mona Lisa by Neil Jordan,
and Gangs of New York by Martin Scorsese. He can be seen in the Harmony Korine movie Mr Lonely, playing the part of Abraham Lincoln, and he recently filmed the last episode of Harry Potter.
Throughout 2004-7 Richard worked with Marianne Faithfull on the Tom Waits/William Burroughs/Robert Wilson collaboration "The Black Rider", performing in theatres
in London, San Francisco, Sydney and Los Angeles.
In 2009 he was part of Jarvis Cocker's Meltdown Festival, at the RFH, in an evening of songs from Walt Disney movies, and in 2010 performed with the producer/arranger
Hal Wilner in Brooklyn and at The Barbican, alongside such luminaries as David Byrne, Tim Robbins, Steve Buscemi, Shane McGowan and Suzanne Vega.
Richard's memoir "Strange- Punks and Drunks and Flicks and Kicks", was published to critical acclaim by Andre Deutsch in 2005.
Richard curated a night of Live Art in Glasgow in 2011 as part of the This Is Performance Art Festival. Mary Brennan of The Glasgow Herald described it:
"One of the most open-minded, far-reaching and rewardingly varied programmes of radical new work in the world."
He recently co-wrote and presented This is Not Magritte, a programme about the Belgian surrealist, for BBC Radio 4. Last summer he chaired a discussion on Watercolours
for the Tate Gallery at Camp Bestival, and performed his one-man show An Accent Waiting to Happen at venues across the UK..
Working increasingly in education, having been award a prestigious Principal Fellowship of The Higher Education Academy (one of only 350 in the country), Richard currently devotes a lot of his time
working with young music students in the UK, Hong Kong, Sweden and the USA.
Click here for his movies on the imdb site. On here for wikipedia for all the information about Richard Strange.
Brad Sullivan
1 episode, 1988 The Emperor part 2
Sullivan was born in Chicago (1931) but grew up in Cape Cod Massachusetts in a family of three children, he had a brother Winthrop and a sister Marcia. He took service in the army and
fought in the Korean War and then went on to study at the University of Maine. After his studies, he toured with a theater company to move to New York and study at the American
Theater Wing. In 1961 he made his acting debut in the theater with the play Red Roses for Me. After this he went to London to play in the musical South Pacific.
Sullivan began in 1972 with acting for television in film Parades. After this he played several roles in films and television series such as The Sting (1973), The Untouchables (1987), The Abyss
(1989), Guilty by Suspicion (1991), Sister Act 2: Back in the Habit (1993) and NYPD Blue (1995-1998). In 2000 he last played for the last time to enjoy his retirement.
Sullivan was never married and died on 31 December 2008 from the effects of liver cancer in his hometown of Upper West Side New York. 18 november 1931, Chicago, Illinois,
Verenigde Staten 31 december 2008, New York, New York, Verenigde Staten. (79)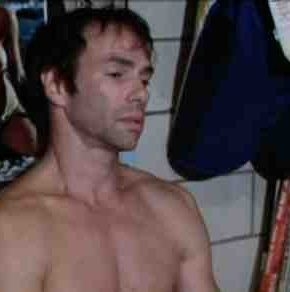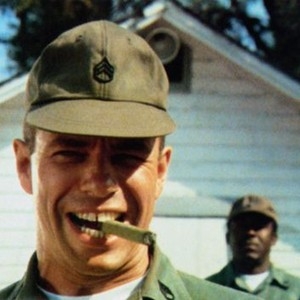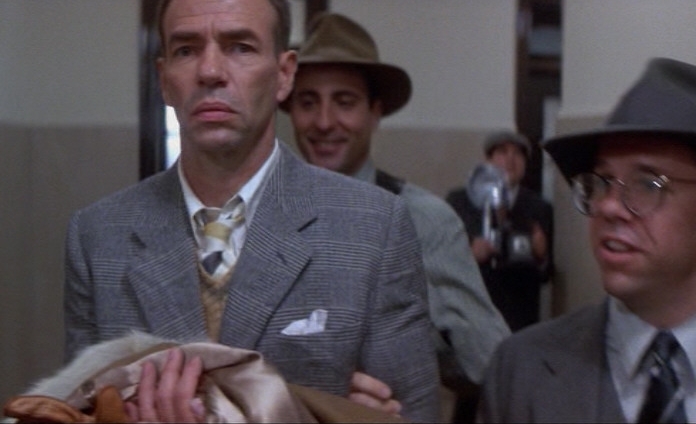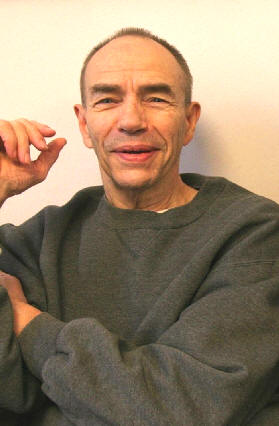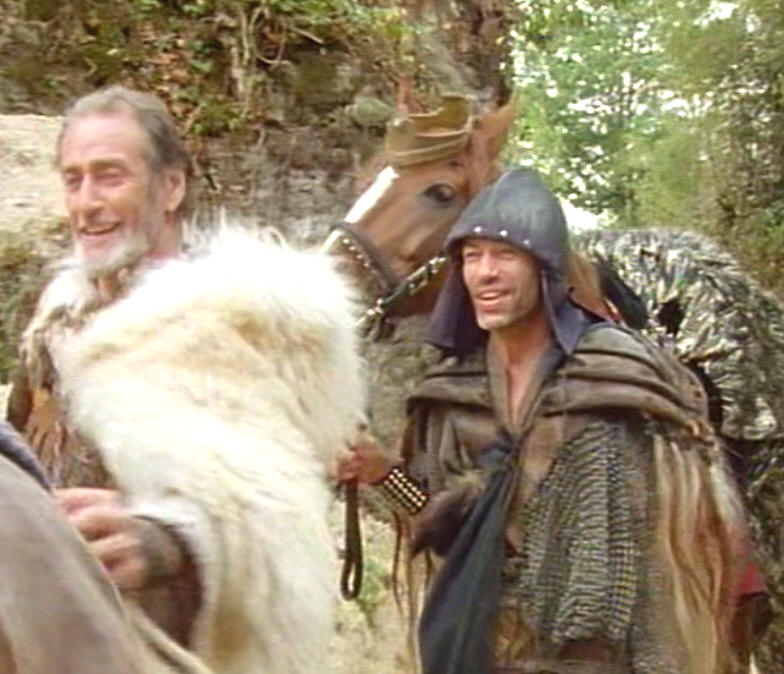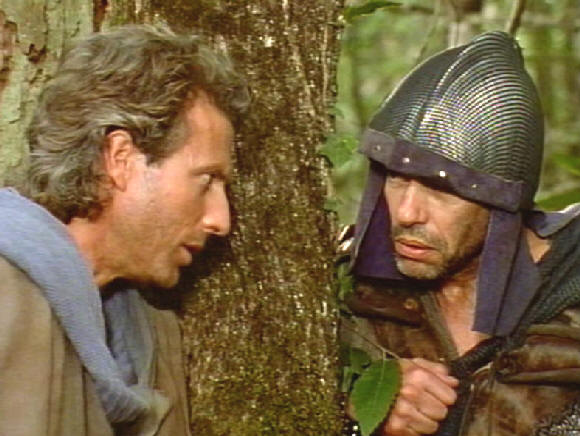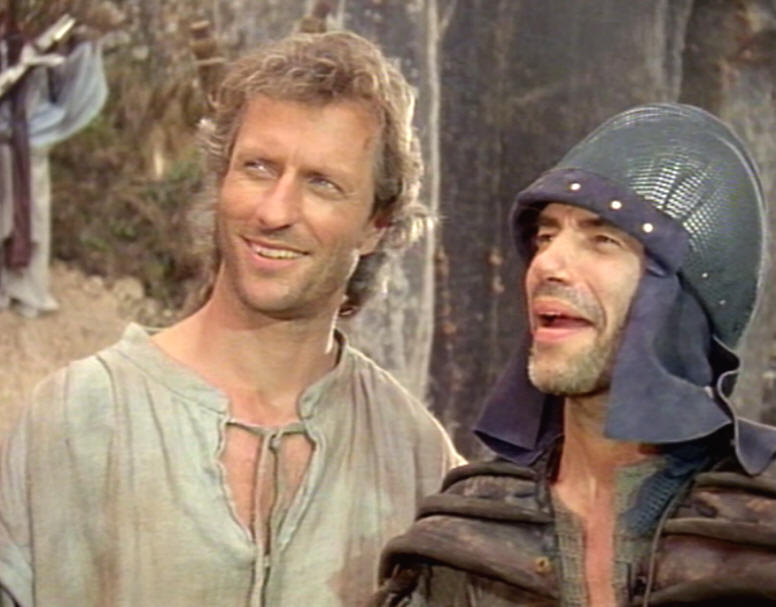 With Jean Connery and Kevin Costner.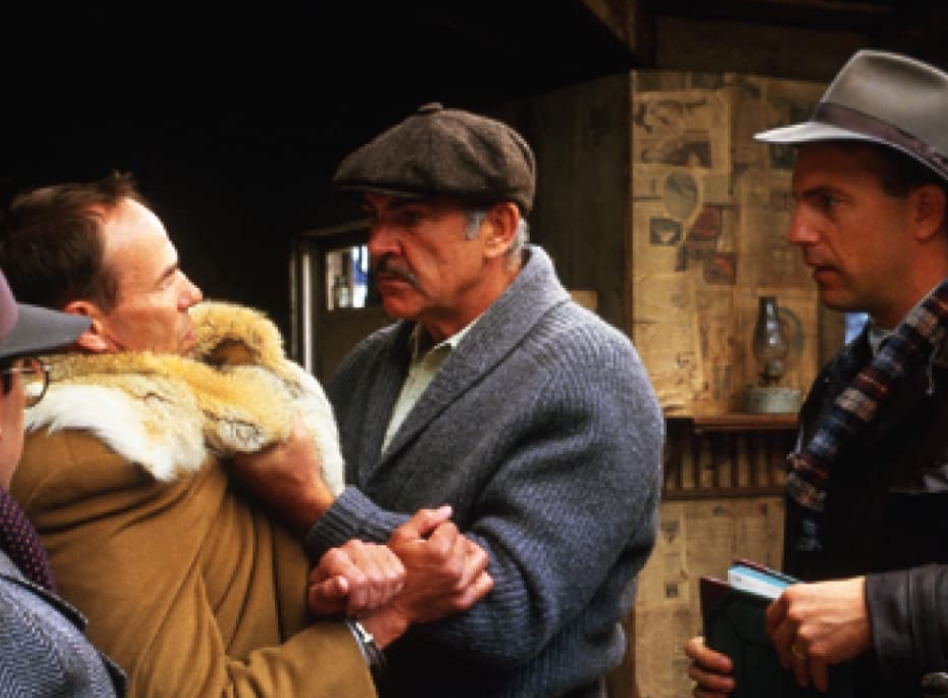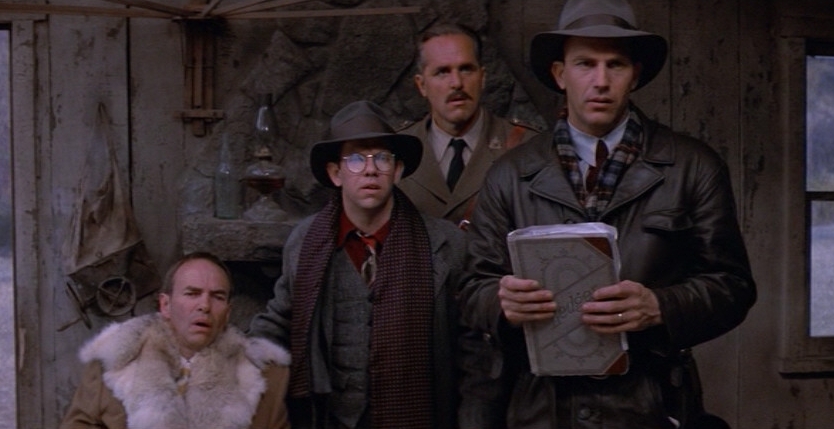 Princes of Tides American meal.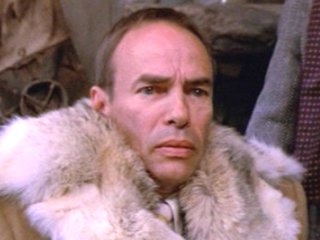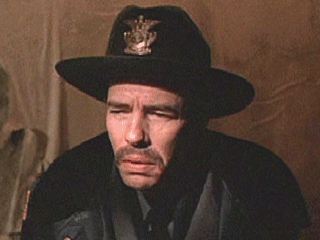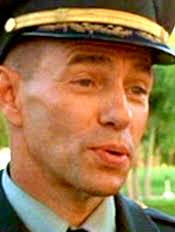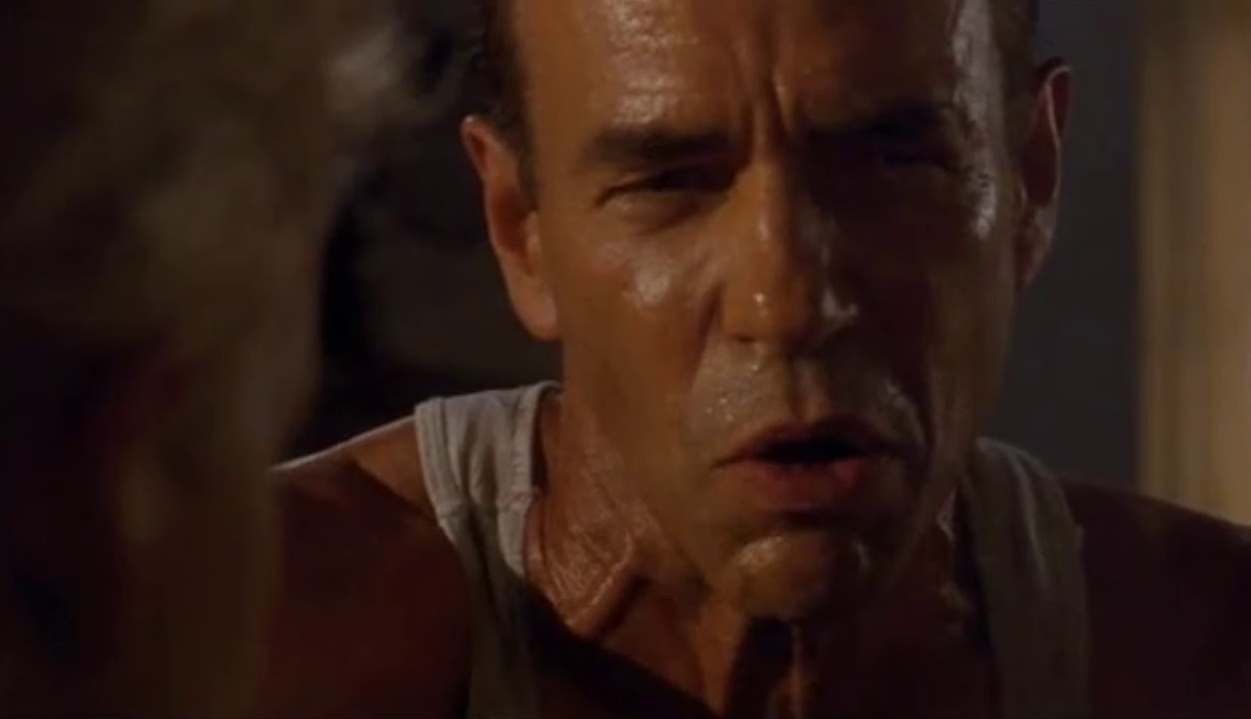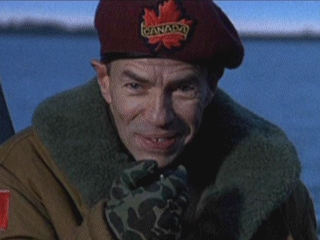 Sullivan saw Slap Shot (1977) for the first time decades after its release. He was reportedly so upset he had portrayed such a nasty character that he regretted taking the part.

The Untouchables (1987) [George]: Shot in the forehead by Billy Drago in an elevator, while Charles Martin Smith looks on in horror and gets killed as well, their bodies are
shown when Kevin Costner and Sean Connery discover them.
Miami Vice: Duty and Honor (1987) [Jack Colman]: Hit in the chest by Michael Wright's K-Bar knife, thrown at him by Haing S. Ngor.
Bradford E. Sullivan (November 18, 1931 - December 31, 2008) was an American actor who appeared as Jack Colman, ruthless handler of The Savage in the episode
"Duty and Honor" of the series Miami Vice.
Sullivan began his career on the stage, performing in the New York Shakespeare Festival in 1965 and 1970 before beginning his film career in 1974 in the movie Parades
(with Russell Horton), followed by his role in The Sting and his most known role as vulgar hockey player Morris "Mo" Wamchuk in Slap Shot (with Matthew Cowles). Other
movie roles include Walk Proud (with Pepe Serna), Ghost Story (with Jacqueline Brookes), The Untouchables (with Jack Kehoe), Dead Bang (with Don Johnson, Bob Balaban
and Frank Military), The Dream Team (with James Remar), Signs of Life (with Vincent D'Onofrio and Cowles), The Abyss (with Jimmie Ray Weeks and J.C. Quinn), True Colors
(with Paul Guilfoyle), Guilty By Suspicion (with Annette Bening), and his final movie appearance, 1995's Bushwhacked (with Jon Polito and Anthony Heald).
His TV appearances include his debut in the 1975 movie The Migrants (with Ed Lauter), followed by Movin' On, the movie Clinton and Nadine (with Jay Amor, Mario Ernesto Sanchez,
and Julio Oscar Mechoso), Orpheus Decending (with Kevin Anderson), seven episodes of I'll Fly Away, and his final TV appearance in Law and Order in 1999, after which Sullivan retired from acting.
Sullivan died of liver cancer on New Year's Eve, 2008, in Manhattan, New York (where he lived the remainder of his life) at the age of 79.
A Korean War veteran who saw action in the early 1950s, Sullivan attended the University of Maine in the mid-1950s. He had originally planned to study agriculture but
once there discovered his love of acting.

Born in Chicago but raised in Cape Cod, Massachusetts, Sullivan was the youngest of three siblings. He had one sister, Mrs. Marcia Tuttle, and one brother,
Winthrop Sullivan.

A reliable player of stoic, military types on stage, he was best remembered, however, for his despicable bad guys on film, his standout roles included a hired killer in The Sting
(1973), as crude and vulgar hockey player Mo Wanchuck in Slap Shot (1977) and as Nick Nolte's terrifying monster of a father seen in flashbacks in The Prince of Tides (1991).

Suffered from severe hearing loss in later years.
Made his off-Broadway debut in "Red Roses for Me" in 1961, and went on to appear in the London, England company of the musical "South Pacific".
For all his movies and series take a look at the moviedatabase: here
Anne Swift
Isabelle in episode The Little Soldier, 1 episode, 1987. Anne Swift and Jadrien Steele, episode 3, 'The Little Soldier' - as Isabel, a young wodow and her son Simon,
a boy trying to make up for his father's absence by hunting soldiers with a Crossbow. Steele is best known for Mosquito Coast and also appeared as Colin Craven
in The Secret Garden (1987). Anne Swift is an actress, known for Six Degrees of Separation (1993), The Equalizer (1985) and Skylark (1993).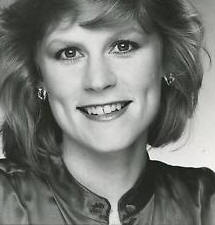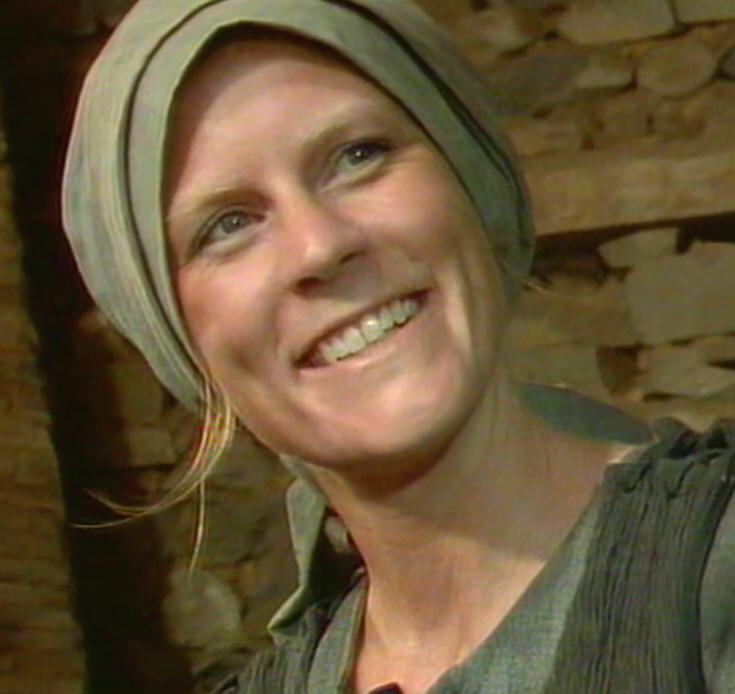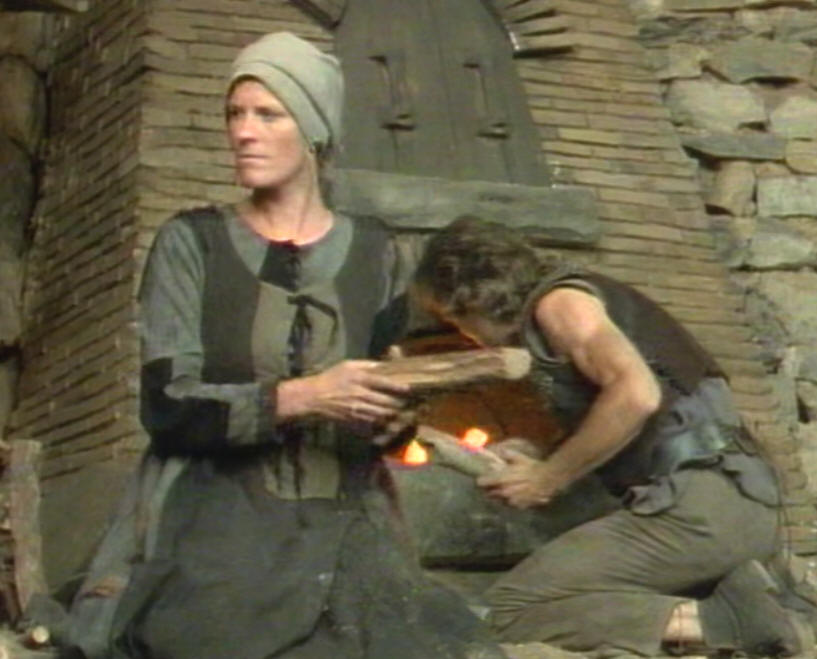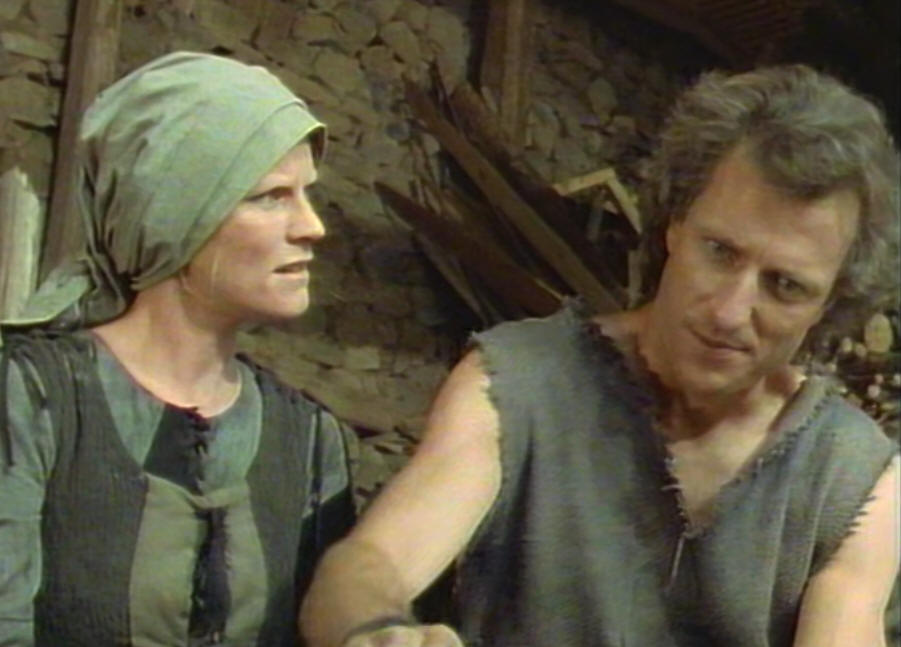 Robert Swales
In Crossbow: He plays the guide of Tell in episode The Shadow. Robert Swales is an actor, known for 1990 (1977), Hammer House of Mystery and Suspense (1984) and The Fourth Arm (1983).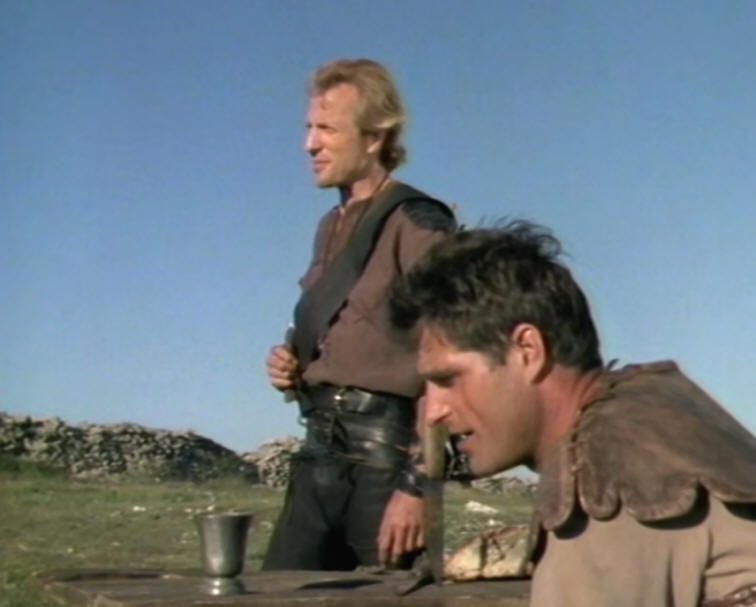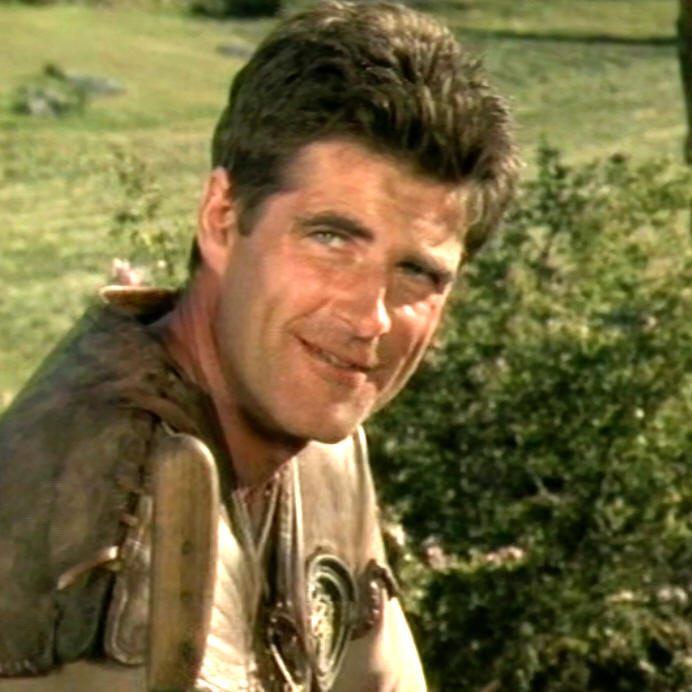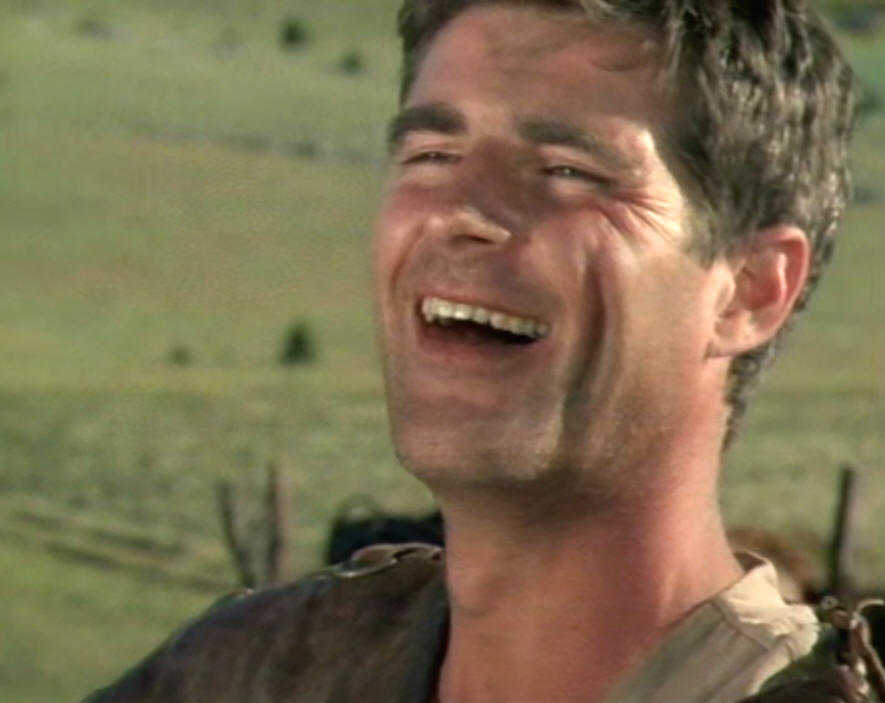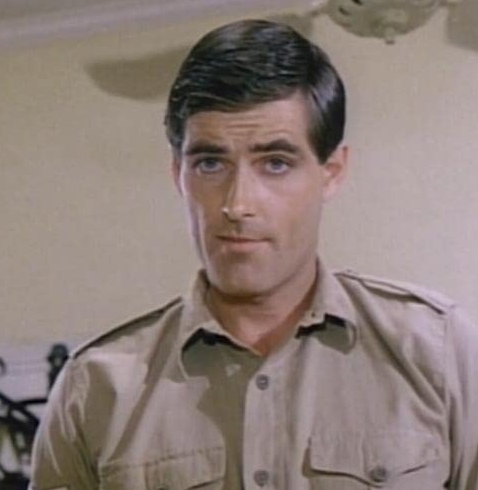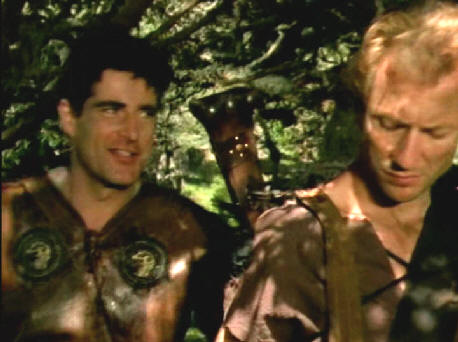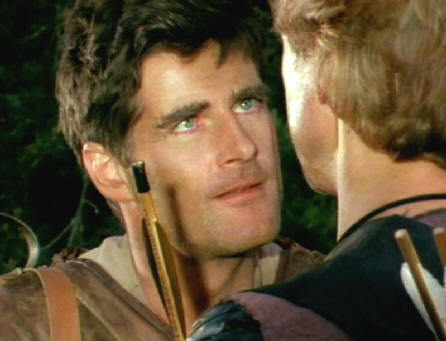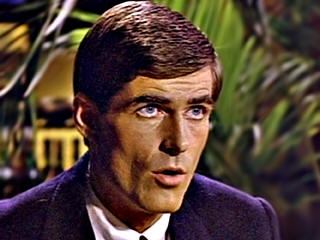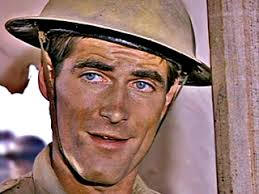 Eddie Tagoe
Episode 54, 'The Mission' - as the corrupt Captain of the Guard in The Wasteland. Credits include Withnail and I, Top Secret, and Raiders
of the Lost Ark. Eddie Tagoe is an actor from Ghana who appeared in Raiders of the Lost Ark as the Messenger Pirate of the Bantu Wind.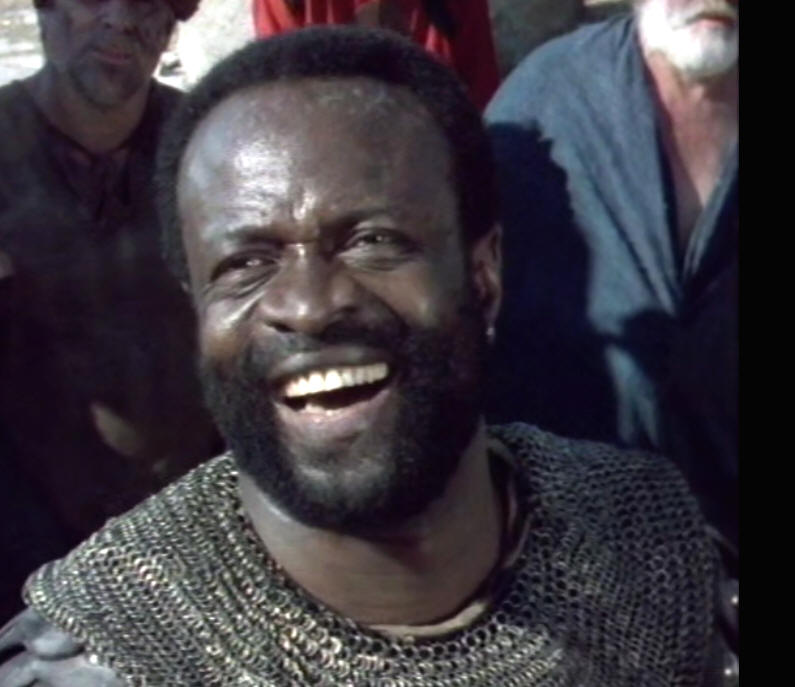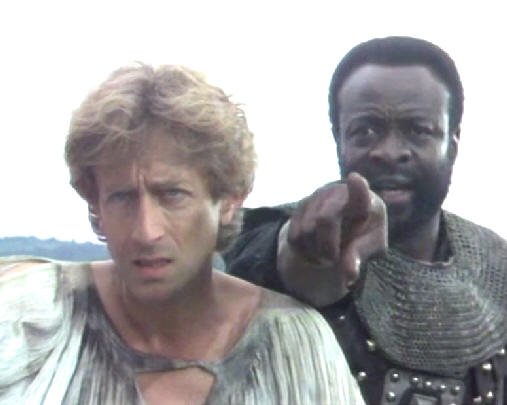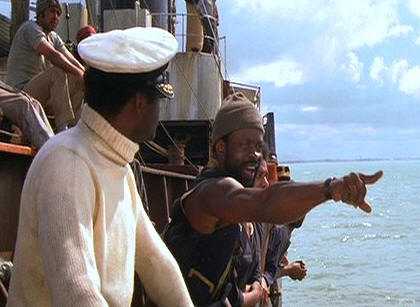 In James Bond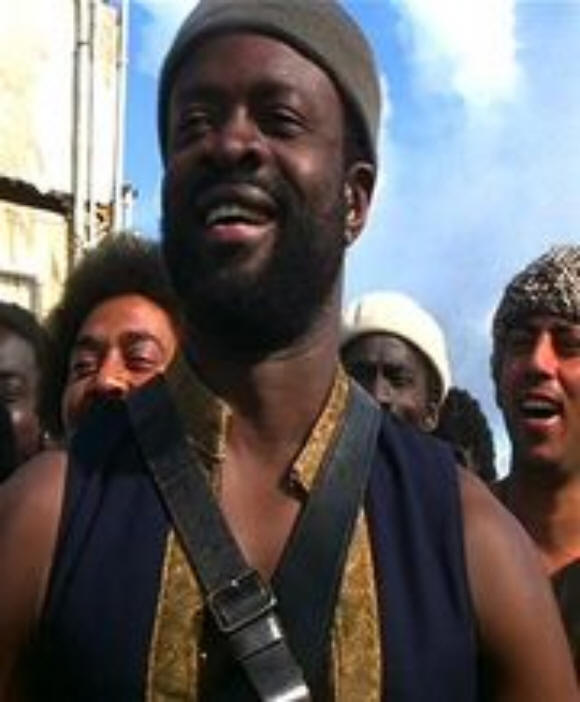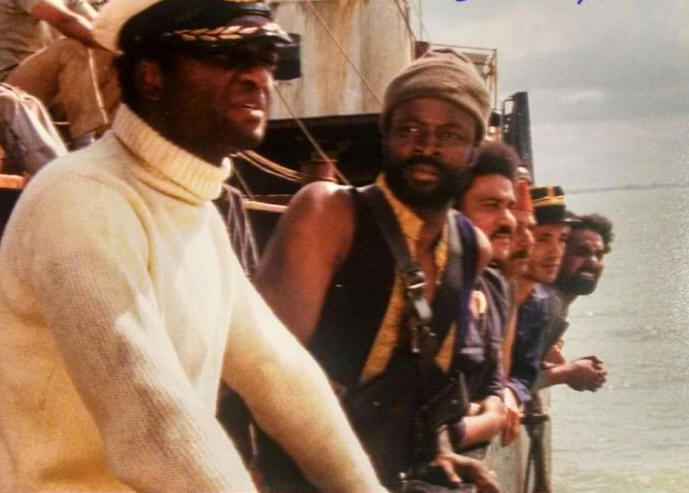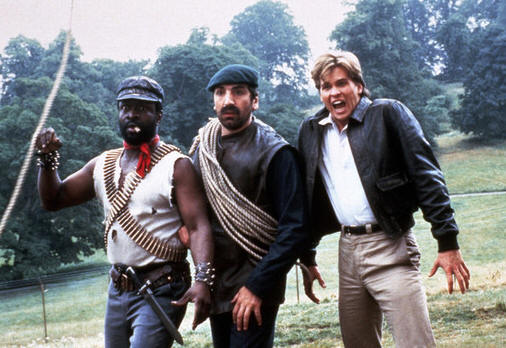 Eddie Tagoe is a Ghanaian actor best known in the U.K. for playing "Presuming Ed" in the 1987 film production of Withnail and I, a role which he resumed in 2000 in a stage
production of the same work. Internationally, he may be better recognized for his brief appearance in the 1981 hit movie, Raiders of the Lost Ark. Billed only as the "Messenger Pirate",
his character was sent to find Indiana Jones in advance of Nazis boarding the ship on which Jones was travelling. Initially unable to find Jones, he was instructed by the captain to look again,
and immediately replied, "I found him!", pointing to Jones swimming to the Nazi submarine.
Tagoe had a significantly larger part in his film debut, Who Is Killing the Great Chefs of Europe? (1978), and as "Chocolate Mousse" in the 1984 farce, Top Secret!. He appeared
in various other roles such as Sgt. Gwambe in Baby: Secret of the Lost Legend (1985), as well as The Dogs of War (1980), Pink Floyd The Wall (1982) and Spaghetti House (1982).
Tagoe also appeared in episodes of a number of British television series, including Legacy of Murder, Prospects, and The Bill, becoming "a well-known face on British television as an actor".
The son of Ghanaian Chieftain Asafoatshe Ayah Tagoe, Eddie Tagoe travelled to London to study reflexology prior to pursuing acting. He then received a grant from the government
of Ghana to study at the Royal Academy of Dramatic Art in London. In 1995, however, he returned to his reflexology career when he was recruited to serve as team
reflexologist for Newcastle United F.C. Click here for the movie database
Ling Tai
Lotus, 1 episode, 1988. Episode 21, 'Lotus' - plays Lotus, a Chinese traveller who offers Tell the mystery of gun powder to help him free his people from tyranny. Ling Tai played Shou
Yuing in the Doctor Who (1963) television story Battlefield. She also had uncredited roles as a tourist in The Leisure Hive (DWM 191) and a Seabase crewman in Warriors of the Deep.
(DWM and La stella che non c'è (2006) Outside of Doctor Who, she is perhaps best known for playing Lily in Spatz. (1990). Ling Tai was abandoned as a baby on a Hong Kong street.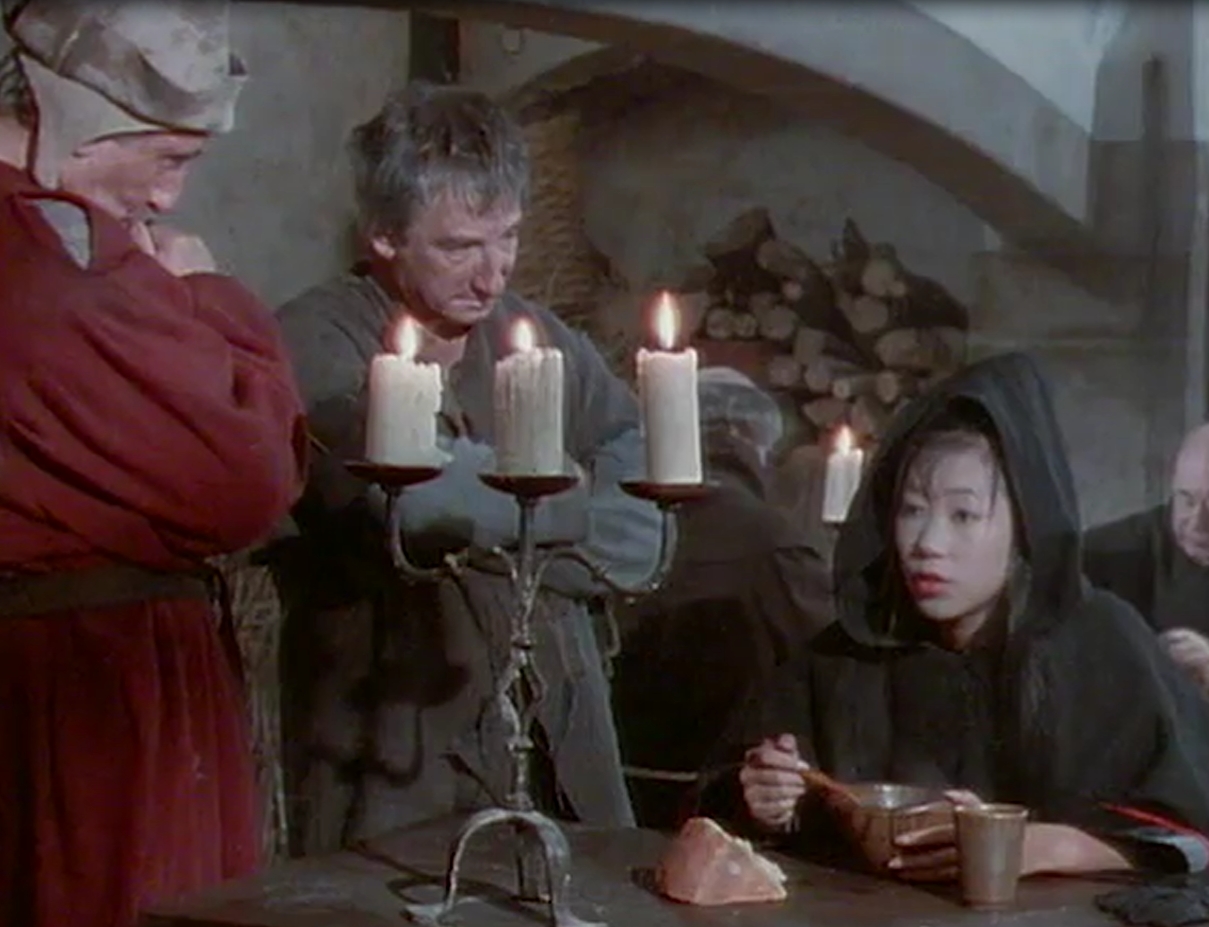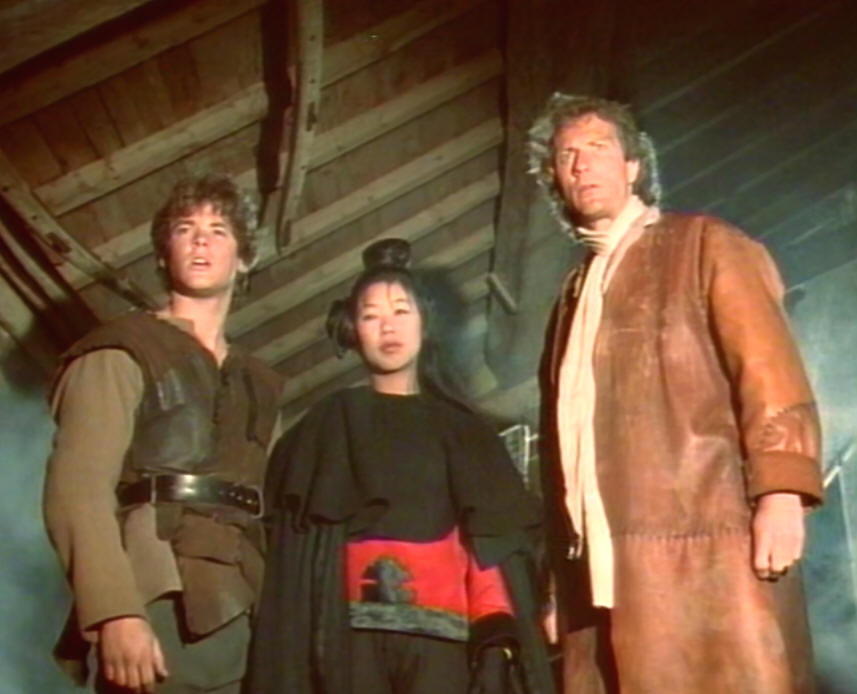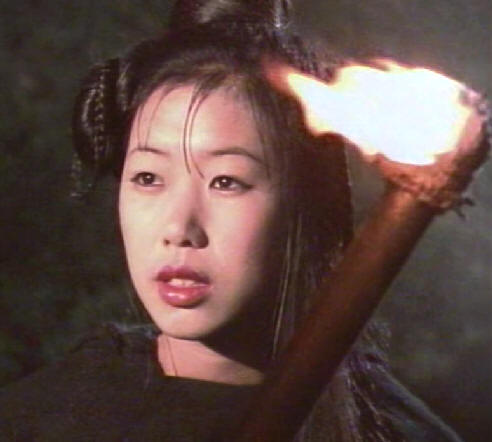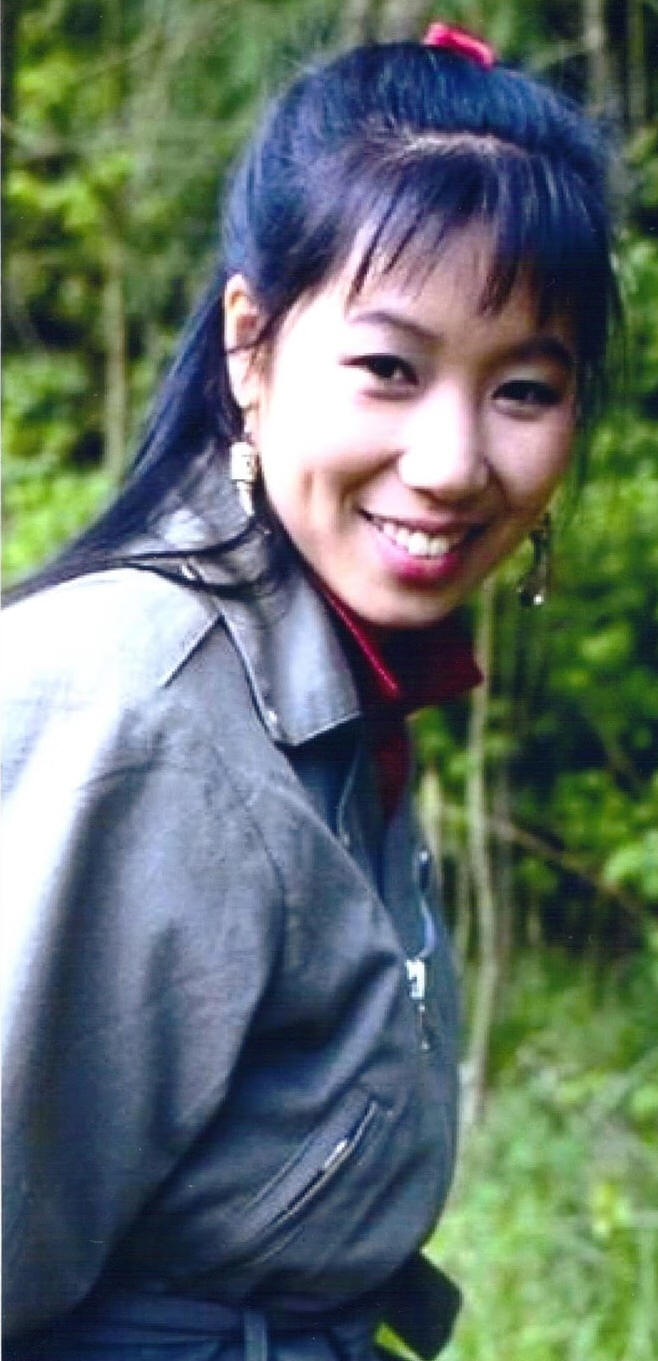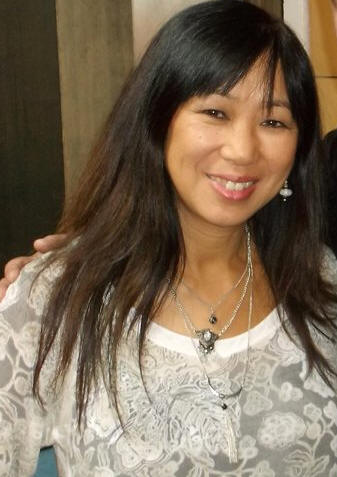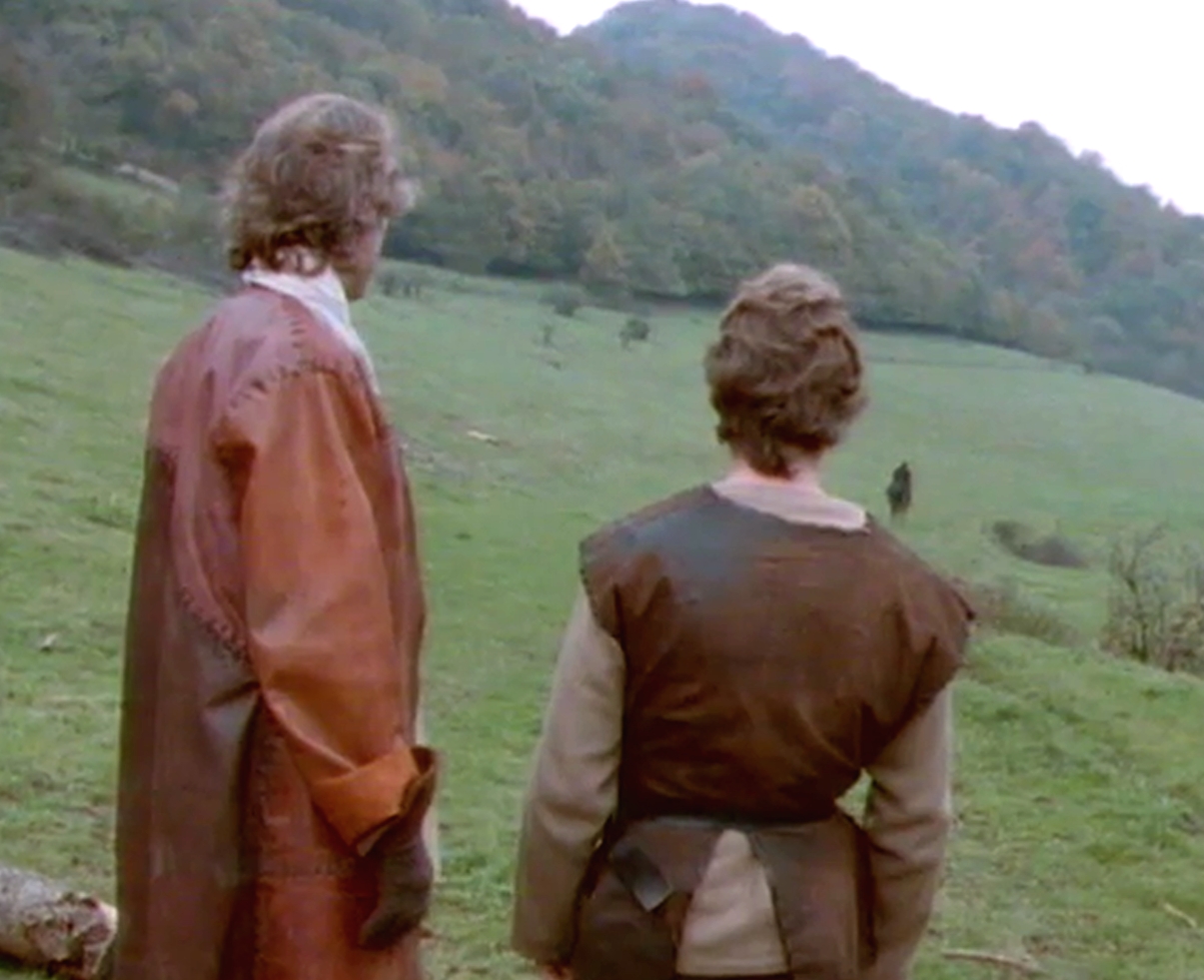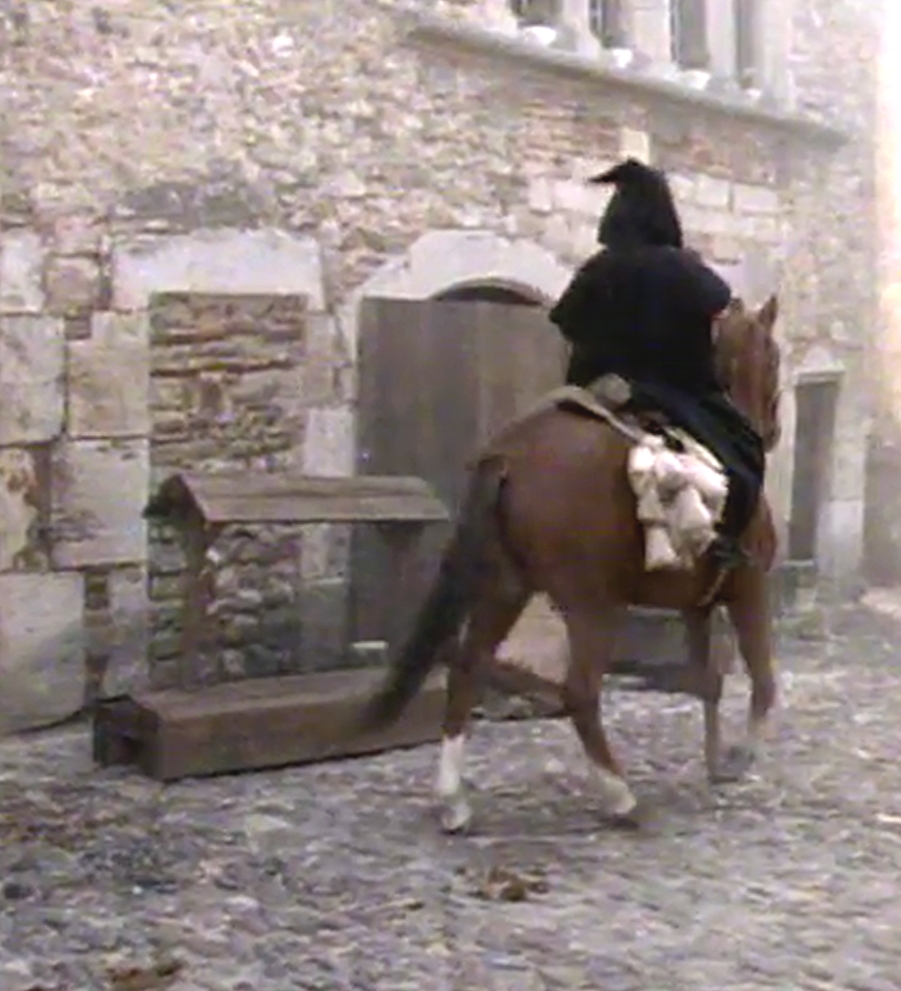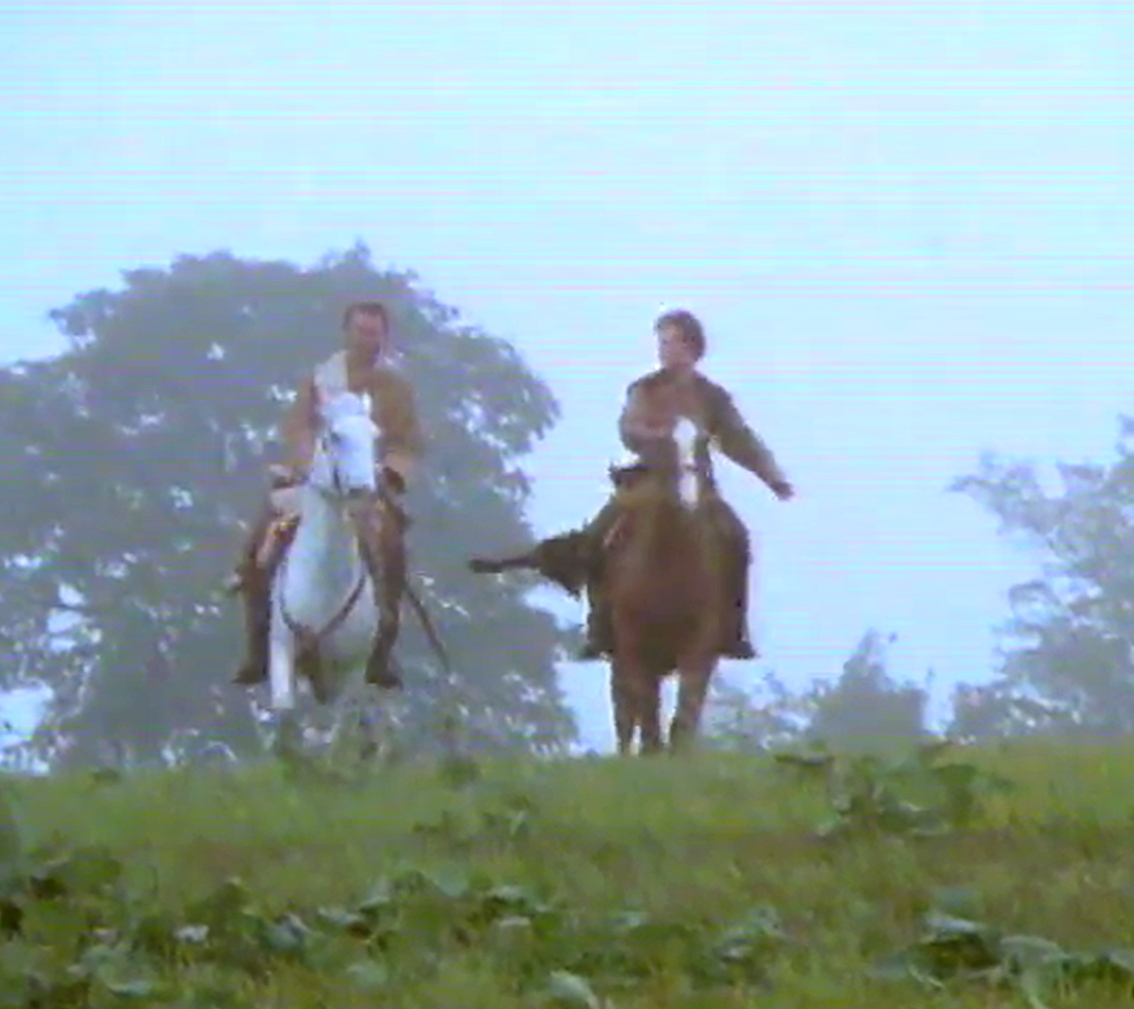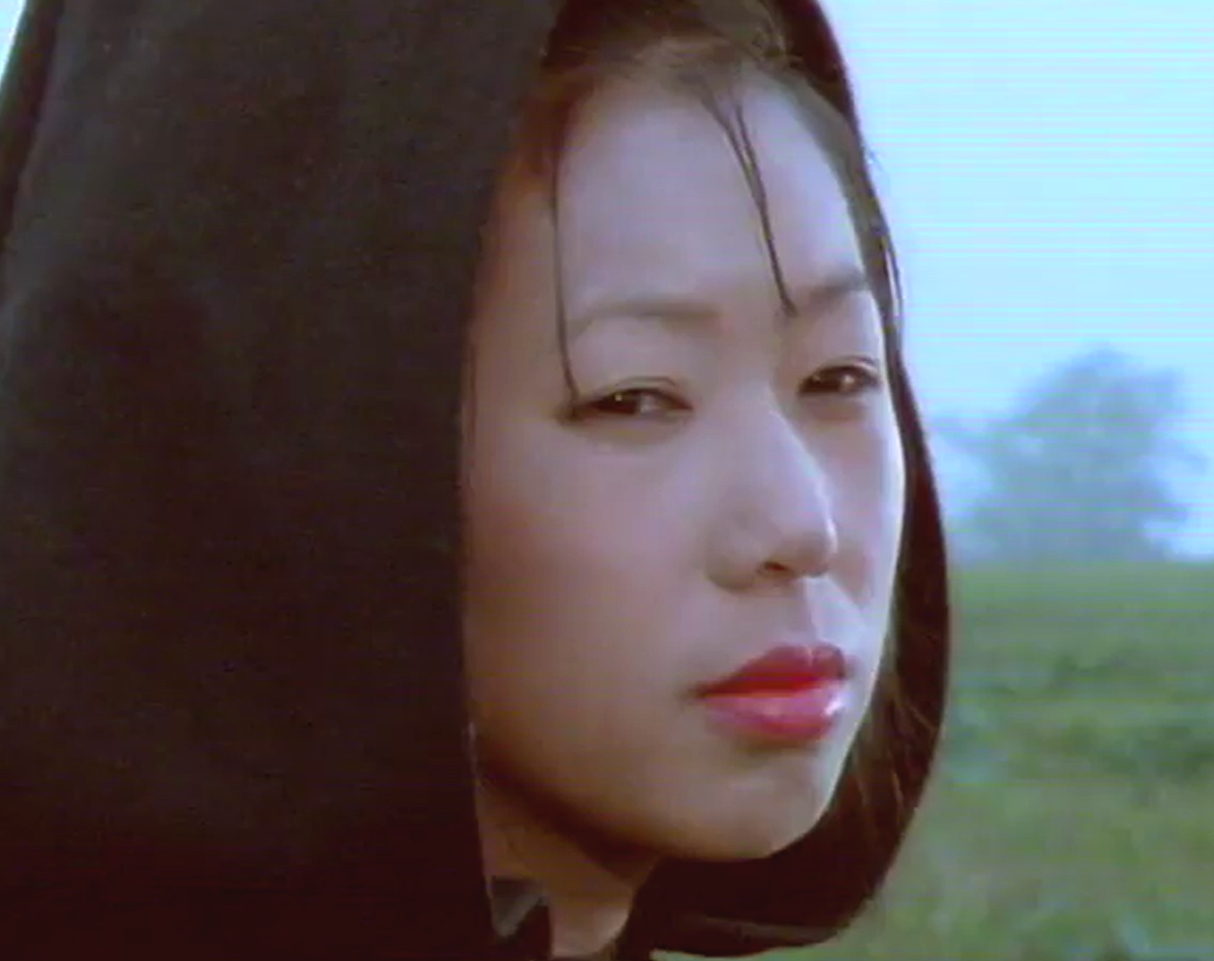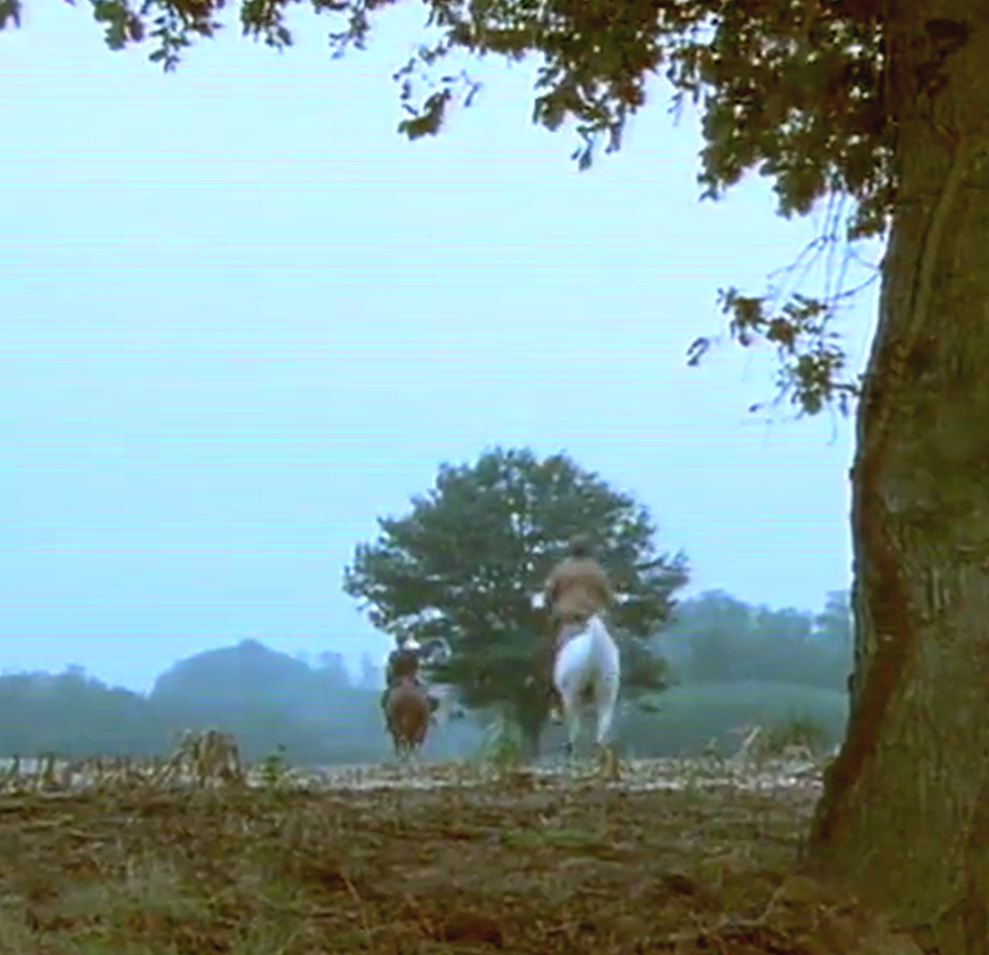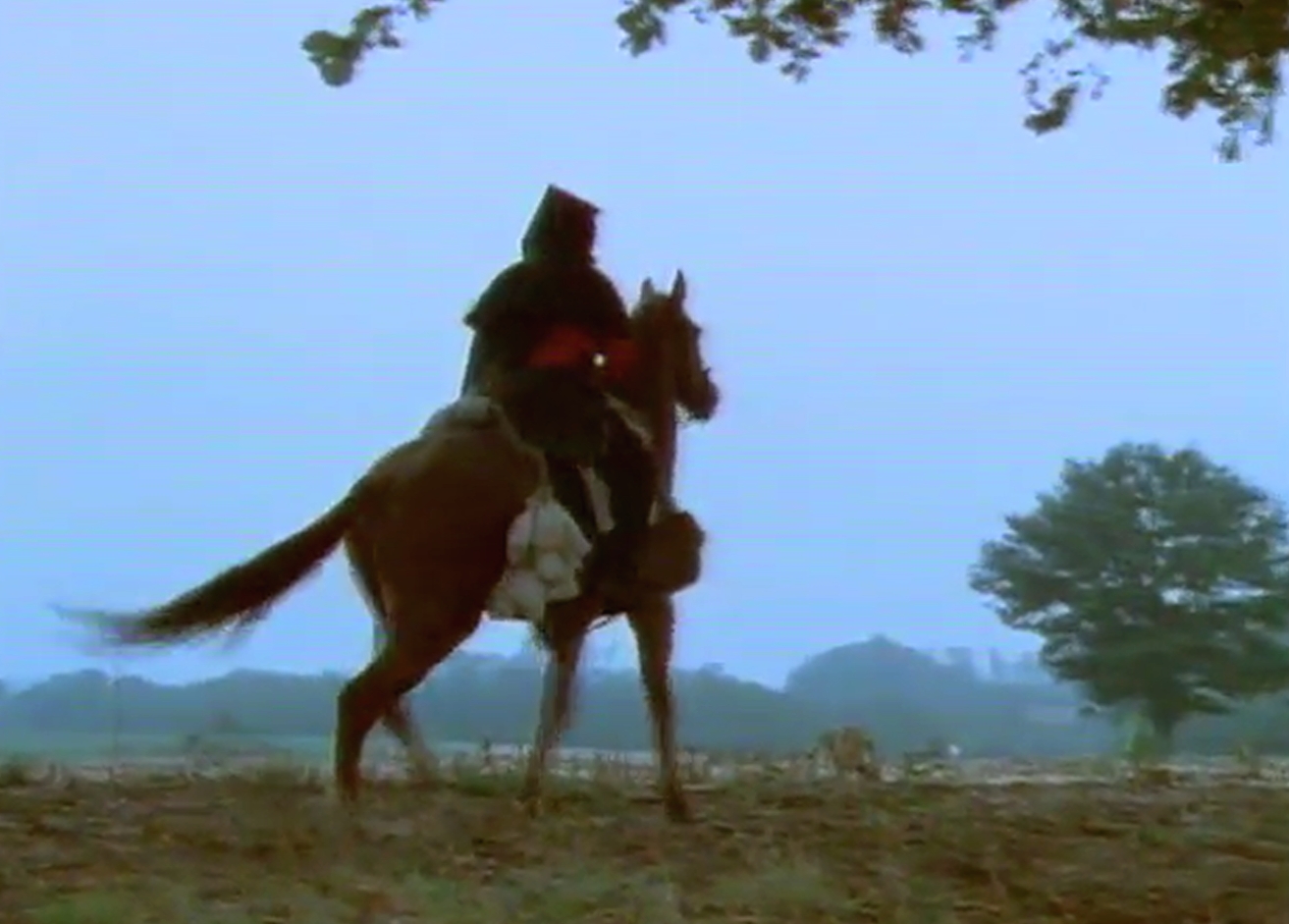 Philip in Crossbow as Gorian The Spider. Episode 59, 'Gorian the Spider' - as Gorian, a lonely spider like man, who watches over a young girl from his web filled castle.
Born in 1960 in Singapore, Height: 5 '7 "(1.70 m). Mini bio: Phil Tan was born in Singapore where he spent his childhood and then moved to the UK. Phil started off his athletic career
as a gymnast where he became British Youth Tumbling champion and a British squad for many years. Years later after getting into martial arts, Phil also became the Men's British
Tae Kwon do Champion. Phil's first break in film was as an actor and fight choreographer in a movie called The Devil's Conspiracy of Dr. Fu Manchu (1980) with Peter Sellers. Afer that
came a year on Greystoke: The Legend of Tarzan, Lord of the Apes (1984), also as an actor and trainer for Christopher Lambert. Phil was then contacted by Steven Spielberg and Robert
Watts to train the pricipal actor 'Jonathan Ke Quanin' for Indiana Jones and the Temple of Doom (1984). He was then invited to become a member of the British Stunt Register in 1986.
That was the start of Phil's stunt career. Now Philip Tan lives in LA and works as a 2nd Unit Director, stunt and fight co-ordinator on some of Hollywood's bigget movies.
IMDb Mini Biography By: Philip Tan. He went to the University of New York and majored in Economics.
In 1980, he was in his first movie as an actor and stunt coordinator. In 1986, he became a member of the British Stunt Register. Now he is a world famous stuntman, actor, and
choreographer and can be seen in movies such as Bloodsport 2 (1996), Martial Law (1998), Showdown in Little Tokyo (1991), and Lethal Weapon 4 (1998). Is an expert in such martial
arts as Tae Kwon Do, including Thai Boxing and classic boxing. Father of Lewis Tan. Click here for all his telvision work.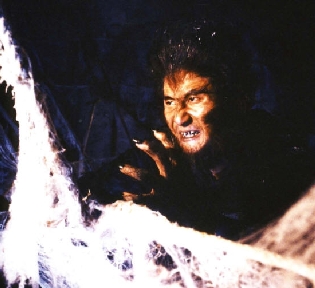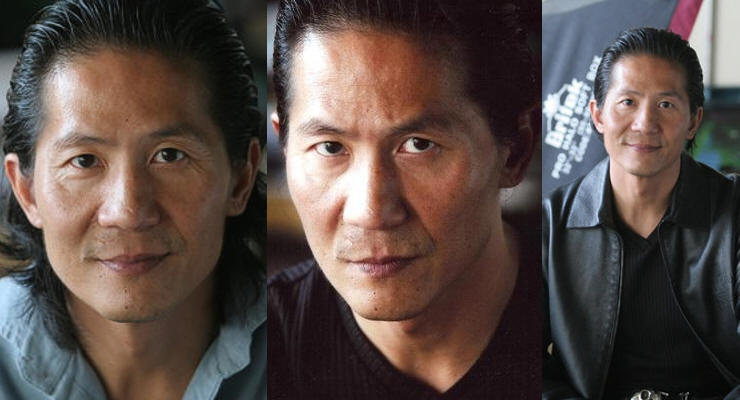 Gilbert Tiberghian
Villager in Birthright.
Gilbert Tiberghien passed away in March 2016 at the age of 66. Co-founder of the TNT Theater Manufacture of shoes in Bordeaux,
he became a comedian and director of the Bordeaux scene, evolving in recent years in his new space, The Place Without Name.
His companionship with the City of Eysines began in the 1980s, when he implanted his company in the town. Gilbert Tiberghien was popular education embodied, like his master Jean Vilar.
In order to pay tribute to this emblematic artist of the cultural life of Eysines, the City has decided to entrust, for the season, a carte blanche to its longtime accomplice, Éric Chevance.
It was at Eysines that Gilbert Tiberghien, who died in March 2016, founded the theater company that bears his name, before participating in the creation of TNT in 1998.
But before that, he had other artistic lives, first in Paris, then in the Bordeaux of the 70s-80s, in direct contact with the political innovations of those disheveled eras.
But before that, he had other artistic lives, first in Paris, then in the Bordeaux of the 70s-80s, (Yes, this is the time Crossbow is filmed in the Dordogne) in direct contact with the
political innovations of those disheveled eras. AGiT, a film by Yvan Blanloeil made with the collaboration of Michelle Ferrière and Guy Lenoir, includes many testimonials from
traveling companions, and brings together archives from these improbable times, outside chronology, following the surrealist method that was "BLT - compagnie of
the day when one plays "in the time of the beautiful nights of Sigma and other sowing of variously fertile lyrics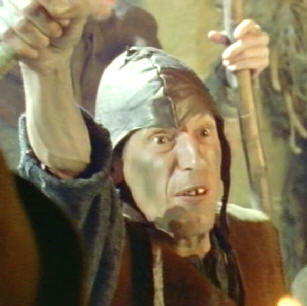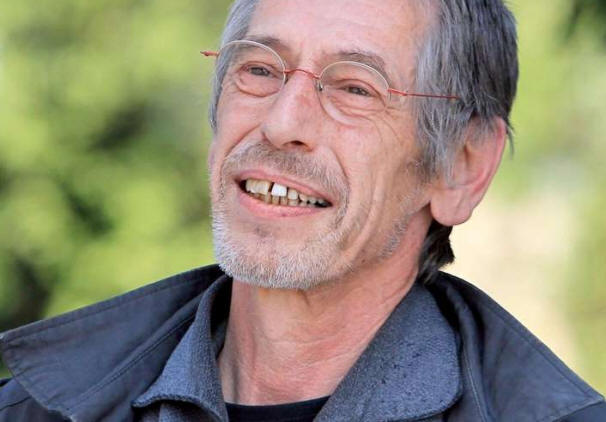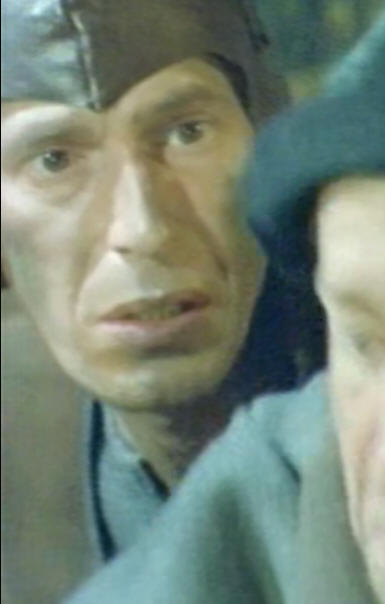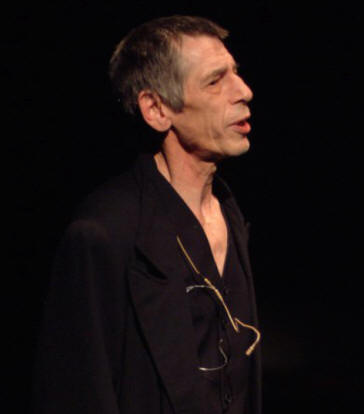 It was not easy to find information about him. This summary I made below is from a collegue and friend posted about him, so we get to know him a little bit.
"Gilbert Tiberghian died Friday morning. Our Tiber left us, Alain Raimond told me on the phone. I do not think so, I do not understand ... I do not want to understand, I'm upset.
"Our Tiber," he said. Yes, he who accompanied us, and for many, preceded us, in multiple theatrical and human adventures. He who, for two days, raises many testimonies of
friendship, recognition, messages often moving, always moved and sincere. It's been part of my story for almost 25 years, when, in the early 90's, I come here. Tiber, for about
fifteen years, had participated in the most singular artistic adventures of Bordeaux, with his comrades of the time, in Lainé Warehouse, in Sigma, and elsewhere ... I will see his shows.
I see him at Eysines, with his team of amateurs, who, for many, in his wake, have become professional. I see it in Avignon with the same, I see energy, youth, beauty, commitment.
The work with the amateurs is for Gilbert essential. One of his salient features is that he is less interested in the skills of those around him than in the people themselves.
The skills, the know-how, we can always acquire them. But the value of beings is in what they are, not in what they know. And of course, in what they do. With him,
we do things, and we learn by doing. We will come back to it.
We still barely know each other when in 1994, with Jean-Luc Terrade, he comes to pick me up to create a place. A "place of manufacture", we said. Again, let's do things,
\let's take action, take control of ourselves. And he offers me my most beautiful professional adventure. To found a theater, a place that will resemble us, will bring
us together, a place where our dreams can emerge! It's a job, it's his job, tirelessly. Whatever his means, he had to unite his world, and build something, a show, a place, a project,
an adventure. Until the end. Until, like Artaud, our Tiber gets up from his chair and leaves the stage.
Cultural actor in Bordeaux since the late 1980s and early 1990s, Eric Chevance is currently teaching in Theater of the University Bordeaux Montaigne. Source here
Jean-Marc Truong
2 episodes, 1987 Sanctuary and Albion in the team of Dantes.
Jean-Marc Truong is an actor, known for Chacun cherche son chat (1996), David Lansky (1989) and Paris selon Moussa (2003)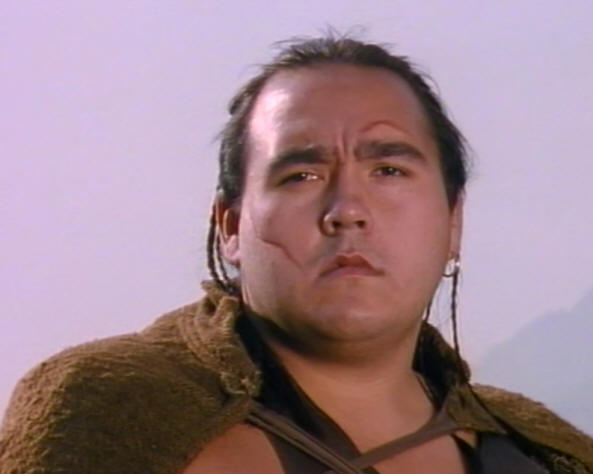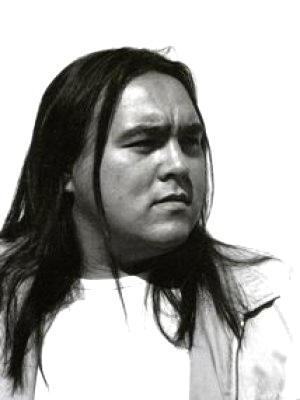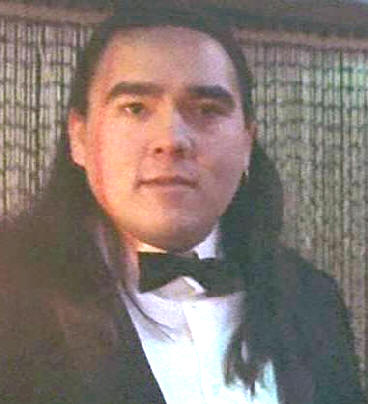 Karen Tungay
In episode 61, 'The Lost City' - as Flavia the last surviving monarch of an empire that has long since fallen. She is an actress,
known for The Hitchhiker (1983), Sharpe's Rifles (1993) and Crossbow, she played Flavia and protected the Tudan empire. (1987).