William Tell - The television history
The first movie with Hans Marr as William Tell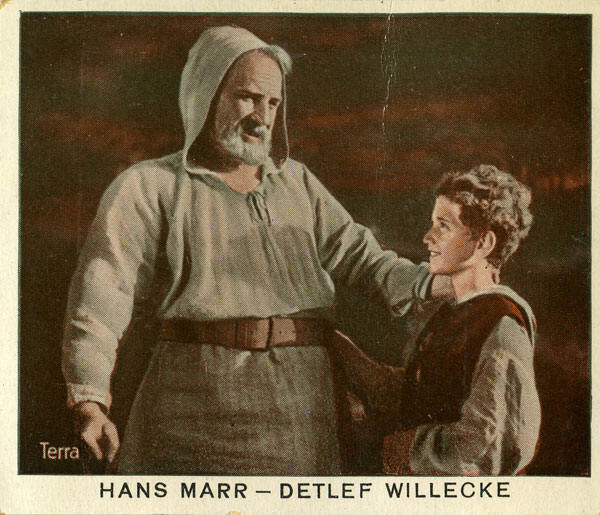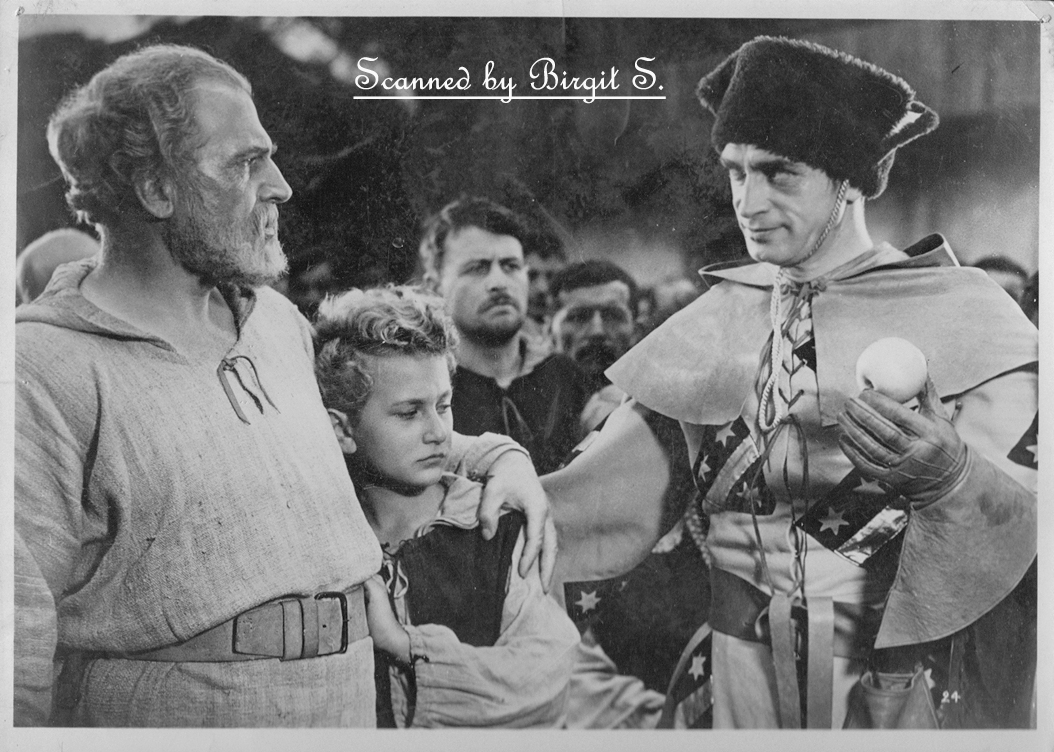 Wilhelm Tell movie in 1934
William Tell (German: Wilhelm Tell) is a 1934 German-Swiss historical film directed by Heinz Paul, produced by Ralph Scotoni, Friedrich Schiller (play) Hanns Johst and Hans Curjel. And starring
Hans Marr, Conrad Veidt and Emmy Göring. It is based on the 1804 play William Tell by Friedrich Schiller about the Swiss folk hero William Tell. It was made in Germany by Terra Film, with a
separate English-language version supervised by Manning Haynes also being released. While working on the film Veidt, who had recently given sympathetic performances of Jews in Jew Suss
(1934) and The Wandering Jew, was detained by the authorities. It was only after pressure from the British Foreign Office that he was eventually released. It is also known by the alternative title
The Legend of William Tell. Running time 99 minutes, released in January 1934. Here you can watch a part of the old and first Wilhelm Tell movie here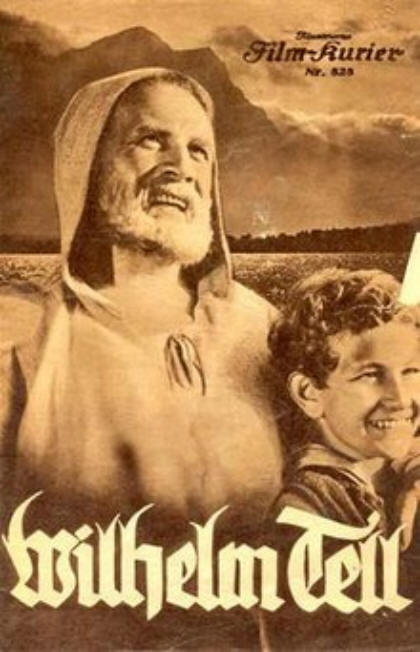 Errol Flynn as William Tell (This film was unfinished and is lost).
The Story of William Tell is an unfinished film about William Tell. It starred and was produced by Errol Flynn. It commenced filming in Italy in 1953 and was meant to be the directorial debut
of Jack Cardiff. It was filmed in Cinemascope. A Ł10,000 model town set was built near Mont Blanc. Flynn decided to produce the film himself with Barry Mahon. He put up approximately
$430,000 of his own money towards the $860,000 budgeted production which started in June 1953. Had the film been completed on time it would have been the first independent movie
filmed in CinemaScope. Actress Vira Silenti was cast as "Mary" but later replaced by Waltraut Haas. Production ceased in September when the project ran out of funds and creditors seized sets
and camera equipment. They also took possession of Errol Flynn's car and furniture.
Flynn had a set built as a model ski resort, (just off Mont Blanc), known for its elaborate location and building designs. The cost of the set's production was so high that by the time Flynn
got shooting he barely had enough money to pay his actors. He could only afford to film 30 minutes worth of footage before having to halt production. He showed the unfinished film at
a few film festivals to try to get some investors interested, though bouts of dysentery kept him in the bathroom, unable to meet with them and discuss a deal. He then attempted
to fake an injury to make an insurance claim, which also blew up in his face. Ultimately, Flynn never got the opportunity to complete his dream project.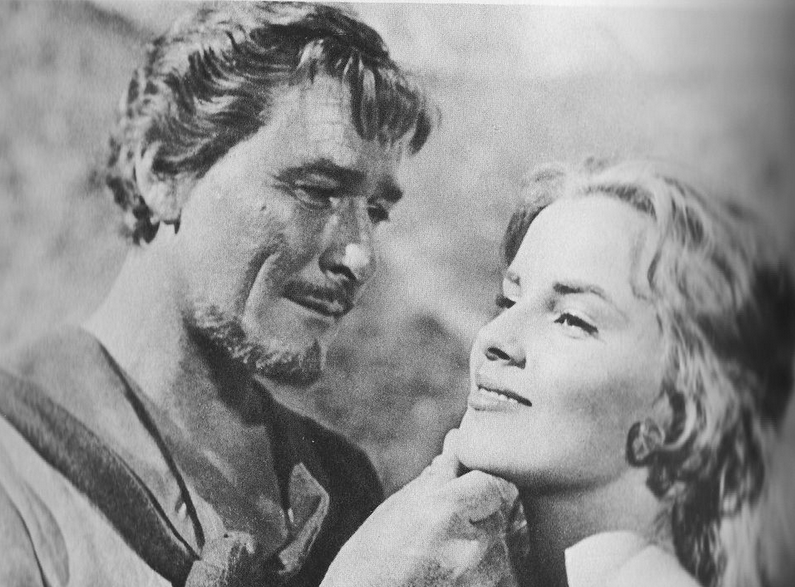 Flynn desperately sought financing to resume production, estimated at around Ł150,000, but failed. In 1956, he claimed he had $340,000 of his own money in the
film and still hoped to finish it in autumn of that year. This did not happen. The film's collapse ruined Flynn financially. He estimated it cost him $400,000 in all.
Impact of the film
A little more than a minute of footage was shown on Turner Classic Movies in the early 1990s as part of a feature on Flynn, but that short clip itself is now lost as well.
Flynn's estate have chosen to remain silent about it. The model ski resort was turned into a real ski resort that uses the film's production to lure tourists in every year, and is still
active today. A little bit over a minute of footage was shown on Turner Classic Movies in the early 90s as part of a feature on Flynn, but the feature itself is now lost as well.
None of the 30 minutes of footage has surfaced and nobody knows where any copies can be found, as Flynn's estates have chosen to remain silent about it. The footage is now
considered entirely lost, with only a single still from the film remaining, as well as a single photograph taken during production. The model ski resort was turned into a real
ski resort that uses the film's production to lure tourists in every year, and is still active today.
Waltraut Haas (middle) was born on June 9, 1927 in Vienna, AustriShe is an actress, known for Im weissen Rössl (1960), Der Bettelstudent (1956) and Der Zigeunerbaron (1954).
Errol Flynn William Tell. His private life was not without scandals, read here Waltraut Haas Bruce Cabot Captain Jost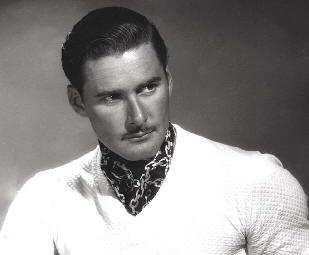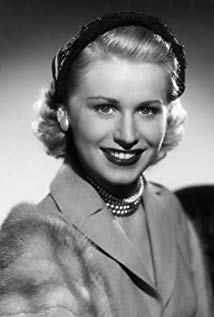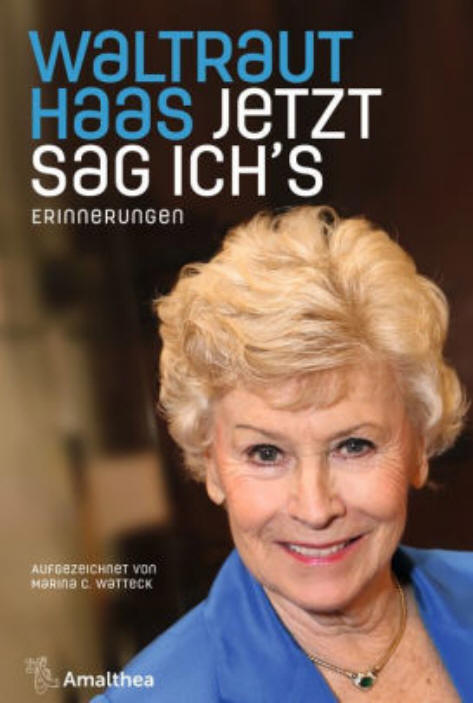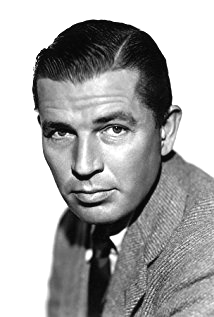 Antonella Lualdi -Anna Walden (left) was born on July 6, 1931 in Beirut, French Mandate for Syria and the Lebanon as Antonietta De Pascale. She is an
actress, known for Le rouge et le noir (1954), La notte brava (1959) and Andrea Chénier (1955). She was previously married to Franco Interlenghi.(right next)
Richt: Franco Interlenghi (29 October 1931 – 10 September 2015) was an Italian actor. For more infor you can click here
The second series with Conrad Phillips as William Tell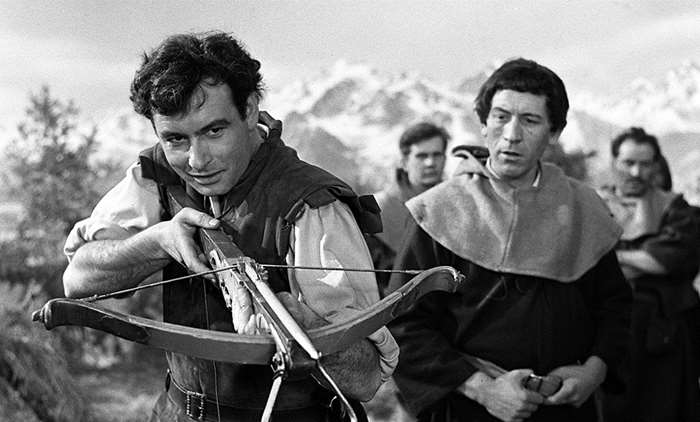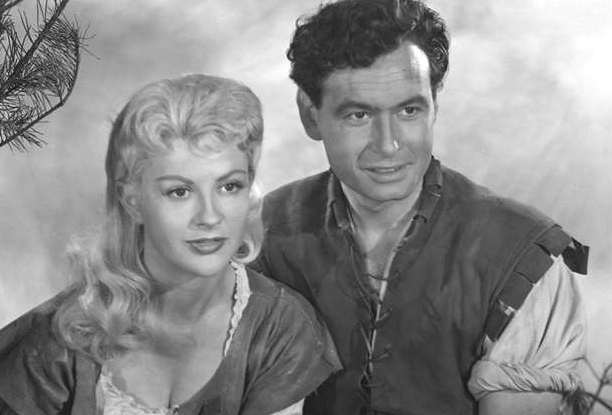 Wilhelm Tell series 1958 and 1959 Production (starring Conrad Philips) notes:
The series was produced by Ralph Smart, who wrote a number of stories for the series. The outdoor scenes were filmed around the mountains and lakes of Snowdonia in the UK. The film base
and make-up were at a small farm in Cwm-Y-Glo in Snowdonia. This is beside Llyn Padarn, a lake which can be seen in many shots (as can cars on the A4086 road on the opposite side of the lake!).
The crew used to walk up the mountain from their base as there was no vehicle access, and brought work for at least three yearly shoots to a tiny corner of North Wales before tourism took off.
An accident early occurred to the star, Conrad Phillips, during filming in Snowdonia. He was asked to keep stepping back until he stepped off a 12-foot drop, injuring his
knee – which led to his retirement from acting. Phillips had to wear support bandages during filming but sometimes forgot, causing him to struggle with some action scenes.
Although all three series had location scenes, the third was more studio based and location scenes were mostly taken from unused and reused stock shots from the first and second series.
A smaller crew went to Wales for this series and more money was saved by shooting without synchronised sound. In the days of enforced demarcation, this saved several technicians' wages.
Though in some ways the same as The Adventures of Robin Hood, a brave bowman fighting against a tyrant, this was a harder show with crossbow bolts killing people and Tell fighting
hand-to-hand, which often resulted in the death of the bad guy. The full credits pf Mr. Conrad Phillips you can click here
The William Tell in the first series and second movie! Is starred also in Crossbow as Tell's mentor. Here Mr. Philips
is invited to visite the Swiss Wilhelm Tell locations. Very nice to watch! Conrad Phillips's Swiss Tell adventure you can click here
---------------------------------
This is a stunning Youtube story, you see actor Conrad Philips (starring in the first series in 1958 and 1959 as William Tell and in the second as Tell's mentor) Conrad has visited all the
places where Wilhelm Tell used to live once. You can click here for the nice video with Conrad! Conrad Phillips unfortunatley died at the age of 90. he and his wife wrote a biography
'Aiming True.' Here for sale: You can click here for his biography and here for a story.
Jenny (Skeoch) and Conrad (Aiming true) wrote a biography Conrad Phillips during his visit in Swiss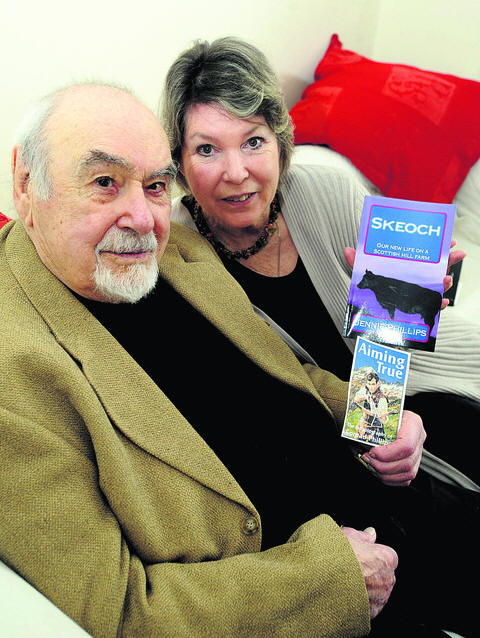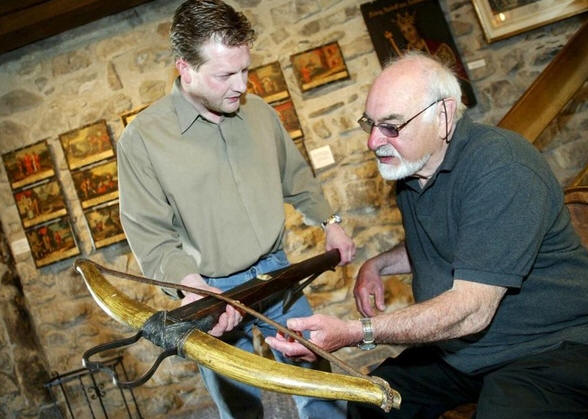 Merchandise of the William Tell series 1958 / 1959
Below the book (But there is a lot of small old (post)cards, spoons, buiscuit cans for sale. It's impossible to show them all.)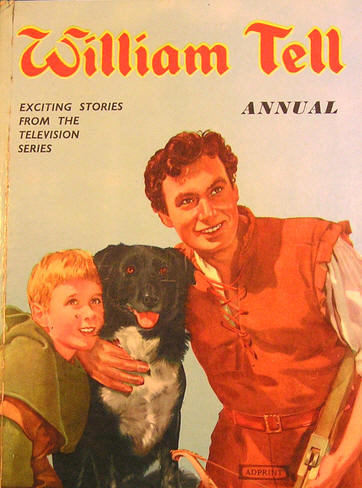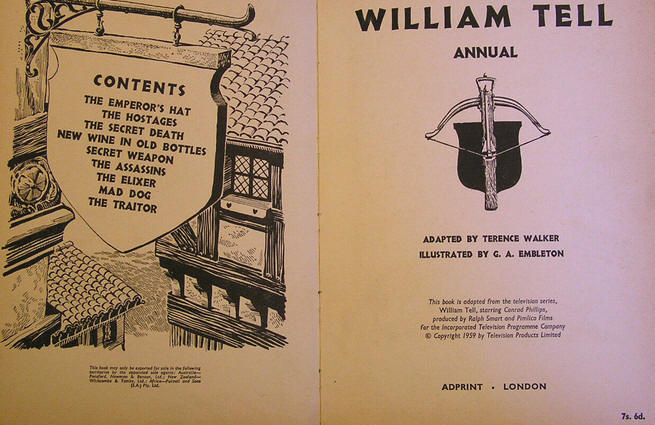 This book has beautiful old illustrations.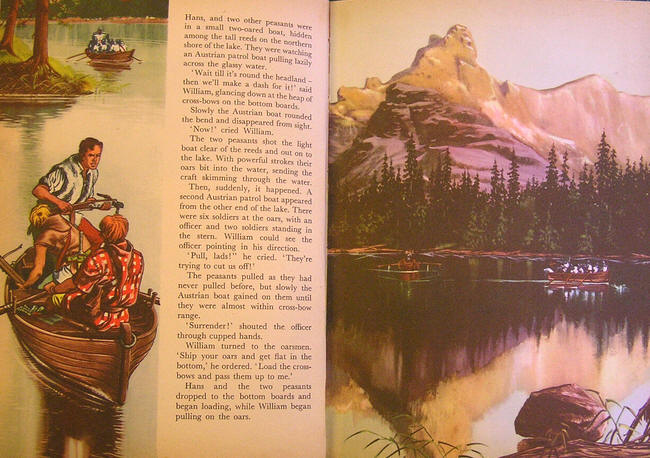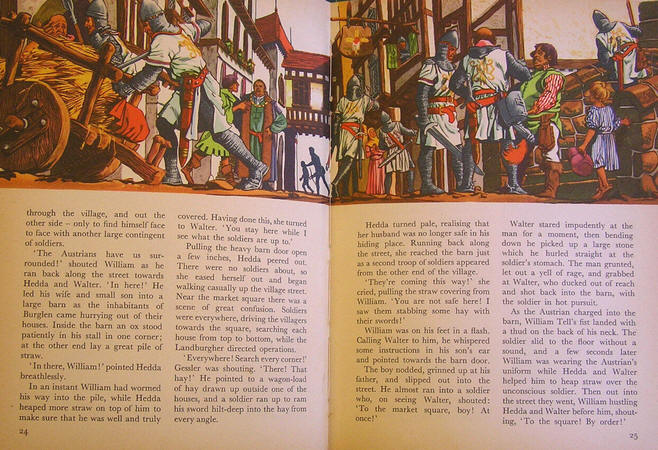 The series on dvd starring Conrad Phillips
Conrad Phillips stars in the classic 1950s action adventure series - William Tell. Set in the fourteenth century during the hostile Austrian occupation
of Switzerland, William Tell is a reluctant freedom fighter, battling heroically against the tyranny and oppression of the invading forces. William Tell is
the Swiss version of Robin Hood, and presented here is the entire series of 39 action-packed episodes of this classic action show.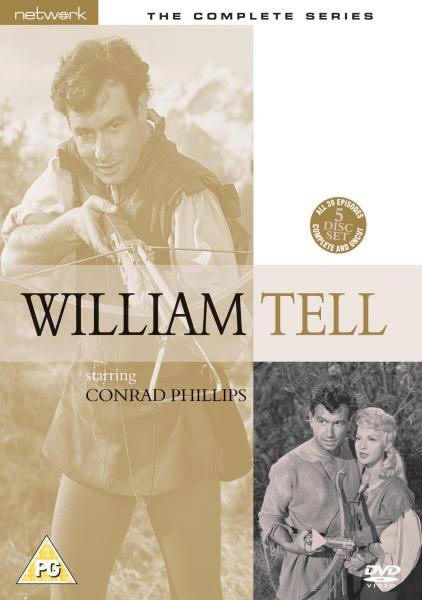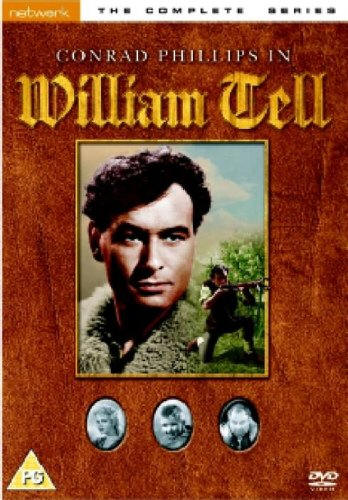 Disc 1 The Emperor's Hat. The Hostages. Secret Death. The Gauntlet Of St. Gerhardt. The Prisoner. Voice In The Night. The Assassins. The Baroness.
Disc 2 The Elixir. The Suspect. The Cuckoo. The Bear. The Magic Powder. The Golden Wheel. The Bride. The Boy Slaves.
Disc 3 The Young Widow. Landslide. The Trap. The Shrew. The Manhunt. The Killer. The Surgeon. The Ensign.
Disc 4 The Unwelcome Stranger. The Avenger. The Bandit. Geesler's Daughter. The General's Daughter. The Raid. Castle Of Fear. The Black Brothers.
Disc 5 The Lost Letter. Secret Weapon. The Master Spy. The Traitor. The Spider. The Mountain People. Undercover.
Actors: Nigel Green, Jennifer Jayne, Phillips, Conrad, Richard Rogers, Willoughby Goddard
Three nice recencies of these dvd box:
Review source: from ebay.com 11 april 2010
I purchased The William Tell series on DVD as I remember it from childhood memories and I'm very fond of vintage npstalgia, hoever like most things when you are a child, it
all seemed much more fantastic then! On reviewing it and remembering some pieces of the series and, specially the glutunous baron who opposed William Tell, the notorious
landberger Gessler, it raised a smile or two. The storyline is basic and as usual the enemy soldiers are seen as a bit stupid and blundering and the hero Tell always wins. The landscape
that is meant tobe Switserland is filmed in the mountainous region of Wales, but these type of series were indeed done on a budget, not having the tech, that is available now. I would buy it again!
Fond memories, great music theme. Do watch it and enjoy!
--------------------------------------
"I was thrilled to see this series come up on E-Bay. Considering this series is around 50 years old, the reproduction onto DVD is quite amazing. Obviously, in black and white, but comes over on screen
as very, very good. It's good to see the fighting etc. now so obviously fake, compared with today's computer generated films etc. The sound track is just as fantastic as it was all that time
ago, sung by David Whitfield, then I would say that wouldn't I as it is one of my all time favourites. All in all, this is a must have for anybodys collection of golden oldies, presented in a lovely
case with Conrad Phillips on the front as the very dashing William Tell. Bronnti."
--------------------------------------
"I really liked the william tell box set as it brings back very happy child hood memories when the series was first broadcast on bbc when I was about 12 or 14 so you could say I loved it in a sentimental
way ,and the quality was more than excellent ,just as if i was watching original ,and being true black and white with no color tinge at all made it all the more a good buy .i had tried to get this in past but
could only get it in region 1 so you can imagine my delight when it came out in e-bay in region 2 europe format. Im sure that I like many others of a certain age would like to see more of the late
fifties through to the end of the sixties tv series including the lone ranger etc. Do hope this is of interest to e-bay and anyone else . Yours R. John Darrell Gregg 64 but young at heart."
The third movie and series is Crossbow!
Will Lyman as William Tell, Crossbow 1986 - 1987
A real plus to combine actor Conrad Phillips (the Tell of the second movie) as William Tell's mentor in Crossbow.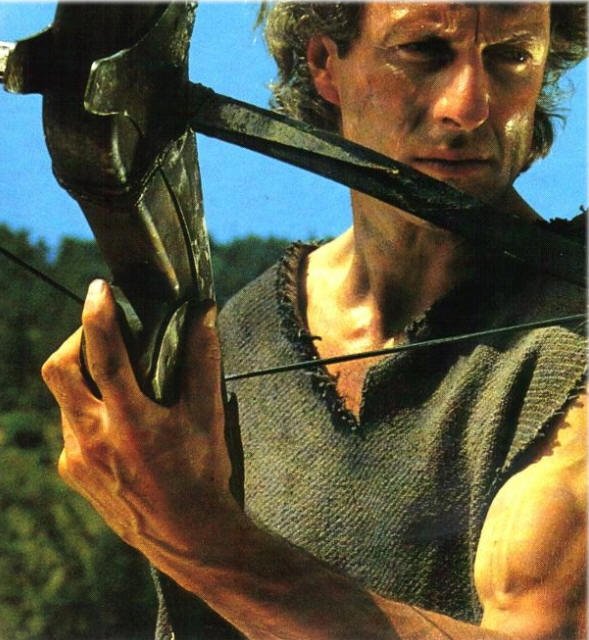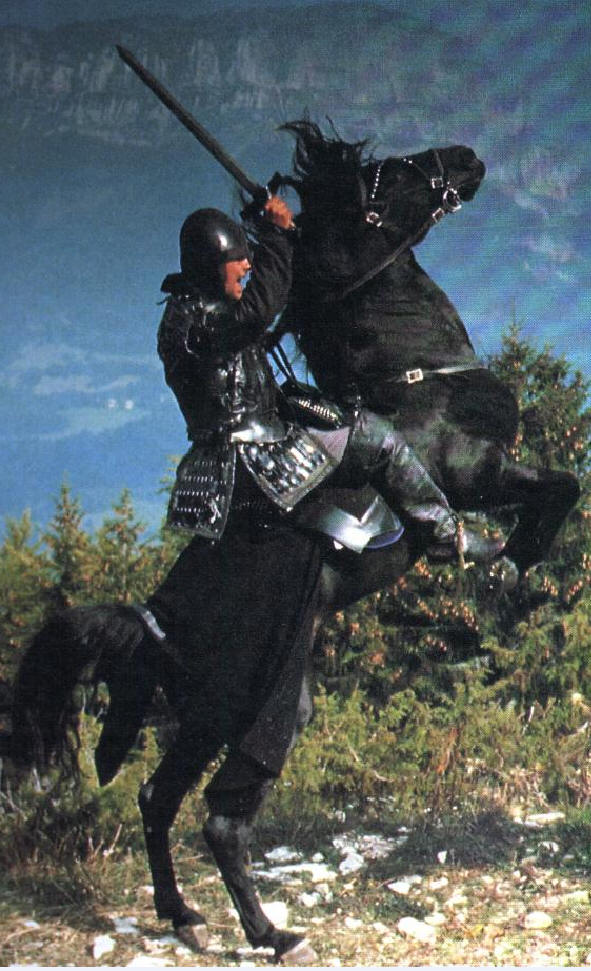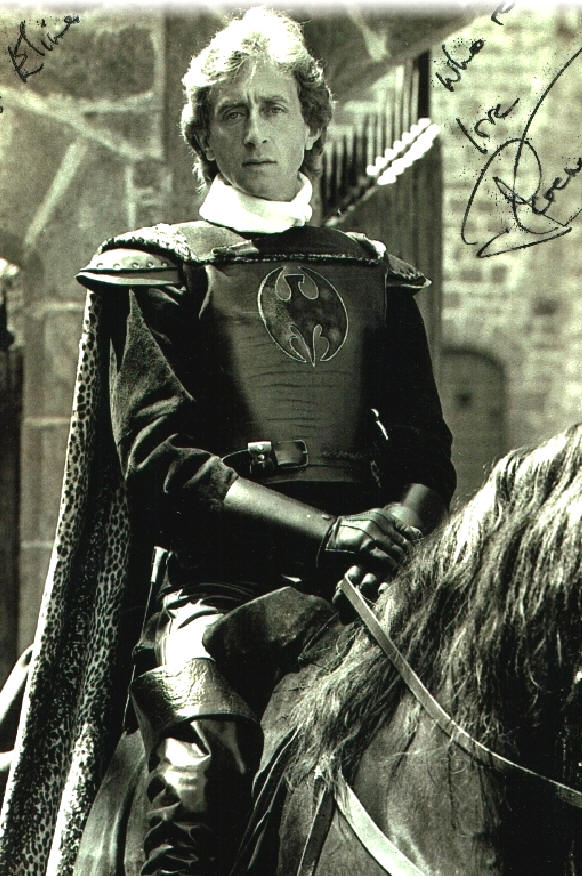 (Crossbow the Movie is a combination of episode 1, 2, 18, 19, 20. Starring Will Lyman as William Tell)
To his homeland - suffering under the yoke of cruel and oppressive empire - he is a symbol of hope. The Crossbow and the apple have become a flag of freedom. To the
Emperor he is a dangerous spark that must be extinguished before it can be become a flame. To the resistance he is a figurehead, a powerful ally if they can only persuade
him to adopt their cause. To Gessler, the man who creates him, he is Nemesis. Gessler pushed him beyond the limits of human endurance...and now he is back for revenge.
To the woman who love him he is an enigma. He rides alone, searching for a son he may have killed. William Tell A reluctant hero. A man forced to become a legend.
Crossbow 1987 - 1989 season 2 and 3
William Tell continues to fight injustice and crualty wherever he finds it. his travels throughout the Empire take him to new and strange places where he finds that
the same, simple rule applies: that man was born free, and that must remain free. But the enemies of people are legion, and Tell and Tell must redouble his afforts
to aid those who are oppressed by Gessler's tyranny to overthrow his vicious Black Knights by standing up for themselves and fithing for their family.
| | |
| --- | --- |
| Cast and characters | Guest appearances |
Alternative names of Crossbow abroad
De Kruisboog / Willem Tell (Belgium and The Netherlands - BRT Veronica)

Crossbow: As aventuras de Guilherme Tell (Brazil)

Кралят на Арбалета (Bulgaria)

Kusza (Poland)

Ballesta (Catalonia)

La ballesta: Las Aventuras de Guillermo Tell (Latin America)

گیوم تل (Iran)
It took a long time before Crossbow came on dvd. First the movie came out (left below), Then the series in French language only and later finally the 72 series on dvd in English!
(the pictures below: middle and right) It stroke me the left dvd (the movie) is totally photoshopped. Princess Irena doesn't look like her anymore, she never wore that dress, the castle in
the back looks like a castle of the Cathars, more in the Pyrenees mountains south. There are a few soldiers in Crossbow but never on a brown horse. Tell never wore such an outfit and the
Crossbow seems a replica drawning. They would probably make it look more attractive, but here elements doesn't suit on the series. The other dvd are all with the original looks.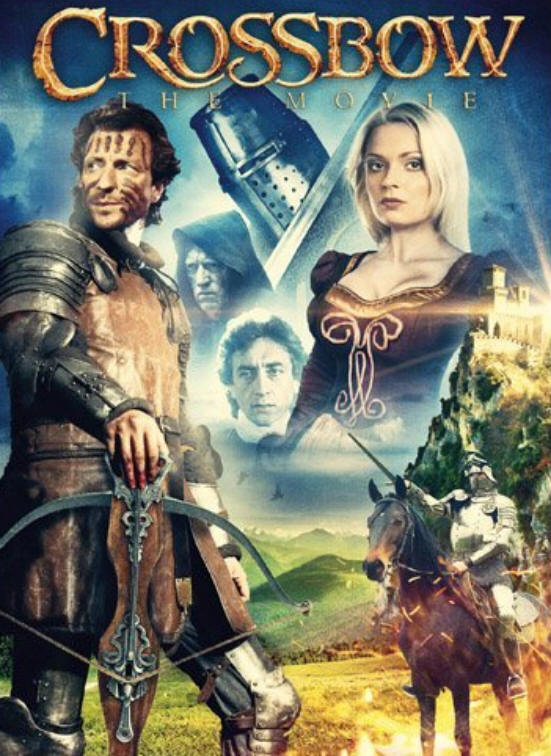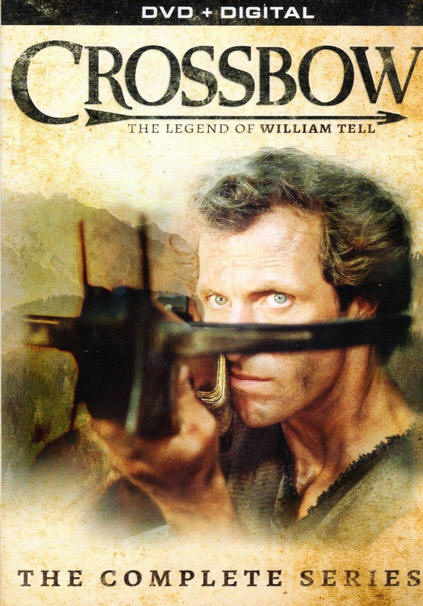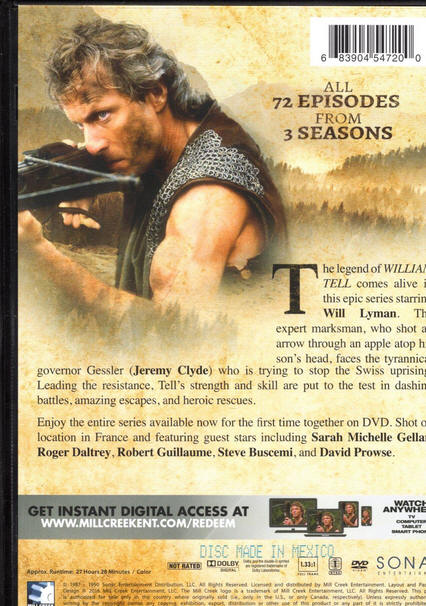 The publisher of the series on dvd is Milcreek. For sale at Amazon, you can click here 11.99 Via the episodeguide, there is made a link to Youtube. Until 2018 there was
no possibility for people to watch Crossbow back. I received many reactions from people who asked me when the series came on DVD in English. This finally happened around 2018!
The quality of the Youtube links is bad. It just for the impression. Long ago people have put them from VHS on Youtube, because there was no dvd release.
Now they are brought out on dvd you better buy the series. There are no copies made on because of the copyright. The new dvd is of good quality and not expensive for 72 episodes.
Merchandise of Crossbow:
Below (left and middle) Atari game of Crossbow and at the right: dvd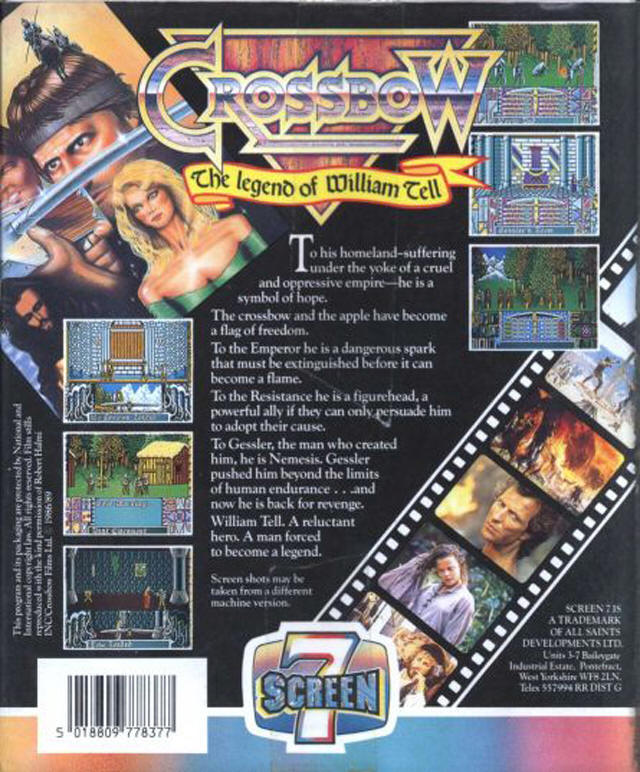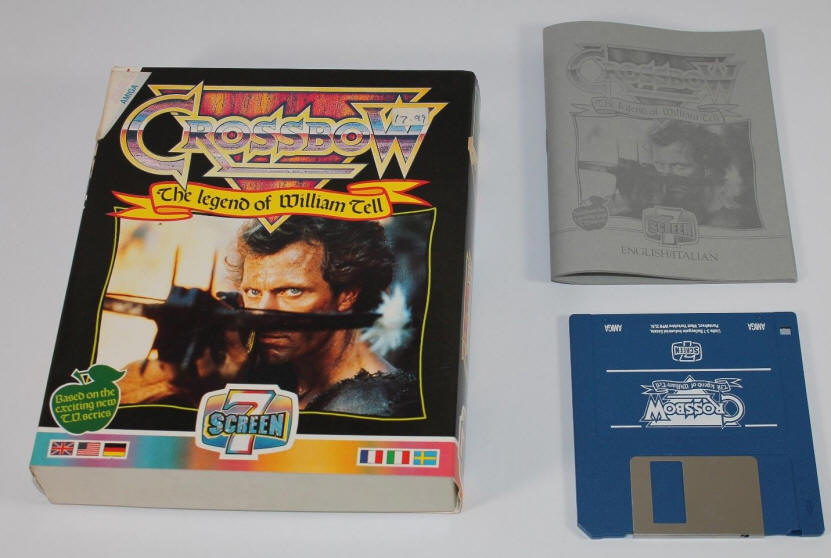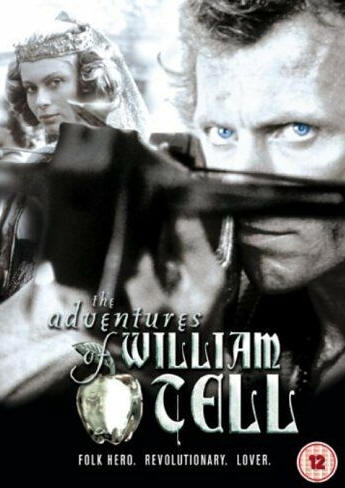 Soundtrack album (cd)
In the middle the soundtrack LP. They have the same tracks on it. You can see one row below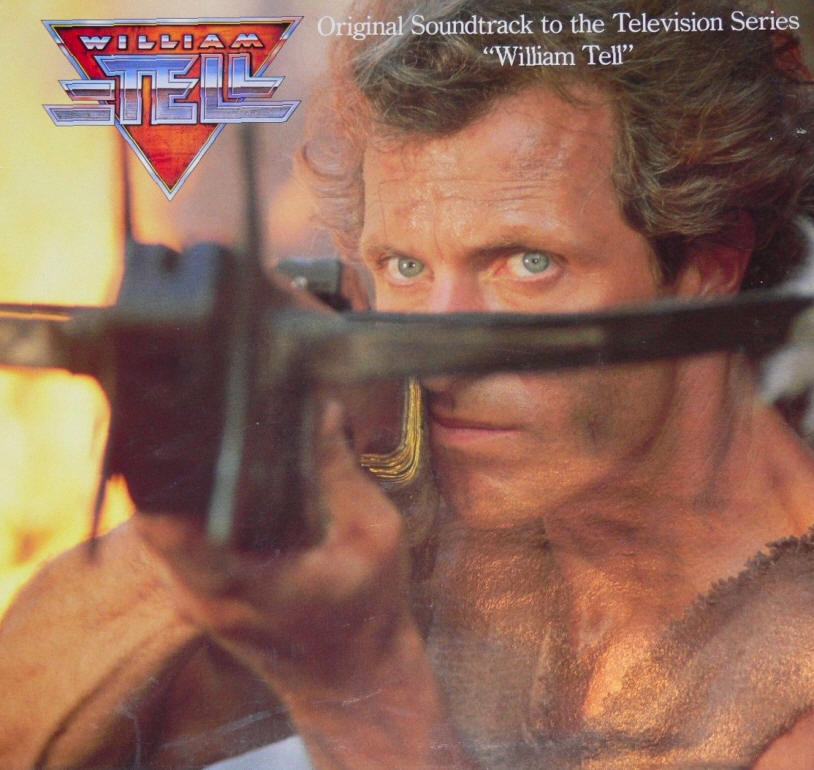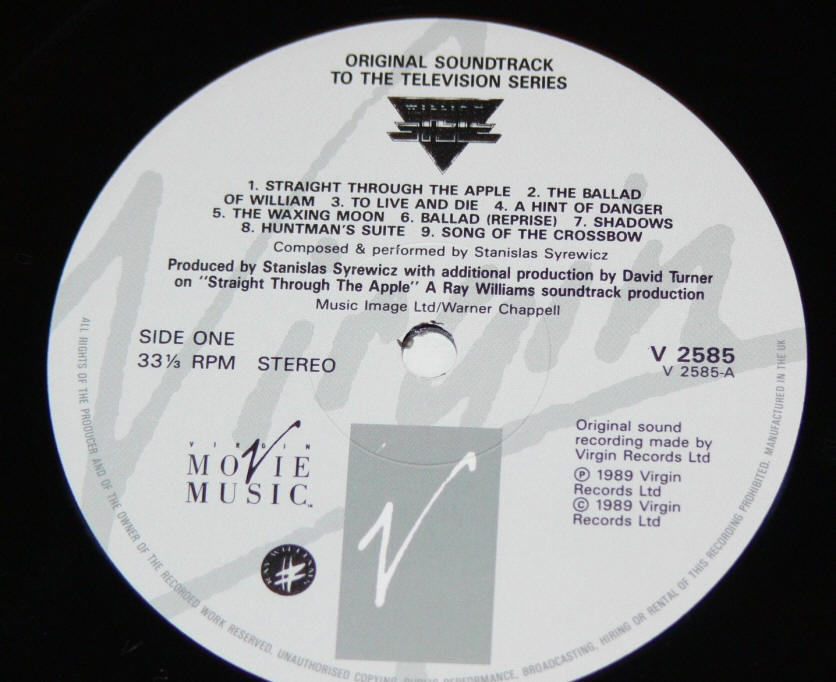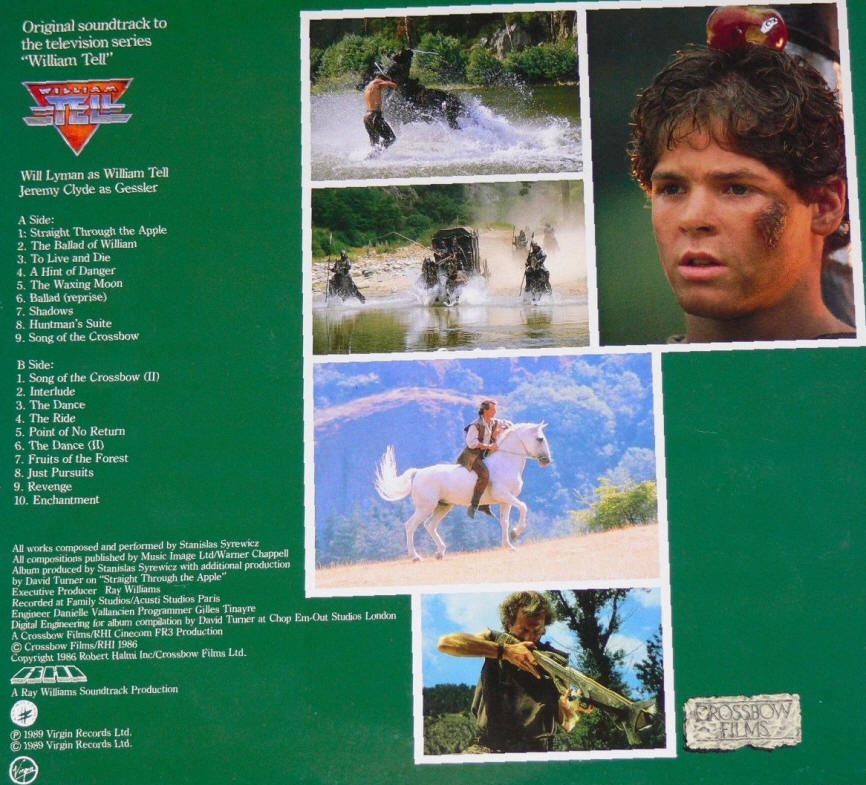 1. Straight Through the Apple 3:47 2.The Ballad of William 2:51 3.To Live and Die 2:52 4.A Hint of Danger 3:05 5.The Waxing Moon 1:31 6.Ballad (reprise) 1:17 7.Shadows 3:10
8.Huntman's Suite 2:01 9.Song of the Crossbow 0:49 10.Interlude 0:26 11.The Dance 1:58 12.The Ride 2:49 13.Point of No Return 3:18 14.The Dance (II) 2:01
15.Fruits of the Forest 1:33 16.Just Pursuit 2:38 17.Revenge 1:39 18.Enchantment 2:25 Total: 40:10
Comics
A number of comic books have been published
Marvel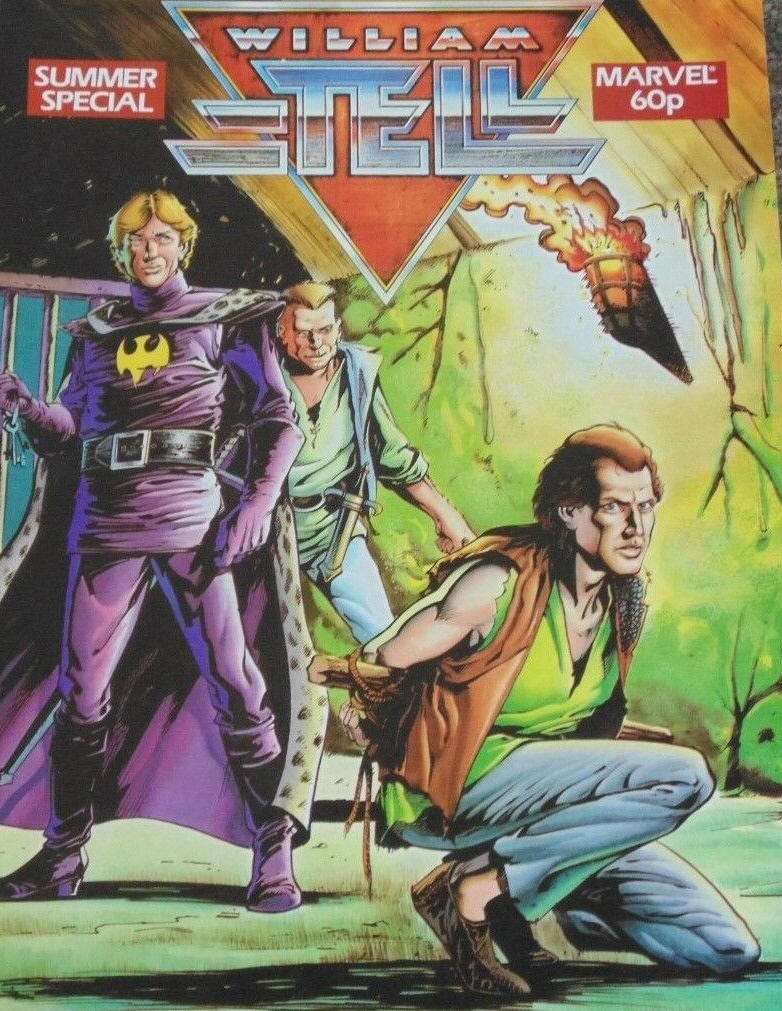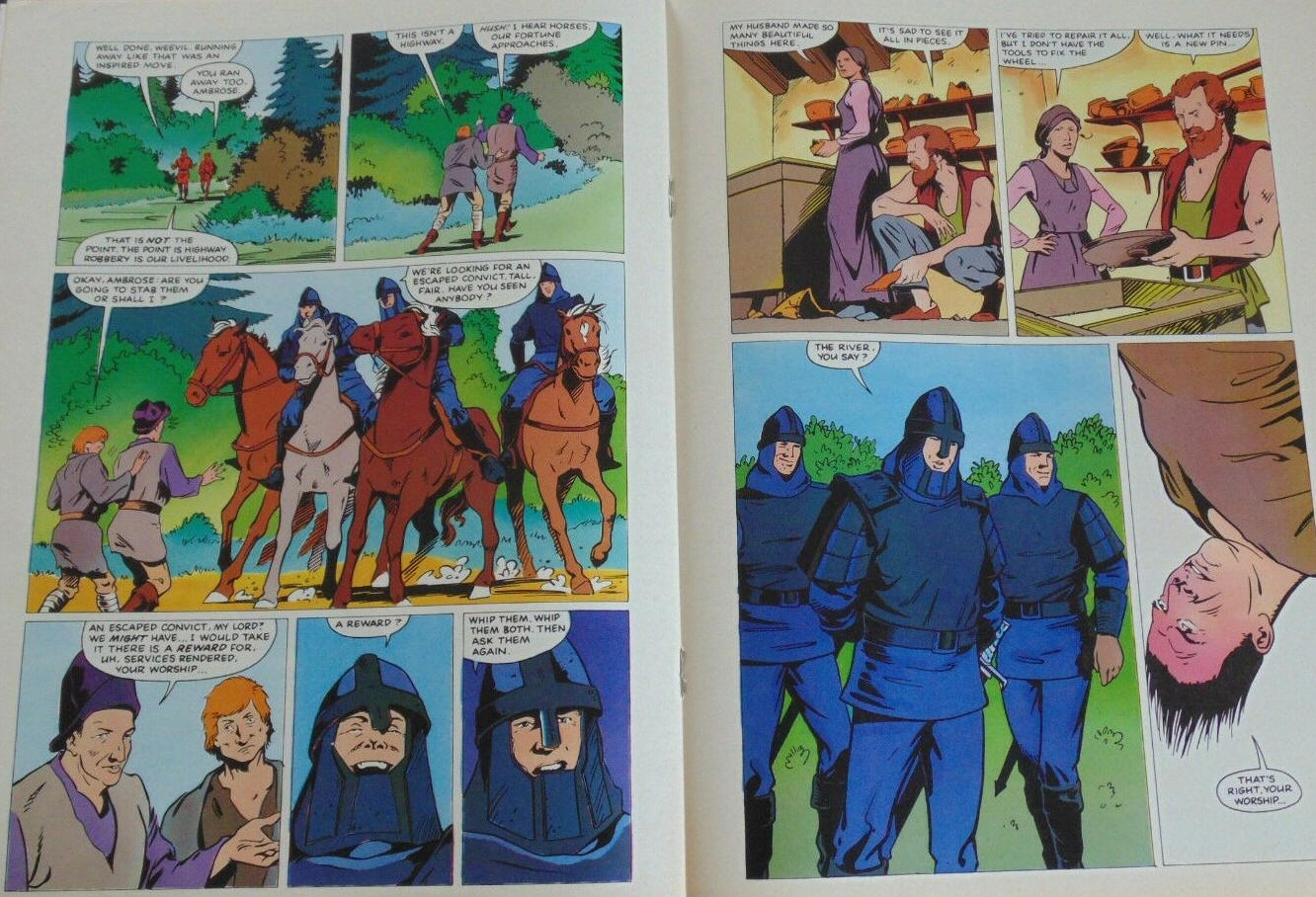 The books The right book is another book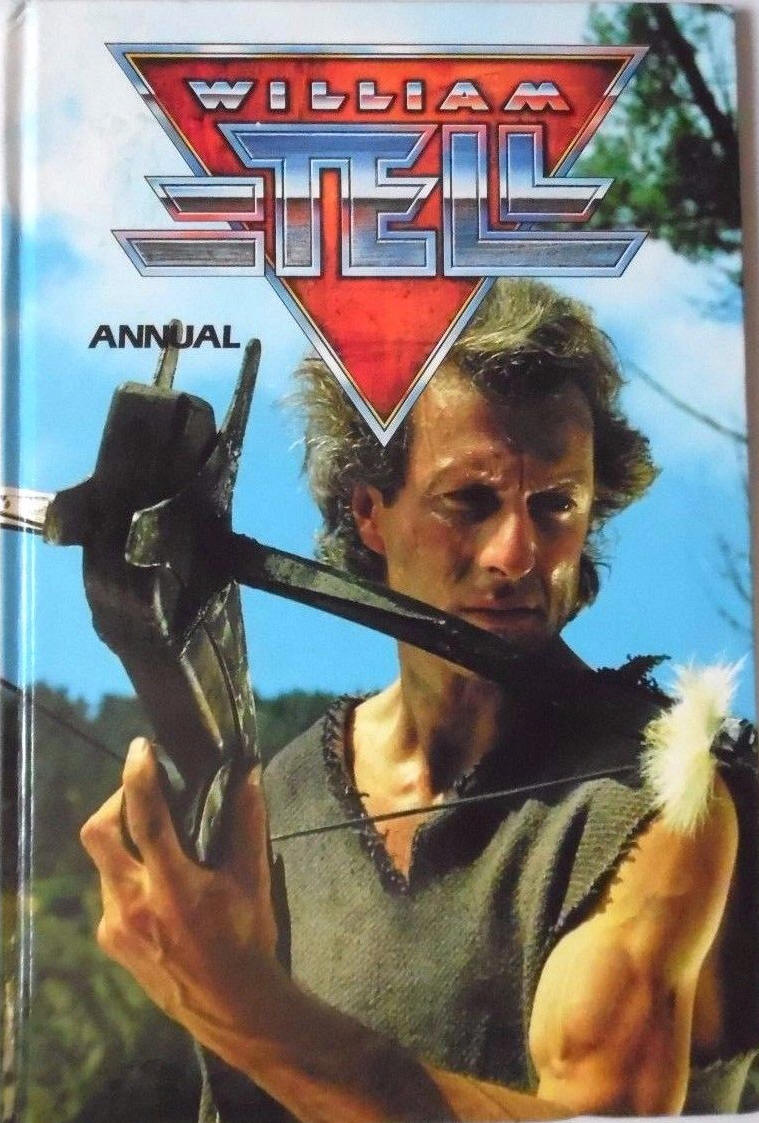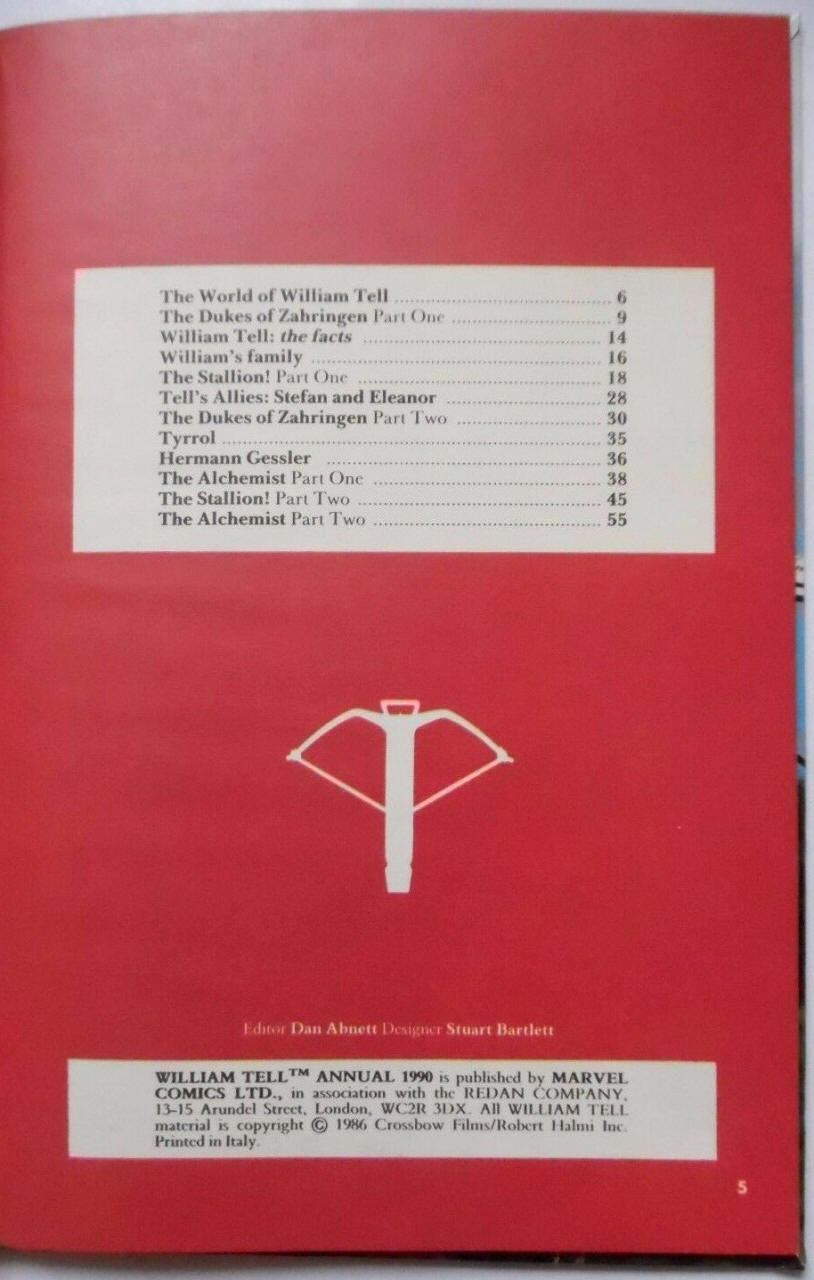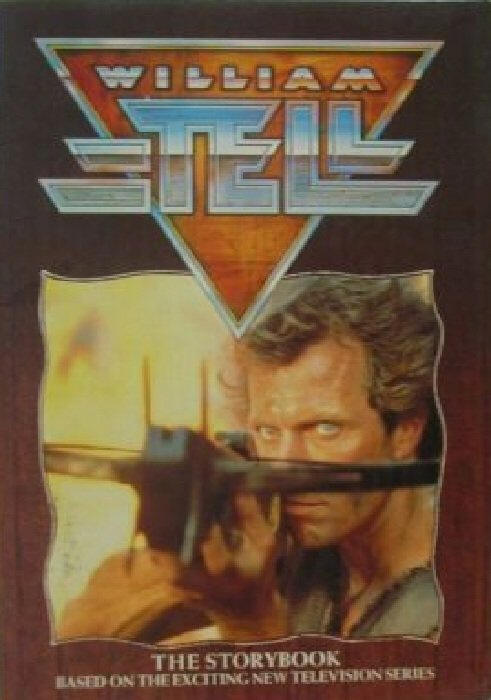 Middle: a small book, There's made 4 books of them (The Moor, The Legend, The Little Soldier and The Stallion)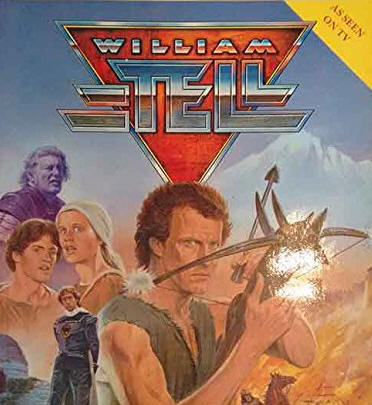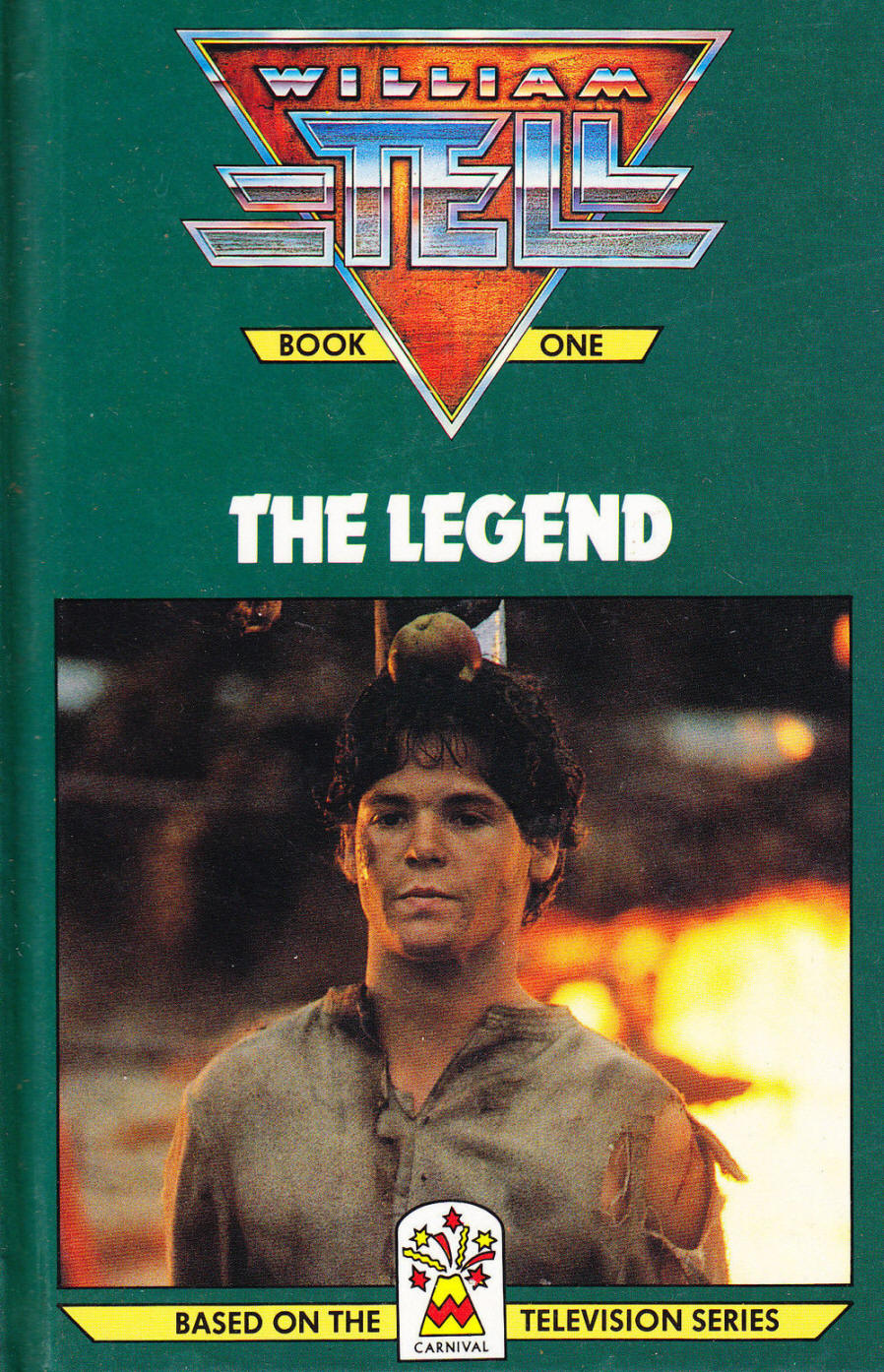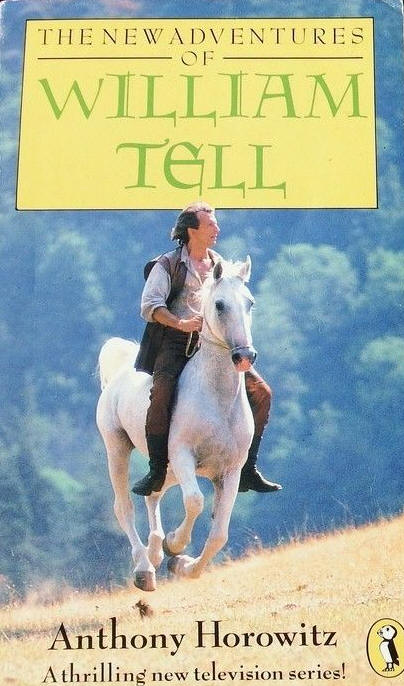 Would you like to buy an item? There is a change you can get what you like on tradingsites. They are no longer for sale.
Though I have collected all books. Those pictures are taken of google and a tradingssite, my scanner doesn't work well.
That's why I can't show you all four small books (middle picture above).
The Fourth series The Legend of William Tell
The last television series is a fantasy drama series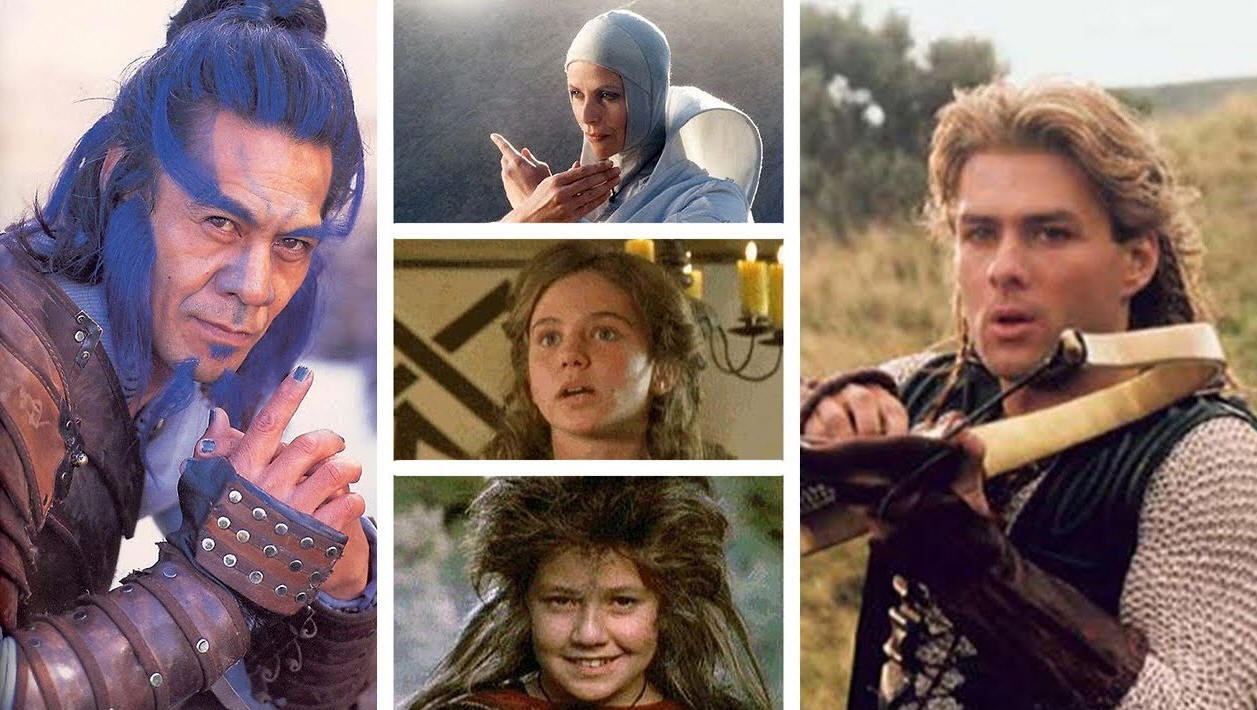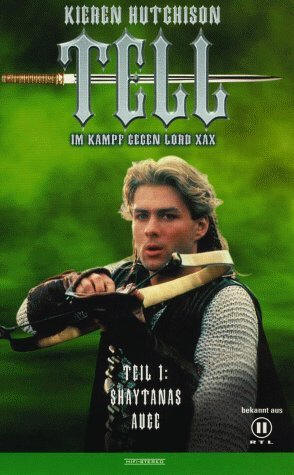 Is a 16-part television fantasy/drama series produced in 1998 by Cloud 9 Productions in New Zealand. The basic premise of the series — a crossbow-wielding rebel defies a corrupt
governor—and the name of the title character were adopted from the traditional story, but the series was set in a fantasy world and featured supernatural themes. You can click here
Described by executive producer Raymond Thompson as "Star Wars on the planet Earth", this is a fantasy saga of bravery, magic, myth and romance. William Tell is the youthful leader
of a band of young, 'brat pack' outlaws, forever hunted by the forces of darkness, led by Xax and Kreel, who have usurped power in their homeland. The series of self-contained stories
follows Will's quest to restore young Princess Vara to her rightful place on the royal throne and defeat Xax and Kreel's forces — and by doing so, bring back peace and order to the
Kingdom of Kale. There is action and adventure along the way, magic, creatures, mystery, intrigue — but also much human drama and interplay among Will's rebel band who must
support each other in their quest. The group encounter a diverse range of people and situations on their journey — some help the resistance movement, others are cohorts of Xax and
Kreel. Filmed on location throughout New Zealand, the series makes use of natural scenery and has high production values. The cast is: Kieren Hutchison as William Tell, Andrew Binns
as Xax, Nathaniel Lees as Leon, Katrina Browne as Aruna, Ray Henwood as Kreel, Sharon Tyrell as Kalem, Beth Allen as Princess Vara, Drew Neemia as Drogo.